In the competition of brand loyalty, delivering great customer service is the key to helping you to win over your rivals. Therefore, businesses are now growing the need of building a strategy to provide omnichannel customer service which can support customers everywhere they need for a seamless and richer experience.
In this article, we will help you understand the definition of this term, as well as a strategy for omnichannel customer service that is crafted just for you. Therefore, you can choose the best customer service strategy for your business. Let's dive in immediately!
What is omnichannel customer service?
Omnichannel customer service is all about creating a seamless and delightful experience for your customers. It's like bringing all your channels together to work as a team! You integrate the services of each channel, making sure they cooperate smoothly. Whether it's your website, social media, live chats, follow-up emails, phone calls, or in-person assistance at your store – they all come together harmoniously. 
The result? A consistent and hassle-free service experience for your customers, no matter which channels they choose to engage with you. It's like having a winning squad that leaves your customers feeling satisfied and happy every time they interact with your business.
Omnichannel vs Multichannel customer service
Hearing the definition of omnichannel customer service would be very confusing, as it is a bit similar to the familiar multichannel you have heard before. Well, both aim to address customer needs across various channels, but they differ significantly in their approach and execution. Let's go through the comparison between these 2 terms:
| | | |
| --- | --- | --- |
| | Omnichannel customer service | Multichannel customer service |
| Synchronization | Synchronization between business channels. | No synchronization between business channels. |
| Objectives | Provides a consistent, seamless engagement on every channel that customers choose to engage with. | Solve customer problems on every channel that they engage in. Each channel has separate strategies and goals. |
| Accessibility to service | Easy to select the channels to support. Customers can continue to receive support on new channels without getting back to the start. | Offers customers many options to start a conversation. However, customers have to start a new interaction in a new channel. |
The benefits of omnichannel customer service
Omnichannel customer service is a game-changer for businesses when it comes to outstanding service. Come with us to discover some of the most powerful benefits you can get when embracing this approach: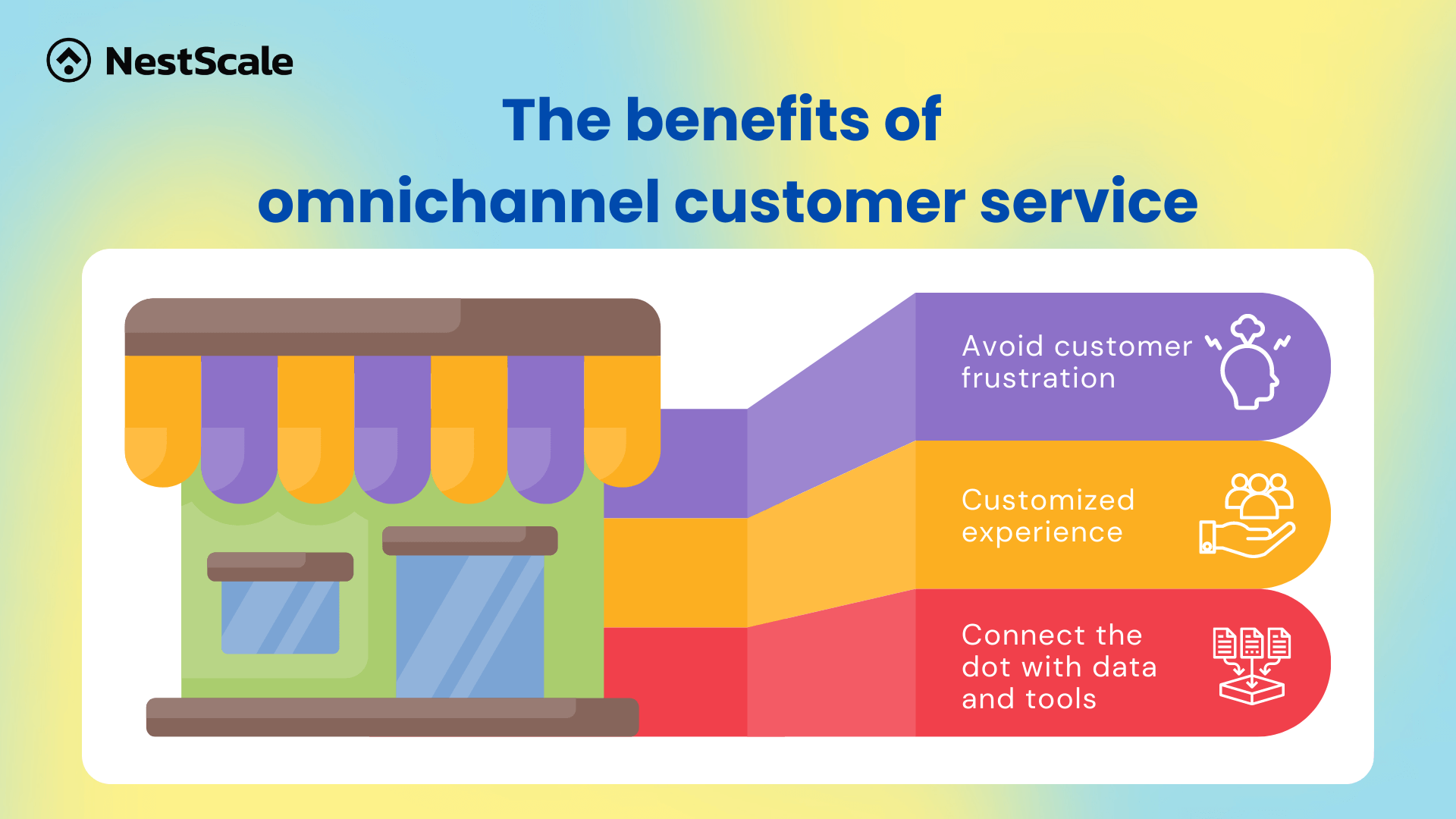 Avoid customer frustration
Multichannel customer service often makes customers repeat themselves and feel hard to operate new communication. Since your agents cannot access the customers' communication history, they will end up asking customers again about the issues and make them feel frustrated or confused. If this happens time and time again, the customer experience will be declared and they will leave your brand.
But with omnichannel, you got everything in one place! Your agents can see the customer's history, so no more annoying questions. This means smoother interactions and happier customers who won't give up on your brand! So, go for omnichannel to ace the customer experience and keep 'em coming back for more!
Customized experience
Omnichannel customer service allows you to resolve issues faster, provide more personalized experiences, identify opportunities to satisfy customers, and provide a better experience for your customers. This means less churn, more sales, and a better brand image overall. Plus, you can use cool tech like machine learning to personalize web pages based on customer data, boosting your revenue like a pro.
Connect the dot with data and tools
Lastly, having omnichannel customer service also means that you get to streamline everything using customer data and cool digital tools. Imagine this: you use intelligent routing, a nifty tool that collects customer data and connects them with the perfect agent to help them out. It's like having a secret weapon that boosts agent productivity and gives your customers personalized experiences and solutions. It's a win-win situation, keeping your customers happy and coming back for more.
How to build omnichannel customer service?
A little warning for you: Building a successful omnichannel customer support is not a simple task. It requires a lot of time and understanding before you can get ready to take action. But of course, we want you to adopt this new thing as soon as possible! So, here is the ultimate strategy that we recommend you use.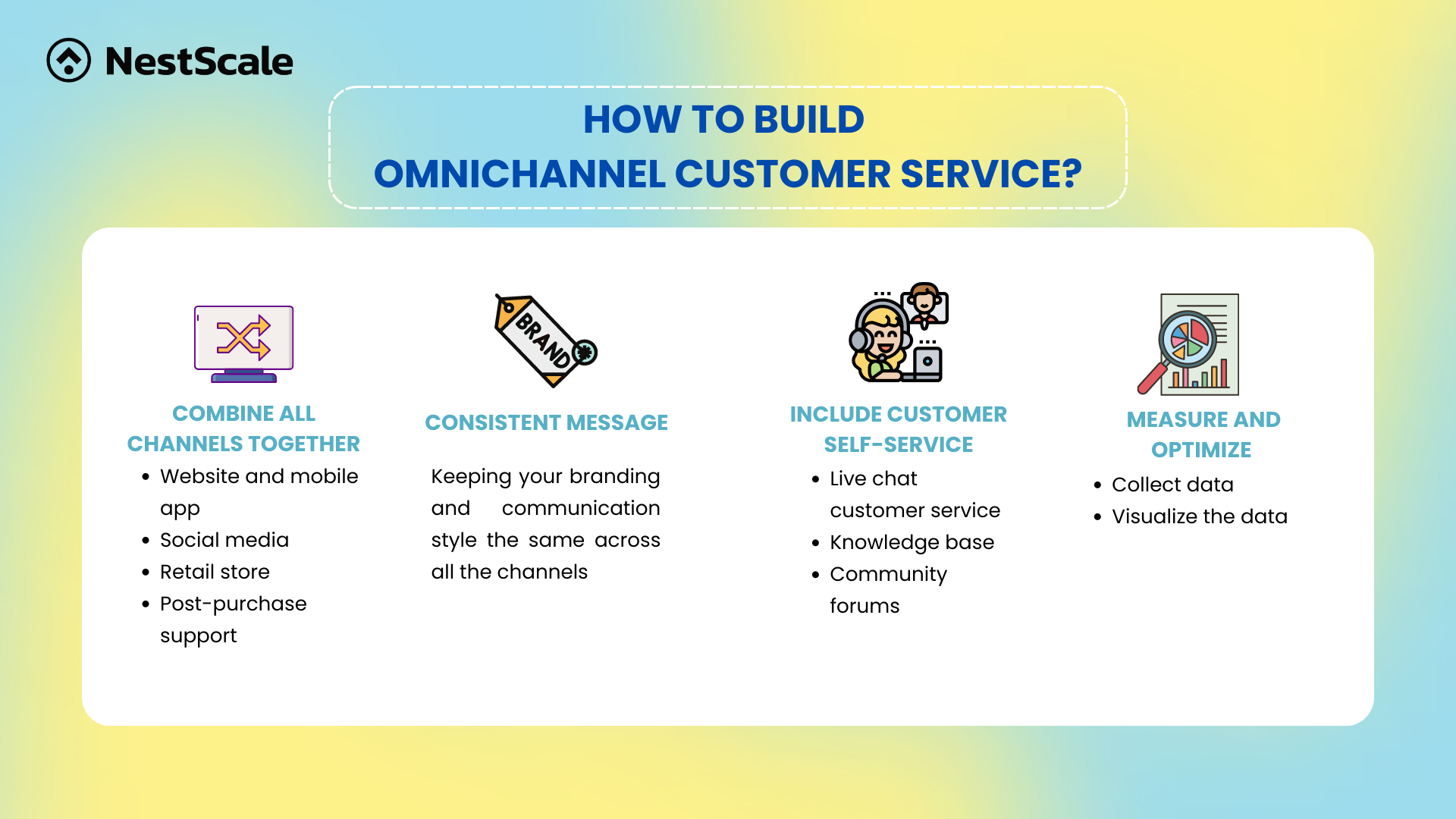 Combine all channels together
One of the most crucial steps in achieving omnichannel customer service is integrating all channels to create a seamless experience for both you and your customers. To do this effectively, you need a well-thought-out plan to establish a network between your various channels. Here are our recommendations for what you should do:
Website and mobile app integration: If you have both a website and a mobile app for your business, it is essential to create a solution that offers customers a seamless experience while browsing your products on both platforms. "Seamless" means that any action taken by customers on one platform should be saved and reflected when they switch to the other. For instance, if they save their payment information or add a product to their cart on the website, it should also be available on the mobile app, making the checkout process effortless.
Social media integration: Social media plays a crucial role in promoting your products and driving sales. Therefore, when a customer contacts you through platforms like Facebook with questions about your products, your support team should be informed of their order history and interactions. This ensures personalized and consistent conversations with customers.
Retail store integration: Omnichannel also entails streamlining processes from the retail store to the online experience, creating a unified customer journey. For example, an order placed online should seamlessly appear in your management system when the customer arrives at your retail store.
Post-purchase support: After making a purchase, customers may seek support through various channels, such as phone or email. With an omnichannel approach, your support team should always have visibility into the customer's entire conversation history, regardless of the channel used, eliminating the need for customers to repeat information.
Consistent message 
One of the essential aspects of building omnichannel customer service is maintaining consistent messaging. It means keeping your branding and communication style the same across all the channels you use to connect with customers, whether it's your website, social media, emails, or even your physical stores if you have them. By doing this, you create a unified and familiar experience for your customers, no matter where they interact with your brand. 
So, stay true to your brand, keep the language and visuals consistent, and provide a seamless journey for your customers, making them feel comfortable and happy to shop with you across all channels.
Include customer self-service in your store
The main goal of an omnichannel approach is to provide customers with a seamless experience. One effective way to enhance their experience is by implementing customer self-service. With customer self-service, you can assist your customers anytime, anywhere, reducing the workload for your team and taking store personalization to a higher level. Here are our recommendations for building a customer self-service in your store:
Live chat customer service: Live chat customer service is a big trend in e-commerce stores right now. Developing your own chat widget can take time, but there are instant solutions available in the market to assist you right away. We recommend using live chat software to save time and interact better with your customers.
Knowledge base: You can build a knowledge base for your customers that include a FAQ page and general information that covers all basic topics related to your products or services. Include step-by-step guides, video tutorials, and troubleshooting articles to empower customers to resolve their queries independently.
Community forums: Creating an online community forum is also a really smart way to give your customer great self-service. Community forums will encourage peer-to-peer support and can foster a sense of belonging among your customers.
Measure and analyze for insight  
After implementing your omnichannel customer service support, it's crucial to track key metrics like customer satisfaction, conversion rates, and customer retention. These metrics provide valuable insights into the effectiveness of your strategy. However, to gain a comprehensive understanding, you should visualize the data through graphs and diagrams. These visual representations make it easier to identify trends and areas for improvement, helping you make informed decisions to enhance your customer service experience.
3 best Shopify omnichannel customer service examples
Omnichannel customer service has gradually gained popularity among e-commerce merchants, and it's time for you to level up your business with a seamless customer support system. Here are three best stores on Shopify that have successfully adopted this new approach to inspire you:
BonLook's shopping guides
BonLook is a business that sells eyeglasses and sunglasses both offline in Canada and online worldwide. To replicate the experience of browsing in their physical stores, they introduced shopping guides and a virtual try-on feature. Customers can now view the glasses models from a 180-degree perspective to determine if the product suits them or not.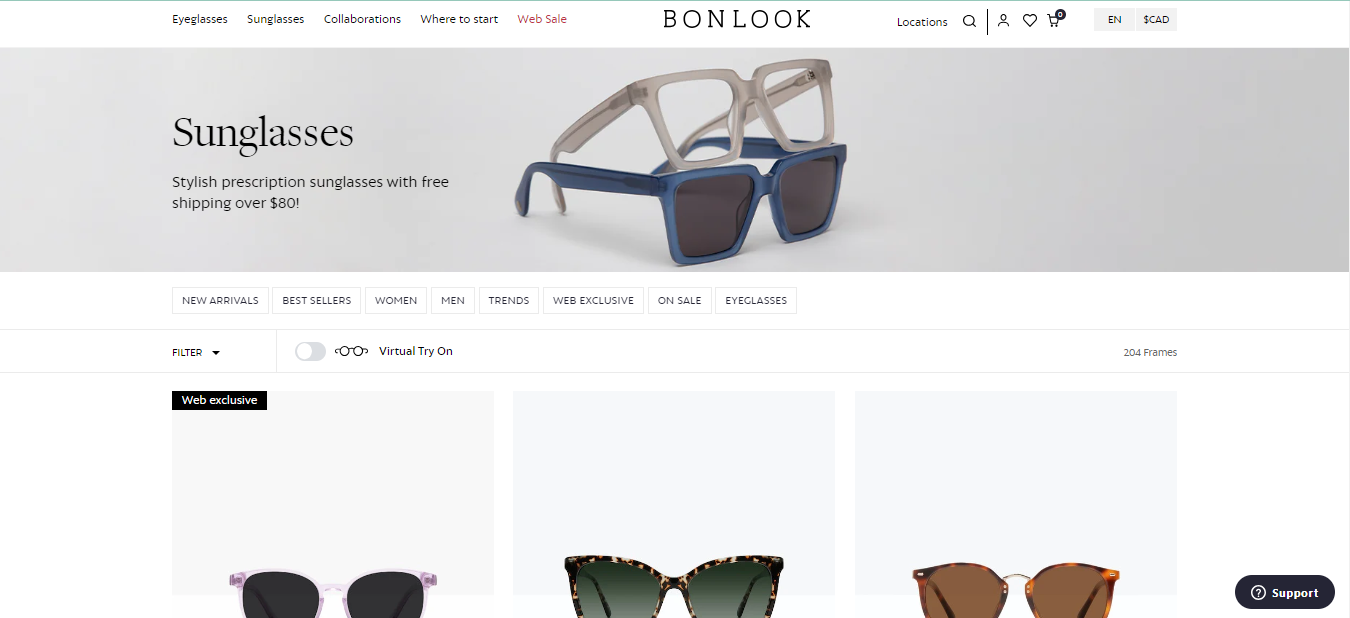 Sweetwater's customer self-service
Sweetwater totally gets how to make the online shopping experience feel just like being in their cool physical store. When you visit their website, you'll find helpful buying guides right at the top of the category pages, so you know exactly what you need. And as you browse around, they're always ready to lend a hand through phone or email, just in case you need some expert advice.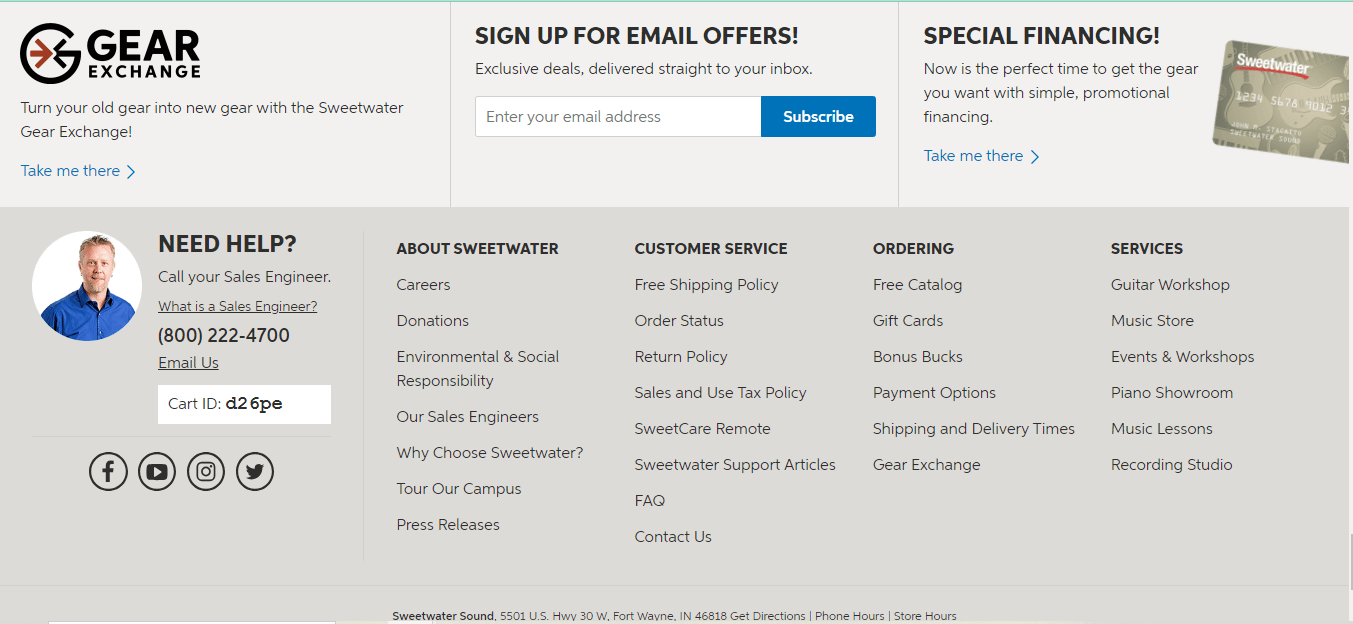 But here's the best part: each customer gets their own personal sales engineer who learns all about their style and goals. Even before you buy, you can chat with the sales engineer and they'll know exactly what's in your cart. After you make a purchase, they follow up with you through email and phone calls, making sure you're totally satisfied with your new gear. 
ILIA Beauty's "Find my shade" is just like being at the store
ILIA offers beauty products through both online and offline channels. They aim to provide the same excellent experience to their offline customers as they would get in their physical stores. To achieve this, they introduced a feature called "Find My Shade," which acts as a virtual assistant to help customers pick the right color for themselves from the comfort of their homes. The data of these customers are also saved in their systems, enabling ILIA to deliver exceptional service to customers anywhere, anytime.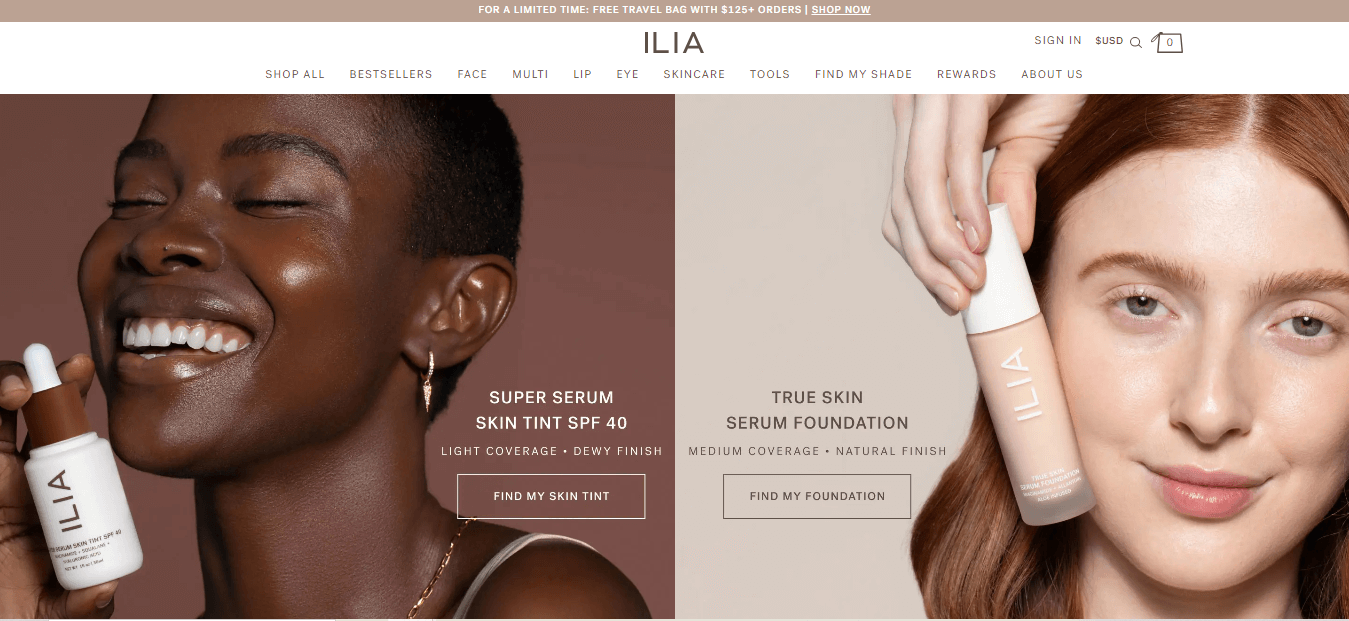 Help yourself with omnichannel customer support software
Nowadays, with the assistance of so many tools, you can work faster to create a smooth omnichannel service for your store! Get a glimpse of NestDesk – our omnichannel customer service platform that will create a great experience for both you and your customers in just a second!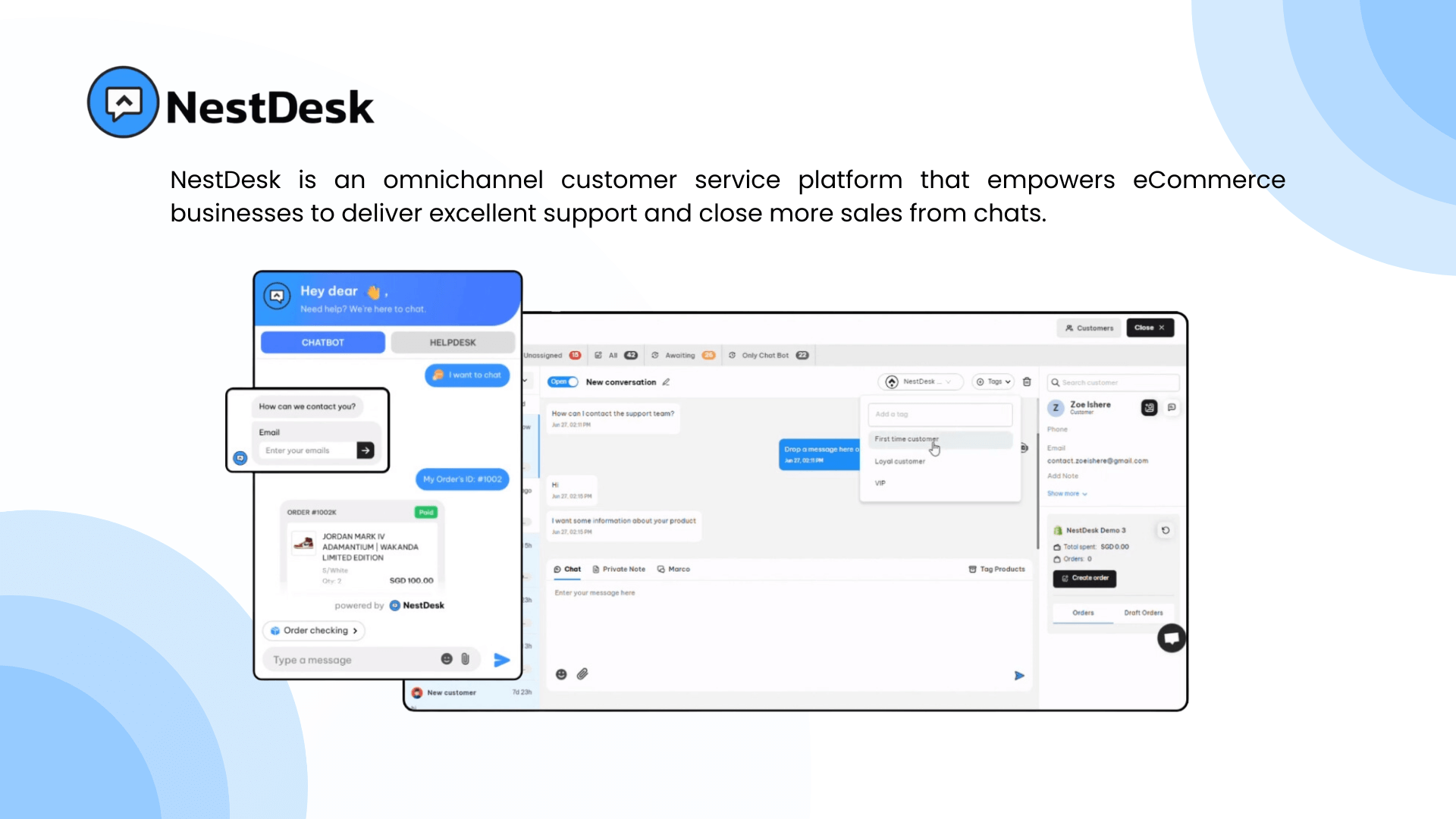 NestDesk helps you connect all the channels you work on into one platform. Whether it's WhatsApp, Facebook, your Shopify store, or any other channel, you can manage them all without worrying about scattered information. Everything will be displayed on the NestDesk dashboard, making it convenient and organized.
Moreover, the features allow you to store customers' communication history, order history, etc. You can easily navigate and analyze customer communication data to gain insights and provide them with a richer experience. Turn your exceptional customer service into powerful sales channels with NestDesk now!