Live chat customer service has no longer a strange term for merchants running their business online. It is now one of the most often used tools for communication between customers with your support team. Just a click of a customer on the website, and you are connected with your customer right away without any halt! Sound cool, right?
If you want to know more about live chat customer service or consider whether to offer live chat support on your website or not, you're in the right place! In this article, we will give you everything you need to know about live chat customer service, including its benefits, A to Z guidance on how it works, and some of the best practices for using live chat customer service.
What is live chat customer service?
Live chat customer service is a method of customer support that enables real-time conversation between you and your customers via messaging right on your website. Beyond providing instant support to customers, many brands now also use live chat as a powerful channel for inbound lead generation, sales, and marketing.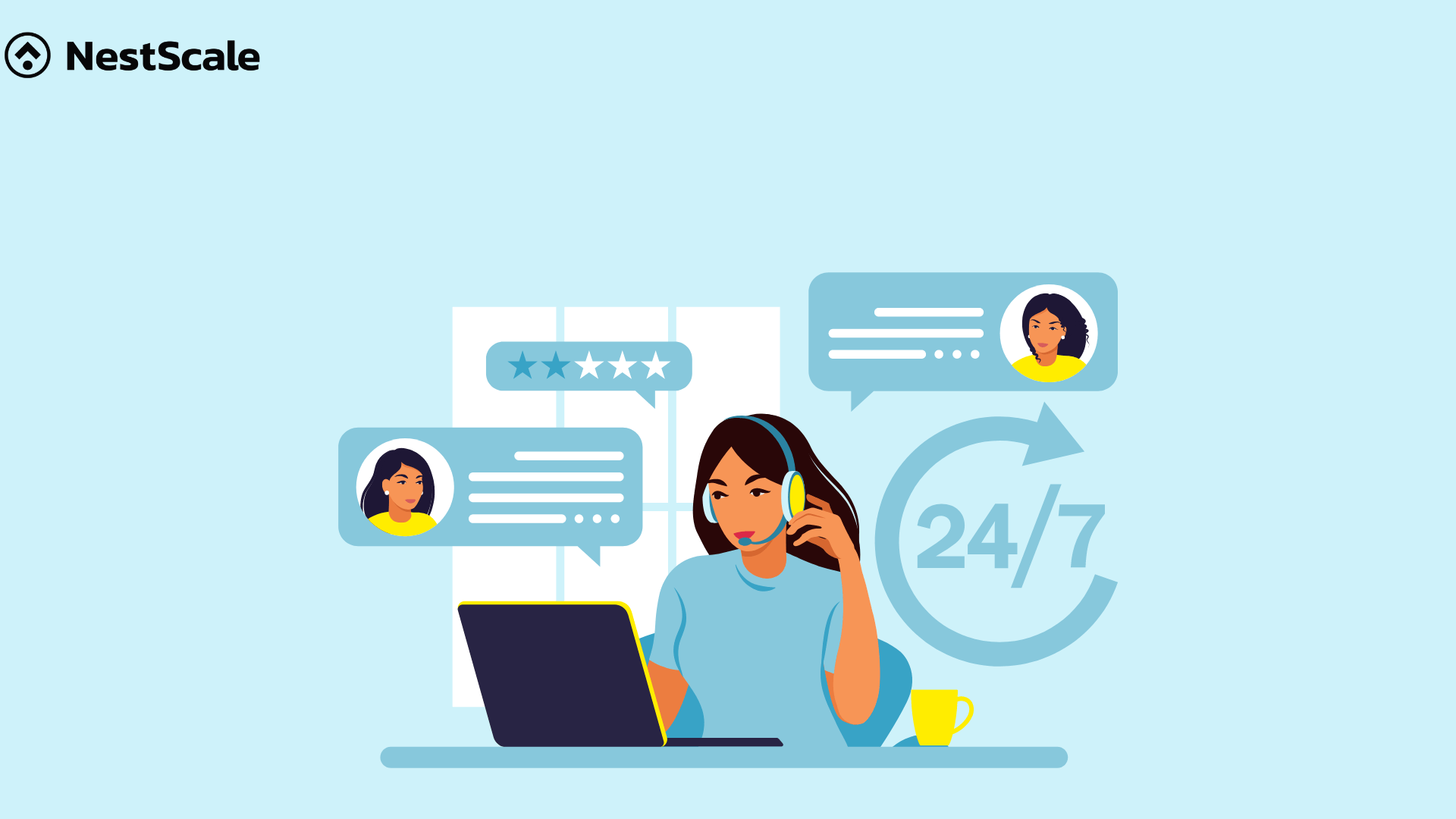 Wanna know if a brand is offering live chat customer service or not? Well, it's simple, as you will see a live chat widget right at the moment you visit that website. Brands can decide the position to embed the widget, but most of the time, it is put in the right bottom corner of the website. When customers click on the chat button, a small dialogue window opens up and they can start messaging back and forth with the support agent.
The benefits of live chat customer service
You may wonder if having live chat customer service is essential for your business. However, we guarantee that integrating live chat will be a game-changer for your company. From the customer's perspective, many merchants use live chat, resulting in the highest satisfaction rate compared to any other form of customer communication. On the business side, nearly 80% of companies report that live chat has increased sales, revenue, and customer loyalty.
Impressive, right? Live chat offers numerous advantages over traditional contact methods, leading to better results for your business. Let us walk you through the four biggest benefits you can gain when deciding to offer live chat support.
Fast and efficient
When it comes to live chat support, the first benefit that comes to people's minds is "real-time". As live chat enables customers to have a direct one-to-one conversation with a live agent, they can explain the problems they face in detail via back-and-forth messages. As such, your agents can easily investigate the issues and comes up with instant solutions.
Unlike email support, live chat focuses on prompt answers and does not require following formal communication rules like formal writing or strict use of professional language. Therefore, both you and your customer can save significant time on every response and keep it casual.
Highly accessible
Not only provides fast response, but live chat also offers customers helpful support in the right place and at the right time. With the live chat widget embedded into your website, customers simply open a chat and message the agent about what problems they get. No need to look for a contact page or dig up the support email address, the support team is highly accessible and only one click away.
As the live chat portal is always present on the website, customers can navigate it with ease at any time of the buyer's journey. That accessibility gives customers the best chance to explain exactly where they are stuck and what they need.
Increase conversion rate
Customers who use live chat spend up to 60% more per purchase than those who don't. This happens because live chat customer service quickly solves customer concerns and gives them prompt answers which increases their satisfaction. Besides, having the chance to chat with your support team beforehand makes you appear to be more reliable. As a result, customers feel more confident in their purchasing decision, creating a higher chance for you to convert potential leads into real deals.
If you can find a live chat tool that can integrate your customer profiles, and order history, into the same platform, then you've hit the jackpot! As apart the item they are concerned about, you can even take the chance for upselling and cross-selling based on customers' preferences. When all relevant data is at your fingertips, it becomes easier to give customers tailored recommendations.
Enable multitasking
Compared to other support methods, live chat customer service is the only one that enables agents to handle multiple customer requests simultaneously. As the nature of live chat is providing instant support to customers via messaging, an agent can switch between several conversations and does not need to put all attention on a specific customer. A live chat conversation can be dropped and restarted at any time without disrupting the flow.
How does live chat customer service work?
Each live chat solution you can find will have different ways of functioning. However, there is a general set of rules for functions that all live chat customer service solution offer for you. Let's go through the 4 most basic ways a live chat work to assist your website.
Live chat activated through installation
Live chat doesn't exist as a default feature on your website. Therefore, to use it, you must resort to a third-party live chat solution. The first step is to integrate a live chat system into your website or mobile application, which typically involves adding a chat widget or button on the website page.
On Shopify, you can easily do this by going to Apps.Then, search for the live chat software you need and click Install to integrate the apps into your store.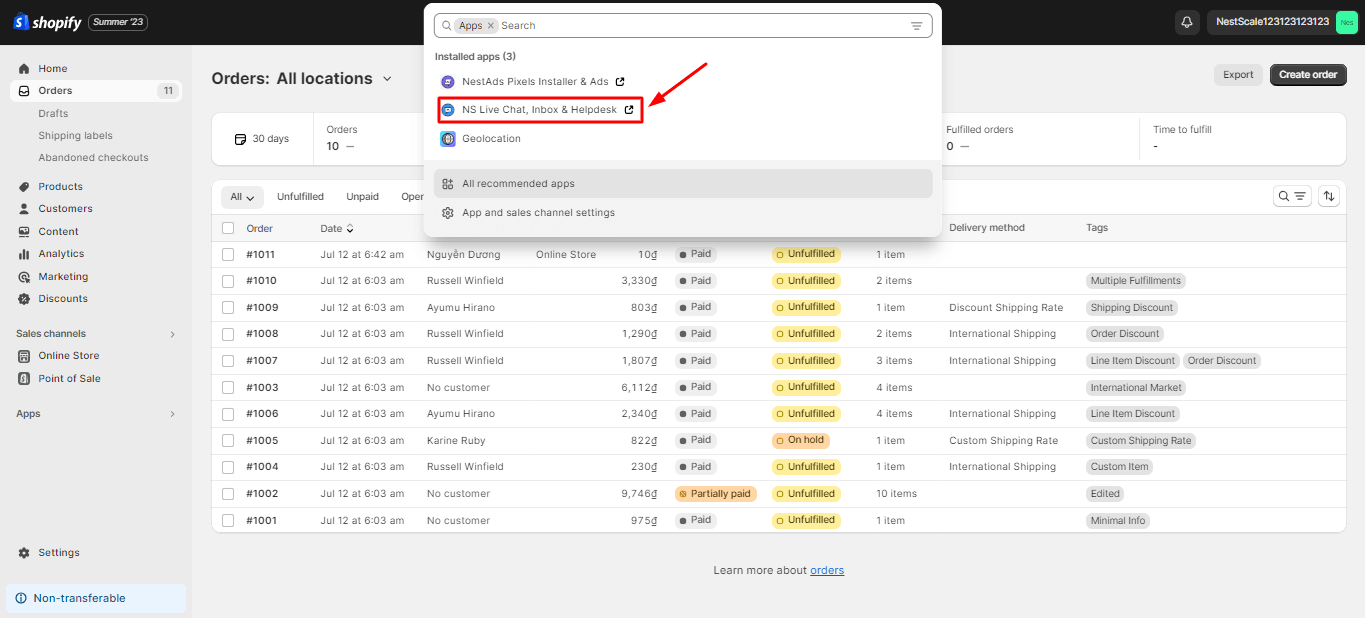 Finally, navigate to Online Store > Theme, and choose to Customize the theme to change the UI of your website.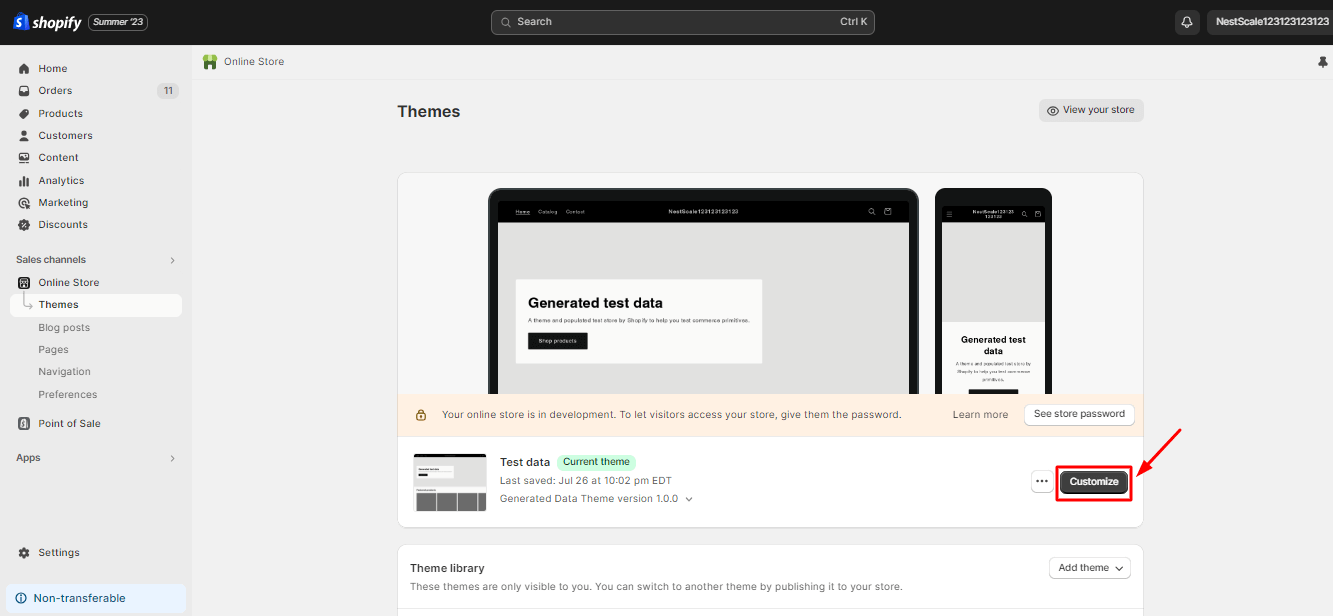 Lastly, go to App Embeds and turn on the Live Chat software that you just installed.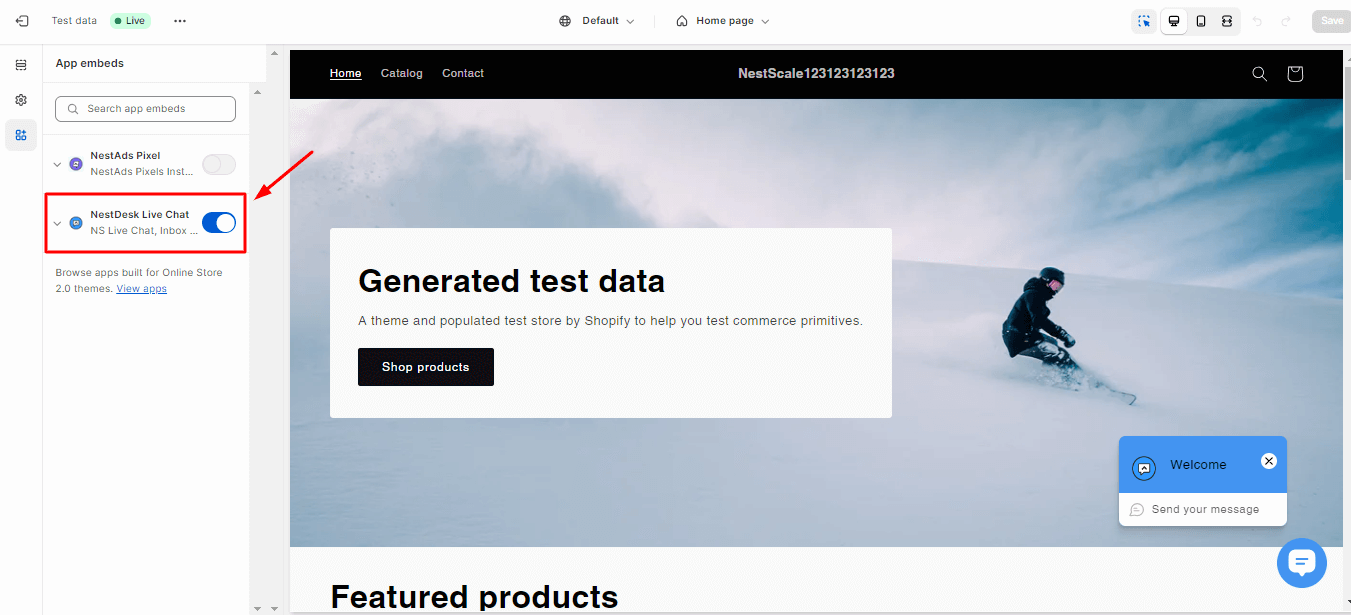 Helps you manage all customers conversation
When a visitor comes to your store and wants to talk to your team, they don't need to search for your store's contact information, such as email or phone. Instead, they can simply click on the chat widget/chat button on your website to start a conversation right away.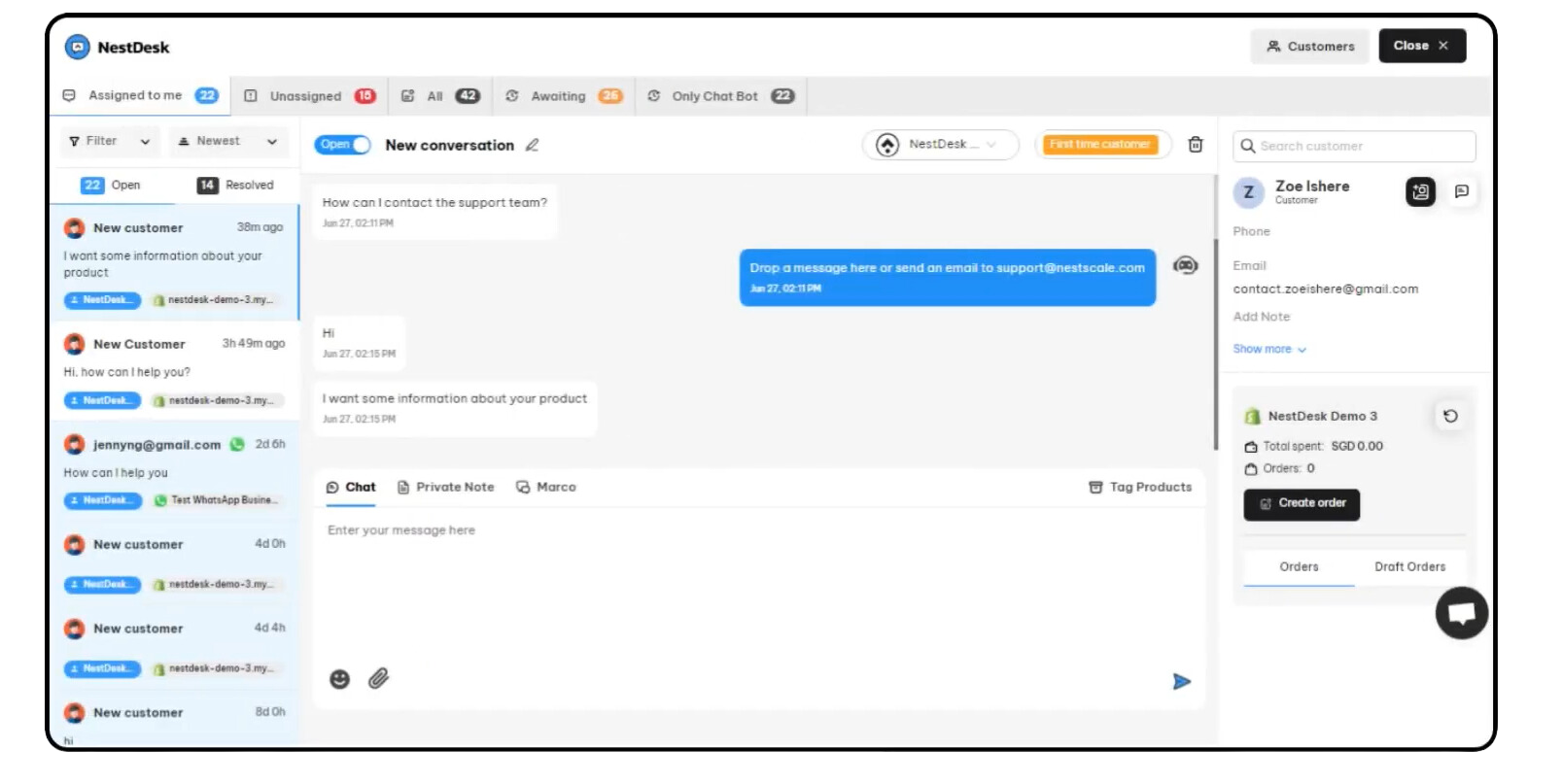 The system will send the message to your team immediately, and you can manage all the requests from users within a single dashboard. You can either assign a support agent from your team or use chatbots provided by the live chat solutions (if available) to assist you in responding to your customers 24/7.
Assist your businesses with solutions for canned responses
Live chat not only helps you manage interactions with your customers but also proves to be extremely useful when resolving common problems they may encounter. Most live chat systems offer canned responses, allowing you to save frequently encountered situations during customer conversations. To utilize this feature effectively, all you need to do is understand your customers' needs and collect some of their common problems for future use.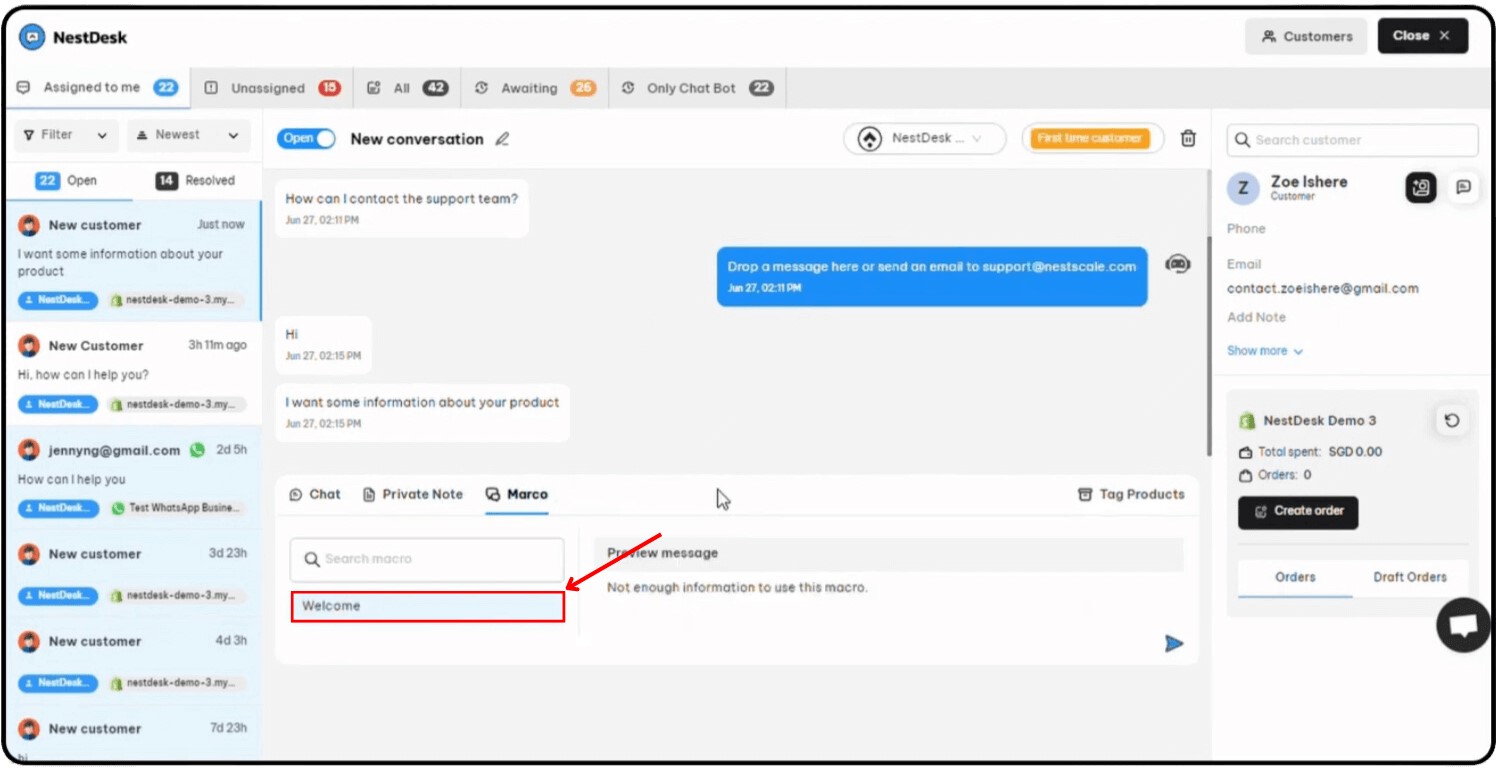 Generate an analytic report just for you
Now, this is one of the greatest advantages you can get when integrating a live chat solution into your online store. It will also provide you with analytics and reporting features to track various metrics, such as response times, orders created, conversion rate, and more. By using these metrics, you can monitor your agents' performance and improve customer satisfaction while using your services.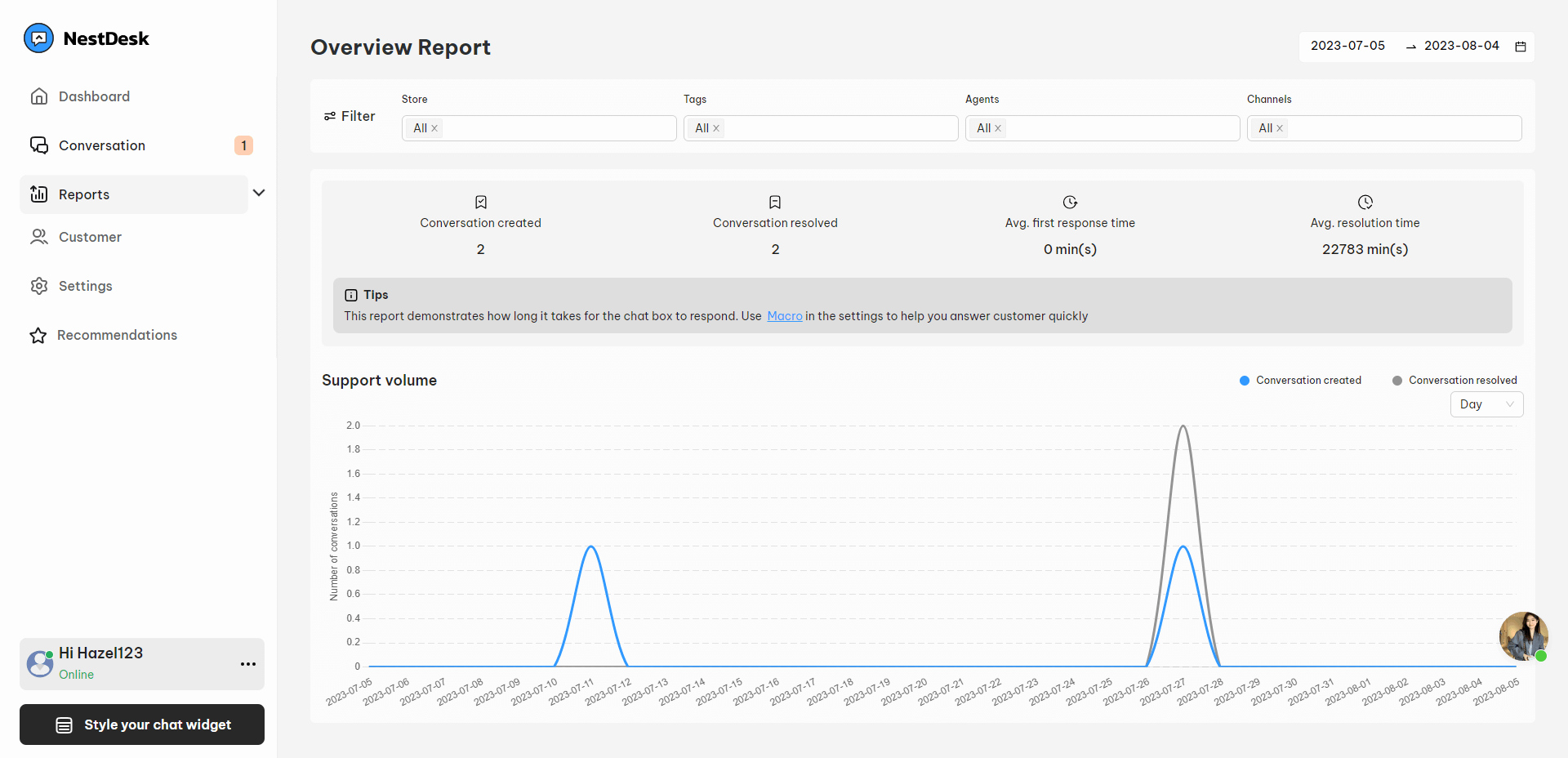 4 live chat customer service best practices
Now that you know all the basics about how live chat works with your customer service, you may encounter some difficulties as you gradually integrate live chat into your system. Therefore, we have compiled four best practices to help you get used to the pace faster:
Improve your response speed
What customers love most about live chat support is the real-time response. Customers expect to get prompt answers from your support team whenever they reach out live chat. As such, optimizing the live chat speed should be your first priority.
Below are some tips that you can use to shorten the response time:
Use simple language
Use premade messages for common queries
Take advantage of the knowledge base, video tutorials, etc
Leave private notes to give enough context for the following agents (in case more than one agent is handling a query)
While the first response time is crucial, some requests require more time to resolve. If you can not give customers the solution to their problem at the first contact, at least let them know how long they'll have to wait.
Provide helpful information right inside the live chat
We all know that live chat is where customers interact with your support team to resolve specific problems. What if you created a collection of the most common situations your customers encounter and integrated it into your live chat? You can include a helpdesk with a FAQ section so that customers can search for immediate help whenever they need it. By doing this, you leverage your customer self-service and save a lot of time and effort for your team.
Well manage your chat conversation
The more customers use your live chat service, the more data and information you have to manage. To ensure each customer receives the best care, it's essential to organize their conversations and information carefully. One way to do this is by using tags to categorize chats based on queries, such as product, price, or sales. Categorizing chats allows for easy follow-up from where it was left off. Tagged queries help support agents to make follow-ups without needing to ask for basic information again, enabling you to deliver quick and effective support to customers.
Lastly, you should distribute the chats based on each agent's expertise and availability to ensure they can handle inquiries effectively. You can leave notes for agents to let them understand the context and provide more personalized support. Additionally, controlling their reply pace will allow them to focus on delivering thoughtful responses rather than rushing through conversations.
Personalize your live chat support
As live chat support often refers to the one-to-one conversation between a customer and the live agent, make sure your agent responds to customers personally. This shows customers that your brand care about them, which results in customer satisfaction and loyalty. Here is the checklist of what you can do to create a great conversation with your customers:
Greet customers by their names
Use your own photo for your avatar y and showcase your name while chatting with customers so they can feel the human interaction.
Don't be too formal – instead, make the conversation casual and intimate
Ensure it is informative but does not contain a lot of jargon that makes the customer feel as though they are talking to a robot.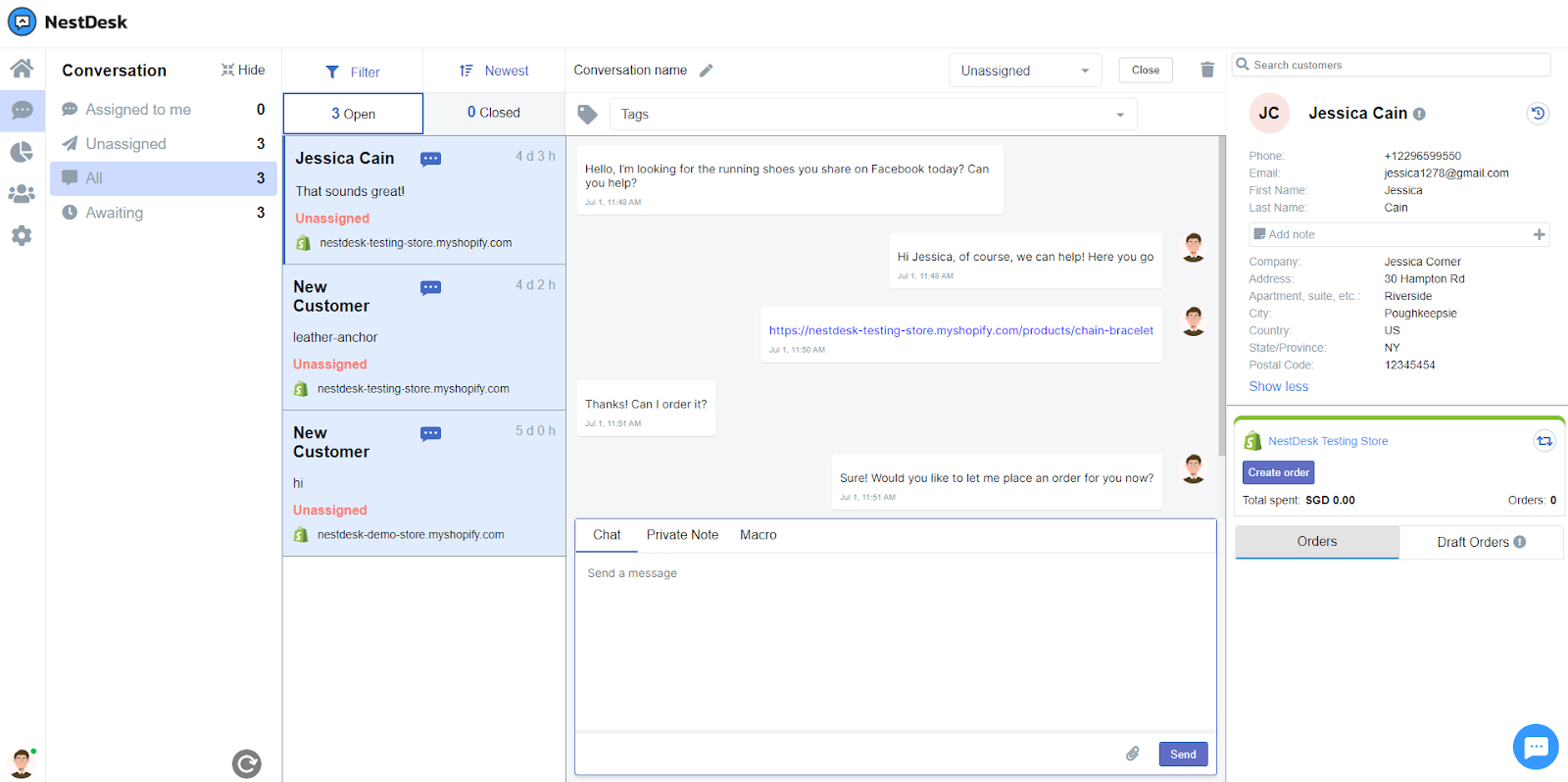 Provide excellent support through live chat customer service
Live chat is more and more preferred by many online businesses as an effective channel to support customers in real time and increase their satisfaction. Customers love to contact brands via live chat as it's often attached with prompt and effective solutions. If you intend to offer live chat support, make sure the response time is highly prioritized.
NestDesk is an omnichannel customer service tool that helps you optimize the response time significantly. You can have all useful features in hand to wow customers with your instant support like macro, auto-assign, private notes, tags, etc.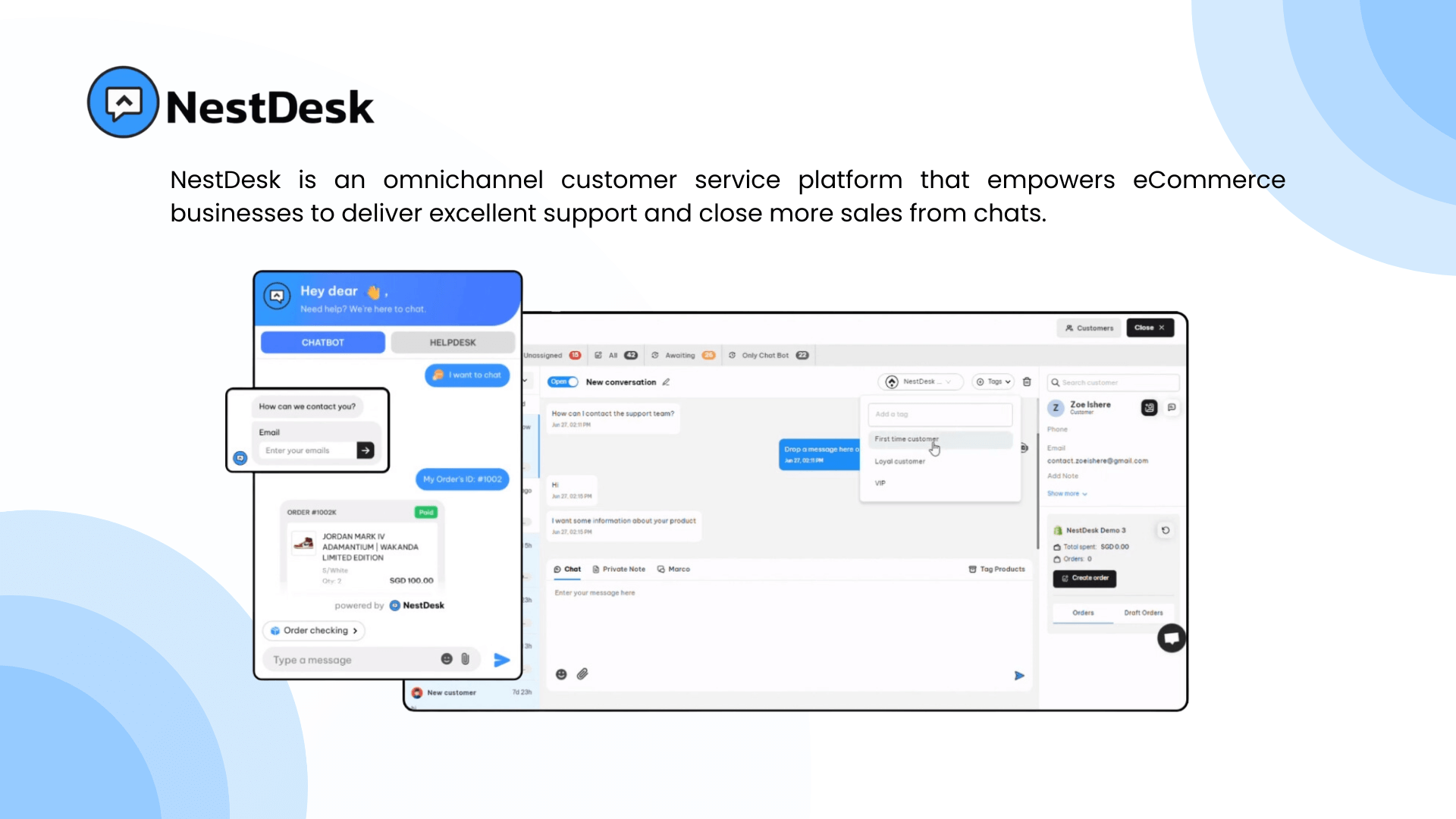 Explore how NestDesk leverages your customer satisfaction via live chat support now!