In fact, customers normally feel frustrated and impatient when waiting for the long loading time from the ad to the homepage. Not only that, it might be interrupted if they have to leave the app and go to another to discover more about brands.
So, are there any solutions for that? Of course yes. All of the customers' problems can be solved with the help of TikTok Instant Page, a powerful tool, that can streamline customers' journeys with a speedy experience.
In the article, we will show you everything you need to know about this amazing tool to help brands drive higher conversions and more leads to their website.
What is TikTok Instant Page?
Instant page is a fast-loading and engaging landing page that allows users to view your products and explore more about brands without leaving the TikTok app.
TikTok Instant Page offers a wide range of templates so that brands can customize their own landing page to show their key value and catch customers' attention.
Let's take a look at the excellent example below:
LowerMyBills leveraged this new tool for their marketing campaign and it actually drove better results with a 20% decrease in CPA compared to the brand's platform ads that didn't include TikTok Instant Page.
Why do we need to use TikTok Instant Page?
Smooth experience for users
When it comes to the customer experience, Maya Angelou, a civil rights activist, quote that they didn't recall exactly what happened, but they do remember that positive feeling at the end. As a result, brands must take care of every step in the customer journey in order to provide them with the best experience.
It's when the TikTok Instant Page comes in handy. It makes users' experience more seamless and enjoyable than ever before. Specifically, by clicking a call-to-action button or a card in Infeed-Ads, it drives users immediately to the homepage at various products shown, and they can make a purchase.
Fast speeds
The duration of loading up from the TikTok Instant Page is 11 times faster than the standard mobile web. This could minimize significantly the waiting time for users and hold them on for longer to discover anything in your brands.
With the Instant Page, customers can view products in more detail directly without leaving TikTok app. This makes their buying journey faster and easier than ever on online shopping platforms.
Flexible customization
The space for creativity on TikTok seems endless, which is why they encourage brands to leverage all kinds of its features to build their own stories. TikTok's Instant Page is no exception.
Specifically, by offering a variety of templates and components, brands can customize their instant page in their own way to deliver business messages and target the right audience.
How to create a TikTok Instant Page?
Step 1: Set up a Campaign & Ad Group
After logging into TikTok ads manager, follow the steps shown below to set up a campaign and ad group:
1. Choose Campaign, then click Create

2. Set up Campaign objectives and choose from Traffic, Conversions, Reach, or Video Views.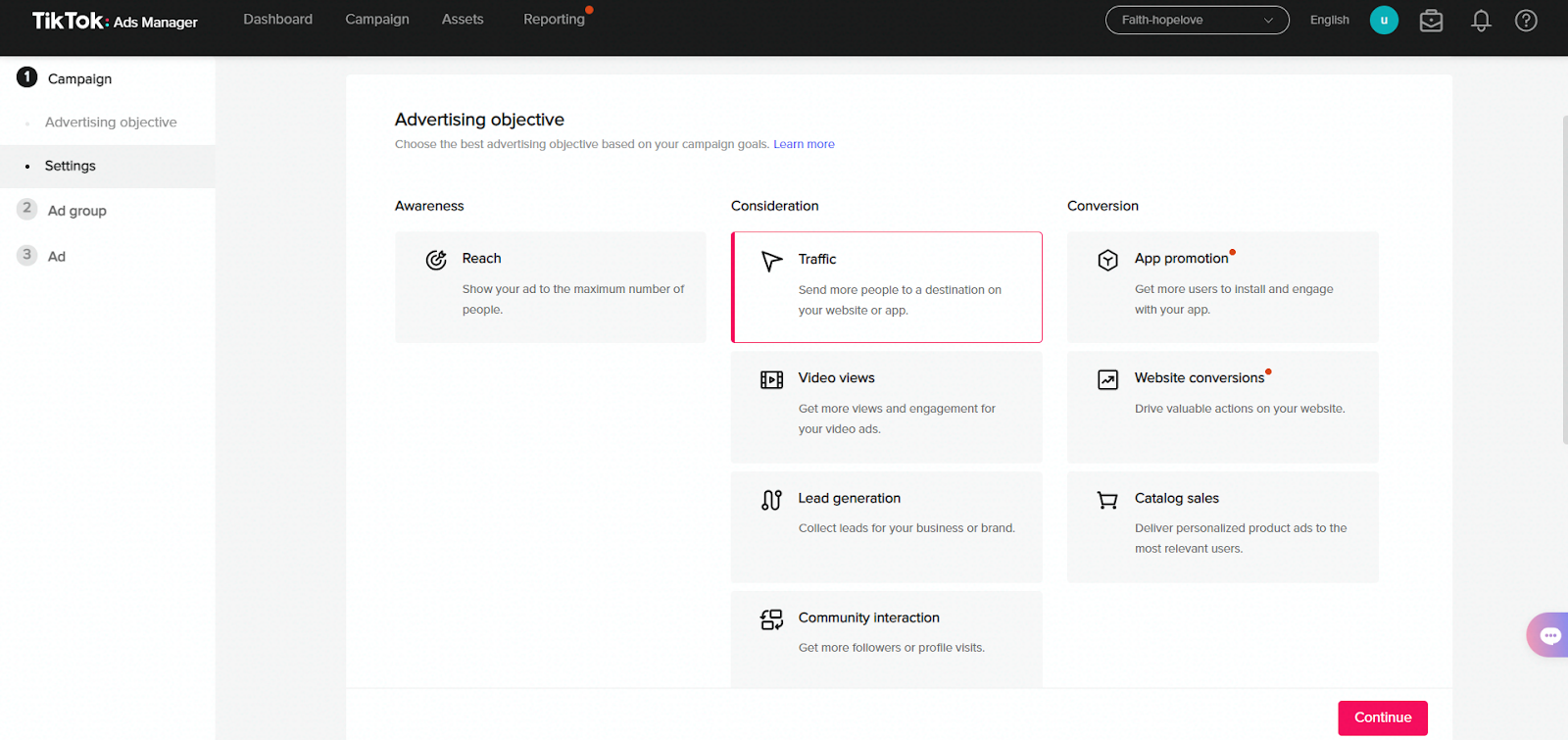 In the Ad group, click Website under the Promotion type

Select the TikTok Pixel you want to use to track your events on your website, then choose an Optimization Event.
For the conversation campaign
Choose External Website or TikTok Instant Page:

If you selected External Website, choose the TikTok Pixel, then fill in an Optimization Event

If you selected TikTok Instant Page, choose an Optimization Event

3. Select Automatic Placement or Select Placement

Note: If you choose Select Placement, ensure that you include TikTok and/or Pangle

4. Complete the rest of the setting Ad group: creative type, targeting, budget and schedule, bidding, and optimization.
Step 2: Set up the Instant Page Builder
1. On the Ad page, select Single Video.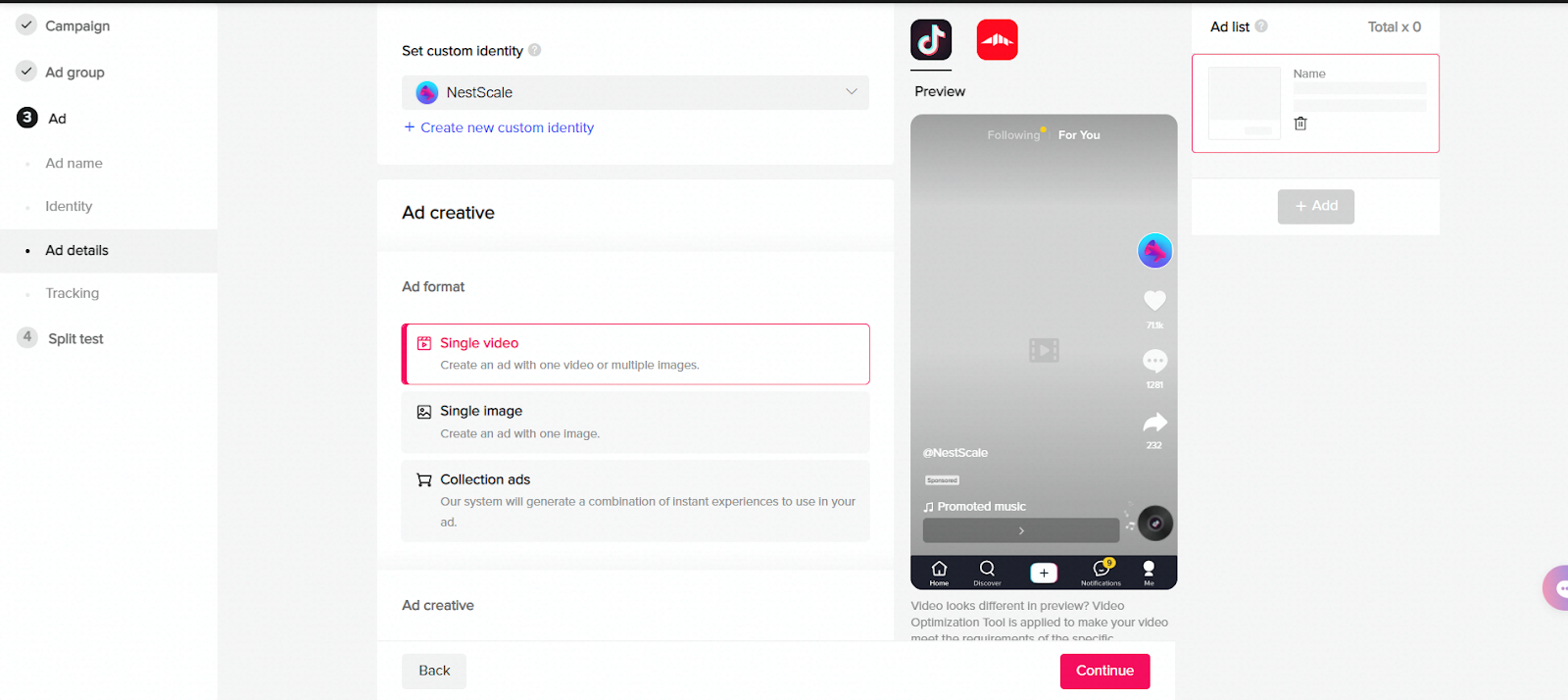 2. Under the Destination page, choose TikTok Instant Page and click +Create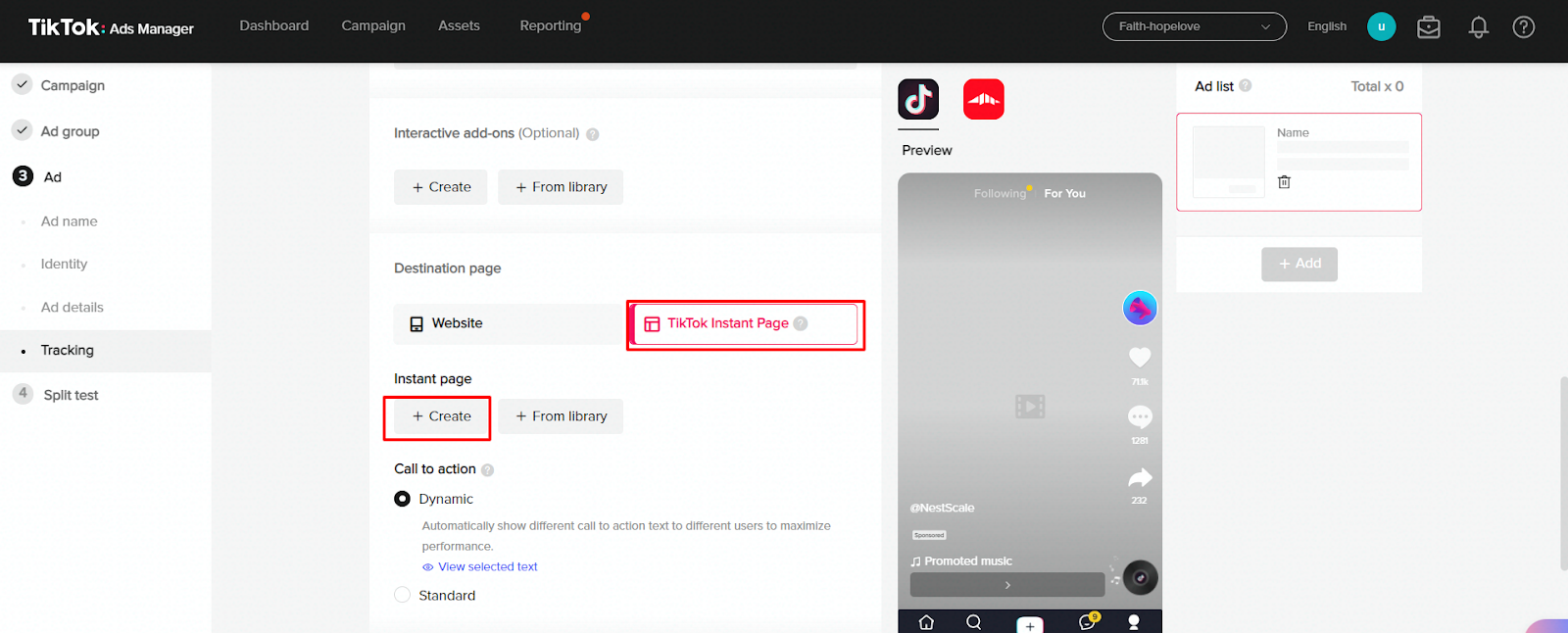 3. Next, choose an Instant Page Template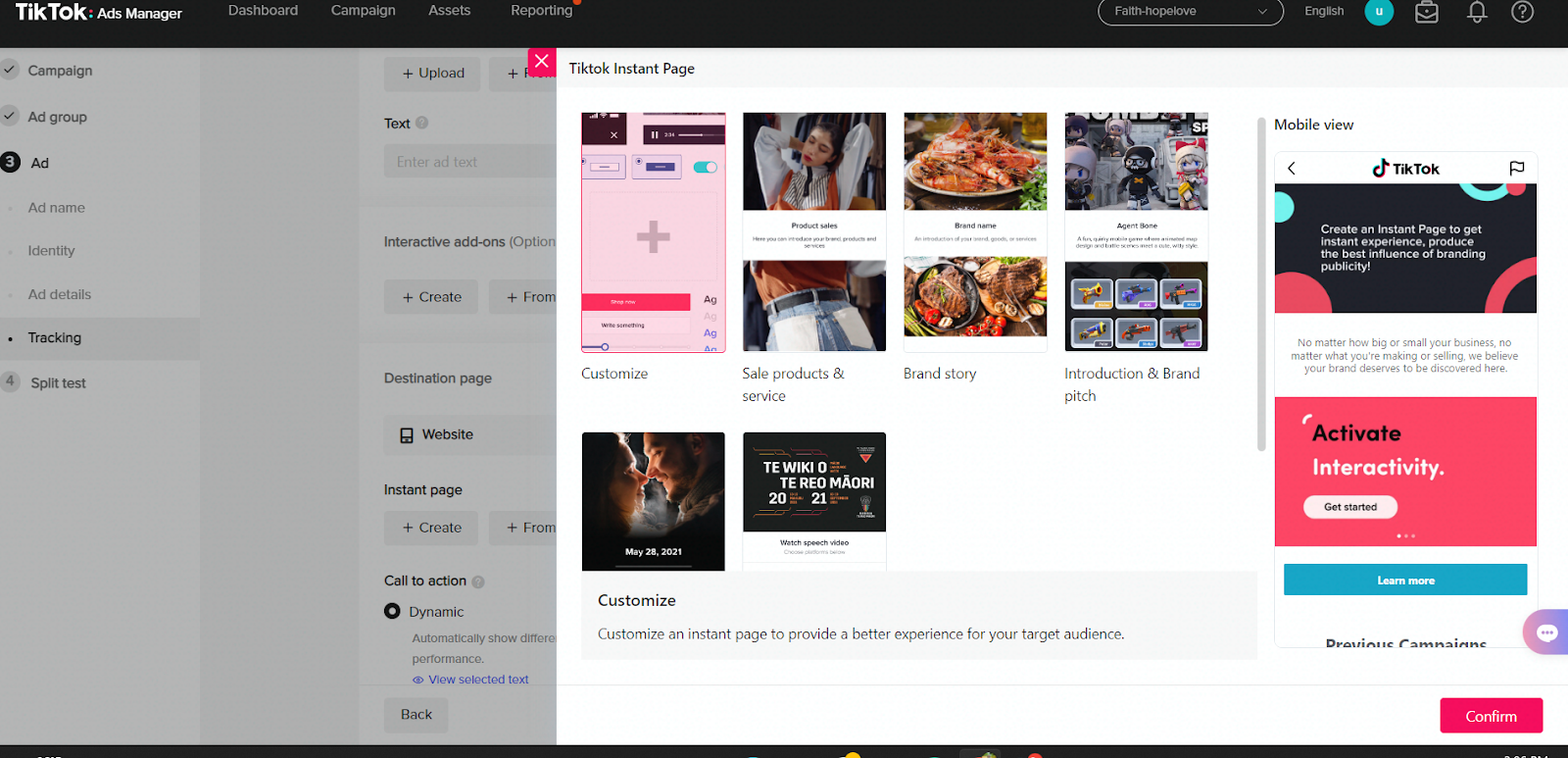 You can choose from some kinds of templates below depending on your goal:
Customize: Freely build an Instant Page that fit your brand value in order to reach the right audience
Products for sale: Describe specifically what kind of products your brand offer and discounts
Brand story: Create a deeper connection with customers by sharing why and how you get started in your business
Introduction and brand pitch: Give a brief overview of your business and encourage potential customers to learn about and use your goods and services
Movie trailer: giving TikTok users a full movie trailer with the choice of a landscape view to enhance your brand image
4. Click Confirm
Step 3: Customize your Instant Page
Once you choose the template for your Instant Page. Let's follow some steps below:
1. Click the pencil icon to name your Instant Page

2. Select a Color Scheme

3. Add a component
If you want to add a component, click + or Add a component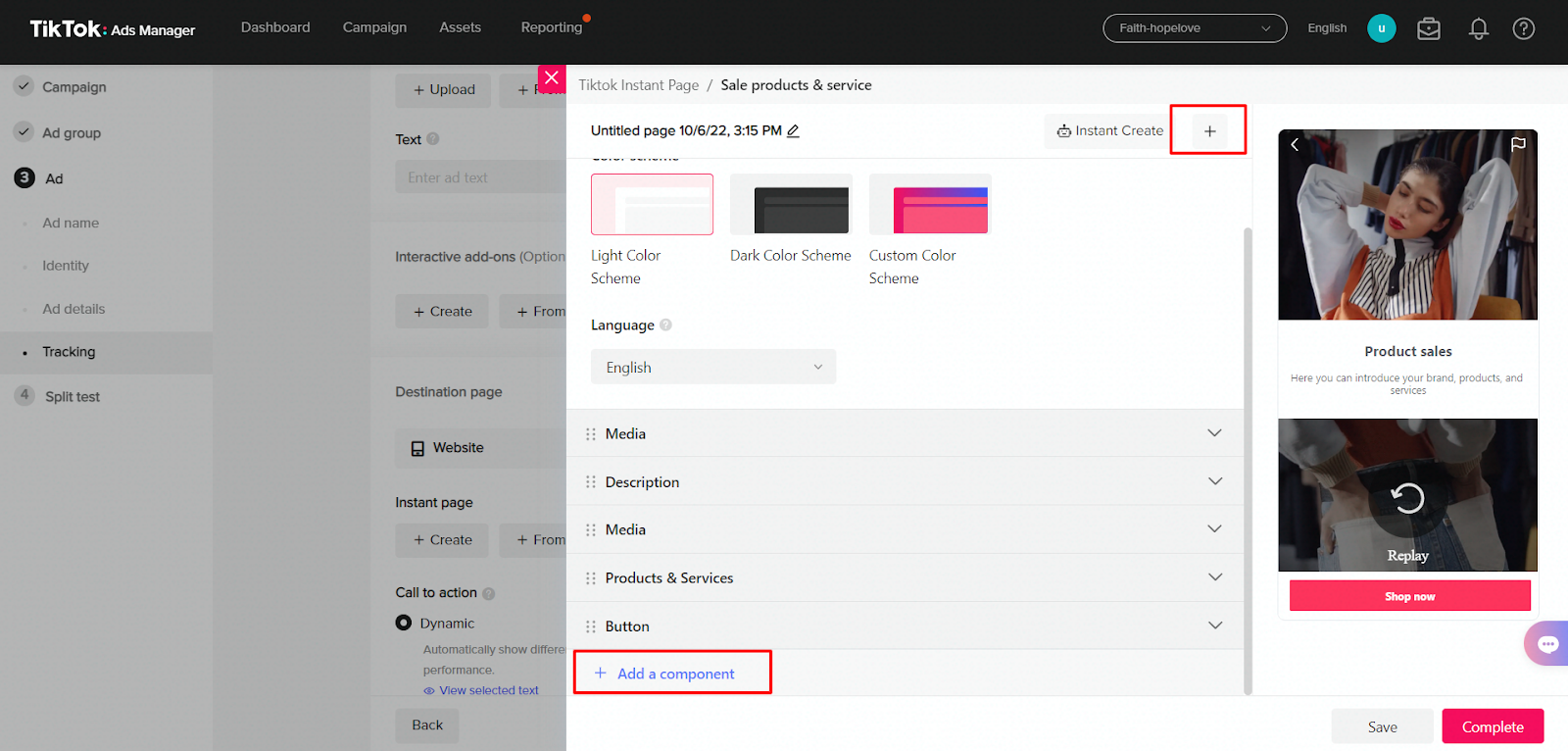 Instant page support some kinds of components below: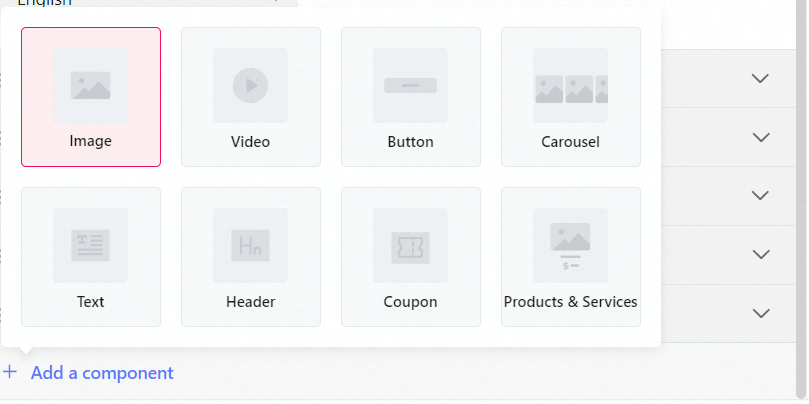 Note:
If you want to create an Instant Page from an existing website, click Instant Create, enter the URL and then click Generate.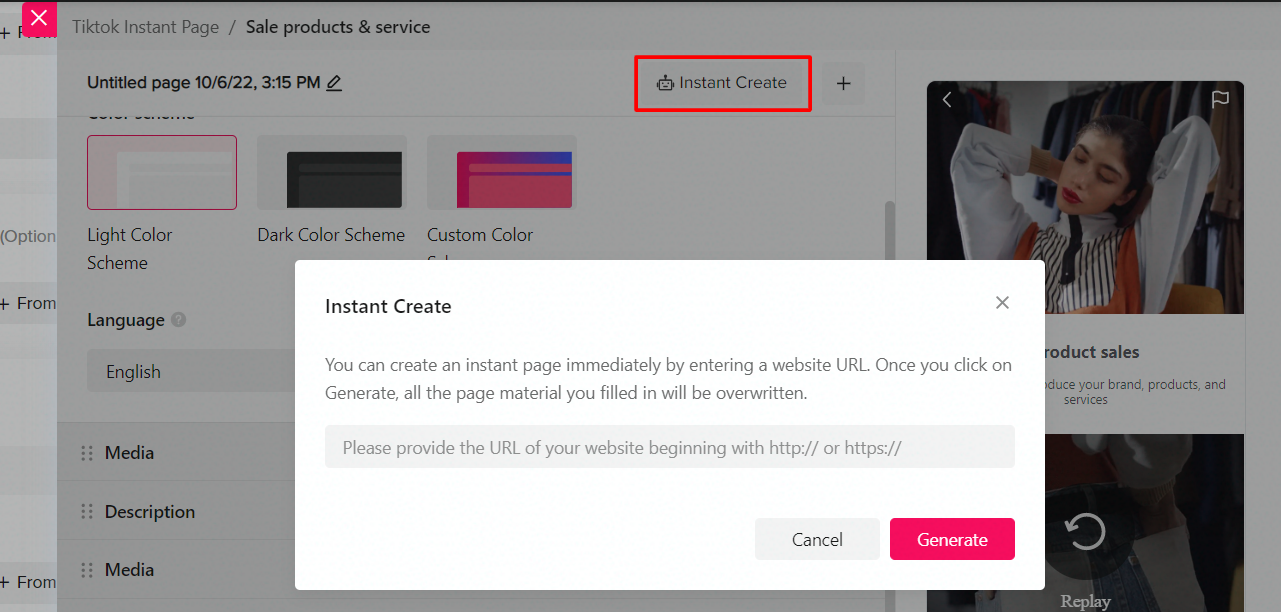 Step 4: Access the Instant Page Library
1. Go to Ad details, click TikTok Instant Page and choose +From library

To use a completed Instant Page, select one with the status Ready and click Confirm
To continue editing the draft Instant Page, select one with the status Draft and click Edit
To copy a completed Instant Page, select one with ready status and click Copy. The Instant Page Builder will open, and you can rename or edit any components
2. After you add Instant Page for your ad, click Submit to ready to public
TikTok instant page example
Get Contact, a global free caller avoids spam and unwanted calls and just only lets people you know contact you. Let's see how this brand applies Instant Page to enhance customer experience.
With TikTok Instant Page, instead of going to the Apple store to download the app, users can directly install the Get contact app in TikTok. In addition, without the help of technical teams, the TikTok instant page allowed them to develop an eye-catching home page that shows their product value as protecting users from undesirable calls and accessing Getcontact's messenger.
There is a significant difference in comparing the outcomes of running a campaign with and without an Instant Page. Specifically, they reduced their CPI by 29% while raising their CVR by 23% using Instant Page!
Ready to create TikTok Instant Page for your business
Have not set up TikTok Instant Page for your business? If not, why not try it now? It would be essential to include this tool in your marketing strategy to increase Traffic, Conversion, Reach, and Video Views. Additionally, with all of the benefits it offers, customers will feel satisfied and enjoy a seamless shopping experience.
If you need any help in launching a marketing campaign especially running the TikTok ad, feel free to contact our experts via live chat or try our NestAds app.