Have you intended to build your TikTok account but still wondered between a TikTok business account and a personal account?
Each of these accounts is designed for different purposes with specific features. So which one is most suitable for you to maximize your efficiency? In this post, we will show you their pros and cons and then walk you through how to find your best choice.
What is a personal account?
TikTok has recently converted all creator accounts to personal accounts. It is a type of TikTok account used by most general users and content creators.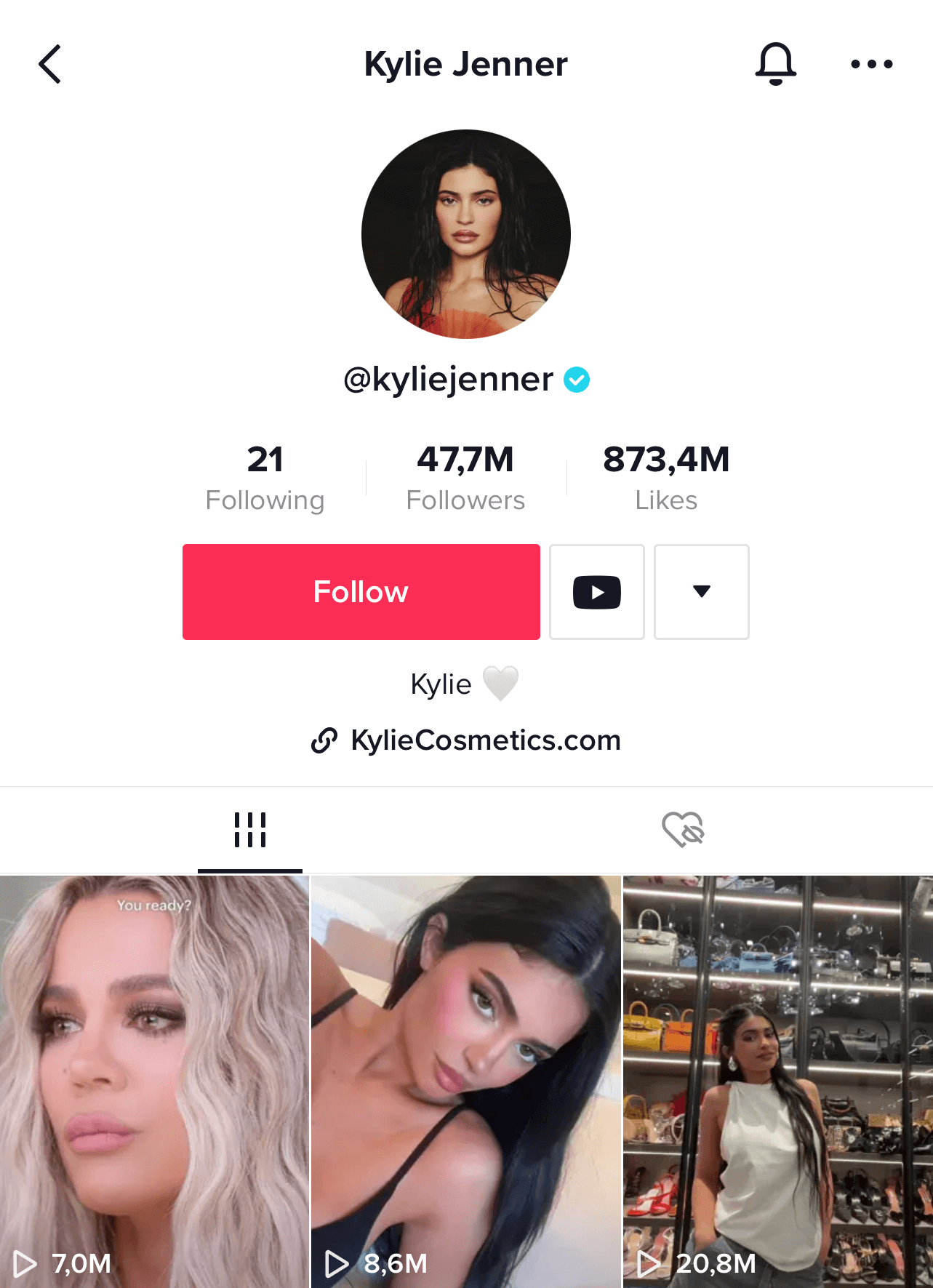 Pros of a TikTok personal account
By using a TikTok personal account, you have:
Full access to the audio library
A TikTok creator account has access to both Sounds and Commercial sounds. It means that you can use any available sound from the whole music library to create your video.
Ability to stitch and duet
Otherwise, users are allowed to stitch and duet any desired video, enabling them to tell their own story and react to other creator videos.
Switch the account to private
Creator accounts can change their account to private, only people you approve can follow you, and view your videos, and also your following and followers lists.
Eligibility to join the TikTok Creator Next Program
TikTok Creator Next is a program built for TikTok creators to monetize as they grow their communities. By taking part in TikTok Creator Next Program. personal accounts are allowed to access other monetization features including Creator Fund, Creator Marketplace, Video Gifts, Live Gifts and Tips.
Otherwise, they will be eligible to be a creator on the TikTok Creator Marketplace and also TikTok Creator Fund. Those features are not available for business accounts.
Cons of a TikTok personal account
Message only to your friends
With a creator account, users can send and receive messages only from their friends or people they follow. This means that you can't stay in touch with your non-friend customers although messaging is very important to promote your business.
Difficult to add a website to your profile
Personal accounts have to reach 1000 followers to attach a website link to your profile. It's not easy to build up your TikTok profile and get to that 1K mark.
What is a business account?
Different from a TikTok creator account, a TikTok business account is a public profile that enables brands to develop their businesses through TikTok's entire marketing suite of tools. Especially, a business account is free to create and provides advanced performance metrics also creative tools.
Pros of a TikTok business account
Access to TikTok's Business Suite
By using a TikTok business account, TikTok allows you to access TikTok's Business Suite which is a major pro of this account. Website Business Suite is a central location with other support features including:
Analytics: Allow you to find and also download data about your account (profile, video, content, live videos, etc.)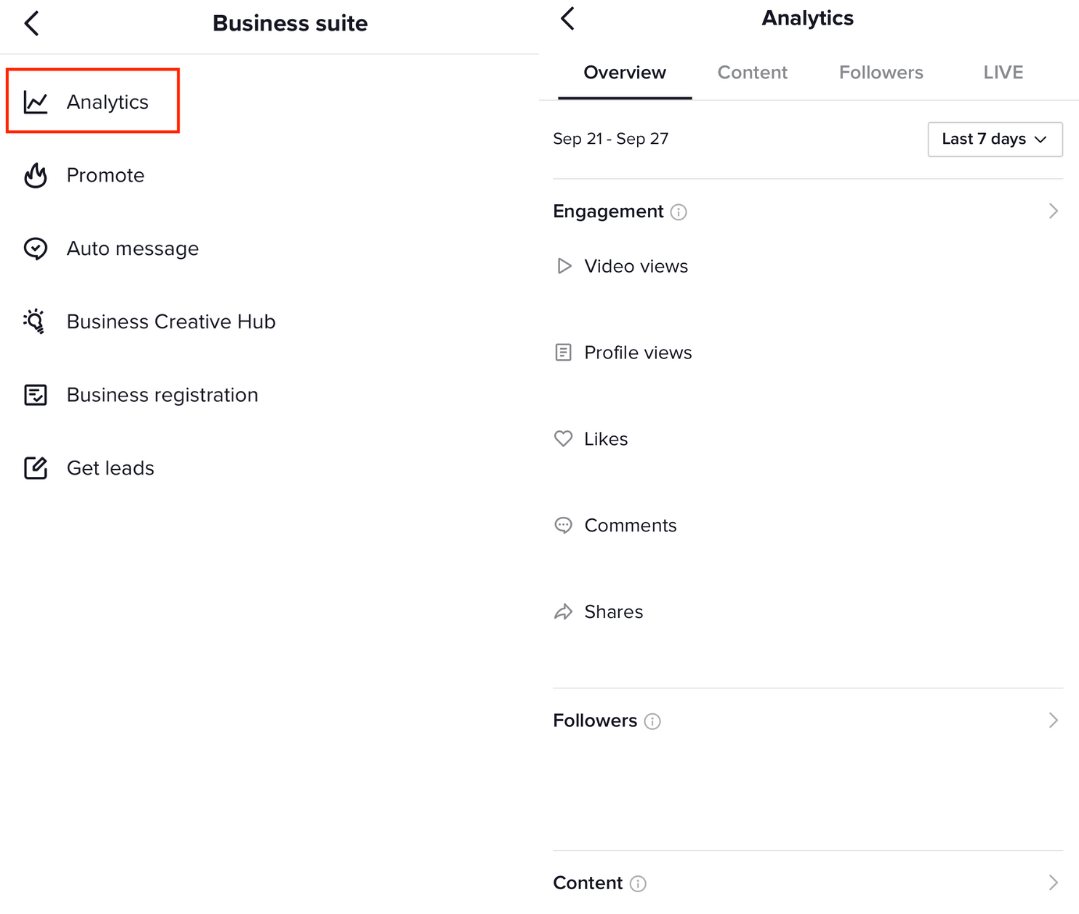 Workspace: A place that contains your information about Promote – an advertising tool in TikTok application.
Activity & support: A place that includes ideas and information on how to develop your business account.
Commercial music library: A collection of 1,000,000+ songs and sounds is there for business accounts to explore.
Ability to show an email address
Business accounts can show an email address and put a website link on their TikTok profile. Post scheduler (schedule posts on TikTok up to 10 days in advance) is also available for this type of TikTok account.
Enable to create a TikTok store
You need to have a TikTok business account to set up TikTok shopping. With a TikTok store, you can show your products in TikTok app and increase purchasing ability.
Access to the in-app Business Creative Hub
In the Creative Hub, TikTok helps business accounts to build their content strategy by offering some tips about content, shooting videos and best practices such as time to post videos, etc.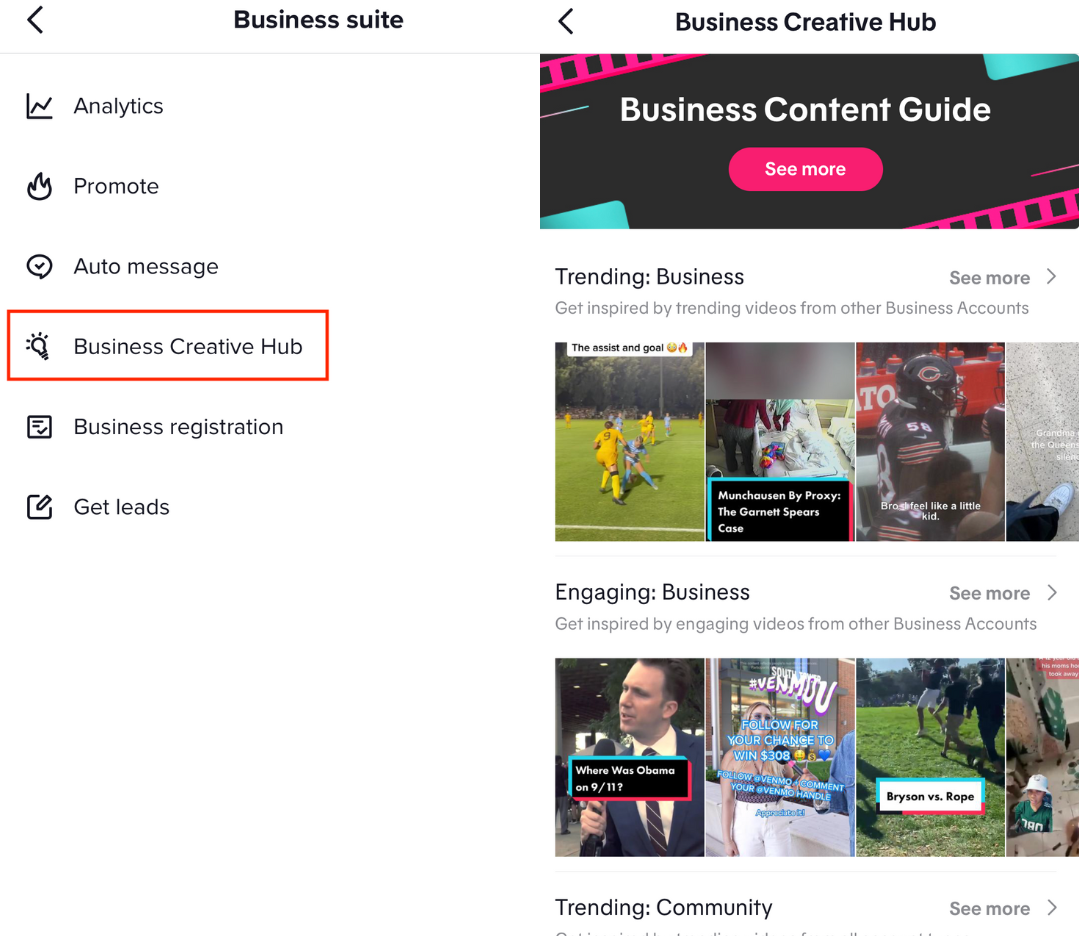 Cons of a TikTok business account
Business accounts are allowed to use only commercial sound clips instead of the entire music library. These songs are only used for entertainment purposes. However, brands can always create sounds to tell their own story.
Limited stitching or duet options
Due to the limited library of sounds, your brand is not allowed to stitch or duet with any video using non-commercial audio.
What should we choose?
Similarities
Before deciding which type to use, both of them provide some general features you should know:
Access to general analytics
These types of TikTok accounts have access to TikTok analytics and performance insights. For a TikTok content strategy more effective, TikTok offers an overview of your videos such as video views, profile views, follower count, audience engagement, etc. However, personal accounts need to post at least one public video to see their analytics.
Ability to promote videos
Personal and business accounts enable TikTokers to promote their videos in order to attract new users who have an interest in their content. For creator accounts, this ability is especially helpful for sponsored videos. Promote is an advertising tool that can help you to gain more followers and improve your chances to drive more traffic to your website.
Ability to go live on TikTok
TikTok Live is a feature allowing TikTokers to interact in real-time. However, you must satisfy TikTok age requirements to be able to launch live: users 16 years and over can use this feature, users 18 years and over can send and receive gifts during a live. Otherwise, gaining a certain number of followers is also necessary.
Access to TikTok Creator Portal
TikTok Creator Portal is a collection of articles and short videos that gives useful information about getting started and creating content on TikTok. It means a great place for business and personal accounts to receive advice and learn more about basic things on TikTok.
Differences
TikTok personal account
A personal account is more suitable for individuals or small businesses rather than large companies. If you just want to build personal branding or adjust the target audience yourself, a creator account is definitely ideal for you.
Another reason why you should choose this type of account is that you don't need various types of TikTok Ad. Lacking an email address, you can not run TikTok Ad with your creator account.
TikTok business account
A business account is an effective type of TikTok account for big businesses with large capital. You can have access to various useful features that help promote your brand like insightful performance and audience data, intuitive Business suite, seamless linking, etc.
Moreover, business accounts allow you to reach national and also international customers thanks to running different types of TikTok Ads. In-Feed Ads, Brand Takeover, Branded Effect, Collection Ads, etc. are available for you to take advantage of.
How to switch your TikTok account type
TikTok enables users to switch from personal accounts to business accounts and vice versa. Therefore, if you want to change your account type, follow the 4 simple steps below.
Choose Profile in the bottom right to access your profile.
Click the 3-line icon in the top right and choose Settings and privacy.
Tap Manage Account.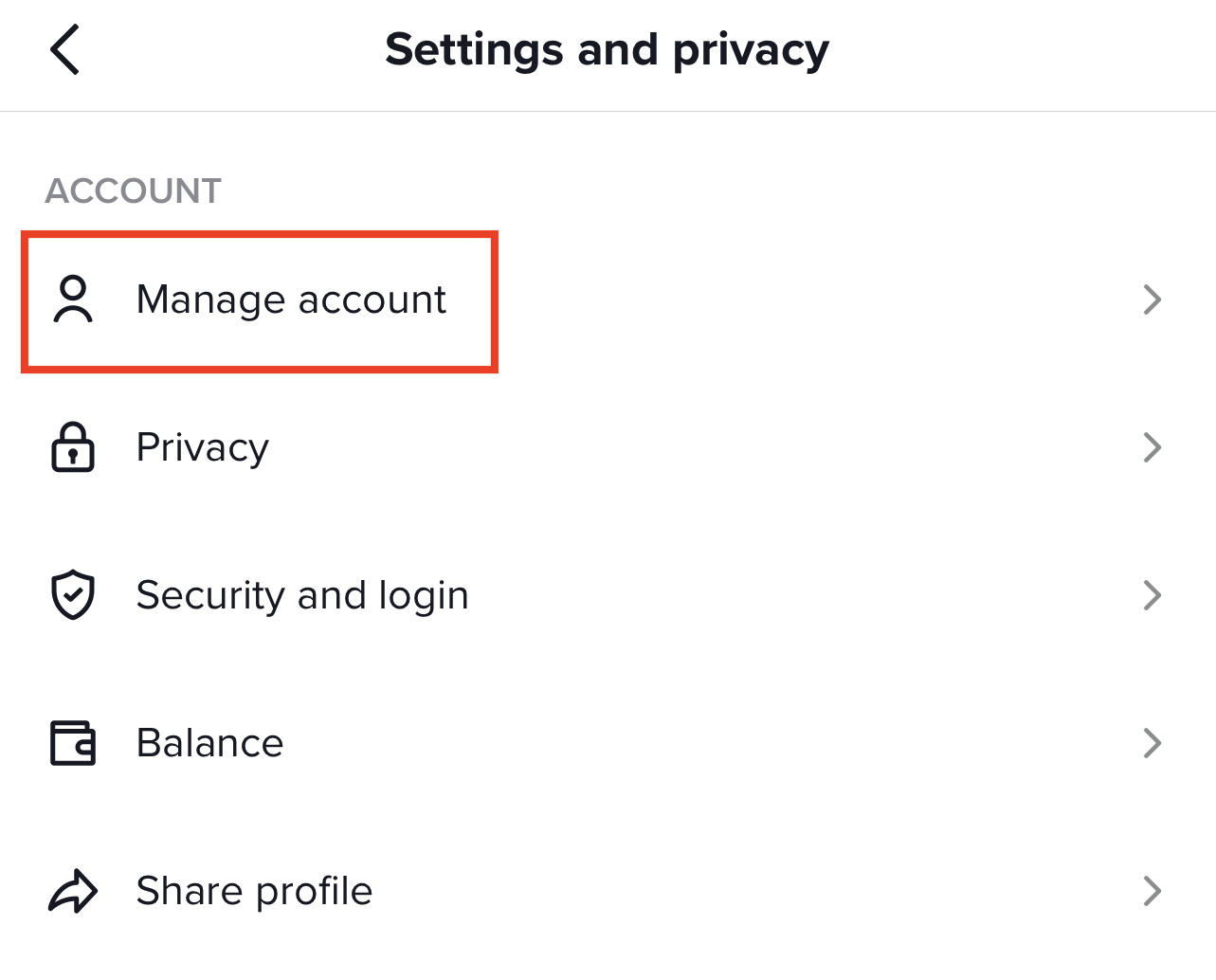 Click Switch to Business Account or Switch to Personal Account to choose and then follow the next instructions to finish.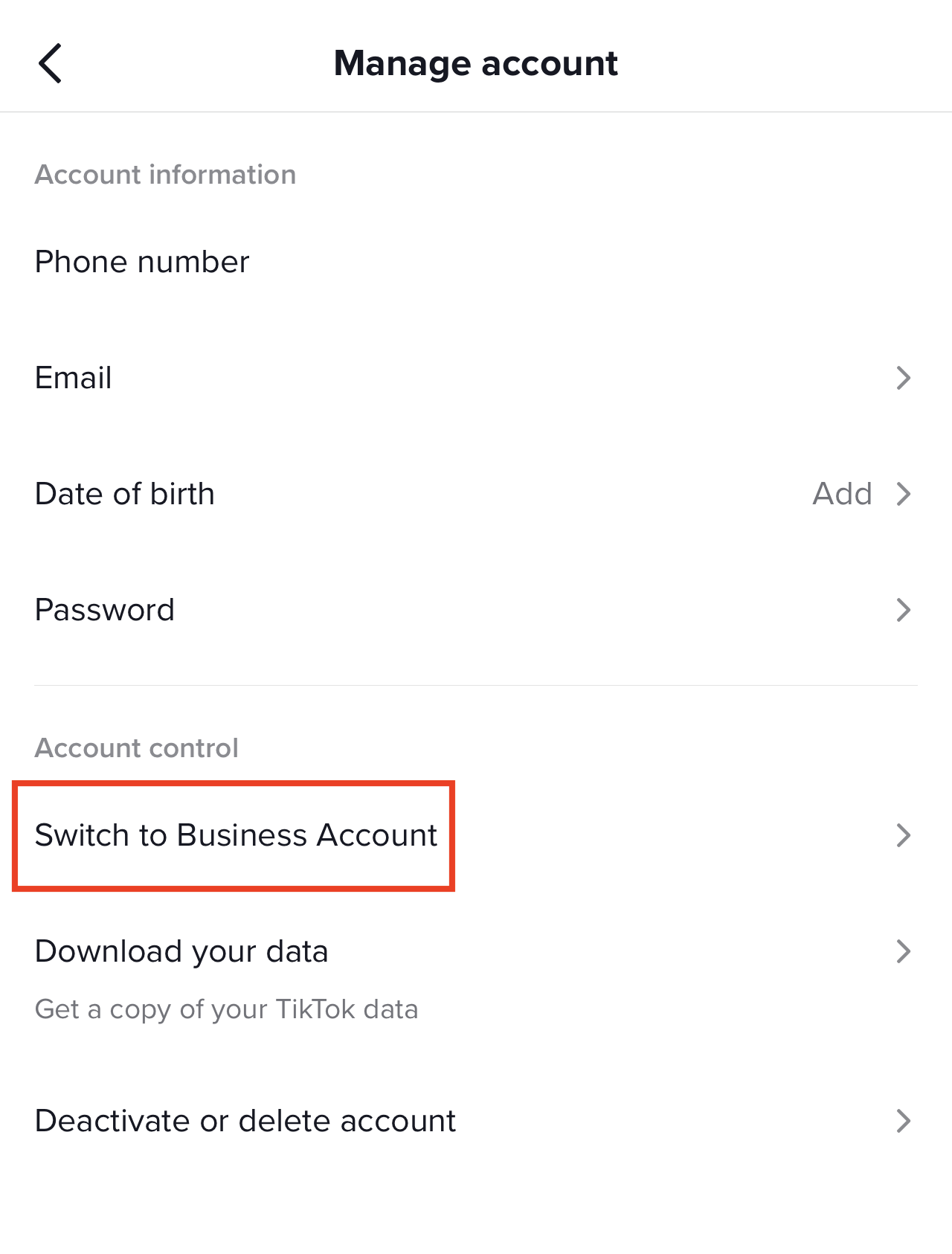 However, please note that it is not highly recommended to switch from a business to a personal account and back. Different types of accounts serve different purposes. If you aim to promote your business on TikTok and your personal image at the same time, it is advised to use separate accounts to achieve your goals.
Let's create your own TikTok account
The type of accounts you choose depends on your strategy, your objective and also your target audience because every rose has its thorn. We hope that this article gives you some useful information and helps you to find your best option. Feel free to contact our experts to receive more advice.