Ready to sleigh your Christmas social media game? It's time for some great Christmas social media post ideas! We know the festive season is upon us, and what better way to spread the cheer than through your online presence? In this blog, we've wrapped up a bunch of holly-jolly Christmas social media post ideas that will have your followers double-tapping their way into the holiday spirit. So, grab your virtual Santa hat, a cup of cocoa, and let's go right in this together!
We all know that to create a successful social media campaign, we need to put in a lot of preparation beforehand. This is especially crucial during the Holiday season when you want to ensure that your social posts leave a lasting impression on your customers throughout the entire Christmas month. To help make your workload a bit lighter, we're here to provide you with 12 days of Christmas social media ideas that you can incorporate into your campaign:
Christmas gift suggestion
As the holiday season kicks in, some of your followers might be in search of the perfect Christmas gifts, while many could find themselves unsure about what to choose. So, why not provide them with some hints by showcasing your own products?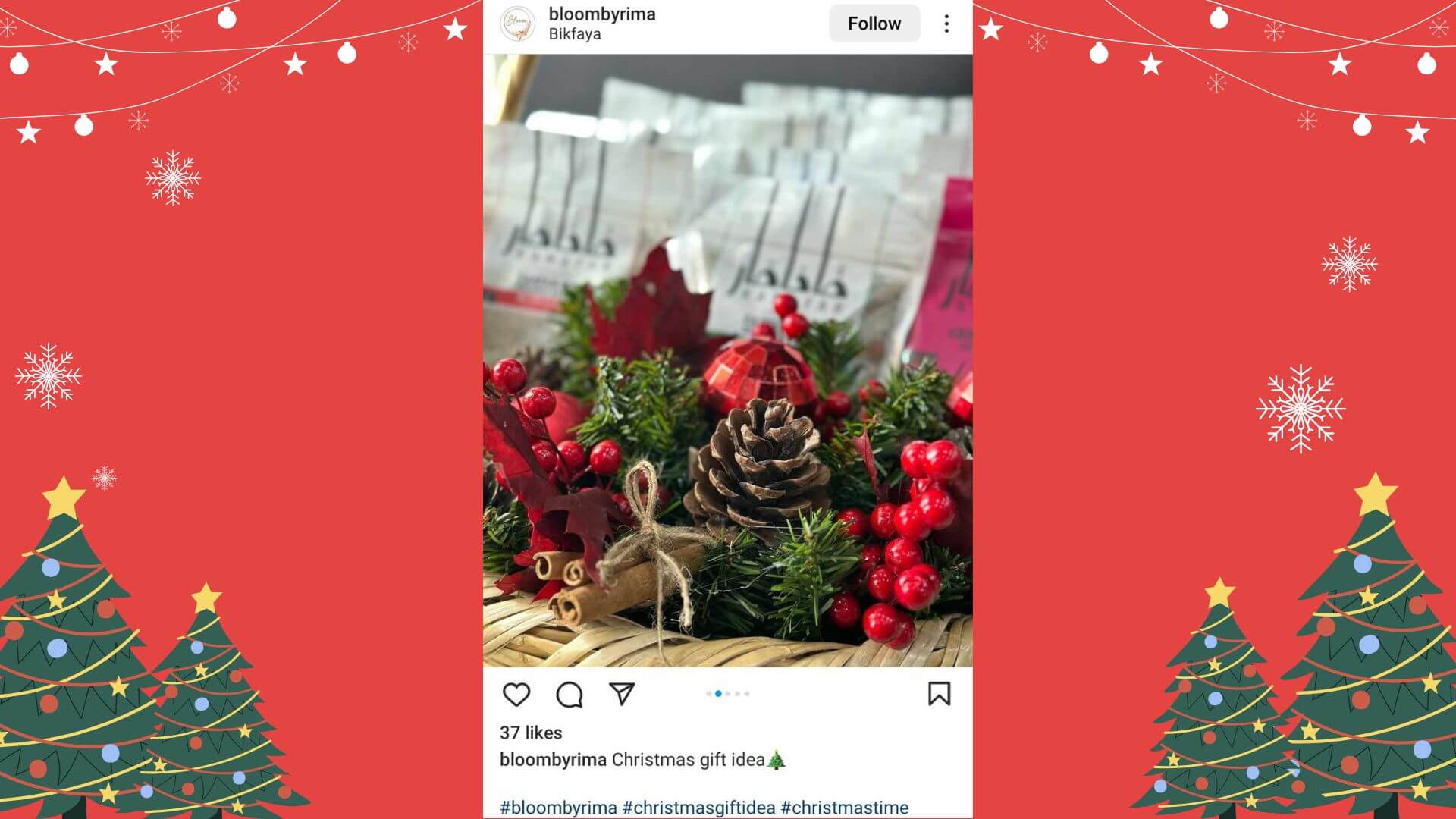 We suggest you do a gift inspiration post. It's the easiest way to join the Christmas fun while still promoting your products! Try to create eye-catching visuals and great descriptions for your products that followers can't resist reacting to. You can experiment with posting formats to make your content stand out. For example, consider a carousel post, a suggestive TikTok video, or interactive images with clear calls to action. These approaches will significantly enhance their scrolling experience when they come across your post!
Behind-the-scene footage of your business
Time to add that personal touch to your brand's holiday magic! Let your followers peek behind the scenes of your business – it's like showing off the cool, human side of you. This versatile move is spot-on for your Christmas social media game – Facebook, Instagram, TikTok, you name it. We suggest you use some of these ideas to make the best BTS content that attracts your viewers:
Santa's helpers: Share a glimpse of your team hard at work, prepping customers' orders with care. Now, your products have a story to it!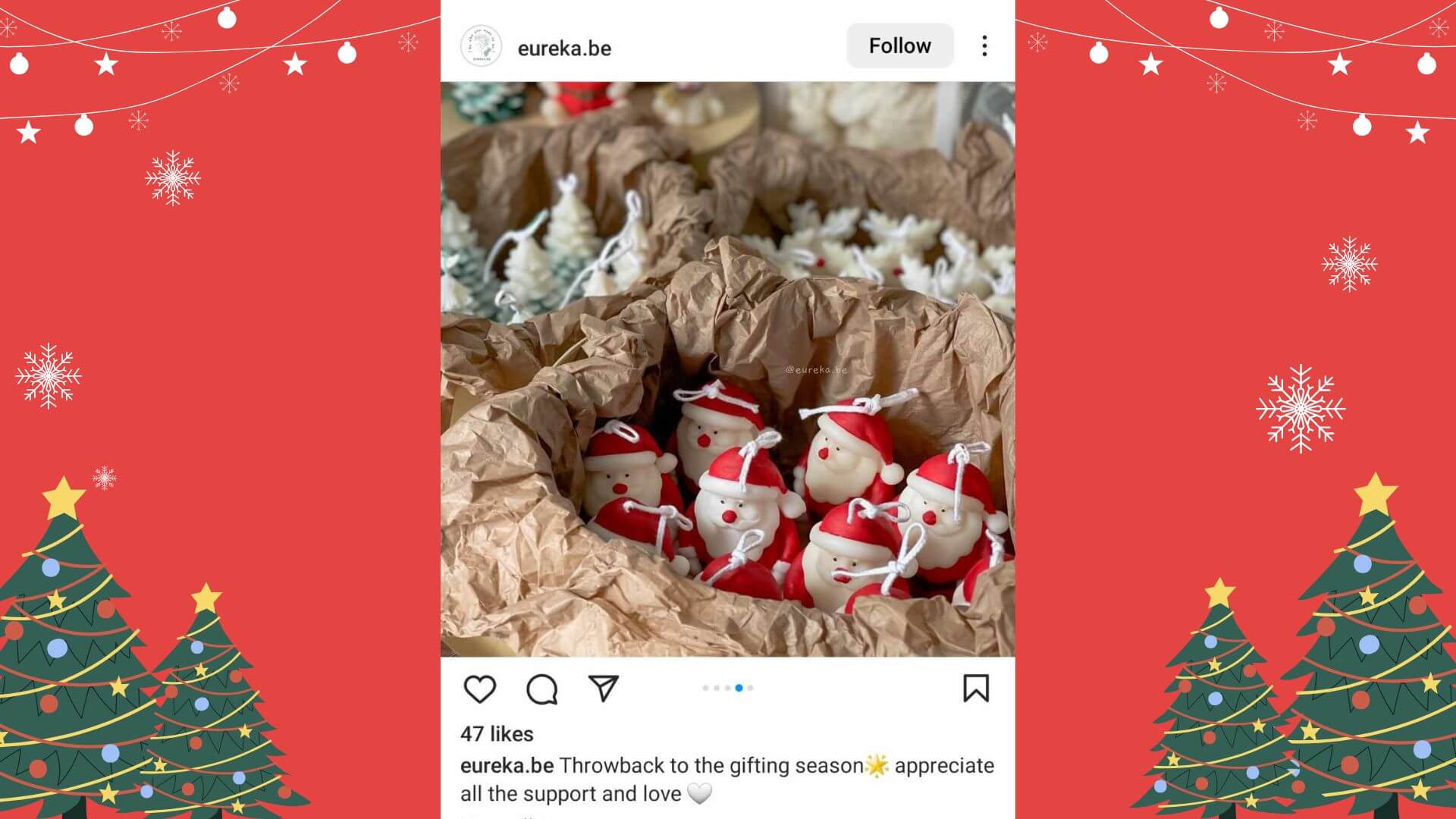 Season's greetings: Capture the joy at your team's holiday party. Laughter, ugly sweaters, and maybe even some epic dance moves!
Deck the halls: Show how your workspace gets a festive makeover. Let them see the tinsel and glitter in action.
Christmas checklist
Hey, it's time to keep the holiday chaos in check! Christmas means a lot of action – gifts, feasting, and parties. But people want more guidance for the season's to-do list. So, give them awesome suggestions for things to prepare beforehand! Think: top Xmas movies, chilly outdoor fun, shopping sprees, yummy cookies, pet readiness, and more. These lists are your ticket to acing the festive game.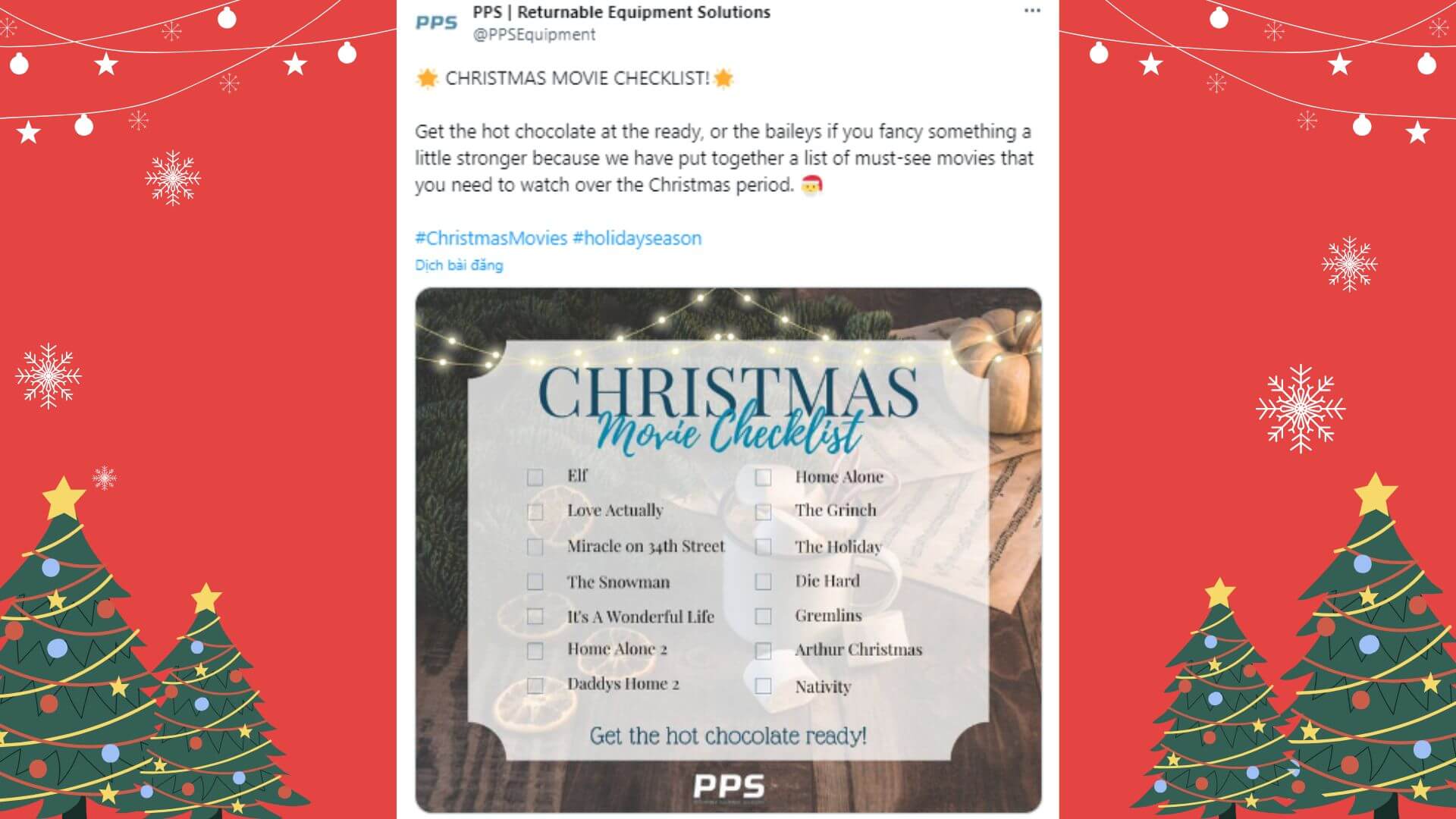 Meme for the Christmas fun
When in doubt, go with memes! Memes are like a universal secret language that everybody understands; they're amusing, shareable, and have the potential to boost your brand's popularity. So, why not blend holiday joy with meme humor to add some extra sweetness to this Christmas season?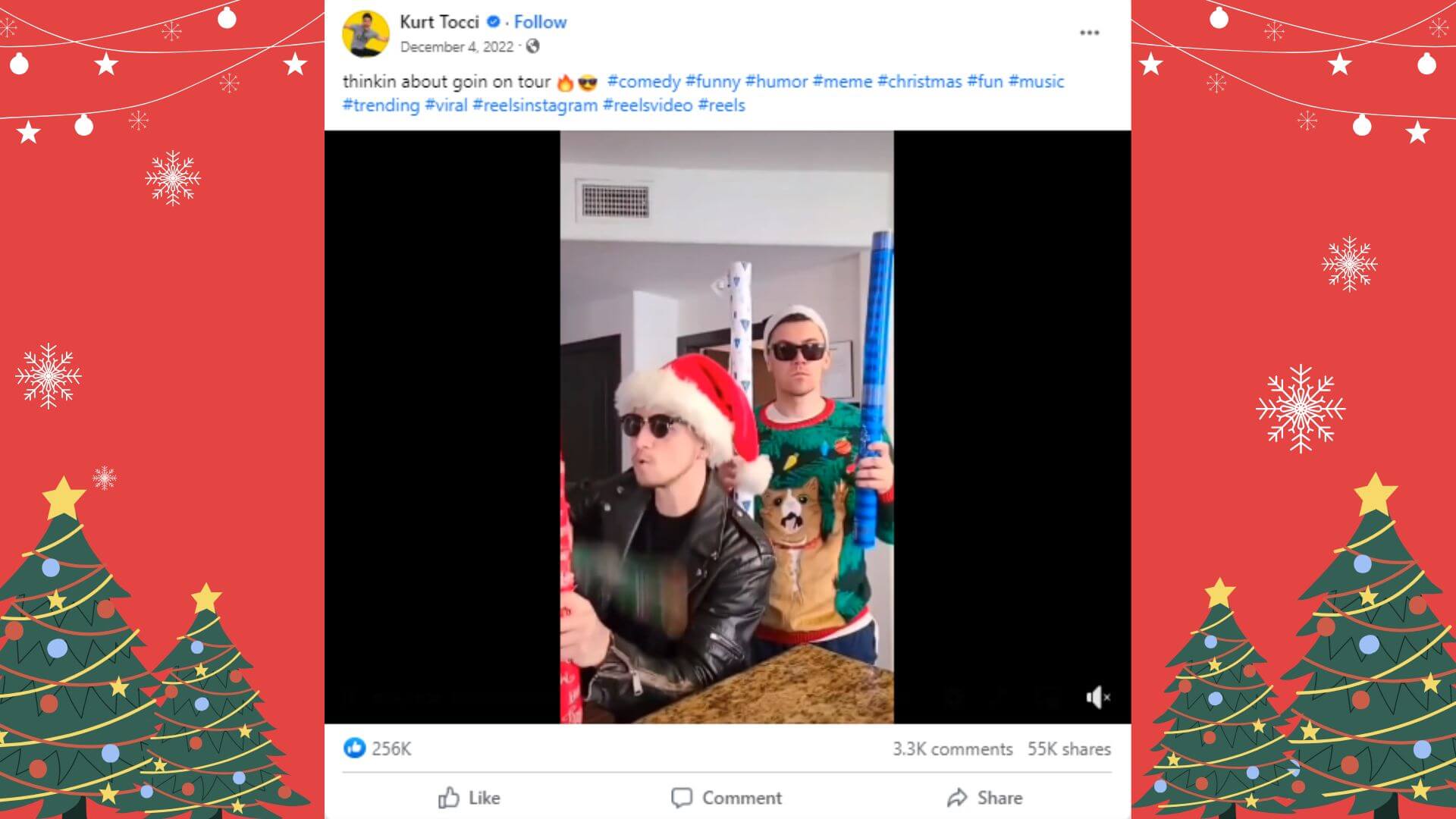 For instance, you can create memes about gift-giving during Christmas or the hustle of holiday preparations – topics that resonate easily with people. Just remember, not everyone might be into memes, so it's essential to know your target audience.However, if your content clicks with your audience, these timely chuckles can create great brand buzz that make you viral this holiday season.
Christmas hacks and tricks
Who doesn't love a little shortcut? You can share awesome tips and hacks for nailing Christmas tasks like a pro – from DIY tips to some smart tricks for gifting. We have some ideas for your Hacks and tricks post that you can use on your social media platforms:
DIY Delights: Share the most sought-after "How Tos" during the holidays. There are so many DIY decoration tips you can share, like making Christmas tree ornaments, DIY Christmas lights, and more. These will definitely grab a ton of attention for your social media pages, giving you extra buzz this holiday season.
Yummy Recipes: Food is one of the things people care about the most during this season. Even if food isn't what your business specializes in, you can still join the Christmas atmosphere by sharing some favorite holiday recipes. It can never go wrong during Christmas! Plus, you're showing customers that you truly care about their holiday experience, not just focusing on sales.
Pic Perfect: Capture attention with top-notch photo tips! People love taking beautiful pictures during Christmas. So, why not demonstrate your photography prowess by using your own product photos? We're confident your audience will adore this idea!
Pictures of all the holiday events
Christmas is for spreading cheer in your community! Any time of the year is good for connecting, but the holiday vibe brings extra chances to mingle. From events linked to your products to any jolly gathering, it's a golden shot to put your brand out there, make new partnerships, and show some love. You can even take the lead by hosting an online or offline event. Whether you're in the spotlight or joining the party, share the buzz on social media. Prep posts for before, during, and after, and give your followers the heads-up if they can join the fun too!
Local Christmas traditions
Christmas is celebrated in all sorts of ways. Hence, you can post about your unique Christmas traditions – you know, the stuff that local people usually do each year. It gives a personal touch and shows your brand is all about the holiday spirit. People love to connect, and when they see your traditions post, they'll feel more connected to your store. You can also ask your audience to share their own traditions in the comment section to boost up the interactions in the post.
Christmas video to spread the vibe
Get ready to spread the festive spirit with awesome Christmas videos! Videos grab attention and people love them, they even share and comment on them. Videos can do more too – they help with retargeting and boosting sales. You can make a video on YouTube and share it across social media to attract lots of interested potential customers.
Show off your products' perks through videos, especially Christmas-themed ones that catch eyes before the holiday rush. Videos are the kings of shareability, perfect for igniting your social media campaigns. But remember, creating a great video takes time and teamwork. Think about your brand's vibe and message, let visuals tell your story. And if you're low on time and budget, go for short, snappy videos that don't need heavy editing – they can still be super effective!
Quizzes and polls
Hey, don't just post one-sided content all the time. Let's have some interactive Christmas fun on social media! Boost engagement by throwing questions at your followers – just like you're chatting with friends. Nowadays, all social media platforms assist you with these features. We've already posted on your landing page and TikTok channels, but there's one more place you haven't tapped into yet. That's right! It's Stories!
You can ask your customers questions such as: What's their favorite Christmas gift? Do they plan to travel or stay at home this holiday? And more. As they swipe through their Stories, they'll see your interactive posts seamlessly, potentially increasing the chance of receiving responses. Their answers will provide valuable insights into your audience, helping you improve your performance this season.
Christmas Q&A session
This is another fantastic interactive idea that you can do in your business's Story section. You're aware that when people need information, they often have to search in multiple places, right? Then, how about letting them ask you directly in your social media story, where all the potential customers are gathered? This way, you can gain insights into their concerns and enhance your service while increasing interaction with customers during this holiday season.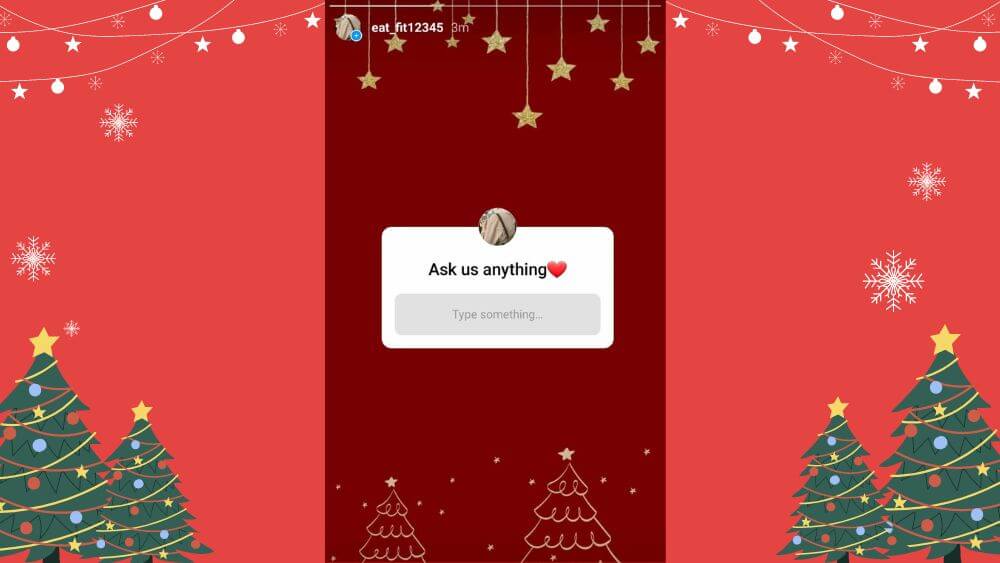 Countdown for Christmas!
People get super excited as Christmas approaches. Wanna keep them hooked on your brand? Easy-peasy – do a countdown post every day and ride the festive wave! But here's a tip: Instead of posting the chain of countdown post on your landing page, you can utilize your Story to spread your visibility everywhere! Just make sure you tailor the content and the style match your brand and audience. Need some inspiration? We got some for you:
Product Showcase: Unveil a new product from your collection each day. It's like a daily gift for your followers.
Festive Facts: Share interesting Christmas facts or trivia to keep your followers engaged and informed.
Festive Playlist: Share a new holiday song or music suggestion every day. Keep the festive tunes rolling!
Customer Spotlights: Showcase happy customers each day, sharing their holiday stories or using your products.
Giveaway posts with activities this holiday season
No one can resist a Christmas gift, so get set to share the holiday joy with a social media giveaway! Craft a simple challenge or a fun mini-game for a chance to win exciting prizes. Believe us, people adore these activities during the holiday season. Plus, a giveaway post encourages users to create their own content, boosting your visibility across platforms. Here's a lineup of activities to fire up your strategy:
Festive photo hunt: Share a captivating holiday-themed image that's packed with tiny details. Then, challenge your followers to spot a specific holiday symbol hidden within the picture. They'll need to comment with their discovery and tag a friend to join in the fun. Lastly, you can pick a winner from the correct entries and reward them with a fantastic holiday surprise!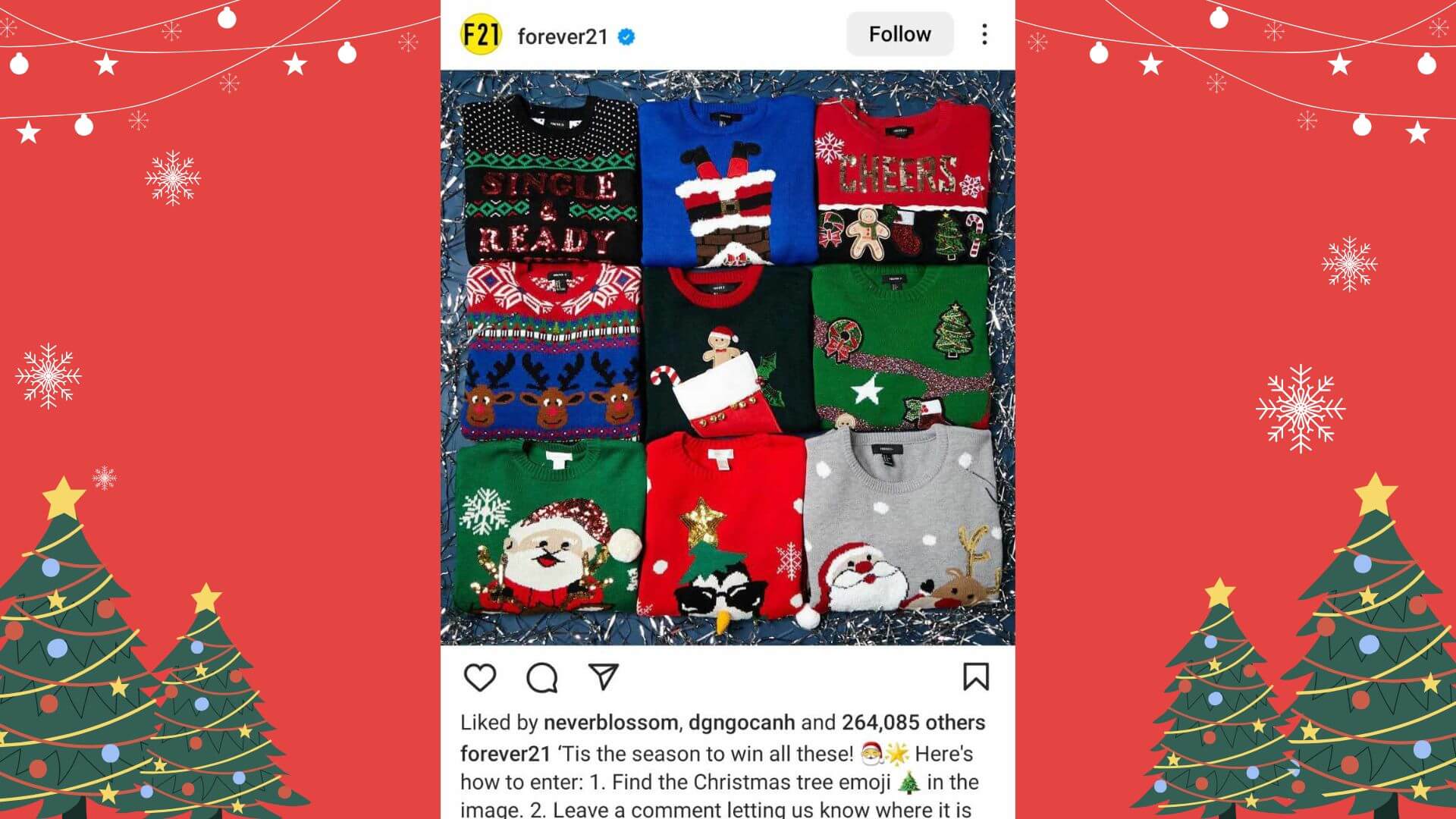 Christmas memory sharing: Encourage your followers to share their favorite Christmas memories or traditions in the comments. It could be a heartwarming story, a cherished family tradition, or a funny holiday mishap. Pick a few winners and reward them with holiday-themed goodies.
Guess-the-gift Giveaway: Share a sneak peek of a wrapped holiday gift and ask your followers to guess what's inside. Those who guess correctly are entered into the giveaway. It's a playful way to build anticipation and excitement, and the winner gets to unwrap the real prize!
To provide you with inspiration for your Christmas social media post ideas, we have also prepared a selection of social media posts that we believe are both highly creative and easy to implement for your business:
FedEx
FedEx has also created a short video on their Twitter. Without the need for fancy effects of sounding, their video is simple, much like a GIF. However, through the combination of their caption, they still managed to successfully garner a lot of support from the Twitter audience.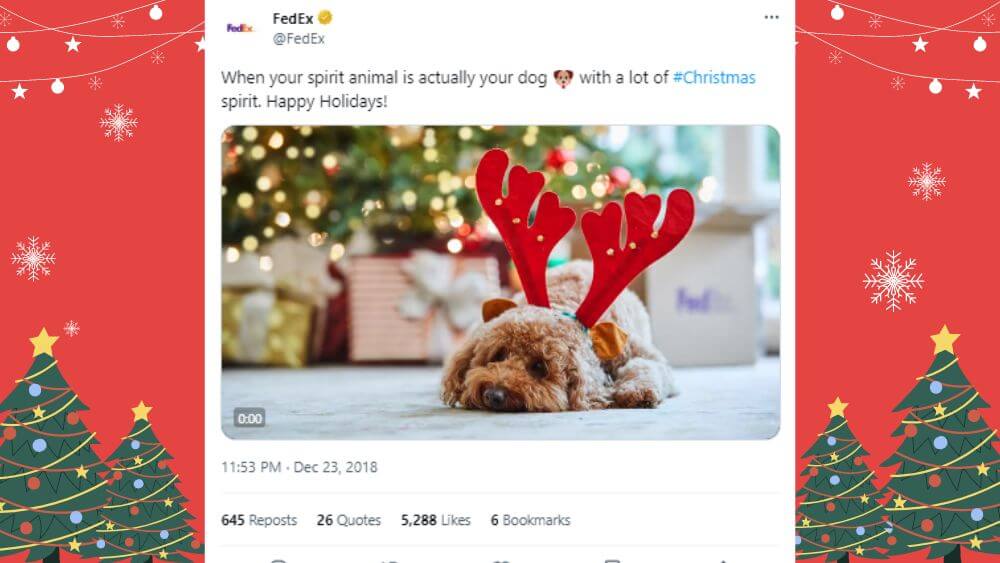 Lego
Lego was incredibly creative in infusing its social media platform with a holiday vibe. They shared the Christmas feast, featuring food and candles. However, instead of using real food, they used Lego pieces to create the food models! This idea was fun and playful, and, of course, it received a tremendous amount of likes on Instagram!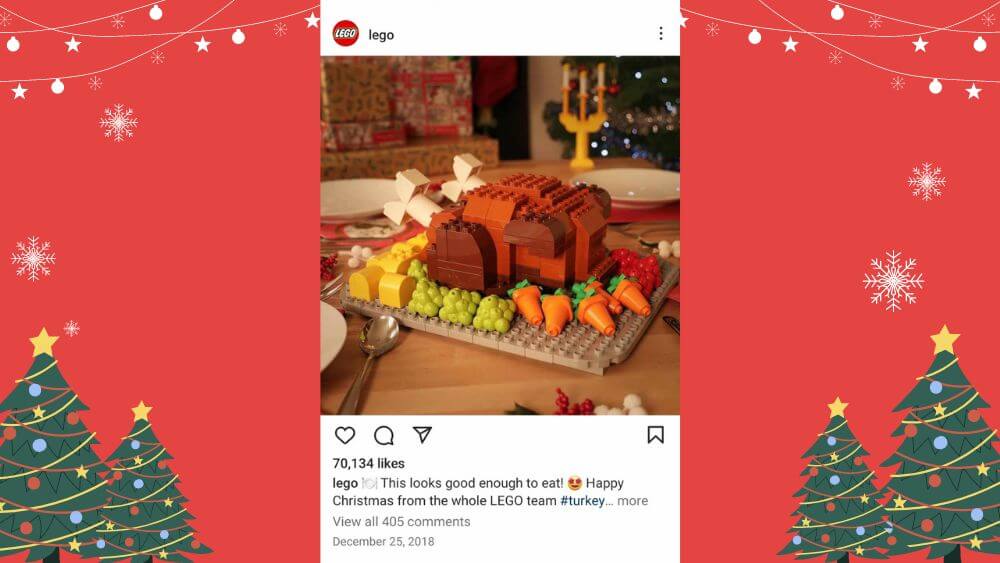 Zara Home
Zara has also joined the fun by sharing their Hand-made Christmas design with their followers. The design was so pretty and attractive that many people reacted to their Instagram posts. And guess what? This is also one of the house decorations they sold! Therefore, with this post, they've succeeded in attracting more followers and boosting their sales.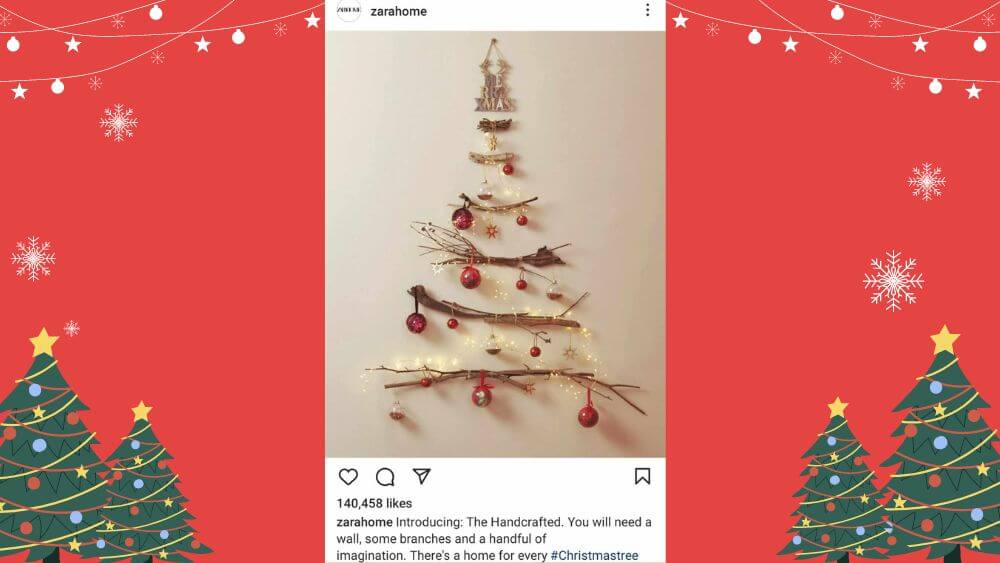 Now, you have everything you need to for finding your Christmas social media post ideas. But there's more you need to keep in mind to succeed in your social media campaign! Let us run you through some basic notes: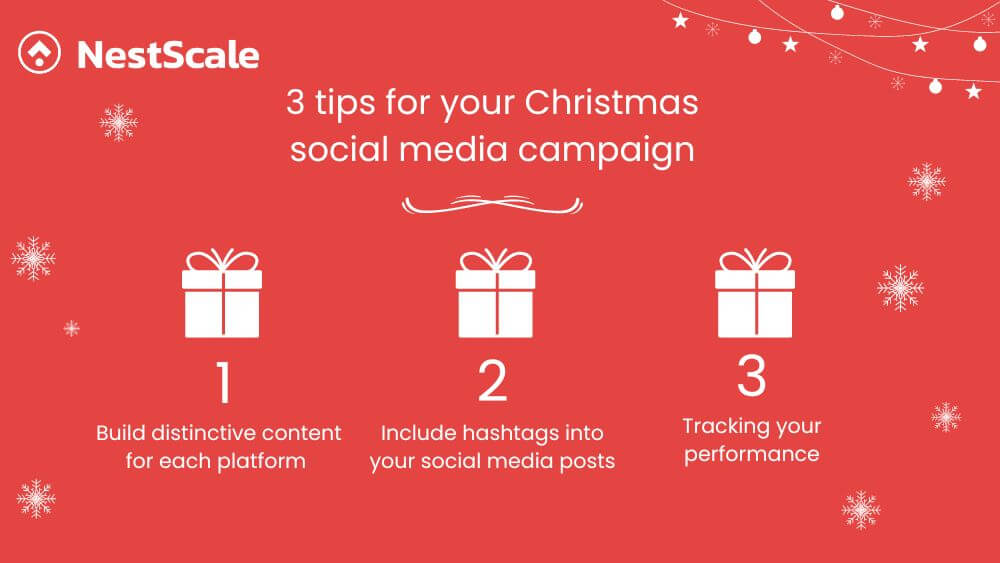 Build distinctive content for each platform
Think of each social media platform as its own holiday party with its unique crowd and festive vibe. Each platform has its own traits, such as Instagram prefers aesthetic pictures, and TikTok love fun short video. It's like decking the halls – one size doesn't fit all!
So, ensure your strategy is tailor-made for each platform's audience. Repurposing content is fine, but remember to give it a holiday twist. Change up the wording and design elements to match the unique ambiance of each platform, just as you'd adjust your festive décor to match the style of each holiday party you attend.
You can have the best Christmas social media post ideas. But to spread it to many people, don't forget to sprinkle some hashtags! These little guys will help your posts get discovered by more people. When you add relevant hashtags to your social media posts, like #ChristmasJoy or #FestiveVibes, You are letting them to be seen by others interested in the same stuff. It's super easy – just think of words that fit your post and the holiday spirit, and add that pound sign in front of them. So, whether it's #GiftIdeas or #TisTheSeason, get those hashtags rocking and watch your posts spread like holiday cheer!
Let's spread the Christmas fun to your store right now!
And there you have it! With Christmas social media post ideas brainstormed and real-life examples at your fingertips, you're now brimming with inspiration. But why limit the social media excitement to just a few platforms? How about spreading that festive spirit to your online store this season, making it so special that your customers can't help but keep scrolling through?
Here's a suggestion for you: Let's integrate your social media feed into your online store right now! It's not as complicated as it may seem, thanks to our handy NestWidget, which offers a quick solution. With NestWidget, you can seamlessly incorporate your entire TikTok feed into your e-commerce store. Feel free to customize the widget to your heart's content, using various design options and layouts to ensure it blends seamlessly with your store's appearance. Imagine turning all that holiday fun into real sales—what could be better than that?
Dive into the enchanting spirit of the season, engage your audience, and set your creativity free. With these concepts and a great supporting tool, may your business thrive on social media this holiday season!