Short-form videos have exploded in popularity in recent years, with two platforms that have emerged as the leaders in this space: Instagram Reels vs TikTok. Both platforms provide distinct features and advantages for businesses aiming to expand their audience and engage with customers effectively. However, they still exhibit notable differences in terms of algorithms, creative options, user base, and advertising capabilities.
In this article, we'll take a closer look at what each platform has to offer and help you decide which one is right for your business.
Instagram Reels vs TikTok: An overview
Just getting started but already felt like there's too much key information you need to learn? No worries! Below, we have an overview of the similarities and differences between Reels and TikTok. Please read on to gain more interesting insights into these two platforms.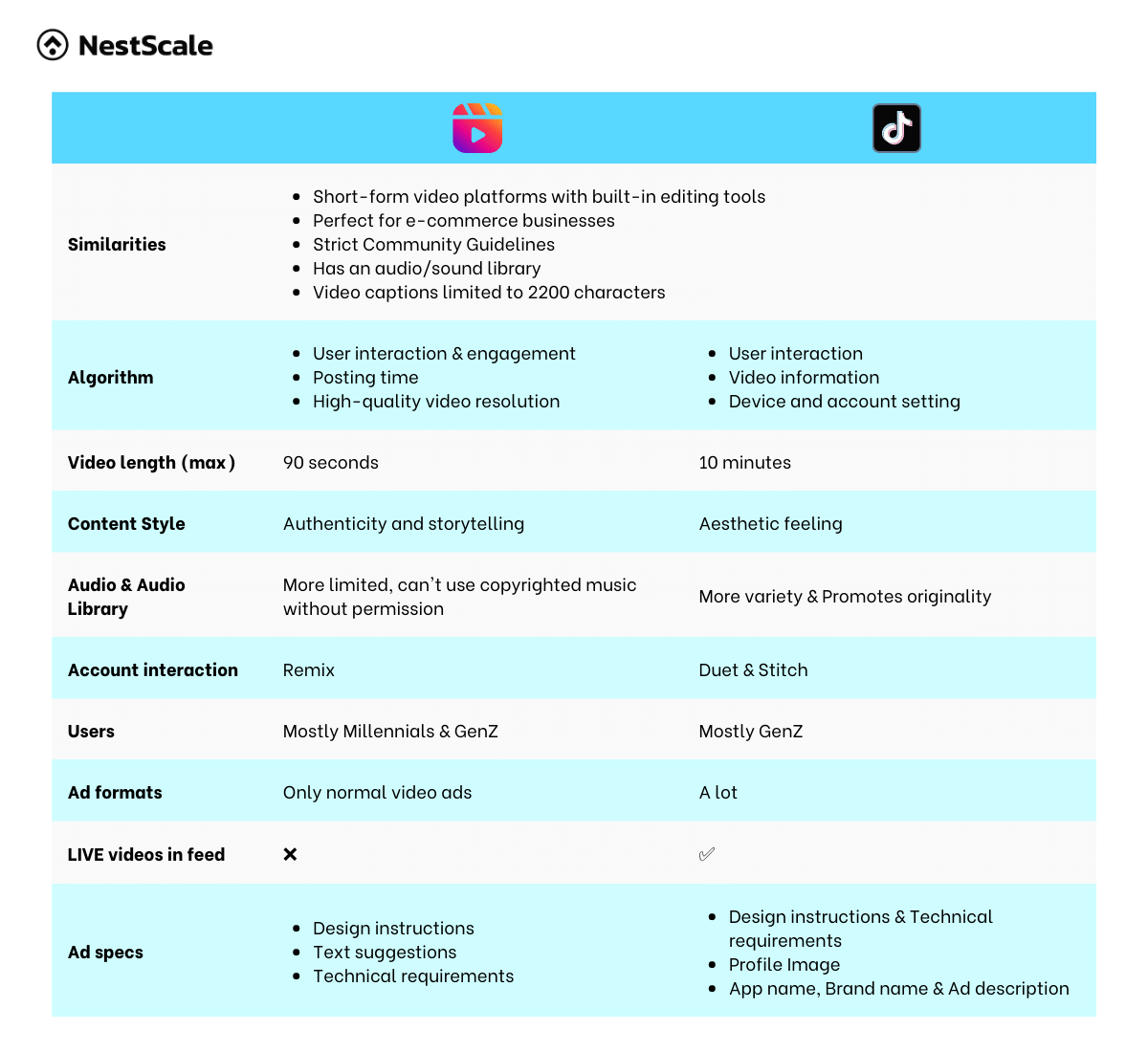 First, Instagram Reels is a feature within the Instagram app that displays short-form content for its users. Reels can be discovered in 2 ways, whether in the Explore Tab, or in the Reels Tab.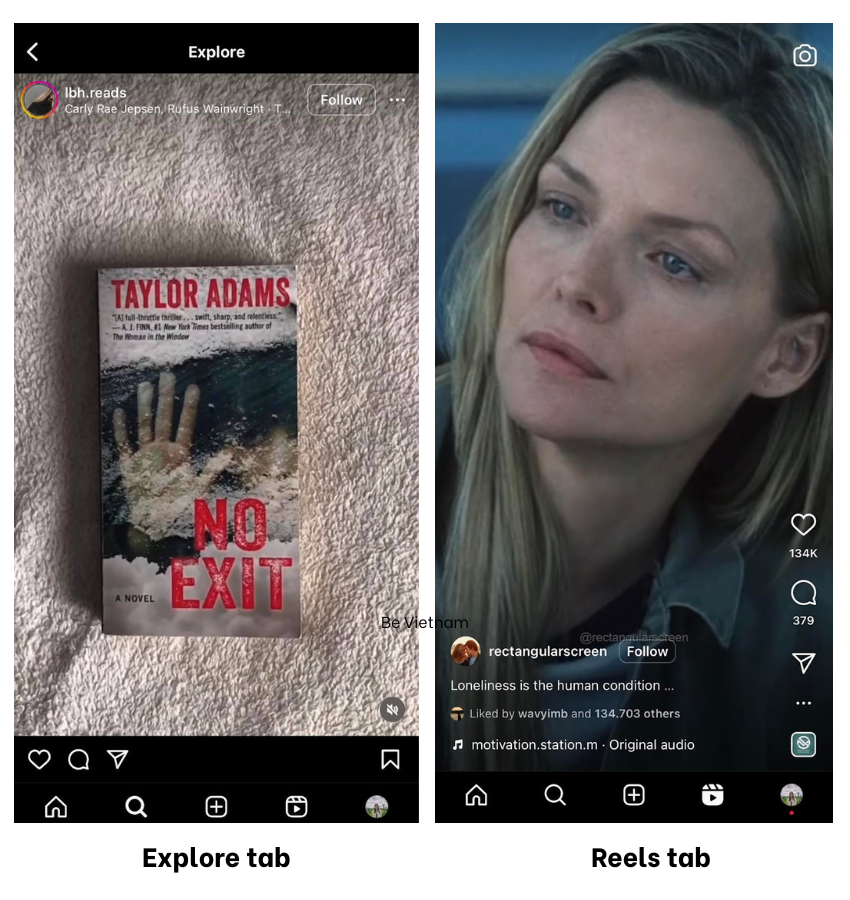 TikTok, however, is a standalone app that allows users to create and share short-form videos. It offers 3 options that you can discover the videos: Through the Following, Friends, or For You page. However, it is the For You Page that brands and creators strive to be up there; it opens the opportunity for anyone to go viral and gain massive awareness.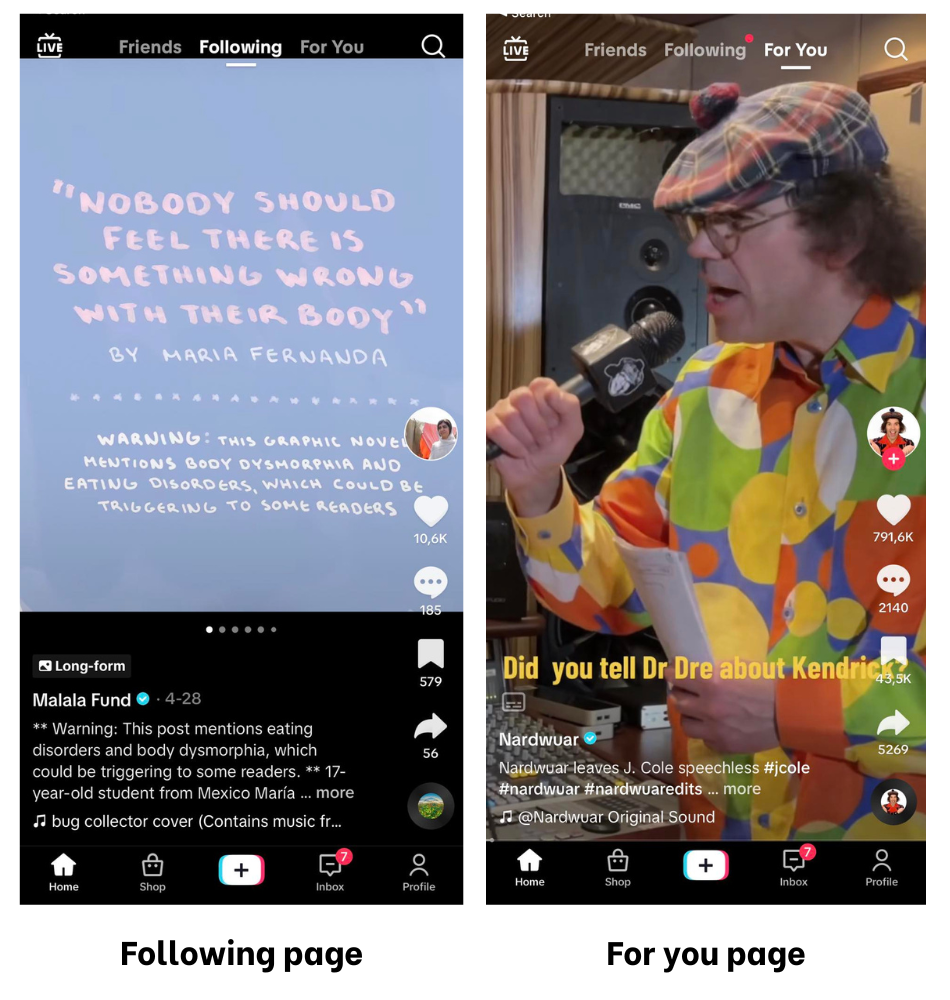 Reels vs TikTok: Similarities
Let's start by looking at a few factors that make these platforms similar!
Pre-eminent short-form video platforms
Both of these social media platforms offer a range of editing tools, sound effects, voice-overs, and audio options. These features help blur the lines between a professional content creator and a beginner one, allowing them to participate and showcase their talent on these platforms. Regardless of their professional experience, anyone can join in and be a part of the creative community on TikTok and Instagram Reels.
Perfect for e-commerce businesses.
Both platforms allow you to share products and introduce a way for interested users to progress to purchase. TikTok is currently the leading shoppertainment platform, offering both entertainment and an E-commerce feature (TikTokshop) to integrate user buying experience.
On Instagram, brands can also set up their shop and tag the products in their Reels. Then, users will be able to buy the product either on Instagram or on the brand website.
Strict community guidelines
Both platforms require creators and brands to adhere to their set of community guidelines, or else their videos will run the risk of being deleted, shadowbanned, or worse, their account will be blocked.
Instagram Reels vs TikTok: Key differences
There are several key aspects that differentiate the two platforms: algorithm, creatives, users, and ads. Let's delve into each of these factors in more detail.
Differences in algorithm
TikTok algorithm
The TikTok algorithm mainly relies on 3 components, User interactions, Video information and Device and account settings. More specifically
User interaction: TikTok will use these 4 key signals to suggest content for a user: Video likes and shares, Accounts followed, TikTok comments, Content created. The algorithm will also use the watch time for a video of a user as an indicator of which type of content that you show more interest in.
Video information: In addition to behavioral signals, TikTok also takes into consideration the video information, such as Captions, Sounds, and Hashtags. Videos that use trending keywords, audio, and hashtags tend to have a higher chance of ending up on the For you page. For this, we would recommend you check out TikTok Creative Center to receive timely updates about these trending factors.
Device and account setting: TikTok uses factors like language preference, country setting, and device type to optimize the system performance, but they show a lower weight in the algorithm compared to other data measures.
Instagram Reels algorithm
The Instagram algorithm favors 3 factors: user interaction & engagement, posting time and resolution.
User interaction & engagement: The more you like or comment on someone's video, the more likely their post is ending up your feed. Also, if you usually engage with content from a specific niche, for example, books and films, the algorithm will display more of those types of content to you.
Posting time: The Content Strategist of Meta also notes that the timing of posts and user scrolling habits are also taken into consideration when suggesting content for users.
High-quality video resolution: The Reels algorithm is said to deprioritize content that is recycled from other apps, or they have low-quality resolution
Differences in creatives
Video length
The first and probably most critical distinguishing feature is video length.
Started off with 15-second-only short videos, TikTok has now offered many more options to fit the needs of their users. The duration can range from 15 seconds, 60 seconds, 3 mins, to 10 minutes, which is currently the platform's duration ceiling.
Meanwhile, Instagram Reels also raised their duration maximum, from 60 seconds to 90 seconds, which proves a lower versatility of Instagram's video length compared to their competitor.
Content style
The content style of TikTok and Instagram Reels differs significantly. TikTok focuses on authenticity and storytelling, making it a platform that thrives on engagement. Additionally, TikTok's less conservative and more experimental vibe allows brands to create a friendlier connection with their target audience.
Notable brands like Scrub Daddy, Duolingo, and RyanAir have succeeded in gaining a massive following and loyal audience base by showcasing their authenticity and creativity through TikTok.
On the other hand, Instagram Reels maintains an aesthetic feeling, catering to the platform's focus on lifestyle content. Hence, to gain traction with Reels, brands should prioritize producing polished content that captures the audience's attention right from the start, which often relies on appealing visuals. This doesn't mean you can't share hilarious or funny content on Instagram reels. However, it's important to understand how to align that humorous vibe with the overall aesthetics and millennial-focused atmosphere of Instagram.
Unlike TikTok, where the focus is on spontaneity and jumping on hot trends, Reels offers a space for a more deliberate approach to build a consistent brand image.
Audio & Audio Library
TikTok has revolutionized the way we consume and engage with audio content. Beyond featuring trending sounds from the music charts, TikTok has become renowned for its ability to turn music into viral sensations. Tracks like "Kill Bill" by Sza have soared to the top of the charts thanks to their popularity on TikTok. As a result, brands and creators that grasp the opportunity quickly to make their own video with trending tracks are likely to go viral on this platform.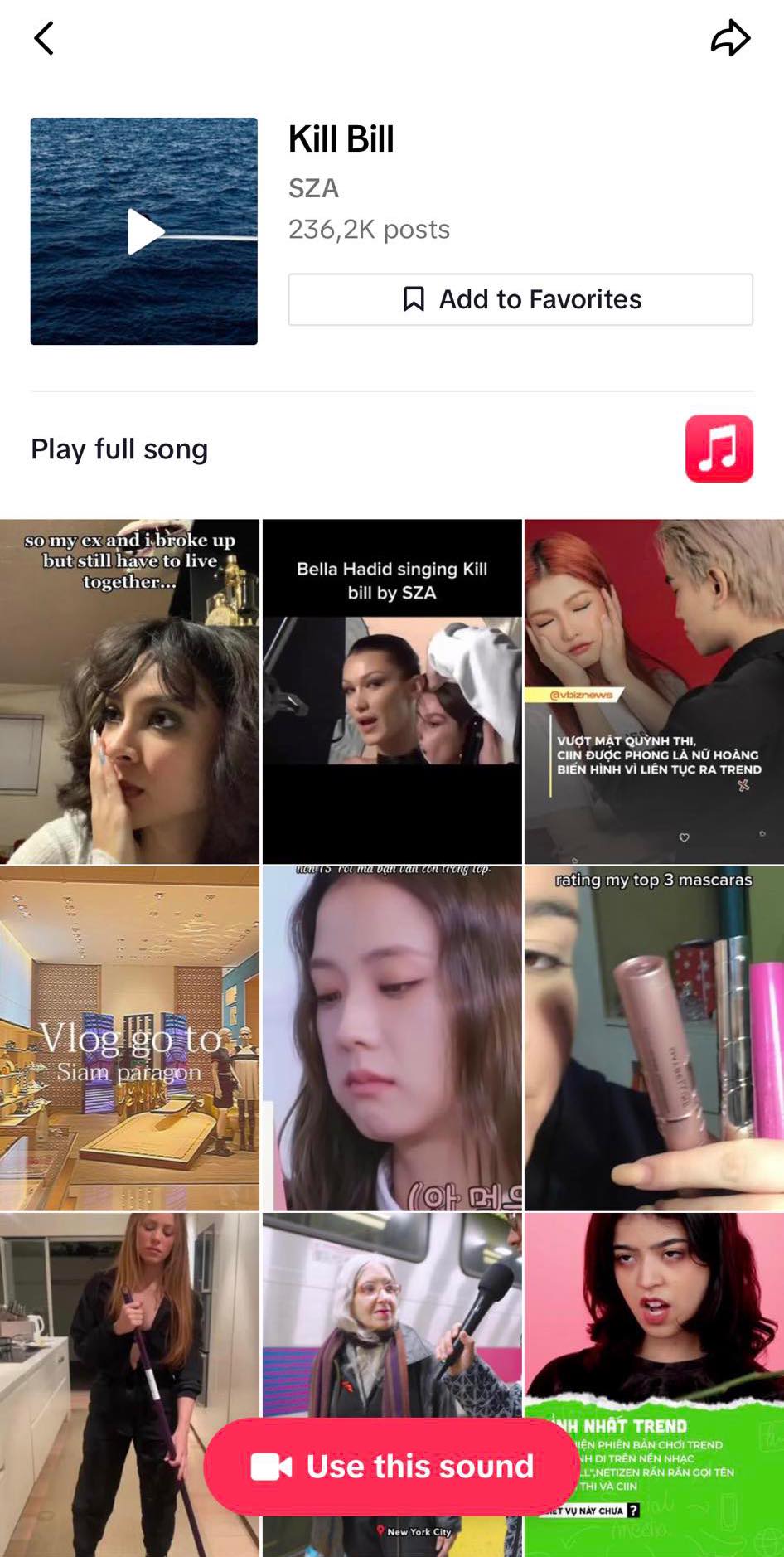 However, what truly sets TikTok apart is the opportunity it provides for users to create their own original audio. Whether it's a snippet of dialogue from a film or their own singing voice, TikTok users have many options to produce unique audio content. If these audio snippets strike a chord with the TikTok community, they can quickly go viral, attracting others to use the sound in their own videos.
While Instagram Reels has made efforts to incorporate audio into its platform, it falls short of TikTok's extensive library and impact. It also lacks the ability to propel music up the charts as TikTok does.
Consequently, Reels users often rely on TikTok for their audio needs, importing sounds from viral TikTok videos. The disparity in audio options can make it challenging for Reels to foster a distinct audio identity and offer a unique experience to its users.
Stitch, Duet & Remixing content
Both platforms offer methods for users to collaborate and interact with other creators' videos. TikTok provides two interactive options: Duet and Stitch. Duet enables creators to record their own content alongside someone else's video, while Stitch allows them to incorporate a portion of another person's video into their own.
On the other hand, Instagram Reels introduced a similar feature called Remix. It allows creators to present the original video alongside their own, using various layout options such as side-by-side, above, or below. However, Remix is currently only available for Reels published after its launch. Instagram Reels is also experimenting with the ability to remix new Reels with photos, although this feature is not widely accessible yet
Differences in users
If your target audience consists of young people, TikTok is the ideal platform to engage with them. According to Sellcourseonline, an impressive 92.39% of TikTok users are between the ages of 13 and 34, with a significant 27.37% being teenagers aged 13 to 17.
While Instagram also has a youthful user base, the platform lags slightly behind in terms of 13 to 17-year-old users. Instead, individuals in the age groups of 25 to 34 and 35 to 44 are more attracted to this platform, accounting for 46% of Instagram's user base.

Differences in ads
Ads solutions/Ad formats
For Instagram Reels, though Instagram provides various ad solutions, Reels only allows video ads to be displayed on its feed. Additionally, there is an option to "Boost Reels," allowing you to sponsor high-performing Reels. This simplicity makes Instagram advertising accessible and user-friendly.
On the other hand, TikTok offers a wide variety of ad solutions. You can explore options similar to those seen on Instagram Reels, such as In-feed ads and Spark Ads. However, TikTok also provides exclusively premium ad formats like TopView ad, Branded Effects and Branded Hashtag Challenges. Hence, if you are intending to run an ad on this platform, it would be helpful to invest time and effort to learn all about their ad formats.
LIVE videos
While TikTok allows LIVE videos to be integrated in the FYP, posing an opportunity for brands to host LIVE shopping ads; Instagram doesn't. The LIVE will be featured only if you follow the user on Instagram on the stories tab.
Ad Specs
Ad Specs are, in short, the recommended ad sizes and policies from social media platforms to maximize the effectiveness of the ads. In this case, each platform has its own set of specifications.
Here are the specifications for Reels ad, with 3 key factors to remember: Design suggestions, Text suggestions, and Technical requirements: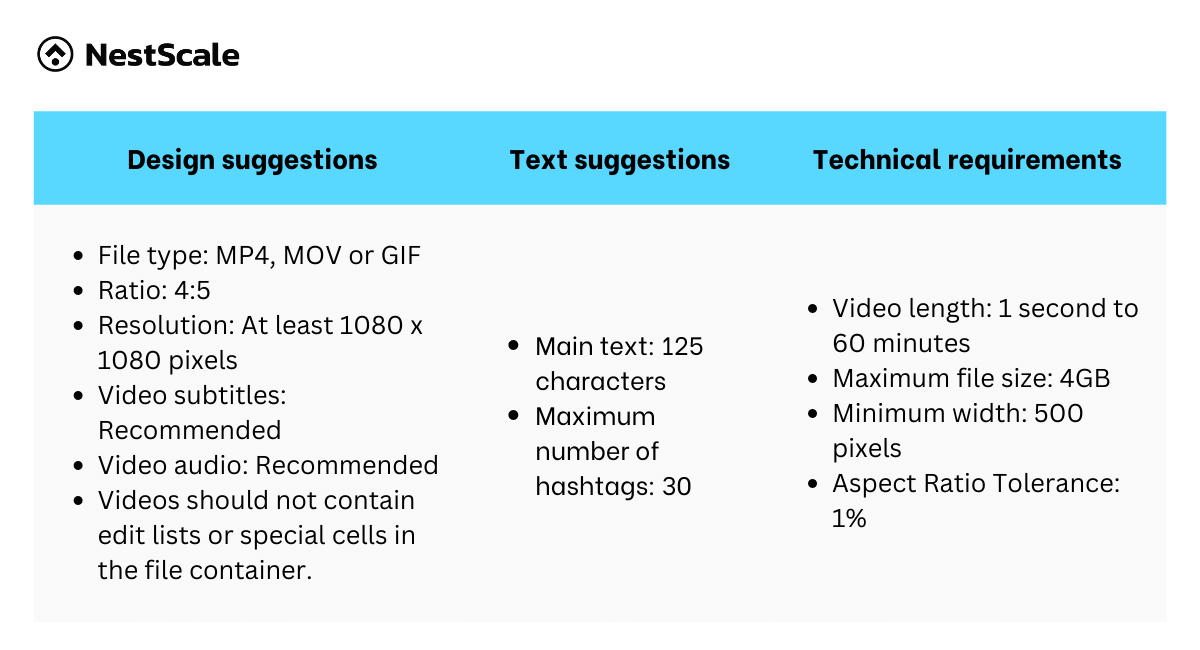 For TikTok, it has more requirements when it comes to publishing an ad on their platform. Here are some crucial numbers you need to know:
Design suggestions & Technical requirement

Profile Image
​Aspect Ratio: 1:1
File Type: .jpg, .jpeg, .png
File size: <50 KB
App Name, Brand Name & Ad Description
App names: Support 4-40 Latin alphabet letters and 2-20 Asian characters.
Brand names: 2-20 Latin alphabet letters and 1-10 Asian characters.
Ad Description: 1-100 Latin alphabet letters and 1-50 Asian characters.
Is it better to post on Instagram or TikTok?
Though the two platforms have striking differences, we recommend you utilize both of these platforms to boost the performance of your business. Just think about it: Less time for content creation and for content map building, but x2 in social media performance! If that excites you enough, consider the following guidelines:
Tailor your content: First, in addition to tailoring content to your target audience, it's crucial to adapt your content to suit the native environment of each platform. This means understanding and utilizing the unique features and formats specific to Instagram Reels and TikTok.
Repurpose your content: Another thing you can do is to repurpose your TikTok videos on Instagram Reels and vice versa. Not only will you be able to cut down on effort, but you will also be able to maintain your consistency. However, you should think twice about cross-promoting your videos as your videos can get shadowbanned easily, which will lower your chance of ending up on the For you page/Reels feed.
Remove the logo: Finally, make sure you have removed the watermark of the other platform from your video before uploading.
If you haven't yet determined a suitable marketing strategy to launch your brand on these platforms, don't worry. You can feel free to contact us, our support team is always there to give you a hand!