Are you ready to dive into the fascinating world of TikTok and discover the 15 TikTok trending products that are driving everyone crazy? Well, look no further because this blog is about to spill all the juicy details!
From must-have gadgets to fashion-forward accessories, we've curated a list of the trendiest items that are taking the TikTok community by storm. So, whether you're looking to stay ahead of the curve or simply curious about what's hot on TikTok, this blog is your gateway to discovering the
15 trending products to sell on TikTok
LED Strip Lights
LED strip lights are awesome, colorful lights that come in a long, flexible strip. You can stick them anywhere you want, like on your walls or furniture, and they'll make everything look super cool.
They're perfect for selling on TikTok because people on TikTok love sharing cool stuff, and LED strip lights are definitely cool! You can show off different lighting effects, change colors, and make your space look like a party.
Plus, these lights are energy-efficient and last a long time, so people will be happy with their purchase.
Funky Sunglasses
Funky sunglasses are all about rocking a bold and unique style while protecting your eyes from the sun. These sunglasses are not your average shades – they come in wild shapes, vibrant colors, and eye-catching patterns.
They're perfect for selling on TikTok because TikTokers love to show off their individuality and stand out from the crowd. And TikTok is all about expressing yourself, thus, these sunglasses are the ultimate accessory to make a statement.
With funky sunglasses, you can create fun and trendy videos, trying on different styles, and showcasing how they instantly elevate any outfit.
Star Projectors
Star projectors are like having your own personal galaxy right in your room! They're these awesome devices that project a mesmerizing night sky full of stars on your walls and ceiling. Sometimes, they even create other cool patterns!
Star projectors are perfect for selling on TikTok because TikTokers love creating dreamy and aesthetic content. These projectors are also great for creating a cozy ambiance for movie nights or for setting the mood for a romantic date.
You can make magical videos showcasing the stunning starry projections, creating a peaceful and relaxing atmosphere.
Book Lamp
Book lamps are the coolest combination of books and lighting! They are lamps that are cleverly designed to look like open books, and when you turn them on, they emit a warm and cozy glow.
Selling book lamps on TikTok is a no-brainer because TikTokers adore anything that's unique and adds a touch of magic to their space. With their whimsical design, book lamps make for eye-catching decor. They can instantly transform any space into a cozy reading nook.
You can create captivating videos where you show how these lamps beautifully blend into your bookshelf or become a focal point on a bedside table.
Mini LED Humidifier
The mini LED humidifier is a small, adorable device that not only adds moisture to the air but also creates a soothing and colorful ambiance.
It's the perfect product to sell on TikTok because TikTokers love discovering innovative gadgets that can enhance their daily lives. The LED lights add a touch of whimsy, as they change colors and create a relaxing atmosphere. Plus, the humidifier provides much-needed moisture. It's ideal for those looking to combat dry air or create a calming environment for relaxation or sleep.
With the mini LED humidifier, you can create captivating videos showcasing its compact design and how it transforms any space into a serene oasis.
Digital Mirror Clock
The digital mirror clock is like a futuristic time machine! It's a super cool clock that not only tells you the time but also doubles as a sleek mirror.
Digital mirror clock is such a trending product on TikTok because TikTokers love trendy and innovative gadgets. The mirror function adds a touch of practicality, making it perfect for quick touch-ups or checking your look before heading out. Plus, with its digital display, you can easily read the time at a glance.
You can create captivating videos showing off its stylish design and how it seamlessly blends into any modern space.
Moon Lamp
The moon lamp is like having a little piece of the moon right in your room! It's a lamp that's designed to look exactly like the moon, with its craters and textures beautifully recreated.
Selling the moon lamp on TikTok is a genius idea because TikTokers are obsessed with all things magical and aesthetic. Whether it's for a cozy night in or a romantic setting, the moon lamp adds a touch of enchantment to any room.
You can create mesmerizing videos showcasing the moon lamp's soft and warm glow, and how it creates a dreamy atmosphere in any space.
Ice Roller
The ice roller is like a refreshing treat for your skin! It's a handy little gadget that you can roll on your face and body to help soothe and cool your skin.
Selling the ice roller on TikTok is a fantastic idea because TikTokers are all about discovering new beauty and self-care hacks. It's perfect for those hot summer days or when you need a quick pick-me-up.
You can create satisfying videos demonstrating how the ice roller glides smoothly on the skin and instantly provides a refreshing sensation.
Aesthetic Water Bottle
The aesthetic water bottle is like a stylish accessory for staying hydrated! It's not your average water bottle – it comes in trendy designs, vibrant colors, and cool patterns that TikTokers go crazy for.
Selling the aesthetic water bottle on TikTok is a genius move because TikTokers love showcasing their unique style and sharing their daily routines. With its Instagram-worthy aesthetics, the bottle becomes a fashion statement and an essential part of your everyday life.
You can create eye-catching videos flaunting the bottle's sleek design and how it effortlessly elevates your hydration game.
Car Trash Can
The car trash can is a game-changer for keeping your car clean and tidy! It's a nifty little container that you can hang or place in your car to collect all those pesky wrappers, receipts, and other trash that tends to accumulate while you're on the go.
Selling the car trash can on TikTok is a smart move because TikTokers love finding practical solutions for everyday problems. With its convenient size and easy installation, the car trash can becomes a must-have accessory for anyone seeking to maintain a clean and organized car interior.
You can create fun and relatable videos showing the before and after of a messy car transformed into a clutter-free oasis.
LED Painting
LED paintings are the coolest way to bring art to life with a vibrant and mesmerizing twist! They are paintings or artworks that incorporate LED lights to create stunning visual effects.
Selling LED paintings on TikTok is a brilliant idea because TikTokers love sharing visually captivating content. With their colorful and dynamic nature, LED paintings make for incredible focal points in any space. Whether it's a serene landscape or an abstract masterpiece, these paintings are sure to captivate the TikTok audience.
You can create eye-catching videos showcasing the intricate designs and the magical glow of the LED lights.
Color Changing Swimsuit
The color-changing swimsuit is like having a swimsuit that's as dynamic as your TikTok videos! It's a super cool swimwear that magically changes color when exposed to sunlight or water.
Selling the color-changing swimsuit on TikTok is a genius idea because TikTokers love anything that's unique and visually captivating. It's the perfect way to add an element of surprise and wow-factor to your beach or poolside adventures.
You can create exciting videos showing the transformation of the swimsuit as you dive into the water or bask in the sun.
Rain Cloud Humidifier
The rain cloud humidifier is like having a cute little cloud that brings moisture and happiness to your space!
It's a humidifier that's designed to look like a fluffy cloud, and it's perfect for selling on TikTok because TikTokers love unique and adorable products. With its whimsical design and soothing functionality, this humidifier adds a touch of charm to any room.
You can create delightful videos showcasing the rain cloud humidifier gently releasing a fine mist, creating a cozy and refreshing atmosphere.
Mini Pot
The mini pot is like a tiny powerhouse for your kitchen! It's a compact cooking utensil that's perfect for heating up small portions or whipping up quick and delicious meals.
Selling the mini pot on TikTok is a genius idea because TikTokers love discovering handy kitchen gadgets and sharing their cooking adventures. Its small size makes it convenient for those with limited kitchen space or for anyone looking to cook in a flash.
You can create fun and engaging videos demonstrating how the mini pot can be used to cook single-serving meals, make warm soups, or even melt chocolate for a sweet treat.
Inkless Mini Printer
The inkless mini printer is like having a portable photo booth in your pocket! It's a compact device that allows you to print photos and stickers on the go without the need for ink cartridges.
Selling the inkless mini printer on TikTok is a genius move because TikTokers love capturing and sharing moments instantly. With its compact size and wireless connectivity, the inkless mini printer becomes a must-have gadget for anyone wanting to bring their memories to life in a tangible and fun way.
You can create fun and creative videos showing how easy it is to print photos directly from your phone and turn them into adorable keepsakes or decorate your personal items with custom stickers.
How to find trending products on TikTok
Explore TikTok's "Top Products" Feature
TikTok's Creative Center has a handy feature called "Top Products" that helps advertisers like you choose the right products to promote in your creative campaigns. This feature provides information about popular items and assists in identifying products that you should highlight.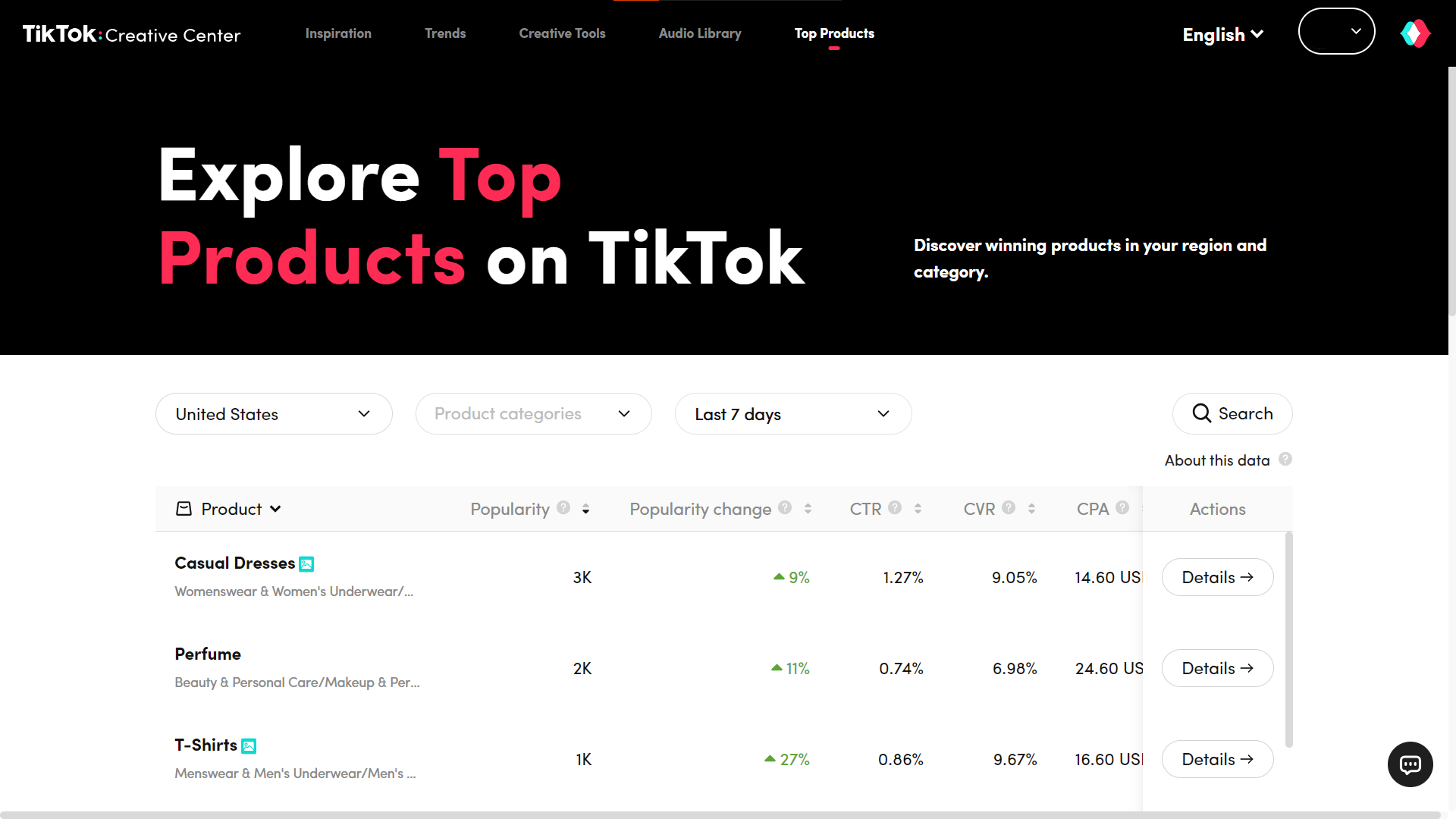 You can browse through a collection of frequently featured and highly converting products sorted by region and country. You can even check out real-world advertising samples showcasing these products in action.
Analyzing the data of these TikTok trending products can also help you come up with your own advertising strategies, making it a valuable tool for your ecommerce business.
Use hashtag #TikTokMadeMeBuyIt
If you're not sure what to search for, try using the hashtag #TikTokMadeMeBuyIt. This will give you access to a wide range of viral videos that feature various products. You don't need to worry about PR content because many content creators on TikTok provide demonstrations or honest reviews of products.
By watching these popular videos, you can get a clear idea of what's currently trending and gaining attention on TikTok.
Follow KOLs, KOCs TikTok accounts
Key Opinion Leaders (KOLs) and Key Opinion Consumers (KOCs) are influential individuals on TikTok who endorse products and have a significant following. It's beneficial for sellers like you to stay informed about these influencers.
By following KOLs and KOCs on TikTok, you can gain insights into the industry and identify products that are highly sought-after. Keep an eye on industry-related hashtags to discover KOCs specializing in promoting products related to your niche. This approach makes it easier to find the most popular items for dropshipping on TikTok.
Looking to generate more sales on TikTok?
Well, selecting a great product is undoubtedly the first crucial step in selling on TikTok. But if you really want your product to go viral and have people flocking to buy it from you instead of any other merchant, then boosting your visibility on the platform is key. And guess what? Running ad campaigns is the absolute best way to make that happen!
Now, don't panic just yet. TikTok ads aren't as expensive or complicated as you might think. However, if you're new to this whole advertising game, it's wise to consider using NestAds—a user-friendly ads management software tailored specifically for TikTok ad beginners. It's a win-win situation that saves both your time and money, giving your sales a much-needed boost.