TikTok Stories is a feature that allows businesses to connect with their community in the most engaging way. With this new tool, you can refresh your content ideas day to day as it just lasts 24 hours. However, TikTok stories only allow you to post videos within 15 seconds.
So, how to make the most out of these super short videos and raise your brand engagement? In this article, we'll dive deeper into how to create TikTok stories and 7 ways to utilize this feature. Let's get started!
What are TikTok stories?
TikTok Stories is a feature that allows users to share 15-second videos on their profile that will disappear after 24 hours. This tool aims to support stronger connections between you and your audiences through an authentic look into your daily life.
The Stories feature on TikTok is similar to "Story" on other platforms. For example, you can view a list of users who have seen or engaged with a story you have posted. Additionally, a blue ring will appear around your profile picture to notify your followers, and they just simply tap on your profile picture to watch the story.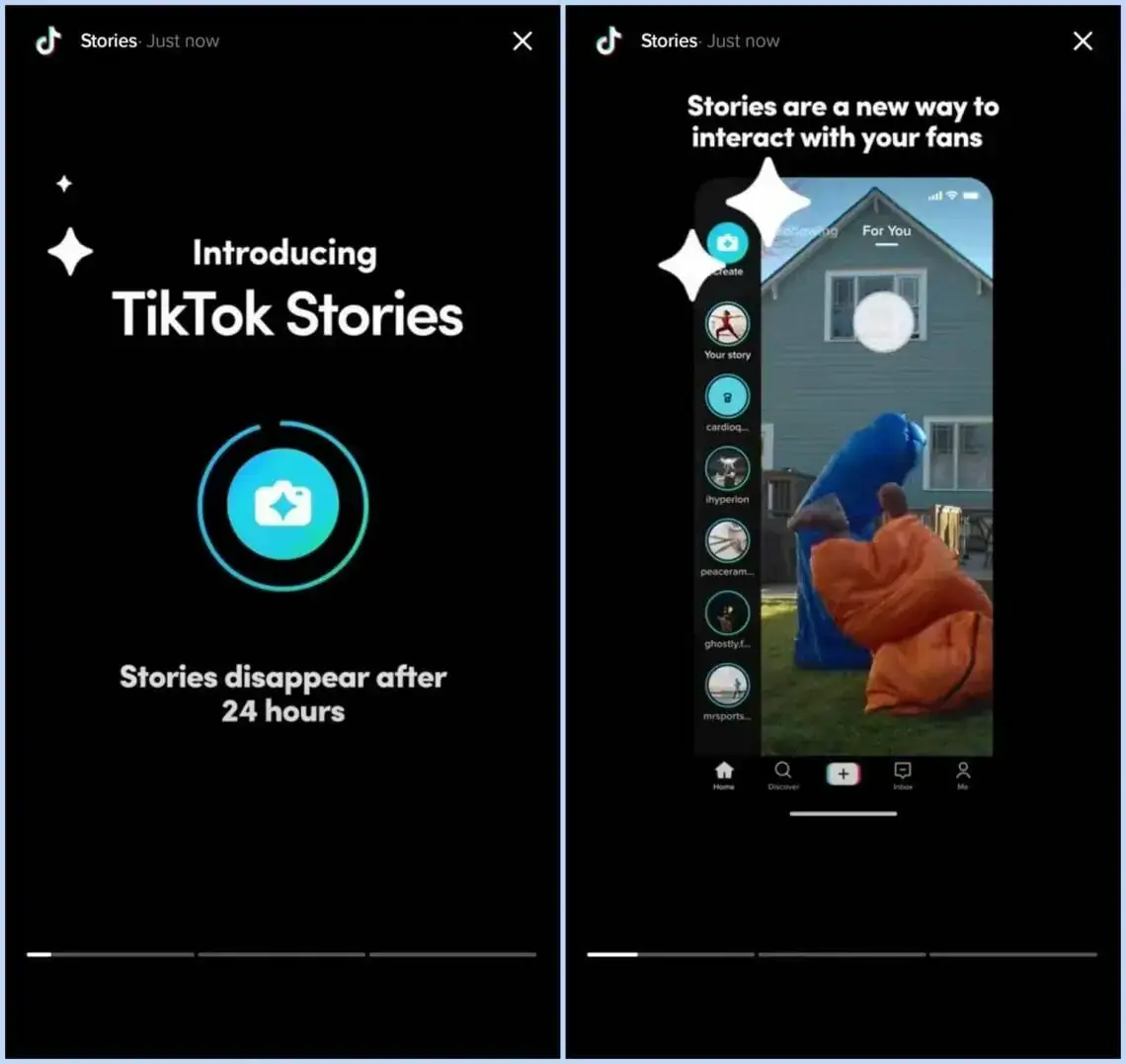 Why are TikTok stories so good for your brand?
So the question is: Why do we even need TikTok stories while TikTok videos are short enough? There are 3 important reasons why brands should utilize this 15-second video. Firstly, we are in an era where people prefer short-form videos. Individuals are increasingly leaning towards shorter video content. According to Sprout Social, short-form videos are 2.5 times more captivating to consumers compared to long-form videos. In addition, TikTok stories tend to be less prepared, therefore, it offers a more genuine way of engaging with your audiences. Last but not least, TikTok has established itself as one of the top social media platforms. As TikTok usage grows, marketers should adjust by concentrating their efforts on the platform. This means taking advantage of the platform's most recent features to acquire a competitive edge.
How to post TikTok stories?
Adding a story on TikTok is super easy for everyone. Let's dive in step by step guidelines:
Step 1: Tap the camera button, then you can either record videos or upload available videos
Step 2: Customize your TikTok video with a wide range of editing tools: sounds, effects, text, or stickers
Step 3: If your video's ready to live, click Post to story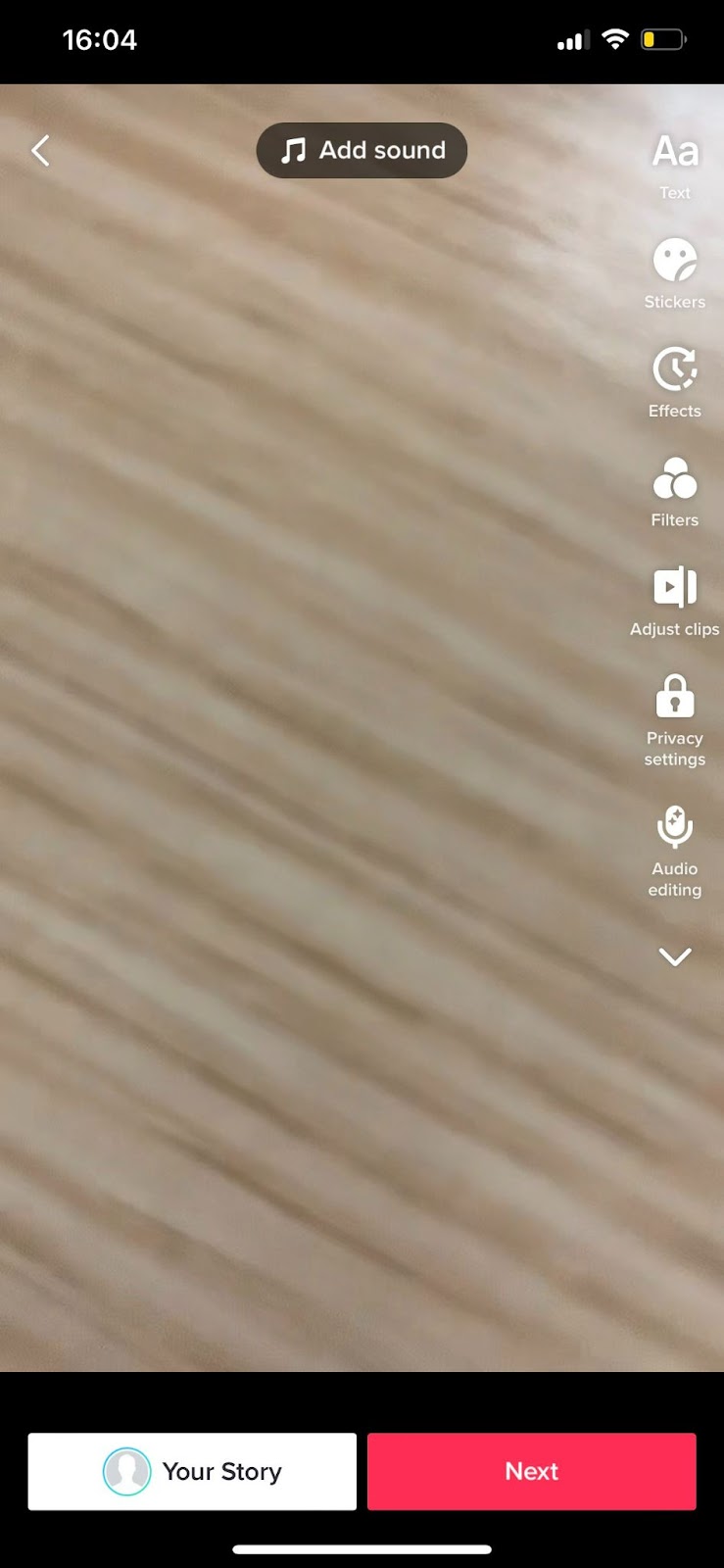 By the way, you can also upload your stories to other social platforms like Facebook and Instagram:
Step 1: Open the TikTok app
Step 2: Click the Profile icon at the bottom right corner
Step 3: Choose the video you want to share on Instagram/ Facebook
Step 4: Click the three-dotted icon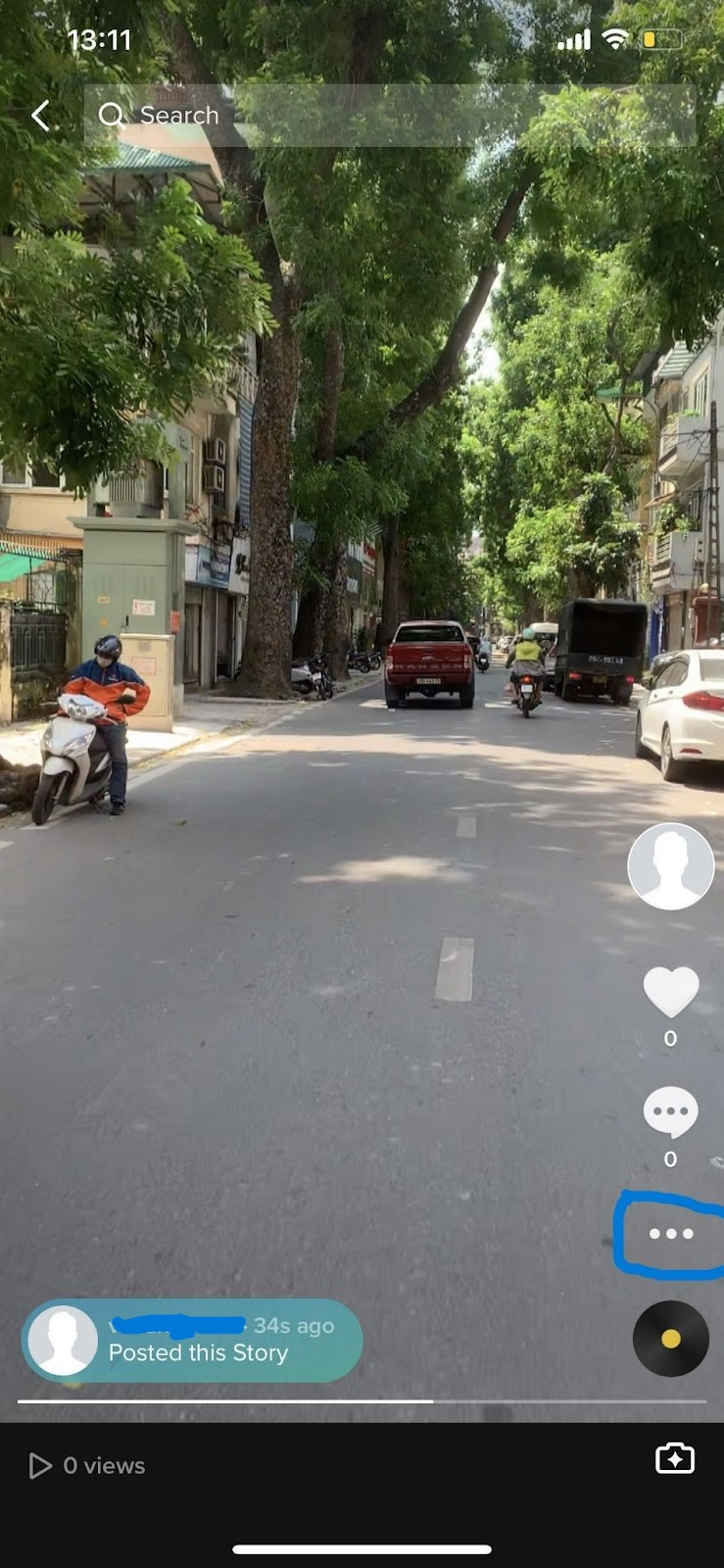 Step 5: Tap to share on the Instagram icon /Facebook icon
Now, your Tikok video is available on Facebook and Instagram stories!
How brands can leverage TikTok stories?
TikTok is all about connecting people and broadening your reach, so with this feature, TikTok is offering businesses a chance to foster community among their fan base and boost engagement. Since Stories are visible to followers only, brands can interact with audiences who are already interested in their content and strengthen their bond.
Want to try TikTok stories but not sure how to start? Here are some ideas on how you can utilize for your brand:
Provide time-limited offers
Take advantage of the nature of TikTok Stories by sharing time-sensitive promotions. This is an excellent opportunity to use the urgency principle, evoking a fear of missing out and motivating your followers to act swiftly.
Therefore, this form is particularly effective for time-sensitive offers, including flash sales, limited-time deals, and one-day promotions. For instance, you can utilize TikTok Stories to inform your audience about fast-selling tickets or gently remind them about the approaching deadline to register for an upcoming event.
Show behind the scenes
TikTok Stories may also be a fantastic method to show your audience what goes on behind the scenes at your company. Would you like to demonstrate how your items are made? Or you want to show them how you make your TikTok videos. You could even use them to discuss how you're getting ready for a forthcoming event.
As TikTok stories are shot directly with minimal editing, they add authenticity to the interaction between your brand and your audiences, making your brand feel like a real person. As a result, they demonstrate to your followers that you are open and honest rather than solely focusing on views or likes.
Publish original content that isn't available elsewhere
Also, TikTok Stories are ideal for creating a sense of exclusivity. Offering people exclusive opportunities will help you engage them more effectively since people love to feel special. You can share offers and experiences that are only accessible on TikTok using your stories.
The same goes for looking for more chances to offer a unique experience through your TikTok Stories. By doing this, you'll be able to draw in a group of loyal followers who frequently interact with your Stories because they want to make the most of those exclusive opportunities.
Be honest with your audience
The genuine nature of TikTok Stories gives you the freedom to be authentic with your audience. Utilize this chance to captivate them by sharing your daily routine. You can also create Stories that offer a glimpse into a "day in the life," showing them your typical activities through a series of short videos.
To expand on this concept, you could develop an entire series where different team members take turns managing your TikTok account. For instance, a fashion brand's designer could show the daily tasks and responsibilities involved in their role. This not only provides your audience with an inside perspective but also establishes authentic connections with your brand.
Answer Q&As
You need to provide value if you want people to interact with your Stories. This might come in the shape of useful knowledge. To help your followers receive answers to their most asked questions, host a Q&A session through Stories occasionally. Take advantage of the chance to be honest and open up to them about their biggest concerns.
This is a fantastic method to increase the chances of interaction and increase audience involvement. You may want to publish a notice (also via Stories) before the session to ask people to submit their questions. Then you may compile a list of relevant and common questions to respond to them via a series of videos.
Make announcements
Got a story to tell your audience that is exciting? Why not distribute it via TikTok Stories? While formal announcements are fantastic, there are some announcements that are better delivered through stories since they allow you to express your delight more authentically to your audiences.
For instance, TikTok Stories could be used by small businesses to share news about reaching a new milestone in followers, sales, or anything else.
TikTok Stories is a great medium for notifying contest winners as well. You might record the entire selection process to give it more validity. Demonstrate that the technique you're choosing winners at random can reduce the likelihood that anyone will argue the results.
Provide tips and tricks
With the super-short format of TikTok Stories, brands can take advantage of it to give handy tips and tricks to their followers. TikTok users also prioritize short useful content so don't hesitate to provide them with your best tips, hacks and tricks to keep their excitement and attention toward your brand. The audience will appreciate it and look forward to your next updates.
TikTok stories FAQs
Can you see who viewed your TikTok stories?
You will not be able to view who has viewed your story. However, you will see the number of people viewing your story in a separate tab next to the comment sections.
How long do TikTok stories last?
They stay visible within 24 hours after publishing.
What does story time mean on TikTok?
Storytime in TikTok means tells us more. If someone shares a story and users want to hear more, they will comment "storytime" to notify creators to explain in more detail.
How long can TikTok Stories be?
The maximum duration of TikTok stories is about 15 seconds, but you can post multiple stories at a time. If you're just getting started, we suggest testing a maximum of four stories (or 60 seconds of content)
Who watches my TikTok videos?
Anyone who follows you will see your TikTok Stories on both the For You Page and your regular feed. A blue story symbol distinguishes stories.
How to delete a TikTok story?
TikTok allows each story can have a duration time of 1 day. However for whatever reason, you want to take it down, here's how to delete your TikTok Stories:
Step 1: Press the three-dot button at the bottom right of the screen.
Step 2: Swipe to the end of the list options until you see a delete icon. Tap it and your video will be removed.
Start to get TikTok stories for your business
TikTok Stories are a fantastic way to boost engagement and build a stronger TikTok community. Through the story, your business can further connect with your users in a new way, allowing them to get involved in your daily life. In addition, the TikTok stories content can't stay long as it will expire. With that in mind, you can post more content to keep updating the newest things surrounding your brand.
Just getting started with TikTok or hoping to grow your business presence there? Discover more about how to build buzz and how to sell more products on TikTok.