Finding the right target audience is challenging enough, but looking for a perfect approach is even harder. That's why many businesses are turning to TikTok Promote, an in-app advertising tool that lets you easily turn your organic TikTok content into ads.
Whether you're trying to build brand awareness, drive traffic to your website, or increase sales, Promote offers a quick and easy way to reach a larger audience. However, with so many new features and updates, it can be overwhelming to know where to start. This article will reveal an A to Z guide to utilize TikTok Promote, as well as precious tips to maximize brand reach with this new ad tool. Let's start right now!
What is TikTok Promote?
TikTok Promote is a tool within the TikTok app that allows you to turn your organic, existing TikTok videos into ads with just a few clicks. You can tailor the promotion to your budget, timeline, and target audience. which allows users to boost the visibility of their videos
TikTok Promote can help you gain more views, and website traffic, or even build a bigger following. To make sure you're getting the best results from your promotions, it's important to keep track of the analytics for each video and adjust your strategy as needed.
Nevertheless, TikTok Promote is a great way to supercharge your reach on TikTok. It's being used by a growing number of businesses, particularly in the media, clothing, beauty, shopping, and gaming industries.
TikTok Promote features (Updated 2023):
Originally, TikTok Promote only supported 3 main targeting selections: video view, website visits, and TikTok follows. Now, with the newest update on 8 February, TikTok expanded its suite of features to help creators with more ways to boost their videos:
"More profile view" goal that helps you get more visits to your TikTok page.
"More messages" goal that encourages people to interact with you more on the app.
"Location" targeting option, which makes it easier for brands to reach the right audience on the app.
TikTok Promote restrictions:
The Promote function on TikTok exclusively functions with public videos.
It is not possible to utilize Promote on videos featuring copyrighted sound. (To comply, you must select soundtracks from TikTok's extensive commercial music library, which consists of over 500,000 sound clips. Alternatively, using original songs and sounds is also accepted)
Videos that violate TikTok's guidelines may be declined for Promote.
How to promote a video on TikTok?
Step 1: Prepare your video
Choosing what organic TikTok video you want to promote is the first step of this journey, obviously. You should choose the already successful, high-performance video because it will improve the chance of going viral on TikTok.
But don't worry if you're new to the platform, it's not very difficult to make a TikTok video. Create your best TikTok then come back to continue our journey.
Step 2: Choose your Promote goal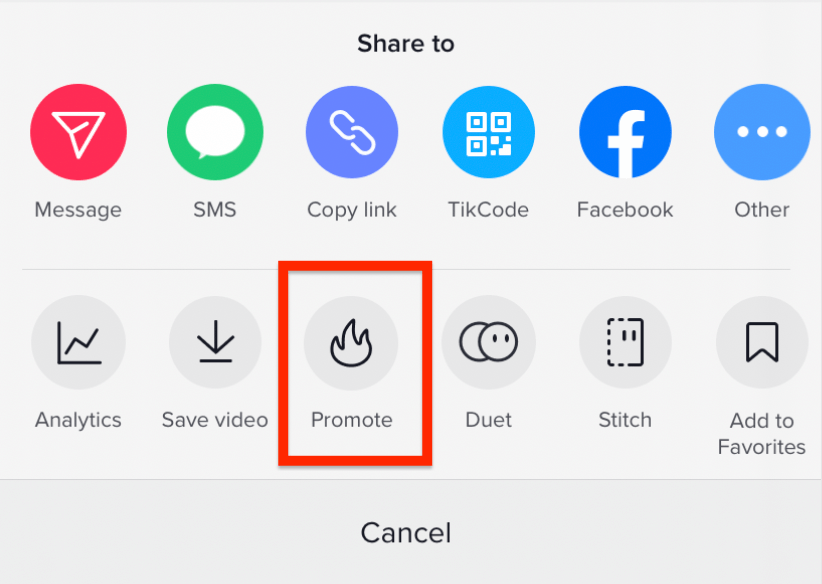 Click on the icon "flame" to choose Promote. Then, TikTok provides you with four boosting options to best serve your marketing goal. We'll break down for you the effect of each option:
More video views: This will attract a larger audience to view your video content
More website visits: This will drive more visitors to your website
More followers: This will attract a greater number of individuals to follow your profile
More video views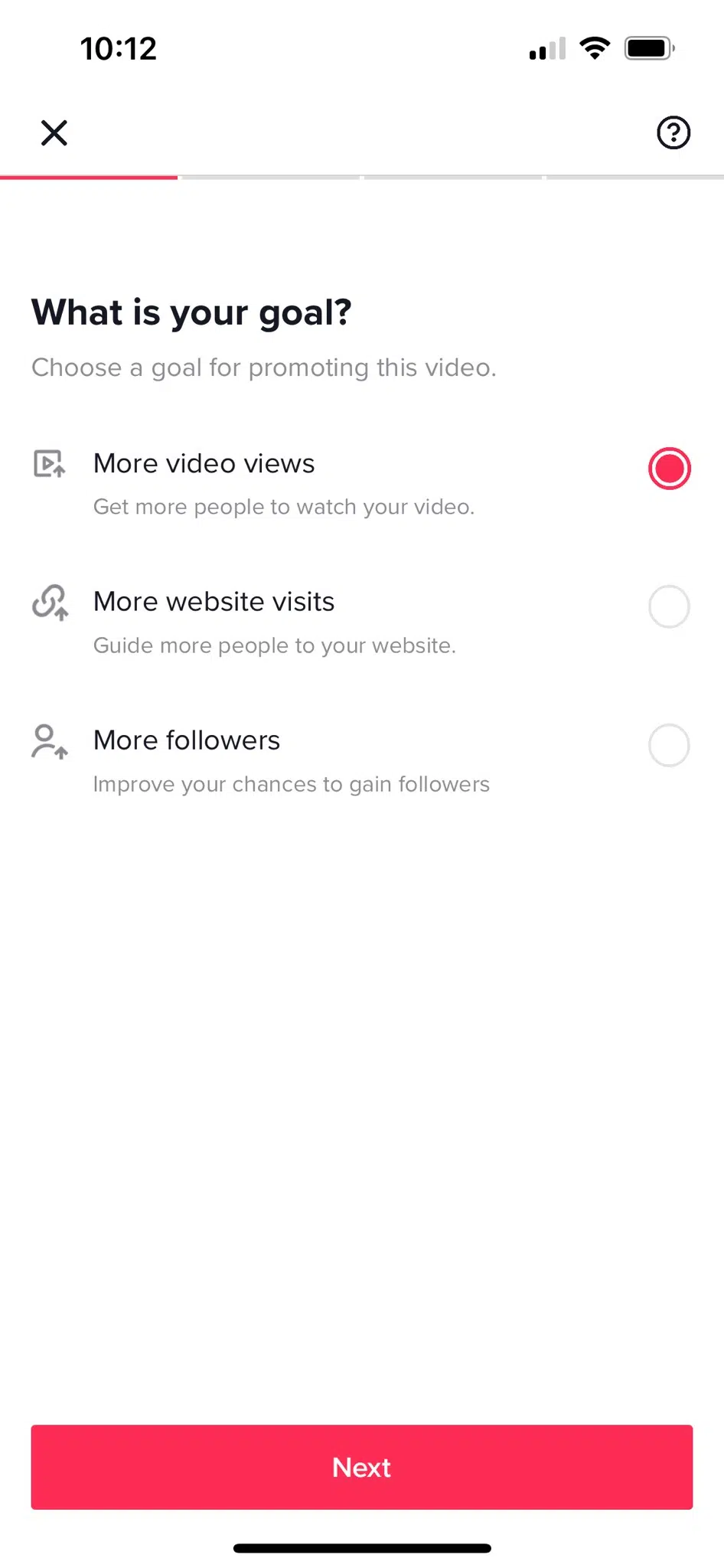 This boosting option will give you more "eyeballs" on your videos, which means more people will know about your existence. By reaching more people, you increase the chance of finding the one that's interested in your video.
They may click on your profile and either follow you or click your bio link. Overall, this option would boost your exposure on the platform.
More website visit
This type of boosting option lets you put any link you want and choose any CTA option you like.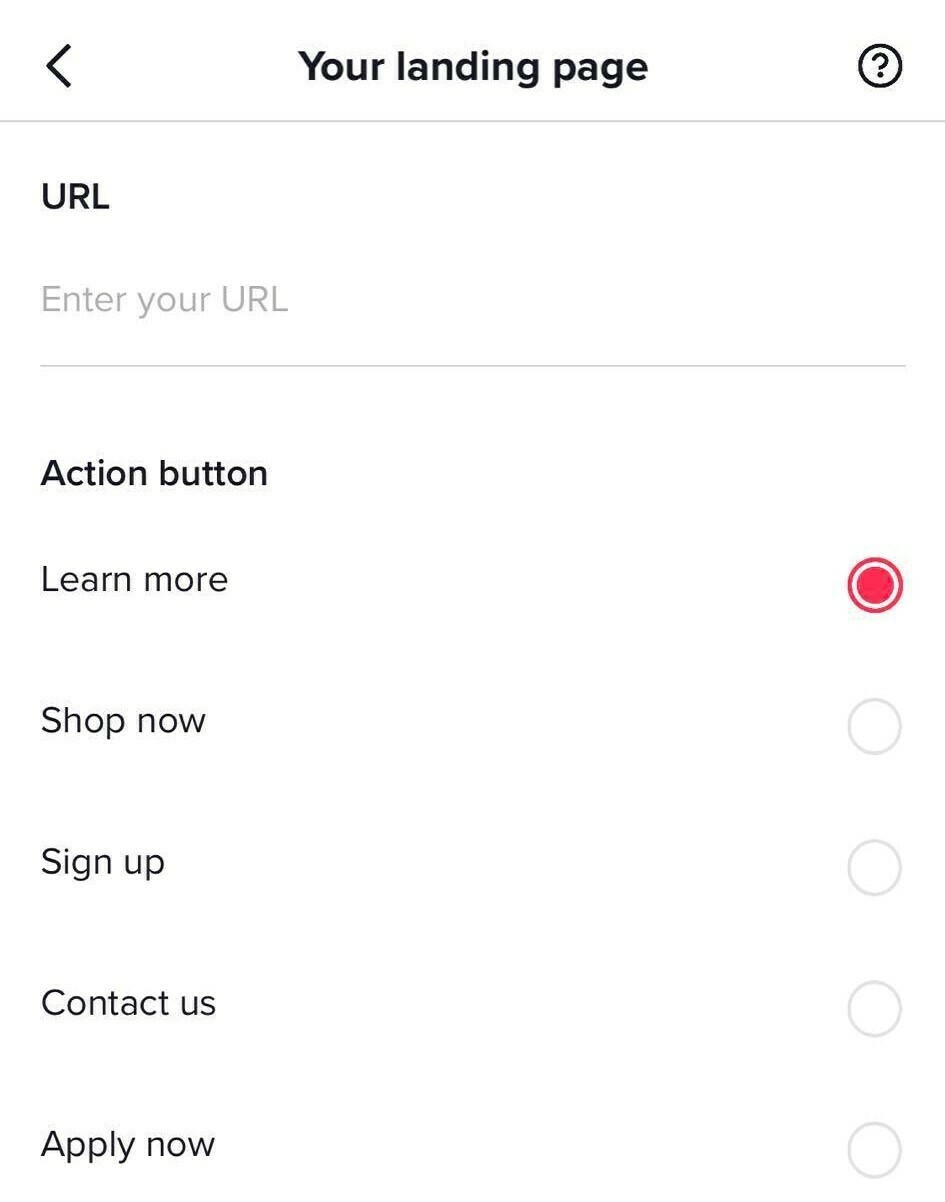 When the video is promoted, the users will see a button pop-up, which will lead them to your website.
More followers
The follower's option would help you gain more "fans". By having users follow you, your content not only appears on their "Following" page but also has a higher chance of resurfacing on the "For you" page.
More profile view
This new boosting option works the same as the "website visit" option. But rather than your website, it would drive traffic back to your TikTok profile.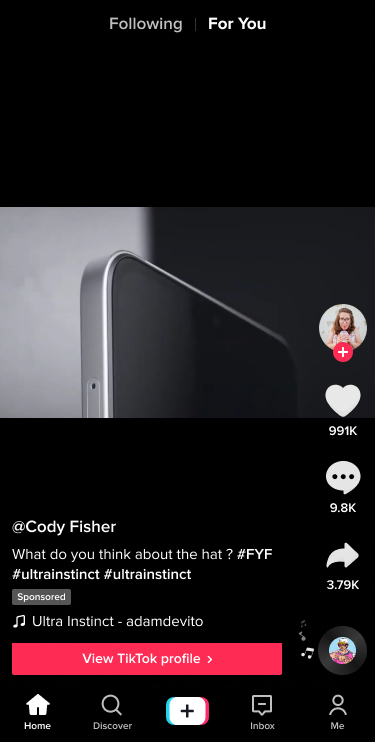 Step 3: Decide your audience
To select your desired target audience, tap the circle next to the audience category you wish to reach, and then proceed by tapping "Next". Here are two options you could choose:
Automatic: This option allows TikTok to determine the audience for you.
Custom: With this option, you can personally select the genders, age ranges, and interests of the audience you intend to reach.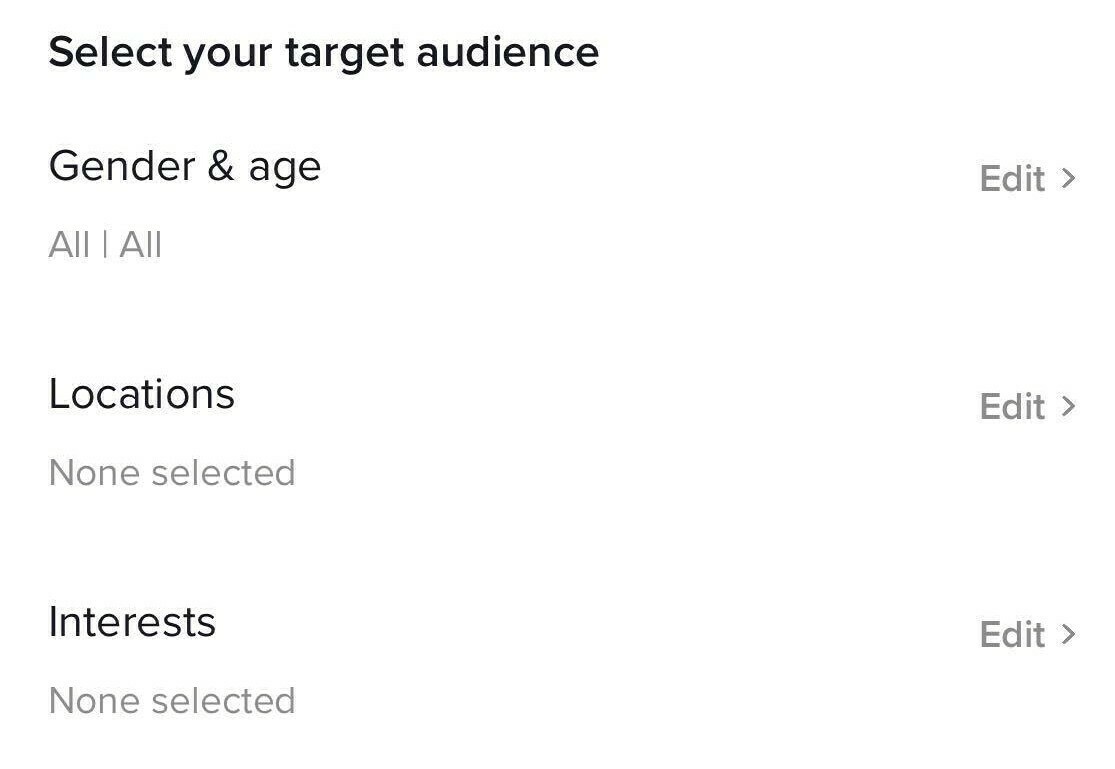 Step 4: Determine your budget
You can set your budget by choosing how many days you plan to run the promotion and how much you want to spend per day. After that, TikTok will give you the total spending and the estimated view you will get.
Note: If you're using an Android, you can directly pay using your credit card. But if you're using an IOS, you will need to first purchase your TikTok Coin.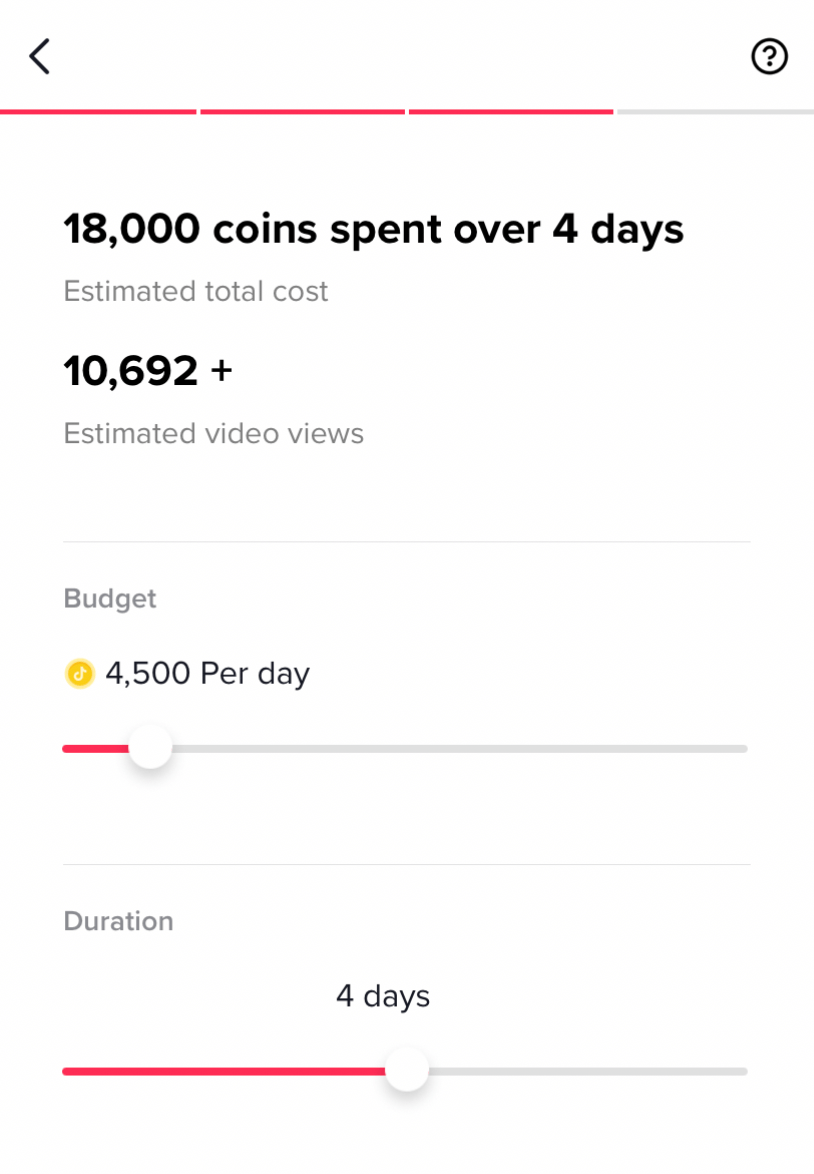 How much does it cost to promote on TikTok?
When utilizing TikTok Promote, you have the freedom to determine your own budget and allocate it over a specific timeframe. The minimum daily expenditure for a TikTok promotion is $3 USD, while the maximum daily limit is $1,000. As you set your budget and timeline, TikTok provides you with an estimated range of video views. So, depending on your budget and goals, you can create a TikTok Promote campaign that works for you.
Does TikTok Promote work?
If you're struggling to get your content seen on TikTok, then yes, TikTok Promote can definitely help you. Although there's no guarantee of success on any social media platform, TikTok Promote can be a shortcut to supercharging your reach on the app.
TikTok Promote offers various benefits based on your unique objectives and targeted audience. With TikTok Promote, you can:
Expand your user reach
Target specific demographics of users effectively
Attract new followers
Raise engagement through likes, shares, and comments
TikTok Promote tips to maximize brand reach
Test the performance of the videos that have been promoted
Before you decide to run TikTok ads, you should compare the views, comments, shares, and watch time of the videos that have been promoted. This would show you what your video was doing before and after promoting a video on TikTok.
Test different objectives
For the next campaigns, you could choose different types of objectives so you can see how your videos are performing
Test TikTok's automated audiences
Gradually let TikTok choose your audience for you. Therefore, you can see if they are able to choose the right audience for your video better than you are.
TikTok Promote FAQs
Could Promote decrease the organic views that I have gained on non-promoted videos?
The number of views you receive on your non-promoted videos is unaffected by using Promote. Your promotion performance has nothing to do with how well your organic videos perform. Not only do your promoted videos yield positive results during the promotion period, but they also continue to have a lasting impact even after the promotion period concludes.
Are the followers and likes I receive from genuine, authentic users?
When you use Promote, TikTok's algorithm looks for the most relevant users to show your content to. If your audience is specific and interested, they are more likely to watch your videos.
After using Promote, you can better maintain and expand your audience by creating interesting content. More followers likes, and comments will come your way as a result of your content's increased engagement.
I've heard Promote is an expensive tool. Do I really have to spend big money to see any value?
When compared to other forms of advertising, using Promote may be a more economical way to reach more people. You can choose how much to spend over a specified number of days with Promote. For as little as $10, you can get up to 1000 views.
Keep in mind that Promote can assist you with content optimization over time. Long-term viewer engagement, with or without the feature, will be enhanced by using Promote in conjunction with improving and creating engaging content.
Why TikTok may not approve my promotion?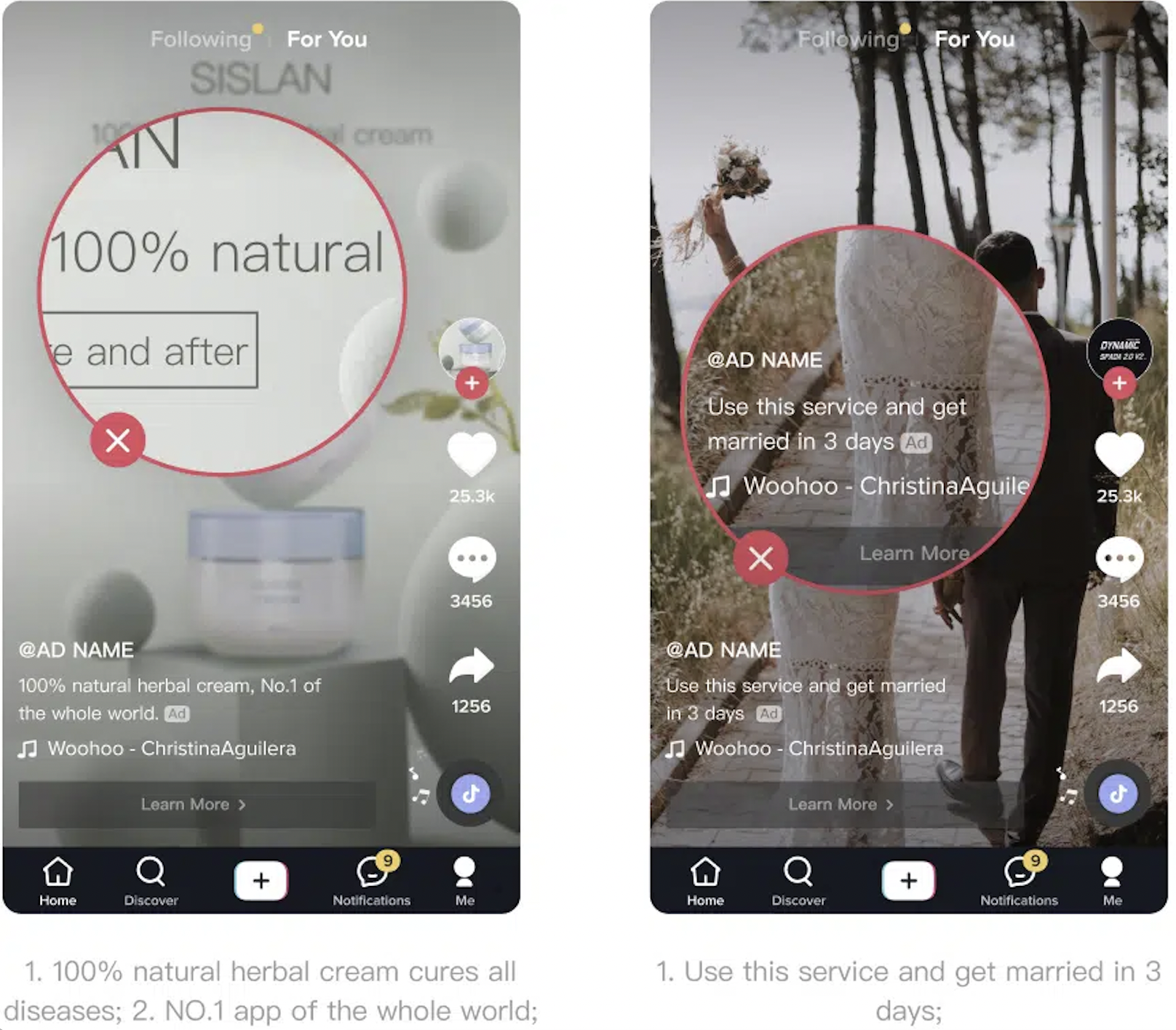 Simply going through the relatively simple six-step process to promote your video does not guarantee its approval by TikTok. Each promoted video is subjected to a review process before it is displayed in users' feeds. If your campaign fails to receive approval, it could be due to one of the following reasons:
Your ad contains exaggerated or misleading claims
The ad includes spelling or grammar errors.
Your ad uses distracting capitalization or substitutes symbols for letters.
The video, image, or audio quality is subpar.
The products or prices depicted in your video do not align with your actual offerings.
The website promoted in your video is non-functional or fails to comply with local regulations.
Your ad incorporates an unauthorized third-party logo.
The content of your ad is shocking, sexual, gruesome, or graphic.
How to end a promotion on TikTok?
If you have reconsidered promoting your video, there's no need to worry as canceling your TikTok campaign is a straightforward process. In order to cancel the Promote Feature, simply navigate to your promoted video, click on the three dots located at the bottom right-hand side, and select "Close promotion". You will only be billed for the duration that your campaign was active.
TikTok Promote vs TikTok Spark Ads: What are the differences?
Promote and Spark Ads are the both latest advertising features introduced by TikTok, designed to assist you in enhancing your content and achieving specific business objectives. Whether you aim to increase video views, followers, and click-through rates, or target a particular geographic location, Promote and Spark Ads can elevate your ad campaigns to new heights. However, there are some differences between these two features.
The key difference between Promote and Spark Ads is that Spark Ads enables you to amplify not only your own TikTok content but also content created by other TikTok users. Moreover, Spark Ads offers a broader range of options for defining your objectives and targeting your customer base.
To create a Spark Ad, you have the flexibility to choose from the following options:
Utilize your own TikTok post
Utilize organic posts created by other TikTok Creators, with their permission
The videos you choose to boost can be directly associated with your brand, such as a satisfied customer sharing a product review. Alternatively, they can align with your brand's purpose, identity, values, or services. This powerful tool empowers you to amplify pre-existing content that has already proven its effectiveness, enabling you to connect with your desired audience more effectively.
Feeling uncertain about where to begin? Just think about your objectives, target audience, and the specific metrics you wish to achieve. Then, try utilizing one or both features by leveraging your own content or incorporating videos from existing users.