In fact, customers normally feel frustrated and impatient when waiting for the long loading time from the ad to the homepage. Not only that, it might be interrupted if they have to leave the app and go to another to discover more about brands.
So, are there any solutions for that? Of course yes. All of the customers' problems can be solved with the help of TikTok Instant Page, a powerful tool, that can streamline customers' journeys with a speedy experience.
In the article, we will show you everything you need to know about this amazing tool to help brands drive higher conversions and more leads to their website.
What is TikTok Instant Page?
TikTok Instant Page is like a super-fast and interactive landing page that keeps users engaged right within the TikTok app. It loads up to 11 times faster than regular web pages, so people don't have to wait around.
With Instant Page, you can show off your products and let users explore your brand without leaving TikTok. You can choose from different templates and customize the page with text, images, videos, carousels, and buttons that prompt users to take action.
Plus, you can even optimize your ads to target specific actions or conversions that happen on your Instant Page. TikTok Instant Page is currently available for:
​Buying Type: Auction, Reach & Frequency
​Advertising Objective: Traffic, Conversions, Reach, Video Views
​Split Test: Supported
​Promotion Type: Website (Traffic and Conversions Objective only)
​Placement: TikTok, Pangle
​Ad Format: Non-Spark Ads, Spark Ads
​Cards: Display Card, Gift Code Card
Let's take a look at the excellent example below:
LowerMyBills leveraged this new tool for their marketing campaign and it actually drove better results with a 20% decrease in CPA compared to the brand's platform ads that didn't include TikTok Instant Page.
Why do we need to use TikTok Instant Page?
The Seamless Customer Journey
When it comes to creating a positive customer experience, every step matters. With TikTok Instant Page, you can provide a seamless journey for users from In-Feed Ads to your website or landing page. Users can easily tap on a call-to-action or card within the ad, and the Instant Page loads instantly, allowing them to learn more about your brand and offerings. This smooth transition encourages users to spend more time engaging with your content and increases the chances of conversions.
Speed towards Your Marketing Goals
TikTok Instant Page is designed to help you achieve your marketing objectives. Whether you want to boost sales, drive traffic to your website or app, or increase brand reach, Instant Page can support your goals. You can create visually appealing experiences that showcase your products or services and entice customers to take action.
Smooth Experience for Users
To create a memorable experience for your customers, it's crucial to make their journey as seamless and enjoyable as possible. TikTok Instant Page allows users to access your products or services without leaving the app, saving them time and effort. By reducing waiting times and providing a fast-loading experience, Instant Page keeps users engaged and encourages them to explore your brand further.
Flexible Customization
With TikTok's Instant Page, you have the freedom to unleash your creativity. The platform offers a range of customizable templates and components that enable you to tailor your Instant Page to fit your brand and target audience. You can showcase your business messages in a visually appealing and engaging way, capturing the attention of potential customers.
How to create a TikTok Instant Page?
Step 1: Set up a Campaign & Ad Group
After logging into TikTok ads manager, follow the steps shown below to set up a campaign and ad group:
Choose Campaign, then click Create.
Set up Campaign objectives and choose from Traffic, Conversions, Reach, or Video Views.
In the Ad group, click Website under the Promotion type.
Select the TikTok Pixel you want to use to track your events on your website, then choose an Optimization Event.
For the conversation campaign
Choose External Website or TikTok Instant Page.
If you selected External Website, choose the TikTok Pixel, then fill in an Optimization Event.

If you selected TikTok Instant Page, choose an Optimization Event.

Select Automatic Placement or Select Placement.

Note: If you choose Select Placement, ensure that you include TikTok and/or Pangle.
Complete the rest of the setting Ad group: creative type, targeting, budget and schedule, bidding and optimization.
Step 2: Set up the Instant Page Builder
On the Ad page, select Single Video.
Under the Destination page, choose TikTok Instant Page and click +Create .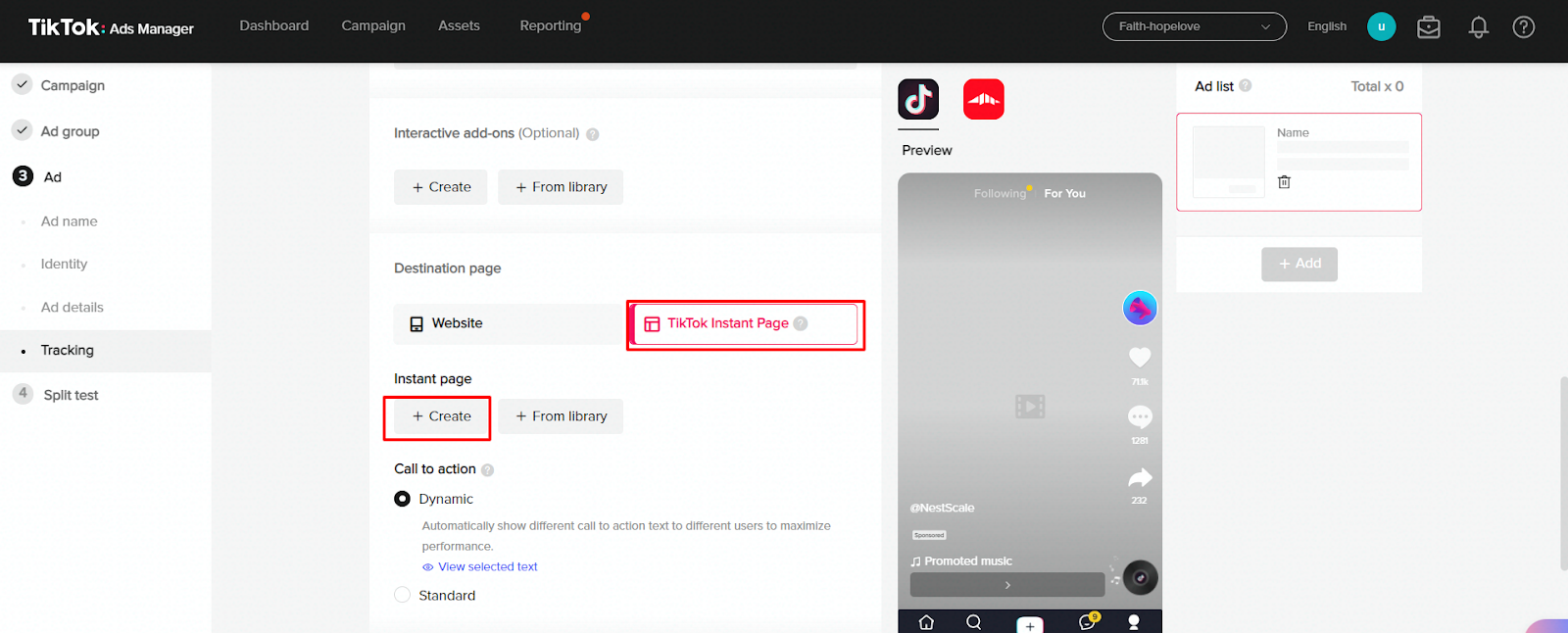 Next, choose an Instant Page Template.
You can choose from some kinds of templates below depending on your goal:
Customize: Freely build an Instant Page that fits your brand value in order to reach the right audience
Products for sale: Describe specifically what kind of products your brand offer and discounts
Brand story: Create a deeper connection with customers by sharing why and how you get started in your business
Introduction and brand pitch: Give a brief overview of your business and encourage potential customers to learn about and use your goods and services
Movie trailer: giving TikTok users a full movie trailer with the choice of a landscape view to enhance your brand image
And finally, you just need to click Confirm.
Step 3: Customize your Instant Page
Once you choose the template for your Instant Page. Let's follow some steps below:
Click the pencil icon to name your Instant Page
If you want to add a component, click + or Add a component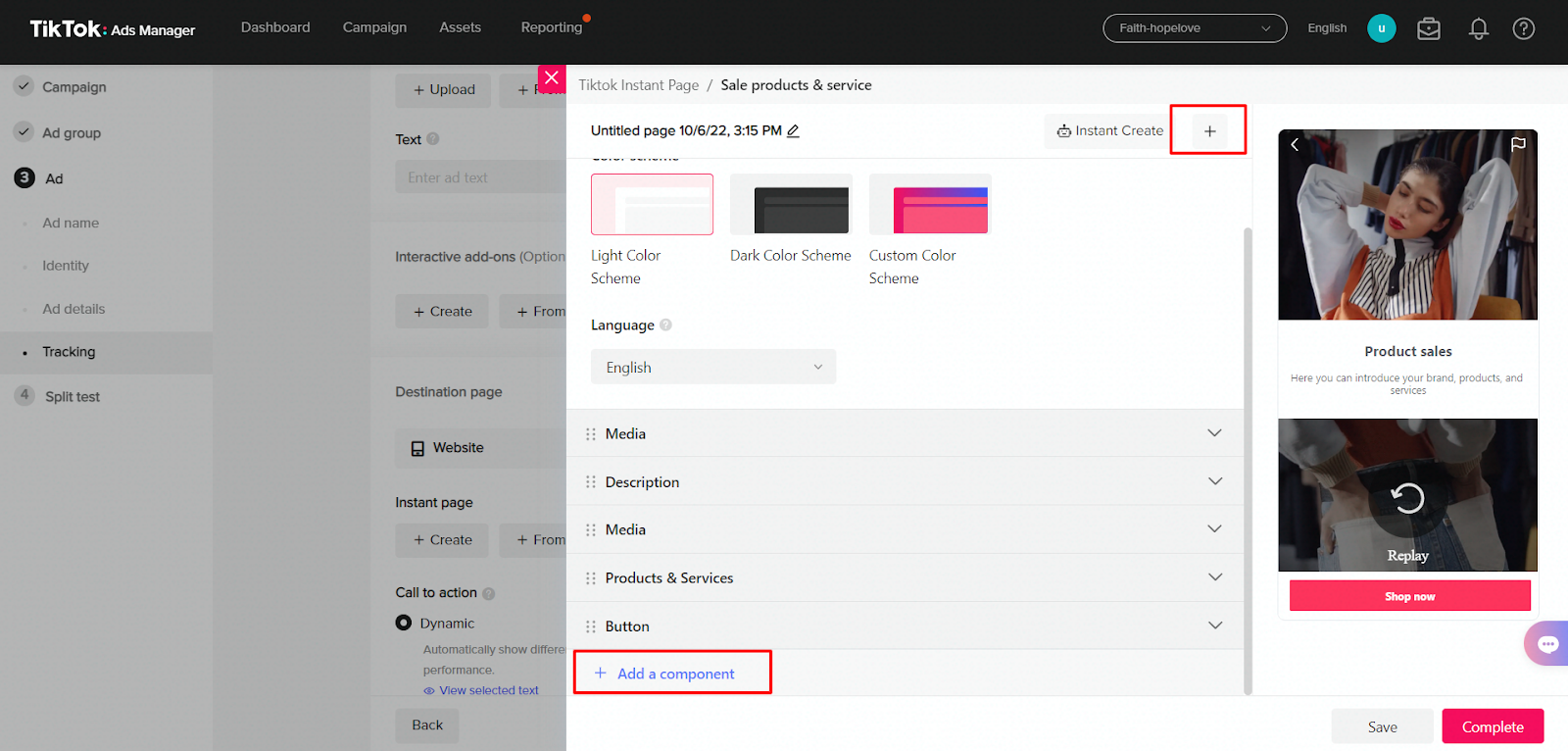 Instant page support 7 components as below:
​Header: Add some text or an image to the top of your Instant Page.
​Image: Include an image that can be made into a hyperlink.
​Video: Feature a video on your Instant Page.
​Button: Add a call to action button that directs visitors to a landing page or an app download page.
​Carousel: Create a slideshow of images within your Instant Page.
​Text: Insert text blocks that can be formatted.
​Coupon Code: Use a discount code to promote a sale (if applicable) and emphasize the % off the regular price.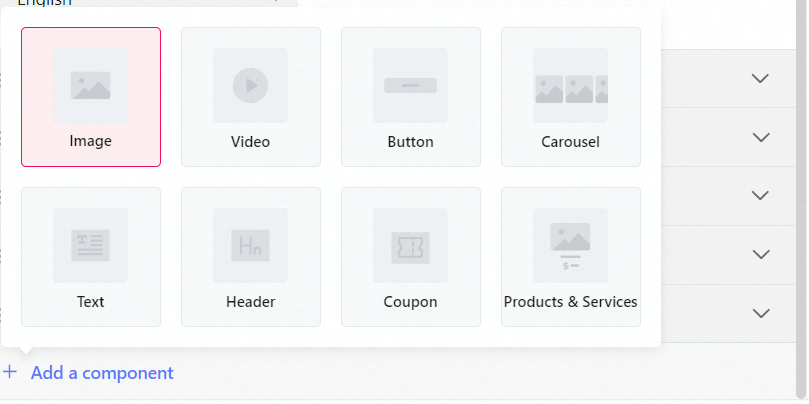 Do note that if you want to create an Instant Page from an existing website, click Instant Create, enter the URL and then click Generate.
Step 4: Access the Instant Page Library
Go to Ad details, click TikTok Instant Page and choose +From library

To use a completed Instant Page, select one with the status Ready and click Confirm
To continue editing the draft Instant Page, select one with the status Draft and click Edit
To copy a completed Instant Page, select one with ready status and click Copy. The Instant Page Builder will open, and you can rename or edit any components
After you add Instant Page for your ad, click Submit to ready to public
Step 5: Track down-funnel events by adding a Pixel
After creating your Instant Page, you can add a Pixel to your ad. It will allow you to track and associate activities that take place on your website with your ad. To add a Pixel, follow these steps:
On the ad creation page, look for the Tracking > TikTok events tracking module.
Choose a Pixel from the drop-down list for Website events or click the add page icon to add a new one.
Repeat this process for each ad in the ad group where you want to assign website conversion events. You must add a Pixel at the Ad Group level if you choose "Website conversions" as your objective.
Click Submit to publish your campaign after finishing generating your ad and adding Instant Page.
7 TikTok Instant Page's best practices to enhance your conversion rate
Take Advantage of Templates
Start by exploring the ready-to-use templates provided for Instant Page creation. These templates are like pre-designed layouts that you can customize to match your brand's look and feel. They serve as a helpful starting point to inspire your own Instant Page design. If you prefer to have more creative control, you can choose to create an Instant Page from scratch and let your imagination run wild.
Replace, Don't Add
When designing your Instant Page, think of it as a replacement for a step in your website's user flow. The goal is to keep the number of screens the user has to navigate through the same, but provide a seamless experience within the TikTok app.
This means optimizing the user journey and making it easier for them to explore your products or services without being redirected to external websites or multiple pages.
Enhance Your Ad
Ensure that your website, Instant Page, and advertisement work together harmoniously. While the content in your ad might introduce users to your brand, your Instant Page should build upon that initial interest.
Avoid repeating the exact same content from your ad on the Instant Page. Instead, focus on enhancing the messaging, showcasing additional aspects of your offerings, and providing more detailed information or visuals that complement the ad.
Keep it Short & Simple
When creating your Instant Page, keep in mind that attention spans on TikTok are short. So, it's important to capture the user's interest quickly and deliver your message efficiently.
Consider the length of your Instant Page and prioritize placing important information at the top. You can create a compelling first impression by focusing on a specific message, a selection of products, or a special event. This way, users can quickly grasp what you're offering and decide if they want to explore further.
Invest in Design
Visual appeal plays a significant role in catching and retaining users' attention. Opt for well-designed layouts that are visually appealing and easy to understand. Avoid making your Instant Page overly complicated, as simplicity often performs better.
Consider incorporating carousels or videos that showcase your products or services in an engaging way. Strike a balance between clear and concise text and eye-catching graphics to create an aesthetically pleasing Instant Page that captivates your audience.
Try Out Different Versions
Don't be afraid to experiment! Test multiple versions of your Instant Page to see which ones resonate best with your target audience. Try different layouts, messaging styles, and visual elements to find the winning combination that drives optimal performance and conversions. A/B testing can provide valuable insights into what works best for your brand and help you continuously refine and improve your Instant Page.
Create a Floating Call-to-Action (CTA)
Make it crystal clear to your audience what action you want them to take on your Instant Page. To ensure that users can easily find and engage with your desired call-to-action, pin it to the bottom of the Instant Page. This floating CTA should stand out, so choose a unique button style and color that catches attention.
By simplifying the user's journey and making the next steps clear, you can encourage more clicks and conversions.
Amazing TikTok Instant Page example for brands to leverage
Get Contact, a global free caller avoids spam and unwanted calls and just only lets people you know contact you. Let's see how this brand applies Instant Page to enhance customer experience.
With TikTok Instant Page, instead of going to the Apple store to download the app, users can directly install the Get contact app in TikTok. In addition, without the help of technical teams, the TikTok instant page allowed them to develop an eye-catching home page that shows their product value as protecting users from undesirable calls and accessing Getcontact's messenger.
There is a significant difference in comparing the outcomes of running a campaign with and without an Instant Page. Specifically, they reduced their CPI by 29% while raising their CVR by 23% using Instant Page!
So, should you choose Instant Page or External Website when creating ads?
Deciding between TikTok Instant Pages and an external website for your ecommerce store depends on your specific needs and goals. Consider your target audience, objectives, budget, and technical expertise. TikTok Instant Pages are great for reaching a young, engaged audience and increasing brand awareness, while external websites offer more customization and functionality.
Whichever option you choose, remember the potential of running TikTok ads to further expand your online presence and drive sales. If you're new to TikTok ads, there are various resources and tools available, such as NestAds, an ads management software that can assist newcomers in navigating TikTok's advertising platform.
So, give TikTok ads a shot and watch your ecommerce store thrive on this popular and engaging platform.