Are you ready to boost your Black Friday and Cyber Monday (BFCM) sales to new heights? We've all been there – the excitement of the BFCM season, and the flurry of visitors to your e-commerce store. You've prepared for everything: Researched all the trends and insights, and prepared the best strategies to rock this BFCM. But then, the dreaded abandoned carts.
But fear not! In this blog, we're spilling the beans on how to recover those abandoned BFCM carts and turn them into successful sales. Get ready for some practical tips to help you make the most out of this lucrative shopping season. Don't miss out – let's dive in and supercharge your BFCM sales!
Why are customers abandoning carts during BFCM?
To get to the bottom of the cart abandonment issue during BFCM, it's essential to grasp why your customers do it. While not all customers abandon their purchase for the same reasons, we've identified the top four culprits through our statistical research and observations. Here they are: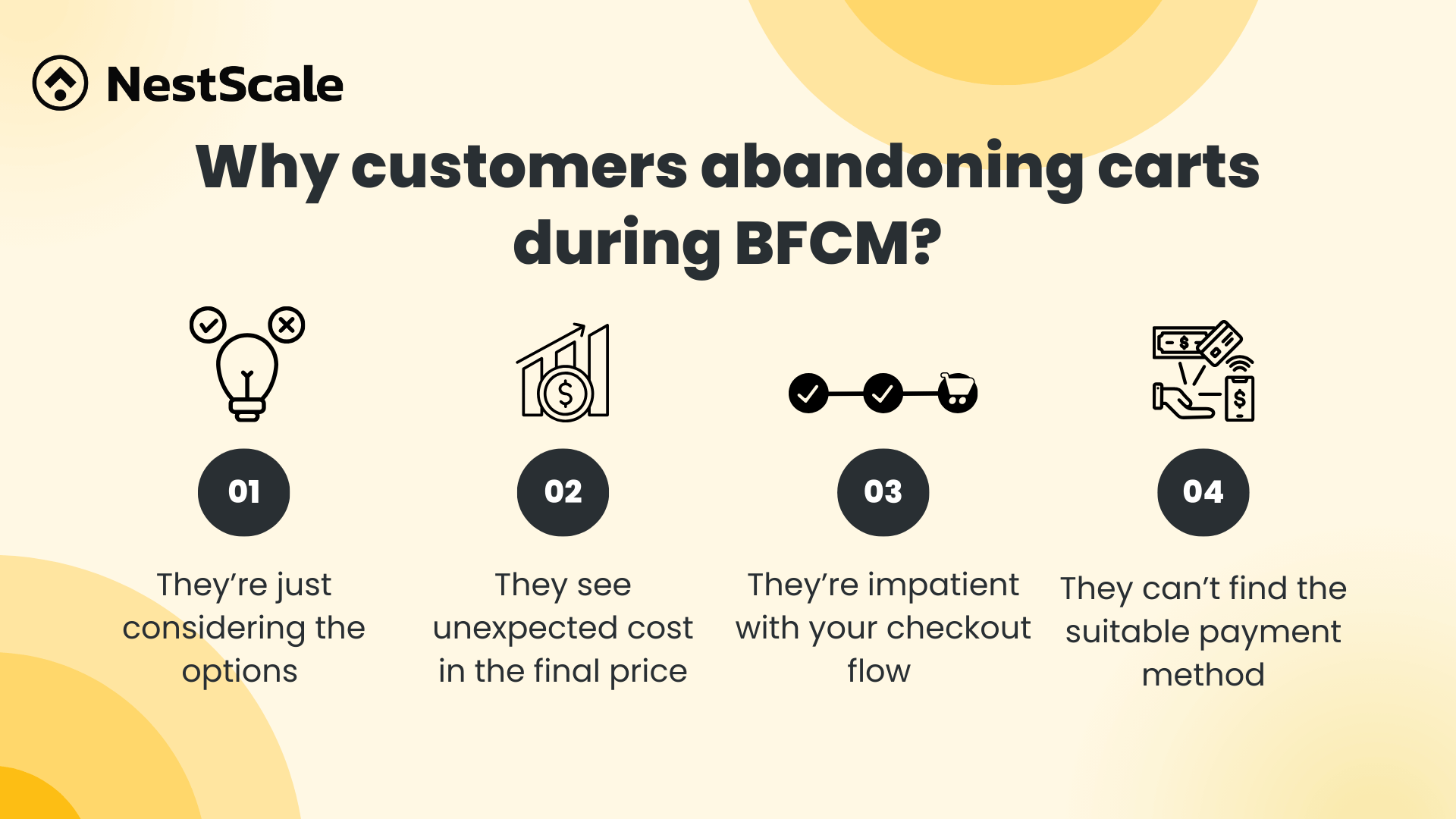 They're just considering the options
The issue of high cart abandonment can stem from the customer's perspective. You see, not every customer strolls into your online store during BFCM with the clear intention to make a purchase. Sometimes, they're just there to browse, check out your product range, and consider various buying options. They might be on the hunt for the best deals for their big shopping days, comparing prices from store to store.
So, if you can't effectively showcase what's great about your products or highlight the fantastic offers you're currently providing, there's a high chance they won't stick around in your store for long.
They see unexpected costs in the final price
One of the most prominent reasons why customers decide to abandon their orders is the hidden costs that crop up in the checkout process. According to a survey by Baymard in the US, 47% of them abandoned their carts because they found the extra costs to be too high. Hence, this is also a problem that you need to address carefully. During BFCM, customers want to get the best deals, and the extra cost that adds up to the initial price will lower their enjoyment within your stores.
They're impatient with your checkout flow
Customers lack patience, especially during the hectic Black Friday and Cyber Monday (BFCM) shopping season. They're on a mission to snag the best deals as quickly as possible. So, they don't have the time or patience to navigate a long and complicated checkout process. When your checkout process is lengthy and filled with too many forms to complete, it can discourage customers from finishing their purchase, leaving you with abandoned carts.
They can't find a suitable payment method in your store
Customers are a diverse bunch, each with their unique payment preferences. While some might prefer using credit, and others might like digital wallets better. When customers don't find a payment method that suits their preferences, it can become a significant barrier to completing their purchase. In fact, more than 20% of cart abandonment reasons are related to payment issues. So, it's crucial to keep a close eye on this problem.
What can you do to recover abandoned carts during BFCM?
First things first, you need to start recovering your abandoned cart right from the things that are annoying to your customers. That is, cutting down on cart abandonment by fixing them. Then, for those almost-buyers, shoot them a follow-up to nudge them into completing their purchase.
Now, here's how you can rescue those abandoned carts and keep the abandonment rate low during BFCM:
Craft a captivating product page
To keep customers engaged and persuade them to make their purchase without leaving, there's no better approach than demonstrating the quality and appeal of your products. That's why, during the BFCM season, we strongly recommend upgrading your product page to make it more enticing. This not only aids in recovering abandoned carts but also impresses new customers who visit your store.
While you can get creative with how you upgrade your product page, here are some fundamental points to ensure that it works effectively:
Show previous customers' review
Adding reviews from previous customers is a game-changer. Customers tend to trust real experiences more than mere brand claims. To build trust and motivate customers to stay and make a purchase, create a section filled with previous customer reviews. Reading about others' experiences can significantly impact their perception and decision to buy.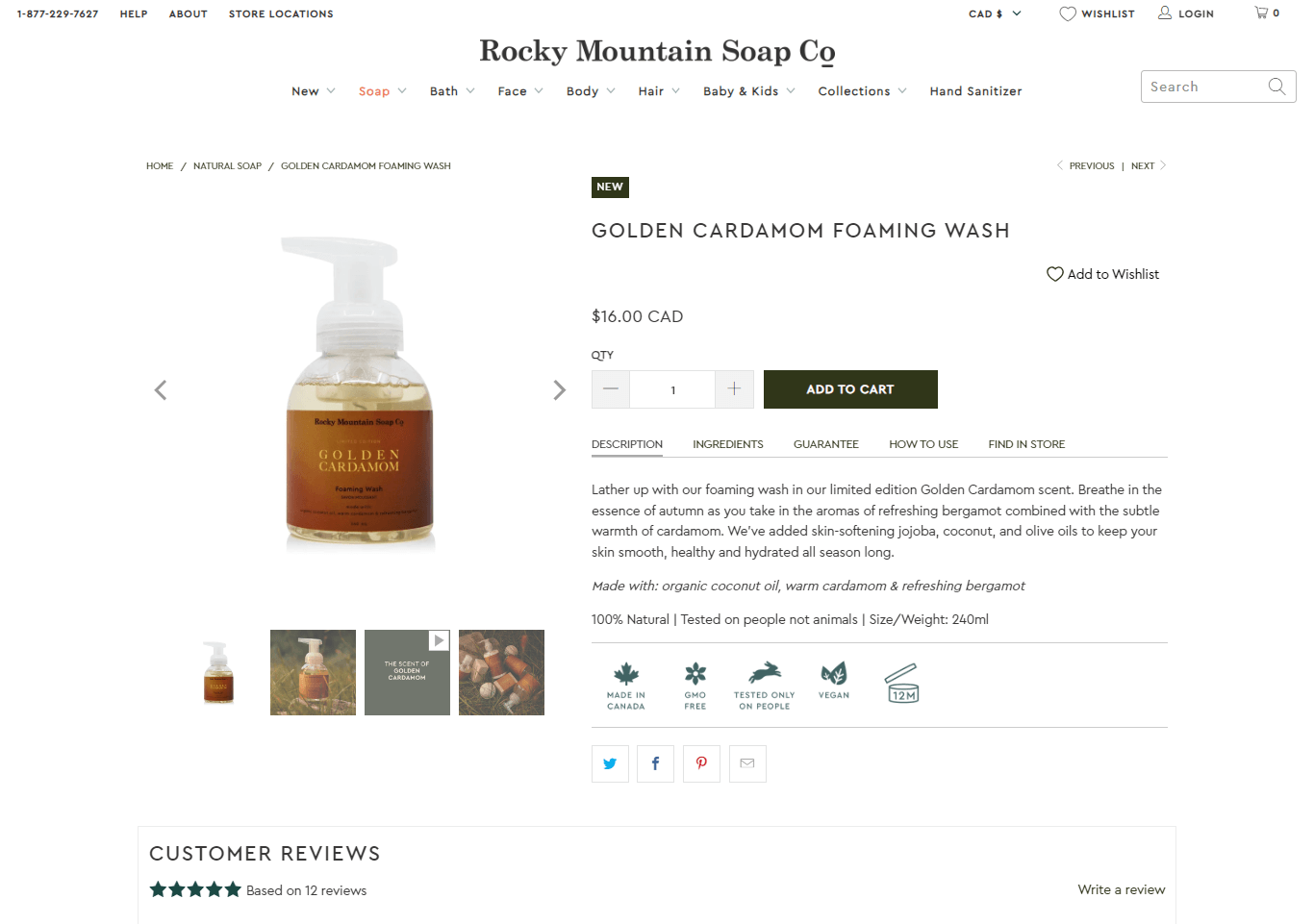 Use attractive images and product description
The first rule is to ensure high-quality product images and appealing descriptions. If your products come in different variants, showcase them all on your product page. Also, if there are any additional fees, make sure to include that information in the product description.
Don't forget to showcase your best offers!
Since this season is all about showcasing your best deals, don't forget to display them prominently on your product page. Let your customers see the fantastic discounts and promos you're offering.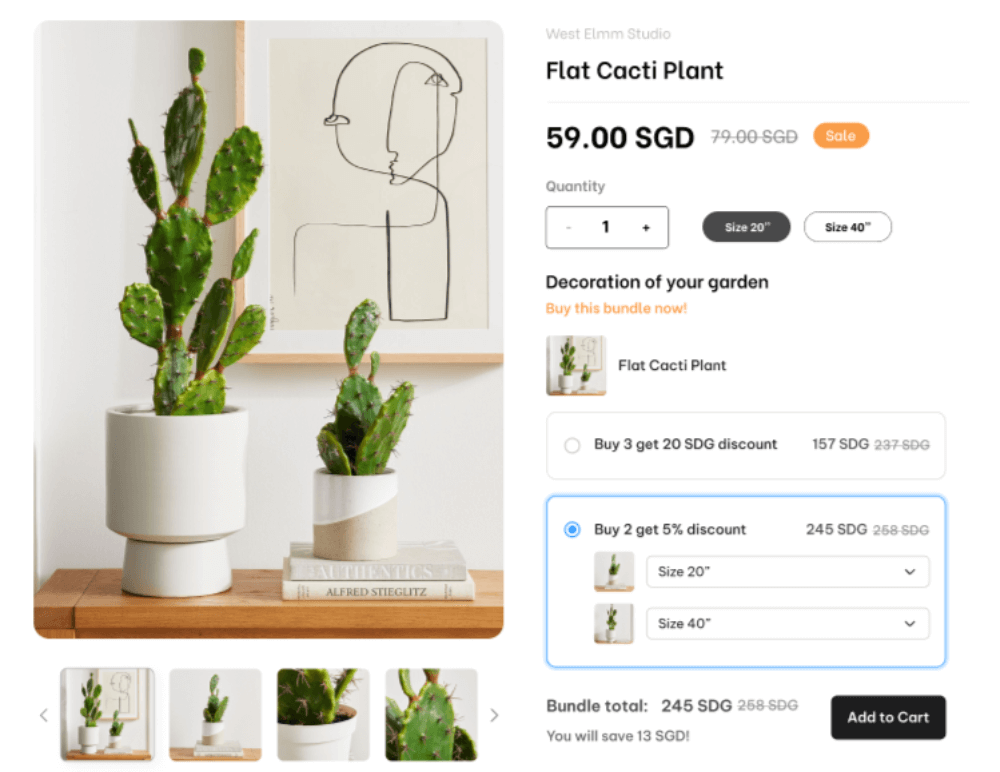 Worried about the heavy workload for your product page during BFCM? We get it – you want to streamline things, so you can focus on what really matters. Plus, having too much on your plate during BFCM can lead to headaches if issues pop up.
One smart solution we recommend is using third-party tools to help you out. Check out Nestscale Bundles, our all-in-one app. It'll effortlessly spruce up your product page. With Nestscale Bundles, you can display all your deals right on the product page, and offer different types of discounts like percentages, fixed amounts, set prices, and even free gifts. You can also customize the bundle text and actions to match your store's vibe!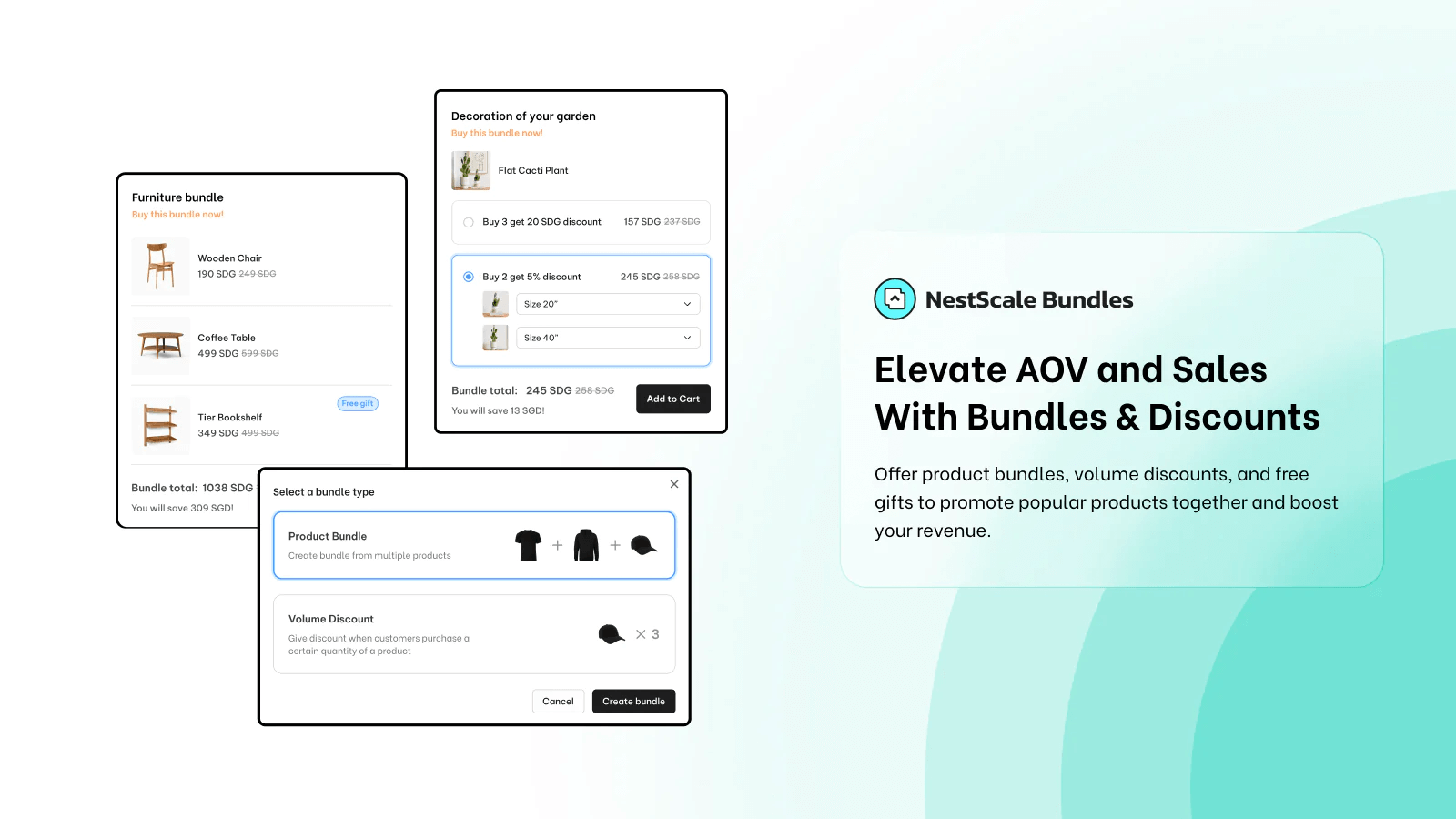 Create a simple and seamless checkout flow
If you're noticing that customers tend to exit your website while finishing their checkout, there's a good chance that your checkout process might be a bit too long and complicated. So, if you want to boost your sales this BFCM, it's high time to optimize your checkout flow!
Now, let's talk about some tips. The first one is pretty straightforward: don't overload your customers with too much information to fill out during the checkout process. If you can consolidate sections into one, go for it. Here's our recommendation for an optimal checkout flow: Shopping Cart > Billing Information > Shipping Information > Preview Order > Payment > Confirmation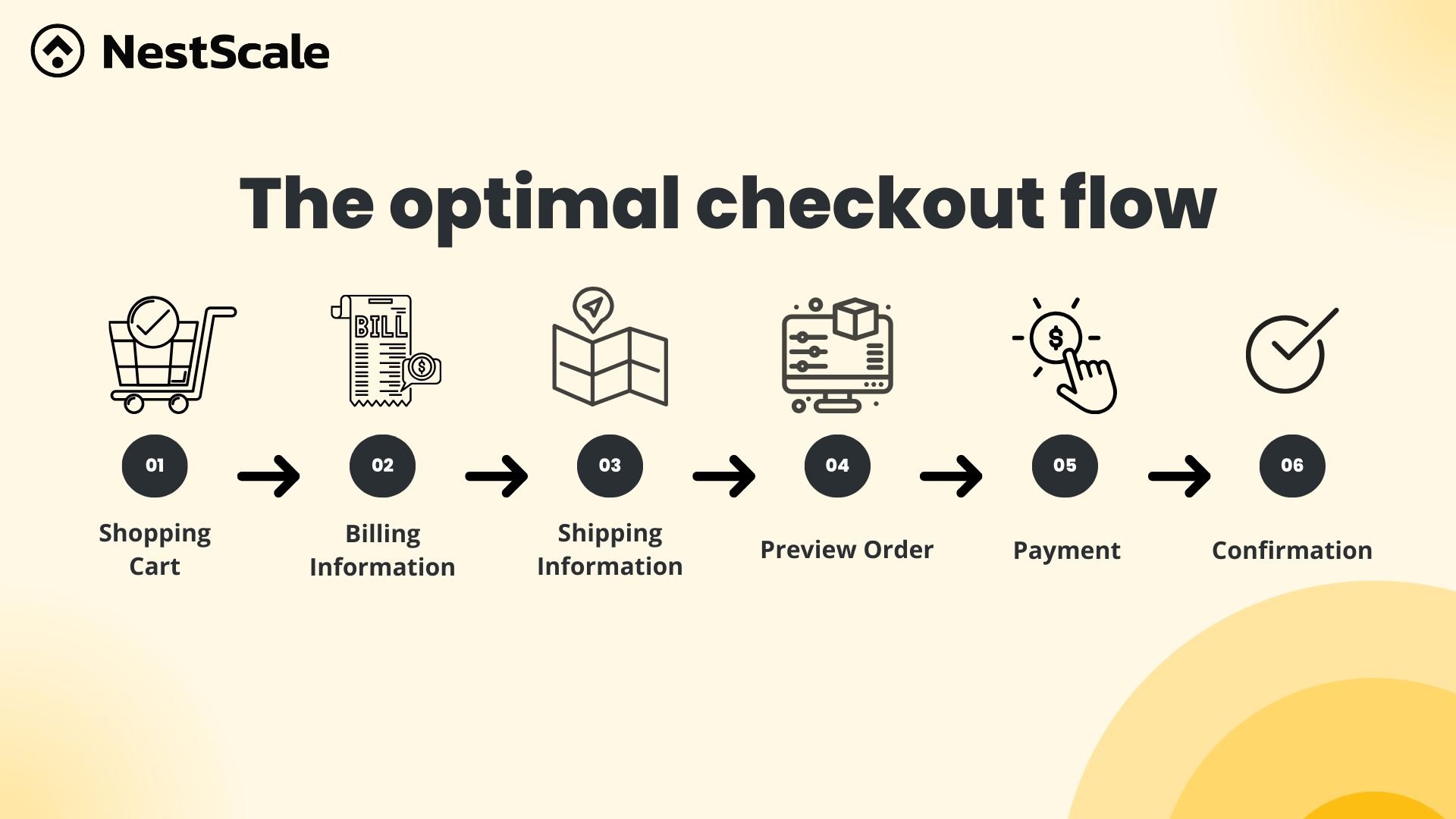 For a smooth BFCM shopping experience, consider an optimal checkout flow that's hassle-free. We strongly suggest offering a guest checkout option. Shoppers dislike excessive form-filling, and requiring them to sign in can create a frustrating experience. Plus, there are plenty of opportunities to engage with your customers; no need to rush!
Include various payment options for your customers
Providing an array of payment choices is a strategic move that can help your business recover abandoned carts and increase conversion rates. Shoppers have diverse payment preferences, like digital wallets like PayPal, Apple Pay, or Google Pay. When customers can't find their preferred payment method, they are more likely to abandon their carts.
We suggest diversifying your payment options, but you don't need to go overboard. Start by researching your target customers' preferred payment methods. Include the popular ones in your payment options. Also, ensure the payment gateways you use are reputable and trustworthy.
Add an exit popup
An exit popup is your last shot at keeping those almost-lost customers during BFCM. It's a nifty website pop-up that shows up when someone's about to ditch your site. You can offer discounts or free shipping to sweeten the deal and make them stay.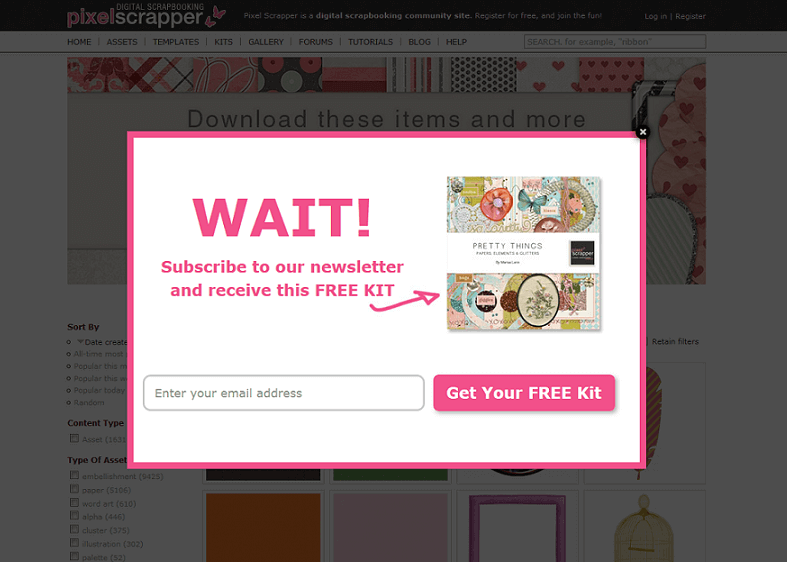 But here's the catch – the message and design need to be on point, not annoying. So when the timer runs out and they're ready to bail, your exit popup swoops in with a tempting offer, giving them a reason to come back and finish their purchase. It's all about that final persuasion!
Send abandoned cart recovery email reminders
Last but not least, when it comes to handling customers who abandon their carts, the last resort is sending abandoned cart email reminders. This method has proven to be rather effective, with over 40% of cart abandonment emails being opened and contributing to a remarkable 56% increase in businesses' revenue.
But here's the catch – it's not just about doing anything; you've got to do it right to achieve these outstanding results. To assist you in sending the best recovery email reminders that guarantee cart recovery, here are some of our suggestions:
Automate your email
In the hustle and bustle of BFCM, manually sending emails to every customer is just not doable. That's why we recommend setting up automatic emails that kick in as soon as a customer abandons their checkout. It's a real time-saver for your business, and you can rest easy knowing you won't miss a single abandoned cart in your store.
Write compelling email content
To increase the chances of your email being read, it's essential to make your email content attractive. Begin with a captivating email subject that hooks your customers right from the start. Then, personalization. It's a simple tweak – just add the customer's name and the products left in their cart. This personalized touch can make all the difference in bringing them back.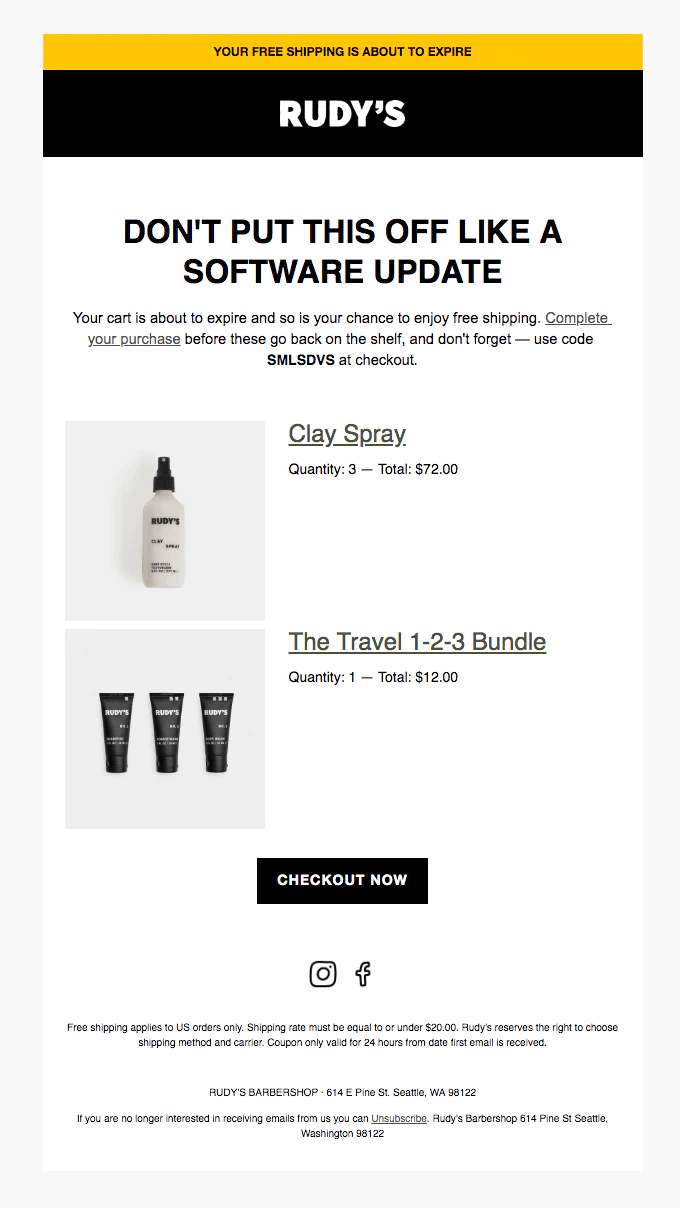 And here's the kicker: offer a tempting coupon code as a powerful incentive for cart recovery. Display the discount prominently, so it's easy for customers to apply during checkout. This can be the nudge they need to turn their abandoned cart into a successful sale.
Control the frequency of email
When it comes to email recovery campaigns, timing is absolutely crucial. You want to fire off the first email shortly after the cart abandonment, ideally within an hour. After that, you can send a maximum of three more emails to gently nudge your customers. But here's the key: don't just keep hitting them with the same stuff. Make sure each email has its unique content that flows smoothly from one to the next.
Now, the frequency is where the sweet spot lies – it should be a mix of gentle reminders without going all spammy on them. Our recommendation is to space them out within 12 to 24 hours. And don't forget to keep an eye on those open and click-through rates to see how well your timing is working. It's all about finding that perfect balance!
Have a clear CTA
Your email's call to action (CTA) should be crystal clear and persuasive. Use action-oriented phrases like Complete Your Purchase Now or Grab Your Deal. Make sure the CTA button or link is highly visible and stands out. An effective CTA guides the customer back to their abandoned cart with minimal effort.
Guess what? You don't have to handle all those tasks on your own. There's a free tool that's got you covered for everything we just talked about! Give NestSend a shot – it's our email marketing automation tool that you can customize for any customer journey you're aiming to improve.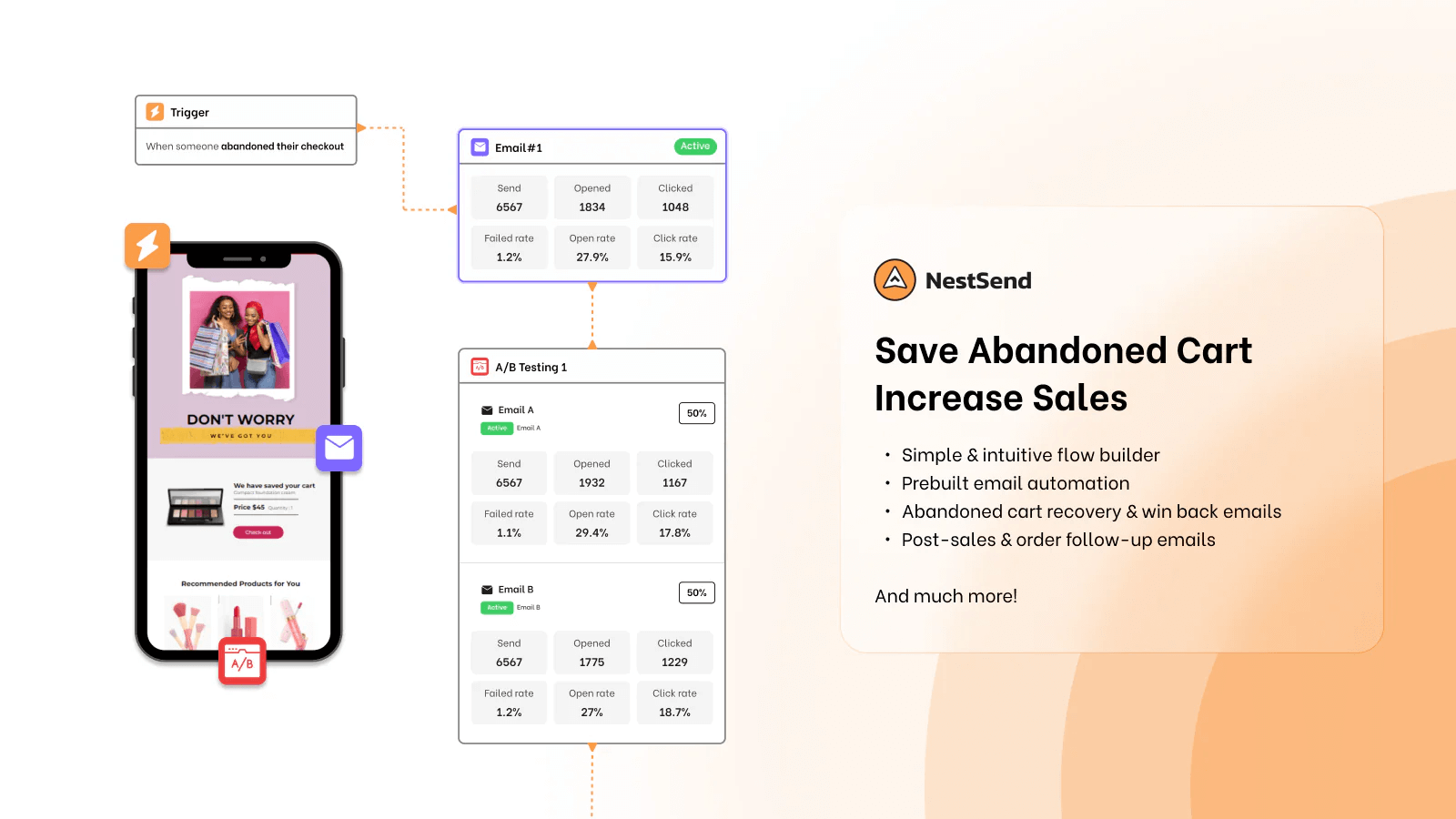 NestSend will help you set up automated flows for recovering abandoned carts, launch fantastic email campaigns with beautiful templates, and even create pop-up forms on your website to capture quality leads and prevent cart abandonment. It's simple, convenient, and we guarantee to you – it works!
Don't be neglected with your onsite customer services
"We get it, BFCM can be super busy, and sometimes you might not have the time to answer all customer questions or provide top-notch service. But here's the thing, a simple slip-up could cost you potential customers who are ready to buy. When customers are checking out, they often have a lot on their minds. You want your team to be ready for those new purchases.
So, nailing customer service during BFCM is a must. But don't stress during this busy time – prepare in advance to make it easier. Make sure your store has a live chat for instant support, a detailed FAQ page, and clear store policies. These changes aren't too complicated, and we're sure they'll have a big impact on your customer service during BFCM.
… And many more things to boost your performance!
Recovering abandoned carts is just one part of the puzzle when it comes to increasing your revenue and profits during BFCM. You also need to step up your game with promotions and optimize your store, among other things. In other words, you need a comprehensive BFCM strategy. This is the key to a successful BFCM sales period that can significantly impact your annual business results. By using the right tactics and customizing them for your store, we're confident you'll notice some impressive improvements.