Email marketing is one of the most traditional yet effective marketing channels that has been used by brands for years. It helps businesses build meaningful relationships with their customers, raise brand awareness, nurture leads and turn them into customers.
Recognizing the positive impact of email marketing on business growth, we have been motivated to develop NestSend – an Email Marketing Automation Software that empowers your brand to win customers for life and drive sales.
Automate your email marketing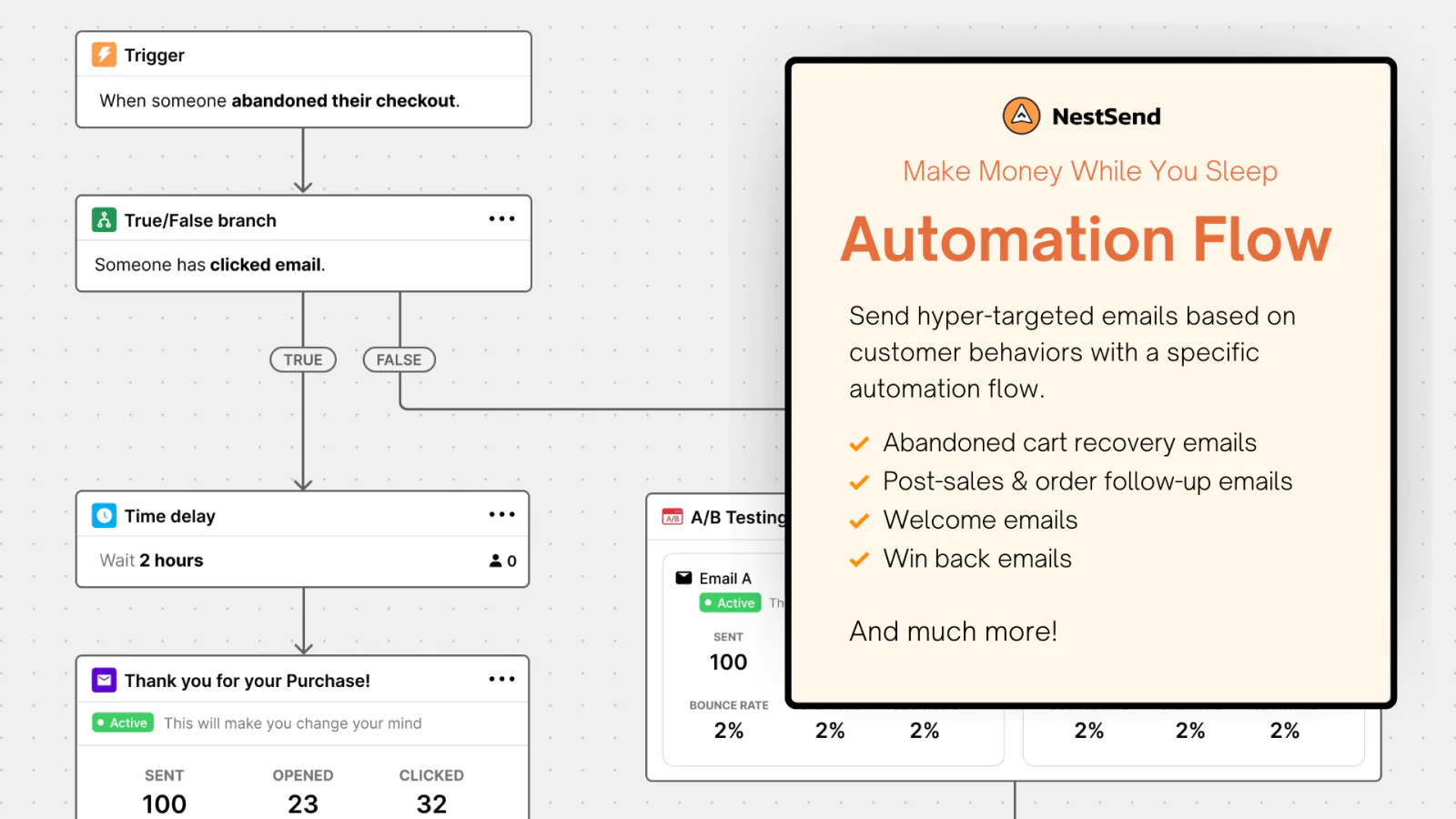 Timing matters when it comes to engaging with customers. However, it's almost impossible to manually schedule and send emails to your customers in real time – especially as your customer list keeps growing bigger. Using NestSend, you can ensure the right message reaches the right audience at the right time on autopilot.
From subscribing to your newsletter to placing the first order and every touchpoint in between. Email automation saves you time and effort connecting with customers at critical moments in their journey.
Drag-and-drop email editor
With NestSend, you can create automation flows customized to our needs. The drag-and-drop editor makes it easy to select the trigger and conditions, then add any conditional logic or wait for guided steps to craft a personalized workflow.
Pre-built automation templates
Don't want to start building automation from scratch? Pre-built automation templates are available for you! Simply choose from 10+ ready-to-use automation flows like welcome, win-back, upsell emails, and much more. These include pre-selected conditions, triggers, and actions that have been proven effective and built exclusively for eCommerce businesses like yours.
Craft engaging email campaigns that sell
According to Statista, the average email marketing return on investment (ROI) for eCommerce brands is $45 per $1 spent, which is pretty high compared to other marketing channels. It's no wonder, then, that many brands use emails to interact with their audience and convert them via email campaigns like:
Product launches: Release new products, new features
Sales announcements: Inform about holiday sales, special offer promotions, etc.
Newsletters: Share blogs, relevant industry news, etc.
And much more…
Unlike automation flows, email campaigns are one-off sends to customers with different goals. They are effective marketing methods to both drive customer engagement and leverage sales.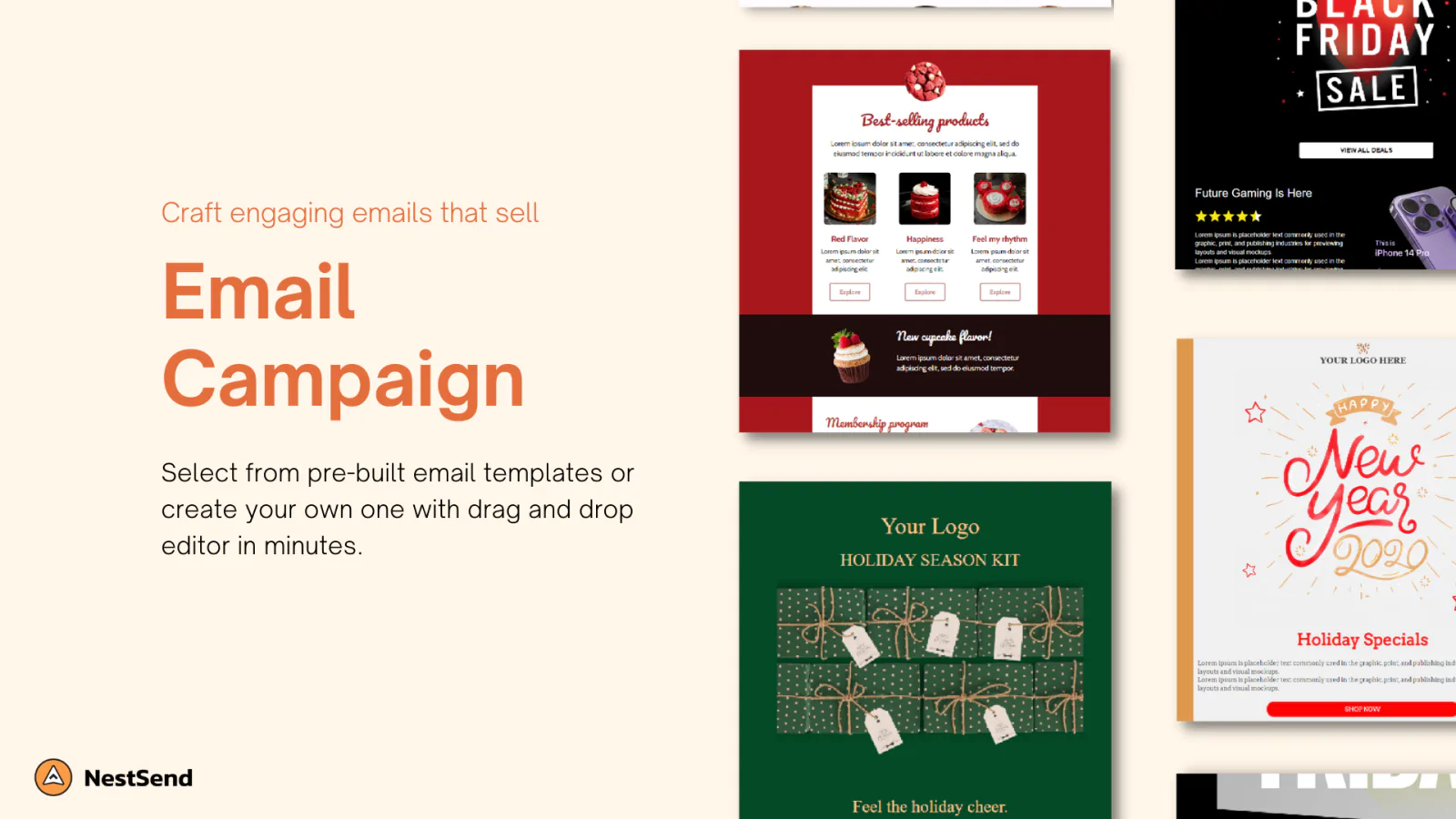 With NestSend, you can create beautifully branded emails in minutes with a drag-and-drop editor. And if the design isn't your thing, just use ready-made templates to kick off your first email marketing campaign. Rest assured that NestSend provides plenty of proven email templates across industries and events for you to select from for free.
Turn website visitors into shoppers
Understanding that email marketing is an effective method for your business to reach subscribers directly with valuable content or offers. But the problem is, how can you get them to sign up for your email communications?
NestSend's engaging pop-up forms allow you to collect more contacts, grow your subscriber list and drive conversion via stunning web forms. This means that you will have a valuable contact list of people interested in hearing from your brand at your disposal.
The versatility of pop-ups is what makes them so loved. Pop-ups can be used to collect emails, encourage visitors to subscribe to receive emails and other communications from you or inform them of ongoing sales.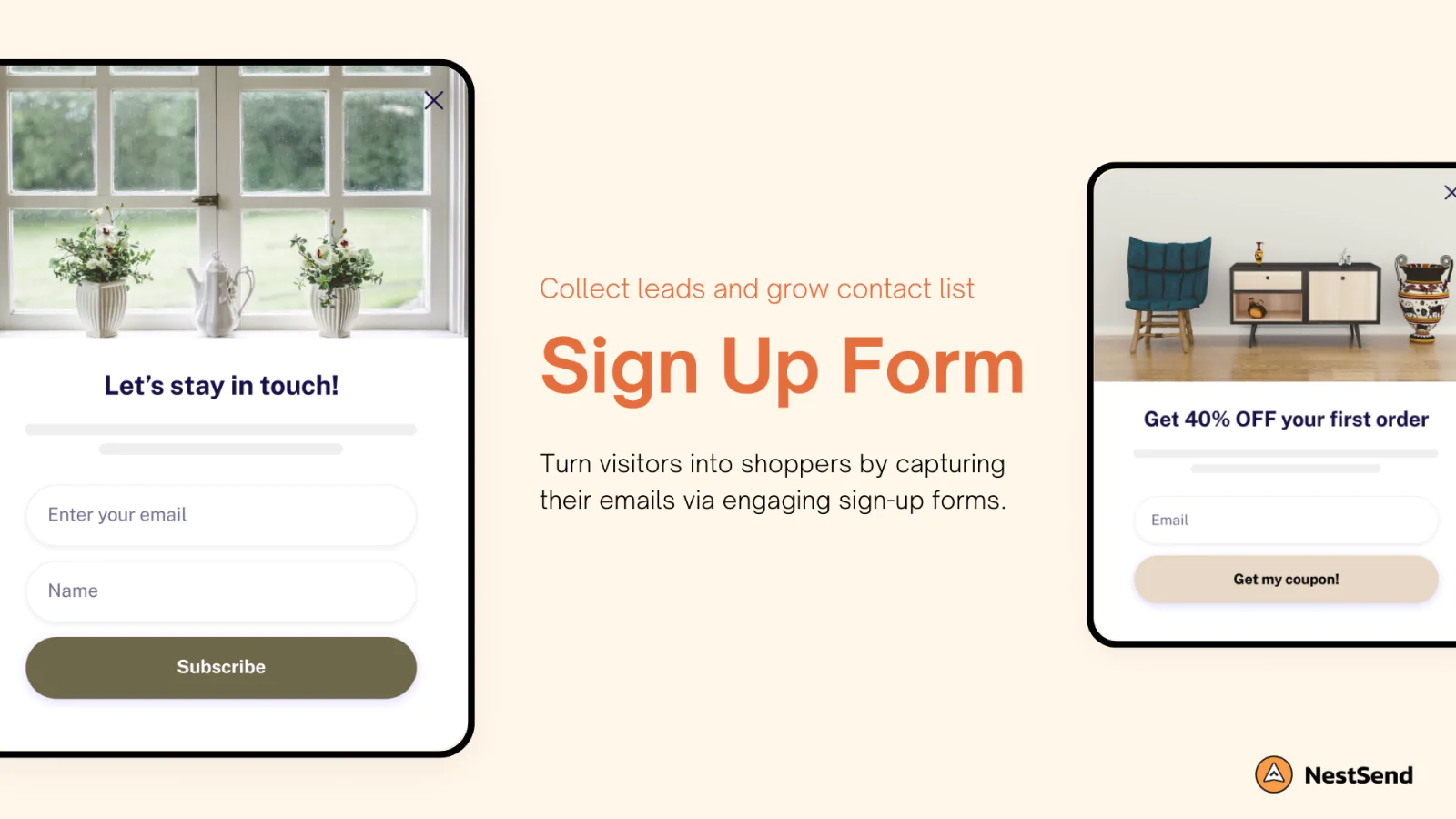 Impress with beautiful forms
It's important to keep in mind, though, that the design of your sign-up forms will have a significant influence on how well this works. The 10+ signup form templates offered by NestSend have gorgeous and high-converting graphics, text, and styles that are easy to customize to your preferences.
Display the popup as you want
Last but not least, the timing, targeting, and frequency of your forms are also completely within your control thanks to NestSend's sophisticated targeting for pop-ups. For example, you can choose to show pop-ups after the visitor has spent 15 seconds on the page or after the visitor has scrolled 30% of the page. The pop-ups can also be set up to show up again, for example, 2 days after it is dismissed.
Deliver hyper-personalized experiences
According to Statista, email marketing is used by more than 82% of marketers. But only about 31% of those emails are opened on average.
Emerging businesses are increasingly focusing on delivering one-of-a-kind, personalized digital experiences for their customers, starting with their communication, to stand out. Email segmentation is known to be the starting point for most brands.
Engage customers better with Hyper Segmentation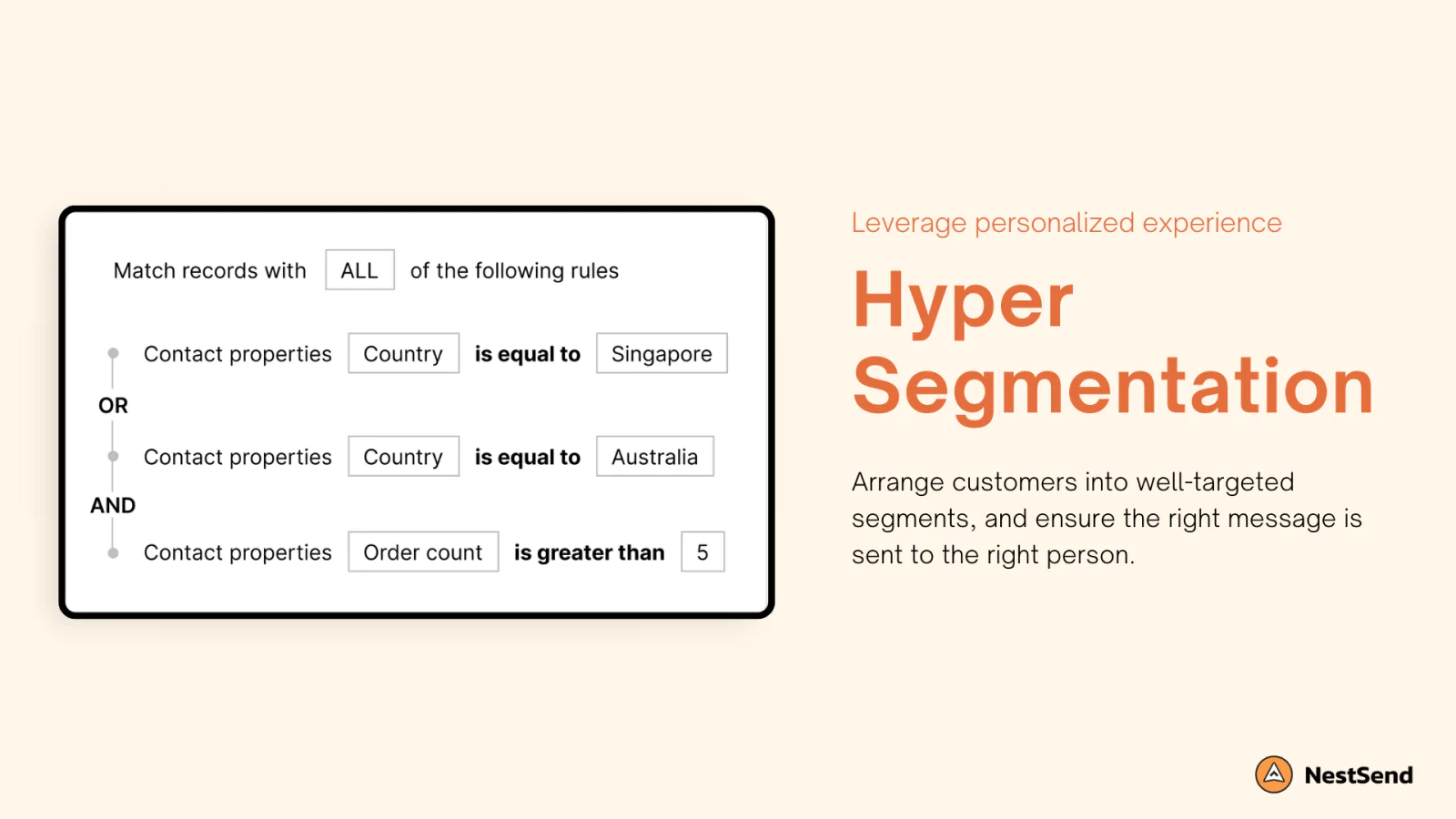 With NestSend's robust segmentation features, you can group customers into well-targeted segments based on profiles, shopping habits, and other variables, ensuring that only the right people receive hyper-targeted emails at the right time.
To further strengthen your relationship-building with customers, you can also build specific email automation flows for each segment (abandoned cart recovery emails; post-sales & order follow-up emails; welcome emails; and win-back emails).
We're sure that you'll find NestSend's segmentation both user-friendly and robust, regardless of whether this is your first time creating an audience segment or you are a pro already. You can combine numerous rules (such as an address, city, country, phone number, totally spent, and order count) to focus your targeting on certain contacts who will be most interested in your messaging.
Bring customer profiles to life
Apart from segments, a bonus point of NestSend that helps brands deliver hyper-personalized emails is the holistic view of all customer profiles which records all customer interactions with your brand under the "Activity Log" tab. With these constant updates on customer activities, you can easily send out personalized emails that tailor to every stage of the customer journey, thereby nurturing long-lasting relationships with them.
Ready to empower your email marketing journey and drive sales with NestSend?
From email marketing automation to engaging email campaigns, and stunning web forms, coupled with robust email segmentation, NestSend is definitely among your most powerful tools to win customers for life and drive sales via email marketing.
We are more than happy to help you out with any questions. So please feel free to contact us via live chat or send an email to [email protected].
See you at NestSend!