Good news! We are glad to announce the partnership between NestScale and Mega Digital. Hopefully, with this collaboration, we can help more businesses boost their sales and scale their growth via smarter TikTok ad campaigns.
Meet NestScale
NestScale is the diverse and ever-evolving ecosystem of integrated software, built for D2C and eCommerce business growth. Here we provide simple yet powerful solutions from marketing to sales to customer service to attract, convert, and retain your customers.
NestDesk – Turn exceptional customer service into a powerful sales channel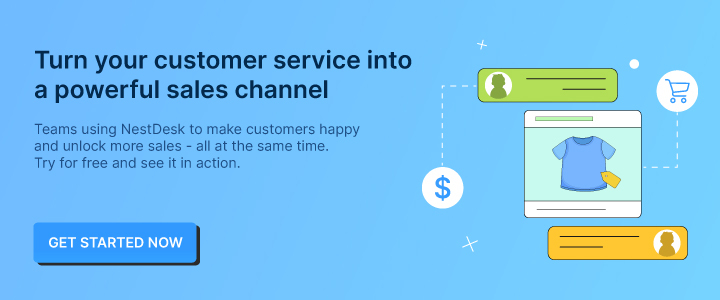 NestDesk, the omnichannel customer service solution, lets you centralize all conversations, deliver personalized responses and create orders right from the chat dashboard.
NestAds – Winning TikTok ads made easy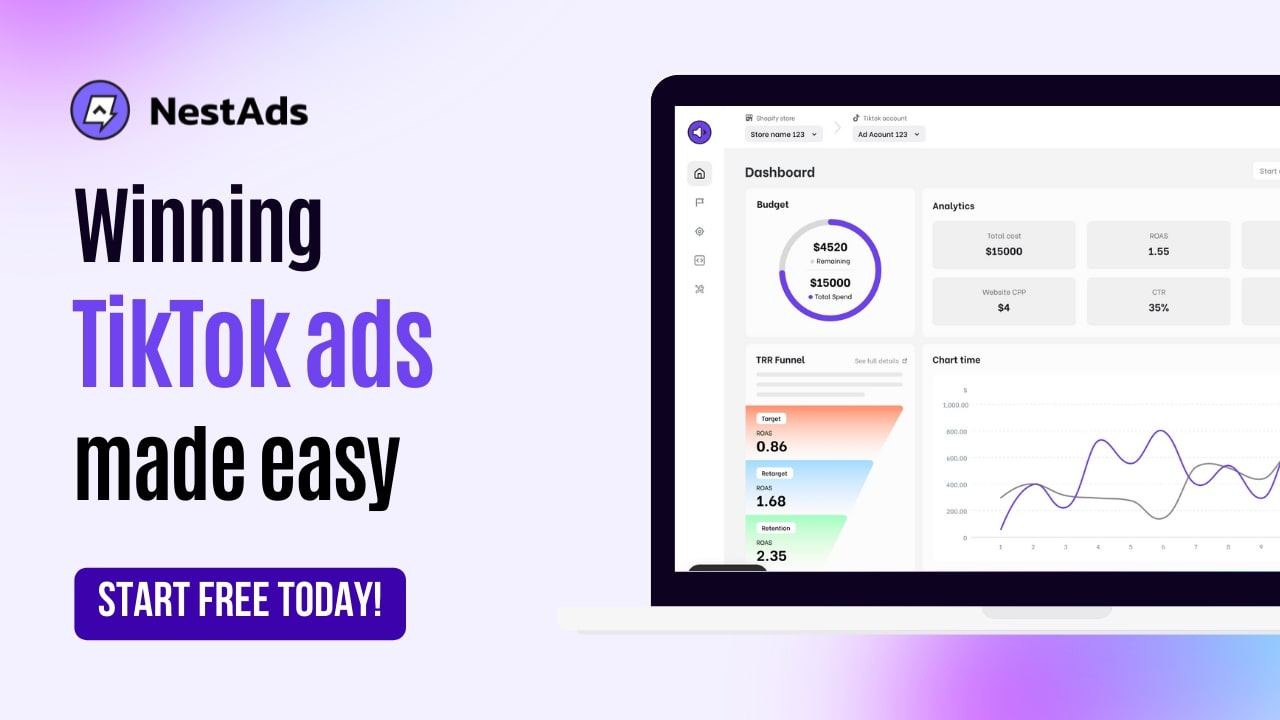 Given the rising trend of social commerce and the tremendous popularity of TikTok, NestAds wishes to be your left-hand man in this specific niche. Particularly, being tailored-made to the e-commerce sales funnel stages of TRR (target – retarget – retention), NestAds can drive great and tremendous results with winning TikTok ad campaigns.
Moreover, with NestAds, you will have for yourself a simple yet powerful advertising management software that helps you to launch, analyze, and optimize your TikTok ad campaigns.
Launch successful TikTok ad campaigns in an incredibly simple way, with no expertise required.
Track your TikTok ads performance according to key metrics: website CPP, CTR, CVR, ROAS. Also, discover which ad campaigns convert best across different stages of the sales funnel and make more informed decisions.
Utilize in-depth targeting options to expand your audiences further.
With the hope of further empowering your business in the TikTok commerce market, in the last few months, we have worked hard to refine our software and expand our partnership with related service providers. And now we are delighted to announce our special collaboration with Mega Digital – the top TikTok Marketing Partner in Vietnam.
Let's find out more about what Mega Digital can offer you and how this partnership can further strengthen NestAd's capability to gain you more profits via TikTok Ads.
Meet Mega Digital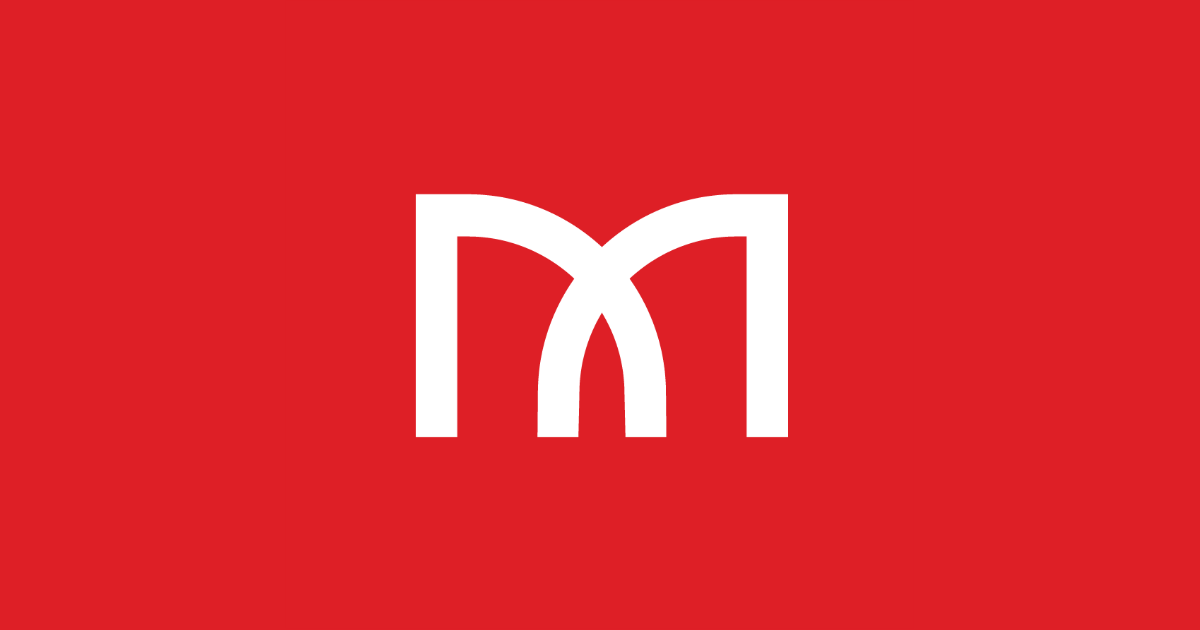 Mega Digital is a Digital Marketing agency based in Hanoi and Ho Chi Minh City, Vietnam. As the leading TikTok marketing partner in Vietnam, Mega Digital helps brands and merchants promote their products on the world's most popular platforms.
TikTok services:
Verify your business
Grow your brand & sell on TikTok (Vietnam only)
TikTok MCNs
Google services:
Develop your eCommerce website
Promoting with Google Shopping and Google Adwords
Advertise with Google Partner Ads Account
Facebook service:
Other services:
Search Engine Optimization service
Website design service.
What to look forward to in this partnership?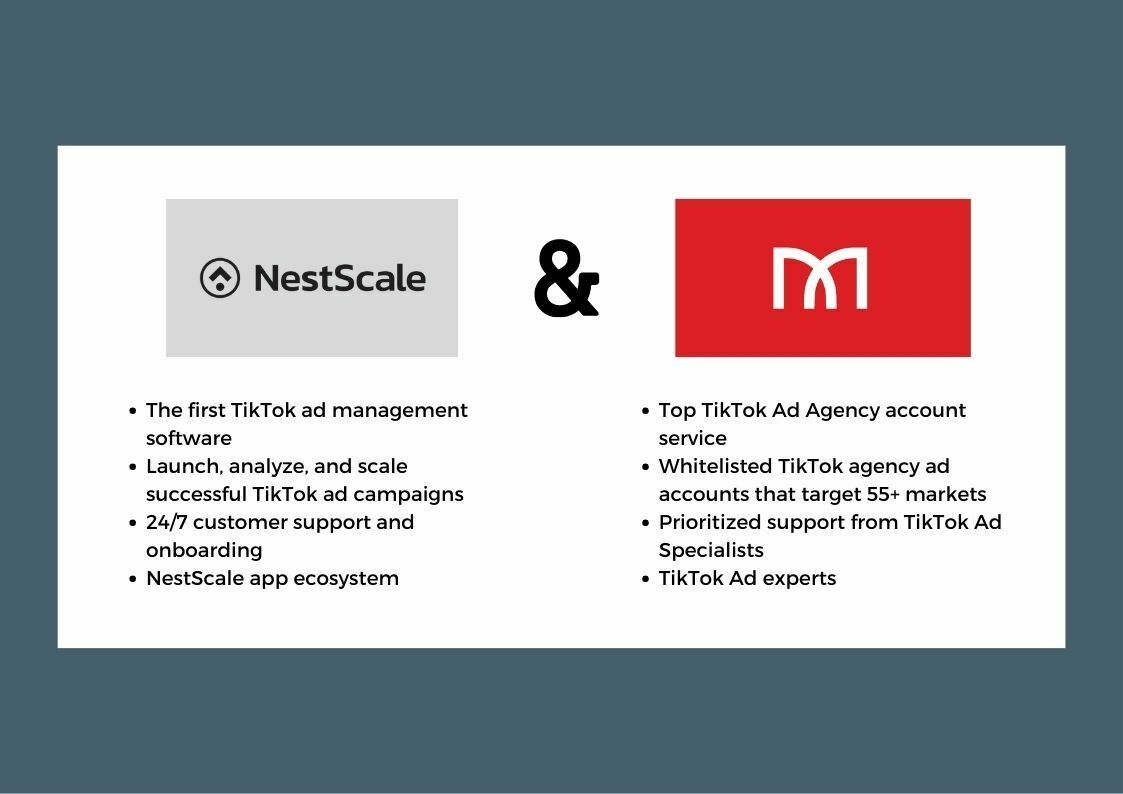 Think NestAds as a one-stop shop for SMEs to launch, analyze and scale your TikTok ads – all within one simple yet powerful dashboard. In addition, we've also made life even easier for online merchants by partnering with Mega Digital. Our collaboration means you can harness the TikTok ads agency account to reach global customers and keep your ads campaign on the right track.
Unlike TikTok self-serve ads account, the TikTok agency ads account from Mega Digital provides you with numerous benefits:
Target all markets and run ads across borders.
Run smarter ad campaigns with full customization & whitelist features.
Content audit to prevent ad suspension.
Suspended credit reallocation across new ad accounts.
As a NestAds user, you can get all exclusive offers that the TikTok Agency Ad account includes, which are:
No management fee included for the first 60 days, rather than the standard 30-day
Directly support from TikTok
1:1 guidance from Mega Digital's TikTok Ads Specialist (If you spend more than 500$/day)
Update new TikTok policies immediately
Allocate the remaining balance to a new account if it got suspended.
For the very first-time 500 users to try our NestAds – TikTok ads management software, we also have beneficial deals for you:
Use NestAds for totally free.
Join onboard 1-1 with NestScale
Have an opportunity to harness the NestScale ecosystem
The partnership between NestScale and Mega Digital will provide businesses of all sizes with the tools needed to reach highly engaged audiences and boost sales with smarter TikTok ad campaigns.
How to capture the benefits of this partnership?
You might be wondering how can you reap the benefits of this partnership. Well, the quick answer is to use NestAds and Mega Digital altogether.
Here are the detailed steps:
Install NestAds on your Shopify store
Sign up for Mega Digital ads agency account
Integrate your NestAds account to your ads agency account
By doing this, you will have a whitelisted TikTok agency ad account and a powerful TikTok ad management software that together helps you win the TikTok commerce market.
Also, our dedicated support team is happy to make TikTok advertising easier and more effective for you. So please feel free to contact us via live chat inside the app dashboard or email [email protected] if you have any questions/concerns.
Looking forward to new partnership programs
We have been constantly improving and refining our integrated software ecosystem in NestScale to accommodate your increasingly diverse needs and problems.
Starting with NestDesk, NestAds, and currently, with the meaningful and helpful partnership with Mega Digital, we hope to empower SMEs like you to maximize your business growth in a competitive buzzing market.
Of course, there will be so many more partnership programs in months to come, so please look forward to them and support our journey.