Which channels does your brand use for customer service?
Some common answers to this question might be email, phone calls, live chat, etc. Though these platforms are familiar to many businesses, it's better to support customers on channels that they're already using like Facebook Messenger.
With over 1.3 billion active users per month, Facebook Messenger is a potential place that you can use to support customers. It's easy, effortless, and convenient for customers to contact your brand anytime they need help.
In this guide, you will find the benefits, best practices, and how to use Facebook Messenger for customer service effectively.
Why use Facebook Messenger for customer service?
Below are 4 major benefits of using Facebook Messenger for customer service that you should take into consideration.
1. Cost-effective
It is reported that handling customer service requests via social media channels is up to 12 times cheaper than handling the same requests by phone. Supporting via Facebook Messenger is extremely cost-effective and suitable for any business size.
2. Increase support performance
As the nature of Facebook Messenger is a chatting platform, your reps can handle multiple support tickets at the same time. This means a support agent can support more customers in less time which leverages the overall support efficiency.
3. Leverage customer satisfaction rate
Unlike email, which is a send-and-wait mode of communication, Facebook Messenger is real-time. This allows customers and the brand to chat back and forth and solve problems more quickly. Facebook messaging also allows users to leave a conversation and return without having to restart it from the beginning.
As customer issues are resolved fast with uninterrupted communication, customers are more satisfied and engage with the brand.
4. Easy to integrate with many CRM or helpdesk software
Facebook Messenger is easily integrated with any third-party apps, CRM, or helpdesk software. Therefore, you can connect Facebook Messenger with other support channels and turn it into a part of your customer service process.
How to use Facebook Messenger for customer service
To turn Facebook Messenger into a real customer service channel, you should connect it with your other channels via a third-party app. By integrating all support channels in one consolidated workspace, you can ensure a seamless service experience, save much time switching between multiple tabs and shorten response time.
For example, by connecting Facebook Messenger to a helpdesk like NestDesk, you can easily manage messages across various channels, view and edit customer profiles, and Shopify orders are shown next to each message.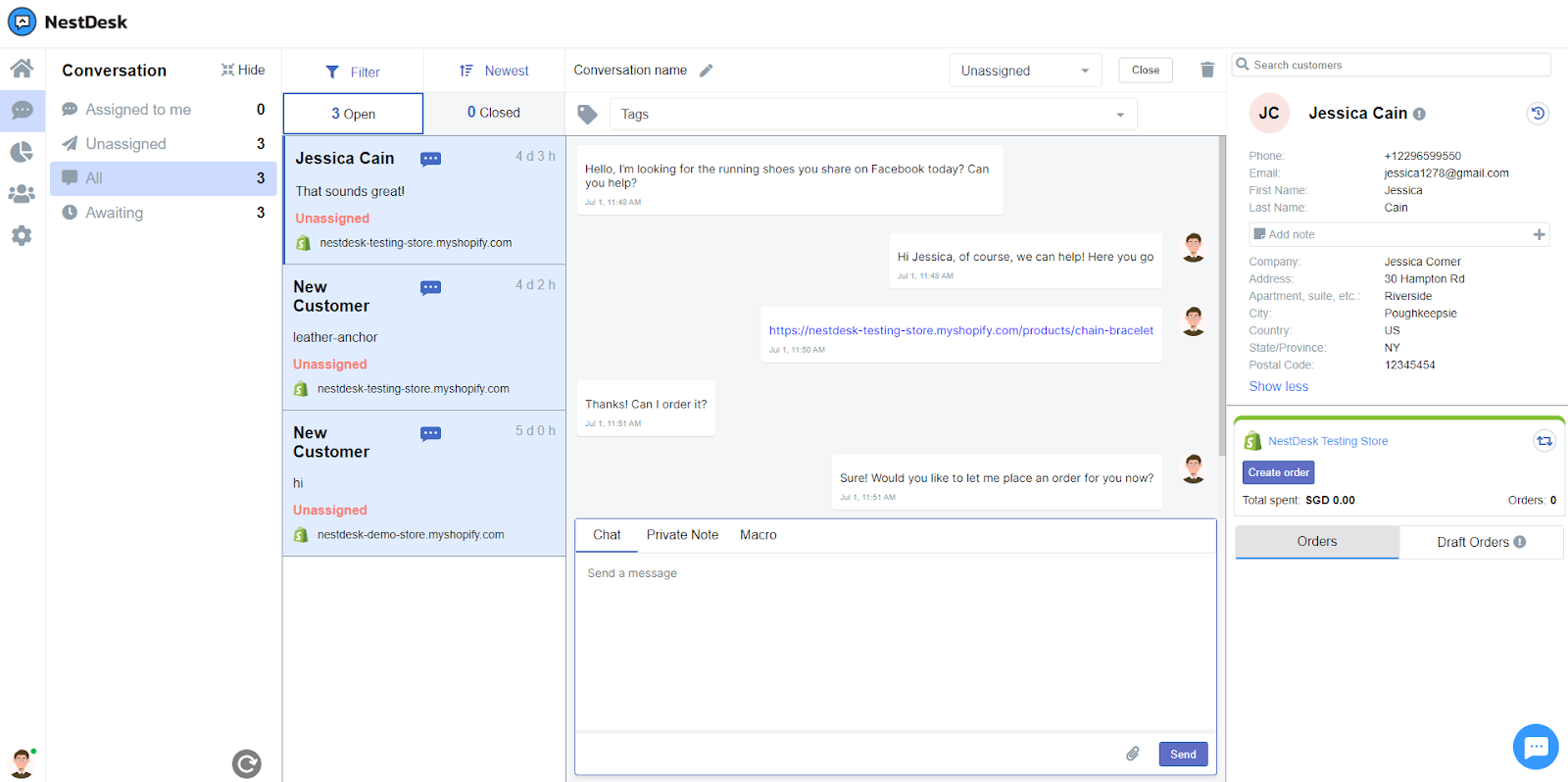 With NestDesk, you have useful features on hand to provide instant support to customers and collaborate effectively with teammates via Facebook Messenger.
Macro (Template messages): Respond to frequently asked questions in seconds
Tags: Categorize support tickets clearly and make it easy to sort out
Private notes: Leave private messages for teammates inside the conversation, and give them enough context to follow up on the case
Auto-assign: Assign new messages to online agents automatically – No more missing chats
And much more….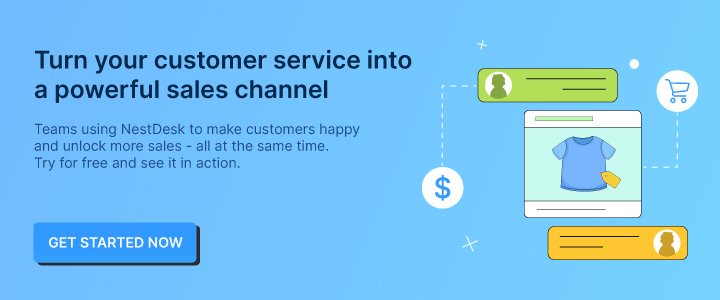 Facebook Messenger customer service best practices
1. Set up a greeting message
A greeting message is a good chance for you to leave the first good impression on customers' minds when they contact your brand via Facebook Messenger.
A greeting message not only looks professional but also set a tone for the conversation. You should start with a friendly greeting like "Hi there! How can I help you?" and provide information on how much time the customers should expect to hear back from you.
2. Respond quickly to customer inquiries
Studies show that 13% of US consumers expect brands to respond within the first hour of reaching out on social media, while 76% expect a response in the first 24 hours. People prefer messaging apps rather than other support channels as they want to get a quick answer to their queries.
Social media response time matters so much to any business that provides support via this channel. It goes hand in hand with customer satisfaction and loyalty. If you respond to customers instantly and help them solve their issues fast, they are happy and more likely to engage with your brand.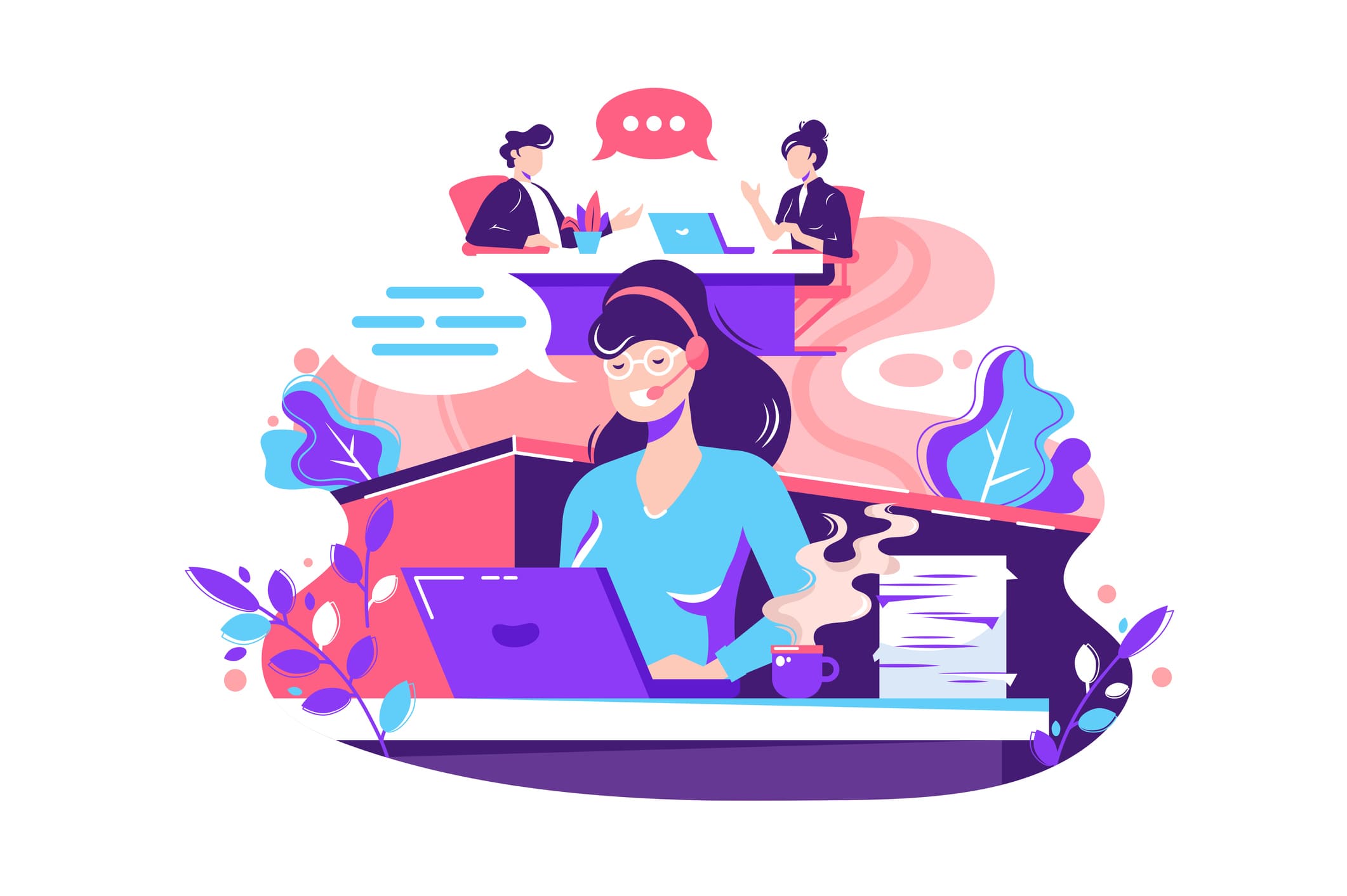 To make sure customer queries from Facebook Messenger are handled in the shortest possible time, you should merge this channel with other support channels. Using customer service software, it becomes easier to centralize support tickets across multiple channels in one place which saves much time switching between tabs.
In addition, you can ensure no messages are missed with notification and auto-assign features. When a new incoming message arrives, your online agents will be notified and assigned automatically.
3. Be personal and be human
Though chatbots are convenient and cost-effective for brands, they are not preferred by most customers. When contacting brands, people like talking with an agent who can provide personalized support and thoroughly understand their issues like a human.
Therefore, you should keep the conversation with customers as personalized as possible. When initiating a conversation, let's greet customers by their first names. A small action like this can go a long way in making the customer feel valued and keep the dialogue running smoothly.
Having all customer information and order history displayed alongside the chatbox is an advantage to offer tailored customer service. For example, using a support tool like NestDesk, you can view customer profiles and quickly grab their preferences based on previous orders. No need to jump out of your chat dashboard, every necessary information is by your side.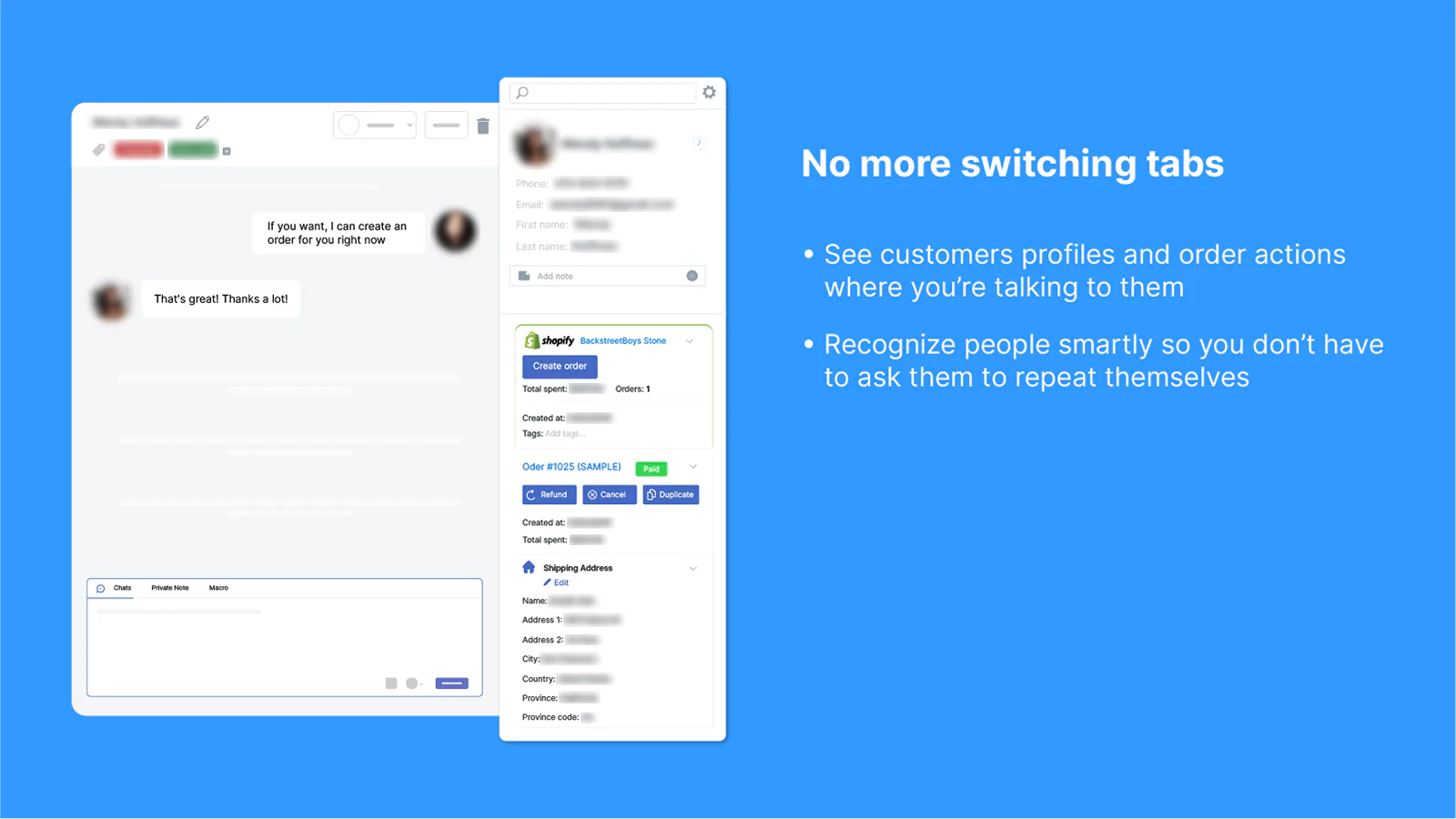 Turn Facebook Messenger into a true customer service channel
Facebook Messenger is an amazing channel that you should not miss out on to better support your customers and nurture more customer relationships. It enables communication between customers and brands much easier, effortlessly, and effectively.
Let's try using Facebook Messenger for customer service and see how it levels up your customer engagement.
Facebook Messenger and your other support channels are integrated well with NestDesk – a helpdesk software for eCommerce business. Free feel to book a demo with our experts or try NestDesk for Free now.