42% of customers choose live chat as their preferred method of choice to contact brands. Due to the convenience and short wait times, live chat is more and more favored and results in the highest customer satisfaction compared to other customer service channels.
If you're looking for how to add a live chat to your Shopify store, you've come to the right place. In this post, we will guide you on how to do that with just 3 simple steps.
What is live chat?
Live chat is a tool that enables customers to contact the brand in real-time via a chat portal.
You can easily recognize whether a brand offers live chat support or not by looking for the chat widget embedded in the lower left or right corner of its website. If customers want to contact a brand via live chat, they simply click on that widget, and a chat window will open up.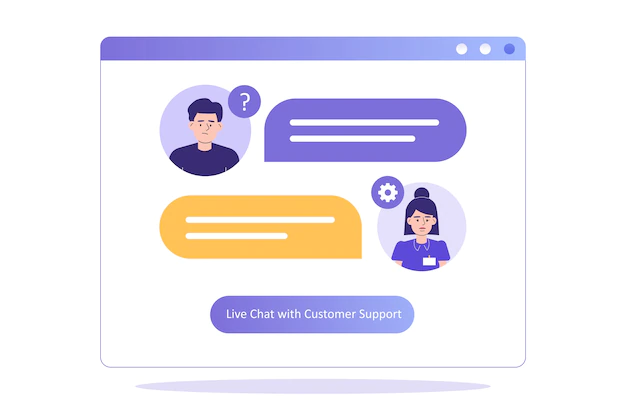 4 benefits of live chat to your online store
1. Save time for both customers and the brand
One of the most prominent benefits of live chat over other support channels is real-time.
With live chat, customers can reach out to brands at the right time they need help and get their questions answered immediately.
Customers don't have to wait for a response back so long like email support or feel unconfident when having a phone call with a strange agent. Concurrently, live chat enables your brand to handle multiple customer queries at a time and thereby support more customers in less time.
2. Reduce cart abandonment
83% of online shoppers need support to complete their purchases. During the buying process, customers may get unexpected problems or have questions that stop them from checking out.
By offering live chat support, you can contact customers directly, understand their issues and come up with the solution in real-time. As such, customers get support at the point they need it and are likely to complete their purchase with confidence.
3. Gather customer data
While chatting with customers, you can ask them for basic information and store that data right from the live chat software. This helps your agents easily recognize the customers the next time they reach out and avoid asking them to repeat themselves.
In addition, you can add tags or leave notes about a customer to save their personal interests and preferences. When all relevant data is at your fingertips, it becomes easier to give customers tailored recommendations.
4. Increase customer satisfaction and loyalty
Compared to other communication channels, live chat is most preferred and results in the highest customer satisfaction rate. As live chat enables customers to chat directly with the brand and get instant support, they are happy and more likely to come back to your business.
NestDesk – The best live chat app for Shopify store
NestDesk is Shopify live chat app that powers you to support customers in real-time and take customer experience to the next level. It provides all features you need to deliver excellent service via a live chat portal.
NestDesk highlight features:
Consolidated dashboard: Centralize all messages from multiple channels (Facebook Messenger, live chat, etc) in one dashboard
Sales generation: Create & edit Shopify orders without leaving the dashboard
Built-in contact profile: View customer information, preferences, order history, and message history next to each message
Tag: Label messages and keep them organized
Auto-assign: Assign new messages to online agents on autopilot
Private notes: Leave private messages for teammates inside the conversation
Analytics report: Measure & evaluate performance with intuitive metrics
Wanna see how NestDesk is beneficial for your online store? Let's try NestDesk for Free now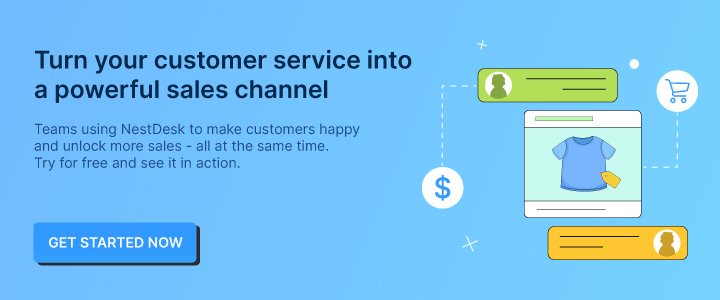 How to add live chat to your Shopify store
Using NestDesk, you can easily add live chat widget to your Shopify store in minutes. No coding or technical skills required.
Follow 3 simple steps below to add live chat to your Shopify store
Step 1: Create a NestDesk account
Click here to sign up for a new NestDesk account.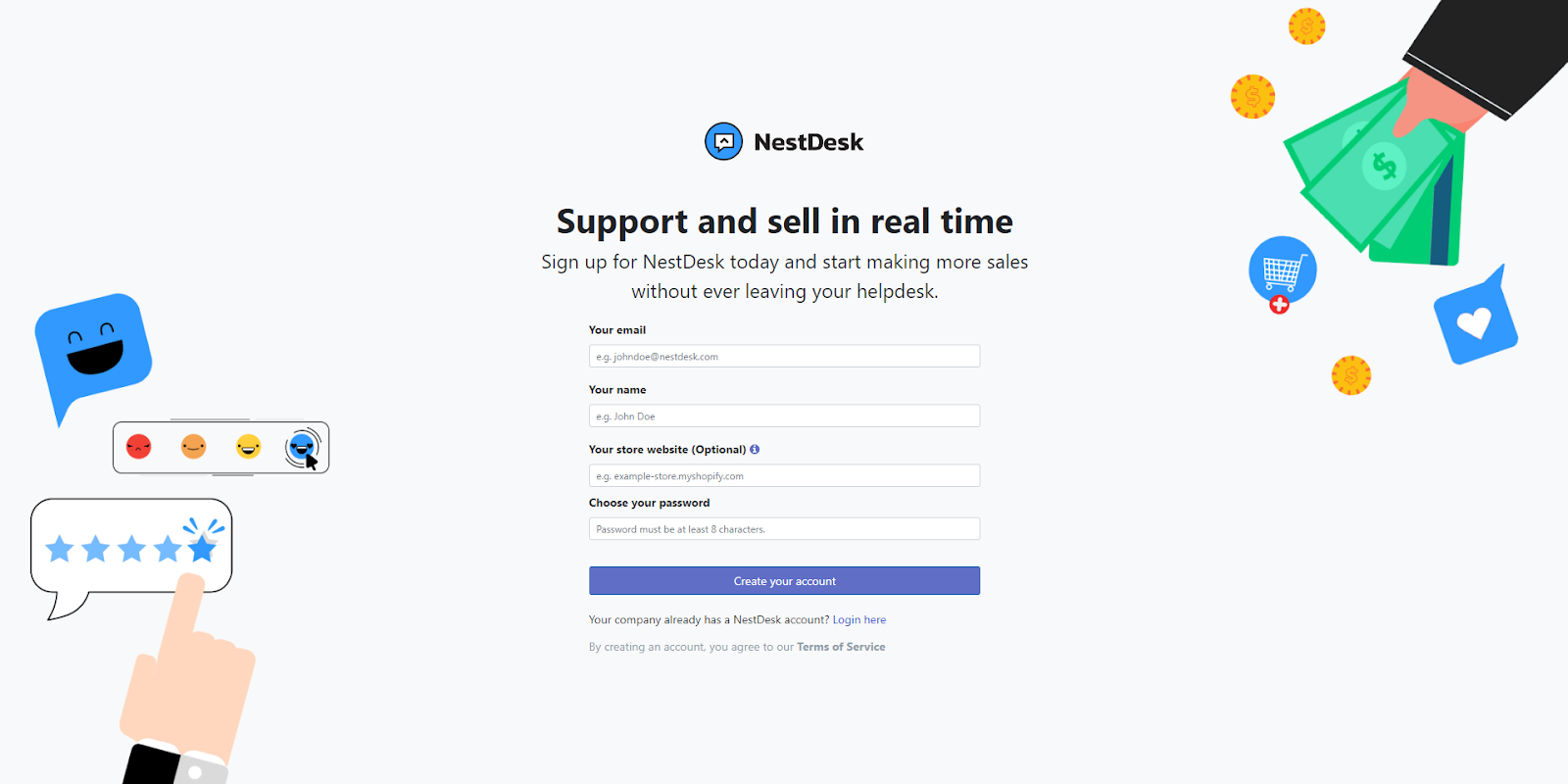 Step 2: Install NestDesk app in your Shopify store
After creating a NestDesk account, please navigate to Settings > Integrations > Shopify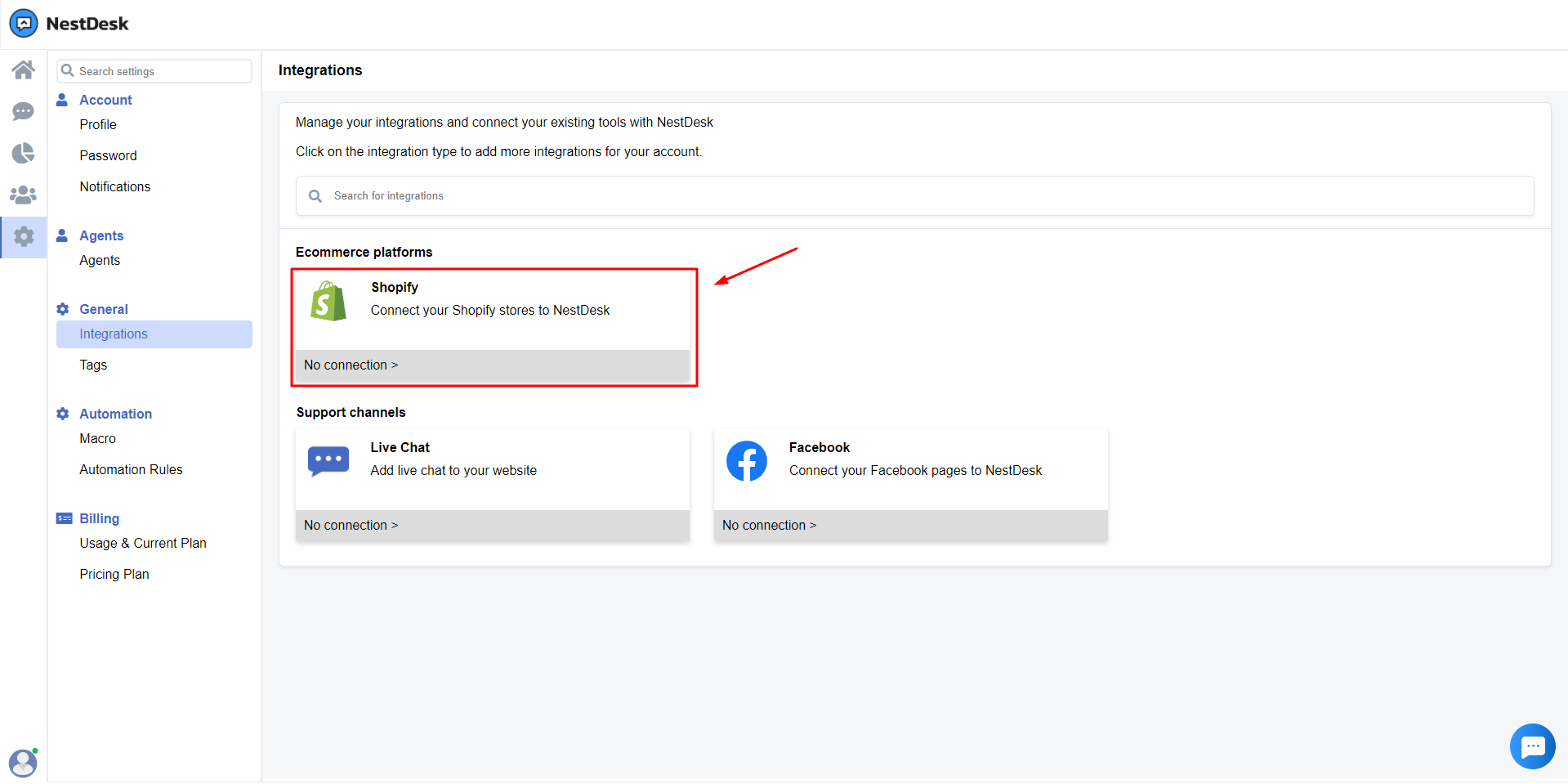 Then you will be directed to NestDesk app listing page. Now please click on Install app button.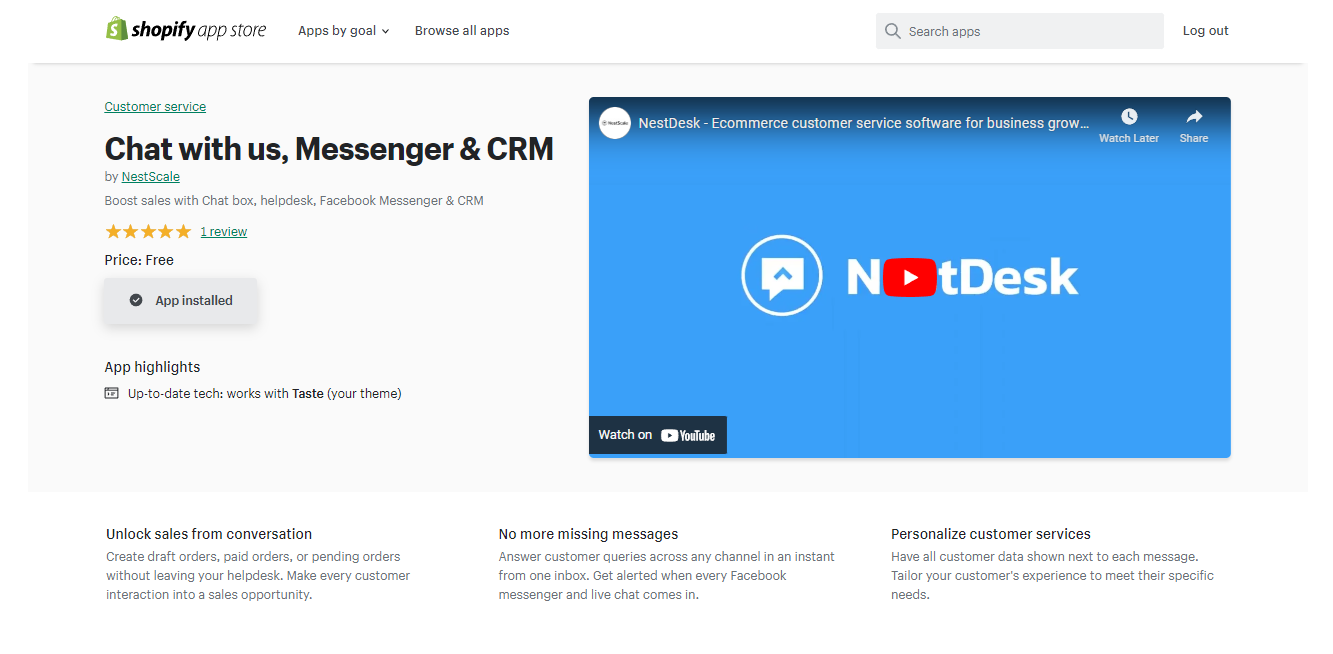 Step 3: Enable live chat on your Shopify store
Go to Settings > Integrations > Live Chat. Then you click on the Edit icon as shown below.

After that you switch on Integration Settings toggle > click on Go to app embeds button.
Now you will be directed to Shopify theme editor page. Please switch on the NestDesk app toggle and hit Save button.
Come back to the Integration page in your NestDesk account > click on Save button.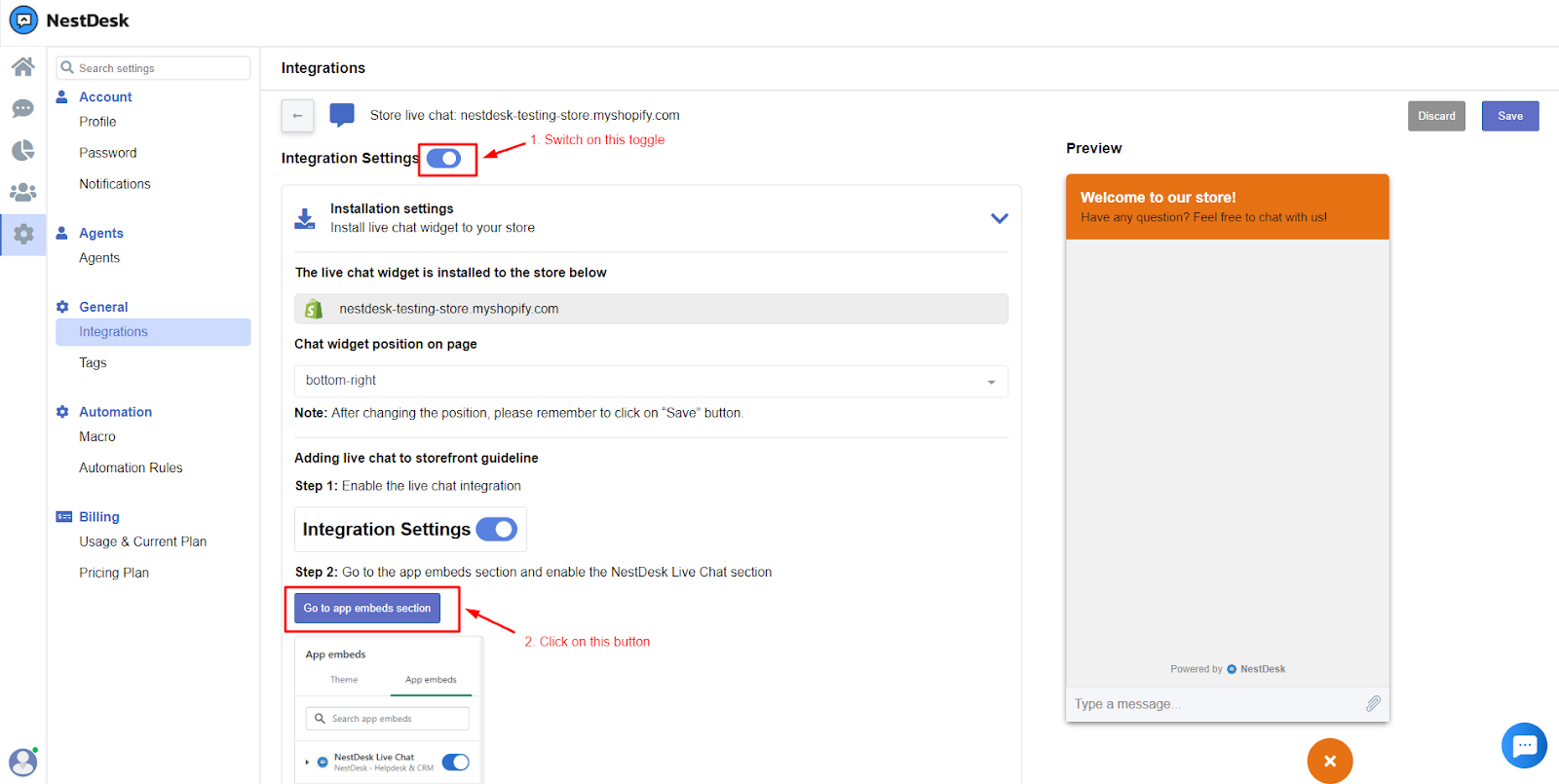 It's done. Here's how the live chat widget displays on the website.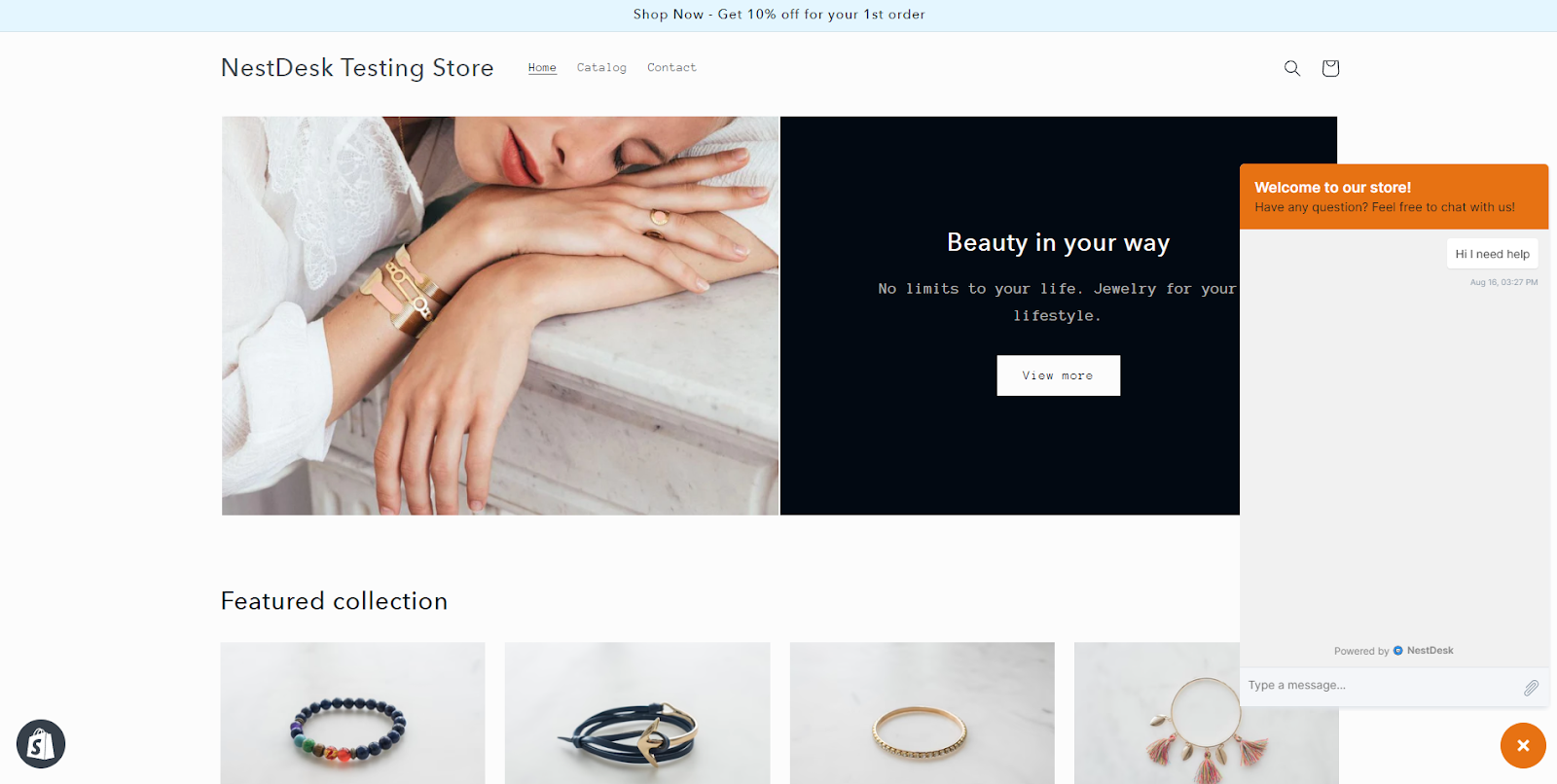 If you need any help in adding live chat to your Shopify store, please contact us via live chat or email at [email protected]. Our dedicated team is happy to help!
Turn your live chat into a powerful sales channel
Live chat is essential and brings many benefits for both online businesses and shoppers. It makes communication between buyers and sellers become easier than ever and leverages more online purchases.
Start using NestDesk app now to deliver excellent live chat support to your customers.