In the vast world of social media, TikTok has emerged as a popular platform for both personal and business use. TikTok for Business offers valuable features and insights for entrepreneurs and marketers alike. However, if you no longer wish to link your TikTok account with your TikTok for Business account, you may find yourself wondering how to unlink them.
In this article, we will guide you through the process of unlinking your TikTok account from your TikTok for Business account and a solution when you cannot unlink them, ensuring you have the freedom to use TikTok in the way that suits you best.
TikTok for Business account vs. TikTok Personal account: What are the differences?
When it comes to TikTok, there are two main types of accounts to choose from: TikTok Personal account vs TikTok Business account. Personal accounts are geared towards social networking and connecting with friends, while business accounts are designed for marketing purposes.
TikTok for Business account
When you create a Business account on TikTok, you gain access to six valuable features:
Commercial Music Library (CML) access: A collection of songs and sounds that can be used in your videos without incurring copyright fees. These tracks are pre-approved for commercial use on TikTok, and business accounts can utilize them for both organic and branded content.
Post scheduler: Plan and schedule your posts up to 10 days in advance.
Business website link: Display a link to your business website on your TikTok profile.
Business email address: Showcase your business email address on your TikTok profile.
Exclusive analytics page: Gain insights into your account growth, view audience demographics, and access other relevant metrics.
Business Creative Hub: A dedicated section within the TikTok app that offers content creation tips and showcases trending business-related content.
Note that people using TikTok for Business account can only access TikTok's General Music Library (GML) because these songs are not approved for commercial use. They are restricted solely for personal entertainment purposes.
TikTok Personal account
Personal accounts provide the following features that are not available to business accounts:
Access to the General Music Library: A collection of songs and sounds that are not licensed for commercial use
Use both Regular Sounds and Commercial Sounds: Personal account users can use any TikTok sound in their videos, while business account holders can use only commercial sounds.
Creator Next: a feature that offers monetization opportunities to creators as they build and expand their communities, which includes Video gifts, TikTok Shop for Creator, and TikTok Shop for Seller
Set your account to private: Personal accounts have the option to restrict access to their videos, allowing only approved users to view and follow them.
Advanced creator tools: Determine the type of content your audience likes and see metrics to back it up
What if you unlink your TikTok account with TikTok for Business account?
If you unlink your TikTok account from a TikTok for Business account, it will impact your access to certain features and analytics specifically designed for businesses, such as:
Loss of Business Features: TikTok for Business provides additional tools and features that are specifically tailored for businesses and creators. By unlinking your account, you can no longer access these features, such as analytics, advertising options, and promotional tools.
Limited Advertising Opportunities: TikTok for Business allows businesses to run paid advertising campaigns to reach a wider audience. Hence, if you unlink your account, you won't be able to take advantage of these advertising opportunities and target your content to a specific audience.
Decreased Analytics and Insights: TikTok for Business provides detailed analytics and insights about your account's performance, including video views, engagement metrics, and audience demographics. As a result, when you unlink your account, you'll lose access to these valuable data points, making it more challenging to track the performance of your content.
Separation from Business Community: TikTok for Business fosters a community of businesses, advertisers, and creators who collaborate and share insights. By unlinking your account, you may lose connections with this community and miss out on potential networking and collaboration opportunities.
How to unlink your TikTok account with TikTok for Business account?
Here's how to turn off your TikTok Business account and revert to a personal TikTok account:
Step 1. Go to your profile by tapping "Profile" in the bottom right
Step 2. Tap the three-line icon in the top right corner to go to setting
Step 3. Tap Settings and Privacy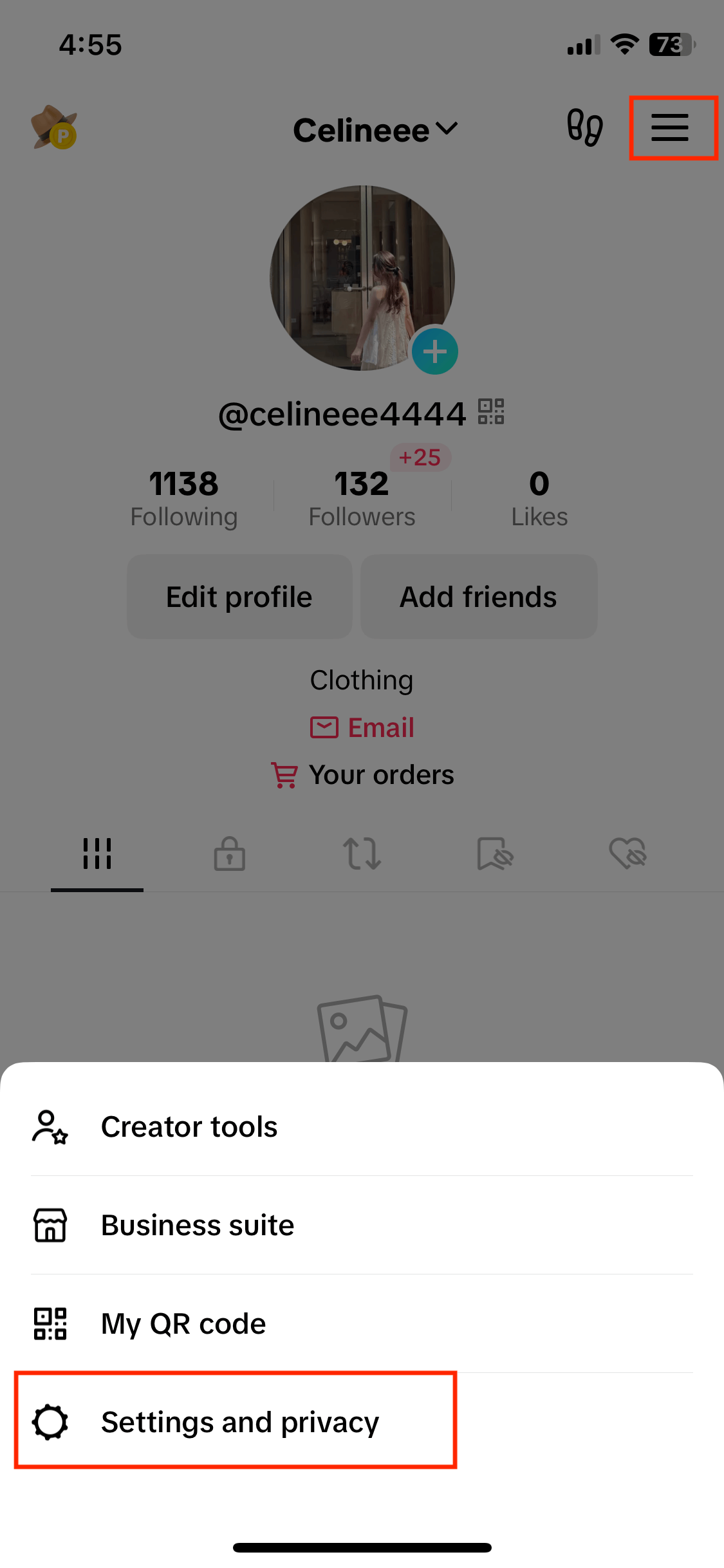 Step 4. Tap Account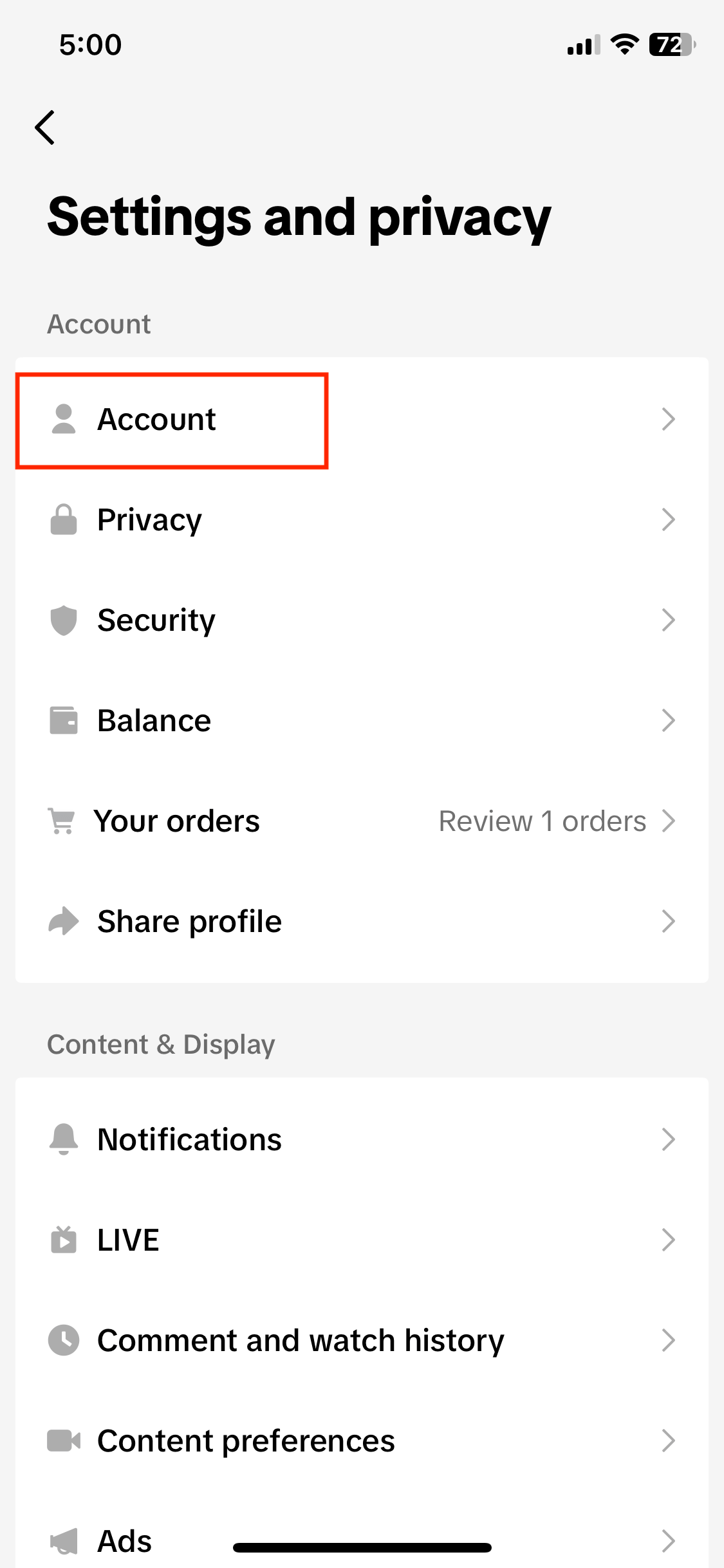 Step 5. Tap Switch to Personal Account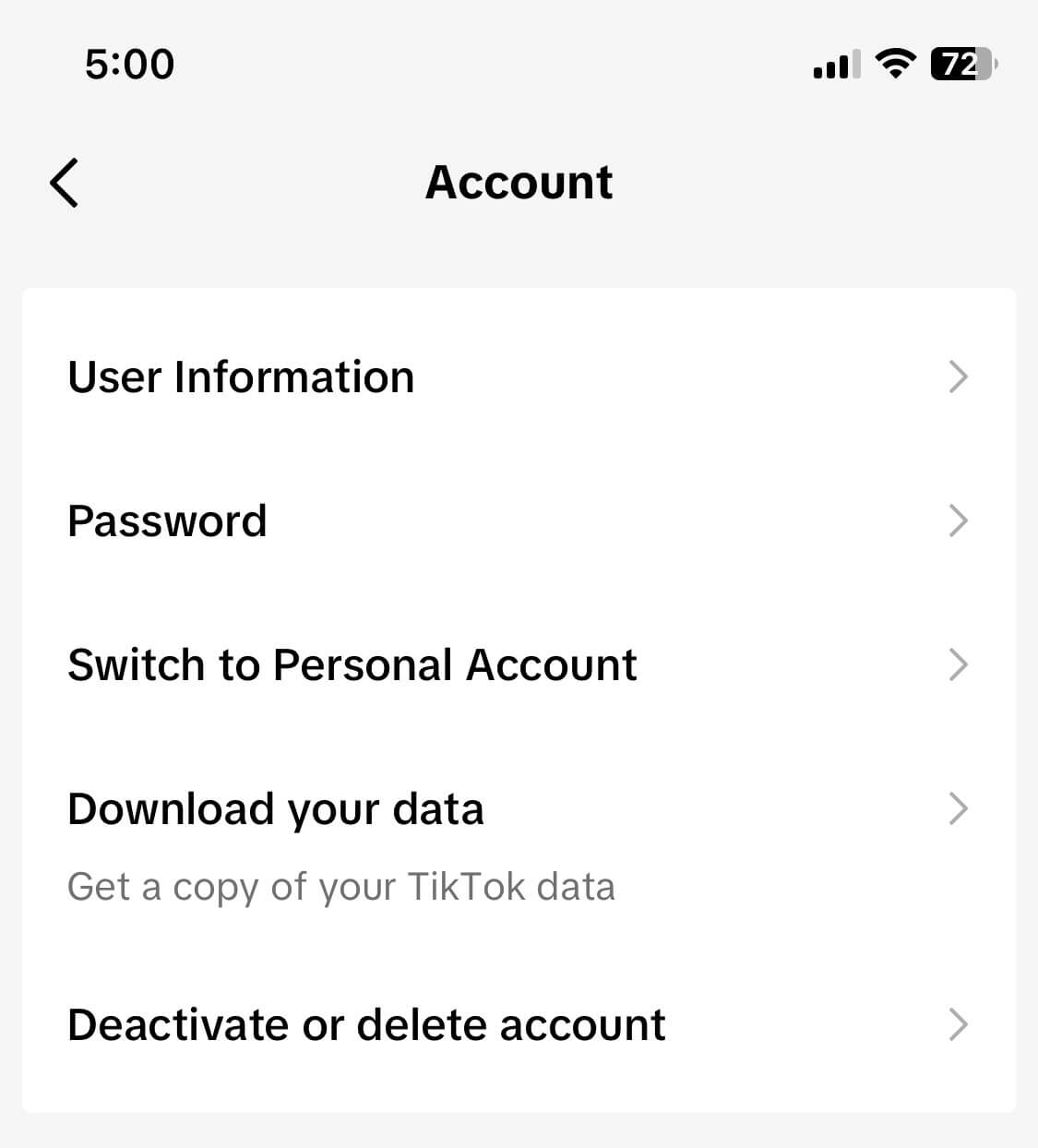 Now your TikTok business account has become the personal one.
What to do if you can't unlink your TikTok account with TikTok for business?
When you actually switched to a business account and then, you want to switch back to the personal account, you might get this message from TikTok: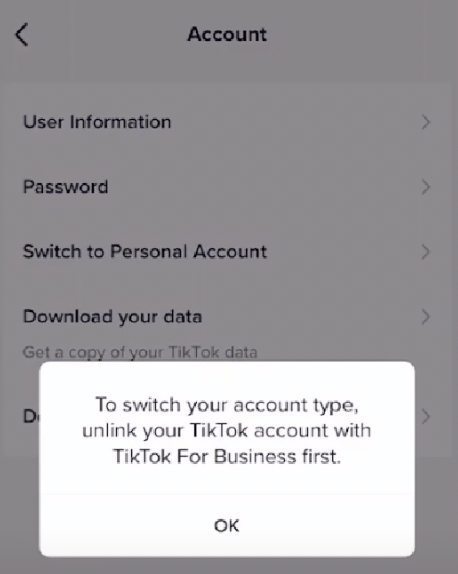 To fix this, follow these steps:
Head back to the "Setting and privacy", tap the "Security" option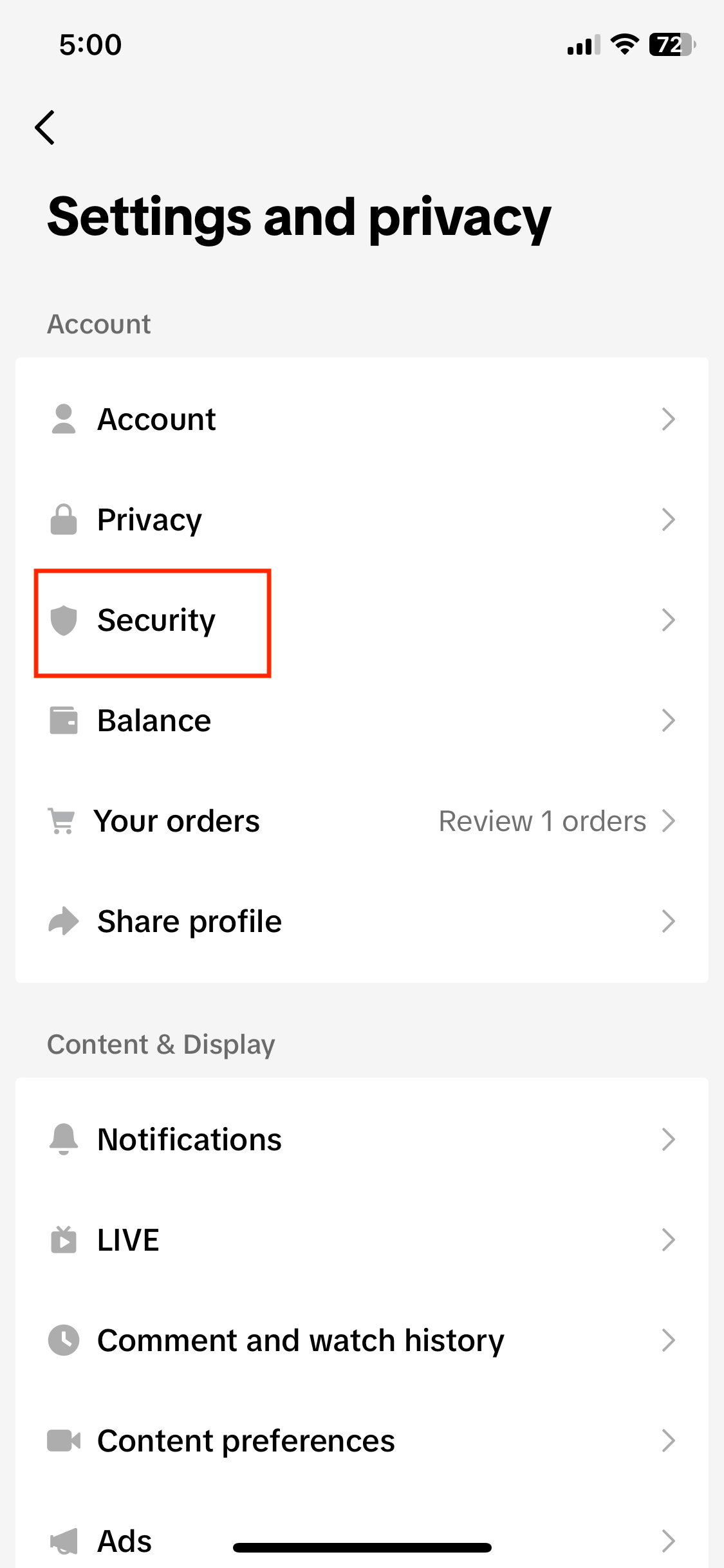 Tap "Manage app permissions"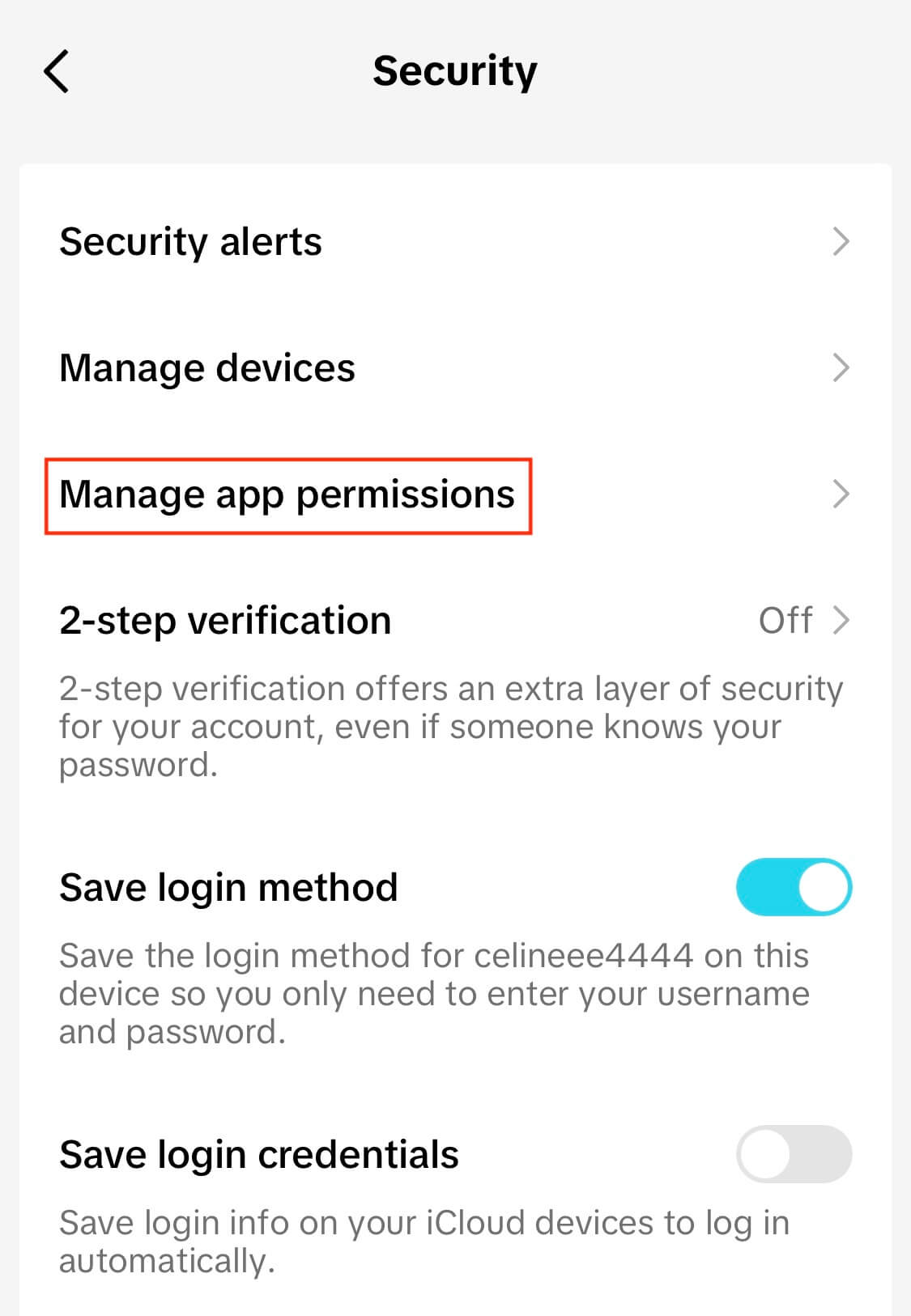 Finally, tap "TikTok for Business" -> "Remove access" -> "Remove"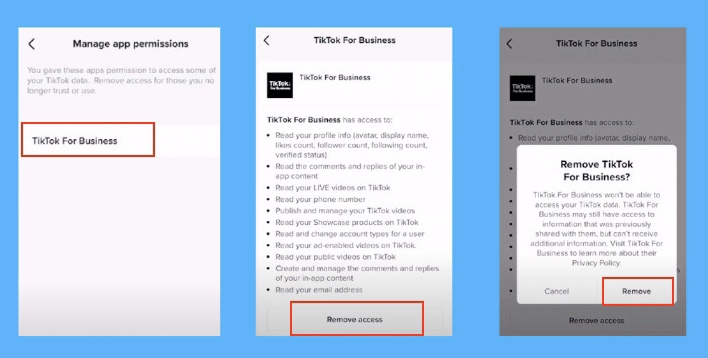 Finally, you have removed TikTok for Business account. Now, follow the 5 steps in the previous part to unlink your TikTok with TikTok for Business account.
Besides, there are some other potential reasons why you may be unable to switch back to your personal account or encounter difficulties using the TikTok application:
No internet connection is available on your mobile device.
You have entered an incorrect birthdate in your profile. TikTok has implemented strict privacy measures and adheres to laws regarding children's access to the app, leading to the banning of millions of accounts.
Using VPN services may prevent you from connecting to the TikTok app server.
FAQs
1. Other types of TikTok accounts besides TikTok Personal account and TikTok for Business account?
In addition to personal and business accounts, TikTok offers other types of accounts such as TikTok Pro accounts. These include TikTok creator accounts, designed for influencers and content creators, and TikTok business accounts, created specifically for businesses aiming to engage with their customers.
2. How to switch back to my TikTok personal account?
TikTok does not recommend frequently switching between business and personal accounts, but if needed, the process is simple:
Tap on your profile icon located at the bottom right corner to access your profile.
Tap the three-line icon at the top right to access the settings.
Select "Settings and Privacy."
Choose "Account"
Tap on "Switch to Personal Account."
3. What are the advantages of switching from a TikTok Business account to a personal account?
By switching to a TikTok Personal account, users can utilize the latest and trending music for their videos, which enhances the potential to create popular and successful content on TikTok. Moreover, by using TikTok Personal account, you can set your account to private, allowing only users you approve to follow you and view your videos.
4. Is it possible to alternate between a TikTok Business account and a Personal account?
Yes, you can. However, TikTok recommends against frequently switching between a Business and a Personal account.
Should you unlink your TikTok account with TikTok for Business account?
The ideal TikTok account for you is determined by your intended usage of the platform. For instance, if you are a business owner seeking to promote your venture on TikTok, a business account would be most suitable. Opting for a business account offers advantages such as maintaining your brand identity, accessing commercially licensed sounds, and leveraging effective marketing tools.
No matter which option you decide on, TikTok provides a diverse array of features and resources to support your content creation, sharing, and audience expansion. Begin your TikTok journey today!