Earlier this year, Google held its Google Marketing Live 2023 event to shed light on the upcoming plans and updates for Google Ads. Various new updates and releases were announced, ranging from new search experiences to AI-powered features. Among them, one particular announcement stood out from the rest – the introduction of the Google Ads Demand Gen campaign. So, in today's blog post, we'll go into the details of this update. What it is, how it works, and how businesses can take advantage of this great new tool to level up their online advertising campaigns and drive in new customers. Let's get started!
What is Google Ads Demand Gen Campaign?
Google Ads Demand Gen is a fresh and innovative AI-powered campaign type. Its primary goal is to connect with new audiences and pique their interest in a product or service, even before they actively search for a particular brand. Demand Gen leverages Google's visual and entertainment-oriented platforms such as YouTube (including YouTube feed, Shorts, and In-stream), Discovery feed, and Gmail to display ads within one campaign.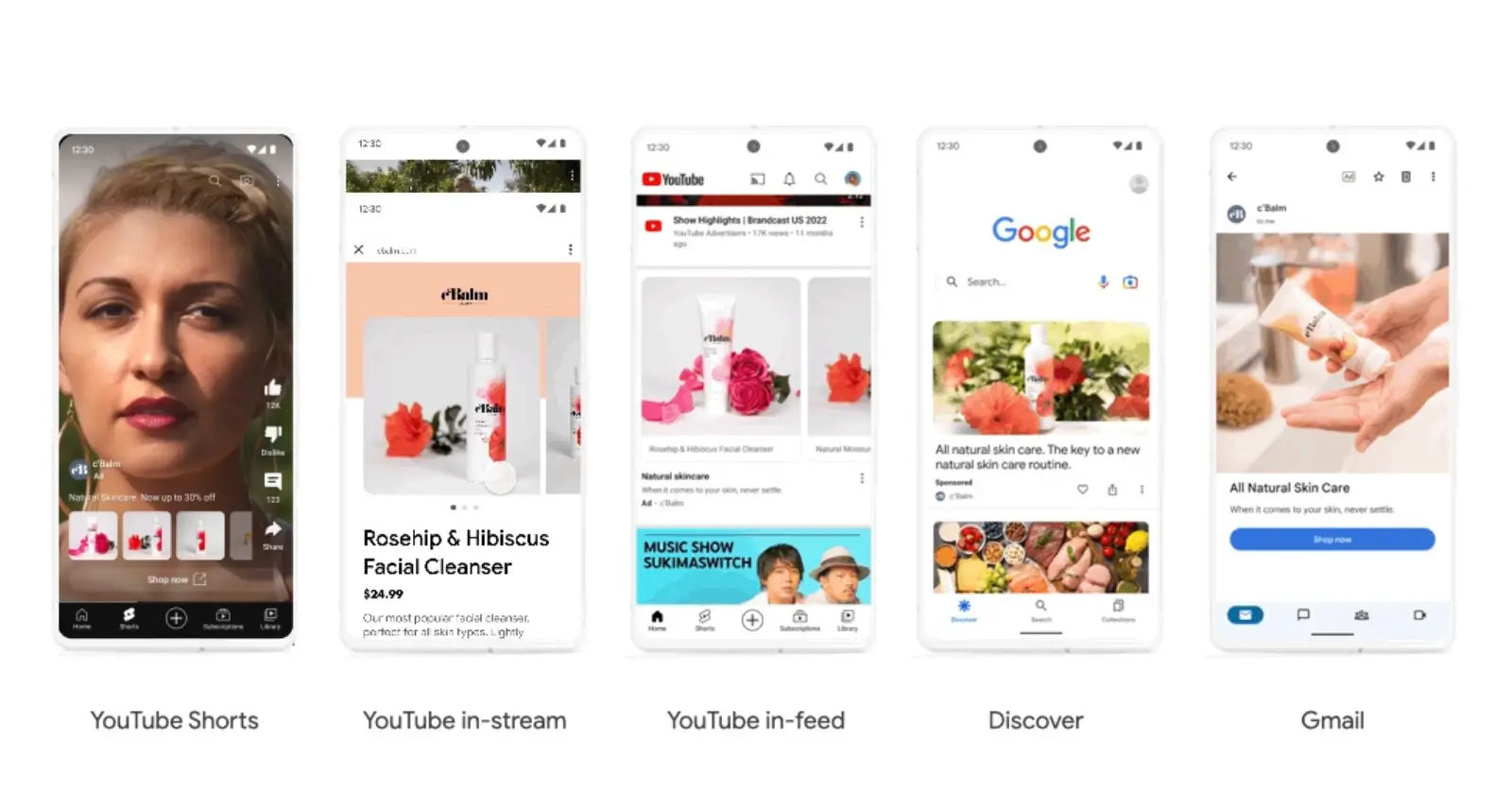 What sets Demand Gen apart from other campaigns is its immersive and diverse range of visual creative types. These captivating visuals are designed to grab users' attention and have the potential to convert them into paying customers.
An interesting fact is that Google has previously introduced a similar concept – Discovery ads. Discovery ads are also designed to create demand from audiences using visually appealing ad creatives on platforms like YouTube, Google, and Gmail. So, Demand Gen is essentially an upgraded version of Discovery Ads, offering even more powerful tools and features to help you reach your marketing goals. Starting from October 2023, businesses can upgrade their Discovery ads to Demand Gen with ease. Google also stated that all Discovery campaigns will be automatically upgraded to Demand Gen by March 2024.
What's the difference between Google Ads Demand Gen Campaigns & Discovery Ads?
At its core, Google's Demand Gen Ads are similar to Discovery Ads, aiming at reaching new audiences and generating demand across YouTube, Google, and Gmail with visually impactful ads. However, Demand Gen has emerged as one of Google's most promising ad campaign types with new enhancements and AI-powered features. Some of the brand-new, powerful features include: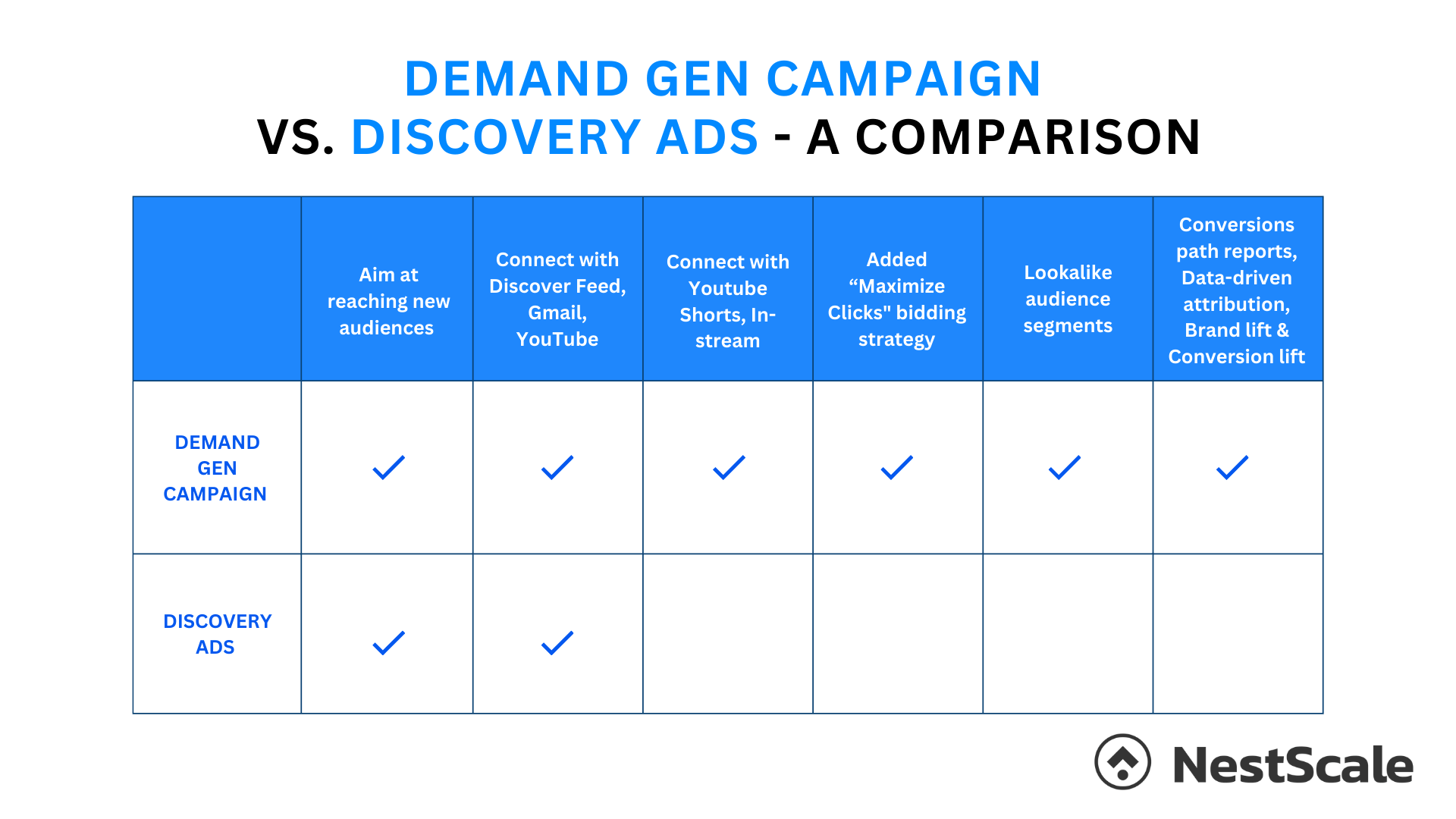 Diverse ad formats within one single campaign
Previously, advertisers were limited to choosing between product images or custom image ads. However, Demand Gen brings a refreshing change by offering a wider range of ad formats. You can now include short-form videos, various image formats (like square, portrait, and carousels), text, CTAs, and more, all within a single campaign.
This flexibility provides brands with a valuable opportunity to experiment with various ad formats and see how they perform across different platforms. It's important to note that each format comes with specific aspect ratios for the chosen creative. To ensure your videos seamlessly fit across all the new video inventory, it's crucial to adhere to Google Demand Gen's asset specifications.
Lookalike audience segments
Lookalike segments essentially refer to users who exhibit behaviors and characteristics similar to those on your current customer list. It's a powerful feature that allows businesses to connect with potential customers who closely resemble their existing customer base.
To get started, all you need to do is provide your first-party data, typically in the form of a customer or remarketing list. Google Ads will then work its magic by matching this data with its audience groups. In Google Ads, there are three distinct lookalike audience settings available to advertisers:
Narrow: Aim to reach 2.5% of users in your campaign's targeted location and language similar to your seed list (your customer data input).
Balanced: Aim to reach 5% of users in your campaign's targeted location and language similar to your seed list. This is also Google Ads' Google default lookalike audience setting.
Broad: Aim to reach 10% of users in your campaign's targeted location and language similar to your seed list.
Expanded Youtube reach
In the past, Google Discovery Ads enabled advertisers to connect with users on platforms like the Discover Feed, Gmail, and specific sections of YouTube, including the Home Page, Search, and Watch Next feed. But now, Demand Gen campaigns have taken it a step further, expanding their reach to YouTube Shorts and In-stream. This move aligns perfectly with the increasing popularity of short-form video content on platforms like TikTok, Instagram Reels, and Facebook Watch.
For Google Ads, tapping into the potential of YouTube Shorts for advertising is a smart move. It provides businesses with a fantastic opportunity to experiment with both short-form and long-form video ad content across multiple platforms, helping them discover the winning combinations that resonate best with their audience.
Flexible Bidding Options
In the days of Discovery Ads, the bidding options were quite limited. You could choose from options like "Maximize conversions bidding," "target CPA," or "target ROAS" to fine-tune your campaign bids. However, with the arrival of Demand Gen, Google introduced a new bidding strategy – "Maximize clicks." This option is a game-changer for advertisers dealing with longer and more complex conversion paths or those looking to boost offline sales or drive more traffic to their websites.
Additional ad reporting options
Reporting is undeniably one of the most critical aspects of any advertising campaign. This is where you gather the data that sheds light on how your ads are performing. In the previous version of Discovery Ads, Google provided three reporting options: the standard Google Ads reporting, Asset reporting, and Unique reach. While these options served small businesses well, they didn't always offer the depth of information that some advertisers might require.
With the Demand Gen upgrade, Google Ads is stepping up its game by introducing a range of new reporting options. These include conversion path reports, Data-driven attribution, Brand lift, and Conversion lift, providing advertisers with more comprehensive insights into their campaigns' performance.
Timeline of the upgrade from Discovery Ads to Demand Gen Campaigns
Now that we know what the Google Ads Demand Gen campaigns upgrade entails, it's time to go over the timeline of this update.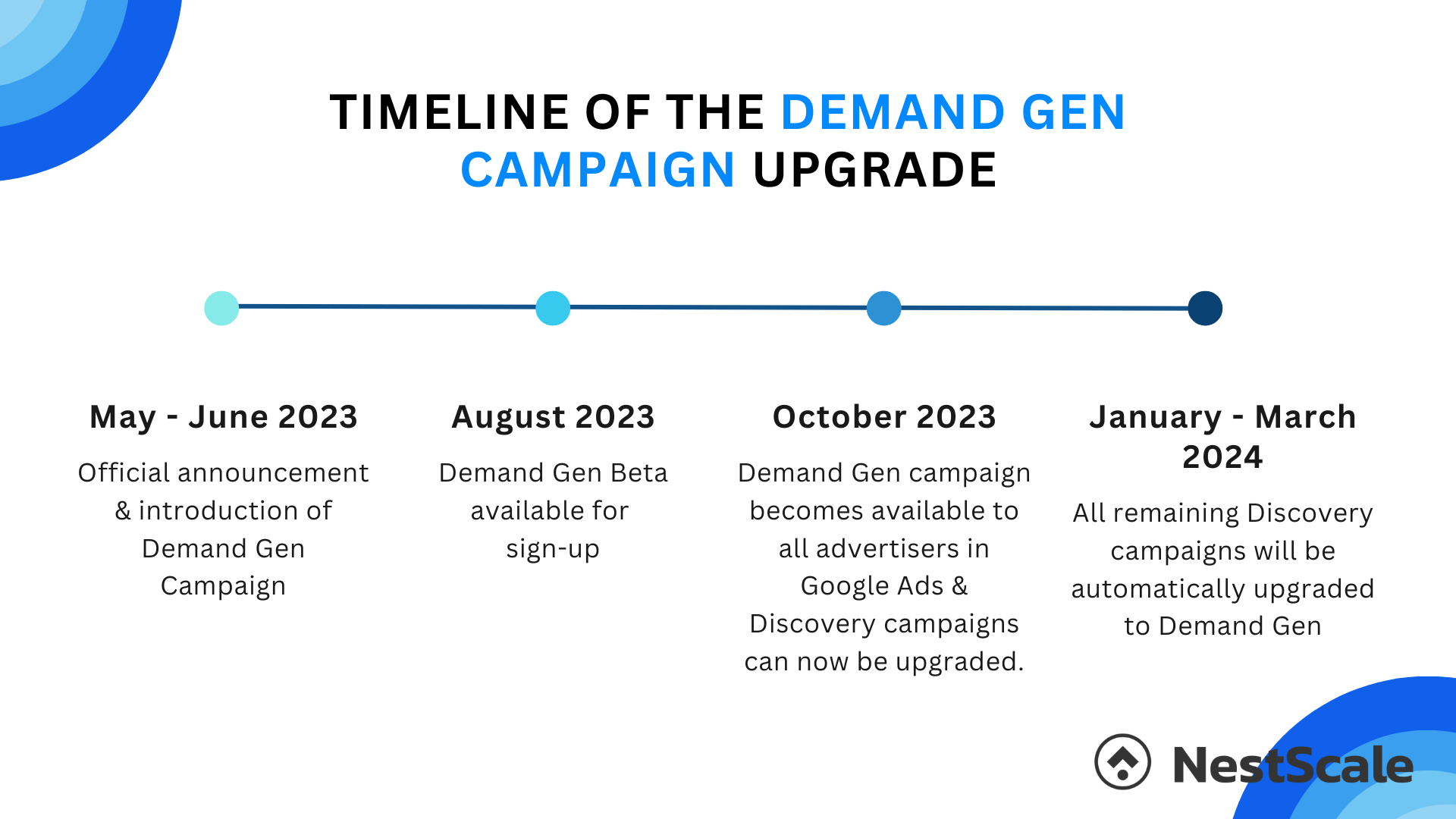 May 2023: Google announced the brand new, AI-powered Demand Gen campaign at Google Marketing Live 2023.
June 2023: Official introduction of Demand Gen campaign.
August 2023: Users could sign up to try out the Demand Gen Beta version. For users who already had an active Discovery campaign, it would also be automatically upgraded to Demand Gen after signing up for the beta try-out.
October 2023: Demand Gen campaigns are available to all advertisers in Google Ads. Meanwhile, Discovery campaigns can now be upgraded, and this process is expected to finish by January 2024.
January-March 2024: All remaining Discovery campaigns will be automatically upgraded to Demand Gen campaigns.
As you may have noticed, Google has been hinting at the release of Demand Gen for quite some time now. The good news is that, at this point, most users should find it quite easy to create a new Demand Gen campaign right within their Google Ads account. And, in case you happen to have any existing Discovery campaigns, you now have the option to upgrade them to Demand Gen and take advantage of the exciting additional features it offers. If you choose not to upgrade, Google will gradually and automatically transition any remaining Discovery campaigns to Demand Gen by early 2024.
With the new year just around the corner, there's no better time to explore the cutting-edge AI-powered features of Google Ads Demand Gen and leverage them to generate more demand and boost your sales.
How to create a Google Ads Demand Gen campaign
Now that Demand Gen campaigns are accessible to all advertisers within Google Ads, you might be curious about how to go about setting one up. In this guide, we'll provide you with a step-by-step walkthrough on creating a Demand Gen campaign in your Google Ads account. Let's dive right in!
Step 1: Set up Campaign Objective
Go to your Google Ads account and create a new campaign. There, choose your campaign objective from the available options. Click on Continue to proceed.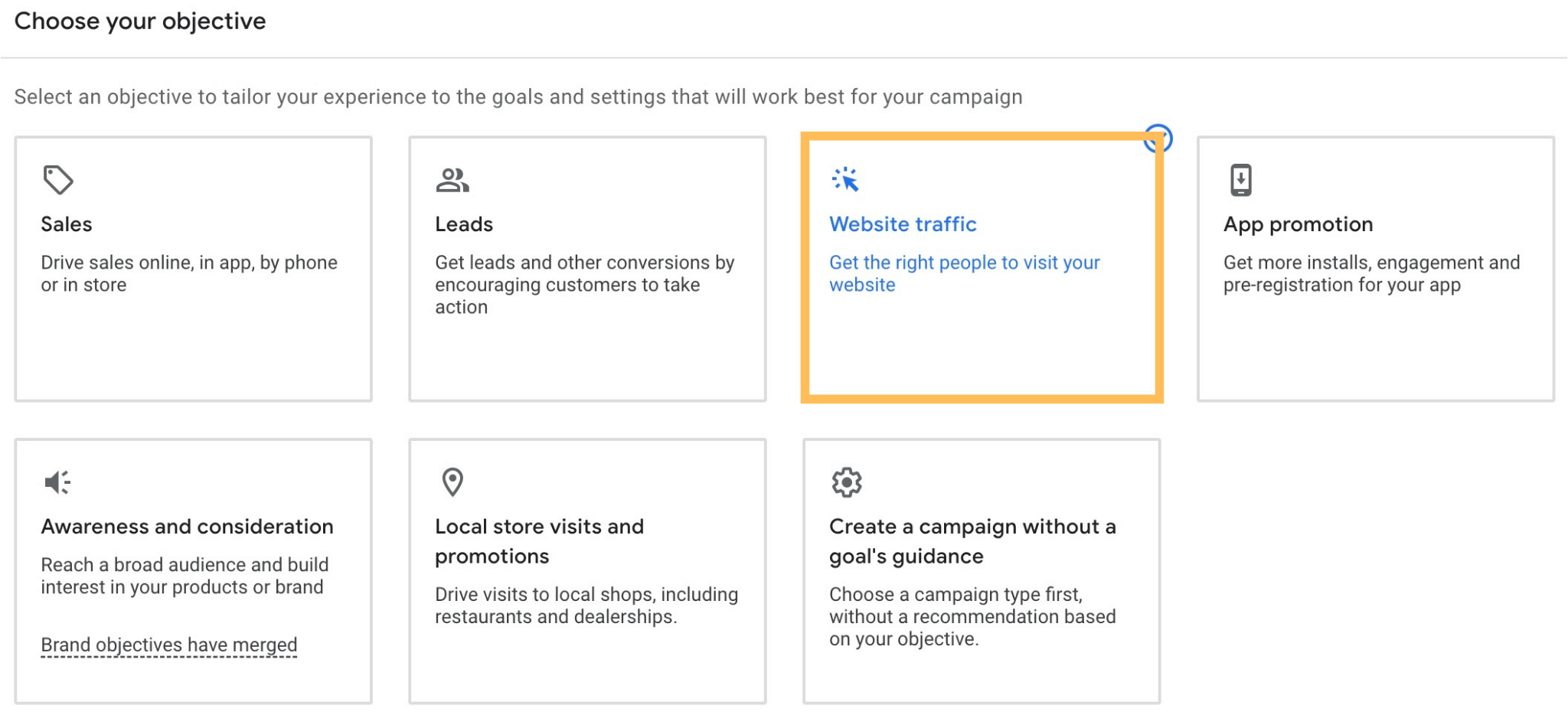 Step 2: Select Demand Gen as your campaign type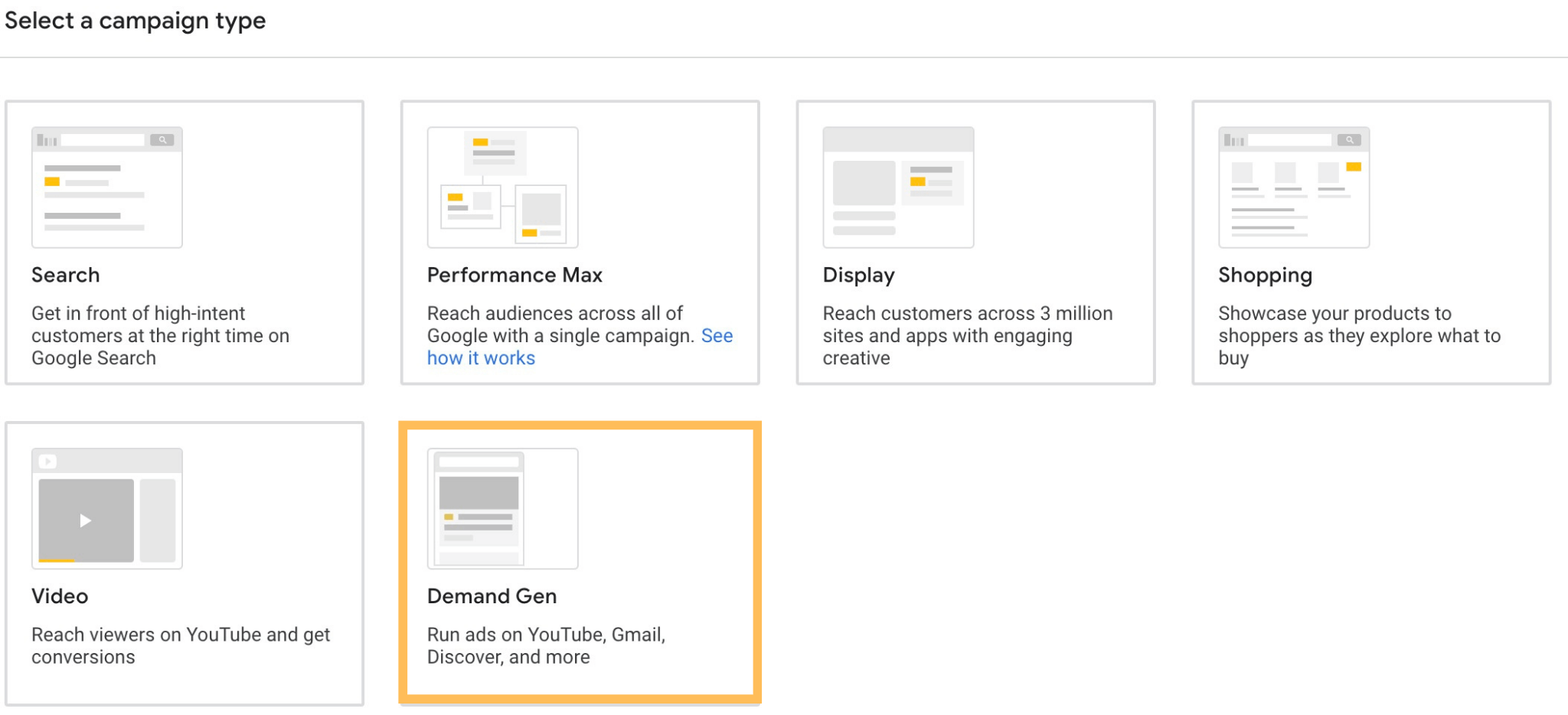 Step 3: Set up Campaign level setting
Name your campaign. Then, you can choose whether to turn on Product feeds. This option is particularly for businesses with a diverse product list.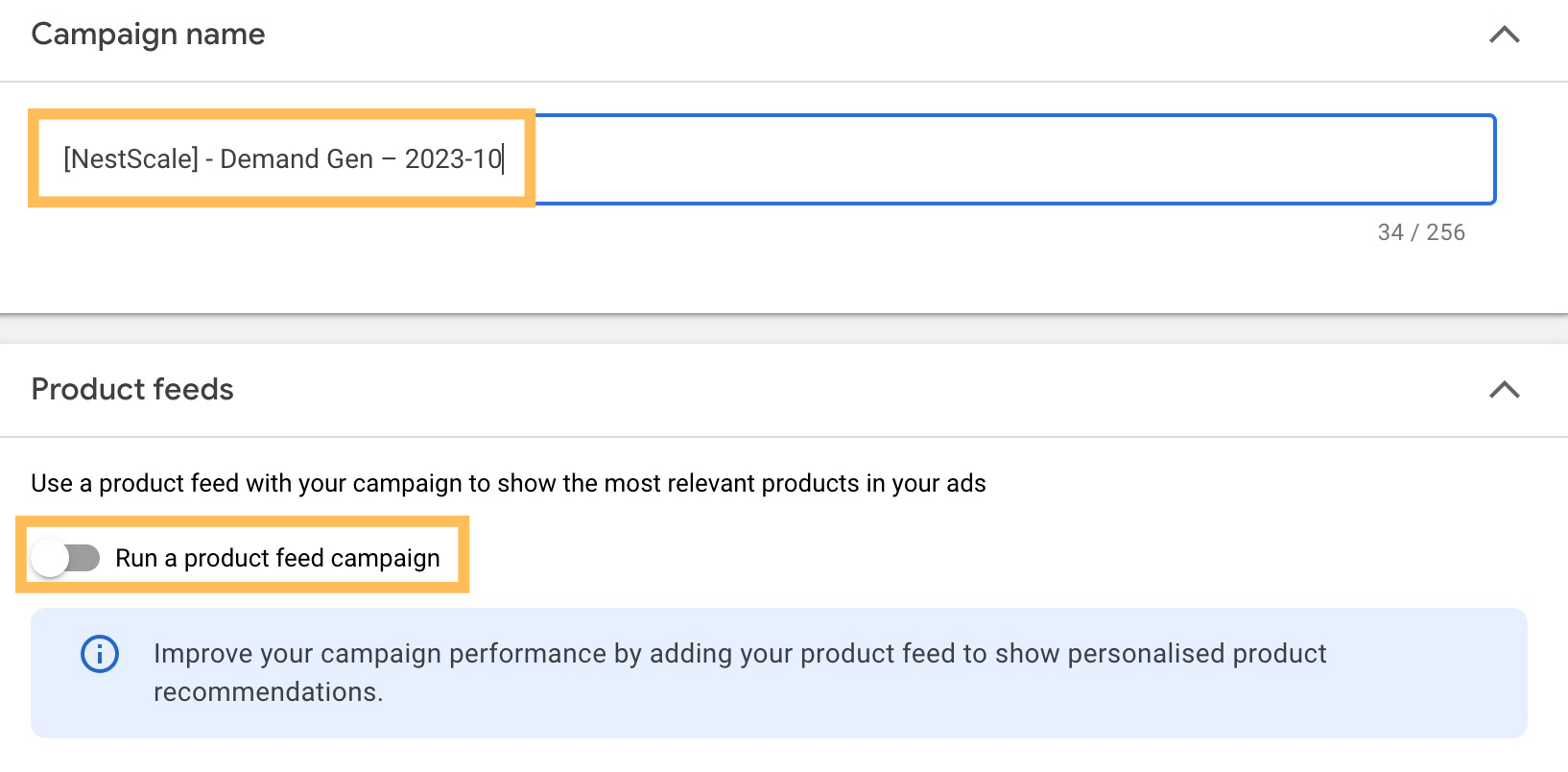 Choose your Campaign Goal. You can choose from the 3 options: Conversions, Clicks, and Conversion Value.

Choose your budget and date. You can also customize the start & end date.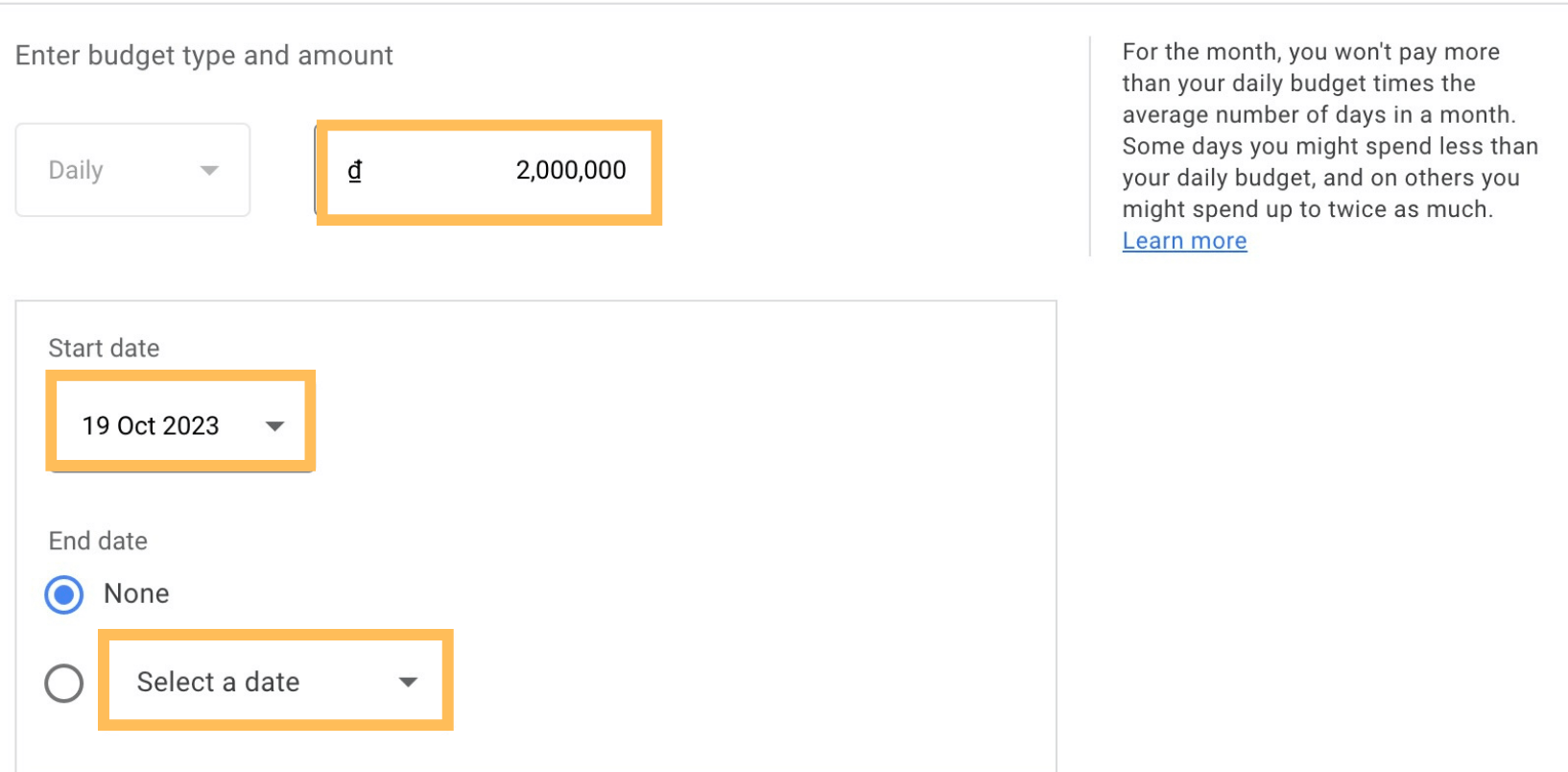 Set up the other options to your preference. These include Location & language; Devices; Ad Schedule and Campaign URL option.

Step 4: Set up Ad Group level setting
Set up your target audience. Here, you can input your data or search and choose from the available options. You can add: Custom Segments; Your data; Interests & detailed demographics; Exclusions and Demographics.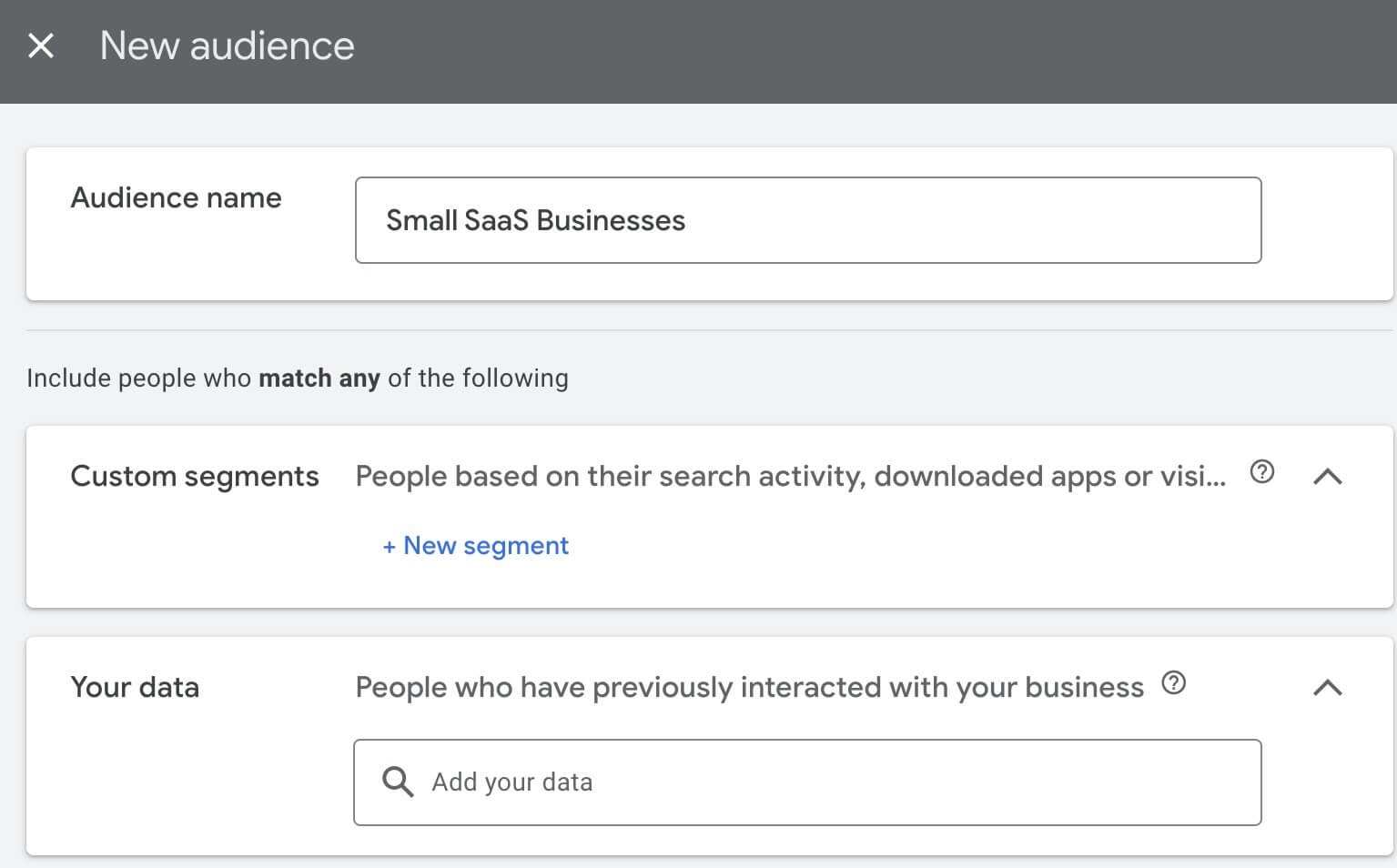 Set up your Lookalike Segment. Here, you can input your Seed list, then choose your target location and segment reach.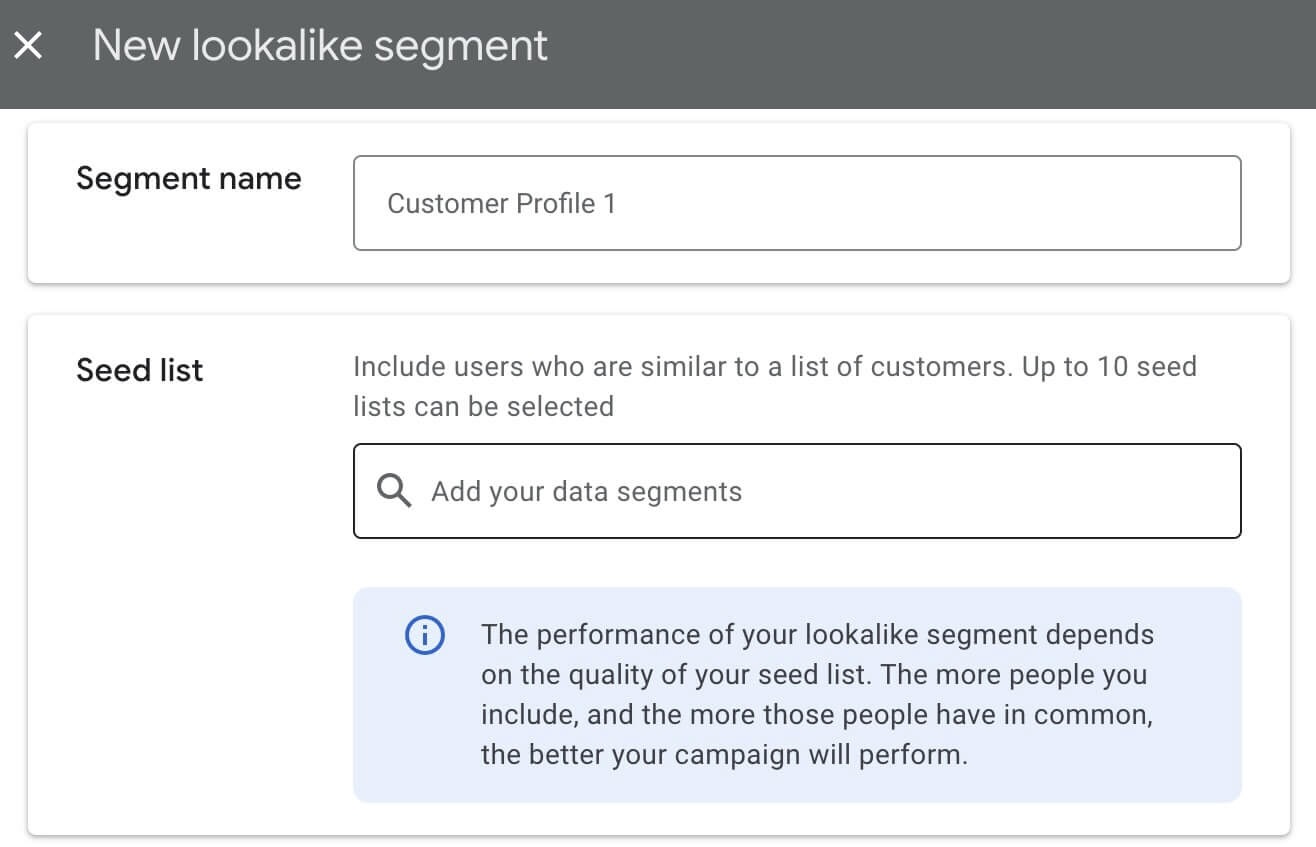 Step 5: Set up Ad level setting
Choose your ad type. The available options are: Video ad; Single image ad; Carousel image ad.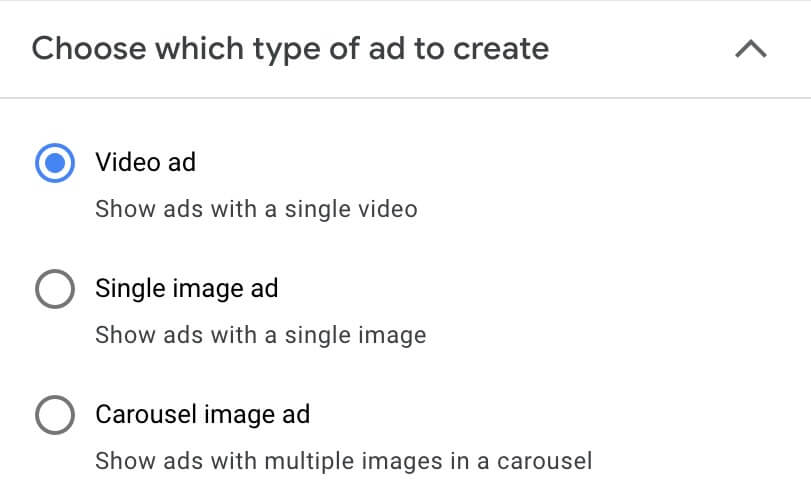 Choose your media & text. You have the option to add up to 5 videos and 1 logo. You can also add 5 headlines, 5 long headlines, 5 description, 1 CTA, 1 business name and 4 or more sitelinks.
Set up your ad URL and edit how they look.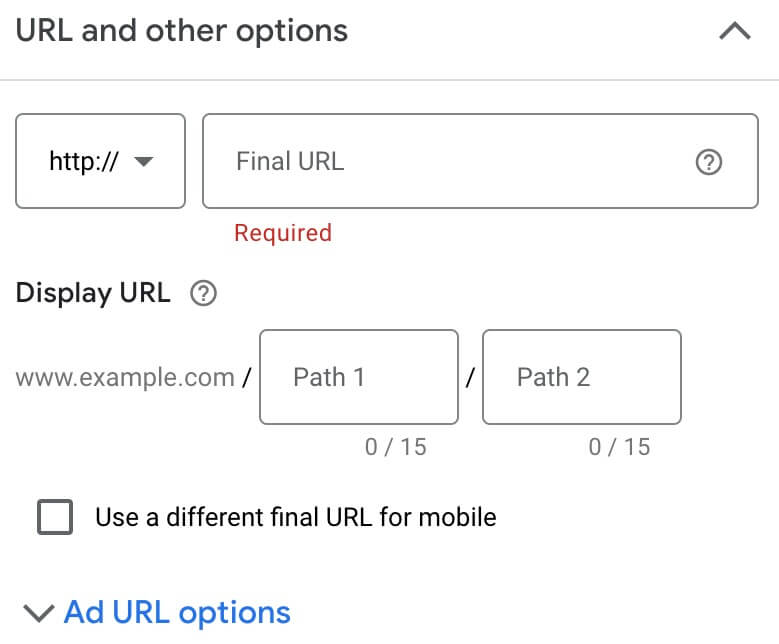 Step 6: Review and publish your campaign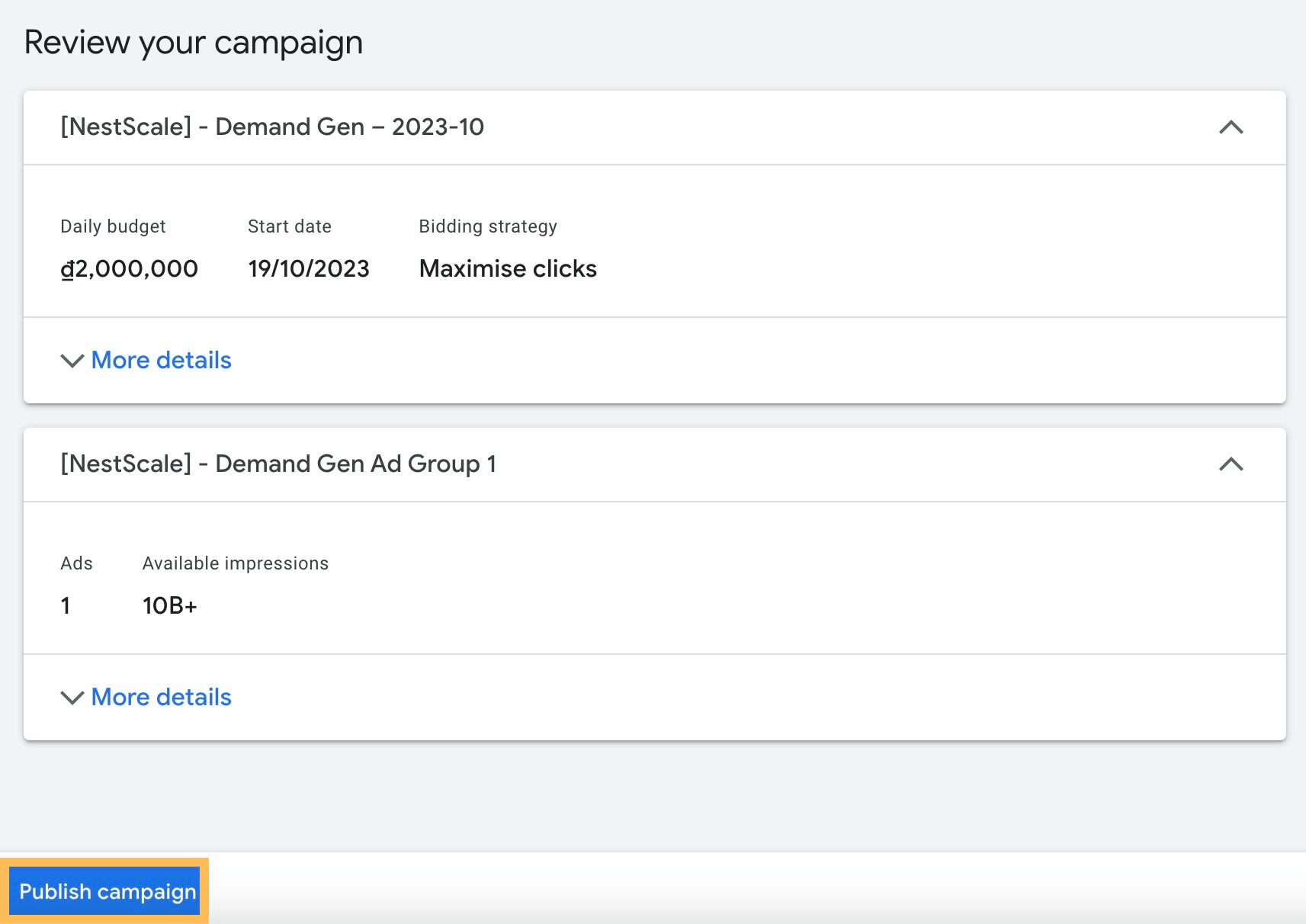 Some tips to make the most of Demand Gen Google Ads campaign
As Google Ads gradually transitions and enhances Discovery Campaigns into Demand Gen, we're here with some handy tips to help you smoothly adapt to this transformation. With these insights, businesses can harness the full potential of this exciting new feature.
Be proactive with the move to Demand Gen
As we mentioned earlier, Demand Gen became accessible to all Google Ads users as of October 2023. Furthermore, any remaining Discovery campaigns will naturally transition to Demand Gen by early 2024. The good news is that this transition won't negatively impact your ads or cause any disruptions.
However, it would be a missed opportunity not to take full advantage of the potent features that Demand Gen brings to the table. So, consider allocating some time to upgrade your older Discovery campaigns. By doing so, you can explore the new features and properties that Demand Gen offers and maximize the benefits of this update.
Set realistic goals
Besides being a new feature, Demand Gen's main goal is also to reach new audiences and grab their interest. And at the awareness stage of any customer journey, there will generally be fewer conversions and higher cost. So businesses should set realistic expectations and focus on other metrics like impressions or clicks to evaluate the campaign performance.
Pay attention to your visual creatives
One of the standout features of Demand Gen is its remarkable flexibility to add visual creatives to your ads. You're not limited to a single format. Instead, you have the freedom to select from a range of ad formats, all of which can be displayed across various platforms. Another exciting attribute of this is the ability to incorporate up to 5 videos into your ads. To make the most of this opportunity, it's a good idea to have a diverse and compelling media library ready before you begin creating your campaign. This ensures that your visual creatives are not only eye-catching but also capable of capturing your audience's attention effectively.
Build your audience
One of the most interesting features of Demand Gen campaign is the ability to input your own customer data. This is precisely why it's imperative for businesses to kickstart the audience-building process. How do you achieve this? By gathering customer data from your website or app and organizing it based on various criteria such as names, locations, average order value (AOV), and more. This compilation forms s a seed list – which can be used as the foundation for constructing lookalike audiences.
Prepare your budget
The truth is, you can run your Google Demand Gen campaign on a budget as modest as $1 or as substantial as $5000. However, it's essential to strike a balance. An excessively low budget could potentially slow down the optimization process and hamper your conversion rates. To address this concern, Google offers some recommended budget and bidding guidelines for Demand Gen campaigns:
Target CPA: Aim for a Target CPA (Cost Per Acquisition) that is approximately twice your standard campaign performance.
Daily budget: Your daily budget should be set at around 15 times your Target CPA or 20 times your average conversion value divided by the Target ROAS (Return on Ad Spend).
Following these benchmarks can help ensure that your ads are operating optimally and generating favorable results. It provides a balanced approach to budgeting, allowing you to make the most of your advertising investment.
We also prepared a quick video to help you get to know Google Ads Demand Gen effortlessly. Under minutes and you will have a whole picture about this new AI-powered feature, check it out below.
Boost campaign success with the Demand Gen campaign & NestAds
Demand Gen campaign is a great addition to any business' Google Ads toolkit. Its versatility in accommodating various visual creatives, along with its extended reach across platforms like YouTube, Discover Feed, and Gmail, makes it an excellent tool for brands aiming to tap into new audiences and transform them into loyal, paying customers.
However, creating a Demand Gen campaign is just the first step. The real challenge lies in monitoring its performance and extracting actionable insights. This is especially true if you're managing multiple ad campaigns with diverse objectives and creatives. So, how do you tackle this challenge? No need to fret, because NestAds has your back.
NestAds simplifies the process by automatically inputting campaign data from various platforms and centralizing all these essential metrics into a single, user-friendly dashboard. This eliminates the need for constant tab-switching and enables you to effortlessly monitor your ad campaign's performance. What's more, NestAds leverages first-party data, ensuring that the NestAds pixel can navigate past iOS 17 link tracking protection, providing you with timely and accurate data.
So, why wait? It's time to revolutionize your Google Ads campaign with NestAds today and unlock the full potential of your advertising efforts.