Father's Day, celebrated on the third Sunday of June in many countries worldwide, is an occasion to express love and appreciation towards fathers and father figures. It also provides an opportunity for brands to upload an amazing Father's day social media post to share the spirit of this special occasion.
In this article, we will provide you with Father's day social media post ideas for brands, ways to crowdsource content from users, and extra helpful tips to help brands make the most of Father's Day content on social media. Each idea would be illustrated with a real case study or an example so that you can find it easier to include those ideas into your social media posts.
Coming up with fresh ideas from scratch can be a challenging task, especially for social media beginner brands. That's why we've curated 7 fool-proof ideas that both small brands and big brands can confidently use for the Father's Day campaign.
Inclusive thank-you messages
The simplest, yet most impactful type of father's day post comes from a genuine appreciation. Your brand can even gain more respect in the public eye by aligning with the key values of diversity, equity, and inclusivity (DEI). As we are heading to an era of understanding and acceptance, it is crucial for every brand to express appreciation for all individuals, including minorities.
In the fashion industry, Lacoste showcased their commitment to diversity, equity, and inclusivity (DEI). Ihey have melted people's hearts by featuring dads and sons of different heritages in their Father's Day posts on Instagram. This inclusive approach not only resonated well with their audience but also showcased their brand values.
A thank-you video is also well-appreciated. In 2020, the toy company Hasbro published a heartwarming appreciation video on their Instagram account to celebrate dads, though big or small.
Father's Day is also a great time that you can share touching father quotes, as a way to pay homage to those unsung heroes. You can either collect the heartfelt quotes from your brand employees, brand ambassadors about their own fathers or father figures. Craft visually appealing graphics or videos with these quotes and share them on social media.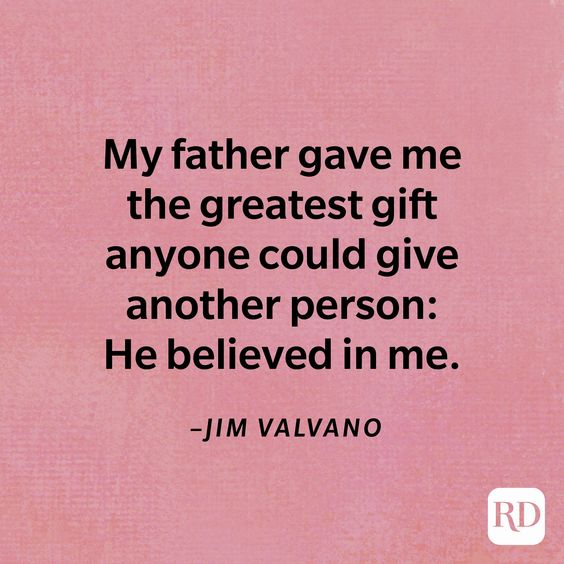 Father's Day fun facts
As a matter of fact, fun facts are a good source of enjoyment! Hence, you can totally share interesting or lesser-known fun facts about Father's Day. These facts can include historical tidbits, cultural traditions, or amusing anecdotes related to the celebration of fathers. This post idea engages followers with trivia and adds an element of surprise and intrigue to their Father's Day experience.
Join a challenge with your dad
Challenge is one of the many trademarks of TikTok, with millions of youth participating in these engaging trends every year. It's even more wholesome when youth join the challenges with their own fathers on Father's day! So, whether you are a brand owner or an employee, have some fun with your dad and show it to the world to see!
Crack a smile with dad jokes
What is the common trait of dads all over the globe? – That's right, their dad jokes! These dad jokes, often characterized by their playful and sometimes cheesy nature, have become a beloved part of fatherhood. Brands can tap into this universal humor by creating compilations of the funniest dad jokes to engage their audience.
Here's an example from McLaren, the famous British automotive manufacturer. Though this is not a post for Father's day, it shows just how easily people engage with light-headed, silly content that surrounds dad jokes.
Customized gifts for dad are definitely a sweet thing. Depending on the industry you're in, you can have different directions for your gift idea posts, but tutorial-based posts are often highly sought after. Here are some of our suggested ideas for tutorial-based posts for different industries:
Crochet: Instructions to stitch a dad-related crochet item, such as a keychain, or a decorative item with dad-themed motifs.
DIY Crafts: Share step-by-step tutorials on creating personalized photo frames, keychains, or mugs that dads will cherish.
Home Decor: Offer guidance on creating custom-made wall art, personalized plaques, or decorative items that dads can proudly display in their homes.
Fashion and Accessories: Create tutorials on crafting personalized ties, cufflinks, or engraved leather wallets to add a touch of style to dads' wardrobes.
Baking & Cooking: Provide recipes that cater to dads' tastes, or instruction on making customized cakes for dads.
Run a sales promotion activity
If you have any limited-time offers or products for Father's Day, be sure you make that known to your followers. From exclusive discounts on dad-approved products to a special Father's Day bundle, the options are endless. The example down below from @boscia shows how effortlessly a sales activity post can be created on Instagram.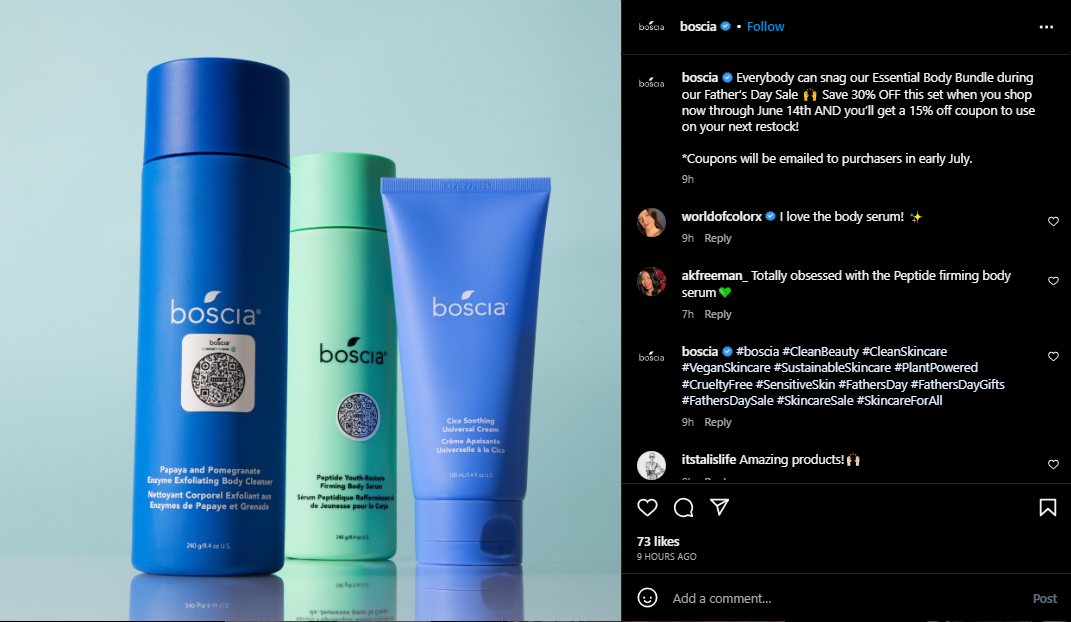 If you want this promotion campaign to reach many more people, running ads can be a great idea. In which case, we've got just the thing you want: A complete guide on how to run TikTok ads in 2023. It's packed with valuable insights and tips to the advertising landscape on TikTok, so that you can start an ad campaign at any given moment!
Luckily, there is more than one approach for Father's day social media post. Other than organic brand-owned content, brands can also crowdsource content from other creators and social media users in order to diversify their social media feeds. We will explore 7 different approaches that help brands have an effective crowdsourcing campaign for Father's day.
Giveaway
Hosting a giveaway event is an effortless and enjoyable way to boost your brand's engagement and reach during this special occasion. Brands can use this chance to choose products that they believe will truly resonate with dads. If the giveaway proves successful, not only will the brand gain more visibility, but the featured product will also garner attention through this promotional effort.
An excellent example of a simple yet effective Instagram giveaway post can be seen from @lasiguanas. Their giveaway featured Corona's beer products along with a free pint for dads, resulting in a significant increase in engagement. The post successfully captivated the audience's attention and generated a high level of interest.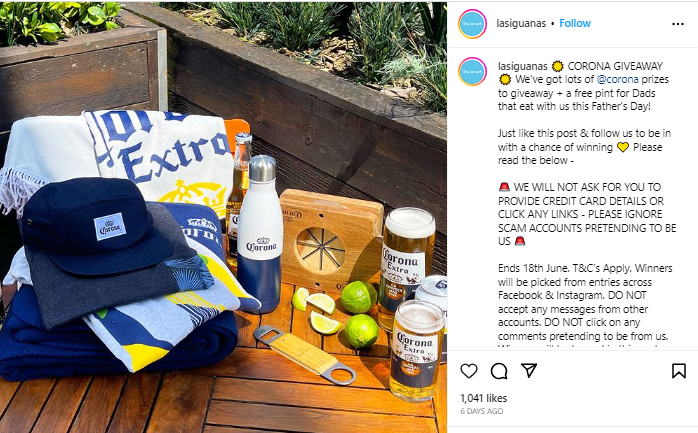 Challenge/Contest
The concept of challenges and contests have gained more popularity during recent years, especially on TikTok. These challenges often involve users performing a specific action, such as dancing, singing, or completing a task, while incorporating a sponsored hashtag in their video to participate. Here are 5 ideas for challenges or contests for your brands to adopt:
This or That
First, we present you with an interactive social media activity: This or that. All you need to have is a template like the one down below, and feature some of "This or that" questions, like "Would your dad rather?" to give your followers a sense of what to do.
As a result, participants can share their choices in the comments or in their reposts, allowing them to spark genuine conversation with both their friends and the brand!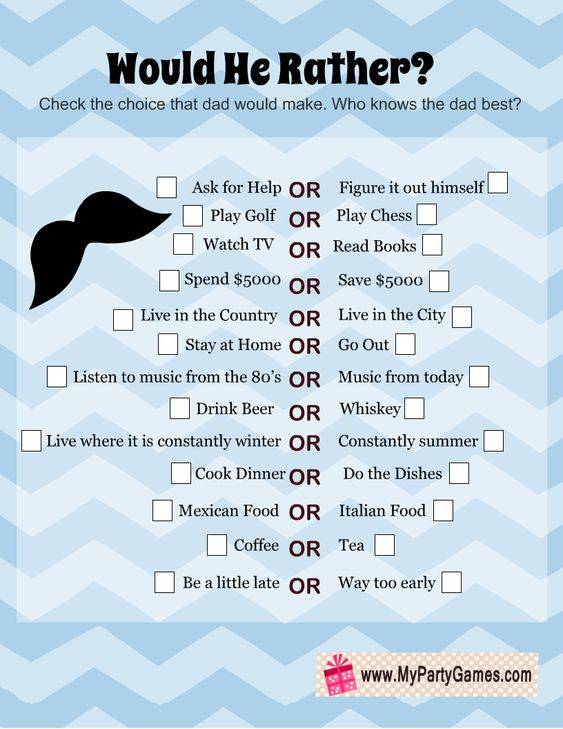 Fill in the blank
The "Fill in the Blank" challenge encourages participants to complete a sentence or phrase related to their fathers. To pull this off successfully, brands can create interesting prompts such as "My dad's superpower is ______" or "The best advice my dad ever gave me was ______." Participants then can showcase their heartfelt and creative answers, while building a sense of connection with the brand and other participants.
Pop quiz
Father's Day-themed quizzes or trivia challenges are a great way to engage participants' knowledge and create a sense of friendly competition. You can create quizzes about famous dads, fatherhood facts, or even pop culture references related to fathers. Meanwhile, participants can test their knowledge by answering multiple-choice questions, and brands can offer incentives such as exclusive discounts or prizes for those who achieve the highest scores.
You can take a look Disney who has succeeded in making use of this format. What they did was creating a relatable and engaging quiz titled "Which Disney Dad is Your Dad?", attracting many curious youngsters to take!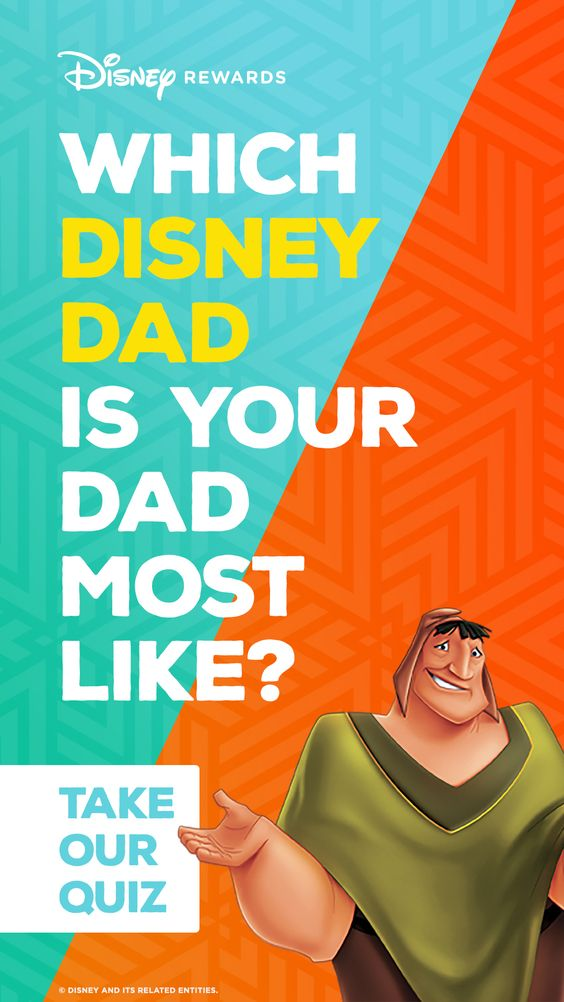 Share your memories
This kind of challenge is a touching incentive that can allow participants to reminisce and share their favorite memories with their dads. You can ask followers to post a photo or a brief story capturing a cherished moment spent with their fathers. This will not only encourage participants to engage with the brand but also creates an emotional connection as they reflect on the special moments shared with their dads.
An example of a successful father's day challenge is from St.Jude's TikTok hashtag challenge #stjudedadphotos. Their only requirement is for the users to show some love to the father figure in their life by recreating a childhood photo with their dads! Until now, this heartwarming challenge has garnered an impressive 1 billion views, with countless creators joining in to participate in this wholesome tribute.
Impersonate Your Dad
Inspired by the Impersonation challenge on TikTok, this challenge can add a fun and creative twist to Father's Day campaigns. Particularly, participants will be encouraged to create short videos or photos imitating their fathers' unique mannerisms, catchphrases, or iconic gestures.
Collaborate with other creators
Brands can also take another initiative to collaborate with influencers to boost their relevance. In these collaborations, creators are typically required to create posts or videos featuring the brand's products and tag the brand's social media account. As a result, this will serve as an effective strategy to pique the interest of their followers and generate excitement around the brand.
An excellent example is the recent Home Depot's #thddoingwithdad Father's day campaign. In particular, they partnered with many popular influencers to showcase their products as a means to facilitate quality time with dads. Evidently, this partnership has successfully captured attention of many users. Home Depot also managed a heartwarming message, emphasizing the significance of spending meaningful moments with fathers.
After establishing a good content, a good caption will be the cherry on top to effectively convey your message for Father's day. That's why we have included a list of 8 catchy and wholesome captions to copy in your creative!
"To the world, he's just a dad. To us, he's our superhero. Happy Father's Day, dad!
"Celebrating the one who taught us life's greatest lessons. Happy Father's Day, the wisest man we know!
"Cheers to the man who always knows how to keep things fun and light. Happy Father's Day, our ultimate entertainer!
"No matter how old we get, we'll always be daddy's little ones. Happy Father's Day to the best dad in the world!
"Dad, you're the 'wheel'-y cool guy who keeps us rolling with laughter. Happy Father's Day!
"Dad, you're the anchor that keeps our family grounded. Wishing you a Father's Day filled with love and relaxation!
"Dad, you're our role model, our mentor, and our guiding star. Thank you for always lighting the way.
"A father's love is the secret ingredient that makes our lives more meaningful. Happy Father's Day, our everyday hero!
To further amplify the reach of your post, it's crucial to include trending hashtags related to Father's Day. These hashtags will allow your content to be discovered by a wider audience who are actively engaging with Father's Day content. Lucky for you, we have collected 10 trending Father's day hashtags on both TikTok and Instagram so you can include them in your own caption:
| | |
| --- | --- |
| TikTok | Instagram |
| # fathersday | # fathersday |
| # fathersdaygiftidea | # fathersdaygifts |
| # fathersdaypresent | # fathersdaygift |
| # fathersdayspecials | # fathersdaygiftideas |
| # fathersdayshirts | # fathersdaycake |
| # fathersdayiscoming | # fathersdaycookies |
| # fathersdaymug | # fathersdaycupcakes |
| # fathersdaytreatbox | # fathersdaygiveaway |
| # fathersdaycelebration | # fathersdayquotes |
| # fathersdaygift2023 | # fathersdaystrawberry |
Uplift the Father's day spirit on your web store
Now that you have your awesome Father's Day content all set up on your social media account, why not utilize your stunning feed onto your store page as well? It will be a fantastic way to showcase your products in action, creating an overall seamless experience for your customer's shopping journey.
So, how do you exactly do it? Let's meet NestWidget, your new social media aggregator. It allows you to add stunning and shoppable TikTok feeds to your online store.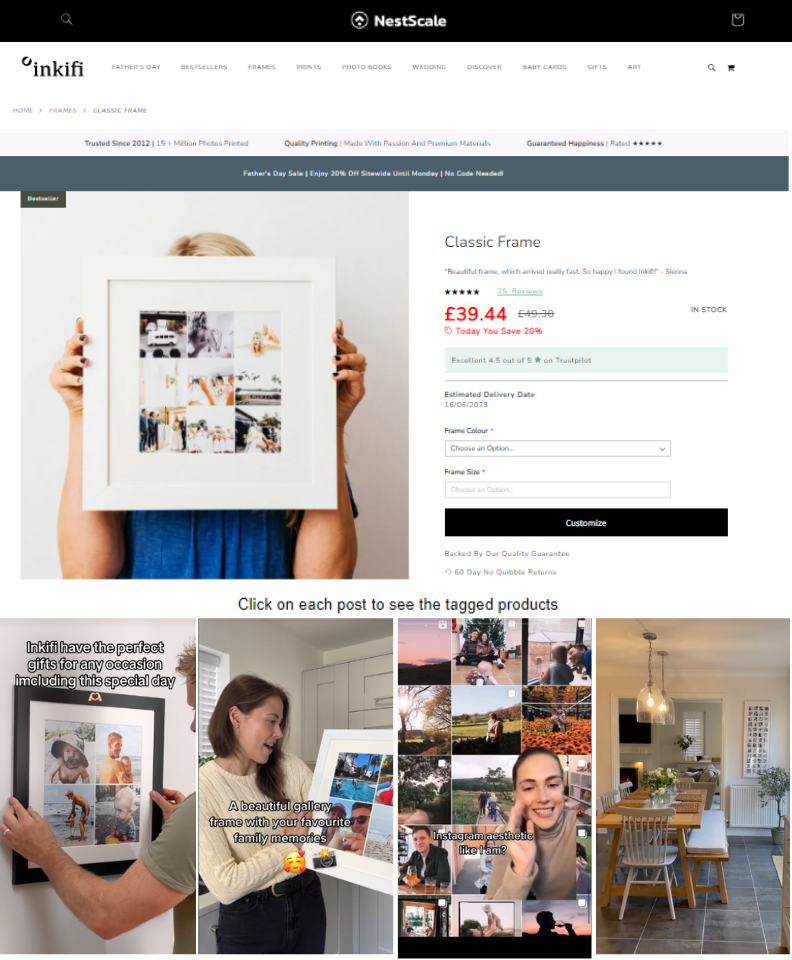 Well, you'll have to admit that the demo web store is far more engaging than the one you typically use. So, if you want to decorate your online store for Father's day and sell more, why not give NestWidget a try?