Are you looking for a way to boost your email list growth and increase your customer engagement? Look no further because in this blog, we'll be exploring the best email pop-up apps for Shopify.
With so many options out there, it can be overwhelming to choose the right one for your store. But don't worry, we've done the research for you and we're here to help. So, let's dive in and find the perfect email pop-up app for your Shopify store!
What is an email pop up form?
An email pop up form is a little box that appears on a website that asks visitors to provide their email addresses. This form "pops up" when someone visits your site, usually after a certain amount of time or when they are about to leave the page.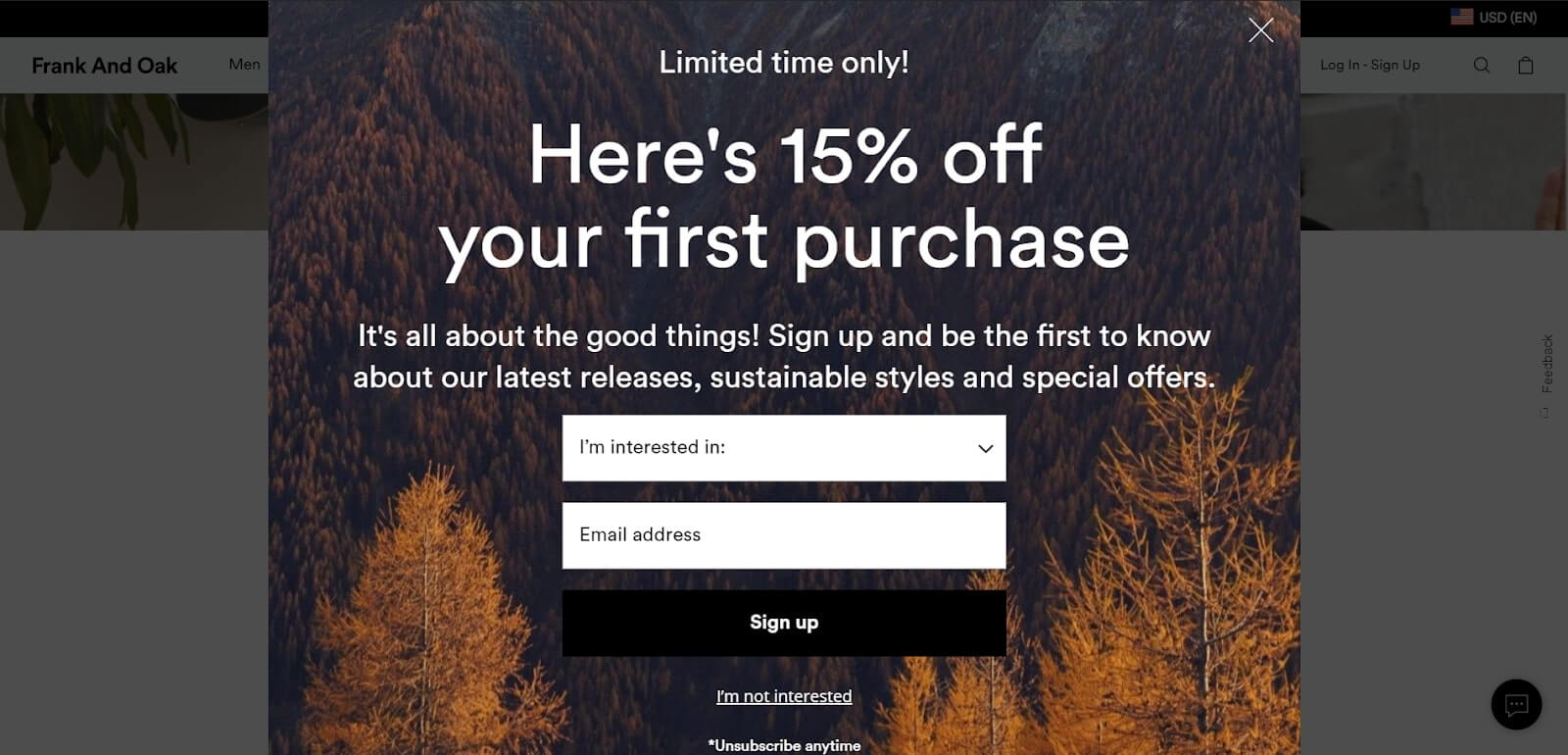 Email pop up forms is an important way to collect contact information from your customers so you can keep in touch with them and let them know about new products, sales, and promotions.
When someone fills out the email pop up form on your website, their email address is added to your email list. This list allows you to send emails to your customers, keeping them up to date on what's happening with your store.
It's important to remember that email pop up forms should be easy to close, so visitors don't feel like they're being forced to give you their email addresses. It's also a good idea to make sure your email pop up form is mobile-friendly since many people access websites from their phones or tablets.
Why you have to use the pop up tactic right now
If you're running an e-commerce store and don't use a pop up, you're missing out on one of the best methods to increase your impact.
Grow your email list
Offering a discount in exchange for signing up can be a powerful incentive. Make sure your sign-up forms are easy to find and fill out, and consider using pop up or other tools to capture visitors' attention. By implementing the strategies, you can build a larger, more engaged email list that can help boost your sales and overall success.
Reduce abandoned cart rate
Just simply by offering a limited-time discount or free shipping pop up, you can incentivize customers to complete their purchase right then and there. Plus, you can also capture their email address through the pop up form and follow up with personalized emails to remind them to finish their purchase.
Build your following on social media
Why not subtly ask your visitors to follow you on Facebook, Instagram, or Twitter using a pop up. You'd be amazed at the response you will get. Better yet, use a slide-in display or a sticky bar; they take up smaller space but are attention grabbers.
However, if your pop up is poorly implemented, they can definitely ruin your visitors' experience and give them a reason to exit your website almost as soon as they arrive. Using pop up correctly can really be of great help to gain your email list. That's why you should learn how to set up a pop up properly.
7 Best Shopify email pop up apps to level up your business
NestSend
Overview
NestSend is undoubtedly one of the most impressive apps available for email popups. With a vast collection of pre-designed email templates and powerful automation features tailored for eCommerce, it allows businesses to save valuable time and concentrate on scaling their operations.
Moreover, its seamless integration with Shopify offers a holistic view of the customer journey, allowing for the creation of personalized emails that reach the intended audience at the optimal time.
NestSend's simple user interface and ease of use make it a great option for entrepreneurs who want to enhance their email marketing campaigns without the need for coding knowledge.
Easy-to-use drag-and-drop editor
NestSend's Drag-and-Drop editor is perfect for both new and experienced website builders. You don't need any coding knowledge to create a beautiful website. Simply drag and drop the elements you want, and the editor takes care of the rest.
You can customize the layout, fonts, colors, and images to reflect your brand. There are also various widgets and plugins to add extra functionality, such as contact forms and social media integration.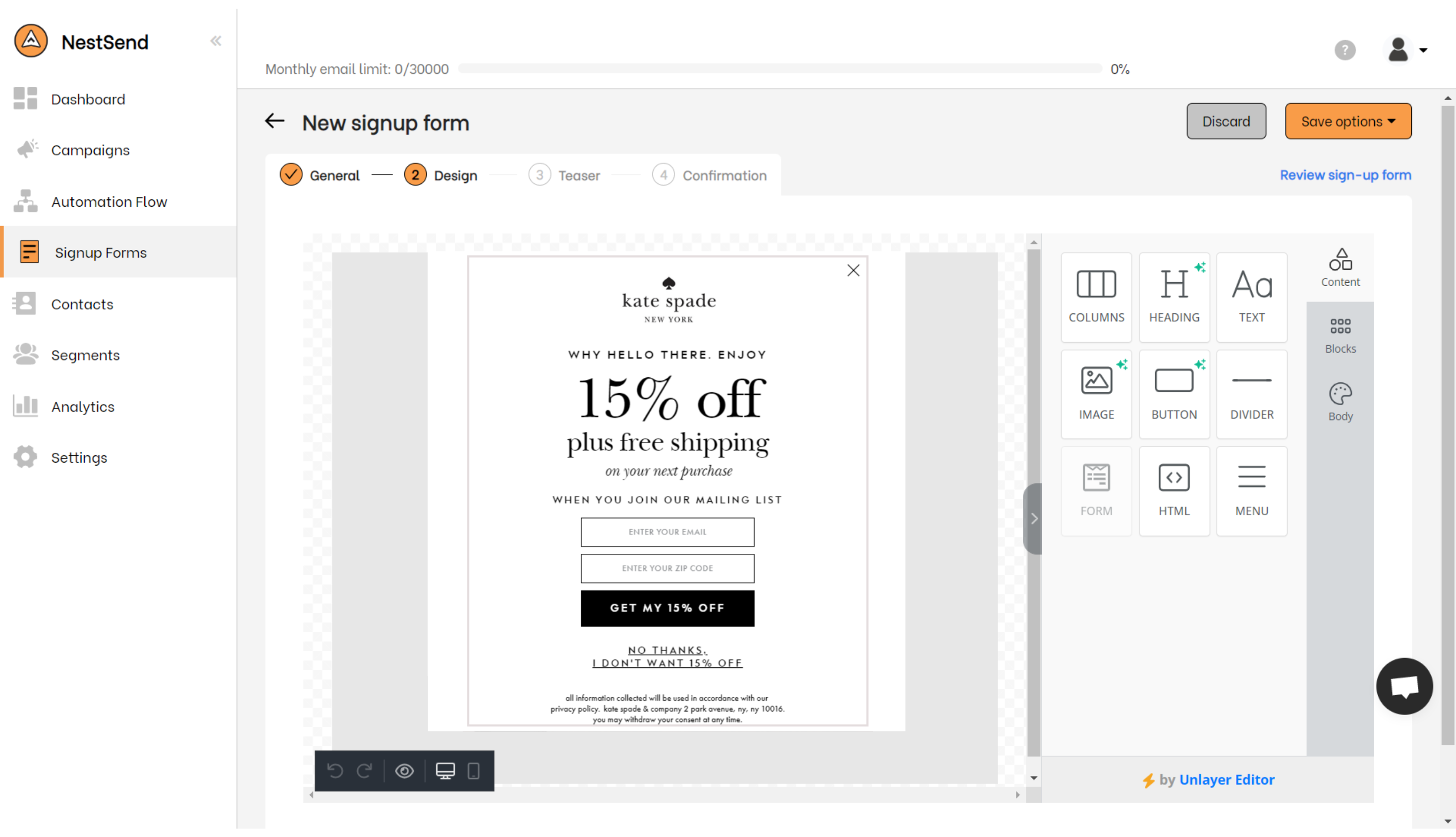 Triggering and post-subscribe options
Shopify store owners can greatly benefit from NestSend's Triggering and post-subscribe options. These features can help increase subscriber lists, engage website visitors, and ultimately drive more sales.
With the Triggering option, store owners can choose between two triggers based on time spent on screen or based on the percentage of scrolling. This allows for a tailored pop-up that appears at the perfect moment when visitors are most engaged with the content.
Additionally, the post-subscribe option ensures that the same pop-up is not displayed repeatedly to someone who has already subscribed or clicked on the URL option. Store owners can also easily segment subscribers based on their interests and preferences, allowing for targeted emails and promotions that are more likely to convert.
By utilizing NestSend's Triggering and post-subscribe options, Shopify store owners can improve their email marketing strategy and increase their chances of success.
Pricing plan
NestSend is currently free to use. If you're an e-commerce business owner, this is an opportunity you shouldn't miss. With NestSend, you can easily create pop-up forms that capture your audience's attention and drive sales, without having to worry about any extra expenses.
Who is NestSend most suitable for?
If you're running a small or medium-sized e-commerce business, or just starting to learn about pop-up forms, NestSend is the perfect solution for you. This user-friendly app is incredibly easy to use, with an intuitive interface that even beginners will be able to navigate.
Not only that, but NestSend has a team of experts who are always willing to help. Whether you need technical support, advice on marketing, or help with design, their team is there to support you every step of the way.
With NestSend, you'll be able to create beautiful pop-up forms that capture your customers' attention and help drive sales. So why not give it a try today and see the difference it can make for your business?
Poptin
Overview
If you're looking for an app to help capture leads for your Shopify store, you might want to consider Poptin. This app offers a variety of popups to choose from, including lightbox, side message, and full screen popups.

One of the standout features of Poptin is that their exit-intent popups are available even on the free plan, which can be helpful for smaller stores.
Additionally, Poptin includes a built-in autoresponder that lets you send welcome and thank you emails to new subscribers. While there are certainly other apps out there that offer similar functionality, Poptin may be worth checking out if you're in the market for a lead capture tool.
Pricing plan
You can use the Free plan if you want to display popups and forms on one domain and receive up to 1,000 visitors per month. However, if your usage exceeds that limit, you may need to consider a more advanced plan.
Specifically, if you choose to follow the annual plan, the Basic plan would be billed for $20 per month, Pro plan for $47 per month, and Agency plan for $95 per month.
Who is Poptin most suitable for?
Poptin is perfect for users who want to collect contact info and send a thank-you email, without running a full email marketing campaign. It's a simple and effective tool for engaging with website visitors and building an email list. However, it may not be the best option for advanced email marketing features.
WooHoo
Overview
WooHoo is an app that specializes in Spin to Win pop up, a type of interactive popup that users enjoy engaging with. These pop up are an effective way to collect email addresses from your website visitors.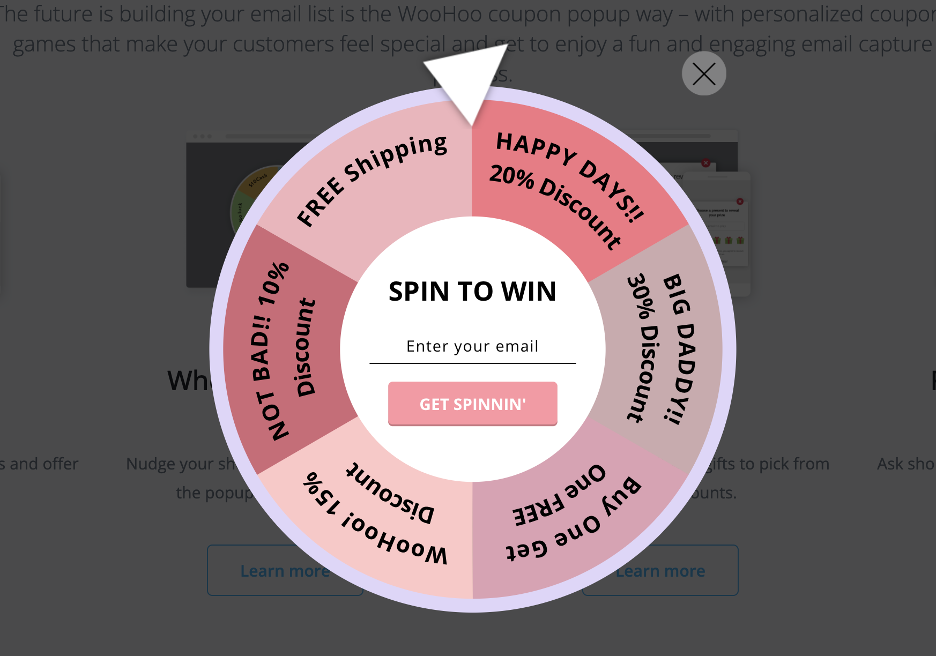 WooHoo offers three different versions of the lucky wheel concept, including Classic Spin the Wheel, Wheel of Coupons, and Reveal Your Coupon. Each option offers different rewards such as discounts, free shipping, and buy one get one free offers.
By using different types of gamified coupon popups, you can keep your website fresh and exciting for your visitors while benefiting from the high conversion rates of these types of popups.
WooHoo also integrates with several popular CRM apps, including MailChimp, Zapier, and Klaviyo. This allows you to easily collect email addresses and integrate them into your marketing strategy
Pricing plan
WooHoo's subscription-based pricing plan offers two tiers: Premium and Premium Plus, starting at $29 and $69 per month, respectively. Both tiers include features such as game selection, design customization, and scheduling for up to 20,000 impressions per month per website.
Additionally, users can take advantage of a 14-day free trial to test out WooHoo's features before committing to a subscription.
Who is WooHoo most suitable for?
If you're looking to use Spin to Win popups, then WooHoo could be a great choice for you. But if you want to mix things up and use other types of popups alongside the lucky wheel, then you might want to consider a different Shopify popup app. That way, you won't be restricted to just one type of popup and can have more flexibility in how you engage with your website visitors.
SmartPopup
Overview
SmartPopup is a Shopify app that allows users to create various types of popups for their online store.

With the exit-intent popups, SmartPopup can help to reduce cart abandonment, while promotion popups can raise awareness about upcoming sales. One of the standout features of SmartPopup is the ability to create coupon pop up with countdown timers, which can be effective in enticing customers to make a purchase.
The app also allows users to embed videos in their popups, making it an excellent choice for businesses that already produce video content for Instagram or YouTube.
Pricing plan
SmartPopup is a free app. This means that Shopify store owners can use it without any financial investment. While there are some limitations to the free version of the app, it still provides users with a range of useful features.
Who is SmartPopup most suitable for?
If you're a new business or want to try out a popup app before investing money, SmartPopup might be worth checking out. One of the best things about it is that it's completely free to use. While it does have some limitations, it still offers a range of useful features.
If you're looking for a simple Shopify popup app to run a few campaigns, SmartPopup is definitely an option to consider.
Privy
Overview
Privy is an app that provides dual functionality for creating pop up and running email marketing campaigns. Although using a single platform is convenient, it comes at the cost of fewer features compared to software dedicated to a single purpose.

One advantage of using Privy is the availability of a wide range of popup templates specifically tailored for marketing purposes. These include cross-selling and gamified popups. However, the app does not offer other popup types like full screen pop up and side messages.
Another useful feature of Privy is its ability to send cart abandonment emails, which prompts users to complete their transaction.
Pricing plan
Privy offers a range of pricing plans for email and SMS marketing automation. The Free Plan allows for up to 100 email contacts, while the Starter Plan is $30 per month for up to 1,500 email contacts, with full access to email marketing and unlimited email sends.
If your need exceeds that, then you can consider the Growth Plan for $45 per month or the Conversion Only Plan that starts at $70 per month.
Who is Privy most suitable for?
If you're a store owner who likes to keep things simple and manage everything in one place, then Privy might be a good fit for you. However, if you're looking for a more advanced marketing tool with a dedicated, feature-rich popup maker, then you may want to consider other options.
Justuno
Overview
Justuno is a lead generation tool that focuses on improving your website's conversion rate.

What sets Justuno apart is its use of advanced AI to gather insights about your customers and personalize your popups accordingly. By leveraging browsing history data, Justuno can recommend products and deliver tailored messages that appeal to each customer.
This personalization extends to upselling and cross-selling, where Justuno displays specific offers based on customer interests. While Justuno may not be the app for everyone, their focus on conversions and personalized popups makes them a valuable tool for businesses looking to increase their online sales.
Pricing plan
Justuno offers a free plan for businesses with fewer than 5,000 monthly visitors, which includes full access to their lead capture and website messaging pop-ups, advanced targeting and segmentation, and A/B testing.
For businesses with higher traffic volumes, Justuno offers three essential plans, priced at $29/month for up to 10k monthly visitor sessions, $49/month for up to 25k monthly visitor sessions, and $99/month for up to 50k monthly visitor sessions, each with additional charges for exceeding visitor session limits.
Who is Justuno most suitable for?
Justuno can be a great tool for some e-commerce stores, but not everyone needs its advanced segmentation and personalization features. Keep in mind that accessing Justuno's AI recommendation engine requires the Justuno Plus tier, which starts at $399/month.
So, we'd suggest this plan only for larger e-commerce operations that can truly benefit from these advanced features.
OptinMonster
Overview
OptinMonster is an app that provides a range of features to help Shopify stores generate leads using popups and inline forms.

Their large template library contains a variety of popups that come with reliable features. One of the standout features of OptinMonster is their drag-and-drop editor. This advanced popup editor offers plenty of customization options and allows you to easily add and edit elements such as times, contact forms, and images, so your popups blend seamlessly with your store's theme.
Additionally, OptinMonster provides an impressive suite of tracking and targeting tools. These include geo-location, page-level targeting, and an "InactivitySensor". With options for onsite retargeting and follow-ups, OptinMonster helps improve conversion rates.
Pricing plan
OptinMonster offers four pricing plans: Basic for $9/month, Plus for $19/month, Pro for $29/month, and Growth for $49/month (billed annually). Each plan includes different features and benefits, with higher-tier plans offering more advanced features, higher pageviews, and support for more websites.
Who is OptinMonster most suitable for?
OptinMonster is a popup software that can help generate leads, and it can be especially helpful for e-commerce stores that heavily rely on their contact list for sales. It is worth considering for those who are interested in improving their lead generation efforts.
Pop Up Your Game with some Pop Ups!
There you have it! These are the best email pop-up apps for Shopify that you can use to boost your email list growth and engage with your customers on a deeper level. Remember to choose an app that suits your needs, and make sure to test it out before launching it on your store.
By using these apps, you'll be able to convert your visitors into subscribers, and ultimately, into loyal customers. So, what are you waiting for? Install one of these apps today and start growing your email list!