Special occasions are always a golden time for businesses from different industries. Valentine's Day is just around the corner, a romantic holiday will come for your team if you see your way clearly. Have your brand planned for this lovely day or still wondered about the next steps?
So how to celebrate love and boost sales at the same time on Valentine's Day? Just dive into our creative Valentine's Day marketing ideas that work for e-commerce companies and you will find the best answer ever for your business!
Innovative valentine marketing ideas for e-commerce brands
Leverage email marketing
A successful email marketing strategy will work wonders for Valentine's day. It is one of the most effective Valentine's day marketing ideas for e-commerce companies. Start sending out promotional messages two weeks before Valentine's Day, but don't overload your clients' inboxes.
Even if social media is an excellent platform for e-commerce advertising, email marketing is a tried-and-true strategy for increasing income and client base. On Valentine's day, why don't you create personalized content and send special offers to the right customer at the right time?
Today, there are a variety of tools when it comes to email marketing, which can be your digital assistant to create, run, and track email campaigns. Let's take NestSend as an example.
Using targeted email campaigns, automated processes, and pop-up sign-up forms, NestSend can help you better communicate with your consumers and improve sales. You can save time and focus on developing your business by utilizing the library of ready-to-use email templates and email automation created for eCommerce.
For example, on Valentine's Day, a cutting-edge fashion boutique Swank decides to send email marketing to its partners. This email is created with a love theme and encourages people to take desired actions by promoting Swank's special gift card. Really simple, Swank team achieves two objectives: boost sales and connect with its audience.
Provide love themed E-Gift voucher
Everyone likes to believe they are getting a good deal. Valentine's Day is especially real since many individuals are looking for expensive or elegant gifts without spending a lot. Imagine high-quality goods at higher prices leave them broke going into March, and what if the gift is not liked by the receiver?
In such a situation, you can offer them e-gift cards in your business. Personalized photo-printed gift cards will be more appealing, and the indecisive sender will eagerly purchase them.
You can design your own Valentine's gift cards with some pretty elements. It's not necessary to make them too complicated, simple but effective. Here is an example that will give you some inspiration!
Create content with a Valentine's Day theme
While content marketing is a long game, that doesn't mean it can't be put to good use for seasonal marketing. Use your blog and any other content platforms to push out content related to Valentine's Day.
Think about questions your customers are likely to have and challenges you can help with. You could put together a Valentine's Day gift guide (with some of your own products included), and write a blog post on great date ideas (maybe including an idea or two that involves one of your products).
Otherwise, how about creating a video on how to make tasty sweets for your partner (that happens to use an ingredient you sell)? Not all of the holiday content should necessarily promote your products directly, but make sure it's relevant in some way to your brand and what you sell.
Chewy, an online retailer of pet food and other pet-related products, recently created a TikTok video that links the audience's insight with its products. Chewy promoted its unique products in a smart way, this brand has succeeded in making TikToks, not TikTok Ads.
You can also provide helpful information to potential customers, bring new visitors to your website, and improve your SEO for Valentine's day related searches all at once.
Offer customers valentine's promotion
One of the best ways to win customers during a busy shopping season is to engage your shoppers with holiday-specific deals. It will inspire them to buy from you (and not one of your pesky competitors). A sales incentive is most commonly used in the form of a percentage discount, but other choices fit better for you.
Restaurants can share Feb-special recipes. Salons can offer a couple of discounts. The eCommerce store owners can promote their products with love theme-based campaigns and special couple discounts. The possibilities for Valentine's Day marketing ideas are endless!
Why don't you run a Valentine's Day sale and inform your customers via email? Here is an example, you can set a subject line to announce your valentine's promotion. It's an effective way that many big brands in the world have followed and gotten amazing results.
Running valentine's day-themed campaigns on social media can be a game-changer for your business. Make it all about love. For example, you can have love-themed photoshoots or eye-catching graphics on your page.
You can also run polls around your product or service, such as a poll asking to choose a piece of clothing or their preferred drink for the occasion. Ask the audience what a perfect Valentine's Day evening looks like for them, and then share their answers. The point is to engage with them in a fun, light-hearted manner.
Let's see what M&S has done on Valentine's Day, a major British retailer that sells many things from clothes, and food to home products. To spread the brand image and also increase sales on valentine's day, M&S came to TikTok to promote its valentine's day dine-in menu.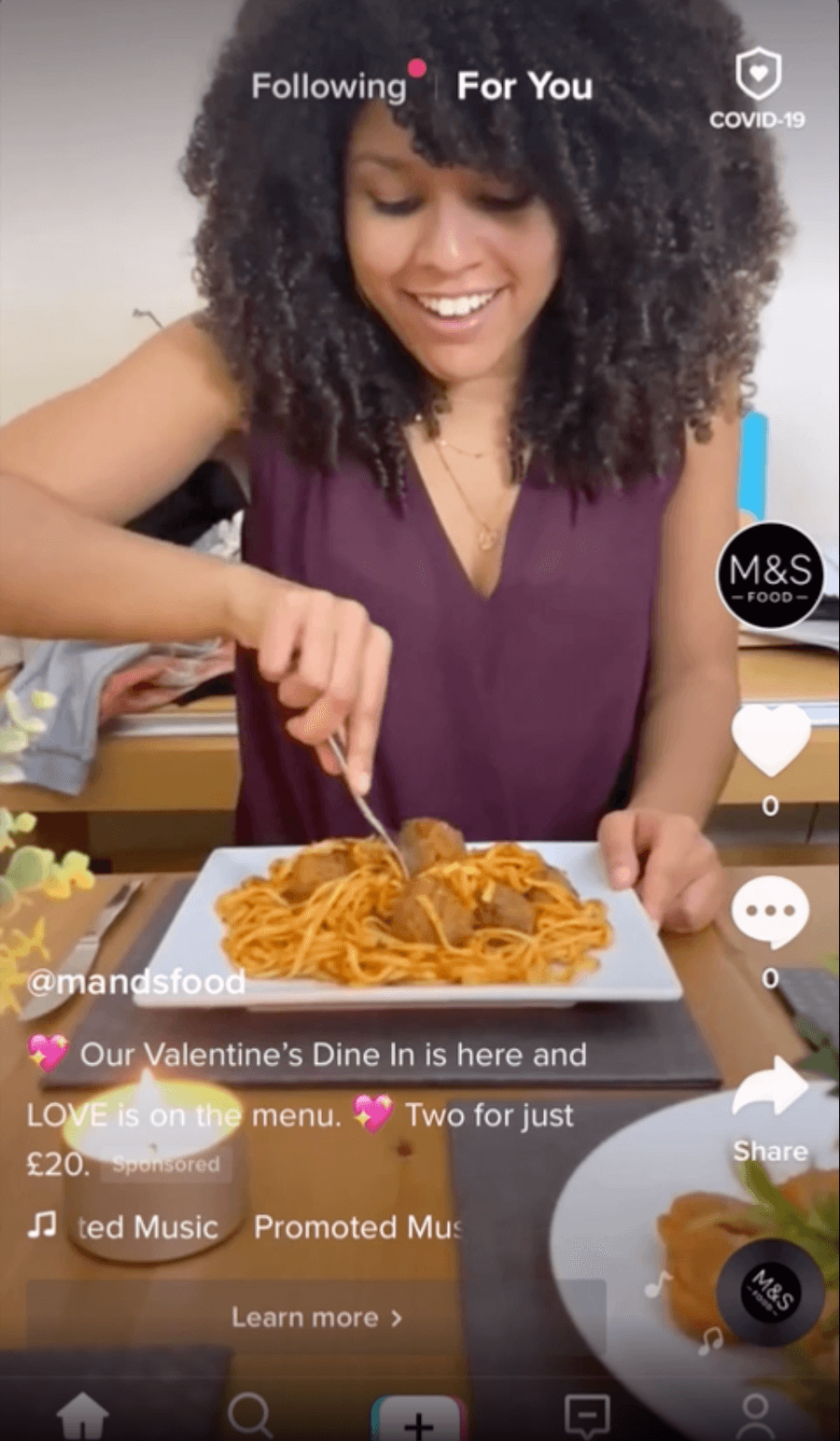 Apart from collaborating with three TikTok influencers, M&S created TopView and In-Feed ads, with CTAs leading to its' product page. The M&S ads performed incredibly well with 18.5 million impressions and a 15%+ click-through rate.
If you intend to run a TikTok Ad campaign on Valentine's Day, contact our experts for more advice or try our new product NestAds to manage your ad in a better way!
Use targeted popups
Whether it's for Black Friday, Christmas, or Valentine's Day, popups are the most effective way to collect high-quality emails on your site without hurting the user experience (provided you're following best practices).
The days leading up to Valentine's Day offer the perfect opportunity to grow your email list with early access, a giveaway, or a discount popup.
If you don't want to promise additional benefits in your email popup—an extra discount code, free shipping, etc.—offering early access to the sale works just fine. Take a closer look at this example for more inspiration.
When it's time for the big Valentine's Day sale, you can then create a promotion popup, guiding visitors to a product giveaway where the sale is happening. It's a great way to create a sense of urgency and increase conversions.
A popup is a must-have especially if you have a dedicated landing page for the sale, or discounting only certain products for Valentine's Day.
Offer fast and free shipping choices
When it comes to gift-giving holidays, timing is everything.
A product or gift received after Valentine's Day will ruin the mood of the buyer. As a result, customers will always be hesitant to click the purchase button because they are concerned about items being delivered on time.
The best method to overcome this obstacle is to specify when your buyers will receive their purchases. For early buyers, indicate on your eCommerce site Valentine's Day delivery timeline or how much time they still have left to place their order and still receive it before the deadline.
Furthermore, higher transportation costs will push them away. You can provide your buyers with free delivery as well as inexpensive, fast shipping options. After all, free delivery is among the most important aspects influencing online shoppers' purchasing decisions.
And if you won't be able to give free delivery pretty much all season, consider making it a limited-time delivery with a sense of desperation.
Let's get inspired by MeUndie, an underwear and loungewear company that targets Gen Z and millennial customers. When you scroll through its email marketing for Valentine, you will see special delivery choices.
All the customers can find any options they want and choose the best times when they want to receive their orders. This way will bring a different brand image: a company that understands customer insight and does everything to get the delivery on time.
Spread love and celebrate Valentine's Day!
We hope that you have found the perfect Valentine's Day marketing ideas for your own business. It's a once-in-a-year occasion so don't miss this opportunity if you aim to get people to remember your brand and win over other big competitors.
And it's highly recommended to combine different ideas to leverage the romantic atmosphere of this special day and quickly see business results. If you still struggle with marketing or advertising plans for Valentine's Day, feel free to contact us for more useful advice!