More and more businesses are using social media for customer service. Via social channels, businesses can easily interact with customers, answer their questions in real-time, and quickly address any complaints or feedback.
In this article, we will show you 5 amazing examples of social media customer service that you can learn from. Let's get started now!
Social customer service is the practice of providing customer support. It is done through social media platforms like Facebook, Twitter, Instagram, and LinkedIn. As an ecommerce store owner, it's important to understand that social media channels are becoming more and more popular as a means of communication for customers to reach out to businesses.
Customers may use social media to ask you questions or report any issues they may have with your products or services. As a ecommerce store owner, you need to monitor your social media accounts regularly, and promptly respond to any customer inquiries or complaints that you receive on these platforms.
By providing social customer service, you can build a stronger relationship with your customers and improve customer satisfaction and retention. Ultimately, this can help you grow your business. It's a way of showing your customers that you care about them and that you're willing to go the extra mile to address their concerns.
So, as an ecommerce store owner, it's important to leverage social media as a platform for customer service and support. Additionally, you should use your other traditional channels like email and phone.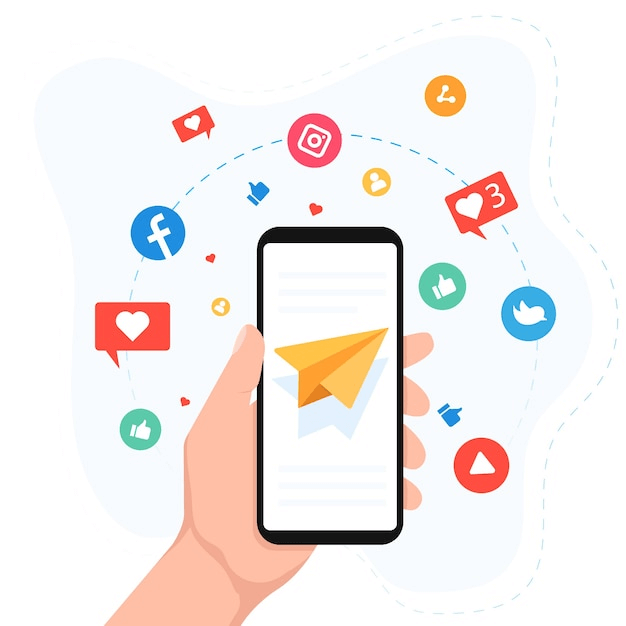 Increased transparency
Social media allows businesses to publicly address customer concerns and showcase their commitment to customer service. Businesses respond to customer inquiries or complaints on social media platforms. Other customers can see these interactions and how the business handles them.
This transparency can build trust and credibility with customers. They see that the business is actively working to resolve issues and improve the customer experience.
Additionally, social media provides a public platform for businesses to address any negative feedback or reviews that they receive.
By responding publicly and transparently, businesses can demonstrate that they take customer concerns seriously and are willing to make changes to address any issues. This can help to mitigate any negative impact on the business's reputation and maintain customer loyalty.
Reputation management
Social media provides a public platform for customers to voice their opinions and experiences with a brand. These opinions and experiences can be either positive or negative. As a result, it is important for businesses to monitor and respond to customer feedback on social media in a timely and effective manner.
By addressing negative feedback and complaints publicly, businesses can demonstrate their commitment to customer service and their willingness to resolve issues. This can help to build trust and credibility with customers and potentially turn a negative experience into a positive one.
Moreover, social media allows businesses to track and analyze their online reputation by monitoring metrics such as customer sentiment, engagement rates, and share of voice. By tracking these metrics, businesses can identify areas where they need to improve their customer service and take proactive steps to address issues before they escalate.
Data collection
Social media customer service provides businesses with a wealth of data that can be used to improve their products, services, and overall customer experience.
When customers interact with businesses on social media, they often share information about their preferences, needs, and behaviors. This information can be used to identify trends and patterns, and to better understand customer needs and preferences.
For example, businesses can use social media data to identify which products or services are most popular among their customers, which features are most important to them, and which pain points they are experiencing. This information can then be used to improve products and services, and to develop targeted marketing campaigns that resonate with customers.
In addition, social media data can also be used to monitor customer sentiment and to identify potential issues or crises before they become widespread. By monitoring social media channels, businesses can quickly identify customer complaints or negative feedback and take steps to address them before they escalate.
Improve customer satisfaction
Social media allows businesses to quickly and effectively address customer concerns and provide solutions to problems. Social media platforms such as Twitter, Facebook, and Instagram allow customers to reach out to businesses directly with questions, feedback, or complaints, and businesses can respond in real-time.
This level of accessibility and responsiveness can lead to increased customer satisfaction, as customers feel heard and valued by the business. When businesses respond quickly and helpfully to customer inquiries or issues, it can also demonstrate a commitment to providing good customer service, which can improve customers' perception of the brand overall.
Moreover, social media provides an open and transparent platform for customer service interactions. When businesses respond publicly to customer queries or complaints, other customers can see how the business handles customer issues, which can build trust and credibility.
Increased accessibility
Unlike traditional customer service channels such as phone or email, social media is always available and can be accessed from any device with an internet connection. This means that customers can contact businesses outside of normal business hours and from any location, making it more convenient for them to get the help they need.
In addition, social media platforms allow customers to connect with businesses through various channels such as direct messages, comments, and mentions, providing them with multiple options to communicate with businesses. This can help customers choose the channel that they are most comfortable with and can easily access.
5 Social media customer service examples
Starbuck
Starbucks' social team was able to observe a tweet from a consumer by using social media monitoring techniques such as social listening to find out brand keywords.
In this scenario, a customer tweeted about a positive Starbucks experience. The brand stepped in and used empathy, one of the most powerful techniques, to connect with the customer's emotions. In response, the client applauded the brand for providing an exceptional experience.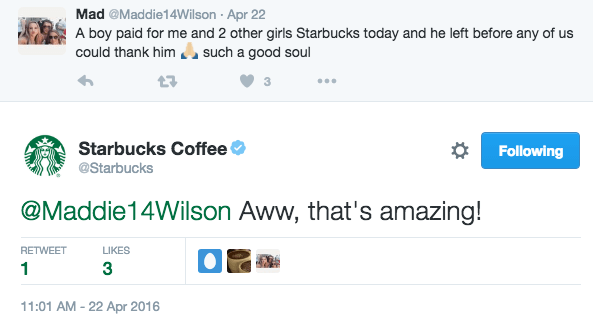 What you can learn from Starbucks
Always showing a friendly attitude towards your customers is a must. Giving customers what they want before they complain about it will keep making their customers come back for more.
Zappos
Everyone uses social media to post their concerns and seek advice. Responding and finding solutions is a critical issue that all brands must address.
With the fast and effective response to customer queries, Zappos is credited for providing speedy support on social media. This is a significant role that customer support software plays in providing quick responses. This software not only syncs with your social platforms but also generates a smooth, structured flow for you and your support team to manage.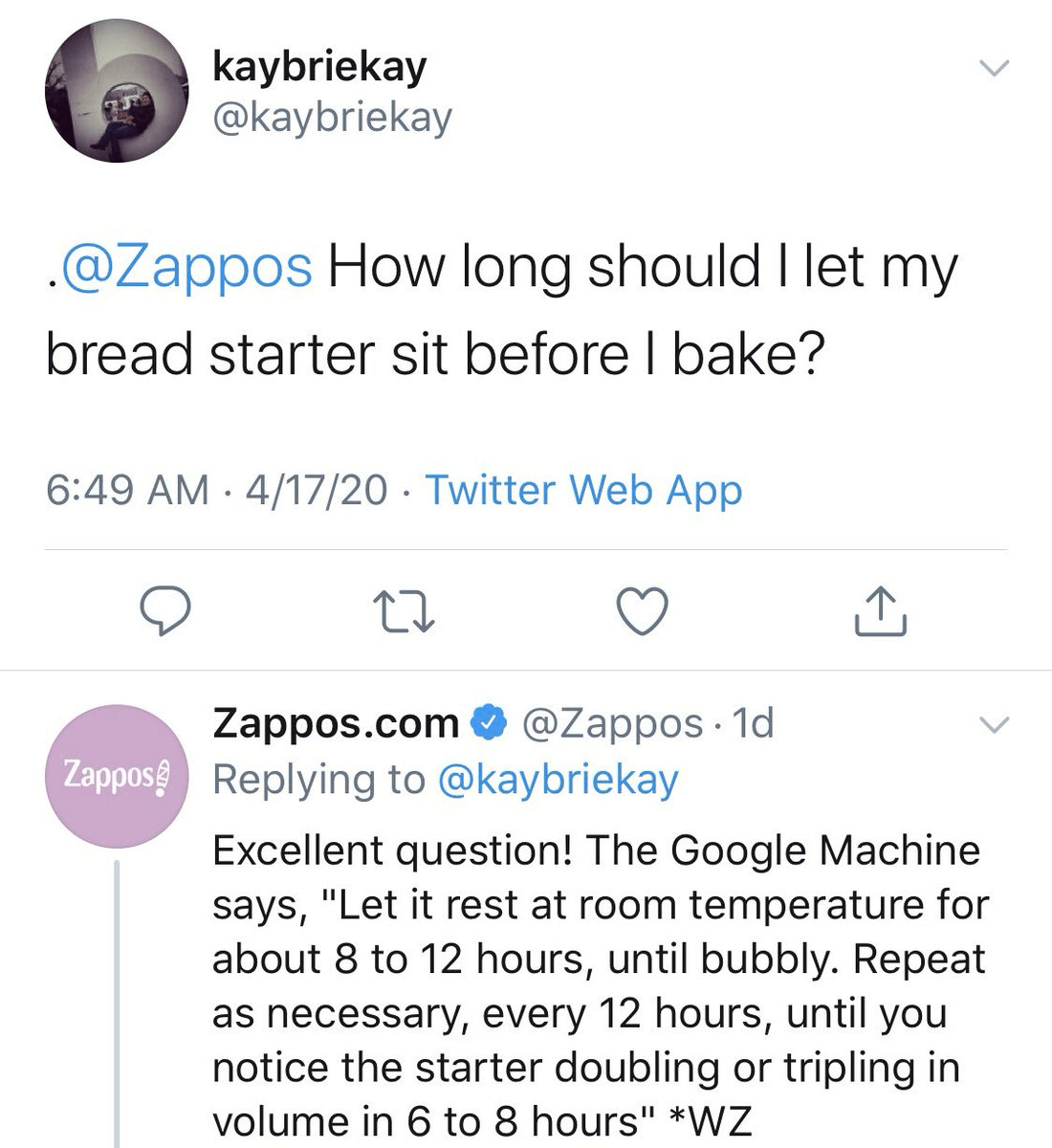 What you can learn from Zappos
Responding quickly and effectively is the main factor to make your brand stand out among other platforms. In order to do that, use the right software to make things easier.
Spotify
Spotify is one of the very few brands that has won an award (a Webbys) for its excellent social media customer support.
If a customer complains on Twitter, the corporation has a specific customer support handle that responds swiftly.
Spotify is also defined as an excellent customer support agent when including a link to an appreciated song after solving a customer's problems.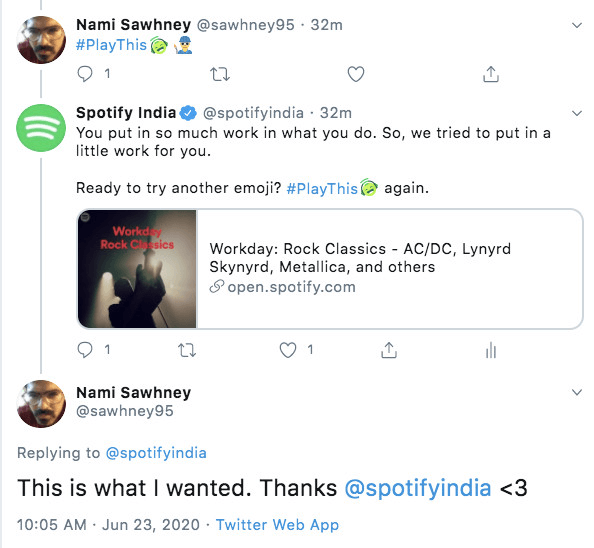 What we can learn from Spotify:
A good customer service agent is a person that converts negative experiences into positive ones. Spotify excels at this as they give fast and effective responses to customers. This gives Spotify leverage to steer the exchange positively after solving the customer's issue.
Netflix
One of Twitter's most popular brands. The organization has a proven track record of offering excellent customer service and interactions.
The company is super friendly and responsive as their social team knows how to speak in their customer's language.
Jokes, memes, and so on are something that we can see a lot on social media. Capturing this trend, their social media strategy is built around it.
The result? Netflix is so successful in attracting people's attention and making the company appeal even more.
What we can learn from Netflix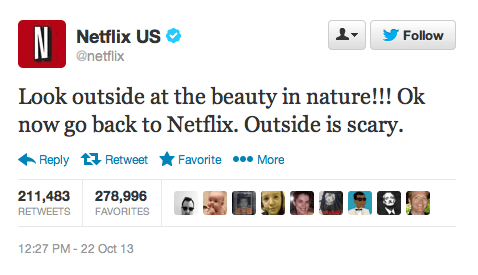 Their style of being witty, humorous, and brilliant may not be appropriate for every brand. However, being aware of current trends will assist you in capturing potential clients and providing new ideas for promoting your company.
Nike
When it comes to social media, Nike is unparalleled. The brand is not only good at social marketing but also at social customer service.
Their Twitter customer service handle (@NikeService) provides assistance seven days a week in seven languages (English, French, Spanish, Dutch, Italian, Japanese & German).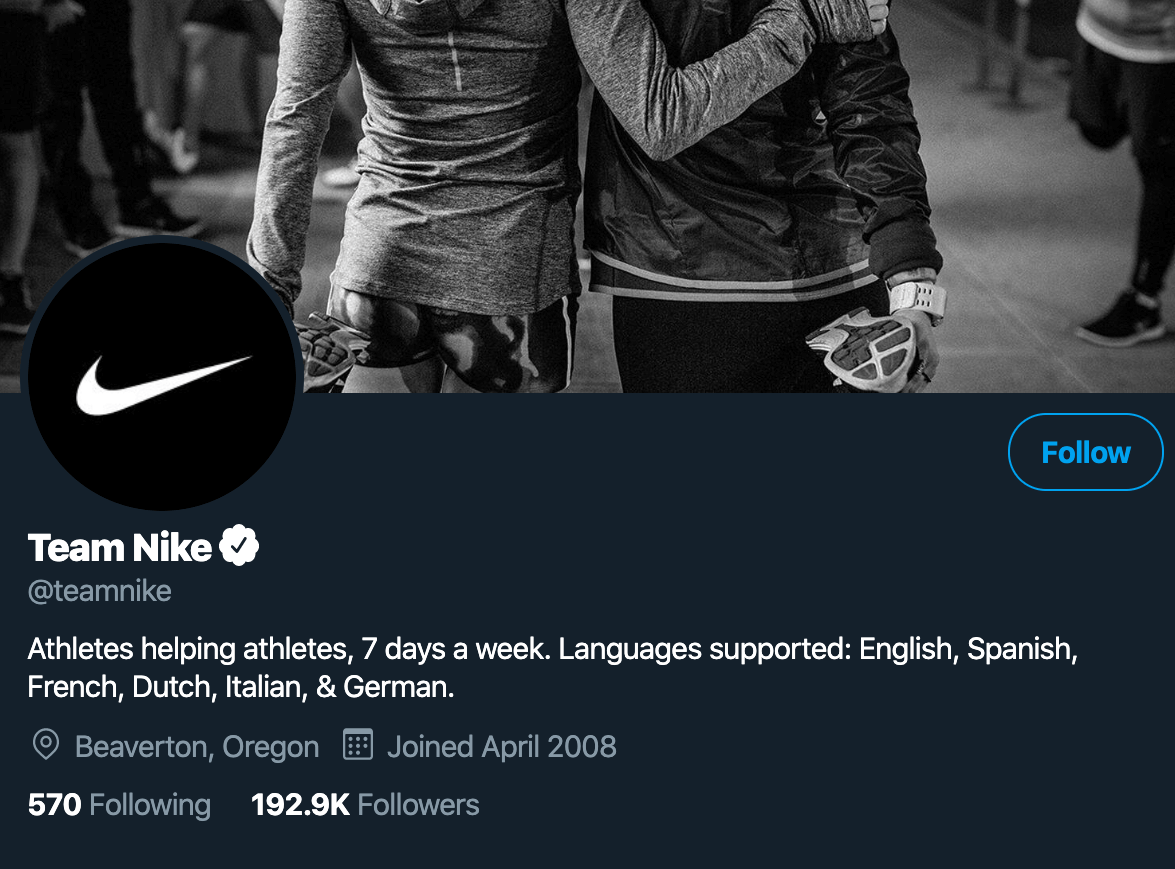 With empathic words and the way they address customers' complaints about their brand, Nike always ensures the customer feels heard and the issue is resolved as quickly as possible.
They also have a private medium such as Twitter DMs which resolve customer complaints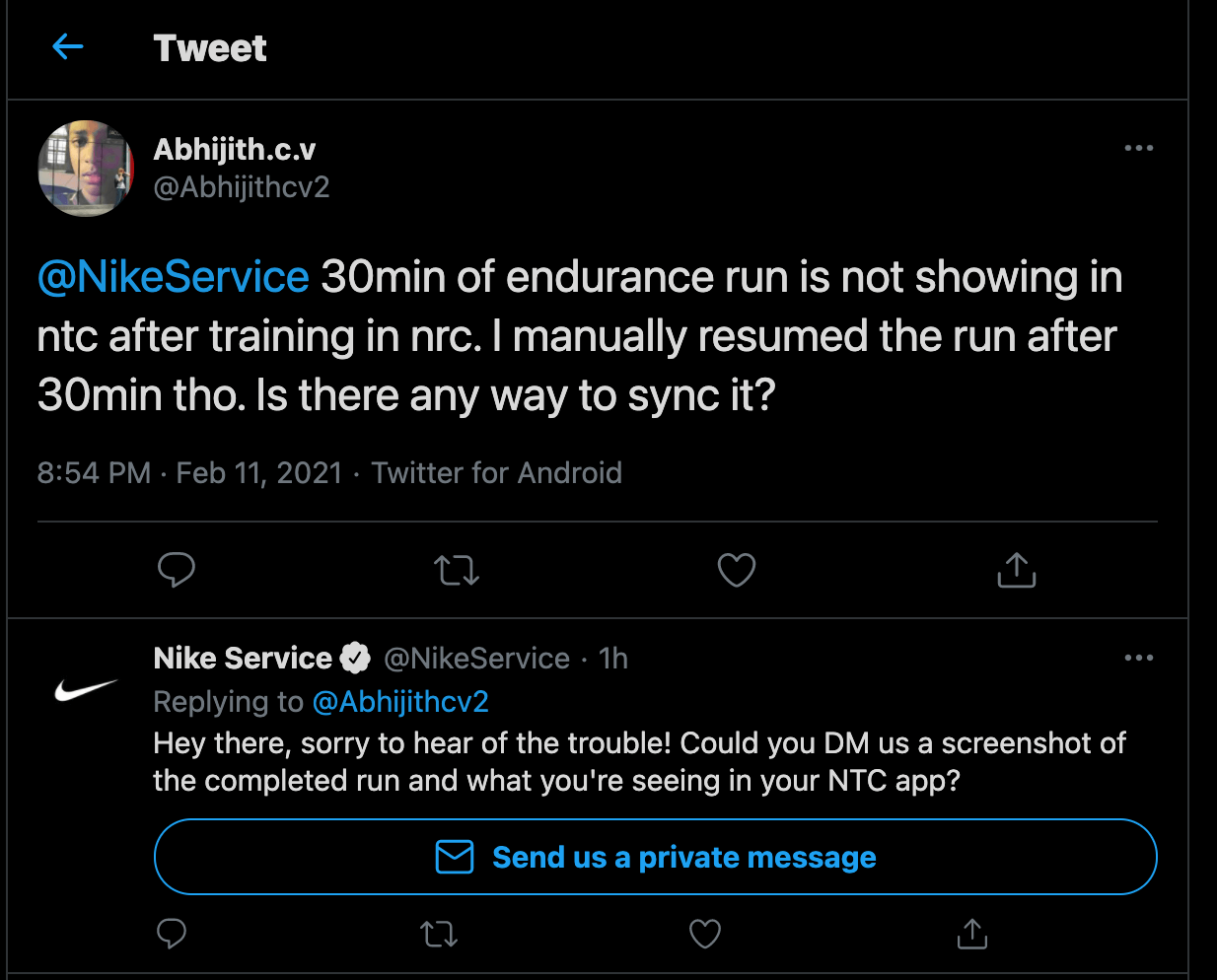 What we can learn from Nike
Customers that are irritable and frustrated can poison your brand's image. Shifting the interaction to a more private medium minimizes public fallout and allows your company to appear pleasant in the minds of customers.
Wrap up
Many people think that only these big brands can use social media customer service; however, that is not the case now.
Using an omnichannel customer service app like NestDesk, you can centralize both social channels & traditional channels in one dashboard.
NestDesk enables you to track all messages, including awaiting messages and assigned and unassigned messages right on one intuitive panel. No worry about missing any conversation, you will get a notification when a new message arrives. This way you can easily keep up with incoming chats and respond to customers in real-time