Exploring the digital landscape for your online store can be a maze of confusion, especially when it comes to tools like Google Analytics 4 (GA4) and their integration with platforms like Shopify. But don't worry, because, in this blog, we've crafted a detailed roadmap just for you. Our content is packed with insights, starting from unraveling the complexities of GA4 to explaining why it's a game-changer for your Shopify store. We'll guide you through the process, step by step, making sure you understand the 'whys' and 'hows' about Shopify GA4 set up. Think of this blog as your friendly companion on the journey to mastering GA4 and maximizing your online business potential. 
So, let's dive into this adventure together, demystifying GA4 and empowering your Shopify store!
Understanding about GA4
Google Analytics 4 (GA4) is a crucial tool for e-commerce stores by offering advanced tracking features that assist merchants in effectively managing their businesses. To grasp why setting up GA4 on Shopify is essential, let's delve into what GA4 is.
GA4 is a cross-platform analytics tool that allows you to track site visitors and monitor key user behavior metrics. It provides a comprehensive view of user behavior by allowing you to monitor visitors on both websites and apps.
GA4's standout feature is Funnel Exploration, which tracks the exact steps users take before making a purchase. This detailed insight helps you evaluate how effectively users follow the conversion process, providing a deeper understanding of customer behavior, and making it invaluable for businesses aiming to enhance their online presence.
Why do we need a Shopify GA4 set up? 
Connecting GA4 with Shopify is a must-do for your online store. Why? Because the older version, Universal Analytics (UA), retired on July 1, 2023. If you want to keep analyzing your business data using Google Analytics, GA4 is your only choice now.
Shopify also removed UA from its dashboard. But no worries, they introduced the Google Channel App to help you smoothly link your Shopify store with GA4.
Here's why you should set up GA4 on Shopify:
Customized Reports
GA4 lets you create customized reports. You can dive deep into your business data and customer behavior, getting insights tailored just for your store.
Detailed E-commerce Tracking
GA4 offers enhanced analytics. You can track how users interact with your website using various metrics. This detailed tracking helps you understand what products or services are popular among your customers.
Unified Web+App Tracking
GA4 merges web and app data into one platform. This means you can monitor your website and mobile app in a single place, making it easier to manage your online presence.
Sales Predictions
GA4 uses Machine Learning to predict future sales trends based on your past data. This predictive analysis helps you plan your inventory and marketing strategies effectively.
Now, we can say that setting up GA4 on Shopify ensures you have the latest tools to understand your customers and boost your sales. Don't miss out – integrate GA4 with Shopify now to keep your business ahead of the game!
How to set up GA4 in Shopify?
In this guide, I'm assuming you've already set up your Google Analytics 4 property. To link Google Analytics 4 with Shopify, first, create a Google Analytics 4 property in your account. So let's begin with 'Login' to your Shopify admin and follow these steps to integrate Google Analytics 4 with Shopify:
Step 1: Install the Google Channel App on Shopify
Shopify removed the Google Analytics section in Online Store > Preferences due to the phasing out of Universal Analytics. To connect Google Analytics 4 to Shopify, you need to install the Google Channel App. Here's how:
In your Shopify admin, navigate to Sales Channel > Online Store > Preferences
Then, take a look at the Google Analytics section on your screen, and click on the Google Channel App mentioned in the yellow notice section.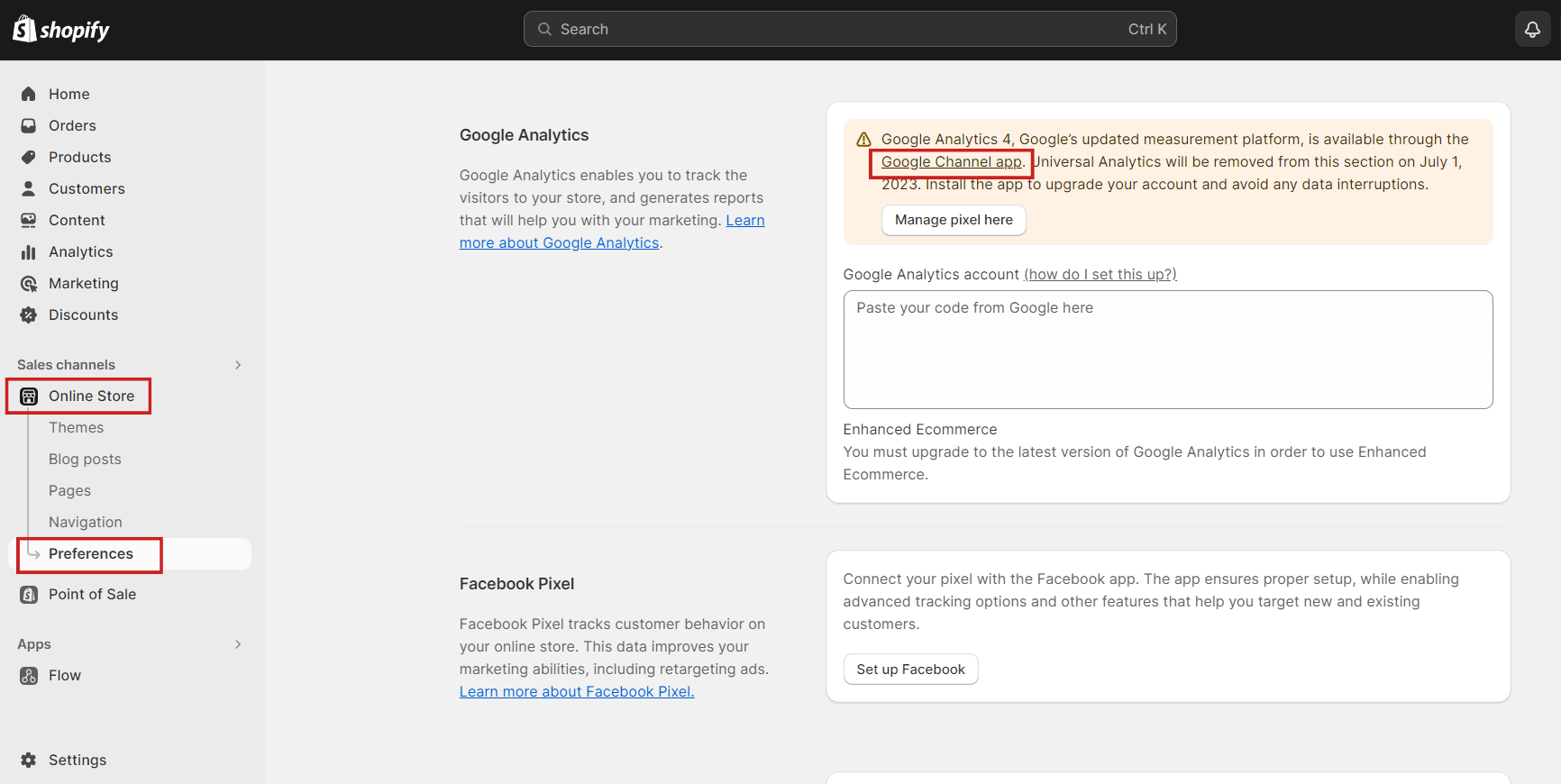 Click the Sale channel button on the next screen to install the app. This will add the Google sales channel to Shopify, facilitating the GA4 connection.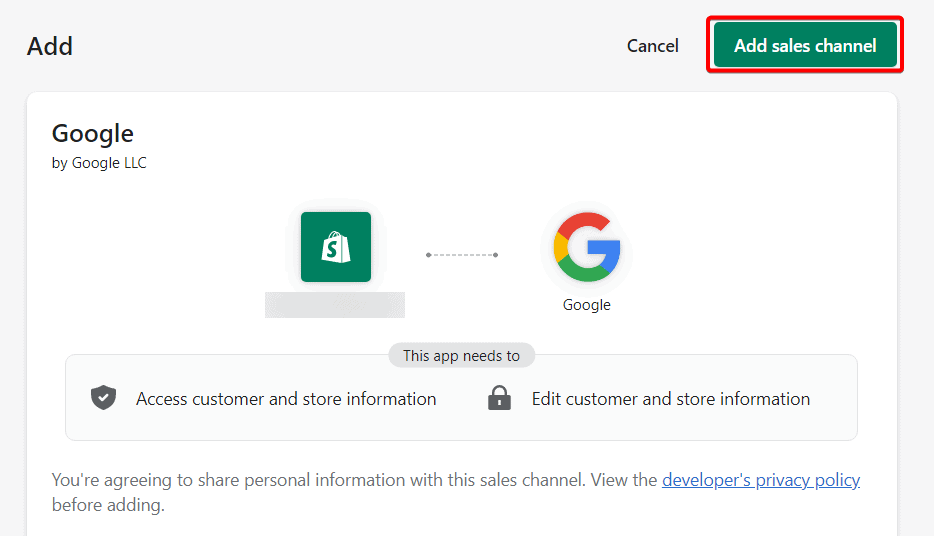 Step 2: Connect Your Google Account
Once you've installed the Google Channel app, the next step is to link your Google account with Shopify to set up the GA4 property. Head to Sales channels > Google, and click the Connect button to establish the connection between your Google account and Shopify.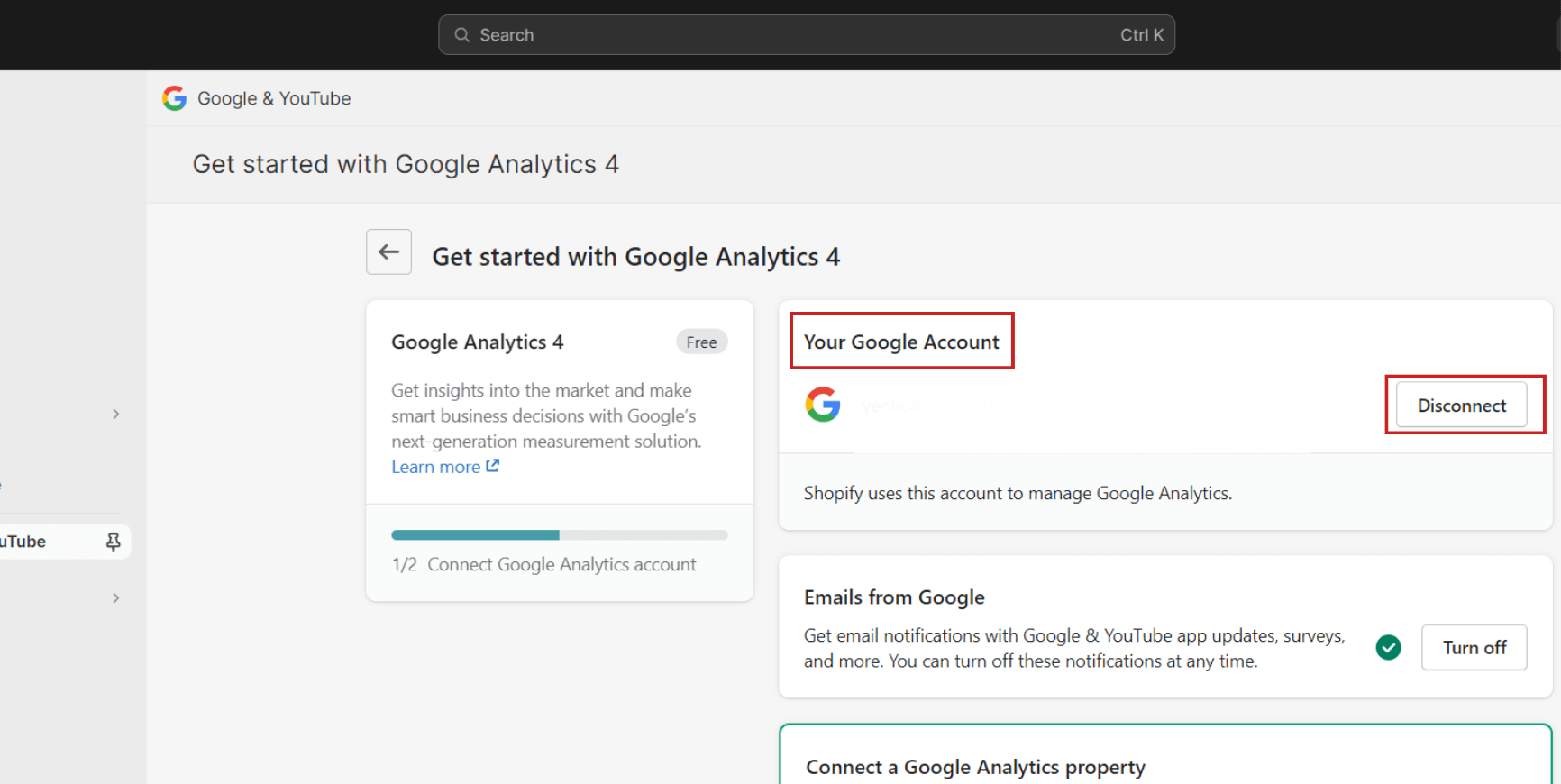 Finish this step to help you connect your Google account to the Shopify store. If you've already connected the Shopify app with your Google account, you'll see the Disconnect button instead.
Step 3: Choose Google Analytics 4 Property
At last, it's time to link your Google Analytics 4 property with Shopify. If you have several GA4 properties, you can choose a specific one from the dropdown menu in the Connect a Google Analytics property section. 
Select your GA4 property and click Connect.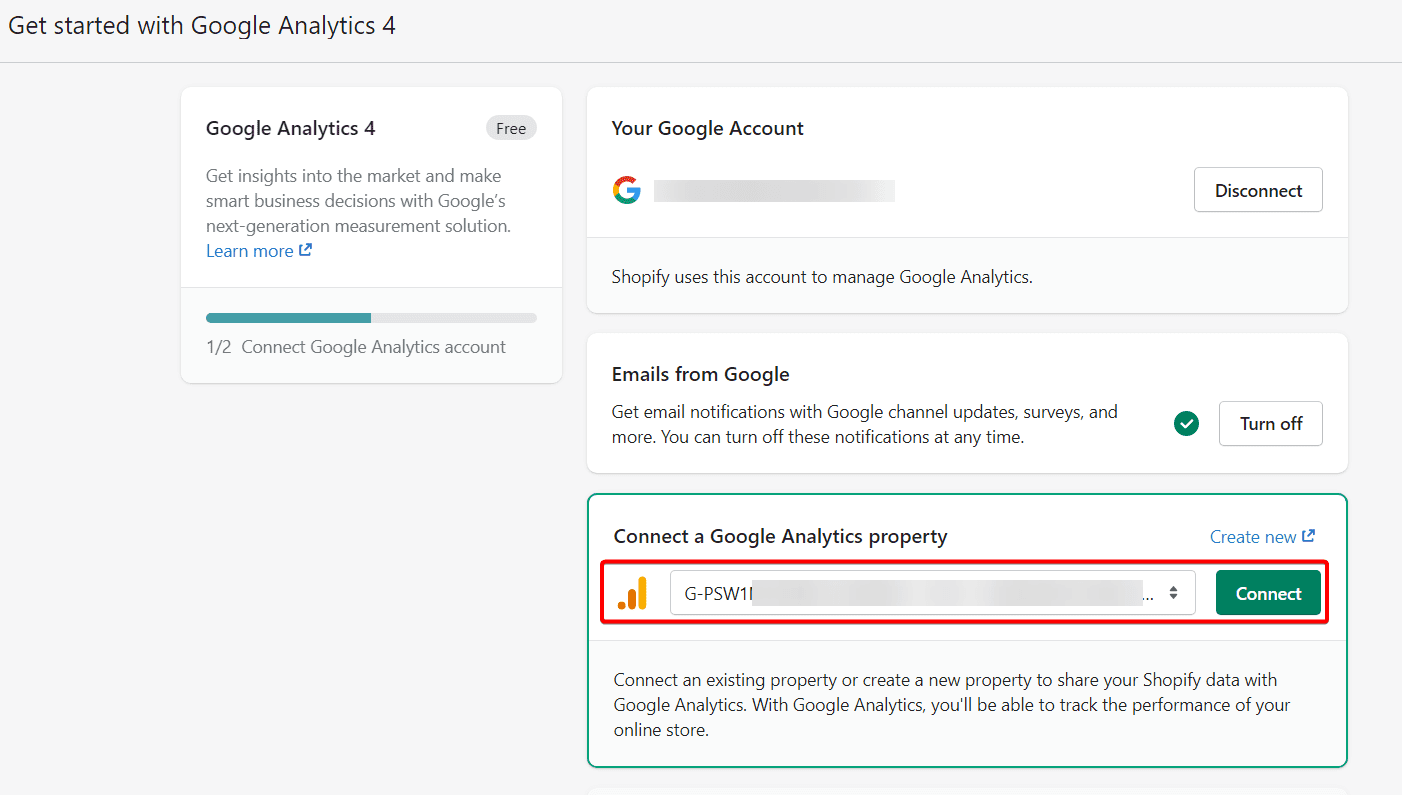 Once you've selected your GA4 property, it will be connected to your Shopify store. You can view the details of the connected property under the Your Google Analytics property section with the text "You're successfully set up Google Analytics 4".
Step 4: Don't Forget to Verify Your Connection
Keep in mind, that it might take 24 to 48 hours for your new GA4 setup to process data from your Shopify store. To confirm the connection, you can check the Realtime reports or use the debug view. Navigate to Admin > Debug View in the left navigation to monitor real-time events.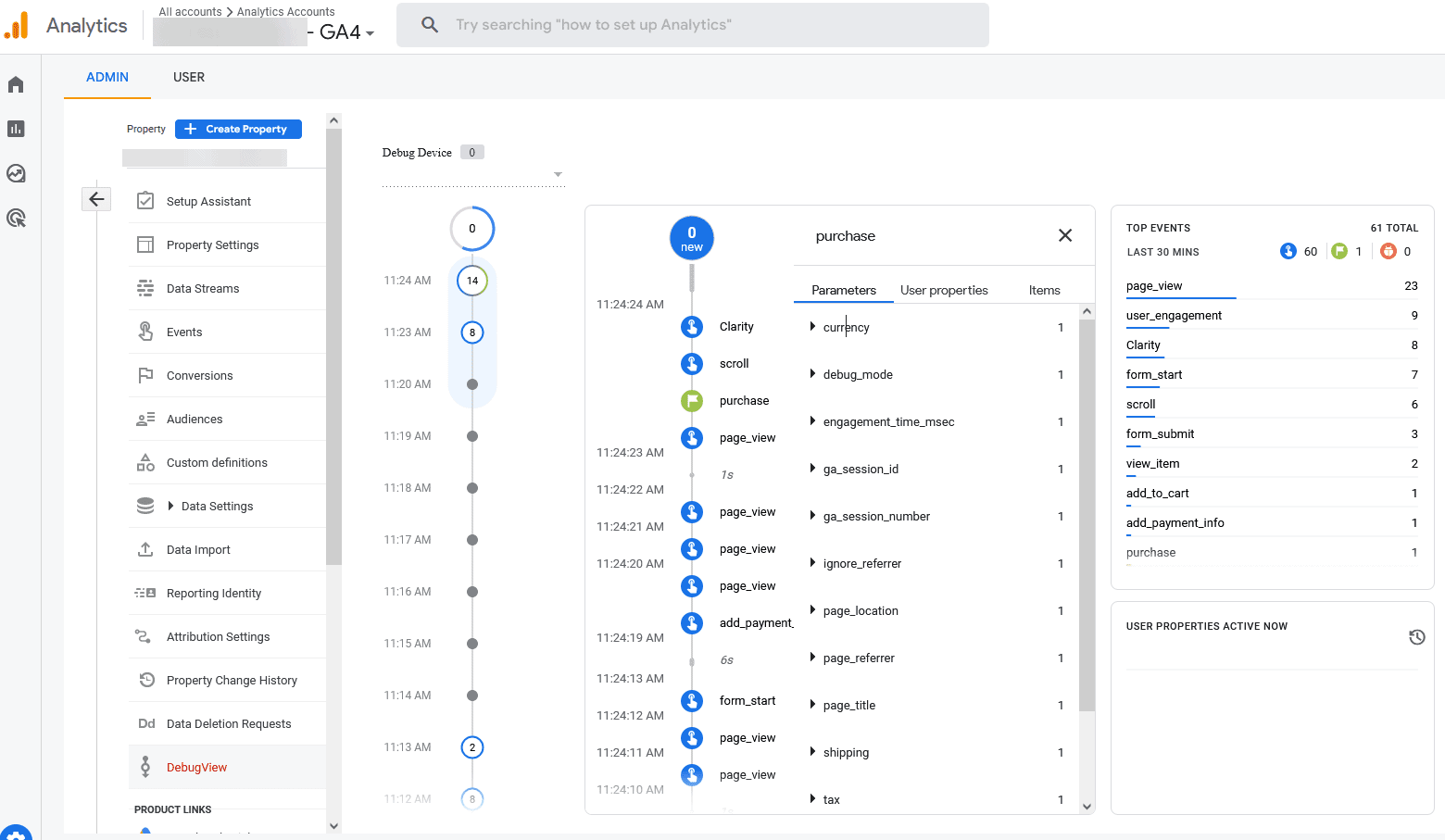 These steps ensure that your GA4 integration is functioning effectively, allowing you to gain valuable insights into your online store's performance and customer behavior.
Is there a better way to track your data on Shopify?
After having covered most grounds about Shopify GA4 setup, we already know that despite the numerous advantages offered by Google Analytics 4 (GA4), its usability drawbacks cannot be ignored.
Complex Setup Challenges
Setup process complexity poses challenges, particularly for users unfamiliar with GA4.
Prone to misconfigurations, impacting the accuracy of the collected data.
Steep Learning Curve
Transition necessitates adapting to a new interface, demanding significant time and effort.
Additional training is needed for store owners and teams due to GA4's intricate nature.
Inconsistent Data and Confusion
Discrepancies between GA4 and Shopify's analytics create inconsistencies in data.
Inconsistent data sources lead to confusion, affecting reliable decision-making.
Integration Issues and Disrupted Data Flow
Potential compatibility problems when integrating GA4 with third-party tools.
Disruptions in data flow affect data accuracy, impacting insights and optimizations.
But fear not, NestAds is here to offer a streamlined solution.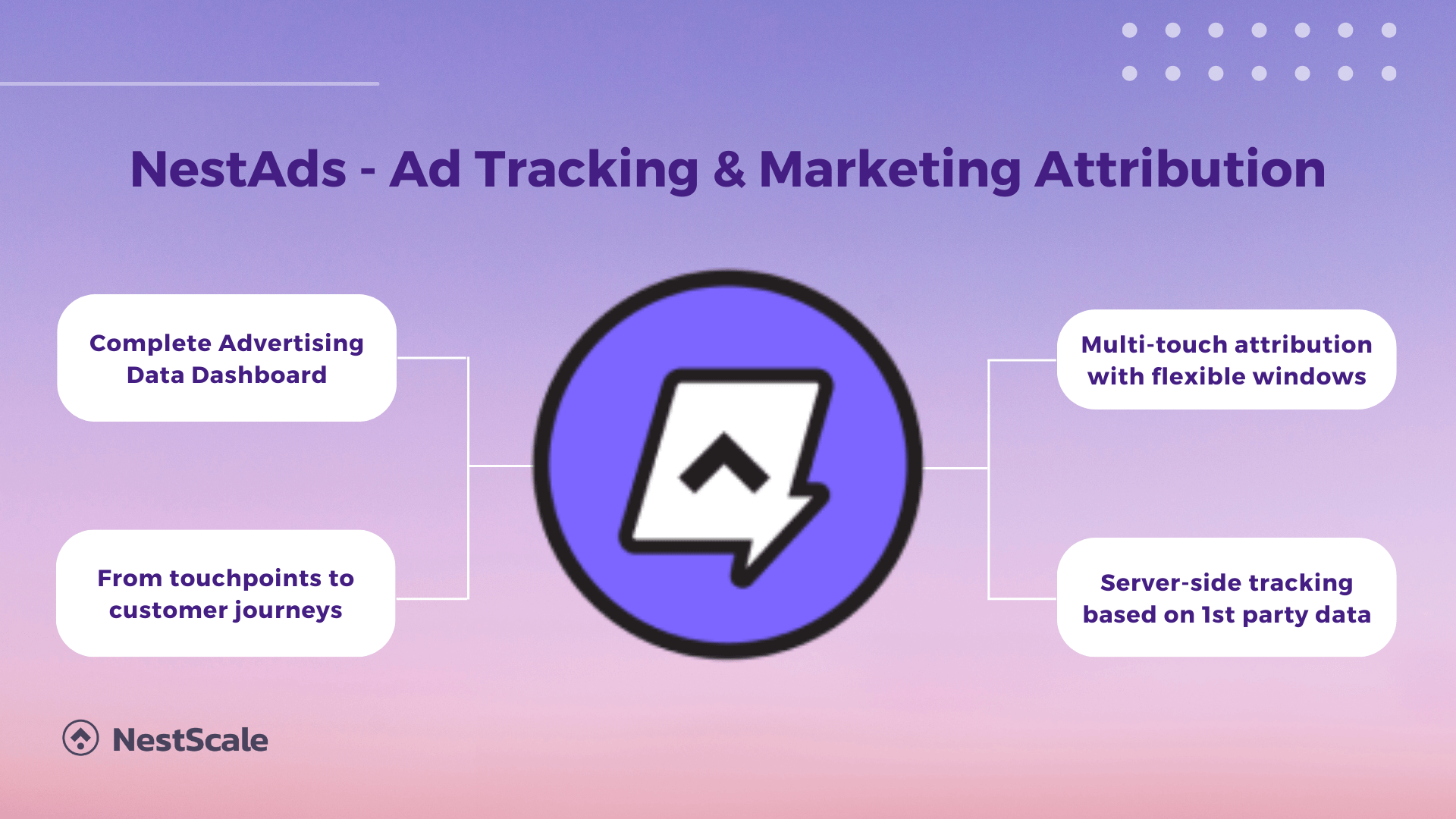 NestAds integrates seamlessly with platforms like Shopify, ensuring businesses receive accurate data in real-time without the confusion of complex menus or long waiting times. It also protects user privacy and handles technical challenges well. By choosing NestAds, businesses can leave behind the complications of GA4 and easily improve their Shopify campaign tracking.
It's time to step up your online strategies with NestAds by your side!