Are you looking to boost your e-commerce business by gathering valuable feedback from your customers? Well, look no further! In this blog, we'll show you how to set up an automated Shopify product review email.
We'll guide you through the steps of creating your own custom review request email, and offer some tips and best practices to increase the chances of getting more reviews. So, let's get started!
What is a Shopify product review email?
If you're running an e-commerce store, it's really important to get feedback from your customers. One way to do that is by sending them an email after they've bought something from you, asking them to review the product they purchased.
The product review email usually includes a friendly message thanking the customer for their purchase and asking them to share their thoughts on the product. You can include a link to a review form where they can rate the product, leave a comment, and maybe even upload a photo or video.
Getting reviews from customers is really important because it helps you understand what people like and don't like about your products. You can use that information to make improvements, add new features, or even develop new products that people will love.
Does Shopify send product review emails automatically?
In response to the question of whether or not Shopify sends product review emails automatically, the answer is no. Shopify does not have a built-in feature that sends product review emails to customers automatically after they have made a purchase.
However, there are third-party applications available on the Shopify App Store that can help with this. One such application is NestSend, which can be integrated into your Shopify store to automate the process of sending review requests to customers after they have received their products.
With NestSend, you can customize the content and timing of these review requests to suit your needs and preferences, making it easy to gather valuable feedback from your customers and improve your business accordingly.
Set up & customize your product review automation email
Step 1: Install NestSend
NestSend can easily be found on Shopify App Store, just search "NestSend". Nevertheless, we understand that your time is valuable. Hence, we have prepared a button that leads you directly to the app.
After you have added the app, just click "Install app" to continue
Once you click "Install app," the next step is to either create a NestScale account or log in if you already have one. Keep in mind that having a NestScale account grants you access to their extensive app ecosystem, which can simplify the management of your e-commerce business.
Step 2: Access to Automation Flow
Your next step is to navigate to the left-hand side of the screen to locate the "Automation Flow" section, and then select the "Create Automation Flow" option, which can be found on the third tab.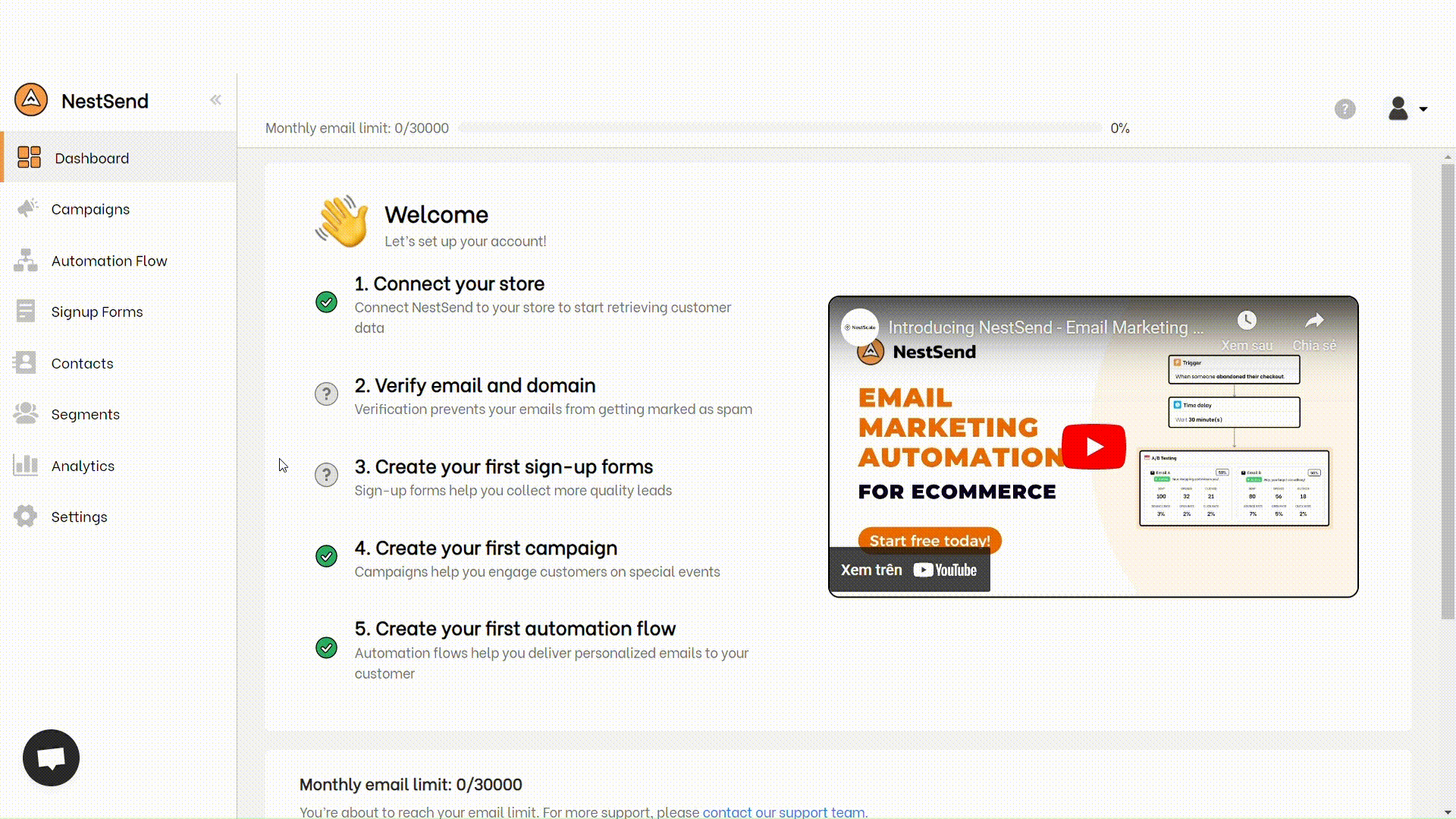 Step 3: Create your product review email flow
At this point, you have two options. You can either save time by selecting a pre-built flow, or you can create your own. If you choose the former, simply proceed to step 5.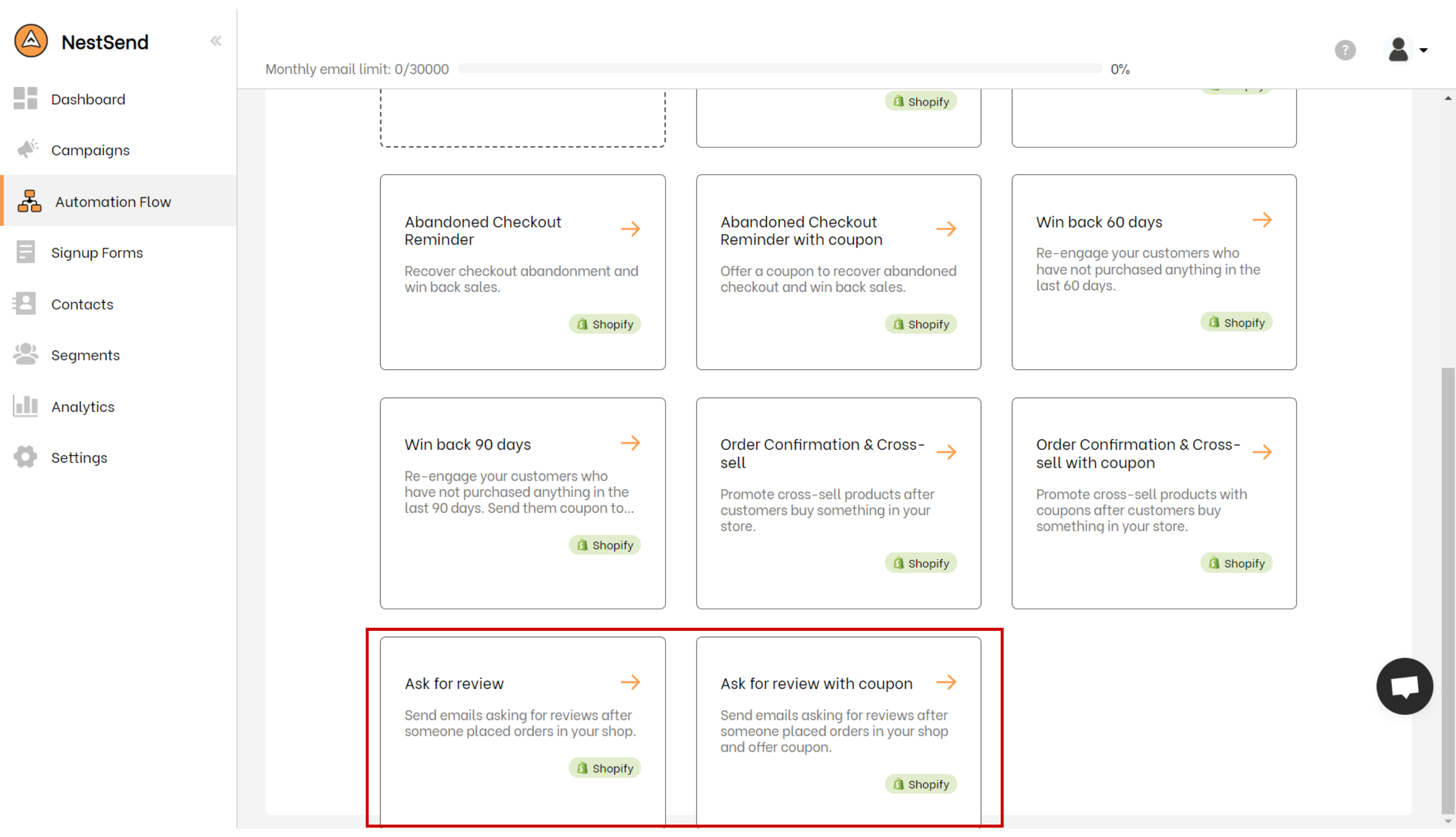 Step 4: Set up when you want to send your product review emails
After gathering all the necessary information, the next crucial step in building your workflow from scratch is to establish a trigger node, which serves as the starting point and determines when the process should begin.
In this case, you'll need to select the "When someone places an order" trigger option.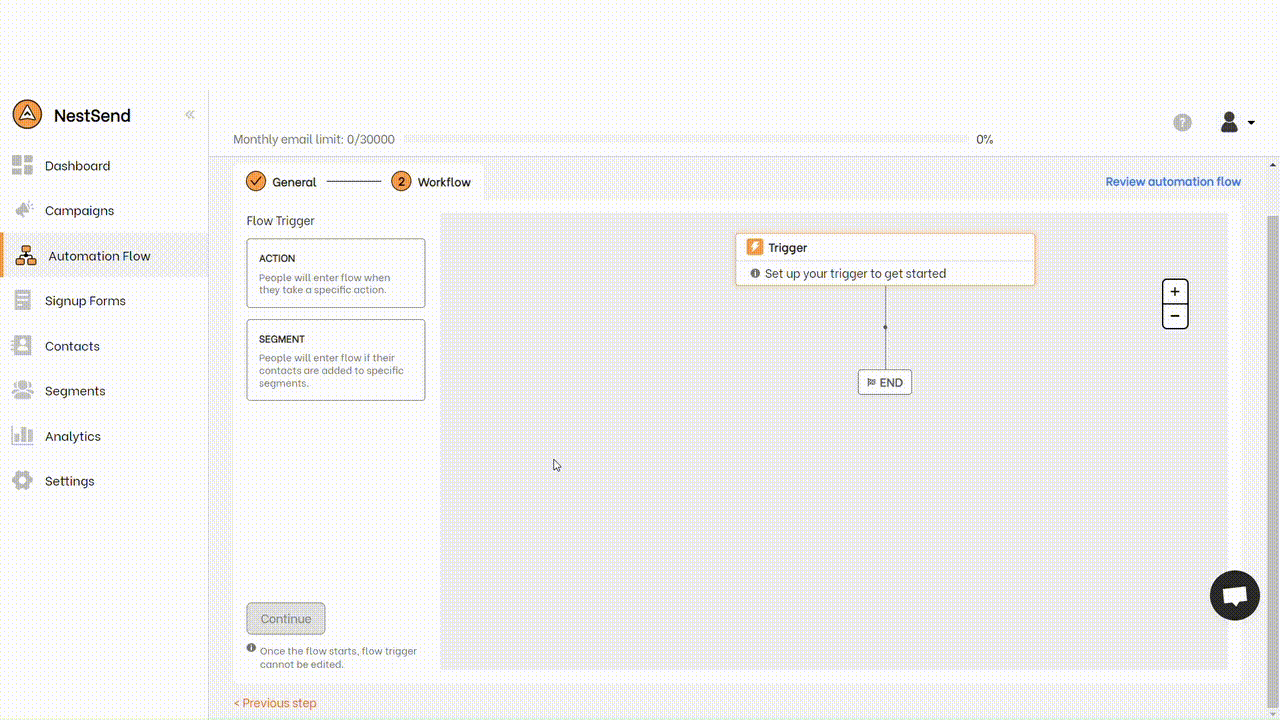 You can decide how long to wait before sending your product review email by adding a time delay node.
Pro tip: Try A/B testing feature to figure out what is the best performance sending time.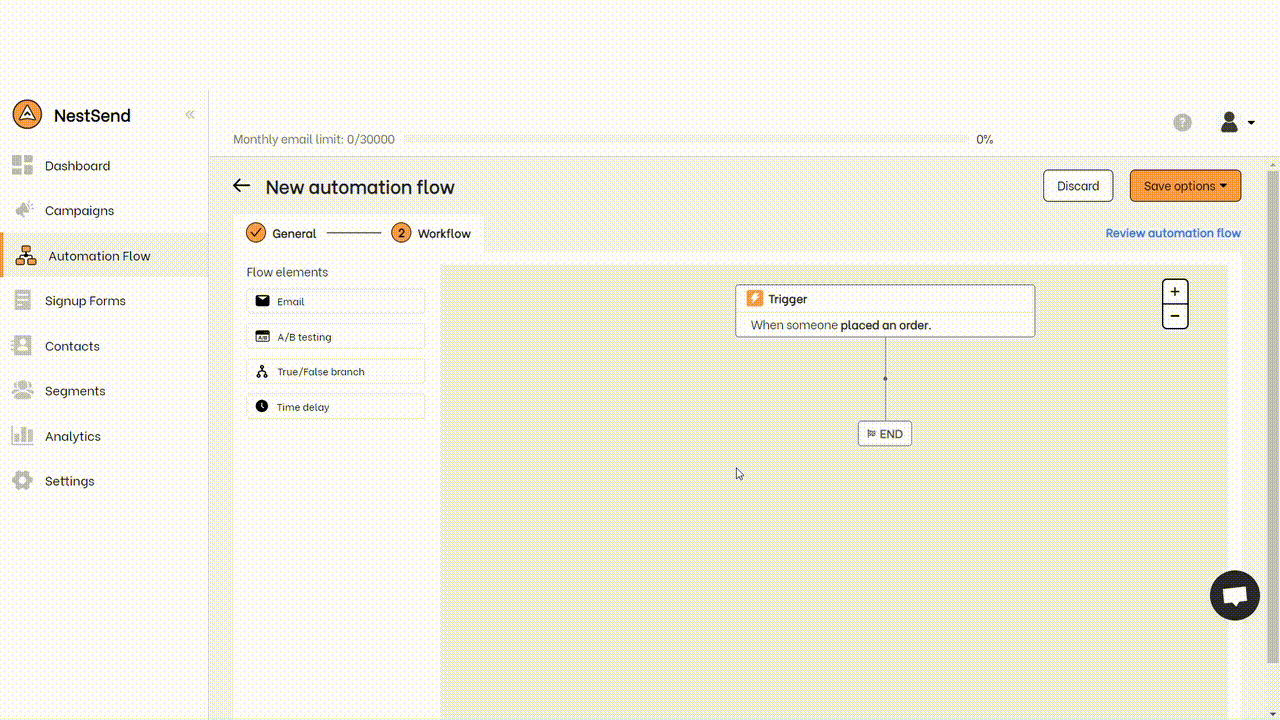 The next step is to add an email node in your automated flow.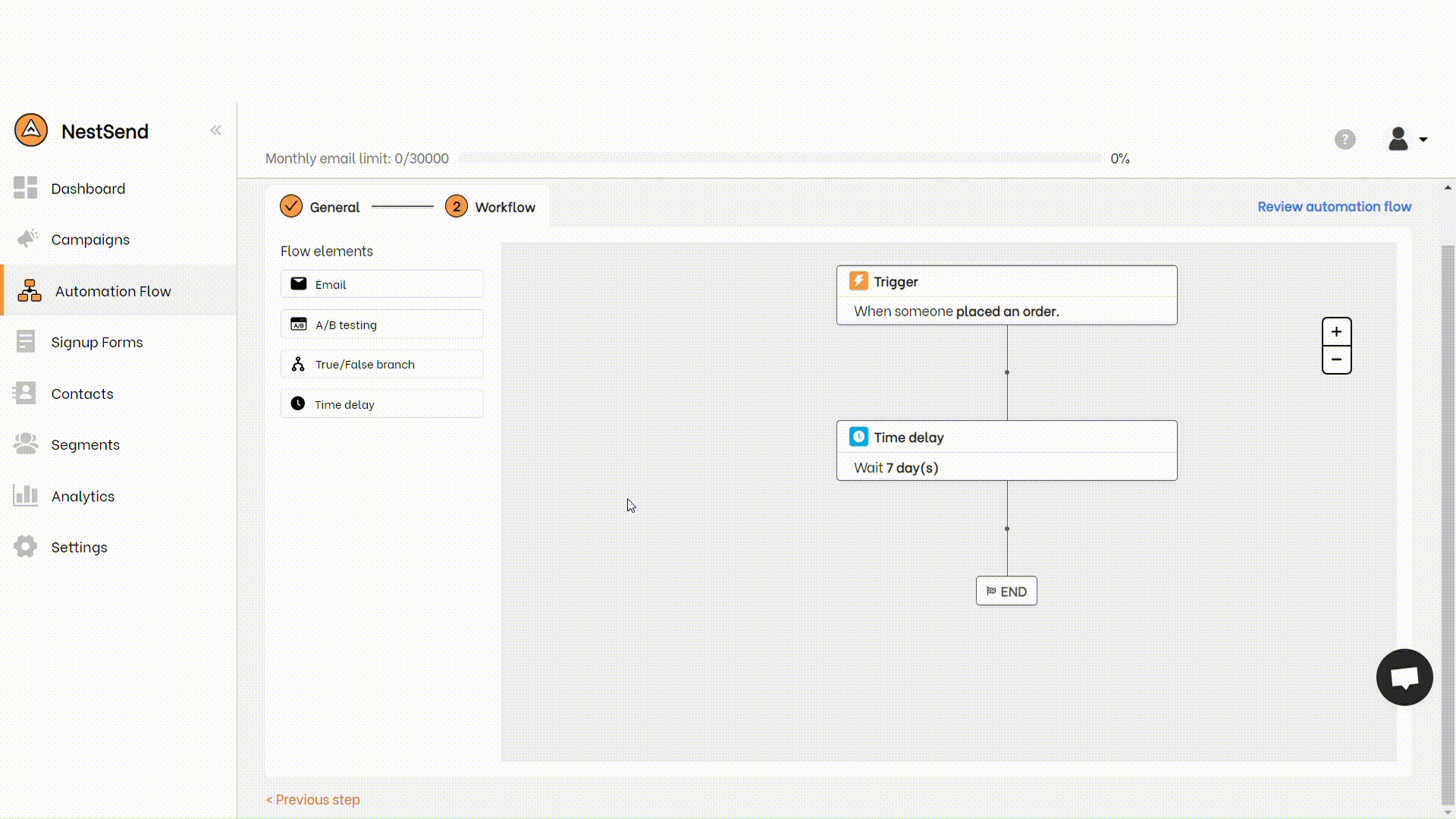 Step 5: Customize your product review email
It's time for you to create an email that stands out! With NestSend's email editor, you'll have access to a variety of features and components to assist you in creating an email that is both visually appealing and efficient. You are free to modify your product review email in any way you see fit, without any limitations.
With NestSend's email editor, you can effortlessly add eye-catching graphics, personalize your message, and experiment with various fonts and colors to create an email that genuinely reflects your brand.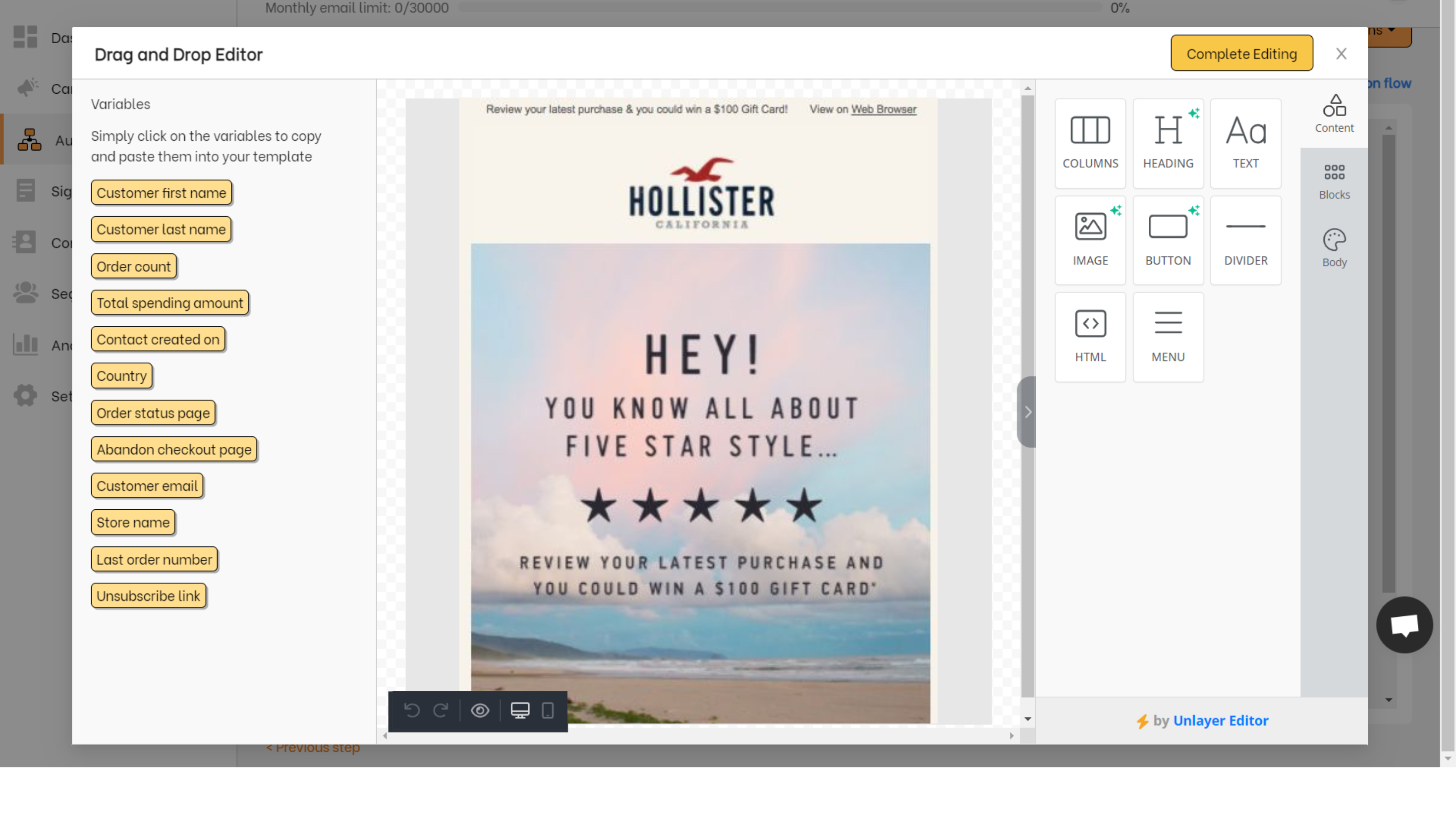 Step 6: Further customize your product review email automation flow
As a matter of fact, just sending one email might not be enough to get them to actually write a review. That's why it's a good idea to further customize your email automation flow and send follow-up emails.
These can remind customers to leave a review, offer incentives to do so, and show them that you value their feedback. By doing this, you'll increase your chances of getting more reviews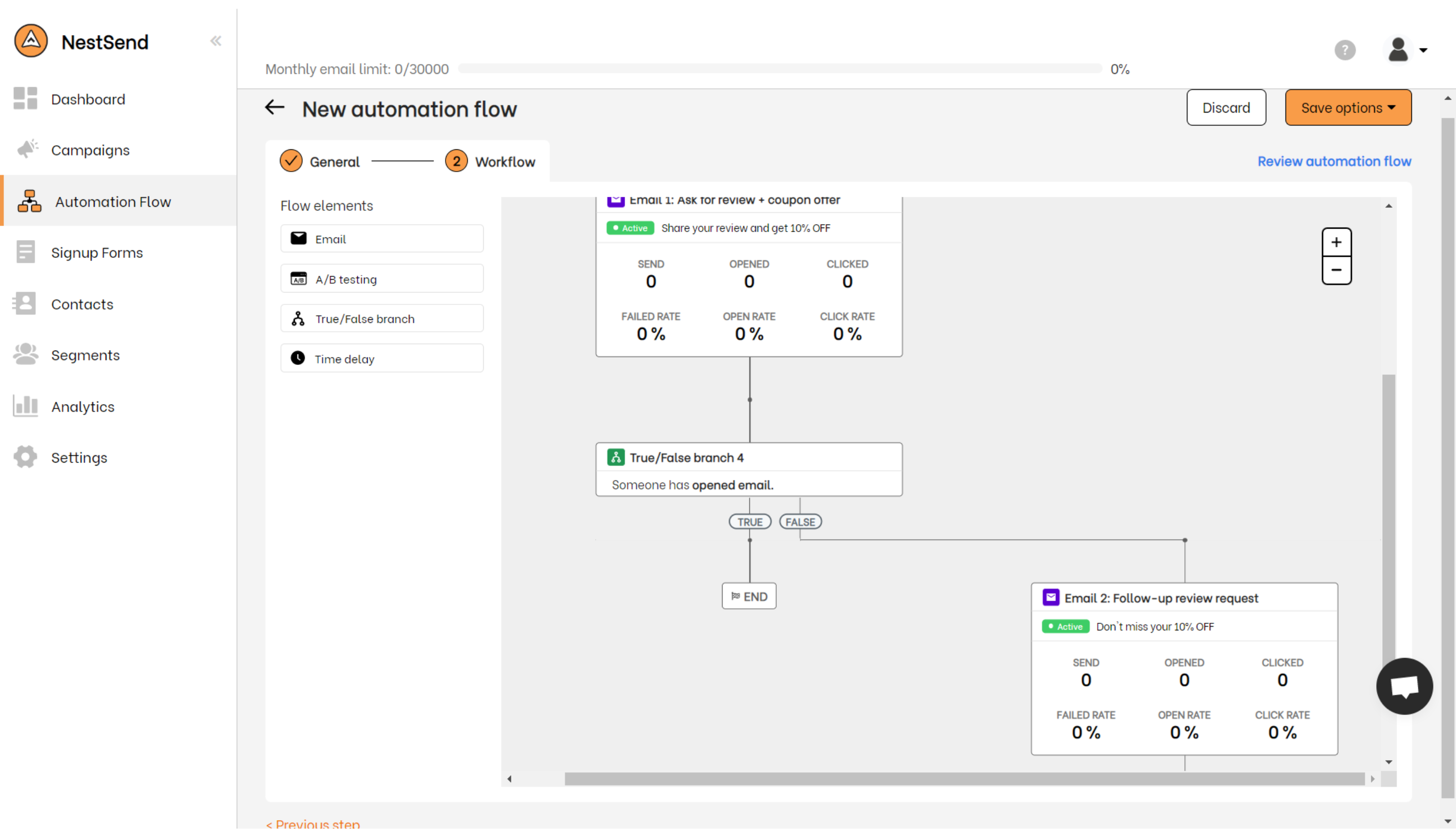 Best practice for your product review email
Keep it short
To ensure maximum feedback from your customers, it's crucial to keep your emails short, concise, and straightforward. The reason is, the more text your customers have to read, the less likely they are to give feedback, as the connection between the number of paragraphs and the conversion rate is apparent.
Put simply, longer emails result in lower conversion rates. Hence, it's essential to keep in mind that every word counts and to strive for brevity to maintain effectiveness.
Maintain your brand's identity
It's important to maintain your brand's identity even when sending out product review request emails. By doing so, you're not only reminding your customers of your brand, but you're also showing that you take pride in your products and care about their feedback.
Plus, keeping consistent branding throughout all communication channels helps to build trust and credibility with your customers. So, make sure to include your logo, brand colors, and a friendly tone in your review request emails to keep your brand top-of-mind and strengthen your customer relationships.
Be conversational
For more effective review request emails, it's crucial to personalize them and keep a conversational tone. Avoid using formal language like "Rate your purchase," and instead, use phrases like "Let us know what you think" or "Give it a score." This approach creates a friendly atmosphere that encourages customers to provide feedback.
Moreover, placing the customer at the center of the email and using "you" language when requesting a review is essential. This approach demonstrates that you value their opinion and care about their satisfaction with the product or service.
Get the timing right
It's essential to get the timing right when it comes to sending product review emails in order to receive valuable feedback from your customers. If you too soon after delivery, customers may not have had a chance to use the product yet and are less likely to provide feedback.
Determining the optimal time to send product review emails depends on factors such as the type of product being sold and how quickly customers typically begin using it. To find the best timing, it's a good idea to experiment with different timings and make adjustments accordingly.
Send follow-up emails
Well, sometimes people forget to leave a review or they're just busy and don't get around to it. That's where a follow-up email comes in! When the company sends a friendly reminder email, it increases the chance that the person will actually leave a review. It's like a gentle nudge to say "hey, don't forget about us!" So, sending a follow-up email can really help companies get more reviews for their products.
Let's build a reputable brand with NestSend!
Shopify product review automation email is an excellent way to gather feedback from customers and use it to improve your products or services. With NestSend's automated product review email feature, you can easily gather valuable feedback from your customers and improve your business accordingly.
So why not give it a try? Install NestSend today and start creating product review automation emails that stand out and strengthen your customer relationships.