We're so excited to introduce our latest NestSend version, packed with UI/UX improvement, a multiple-purposed template library, and many more.
Discover how NestSend 1.1 empowers you to create stunning campaigns, engage your audience, and drive tangible results. Let's dive in and unlock the full potential of your email marketing efforts with NestSend!
Intuitive dashboard & reporting
NestSend now features a modern and sleek interface that is visually appealing and easy to navigate. The design provides a clear and logical flow, making it easier for you to execute your email marketing strategy.
With the new dashboard layout, you can check key metrics at a glance. The dashboard shows your email monthly performance with open rates, click rates, subscribers, revenue, etc. in an easy-to-understand format. With these performance insights readily available, you can quickly assess the effectiveness of your email campaigns.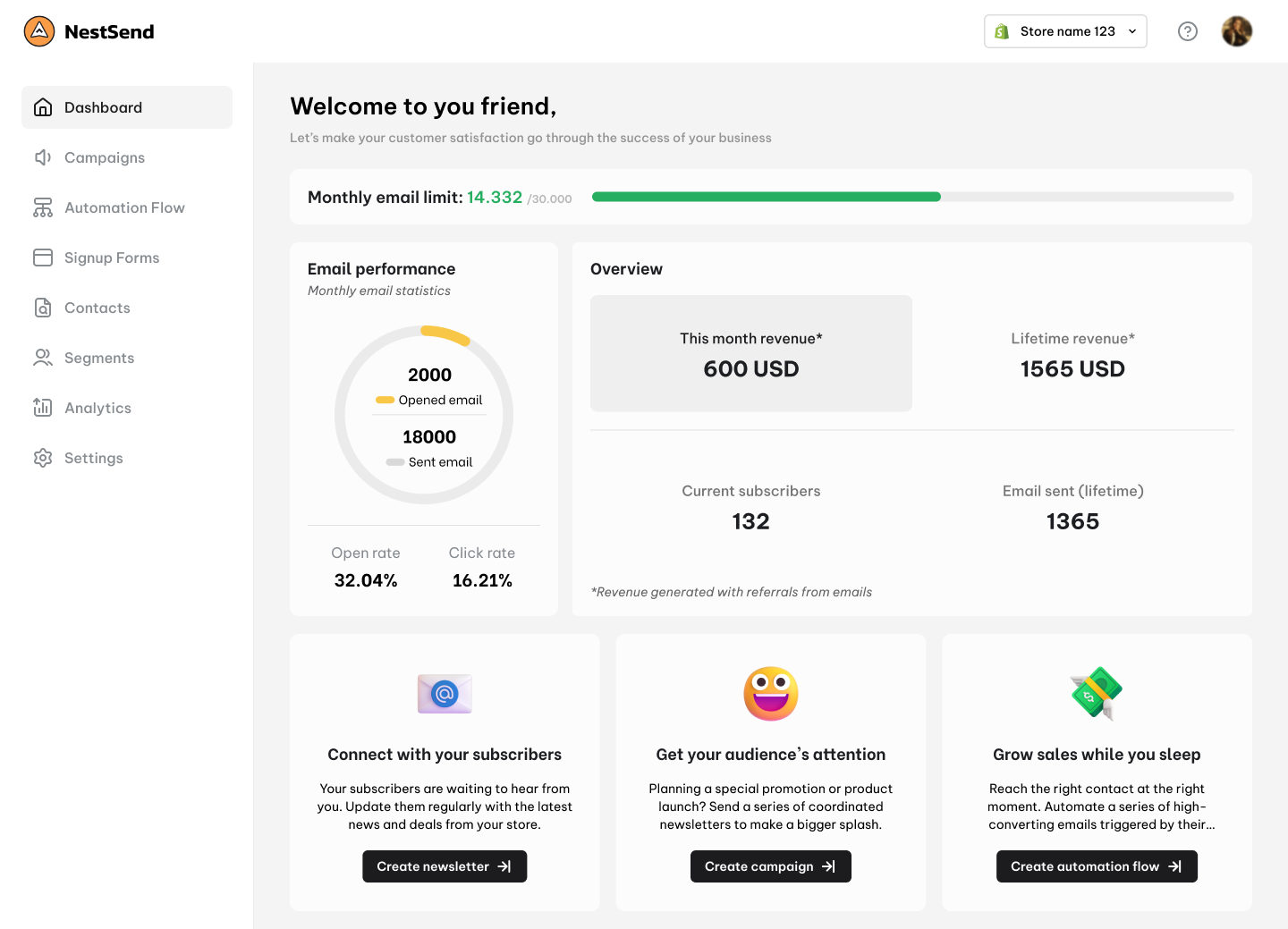 To streamline your workflow and save you time, NestSend 1.1 displays convenient shortcuts for creating newsletters, campaigns, or automation flow.
From the dashboard, you can easily access a "Create campaign" button that takes you directly to the campaign creation interface. This eliminates complex menu navigation, allowing you to jump-start your campaign creation process with just a few clicks.
Ever-expanding email templates
NestSend 1.1 offers a wide range of options for email campaigns, sign-up forms, and automation flows. These templates are designed to not only enhance the visual appeal of your communications but also save you precious time and effort.
Email campaign templates
For email campaigns, NestSend has a diverse collection of templates that suit every occasion and objective. Whether you're announcing a sale, promoting a new product, sharing a newsletter, or sending a holiday greeting, you'll find a diverse selection of templates that align with your specific marketing needs.
For example, you can choose between various templates for seasonal occasions like Mother's Day, Black Friday, Thanks Giving, Christmas, New Year's Eve, etc.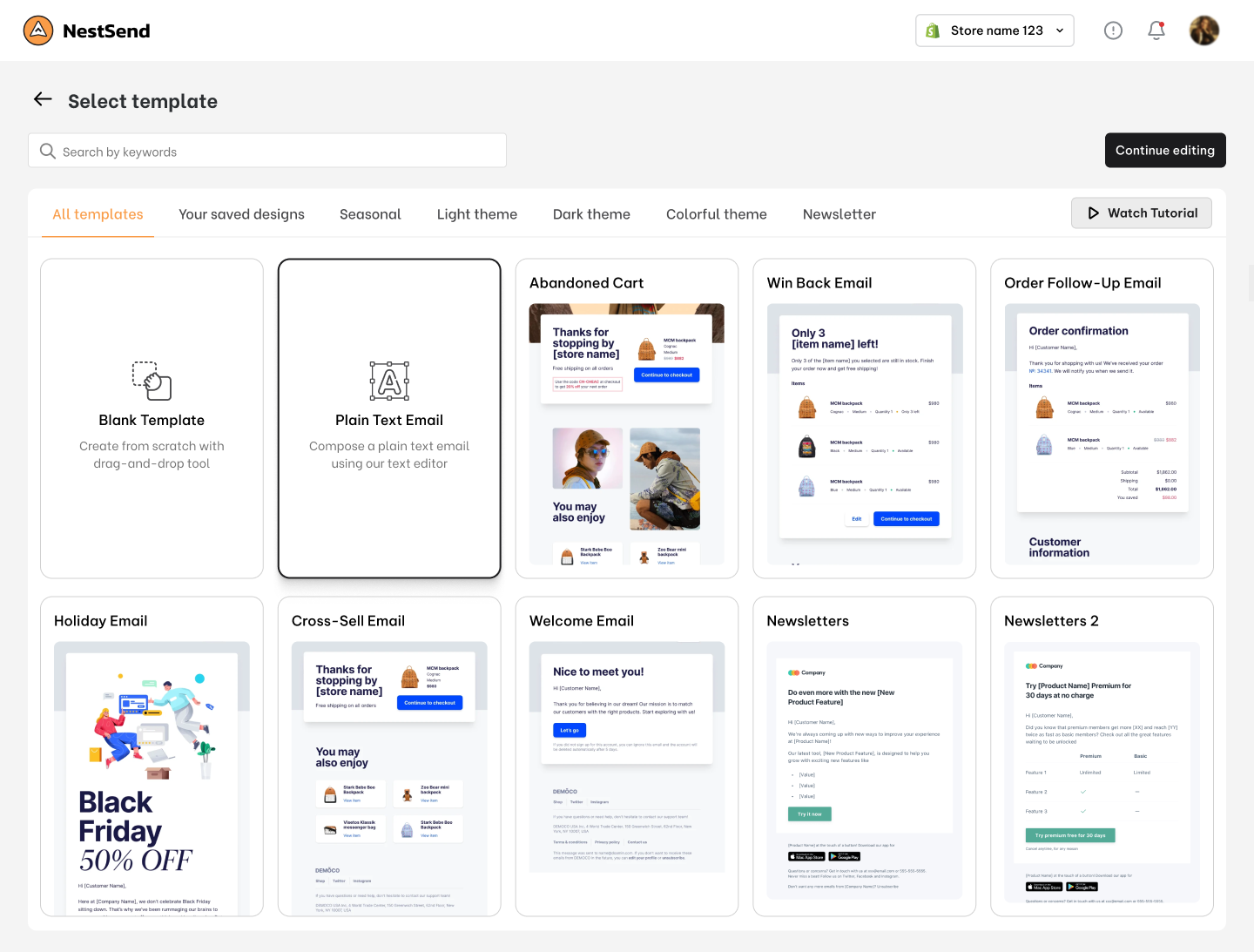 Automation flow templates
Likewise, using pre-designed automation flow templates can save significant time. They cover a range of scenarios, such as welcome series, abandoned cart reminders, birthday offers, etc. These templates come with predefined triggers, actions, and email sequences, enabling you to set up automated workflows quickly and effortlessly.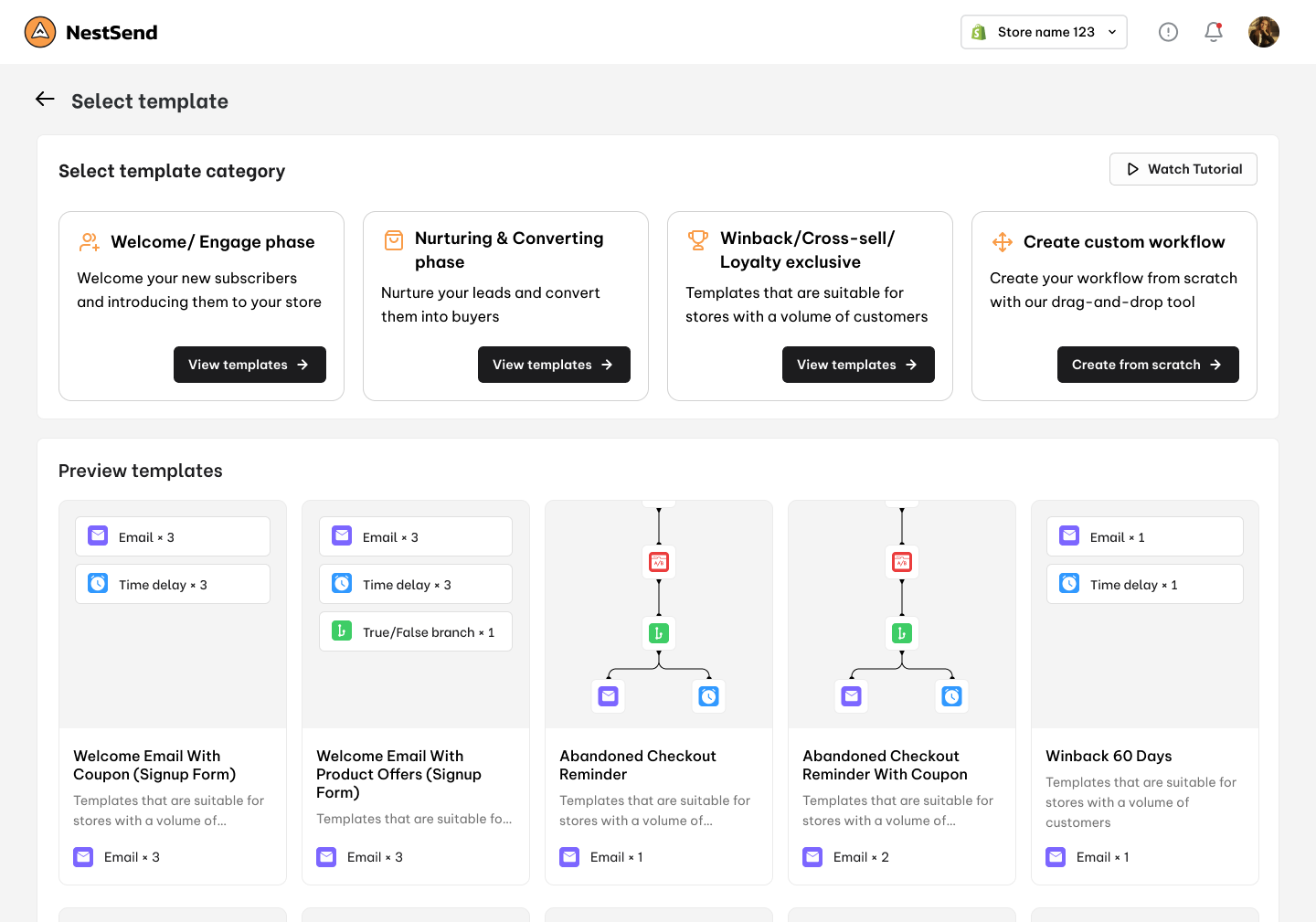 Sign-up form templates
Building an effective email subscriber list is also crucial for successful email marketing. So, sign-up form templates can simplify the process of capturing email addresses and growing your subscriber base. These templates are designed to be attention-grabbing and user-friendly, encouraging visitors to sign up for your newsletters, updates, or exclusive offers.
Pre-built segment for hyper-personalization
Setting up custom segments for each email campaign could be time-consuming and require manual configuration. Therefore, with the default segment, you can immediately apply a set of conditions to future campaigns and eliminate the need to recreate custom segments repeatedly.
Utilizing default conditional segments can enhance the personalization and relevance of your email campaigns. Also, targeting the right audience based on specific conditions ensures that your subscribers receive content that aligns with their preferences, behaviors, or purchase history. This, in turn, leads to improved engagement, higher open and click-through rates, and ultimately better results for your email marketing efforts.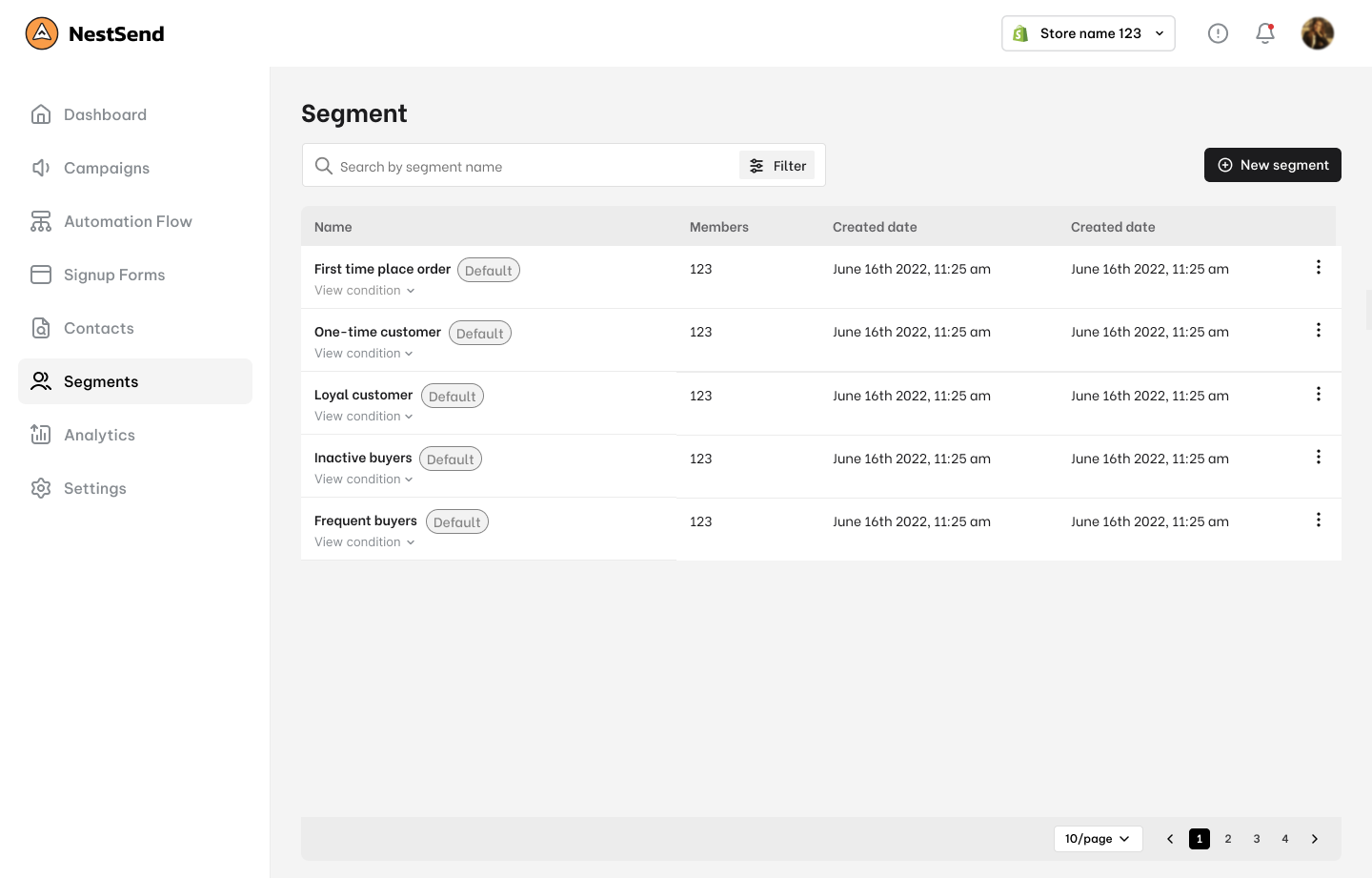 E-commerce integration for conversion
Insert a product block into an email
In the latest update of NestSend, we have allowed you to seamlessly add products to your email campaigns. And this improvement empowers you to showcase up to three products within the email itself.
In this way, you eliminate the need for your recipients to navigate to external websites or landing pages to view your offerings, making it more convenient for them to explore and make purchase decisions.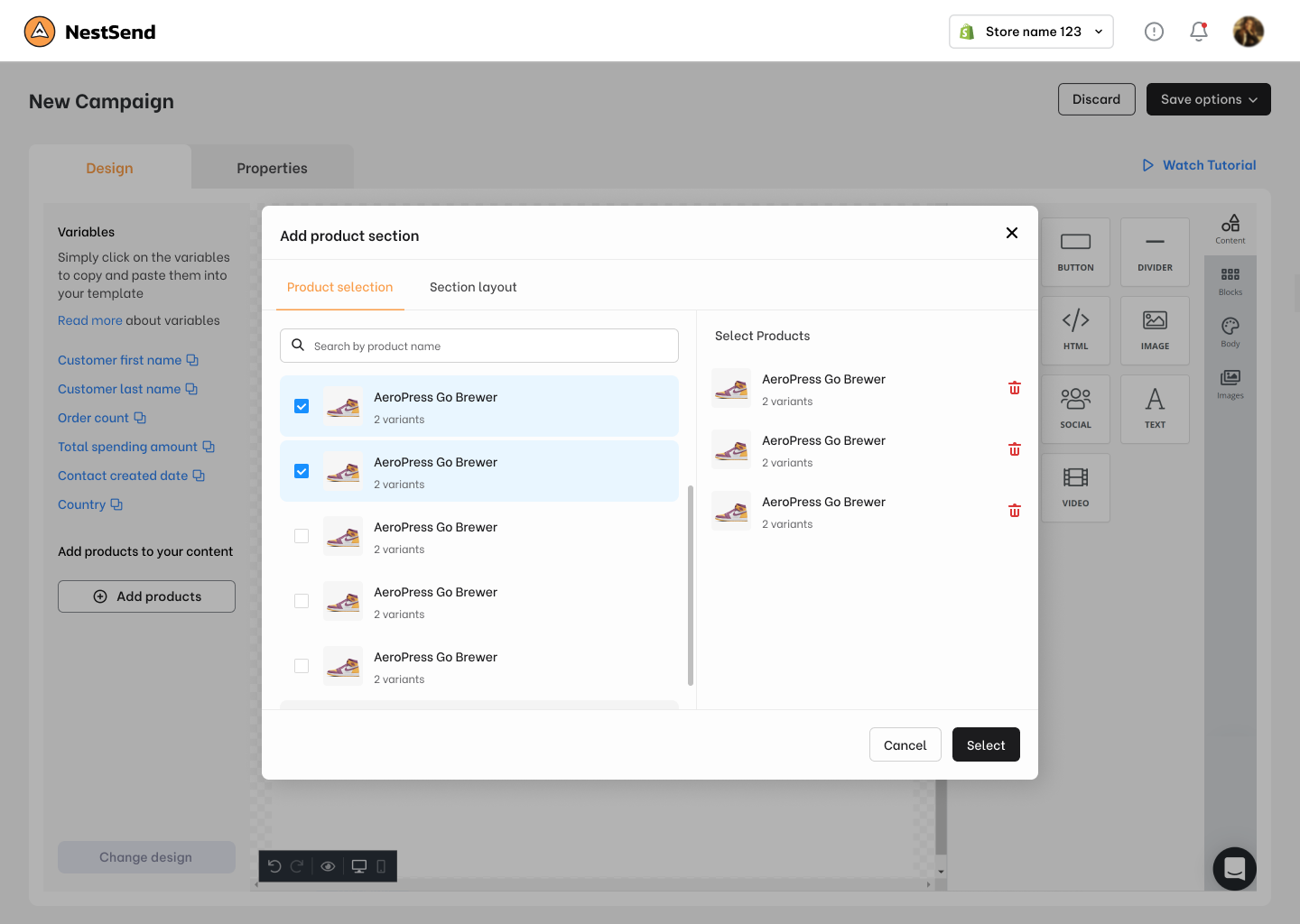 Revenue analytics
What's more, NestSend's new revenue insight and analysis assist you in measuring the impact of your email campaigns on your business's revenue.
By tracking revenue, conversions, and campaign performance metrics, you gain valuable insights into the financial success of your email marketing efforts. With data visualization and customizable reports, you can make informed decisions to optimize your strategy and drive revenue growth.
Leverage this update to gain a deeper understanding of your email marketing impact and achieve tangible results for your business now.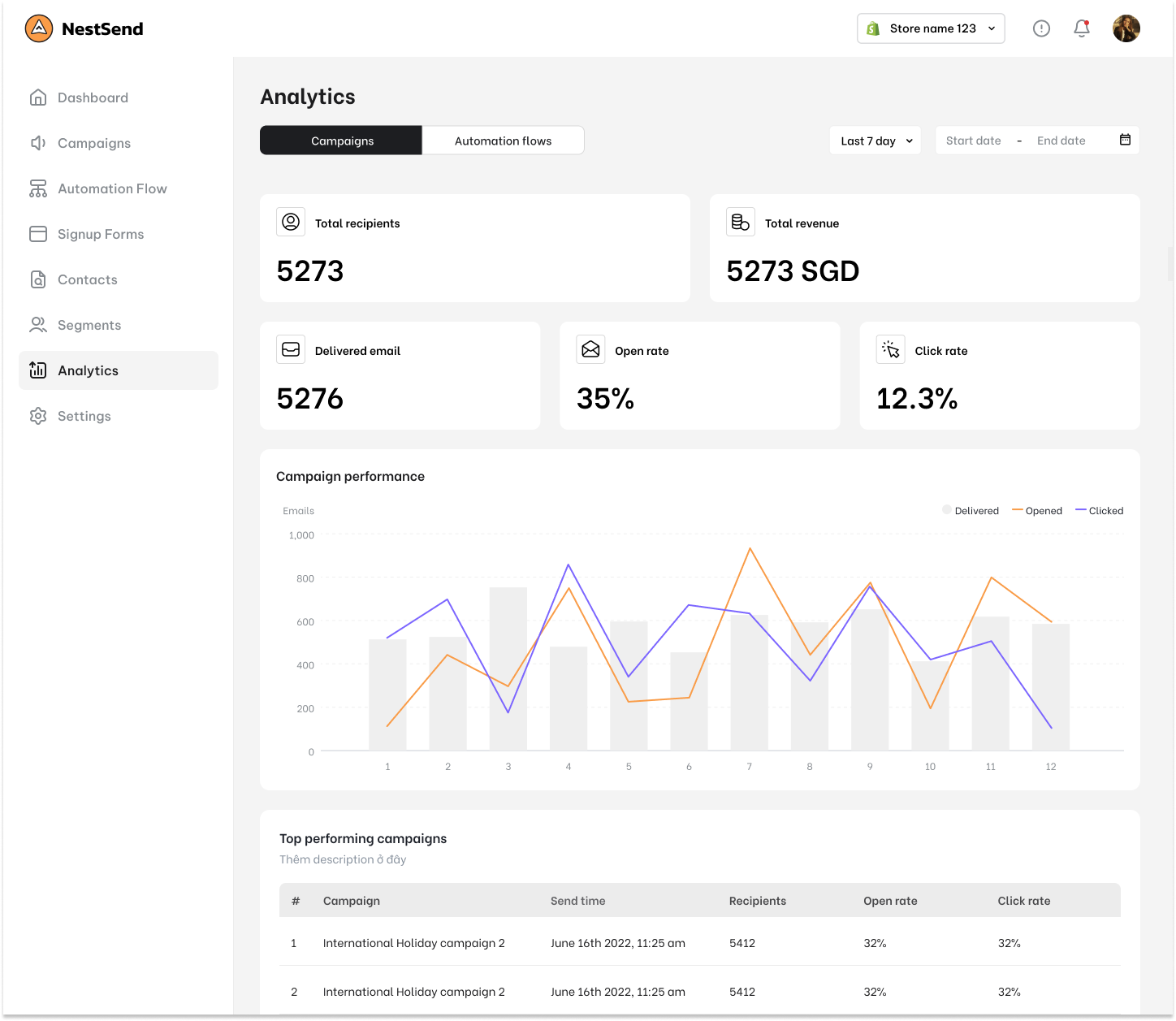 Unlock the full potential of email marketing with NestSend
With the latest update of NestSend, we have introduced a range of powerful enhancements that help you streamline your workflow, deliver visually stunning email campaigns, and measure the financial success of your efforts.
Upgrade to the latest version now and unlock a world of possibilities for your email marketing success. Experience the power of NestSend today and take your email marketing to the next level.