We are thrilled to announce an exciting new partnership between NestScale and MakeProSimp, two innovative companies dedicated to empowering businesses in the ever-expanding world of e-commerce. With a shared vision of helping businesses increase revenues and conversions, our collaboration aims to unlock new possibilities for growth and success.
Meet NestScale
About NestScale
NestScale is a software ecosystem that's incredibly powerful, yet fast, simple, and cost-effective. We make it easier for small and medium e-commerce businesses to attract, convert, and retain customers. This enables you to drive sales and grow your businesses exponentially.
Products & services

NestAds – Winning TikTok ads made easy
NestAds is an exceptional ad management software that seamlessly integrates with TikTok. It empowers businesses to efficiently launch, analyze, and expand their ad campaigns on this vibrant platform.
By leveraging the capabilities of NestAds, you can tap into TikTok's expanding user base, effectively reaching and engaging with a wider audience. This ultimately maximizes your return on ad spend and enhances conversion rates.
NestDesk – Happier customers higher sales
Transform your customer support with NestDesk, an excellent solution that centralizes customer messages from Live Chat, Facebook Messenger, and soon WhatsApp into a single inbox. This seamless integration simplifies communication processes, enabling your business to provide personalized responses and interact with customers more effectively.
Through the utilization of our robust tool, you can elevate customer satisfaction, boost conversions, and cultivate lasting customer loyalty, all within a unified and user-friendly interface.
NestSend – All-in-one email marketing automation
Meet NestSend, the all-in-one solution for email marketing automation aimed at boosting sales and cultivating long-lasting customer relationships.
With NestSend, the process of creating impactful email campaigns, automation flows, and captivating pop-ups is now easier than ever before, all conveniently available in a single platform. This not only saves you valuable time but also minimizes effort.
NestWidget – Social media aggregator that sells
NestWidget serves as the ultimate solution for enhancing site engagement and increasing store sales by incorporating shoppable TikTok feeds. Our app empowers you to seamlessly integrate the lively and thrilling world of TikTok into your website, resulting in an immersive and dynamic experience for your visitors.
By using NestWidget, you have the ability to display user-generated content that highlights your products or brand, therefore, effectively capturing the attention of your audience and establishing social proof.
Meet MakeProSimp
About MakeProSimp
MakeProSimp is a trusted provider of website design and development services for businesses across various industries. MakeProSimp was established in 2009. Working in the market for more than 10 years, they have a team of skilled developers specializing in Shopify, Bigcommerce, PHP, and other e-commerce solutions.
With a proven track record of creating visually stunning, user-friendly websites, they indeed have helped countless businesses establish a strong online presence.

Products & services
MakeProSimp offers various services including UI/UX design, strategy, consulting, and especially e-commerce solutions. Currently, there are 4 apps from MakeProSimp available on the Shopify store with an average rating of 4.8/5.

ToastiBar – Sales Popup
Increase your sales and create a bustling shopping environment on your online store effortlessly. With ToastiBar – Sales Popup, you gain the power to automatically showcase recent sales and add-to-cart popups, driving conversions and fostering trust among your store visitors.
Buy Me – Buy Button
Display a Fixed Buy Button, a Fixed Cart Button, and a Quick Buy Button on any page with Buy Me – Buy Button. These features will boost your sales by enhancing the customer experience and encouraging purchases.
Promote Me
Promote Me app is a bundle of many apps in one. It includes features like Wheels of Fortune, Currency Converter, Quick Add to Cart Button, Back to Top Button, Geolocation Redirect, Advanced Shipping Bar, and many more. This will benefit customers who visit your store and persuade them to buy products from your store.
notim.app: Manage Inventory
notim.app, formerly Notify Me, is an inventory management app. When the products are out of stock or the inventory alert threshold is reached, you can get email reminders. On the other hand, customers can also receive email reminders when the product is restocked. By refilling the inventory, you will significantly boost the store's sales.
What to look forward to in this partnership?
By combining forces, NestScale and MakeProSimp promise to create a synergy that will revolutionize how businesses approach their online presence. Together, we certainly will deliver a holistic solution that covers every aspect of a successful e-commerce venture. Our highlight benefits for you are:
Having access to a comprehensive suite of services that covers all aspects of the customer's online journey. Either they are just starting out and need a beautiful website to establish their brand identity or they are an established business looking to scale and optimize their operations, NestScale and MakeProSimp can assist.
Enhancing store page experience
The partnership provides businesses with a customizable selection of widgets to choose from. Whether it's displaying social proof, sales popups, or other conversion-boosting elements. Businesses can tailor the widgets to captivate visitors, increase their time on site and drive more sales.
Increasing sales conversion
Optimize store pages for improved sales conversion. The partnership offers a range of widgets that encourage visitors to take action, such as adding products to cart, subscribing to newsletters, or making purchases, leading to higher conversion rates and increased store sales.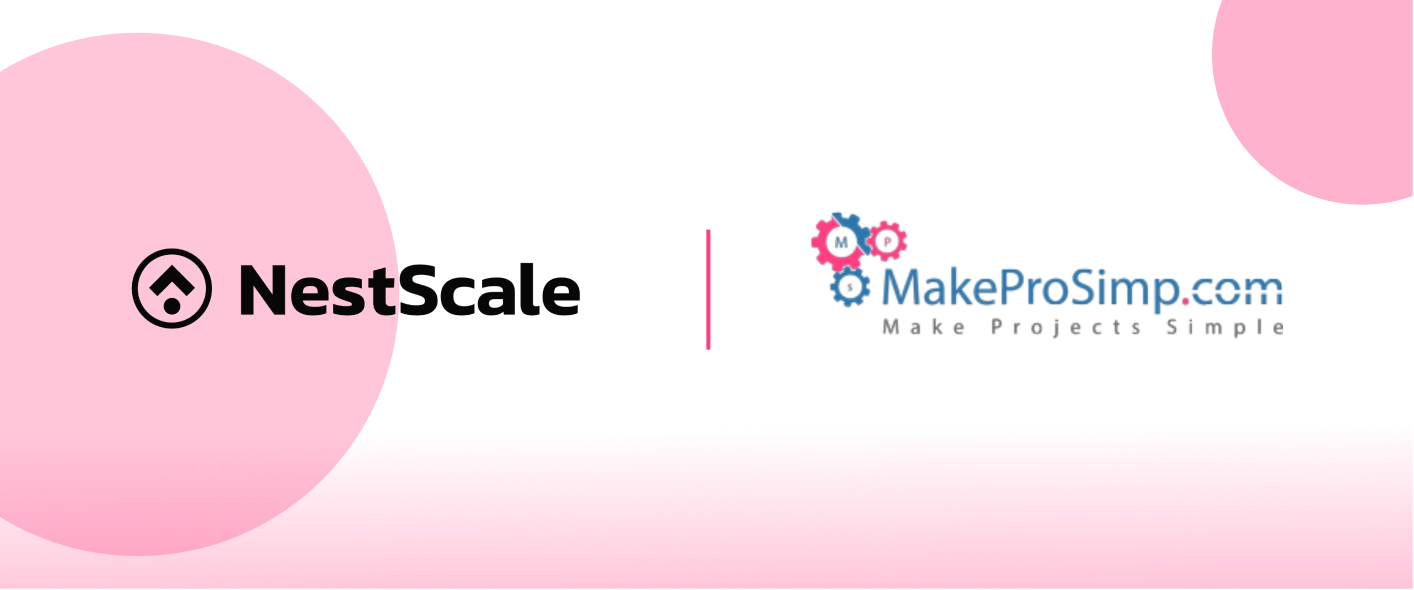 New partnership opportunities are offered
We firmly believe that the partnership between NestScale and MakeProSimp will open up new possibilities for e-commerce businesses worldwide. By combining our strengths, NestScale and MakeProSimp are committed to transforming the way businesses operate online.
As NestScale looks forward to embarking on this remarkable journey with MakeProSimp, we also welcome further possibilities of forming a new partnership. So join us as we shape the future of e-commerce and unlock unprecedented growth opportunities for your business.