Affiliate marketing is obviously a great digital strategy for e-commerce businesses to maximize their outreach and drive more store sales. However, affiliate marketing isn't a walk in the park, creating an affiliate program that yields positive results will take time and effort.
That's the reason why we built NestAffiliate – a simple and reliable Shopify affiliate marketing solution tailored to fuel your success. Everything you need to effortlessly launch, manage, and keep track of your affiliates and turn satisfied customers into vocal brand ambassadors, we gather all in one single platform.
Let's see how NestAffiliate helps you maximize your affiliate profits in action!
Kickstart affiliate programs in minutes
NestAffiliate makes everything easier when it comes to affiliate programs. Without any technical knowledge required or expensive ad spaces, you can easily create unlimited programs with diverse commission rules.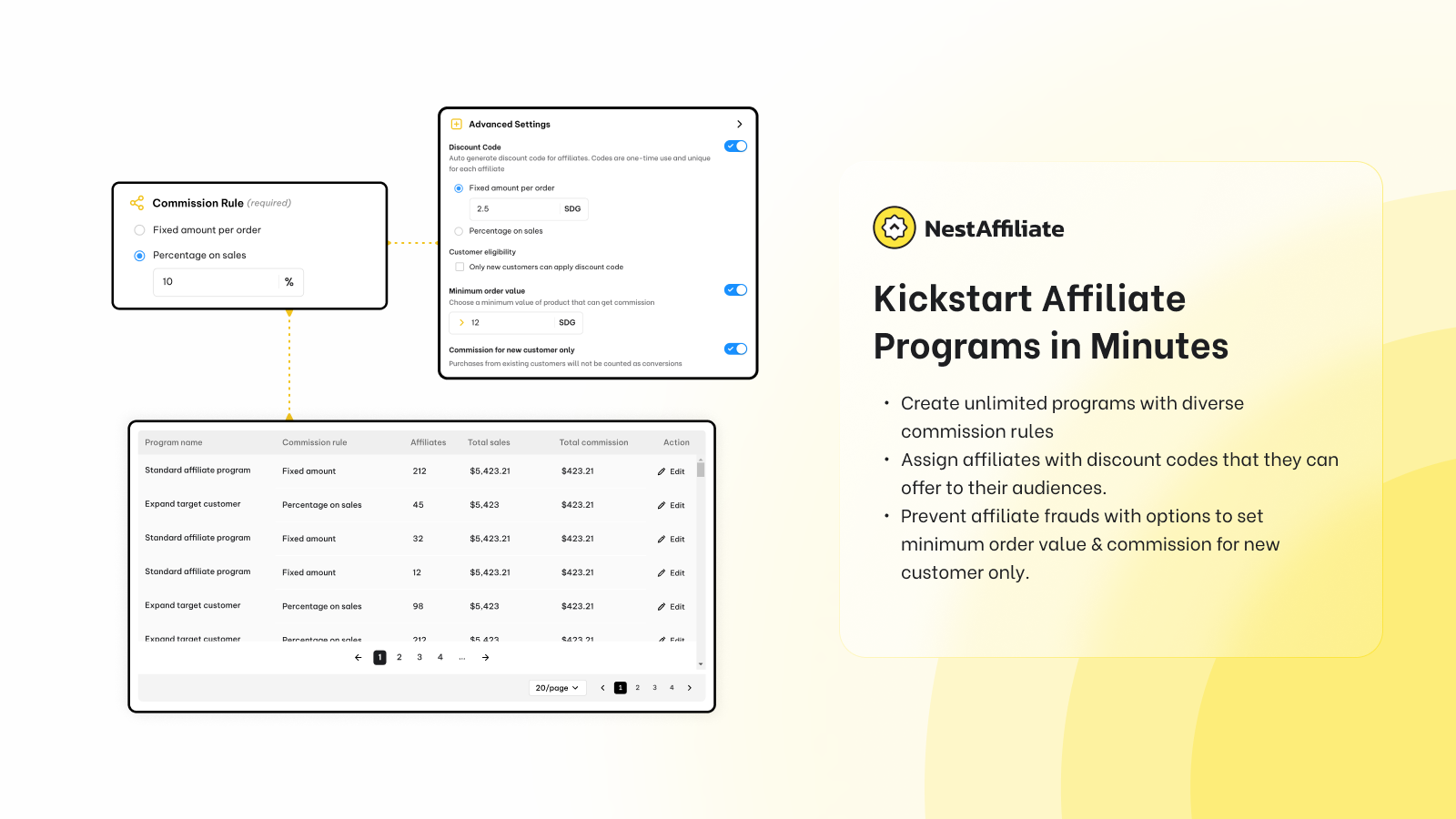 Apart from commission rules, with any affiliate marketing solution, detecting and preventing affiliate fraud also really matters! That's why we provide all the anti-fraud measures needed to protect your business and ensure you are paying for the right affiliates: cookie days, minimum order value, and commission for new customers only.
In a simple way, you are allowed to specify the attribution window during which an order can be attributed to an affiliate. And how about choosing a product minimum value that can get a commission? In this way, NestAffiliate keeps you focused on the successful affiliates, and no money is wasted on the wrong affiliates!
Accelerate your affiliate marketing with the right affiliate
Recruiting the right affiliate has never been easy. But it becomes a no-brainer with the aid of NestAffiliate. We give you full control over your registration page, from uploading your brand logo to adjusting your page title and introducing content. You can freely customize your page and integrate it into your store in minutes.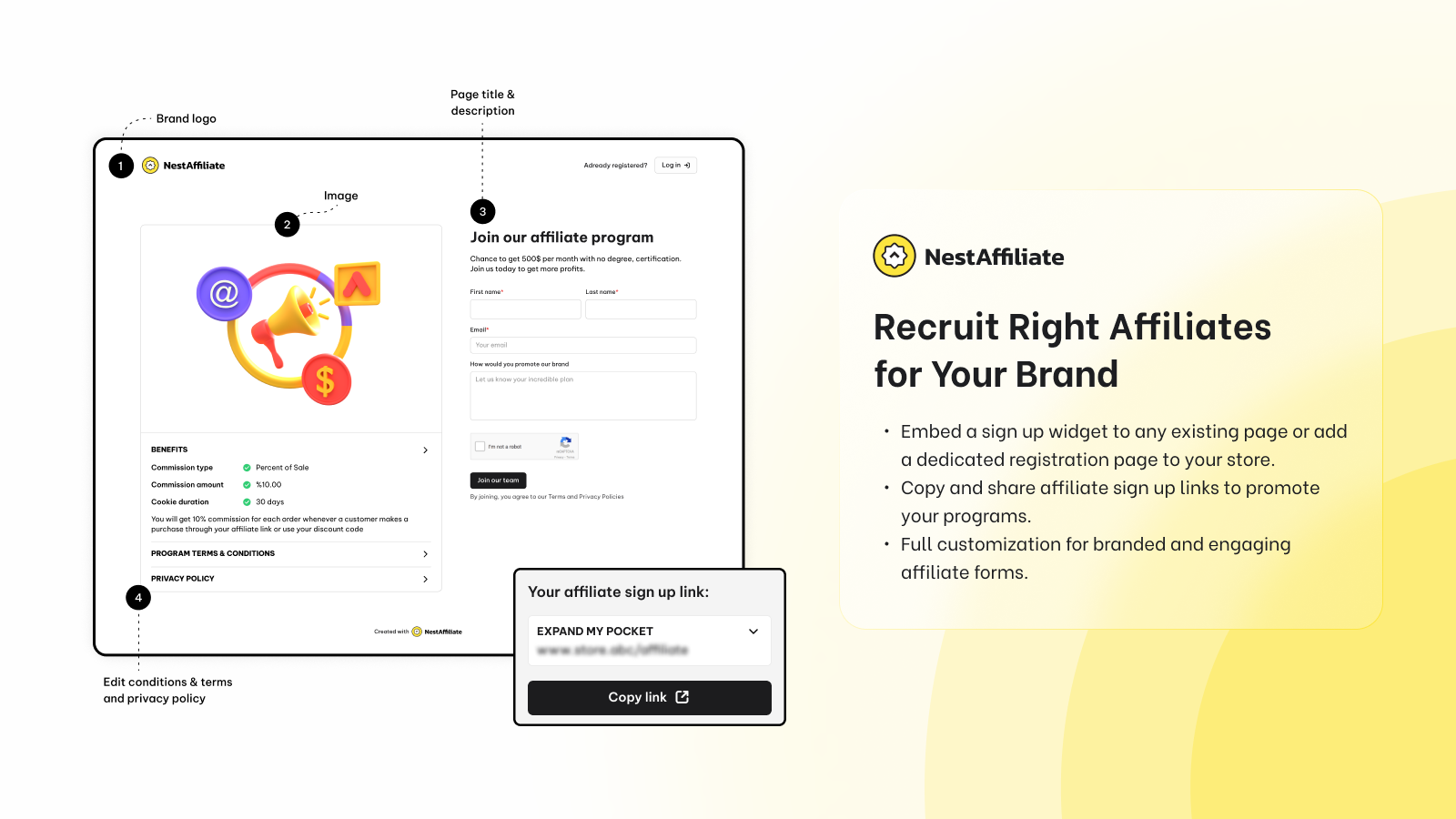 You definitely don't want to miss out on any potential affiliates, right? That's why you will be surprised by our responsive, branded, and engaging registration pages. This simplifies the affiliate marketing journey, anyone can join your program, whether they are using their phone or laptop.
Not only customizable & responsive registration pages but you are also allowed to integrate them into your store in a few clicks. This enables you to easily promote your programs, gain more brand ambassadors, and grow your revenue.
Manage all affiliates in a single dashboard
You'll have simple views and tools to manage all affiliates in your network. Easily change affiliate programs, deactivate suspicious affiliates, and monitor affiliate performance with a reliable tracking system. We give you all this in one single dashboard. Why? In this way, you can segment your affiliates, find out who has better performance, and spot actionable insights.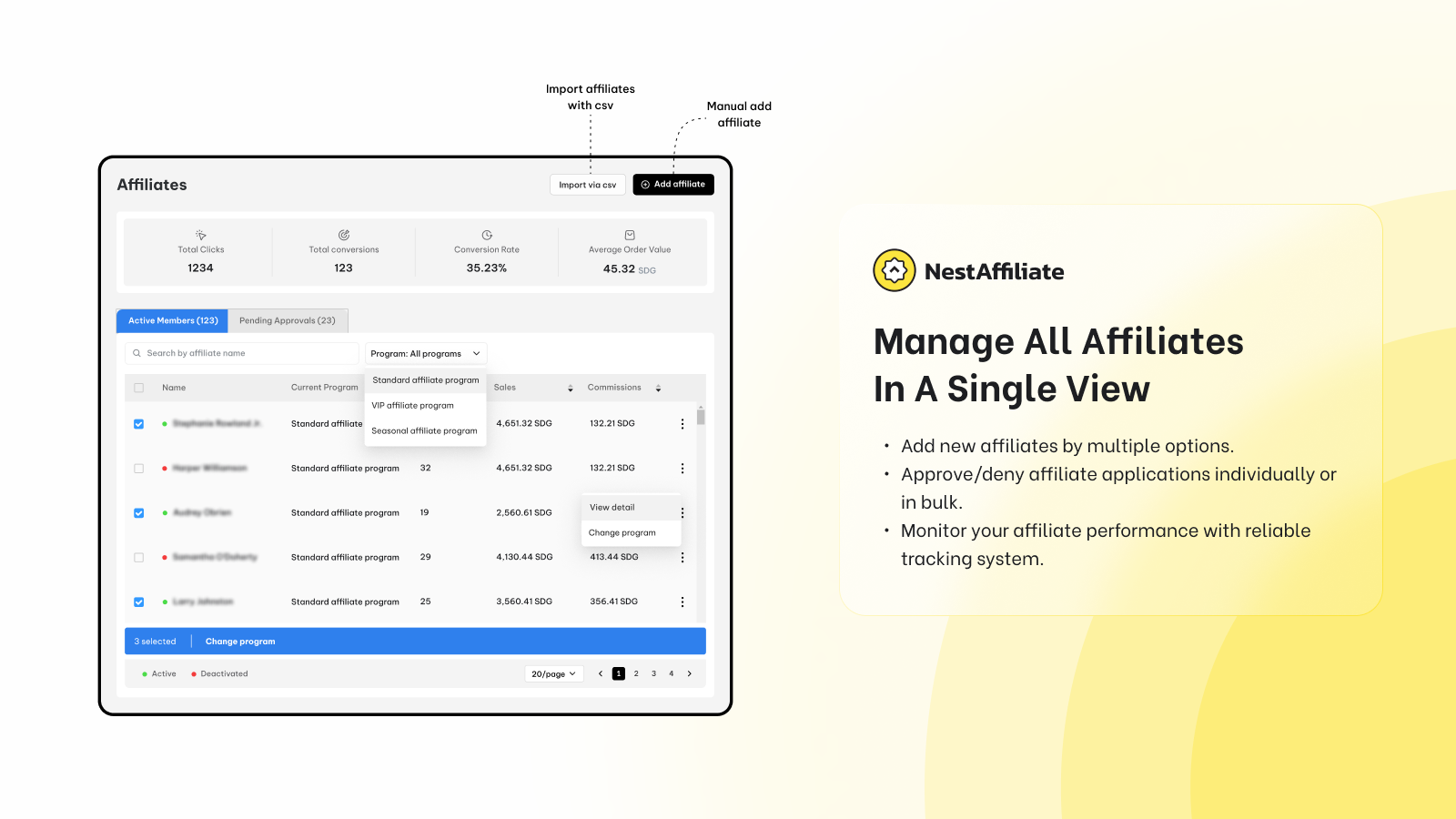 Otherwise, don't worry if you have your own affiliate contact, one or even an established list of affiliates. Manually adding affiliates or bulk importing affiliates, we make the process simple and clear so that any users can quickly find their potential brand ambassadors.
Easily measure affiliate performance
In order to maximize affiliate marketing revenue, tracking performance really matters to understand which affiliates and strategies are performing well and make informed decisions.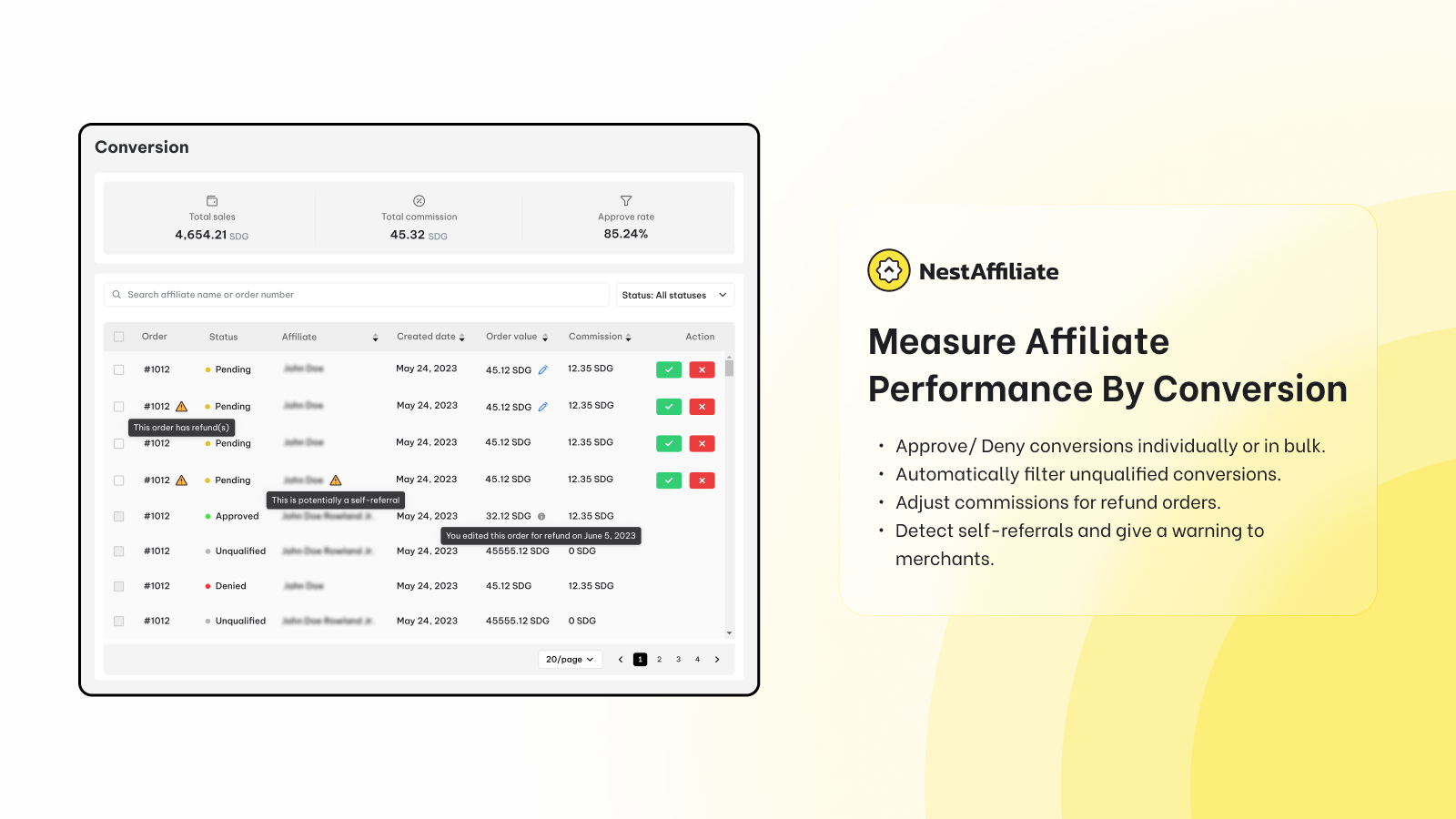 By exploring the total revenue earned from the affiliates and the total commission to pay, all these data give you a 50,000 foot view of your marketing health.
One more special thing, we never want you to be in the position of paying out self-referred sales and handling inaccurate data. For this reason, NestAffiliate will automatically detect self-referrals and give a warning to merchants immediately.
Ensure transparent payouts for your affiliates
NestAffiliate provides all users with some great tools to simplify the payment process and cultivate happy affiliates. Creating commission bills, taking a closer look at conversion details, offering cash commission or gift cards to reward affiliates, and much more!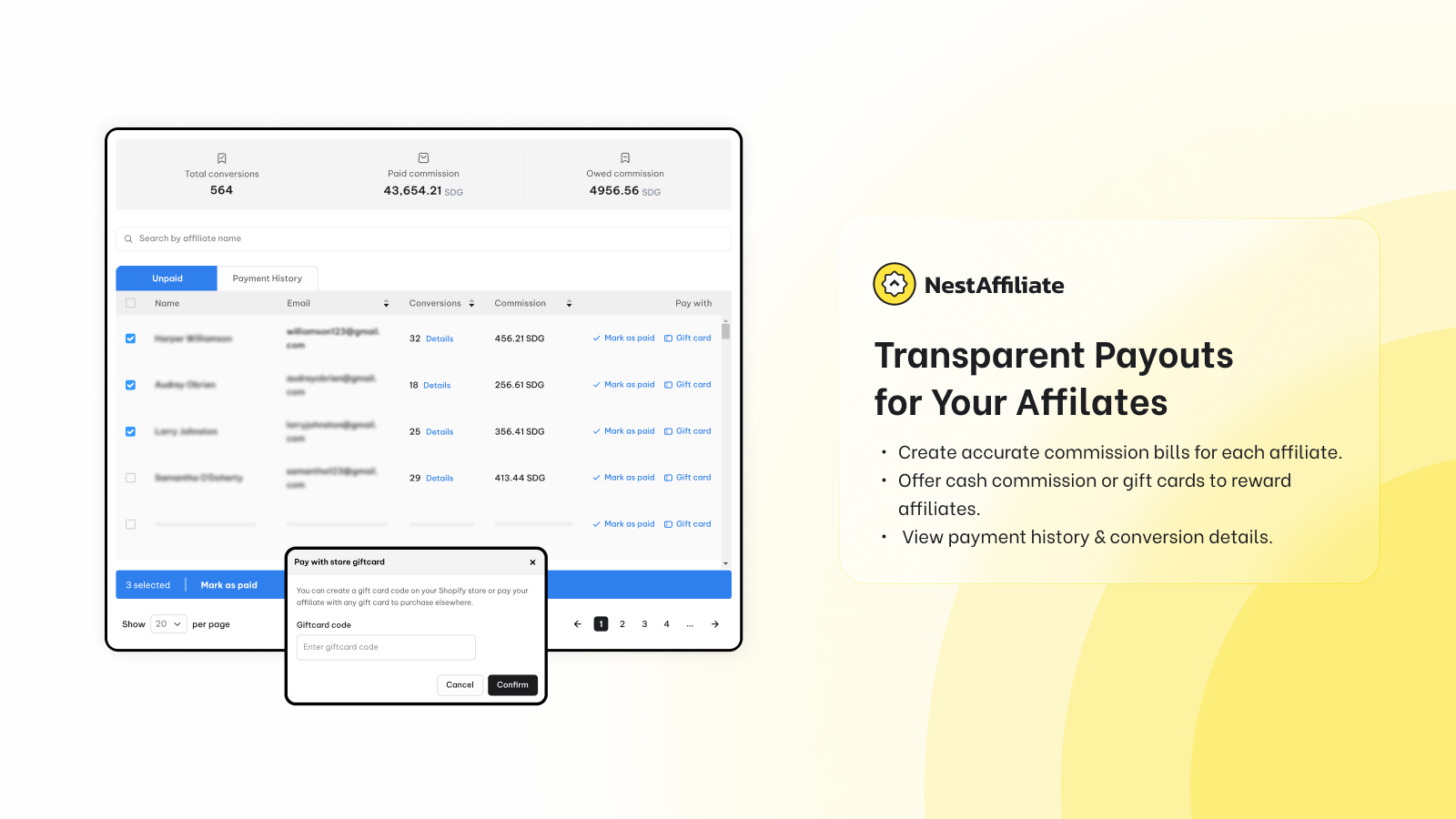 A transparent payout can be a huge motivation for your affiliates. It gives them a clear picture of their potential revenues and aims to replicate their efforts.
Simple yet powerful affiliate portals
Why do affiliate portals play a major role? It's all about optimizing the affiliate user experience and helping affiliates do their job on the go. Powerful tools and an impressive UX, and that's what our NestAffiliate portals offer.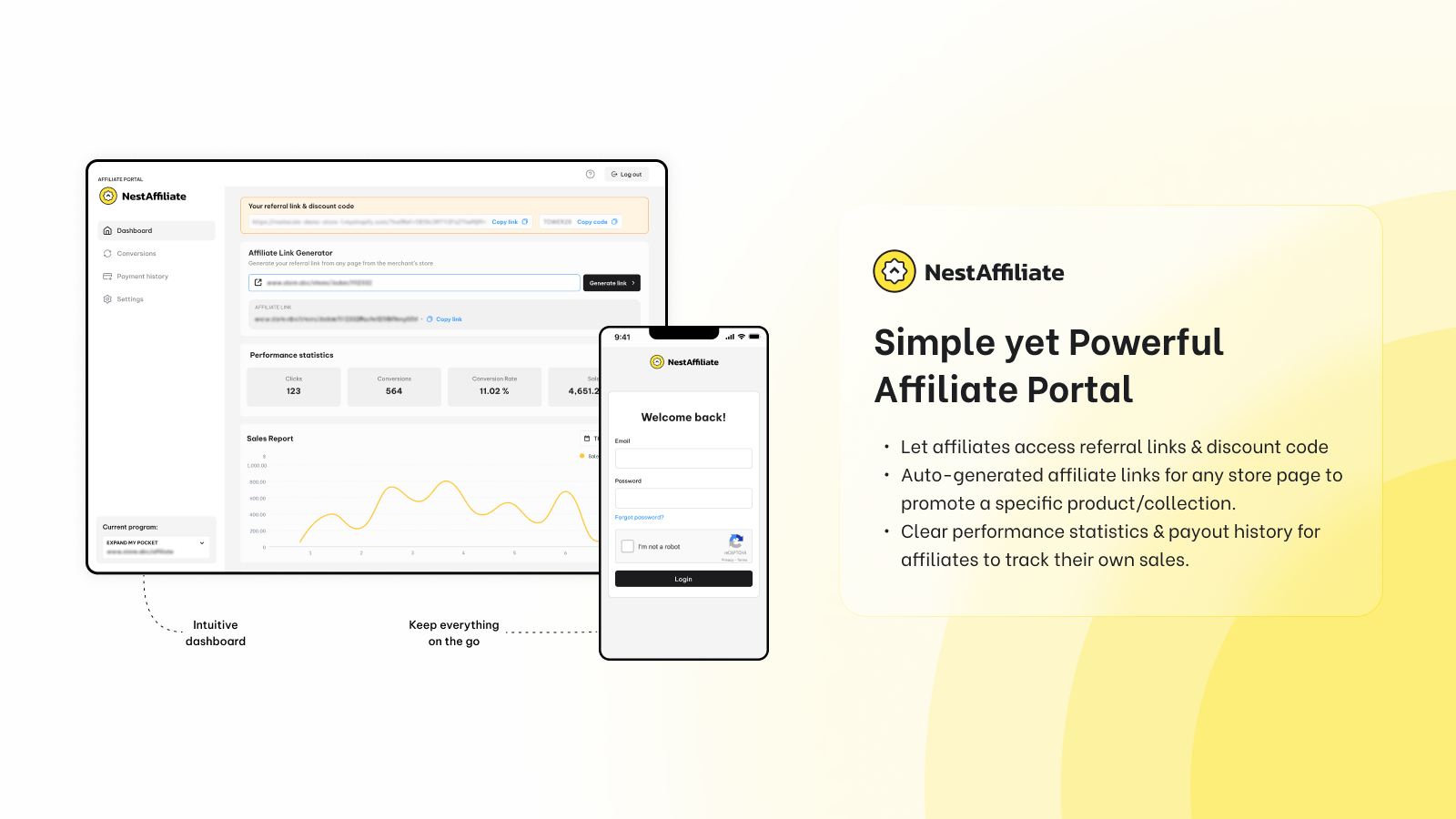 The first important thing is visually graphing the total revenue so at a glance, any affiliates can see their performance and track their own sales. That's why at NestAffiliate, we gathered all the clear statistics and payout history that really matter to your affiliates in 1 single view.
We also give your brand ambassadors free access to discount codes and auto-generated affiliate links for any store page. Promoting a specific product or collection, everything has never been such an easy thing!
And take a birds-eye view of a seamless mobile experience of our affiliate portal! For ease of use, convenience, and functionality, this is exactly what your brand needs to blow the competition away.
Start your affiliate programs effortlessly & drive store sales with NestAffiliate!
Create and manage your affiliate programs with unlimited affiliates, flexible commission rules, auto-generated affiliate links, and accurate tracking. That's all the things NestAffiliate brings to you!
So what are you waiting for? Don't miss out on this amazing chance to land more customers without hiring a big sales team! Easy setup, no experiences required, dedicated live chat support, hope to see you at NestAffiliate!