You've previously leveraged NestAds for your TikTok Ads and are now eager to broaden your horizons? Inevitably, cross-channel advertising stands as the ultimate way to engage today's customers precisely where they are and promote the ideal products at the perfect moment.
When it comes to building successful cross-channel campaigns, always remember that data is king. This is precisely why we are excited to introduce our latest NestAds, version 1.3, designed to provide the best marketing attribution solution for Shopify.
Discover how NestAds 1.3 empowers you to analyze accurate data from your advertising campaigns, unearth valuable insights into the customer journey, and maximize your return on ad spend. Let's dive in and unlock the full potential of your marketing efforts with NestAds!
Centralize all advertising data into one single dashboard
Have you ever felt frustrated switching between various advertising platforms to track your ad performance? Don't worry, because NestAds is here to make your life easier!
Ready to say goodbye to manual data collection and internal spreadsheets? With our latest version, NestAds does the heavy lifting for you. It tracks your ads across different channels, gathers important ad data, and presents it all in one easy-to-use dashboard.
No matter which platforms you use for your ads, whether it's TikTok, Facebook, Google, or others, NestAds lets you collect accurate and of course real-time data. This means you can make faster, data-driven decisions and therefore effortlessly grow your campaigns.
From tracking ad spend, revenue, ROAS to CPA and conversions (and more), we gather all essential metrics to help you easily get deeper insights into your ad performance. It's that simple!
Maximize ROAS with accurate marketing attribution
Besides centralizing all data across multiple platforms in one easy-to-use platform, NestAds 1.3 stands as an accurate marketing attribution for every business owner. Let's discover how you can resolve all ad-tracking issues and limite the data lost with our new amazing features below!
Server-side tracking based on first-party data
For years, businesses have relied on various third-party tags and pixels to track website visitors and gather data for targeted advertising. This data includes information collected without a direct connection to the visitor or customer. However, the effectiveness of third-party tracking has declined since ad blockers and restrictions on third-party cookies within web browsers keep developing.
How many users visit your website? How do they interact with it? These questions become challenging to answer as user activity spans multiple sites, making it difficult to collect reliable data for your ad.
Luckily, we got your back! NestAds will help you prepare for a cookieless future and keep yourself on the cutting edge. Being a server-side tracking with first-party data, we ensure higher data accuracy, security, and robust data collection.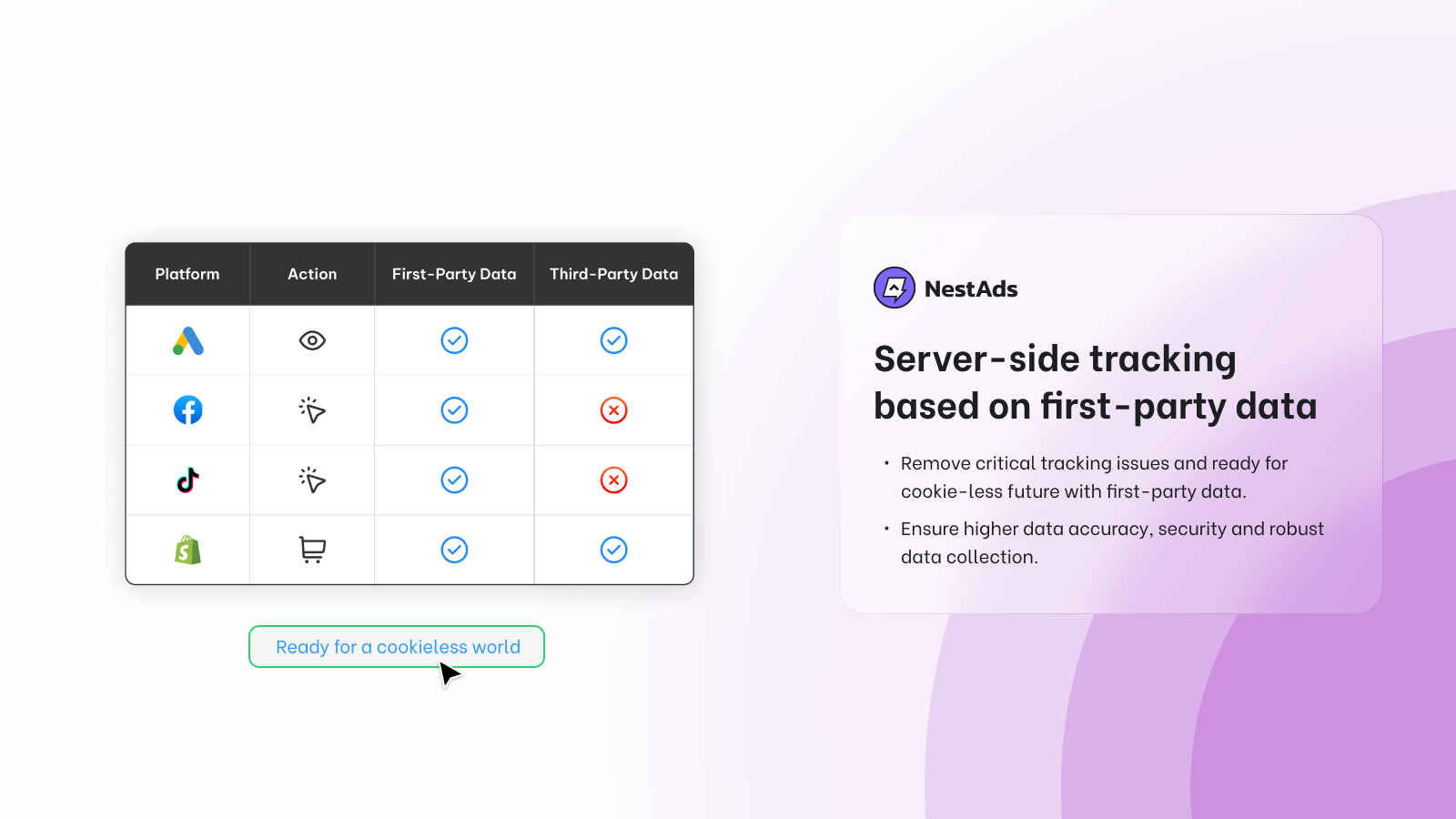 NestAds Pixel, our full-featured product, enables you to gather and process first-party data directly from your web server, bypassing the need for client-side devices. Being collected from your audience – the groups that you most want to learn from, it serves as the gold form of data to use.
This reliable method is not just a game-changer; it's shaping up to be the new industry standard. It offers accurate and complete data while ensuring better protection and reducing reliance on browser cookies. Ad blockers and intelligent tracking protection? They're powerless against the magic of first-party cookies, delivering businesses a treasure trove of real, accurate, and complete customer data. Now, isn't that a story worth diving into?
Bypass iOS 14 blockage at ease
Apart from third-party data, many e-commerce brands were hit really hard by the ongoing ad tracking blockage from Apple. In fact, users can give permission to an app to track their activity outside of the platform. This, in turn, can lead to incomplete data and ultimately making misguided decisions in our advertising efforts.
But wait, here's the good news you've been waiting for! The NestAds pixel (using first-party data) is not affected at all by iOS14 tracking issues. You can pinpoint high-converting ads, leaving no room for guesswork while others jump through some more hoops in tracking ad performance.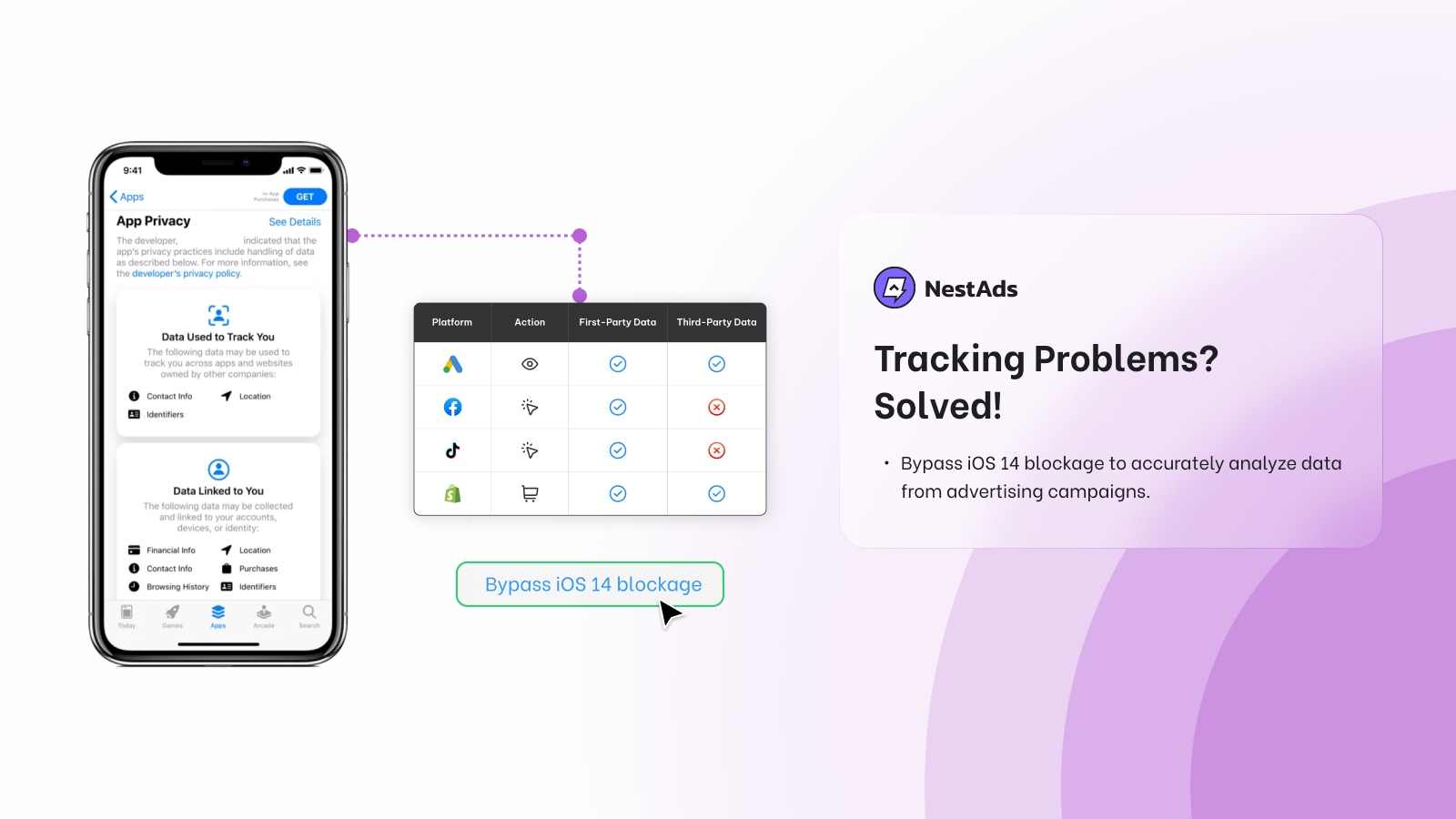 Flexible attribution windows for campaign measurement
Different brands embark on distinct conversion journeys. Each with its own set of objectives and strategies to fine-tune their ad campaigns. Some conversions happen in the blink of an eye, while others require multiple touchpoints before a customer decides to purchase.
In some special cases, the conversion journey looks different and can often take longer to track customer activity. Having a longer and flexible attribution model becomes crucial for gauging the success of your sales efforts and customer engagement. It refers to the number of days between when a person viewed or clicked your ad and subsequently took action.
With NestAds 1.3, we've harnessed this understanding to provide you with the most flexibility in attribution windows. We empower business owners to select a specific timeframe for tracking ad performance. Whether it's the event date or click date attribution window, you can choose anywhere from the past 7 days to 60 days.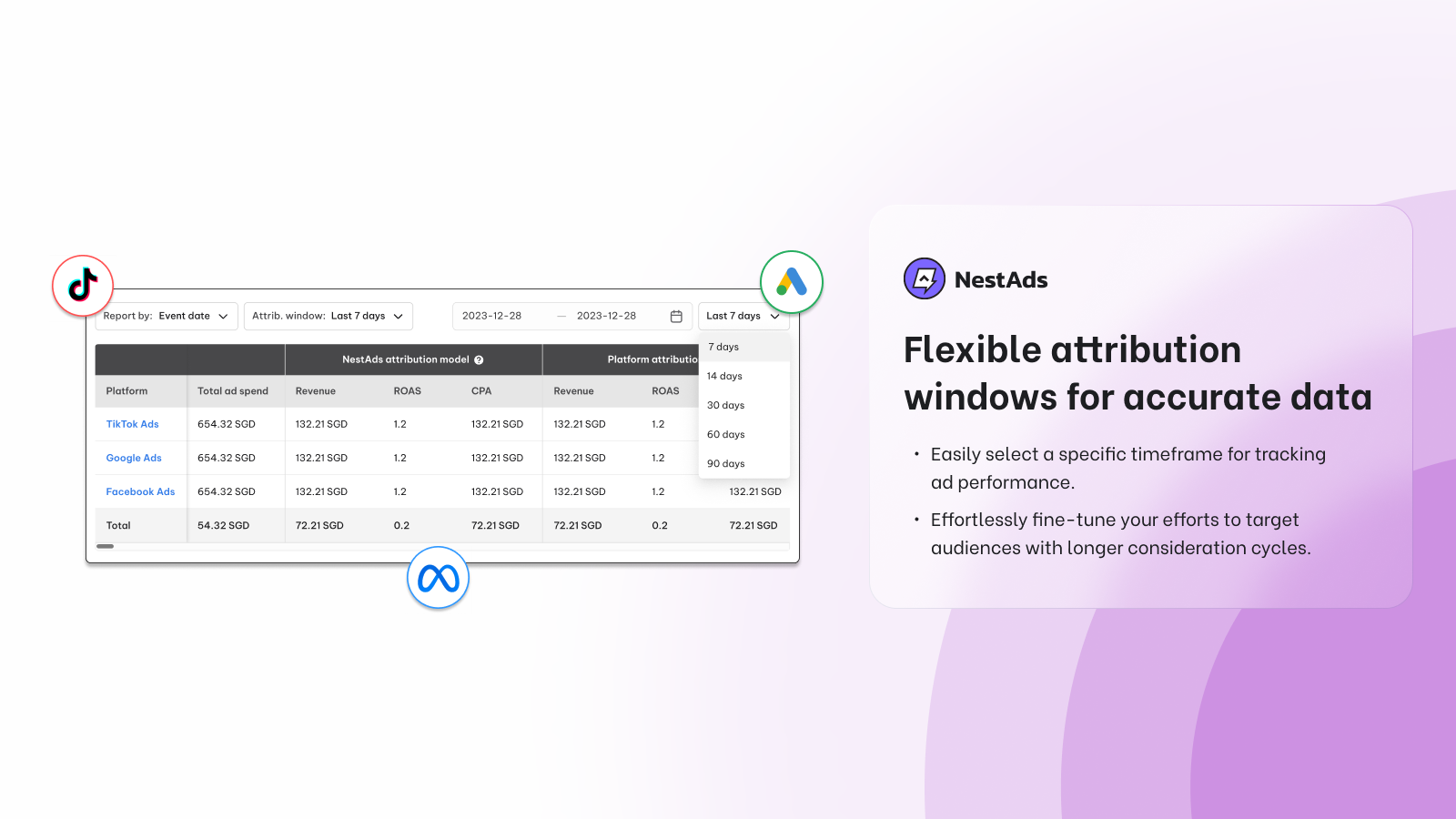 This approach allows you to effortlessly fine-tune your efforts to target audiences with longer consideration cycles. It also gives you a comprehensive view of customer behavior and, ultimately, enhances the effectiveness of your campaigns.
Multi-touch attribution model for high-impact channels
Welcome to a new multi-touch attribution model created by NestAds – incredibly powerful when you are running ads across multiple channels. This unique model assigns credit to each marketing channel's final click-through leading to a customer purchase.
The final click a user makes within each ad platform is considered the most important factor for that channel. It's a great way to spotlight the total value of click-based revenue attributed to every platform, allowing you to focus on any particular channel at any given time.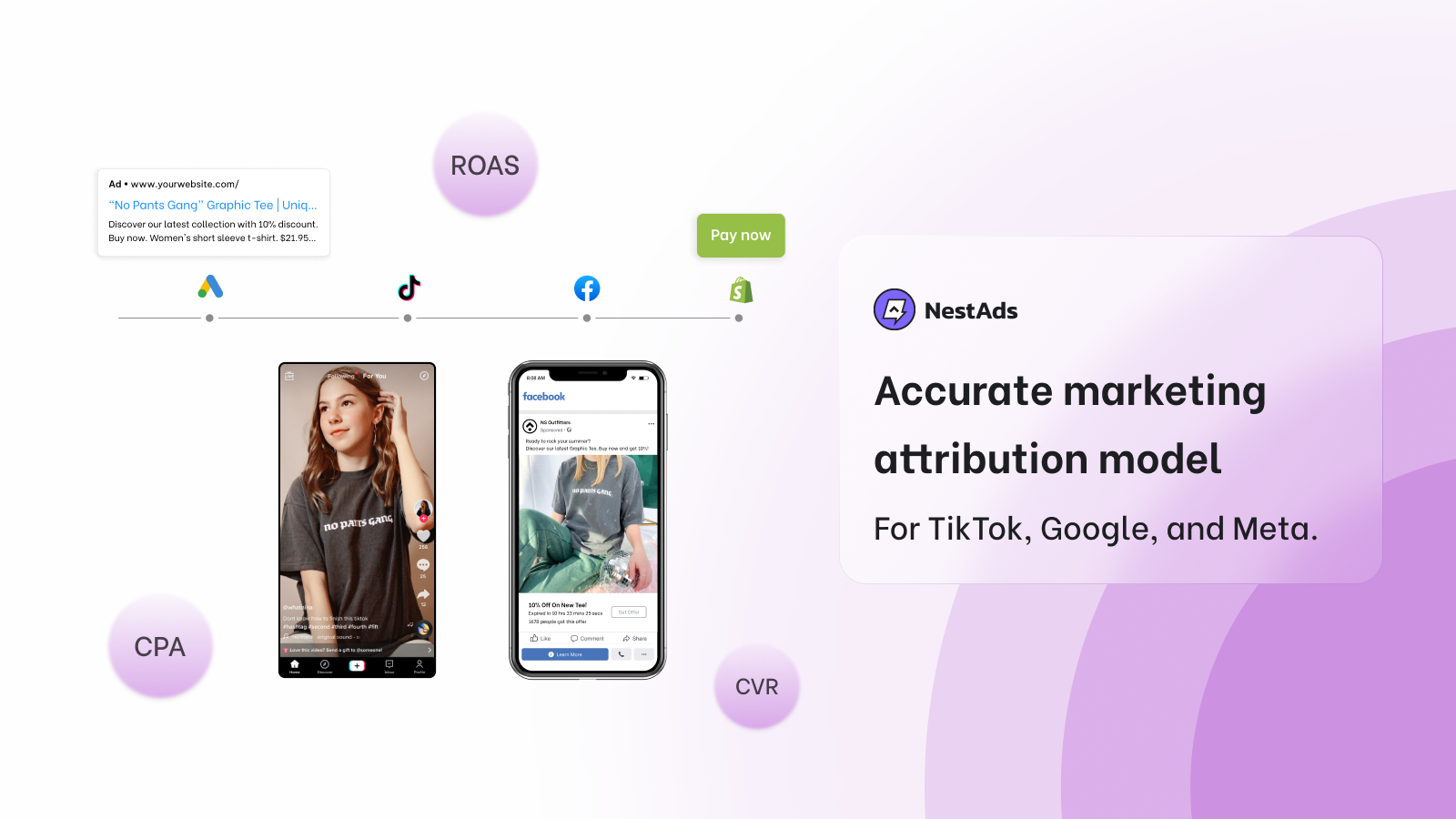 Choosing the right attribution model will determine whether you are tracking accurate data or grappling with inaccurate and incomplete information. Our model serves as a framework to break down the data and offer you a comprehensive view of your ad campaigns. Keep a close eye on all your channels and understand which pieces drive the greatest ROAS, by relying on NestAds attribution model, it's easier than you might think!
Effortlessly identify from touchpoints to customer journeys
Besides making sure that every touchpoint is included by analyzing the entire journey, NestAds 1.3 also pinpoints the touchpoints that deliver the most positive outcomes. Curious about the strengths and weaknesses of each channel? Let NestAds provide you with all the answers!
Our aim is to offer you a complete understanding of your customer touchpoints. This way, you can easily understand your customer's interaction with different campaigns across multiple touchpoints. To make everything even clearer, all the data collected is broken down into a timeline.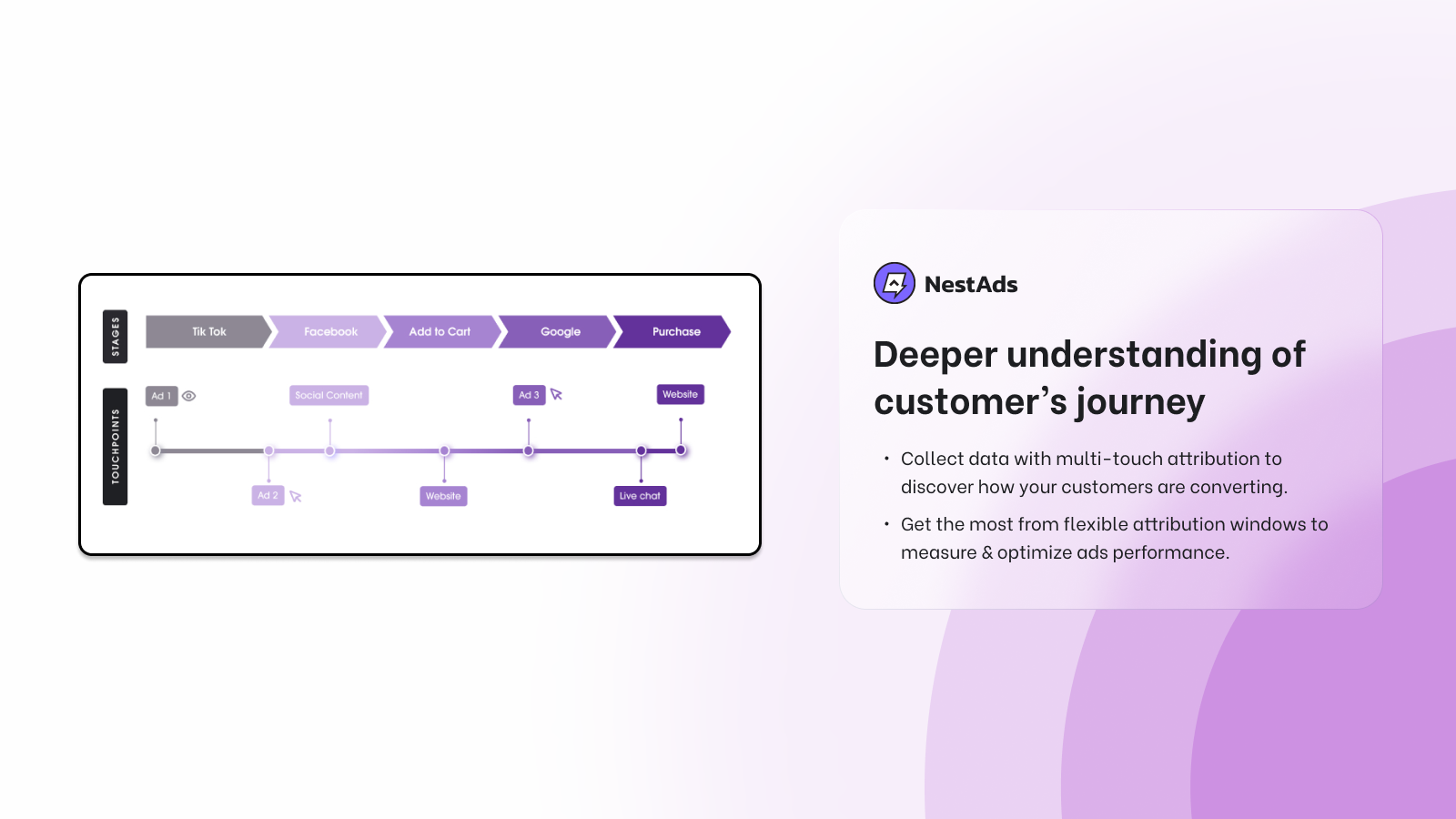 By tracking and analyzing your customer journey, it becomes easier to identify your top-performing channels. Discovering the most effective platforms gives you a deeper understanding of your customers, their needs, and their preferences. It seems to be an important step to discover how each marketing engagement contributes to conversion and sales.
But the surprises from NestAds 1.3 don't end there! Brace yourself for a detailed customer cohort analysis that tracks customer lifetime value. You can explore how much revenue your new customers generate over time and determine how long it takes until customer acquisition cost is returned.
What more? All attribution data from NestAds can be leveraged to segment your customers based on their behavior and preferences. By identifying the distinct segments, you can tailor your marketing campaigns to meet each group's unique needs and preferences. We give you the way for a personalized marketing experience to create a deep connection with your customers and increase sales.
Leverage TikTok Pixel for accurate data
Apart from a Shopify marketing attribution of choice, we continue to improve our features for a better simplified TikTok Ads solution. With just a single click, you can effortlessly install multiple TikTok Pixels with automatic event triggers and of course, no coding is required. But hold on, because we've got something truly special for you to discover! We've harnessed the power of cutting-edge technology, based on Shopify Pixel and TikTok Event API for a secure and reliable server-side connection.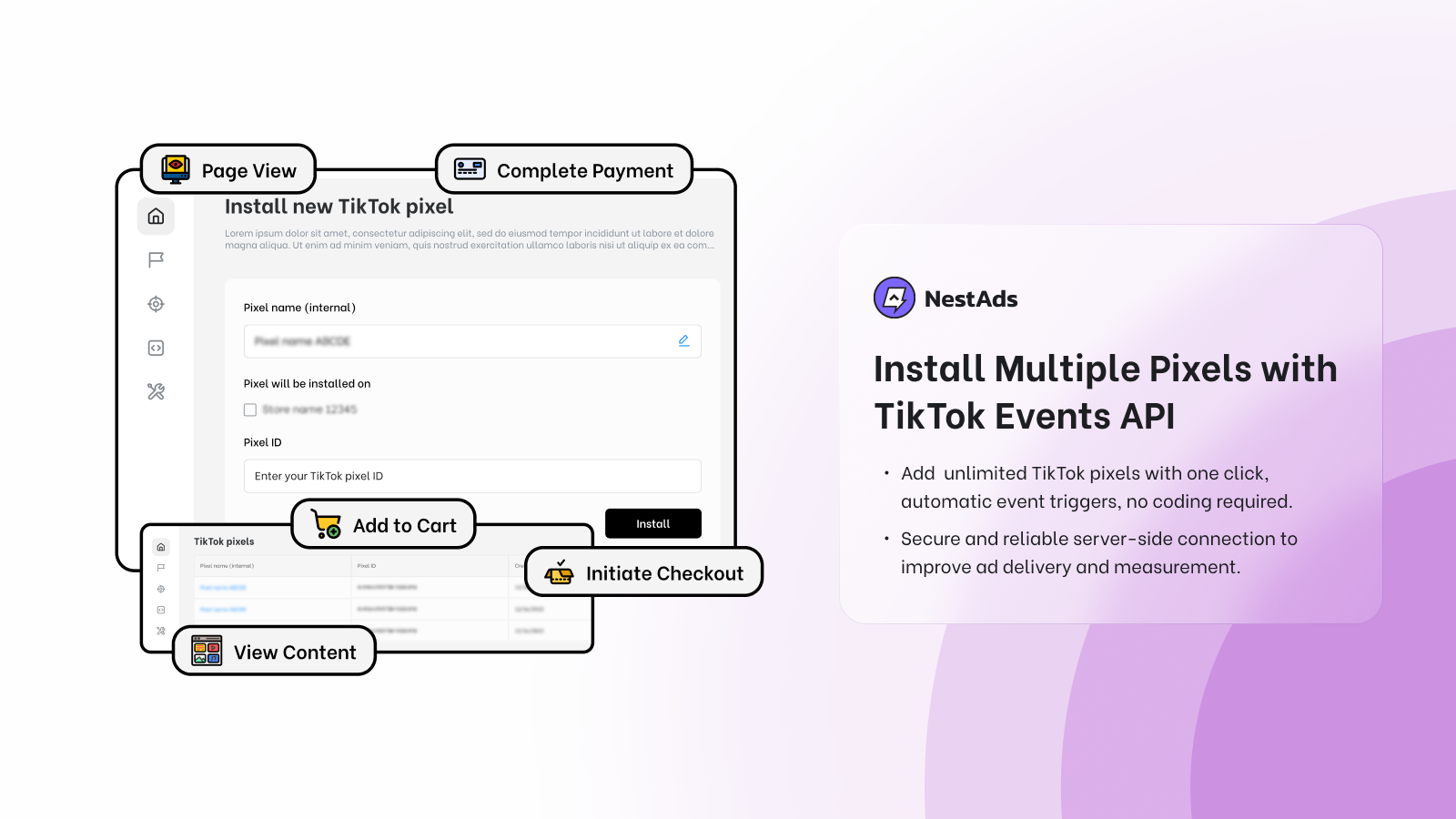 This way, you can share website data directly from their servers without needing to rely on third-party party code placed on their website. A more secure and reliable way, for sure! It's also about limiting all the data lost due to connectivity issues and browser limitations, also accurately tracking customer engagement on your website. Optimizing and scaling your ads profitably is not far away!
Affordable changes to NestAds 1.3 pricing plans
With all these new updates for the best Shopify marketing attribution, we're glad to announce our new wallet-friendly pricing plans. Each paid plan will have a 7-day trial. In this way, every user has enough time to freely explore our advanced features before making their final decision.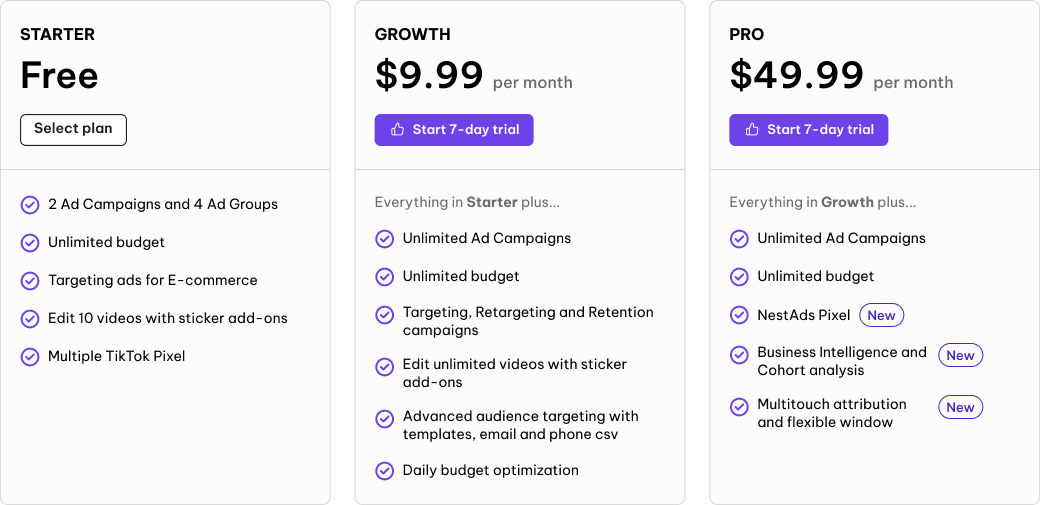 For those who have already invested in our previous pricing plans, don't be worried, nothing will change for you! You'll continue to enjoy full access to all the new features without any extra charge. At NestScale, our customers are always our top priority, and we're committed to ensuring you have the best experience possible.
It's time to maximize your advertising efforts with NestAds!
NestAds 1.3 is here, ready for you to dive into! Packed with many exciting new features for Shopify marketing attribution, NestAds is set to exceed your expectations.
Should you have any inquiries or require assistance, our dedicated support team is just a click away via live chat. Also, you can reach out to us via email at [email protected]. We try our best to ensure your NestAds experience is outstanding, and please stay tuned for any upcoming updates in the future!