In today's business world, marketing has become more complicated because there are many ways to reach customers. This makes marketing attribution important and a popular topic. But, there are different types of attribution models to choose from, each with its own features. So, it's essential to understand these models.
And we're here to help you. In this blog, we'll start with a common attribution model: Last-click attribution. We'll explain what it is, when should you use it, and how to create a report using it. Let's get ready to explore this marketing attribution together!
What is last-click attribution?
The last-click attribution (Or last-touch attribution) is one of the earliest forms of attribution. Hence, it's really popular among businesses when they implement data marketing. Put simply, this model gives all the credit for a sale to the last thing a customer did before they bought something.
For instance, let's say someone saw your ads on Instagram and clicked on them. Then, they went to your website and signed up for your newsletter. A week later, they came back to your website through the email newsletter and decided to buy your products. If you're using the last-click attribution model, it gives 100% of the credit for the sale to the email newsletter because that was the last thing the person did before making the purchase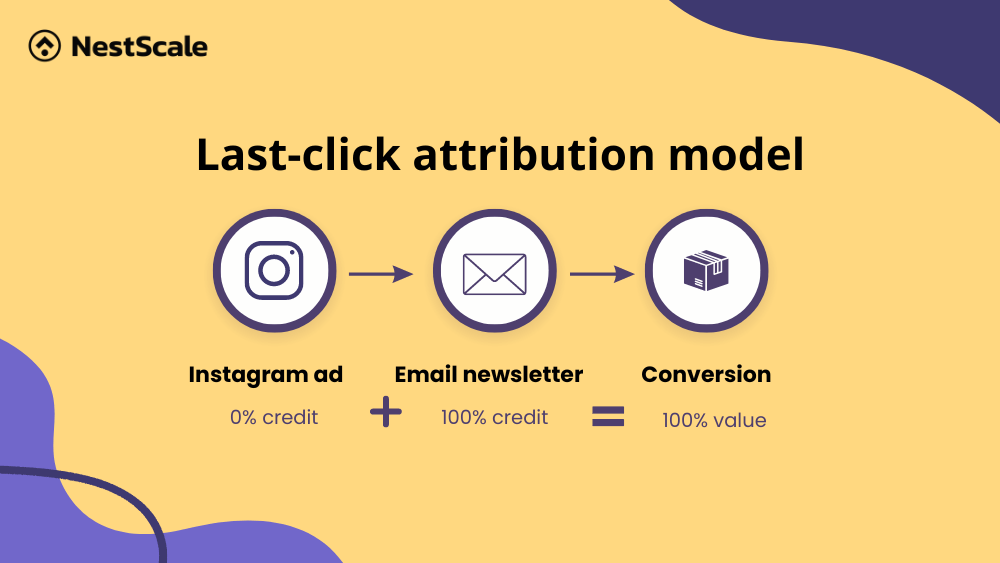 Reasons e-commerce businesses use last-click attribution
Last-click attribution is one of the most popular attributions among businesses. It also appears as the default option (Which is seen as First Interaction within this platform) when you want to generate conversions report within Google Analytics. So, let's look at some of the main reasons for this hype: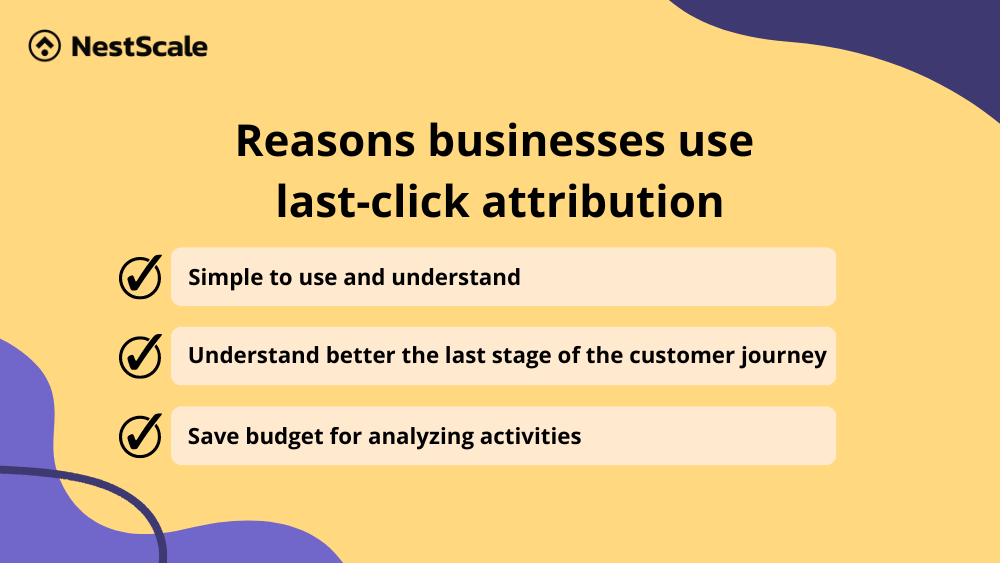 Simple to use and understand
Last-click attribution is a simple way to see which ads work best. It basically says the last thing people click on before buying something is what convinced them to buy it. If a Facebook ad is the last thing they click on, then it's the most effective channel that you need to focus on. So, you don't have to think too much about all the other stuff they clicked on before. This makes things easy to understand and helps businesses save time.
Understand better the last stage of the customer journey
One awesome thing about the last-click attribution model is that it tells you which channels play a big role in the final part of the customer decision journey. But wait, there's more! It also helps you dig deeper to figure out what exactly makes those channels work and drive sales.
Here's an example: With this model, you find out that email newsletters are the channel that often shows up just before a new conversion is recorded. Now, you can dig deeper and ask, 'What kind of content do they actually like in those emails? Then, you use that info to make your conversion-stage marketing even better and sell more stuff.
Save budget for analyzing activities
If your business wants to do data-driven marketing but is on a tight budget, last-click attribution is still a solid option. You don't need fancy analytics tools or software; it can do the job without all that. Thanks to this characteristic, it's still a really reliable choice for many businesses.
Last-click attribution problems
While last-click attribution is easy to grasp and quite popular among businesses, it does have some issues, especially in today's world where marketing happens across multiple channels. So, before you dive into using this attribution model for your analysis, make sure you've got a good handle on these drawbacks: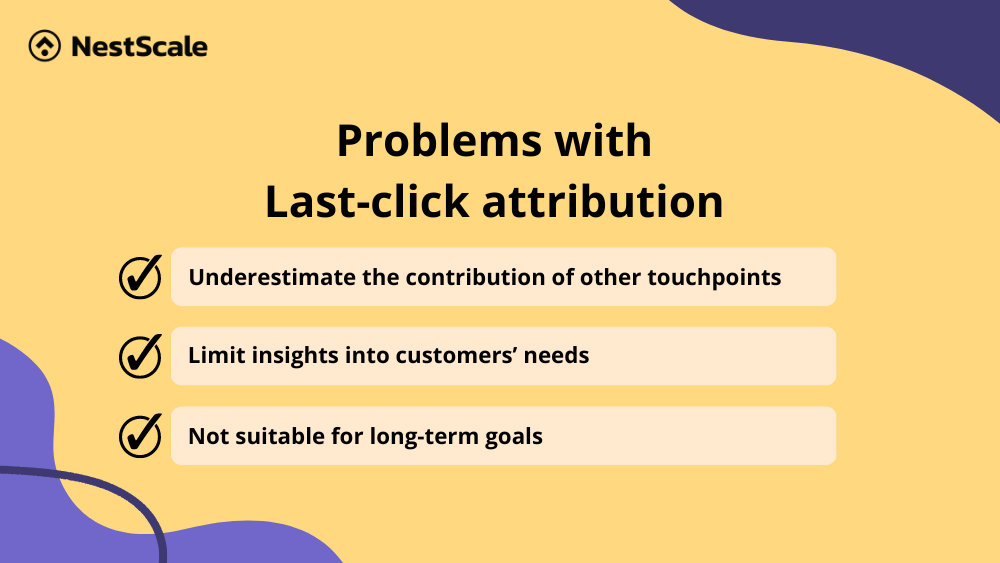 Underestimate the contribution of other touchpoints
The downside of the last-click attribution model is that it kinda ignores the other channels in the customer journey. So, you'll end up missing out on insights into how these marketing channels are influencing customers and working together to make that final sale happen. Let's look at an example to see why you need to consider other touchpoints and channels besides the last one.
Let's say you're running an online electronics store. With the last-click attribution model, you notice that most of your sales come from email newsletters. So, you think that email newsletter is the most important channel that boosts your final sales. However, what you can't see is that those customers find you through Google ads first, and then they come to your website and sign up for your newsletter. Hence, you must still spread your efforts to all marketing channels that contribute to your customer journey to get the best result.
Limit insights into customers' needs
Last-click attribution gives credit to the last thing a customer clicked on before buying. But here's the catch: it simplifies customer behavior too much. It forgets that shoppers usually research before buying. If you only look at that final step, you're missing out on their whole journey. And that could mean you're not offering enough help when they're searching for what they need.
Let's stick with our online electronics store example. Electronics are something people usually research a lot before buying. They look for info on places like social media and Google search. But if you rely solely on last-click attribution, which says newsletters are the best for sales, you might only pay attention to newsletters. The problem is customers won't find your brand elsewhere, and you won't have enough info about your customers to understand them better through analysis.
Not suitable for long-term goals
If you're looking for further insights to improve aspects of your business such as brand awareness, customer loyalty, or advocacy, then Last-click attribution might not be a good option for you. This is because it only measures the last interaction a customer had with a brand, and does not take into account the overall customer journey.
Should your business use the last-click attribution model?
All marketing attribution models out there come with their pros and cons. Whether you should go with last-click attribution or something else depends on a few factors like these:
Your marketing goals: Your marketing goals matter a lot. If you want to see just the final step where customers buy, last-click attribution is fine. But if you want the full picture of how customers journey to that point, a fancier attribution model might be better.
Your budget: Last-click attribution is pretty simple and doesn't cost much to set up. But if you want something more advanced, you might have to spend on fancier tools or software.
Your available tools: Finally, with last-click attribution, you need to track the last channel or touchpoint a customer used before making a purchase. If your tools can't get this data, then you can't use last-click attribution
If what you're after doesn't quite match what this model offers, don't worry. There are plenty of other marketing attribution models you can try. In fact, our attribution solution has one called "NestAds Marketing Attribution" based on the last-click attribution. This model lets you keep tabs on the last click for each channel, so all your channels still count in your analytics. And guess what? We've got a bunch of other options in our app for you to explore, so go ahead and check it out now!