One of the most prominent trends of e-commerce in 2023 is social commerce and TikTok is definitely a dominant player in the fierce competition. As TikTok strives to transform from a discovery network to a shopping platform and sees positive outcomes (an increase of 72.3% in US TikTok buyers at the end of 2022), more and more merchants are flocking to TikTok to engage, convert, and retain customers.
Keeping this in mind, we have worked hard over the past year to provide you with the best tool for effortlessly elevating your TikTok commerce. Our robust solution, NestWidget, not only allows you to showcase an unlimited number of TikTok widgets on your Shopify store but also helps redefine your customers' shopping experience with shoppable feeds for enhanced traffic, engagement, and sales.
Let's see NestWidget in action!
Collect infinite content from your TikTok account(s)
Dread posting and sharing your social media posts manually to your Shopify store and seeing no results?
With NestWidget, you can collect and display all the valuable content from your personal TikTok account, thereby amplifying your TikTok reach and maximizing brand exposure.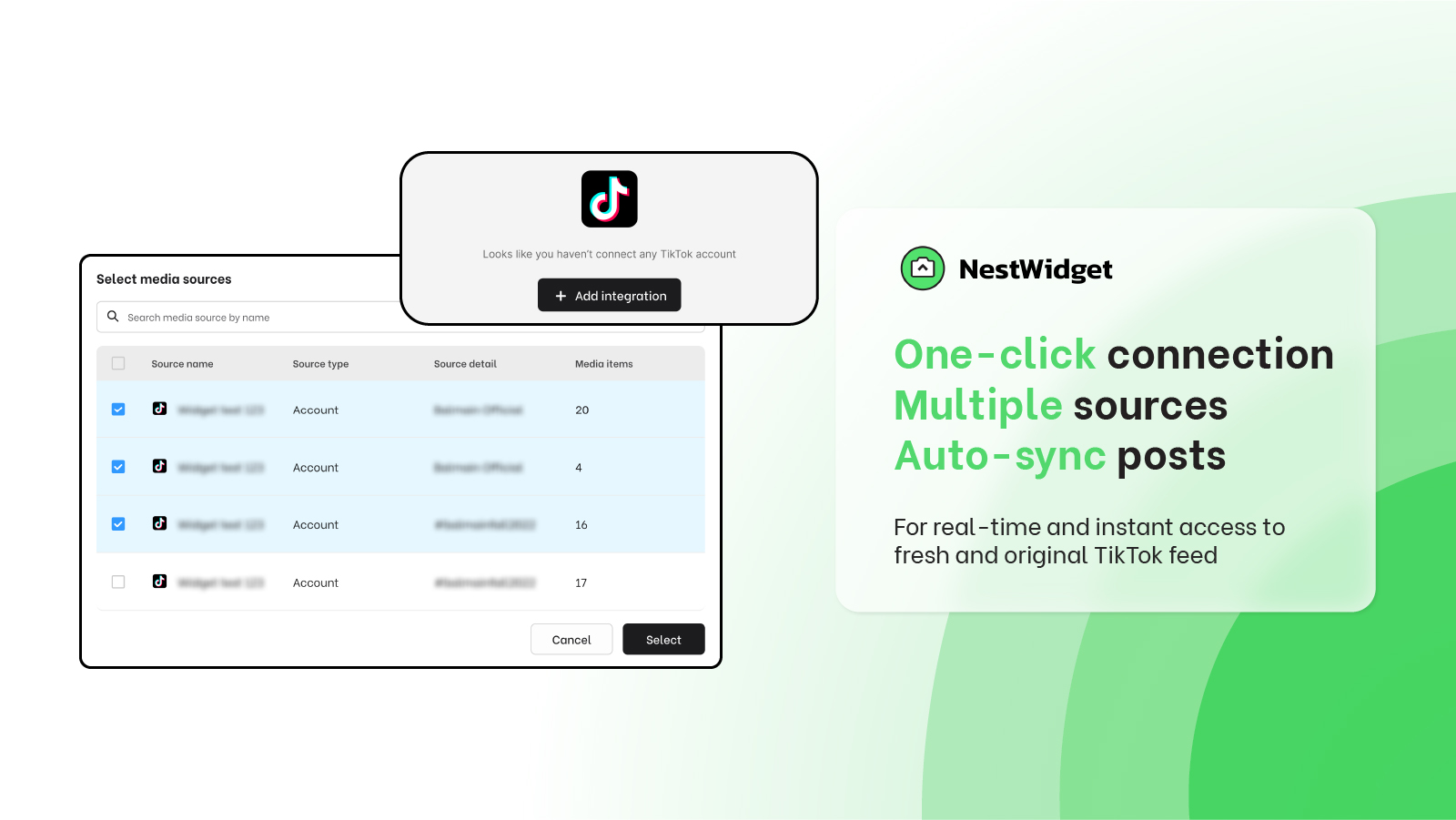 Unlimited TikTok accounts
Only with one click "Add integration" can you connect to any desired TikTok account. You can then take advantage of unlimited TikTok accounts to leverage content beyond TikTok.
Unlimited sources for diverse content
Avail of infinite sources from unlimited TikTok accounts that you already connect to display all of your interactive content in one single place.
Curate and manage the look and feel of your TikTok feeds
Want to filter all the noise and showcase only the best content to enhance engagement and boost potential customers? NestWidget got you!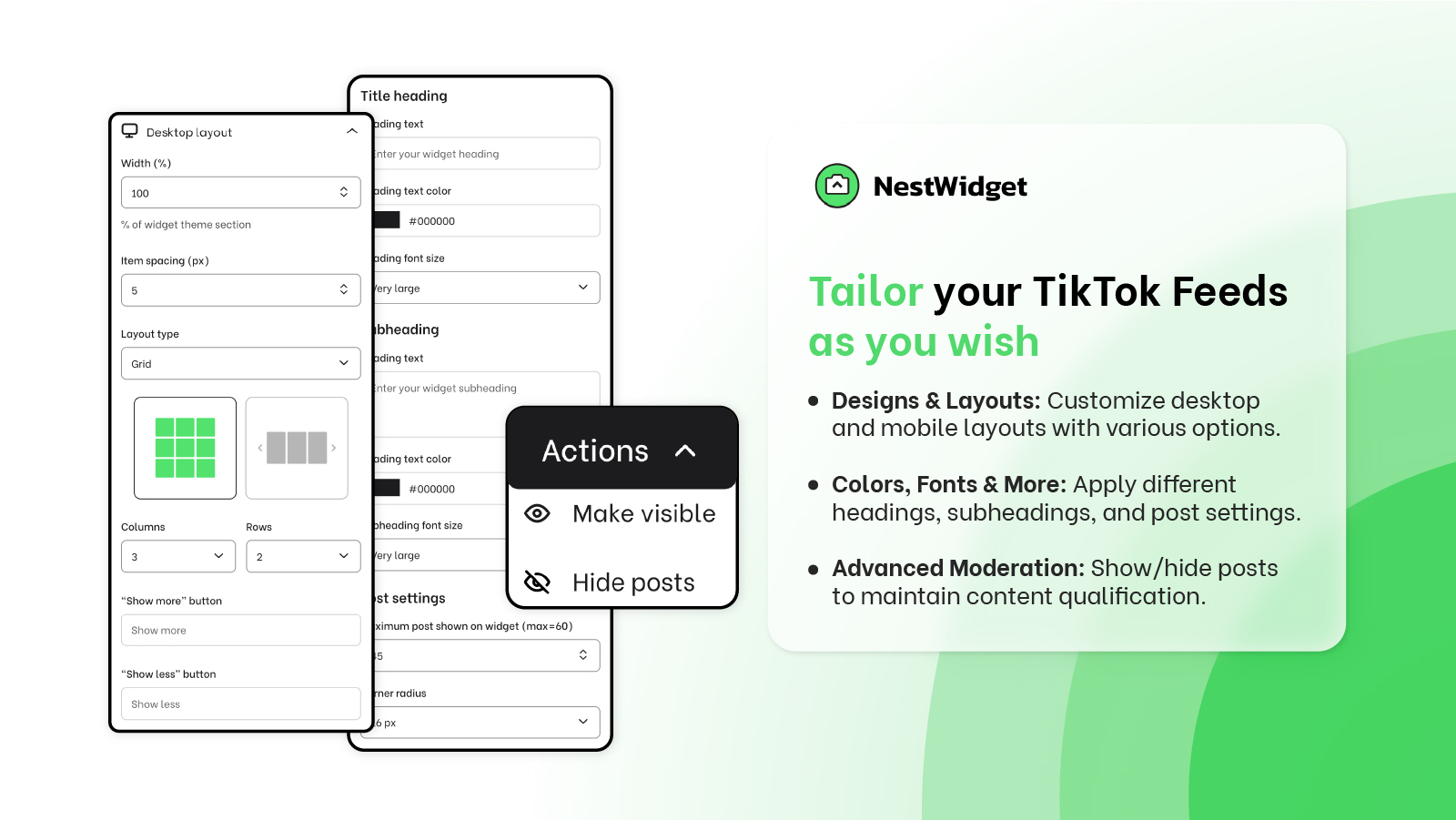 Keep your TikTok feeds optimized in one click
Stay in control of the content you put out to the world and keep your feeds optimized with the advanced moderation feature. All you need to do is to select the posts you want to display or hide and click the buttons "Make visible"/ "Hide posts" accordingly. As a result, you always can showcase the finest content in your feeds while removing unnecessary posts.
Add personalized & appealing touches to your TikTok widgets
Freely customize your aggregated TikTok feeds in the widget with a wide range of customizations:
General configuration: Title heading, Heading text color, Heading font size, Subheading, Post settings, etc.
Desktop & Mobile Layout: Width, Spacing, Layout type (Grid & Carousel), etc.
And much more to make your widgets more branded and eye-catching.
Make your stunning feeds shoppable
Seeking to make your social activity sell for you while redefining your customers' shopping experience?
With NestWidget, you can quickly upload products in bulk or sync product catalogs to easily turn your TikTok content shoppable.
What you need to do is simply select the right products, then click "Add products" to tag them to your stunning TikTok videos.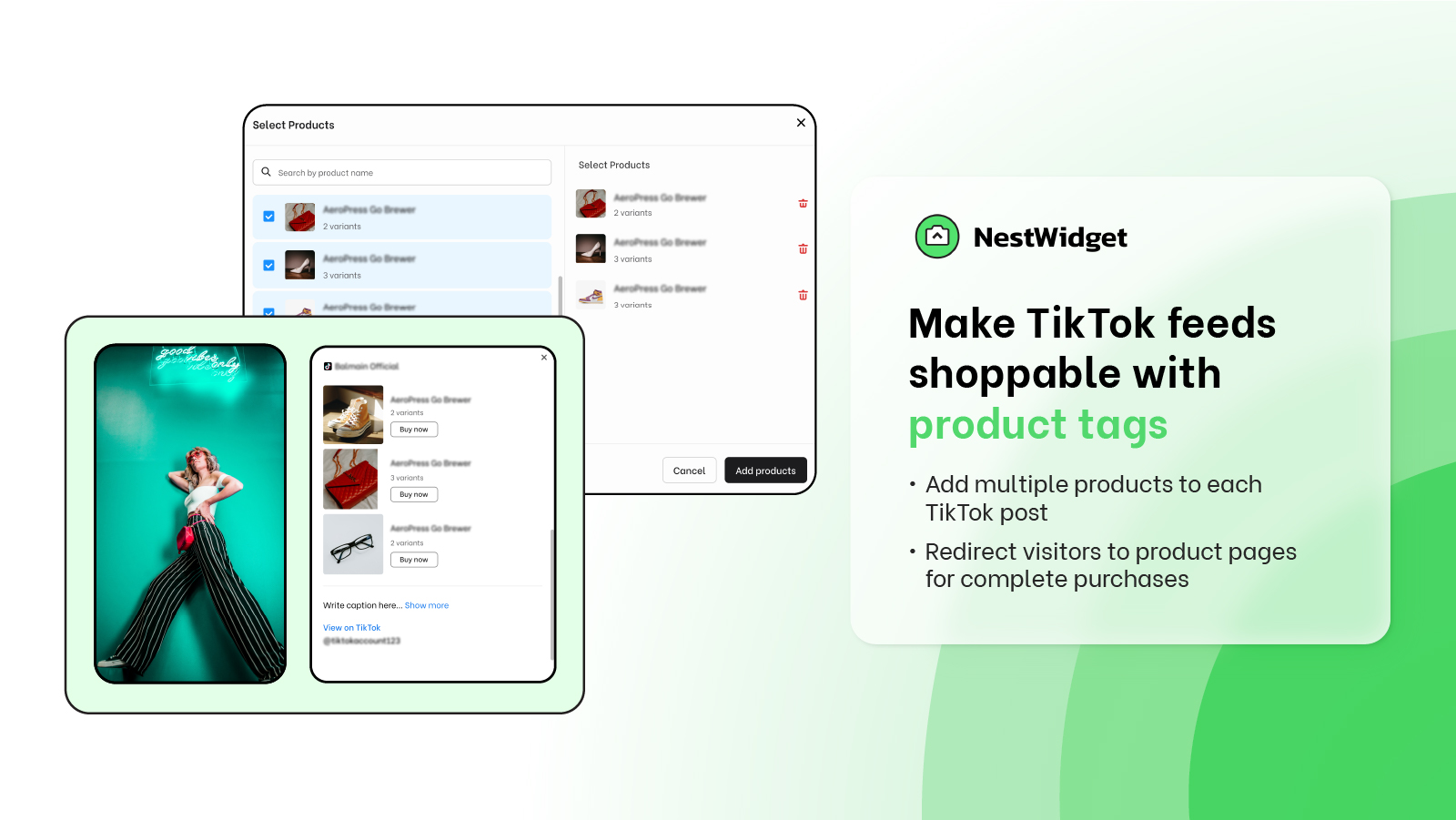 Then just sit back and enjoy tremendous on-site sales coming in.
Publish unlimited feeds anywhere you want
Ready to publish your finest feeds across your Shopify store to increase awareness, reach, engagement, and more?
NestWidget enables you to quickly and strategically distribute your most engaging shoppable feeds anywhere you want. Just follow the simple instructions on the website to embed your widget anywhere you like, from the homepage to the product page.
Display the most valuable shoppable videos on the homepage to improve product discovery and instant purchasing chances.
Increase conversions and decrease abandoned carts with product-specific feeds on product pages.
and much more.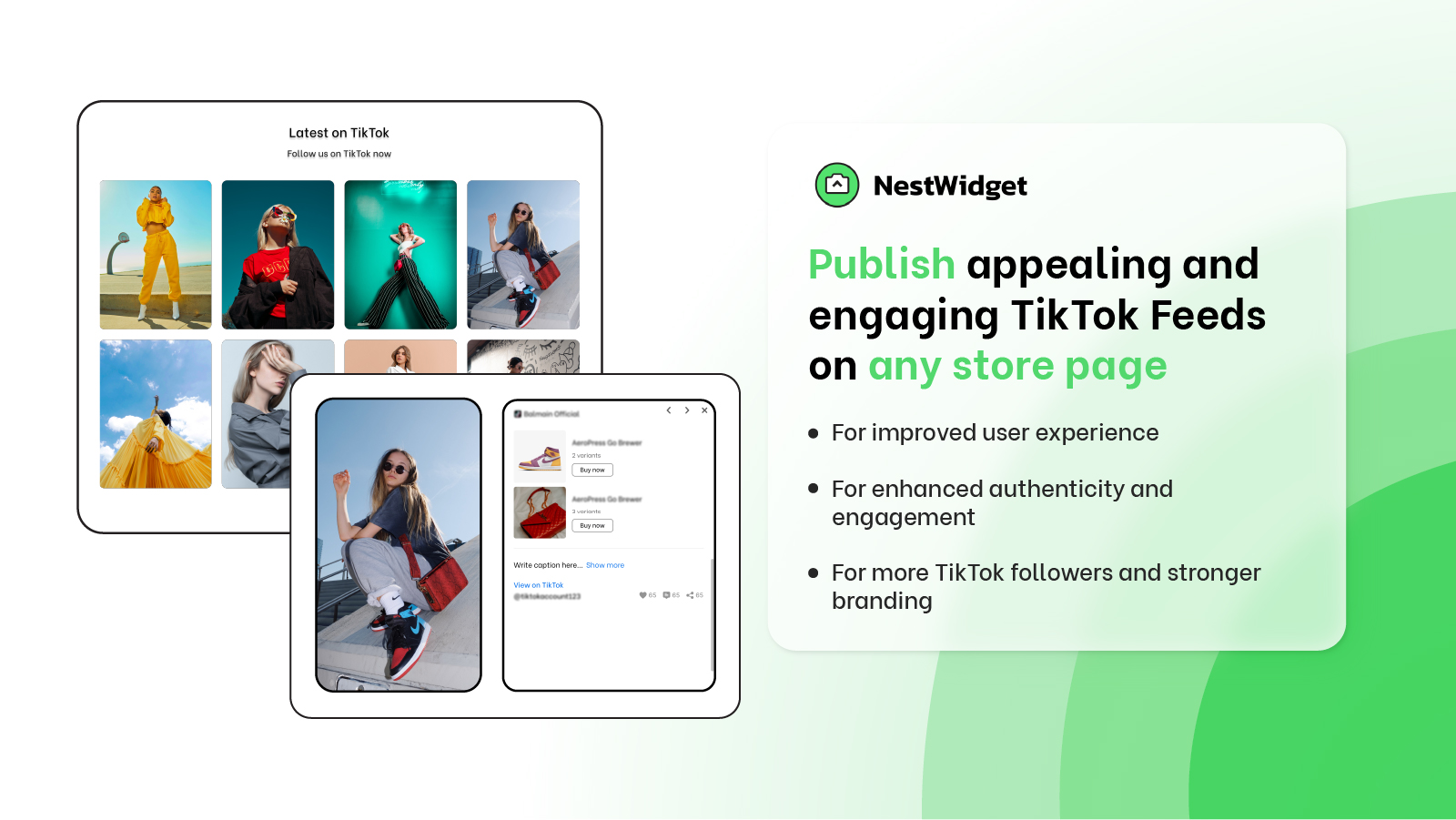 Don't worry about getting out of date as NestWidget automatically gives real-time updates of new and unique TikTok feeds. Save time and effort while your feeds do their best job.
Measure your TikTok widgets' performance
Now it's time to track and analyze the performance of your TikTok widgets. To effectively tap into the power of TikTok content, you need to be mindful of data like click statistics, trending posts, most clicked products, etc. NestWidget provides you with that and more!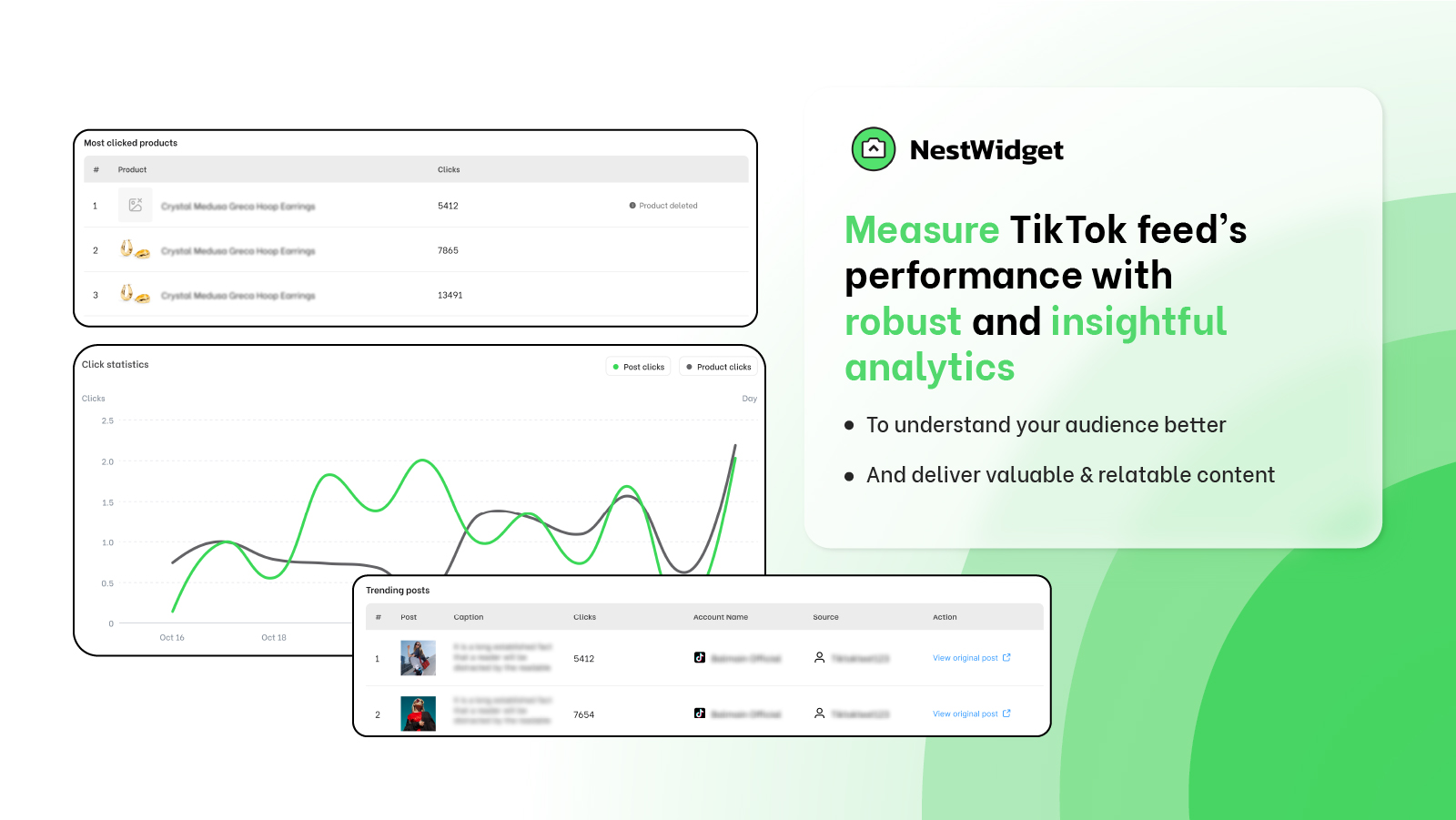 All the actionable insights NestWidget offers will help you better understand your audience and your feeds' performance, thereby optimizing your widgets accordingly for maximized sales.
Ready to make your TikTok activity sell for you?
More and more merchants are trying their hands on various strategies to boost sales. With the continuous growth of social commerce in general and TikTok commerce in particular, we at NestScale have done our utmost to help you effortlessly showcase your best shoppable TikTok widgets to enhance on-site sales at every point of engagement.
All the built-in features like auto-sync posts, creative customizations, advanced moderation, product tags, robust analytics, along with the intuitive user interface make NestWidget the perfect choice for every online merchant with little to no technical knowledge.
So, what are you waiting for? Let's start collecting, curating, and publishing your compelling shoppable TikTok feeds today with NestWidget!