Do you know that 70% of all customer conversations are related to purchase decisions? Customers mostly ask questions while viewing products or even when they already have items in their cart. Some want to feel confident in an online purchase that they have no way to touch and handle physically.
Many brands consider customer service as a necessary evil to support or handle the inevitable complaints only. But now, chat has gone beyond a support tool to become a powerful sales channel.
Recognizing the potential and demand for unlocking sales from chat, we felt a strong pull to develop NestDesk – an affordable customer service platform that powers your business to turn more browsers into buyers.
Boost your customer support efficiency
Compared to other methods, chat is still most favored by online shoppers whenever they look for support. Nearly 73% of customers say that chatting is the most satisfying way to communicate with a business. They not only reach out to you when something "goes wrong" such as return, refund, or exchange, but they also want to contact you in the pre-purchase stages.
As customers may contact you from many channels at any time on a day-to-day basis, you need to have an omnichannel support tool that helps you manage all messages, respond faster, and much more. This is when NestDesk comes in handy.
Streamline customer messaging
NestDesk empowers you to track all messages, including awaiting messages, assigned and unassigned messages right on one intuitive panel. No worry about missing any conversation, you will get notified when a new message arrives. This way, you can easily keep up with incoming chats and respond to customers in real-time.

From the overview report, you can get a snapshot of the number of conversations created & closed average first response time, and average resolution time. The statistics are displayed as graphics and can be filtered by stores, agents, channels, time range, etc. Hence, it becomes easier than ever to evaluate the support performance and get valuable insights from that.
Connect with customers in more ways
Customers are not only present on your website, there are so many online channels and platforms that they browse on. And as a business, you want to be everywhere your potential customers are.
With NestDesk, you can centralize all messages from live chat and Facebook messengers in one place. Simply deploy the live chat widget on your website and connect your Facebook Messenger to the chat system in just a few clicks. No need to switch many tabs, you can quickly answer customer queries across any channel in an instant from one inbox.
Whenever visitors drop the message into the Messenger or live chat widget, your customer support team will immediately get that query in the NestDesk account and answer that within seconds. Never miss conversations, no matter the channels.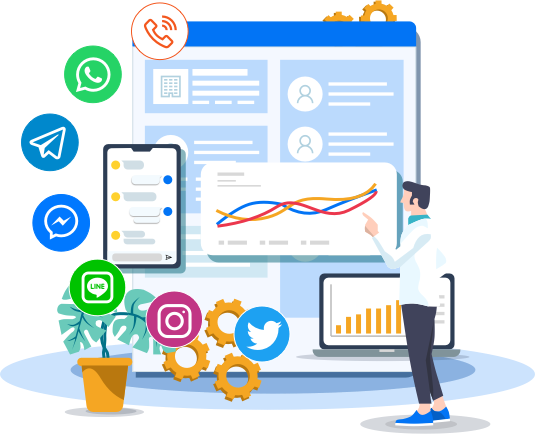 Automate common responses
It is reported that 90% of customers rate an "immediate" response as important or very important when they have a customer service question. Customers expect quick answers and the pressure to respond in real-time is a challenge for most today's businesses. But with the NestDesk, you can deliver professional and informative messages in a matter of seconds by using the macro feature.
Put simply, macro is the pre-made message that is customized for specific questions. It helps you to shorten the average response time for frequently asked questions and quickly delight customers. For example, when a customer contacts you to change the shipping address of her latest order, you just need to select the changing shipping address template and reply within 3 seconds.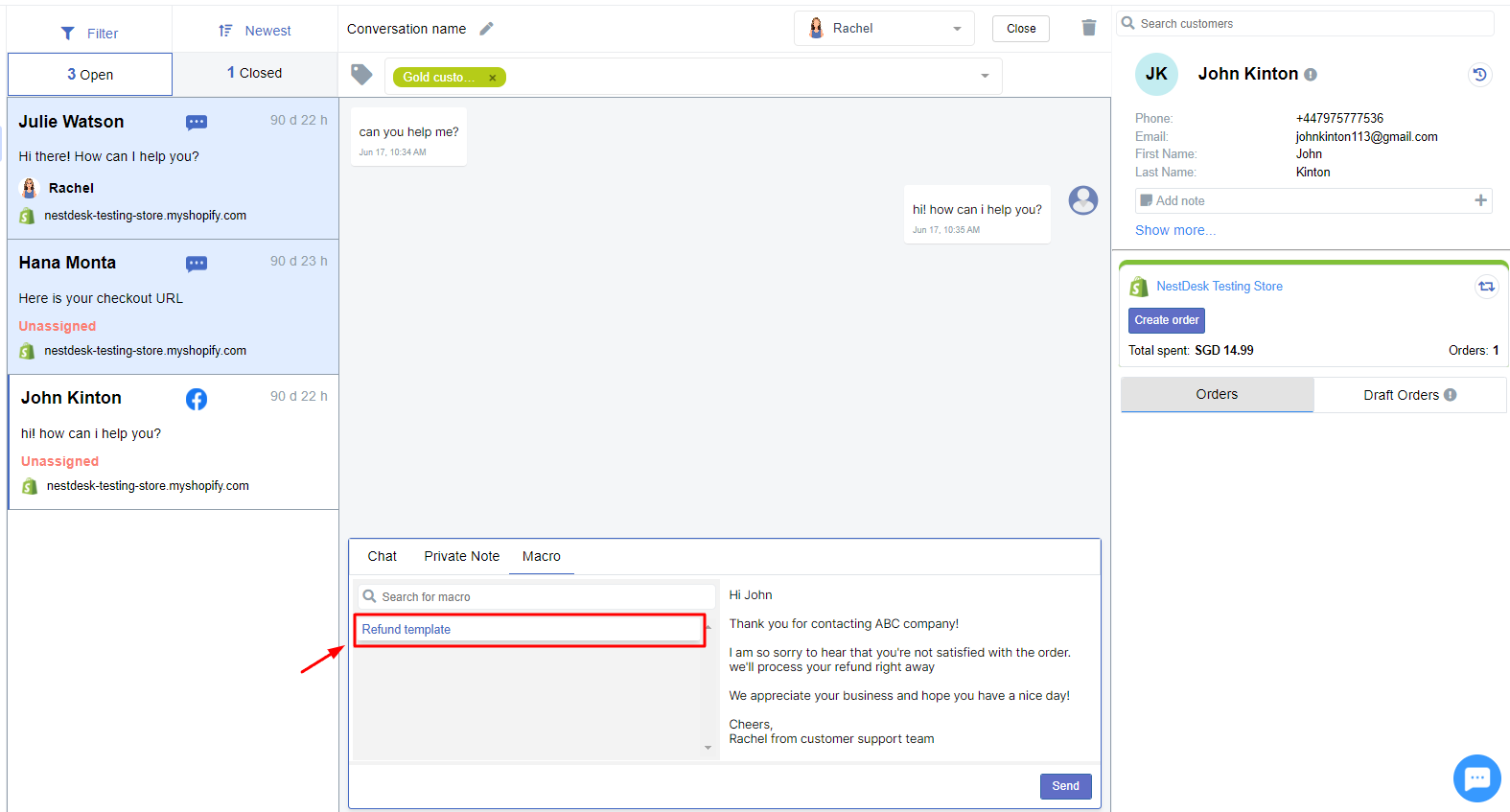 Collaborate with your teammates
How to quickly handle a chat from other agents? It's when the private note comes in handy. Basically, the private note is the internal note that an agent leaves on a specific ticket. It is only visible to your team and not to customers.
By using this feature, you can easily provide context when reassigning the ticket to another agent. This not only makes it easier to collaborate with your teammates within a chat but also helps the assigned agents to have enough context for the next action.
If your online store has more than one support agent, NestDesk enables you to assign messages to the right people, at the right time. No more missing chat!
Deliver personalized customer service
One of the most important ways to satisfy your customers is by giving them personalized service. 70% of consumers say that brands should recognize current customers so they don't have to repeat information to different representatives. However, for online stores having a huge customer base, it is definitely not an easy task.
With NestDesk, you can view all customer information and order history shown next to each message. Recognize people smartly so you don't have to ask them to repeat themselves. When customers start a conversation, you can get context on their previous orders, know their taste and thereby give more personalized advice or recommendations.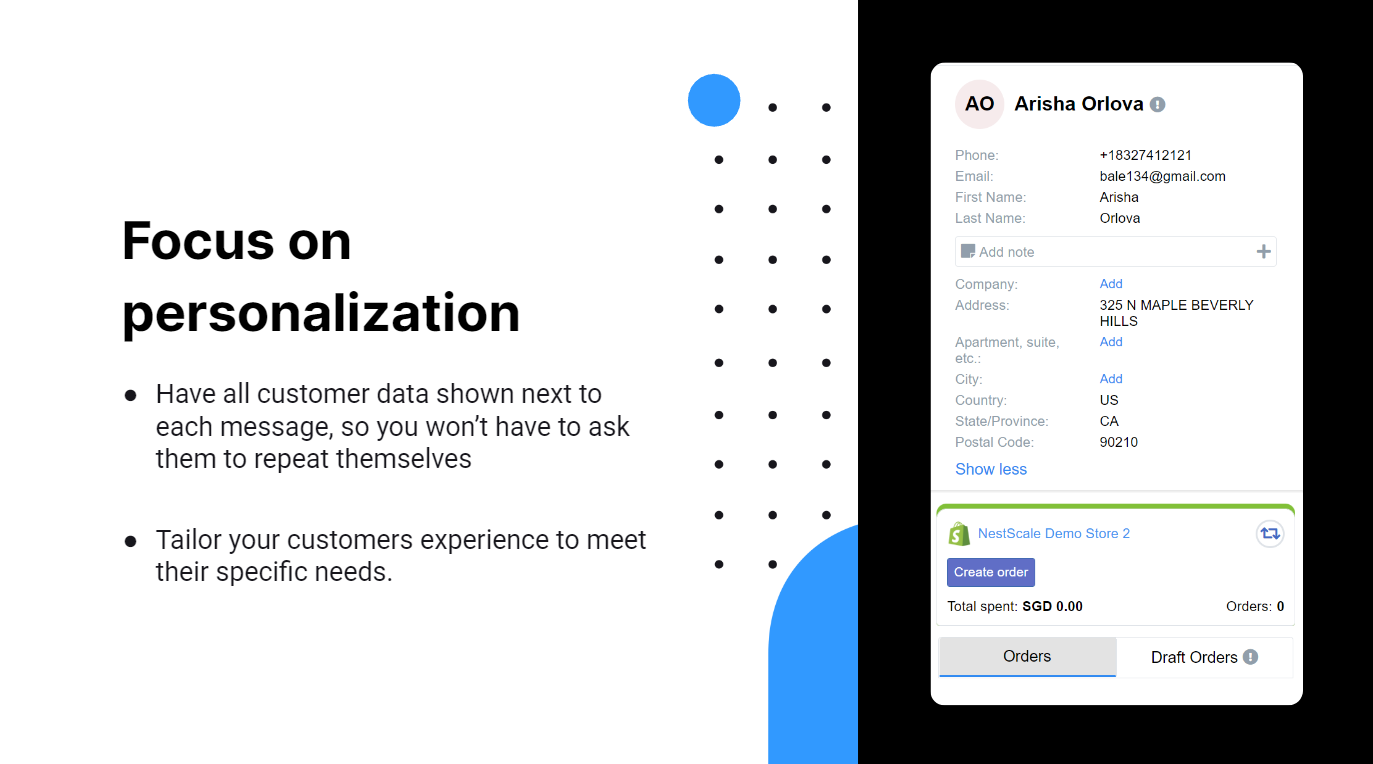 By tagging the message, it saves you a lot of time to categorize, sort and manage messages according to their content and characteristics: urgent, VIP customer, order status, refunds, etc. Furthermore, when you open a previous message, the tags can tell you at a glance what the conversation is about without having to read the entire chat transcript.
Unlock sales from conversation
Traditionally, customer service was only good for fielding issues and was viewed as a major cost center. That's no longer the case. Chat is now much more than support. NestDesk enables you to turn your customer service into a powerful sales funnel.
Create orders right on your chat system
While chatting with customers, you can help them create draft orders at a glance and send them out the checkout link. This way, customers can skip the long buying process and you also win sales faster right from the chat portal.
In addition, NestDesk allows you to create paid orders and pending orders without leaving your dashboard. Then simply copy the order status page to reassure customers about their orders. Stop switching all day long and turn every customer interaction into a sales opportunity.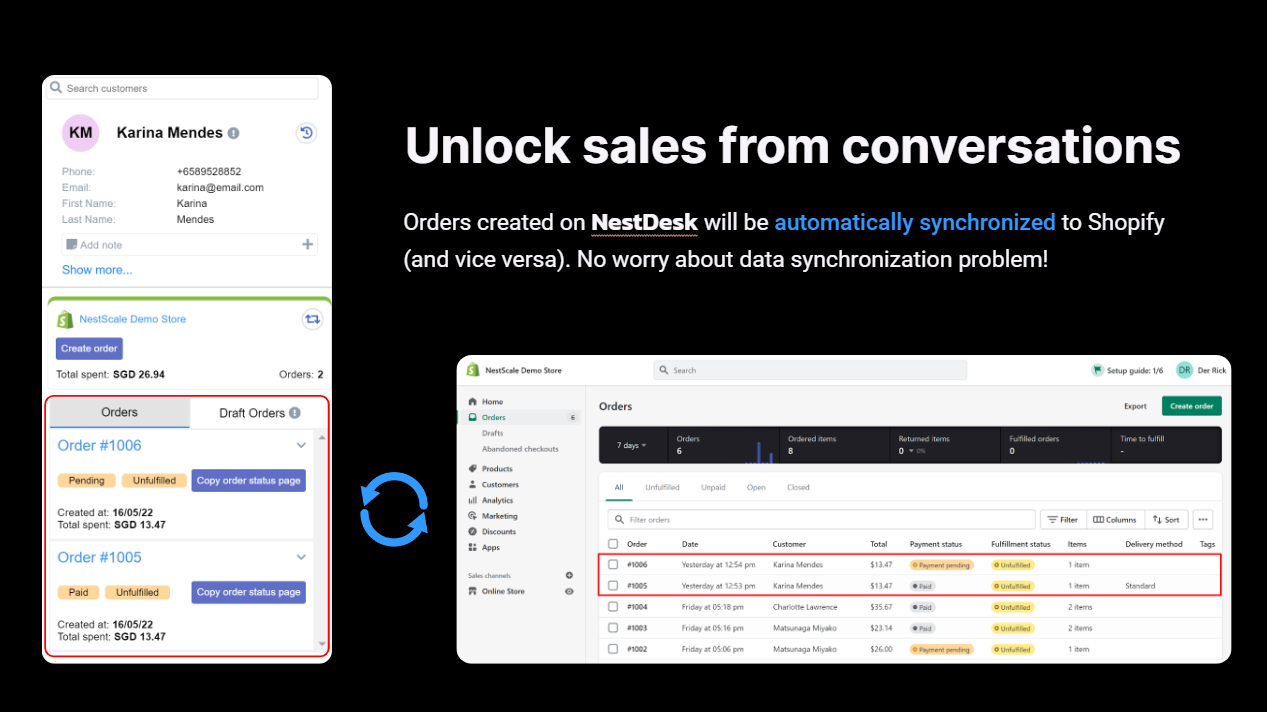 Measure revenue from customer care efforts
NestDesk gives you access to data-driven insights that help to track conversion rates and better understand customers. The revenue report displays clearly the sales volume generated by support agents sorted from which channels and stores.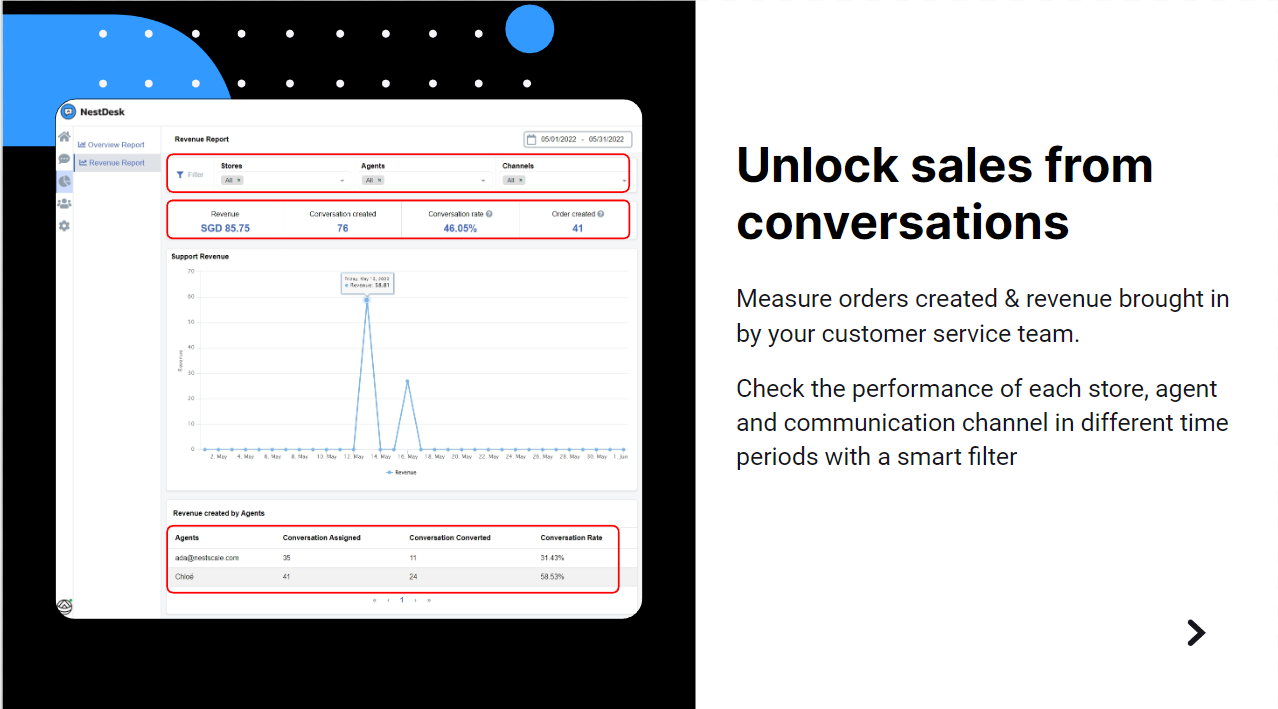 Kick off your customer support revolution now with NestDesk
More and more customers are reaching out to brands across various online channels. Via chatting with customers, you can unlock a direct line to them and make every customer interaction into a sales opportunity.
NestDesk makes it easier than ever for you to deliver exceptional customer service and make it actually work together with sales – all from one place. It's time to kick off your customer support revolution! Let's book a demo with our dedicated team and get a complete walkthrough of NestDesk.