Over one billion people around the world turn to TikTok to be entertained, find joy and discover something new. This makes TikTok a potential place where businesses can broaden their reach, and generate sales via advertising.
Unlike other platforms, TikTok Ads look and feel like organic posts that capture more users' attention, make them engaged and drive impressive conversions. The fact is that one in four users globally has purchased or researched a product after seeing it advertised on TikTok.
As every game has its own rules, advertising on TikTok doesn't follow the same success formula as advertising on Facebook, Google, etc. That's the reason why we build NestAds – No 1 TikTok Advertising Management software that helps eCommerce businesses make winning TikTok ad campaigns.
Launch winning TikTok Ad campaign in minutes, not hours
TikTok has just been booming for a few years now, and its algorithm is still something new for the majority. Thus, both brands with and without advertising expertise may find it hard to have a good ad strategy on TikTok.
At NestAds, we make it super easy for you to launch ad campaigns that go on the right track with your desired goals.
TRR funnel
Advertising to the right person with the right message, at the right time is vital to the success of any marketing campaign. In NestAds, you can ensure your TikTok ad campaign reaches the right target audience and have a crystal clear objective with TRR funnel.
TRR funnel refers to 3 audience-based campaign types: Targeting, Retargeting and Retention. It aligns with the eCommerce sales funnel initiating from how a potential customer is aware of your brand to buy your product and come back for repeat purchase.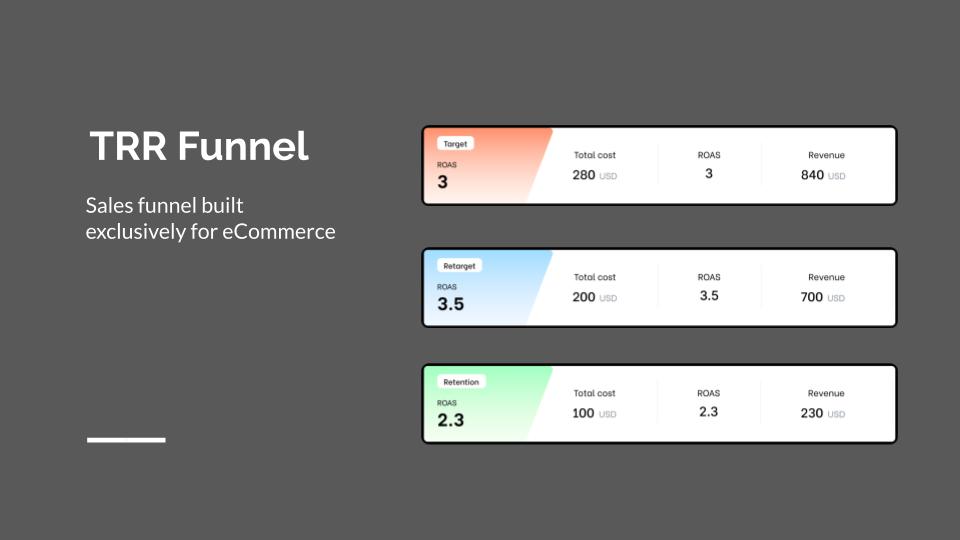 This signature campaign model is built exclusively for eCommerce. Therefore, you'll easily notice that the ad creation process is tailored and remains only important criteria that matter. NestAds keeps you stay focused on key ingredients to cook a plate of delicious TikTok Ad campaign that make your target audience's mouth water.
No need for expertise, you can create and launch an effective TikTok ad campaign in minutes with a simple ads creation process.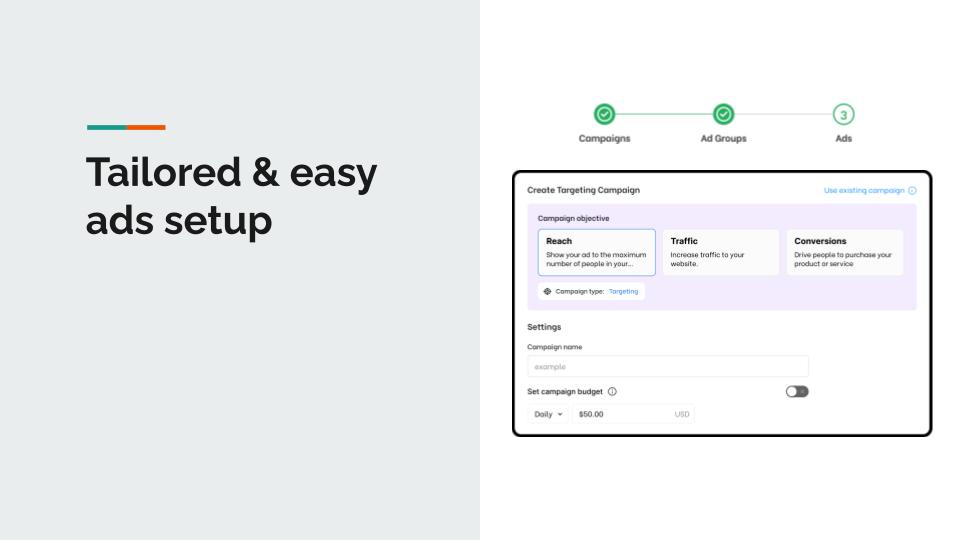 Audience library
Defining the target audience in advertising has never been an easy thing. But it becomes no-brainer with the aid of NestAds's audience library.
Using NestAds, you can get free access to the predefined audience templates that are qualified and proven to convert. Each audience option is identified based on specific behaviors such as viewing your ad, clicking through the CTA button, initiating checkout on your website, etc.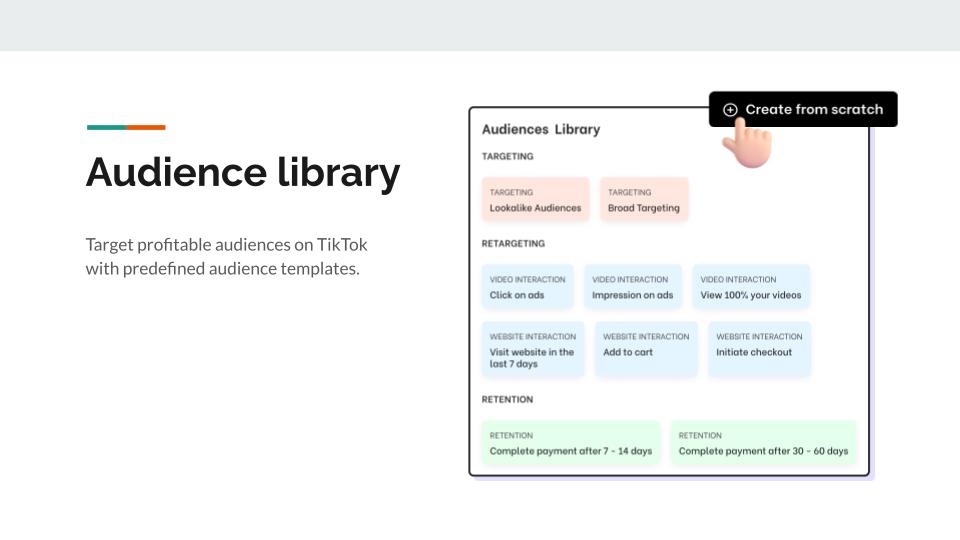 These templates are categorized into each campaign type in the TRR funnel so you can utilize them for the right advertising objective.
Analyze ad performance with key metrics that matter
Data is powerful – but only if you can get it, understand it and act on it to drive real impact. In NestAds, ad performance is displayed clearly so you can easily track, get insights and make more informed decisions.
Ad report tailored to eCommerce
NestAds's Dashboard gives you a birds-eye view of your TikTok advertising with critical data like account balance, conversion rate, revenue, ROAS in each campaign type, etc. It is tailored to eCommerce; therefore, only information and metrics that matter are showcased.
We make the ad reporting simple and clear so that any users without expertise can quickly grab the overview of their current TikTok ad effectiveness. Go beyond vanity metrics and understand what's really driving sales for your business.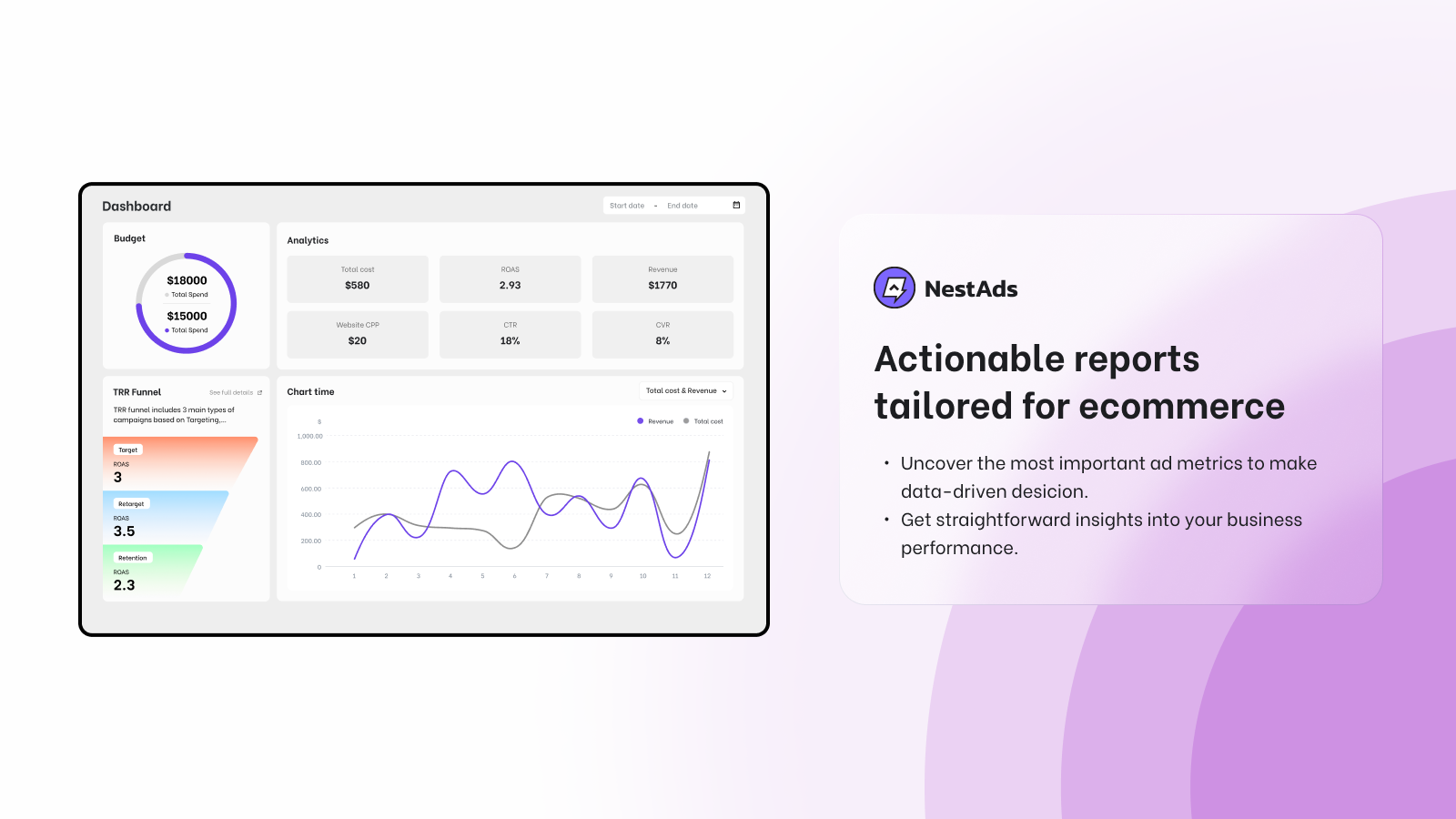 Ad metrics comparison
If you want to dig deeper into every ad performance and know what's working best, ad metrics comparison is the right for you.
In the campaign analytics, you can view the ad performance by campaign type. It comes along with typical metrics including the number of campaigns, total cost, ROAS, conversion rate, revenue, CPP, and CTR. This enables you to compare the ad performance by metrics and define which campaign type is prospective.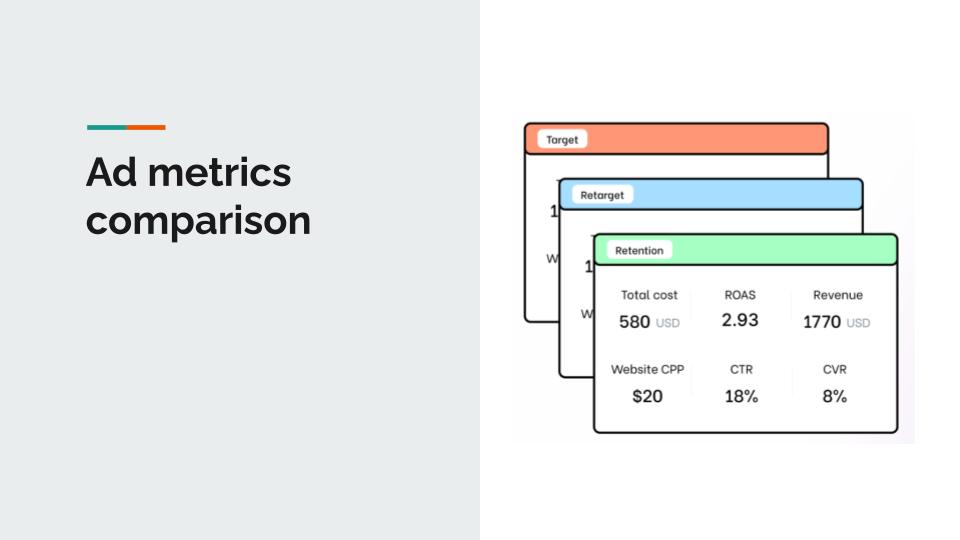 In case you want to track the performance of a specific campaign ad group or ad, simply select it from the list. Apart from viewing data, you can quick edit the settings of them as needed.
One-click TikTok pixel installer
You can't improve what you don't measure. NestAds helps you make data-driven decisions based on accurate tracking pixels.
Get valuable insights on your TikTok Ads by adding a tracking pixel to your website in just a single click, no coding required! From the data collected, you can monitor the ad performance, better understand customer behavior and thereby maximize ROAS effectively.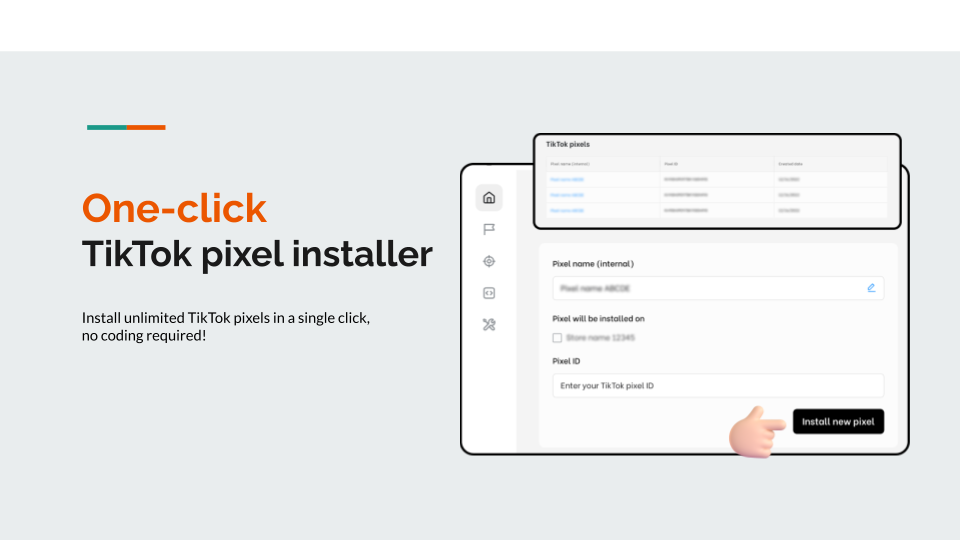 Scale up the customer base and maximize ROAS
To scale profitably, you need to target high-value audiences with great ads and optimize your budget smartly. NestAds empowers you with robust tools to set your eCommerce business for evergreen growth.
Lookalike audiences
Lookalike audiences are people who share similar characteristics with your target customer. Targeting lookalike audiences helps you acquire new customers, scale up your customer base and increase return on ad spend.
In NestAds, you can create unlimited lookalike audiences, reach highly interested prospects by low cost per result and find winning audiences to scale faster. No worry about broad targeting hurting your budget, the app monitors your ads' performance and allocates your budget accordingly.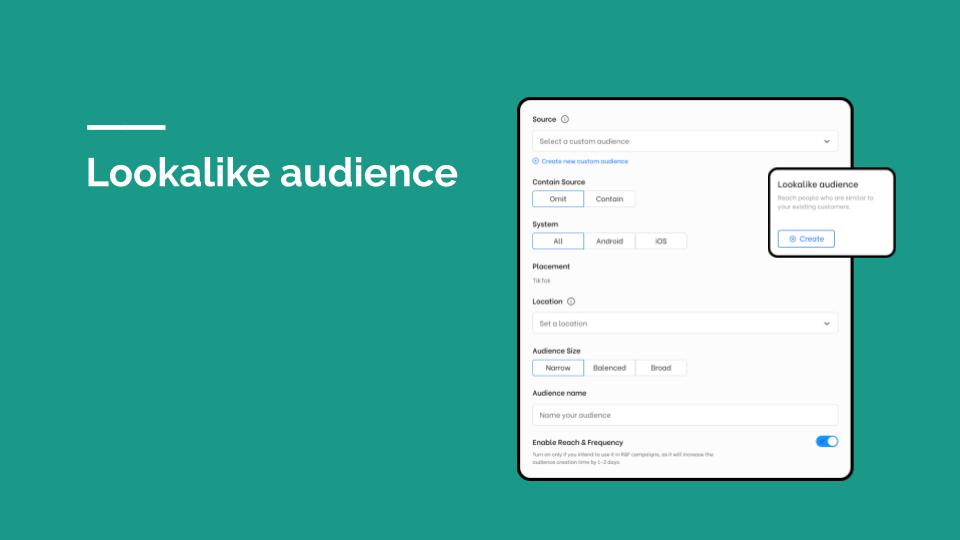 All you need to do is select your source audience. Upload from your customer list, use your pixel data to create website-based custom audiences, target people who engaged with your ads, and more. Then, you can also determine the desired size of your lookalike audience and let TikTok do its magic.
Custom audiences
For businesses with a tight budget and don't want to overspend money on advertising, reaching custom audiences is the most suitable to ensure a good return on investment.
Showing your ads to custom audiences is likely to result in conversions because they've already shown some interest in your business. Custom audiences can be warm leads who need more nurturing to turn into paying customers. Otherwise, they may already be your customers and just need a well-timed nudge to make a repeat purchase.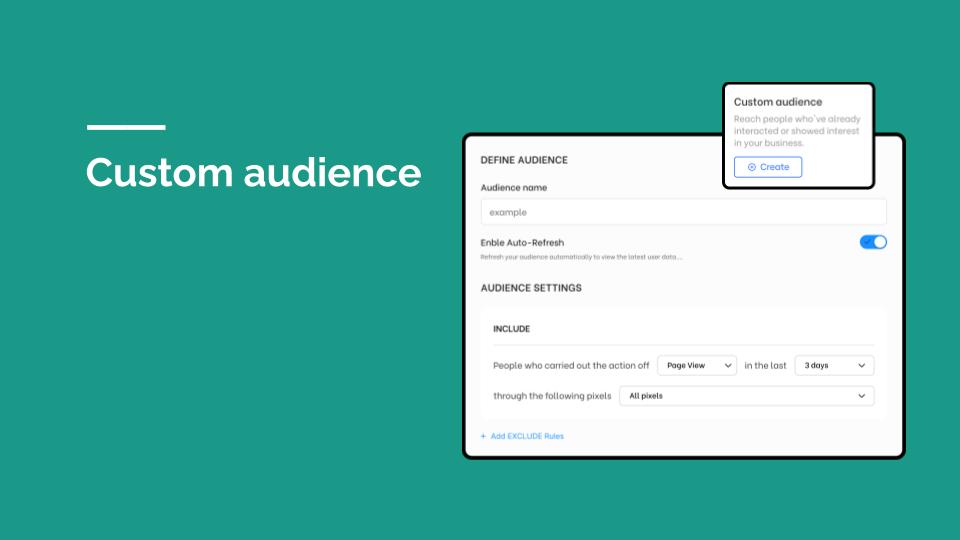 NestAds make it simple for you to create custom audiences by selecting among 3 audience types:
Engagement: People who viewed or clicked on your content
Website Traffic: People who interacted with your website
Customer File: A list of customers who match your target audience on TikTok
Get advertising expert support for free
Our team of experts is here to support and make advertising easy for you. Whether you're just getting started and launching your first ad or transitioning from other solutions, we'll help you master NestAds app quickly and go succeed with your ad strategy.
Live chat and email support at [email protected] are available 24/7. So feel free to get in touch with the support team for any questions. We are more than happy to assist you!
Winning TikTok Ads made easy with NestAds
TikTok ad is driving positive impact for brands across the globe. It brings your brand comes closers to the target audience and generates good results in return on ad spend, sales efficiency, reach rate, and much more.
NestAds helps you navigate through the complexities and launch winning TikTok ad campaigns with ease. Start launching, analyzing, and scaling your TikTok ads today with NestAds!