Are you a Shopify store owner looking to improve your marketing game? Then you need to know how to write effective Shopify newsletters! Newsletters are an excellent way to keep your customers engaged with your business, establish trust and loyalty, and even attract new customers. But how do you write a newsletter that converts?
In this blog, we'll guide you through the steps of how to write Shopify newsletters, from setting goals and defining your target audience to designing your email and crafting your copy. So, let's get started!
A Shopify newsletter is a way to keep your customers informed and engaged with your store. It's a type of email that you can send out to your customers on a regular basis, such as once a week or once a month. Newsletters typically include information about your latest products, promotions, and other updates about your store.
Shopify newsletters are a great way for store owners to keep their customers informed and engaged with their business.
Sending Shopify newsletters is a great way to keep your customers engaged with your store. By sending regular updates about your latest products, promotions, and other news related to your store, you can remind your customers that you're still around and encourage them to come back and make a purchase.
Newsletters can also help build a relationship with your customers. By providing them with valuable information and exclusive offers, you can establish trust and loyalty, which can lead to repeat business and referrals to new customers.
In addition, newsletters can be a cost-effective marketing tool. Unlike other forms of advertising, such as paid social media ads or billboards, newsletters are relatively inexpensive to create and send. You can even use free email marketing tools like Mailchimp or Klaviyo to design and send your newsletters.
So, sending Shopify newsletters is definitely a good idea for your business. Just make sure to provide valuable and relevant information, and don't spam your customers with too many emails.
Define your goal
One primary benefit of an email newsletter is relationship and audience building. Share useful information and behind-the-scenes details about your business to connect with prospective and previous buyers and build a long-term audience.
Another goal of an email newsletter is to provide educational content. Offer tutorials on how to use your products or educate subscribers on goal-setting using your products. This approach can convince prospective customers to buy and retain existing customers.

Finally, you can use your email newsletter to ask for customer feedback and conduct user research. Use an email address that allows readers to respond directly to your communication or send short surveys for your readers to answer.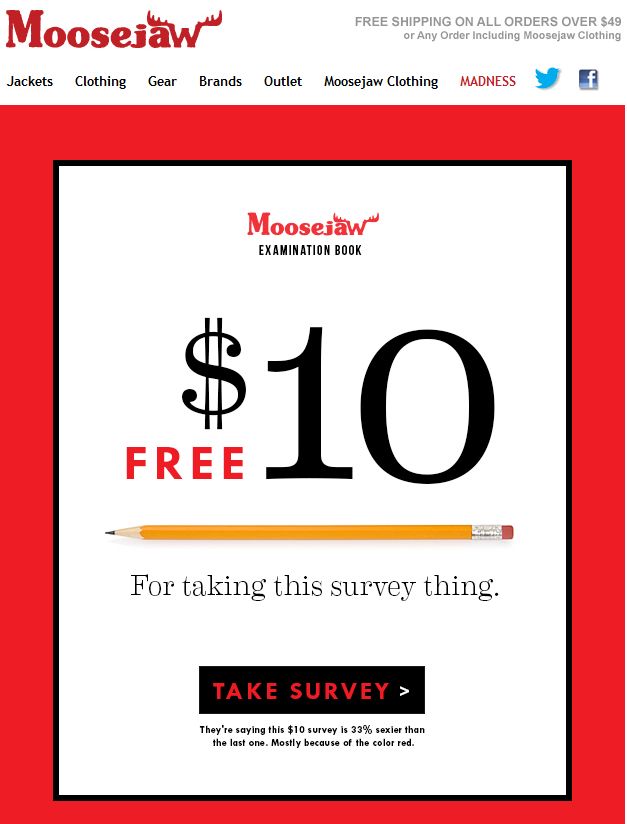 Remember, you don't have to choose just one goal for your newsletter. Prioritize a few goals and plan your email marketing strategy accordingly.
Define your target audience
This refers to the group of people you want to communicate with through your newsletter. As a business owner, your target audience is likely prospective buyers and previous customers. However, it's essential to define the specific features of these groups to create an ideal customer persona that serves as your newsletter audience.
For instance, tech-savvy millennial parents with young children residing in North America with a household income of $100,000 or more.
Segment your audience
Once you have identified your target audience, you need to segment them into specific cohorts of your email list. This enables you to customize and personalize your emails to better serve your readers. Email segmentation helps to prevent email fatigue and ensures that subscribers receive information that's most relevant to them.
You can segment subscribers by asking them the topics they're most interested in when they sign up for your newsletter, and sending them emails based on their interests.
Determine your topic and start writing
After segmenting your audience, you can determine your content strategy and specific topics for your newsletter. Your topics should align with the goal of your newsletter and be relevant to readers to keep them engaged. Develop an email content calendar to plan your content a few weeks in advance and ensure consistency.
By taking the time to set up an email marketing strategy, you can be intentional with how you approach your newsletter and see results that have a positive impact on your business.
Revise your copy
Before finalize your email content, it is wise to ask yourself the following three questions:
What is the objective of your message?
Your email should serve a single purpose, which should be reflected in the call-to-action (CTA). This purpose should guide the wording of your email and the measurements of your campaign's success. Defining your goal in advance will help you stay on track and keep your message clear and concise.
For instance, is the aim to invite potential customers into your digital marketing funnel or to encourage them to click on your blog post link? Knowing your objective will assist you in developing pertinent email content.
Does your email copy align with your CTA?
The primary responsibility of your call-to-action is to persuade readers to click on the link or button. Verify that everything you write before the call-to-action is aligned with it. Moreover, in most cases, do not attempt to sell a product or service via email, as that is the purpose of a sales page.
Is your subject line compelling?
The likelihood of people opening your email is heavily influenced by your subject line. Analyze any open rate statistics from previous email campaigns to determine how you can improve open rates. If you do not have any data on previous campaigns, search for open rate benchmarks specific to your industry.
In addition to the content of your newsletter and your interaction with subscribers, having a custom design theme can help you make a lasting impression in their inbox. A design theme encompasses elements like colors, layout, and font that are unique to your brand and recognizable to your audience. Consistency in design helps establish a sense of familiarity and builds trust with your subscribers.
Therefore if you want to make an impact with your customer, consider using NestSend, an email marketing service. Nestsend's email builder provides a selection of ready-to-use templates for holidays and new product updates, which you can customize by adding sections and changing colors and layouts. You can also feature your products in the newsletter and customize how they appear.
When choosing a layout and design theme, it's crucial to consider your brand's identity and ensure that it resonates with your target audience. Many email marketing platforms enable you to upload your brand kit so that you can have your company's colors and fonts readily available in the email builder.
A captivating design theme serves as a recognizable brand touchpoint that fosters a deeper connection with your subscribers.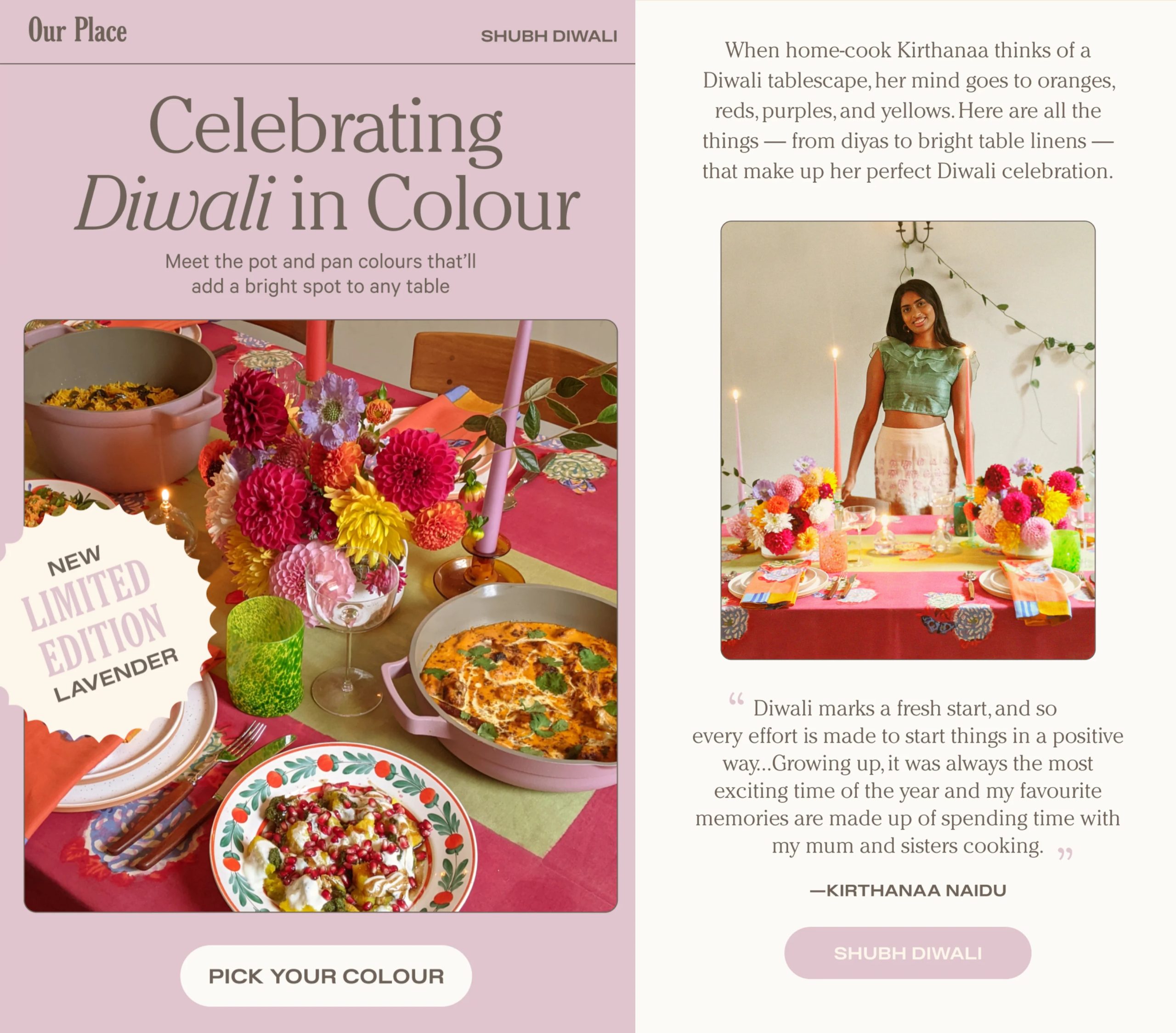 Our Place, a company that specializes in home cooking products, such as the popular and picturesque Always Pan in various unique colors, uses a modern and vibrant color theme in its newsletter that reflects its website and immediately catches the eye in a crowded inbox.
Sending a test email to yourself before you share your newsletter with your subscribers can help identify and resolve any issues that might make your email look unprofessional. This step is crucial to ensuring that your newsletter conveys your intended message and avoids any embarrassing mistakes.
NestSend also offers this feature, which allows you to catch any lingering spelling errors or formatting issues that may have been missed during the creation process.
When sending a test email, make sure to review how the formatting appears on both desktop and mobile devices, as mobile clients account for 41.6% of email opens. Optimizing your newsletter for mobile viewing can help increase engagement with your subscribers and improve the effectiveness of your email campaign.
So, take the time to test your email and make sure that it's flawless before you hit send.
Checking analytics is super important because it gives you insights into how your email campaigns are performing. You can see how many people opened your emails, clicked on links, and even how many people unsubscribed.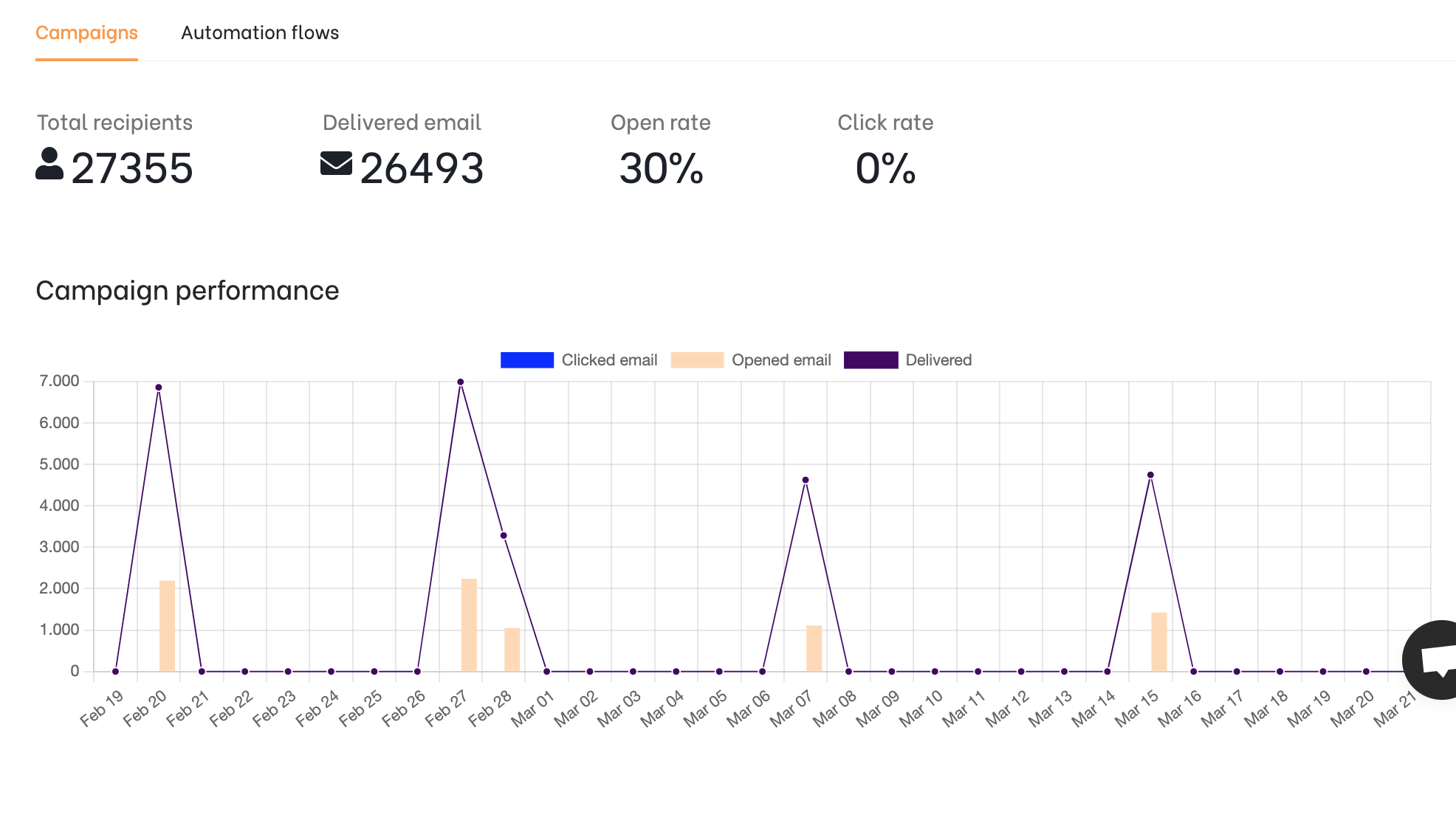 This information can help you make informed decisions on what type of content to send in the future, who your target audience is, and how to improve your overall email strategy. It's like checking the score of a game, you need to know how you're doing so you can adjust your strategy and hopefully win the game!
Sending Shopify newsletters can be an effective way to engage with your customers, establish trust, and promote your business. To write a successful newsletter, you should define your goals and target audience, segment your email list, determine your topics, revise your copy, and design your newsletter. Remember to prioritize your goals and plan your email marketing strategy accordingly.
If you're looking for an email marketing service to help you create newsletters, check out NestSend, which offers customizable templates and a user-friendly interface to make your email marketing experience a success. Start creating engaging newsletters today!