Customers are the backbone of any business. Though all customers are valued and indispensable for the success of a business, VIP customers typically receive more special treatment and privileges than others.
These are loyal customers who spend a lot of money for your brand and drive your bottom line significantly. Thus, it is necessary to give them extra care to ensure they're satisfied and keep coming back for repeat purchases.
In this article, we will guide you on how to easily identify your VIP customers and retain them. Let's get started now!
Portrait of a VIP customer
As no two companies are identical completely, VIP customers are often defined based on your business type, business model, and the industry you operate in.
VIP customers are typically people who spend more, shop more often, or have been long-time loyal customers of a brand. Thus, they have a certain impact on the revenue and growth potential of a business. VIP customers may be categorized into some of the following types.
Loyal customers: They often come back for repeat purchases
Big spenders: They do not shop often but mostly make high-value purchases
Advocates: They love spreading nice words about your brand to others on social media or through word-of-mouth marketing
High profile customers: They're customers whose patronage is a significant testimonial for your brand
How to identify a VIP customer?
Customer lifetime value (CLTV)
One of the most common criteria that you can rely on to identify VIP customers is customer lifetime value. Customer lifetime value is the measure of the total revenue a business can reasonably expect from a single customer account throughout the business relationship. The longer a customer continues to purchase from a company, the greater their lifetime value becomes.
Moreover, based on customer lifetime value, you can figure out which customers contribute most to your business's profit over time. This way, you easily identify VIP customers as people with high customer lifetime value. Including these ones in your VIP customer program will strengthen customer relationships, increase retention and secure the long-term profits they have the potential to provide.
To calculate the customer lifetime value, simply follow this simple formula below:

To give you a better context of this calculation, here's how you would calculate the CLTV of the coffee buyer:
CLTV = $100 per purchase x 48 packets per year x 3 years = $14,400
And for the luxury shopper, here's what the CLTV looks like:
CLTV = $5000 per purchase x 1 purchase per year x 1 year = $5000
When it comes to identifying VIP customers, you should not miss out on customers who spend a lot each time they buy, even if they don't buy very often. These customers may be even more valuable than the ones who buy frequently but spend small on each purchase.
Average order value
The common identity of these customers is that their average order value (AOV) is pretty high. Simply put, the average order value shows the average amount a customer spends on each purchase. You can calculate AOV by dividing the total revenue brought in by each customer by the number of their orders.
For example, let's say that in the month of September, customer A paid $31,000 in total and he placed a total of 1,000 orders that month. As a result, September's monthly AOV of customer A was $31,000/ 1,000 = $31.
Using customer service software like NestDesk, you can easily store customer data and view AOV at ease in the Customer Report.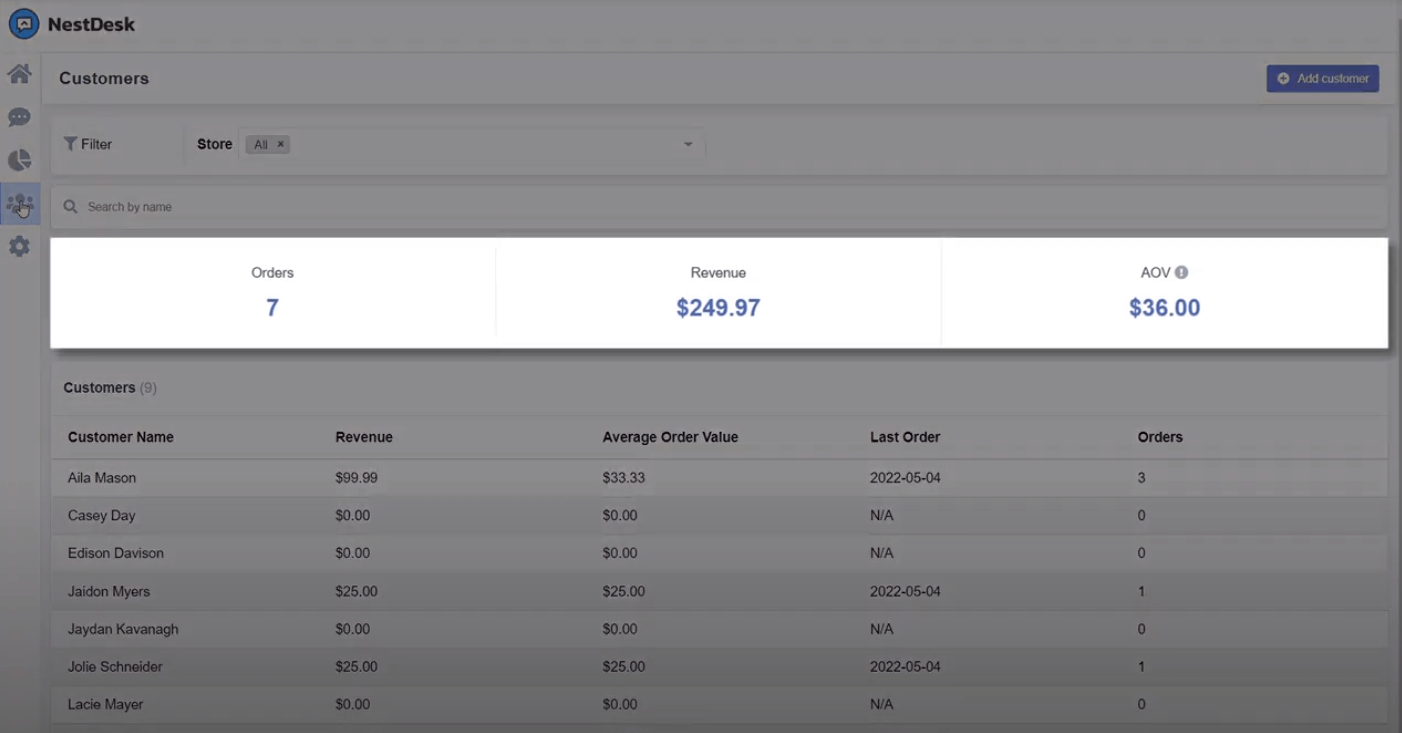 Referrals and Social Proof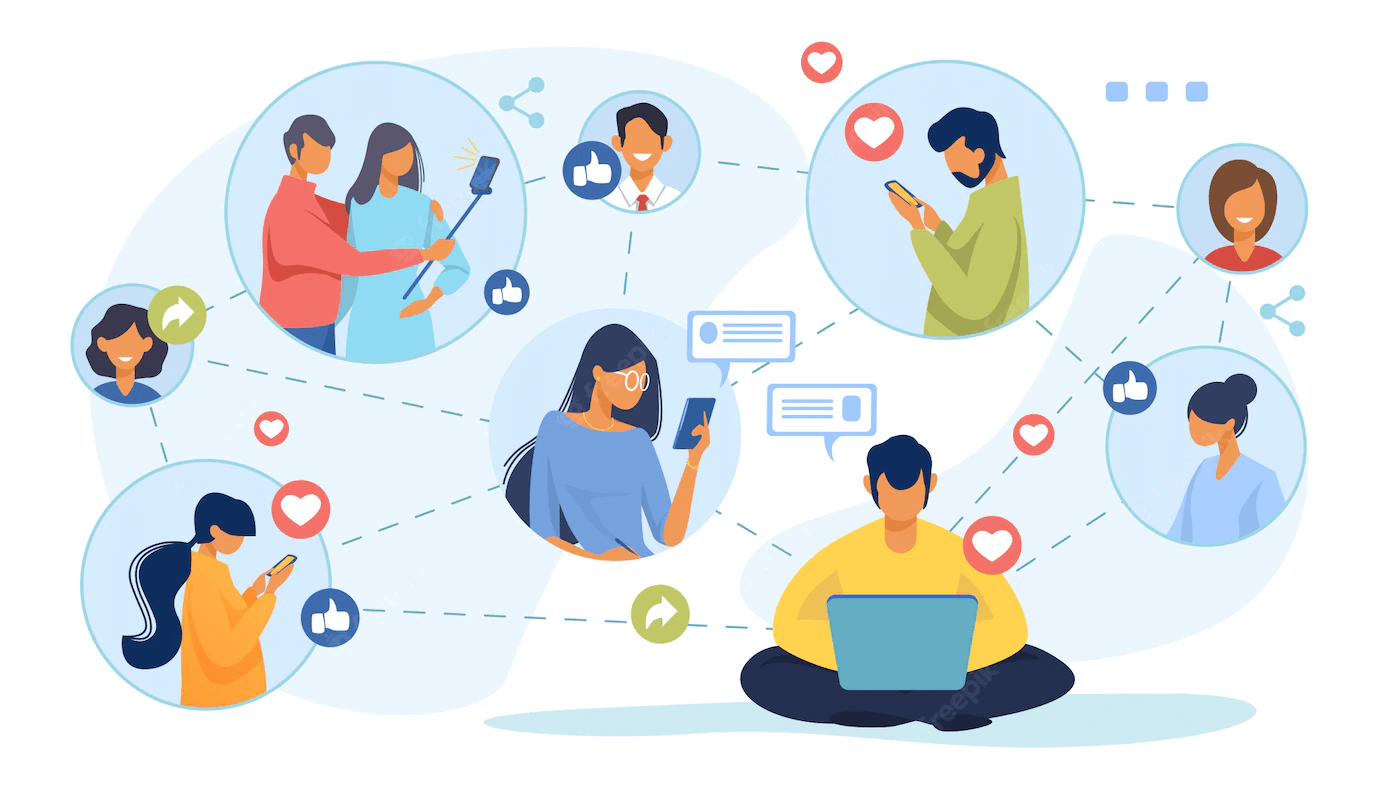 VIP customers are people who provide value to your business in a variety of ways. Aside from purchase values and frequency, they may provide significant value in the form of referrals, testimonials, product reviews, and superb user-generated content. Moreover, this should not be neglected in the age of social media and online shopping.
These customers may not buy a lot from your brand. However, the influence of their non-purchase activity has a huge impact on the visibility, credibility, and trustworthiness of your brand in the eyes of all your potential customers.
Products purchased
When assessing customers in the VIP customers category, it's necessary to check
If they're buying at full price or discounted products. Customers who purchase full-priced items contribute more to your profits than those who spend a lot of money on items with a lower margin due to a sale or discount.
Customers who purchase multiple products with a high-profit margin for your brand are high-value buyers. To easily track customer data with their order history, you can use customer service software like NestDesk to quantify the value of each purchase and total revenue generated from that customer.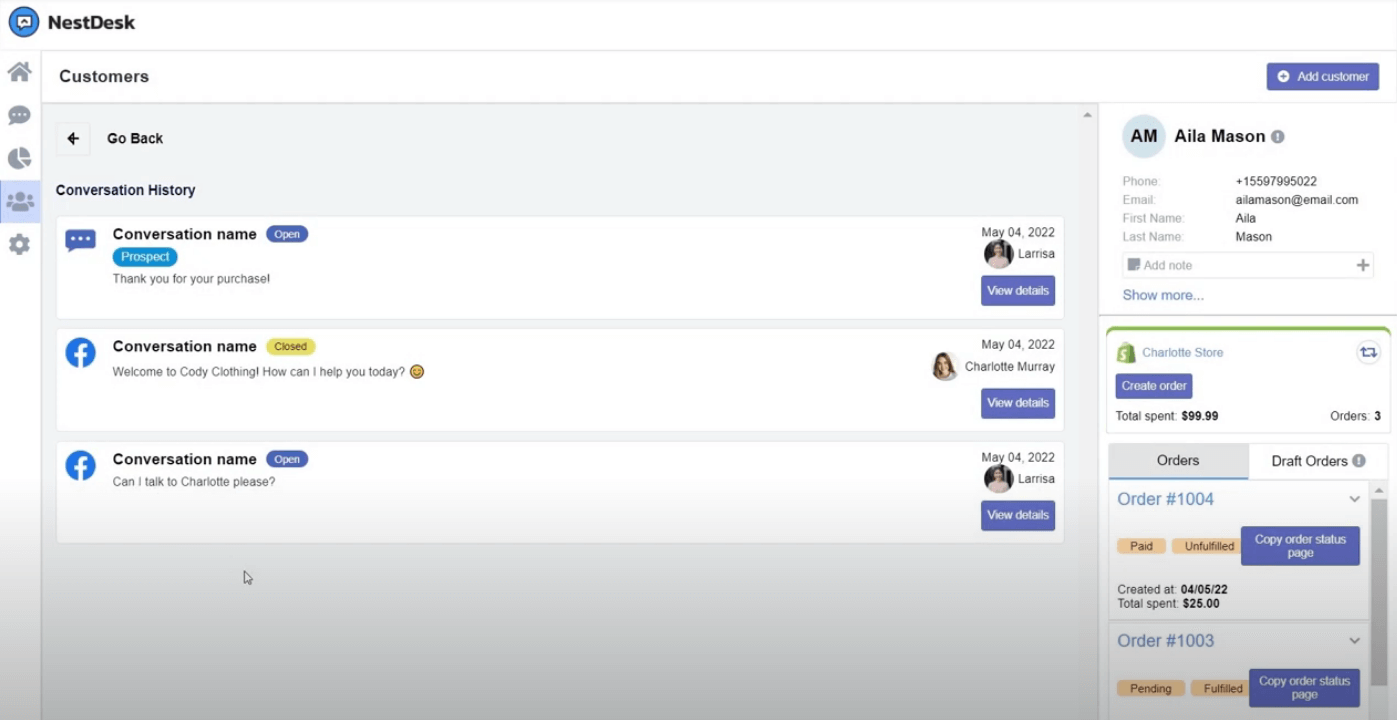 How to retain your VIP Customers?
As VIP customers play a crucial role in driving your business's bottom line, you need a specific strategy to retain these customers and nurture long-term relationships with them. Below are a few simple tips that you can apply to keep VIP customers staying with your brand and adding more value.
Deliver hyper-personalized customer service
Whatever you're offering, offer it in a way that makes them feel like a real VIP. An Accenture report indicated that 91% of consumers polled said that they are more likely to do business with brands that remember, recognize, and provide them with relevant, personalized recommendations and offers.
Make sure you deliver the best customer support that is tailored to VIP customers. Personalize your communication as much as you can for each customer and aim to build a personal relationship with them. This ensures they're aware of how exclusive and special what you're offering is, and the reason why they're in this small and elite VIP group.
Want to deliver personalized customer service at ease? Try NestDesk – an omnichannel customer service tool that enables you to view the full picture of a customer from basic information, order history, and much more right into one chat dashboard. This way, you can quickly grasp all needed information and respond to VIP customers in a more personalized manner.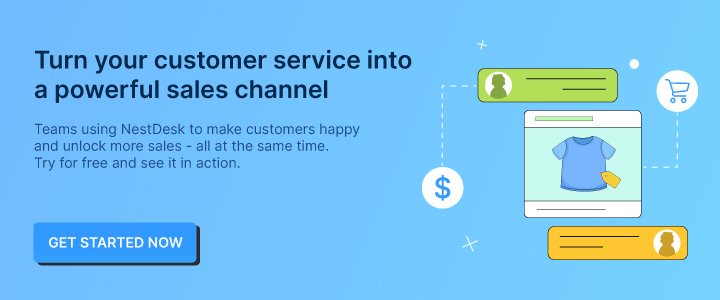 Build loyalty programs
Loyalty and rewards programs are the most effective way to reward your VIP customers and thank them for choosing you over others. Many customers, however, will not log into their accounts to check their point balance. To keep them informed, incorporate the balance, as well as other loyalty benefits, into your various automation workflows.
Loyalty points can be abstract as well. Rather than relying on a point balance, show your customers what that point balance actually means.
For example, if 1,500 loyalty points equal $15 off their next purchase, show them a product that might be of interest with the price reduced to $15 off. Make it clear that the price reduction is due to their loyalty points. And, if 5,000 points equate to a $50 product, send your customer a message with product recommendations based on that price.
You can still leverage your loyalty and rewards program to engage your VIP customers, even if they're not quite ready to purchase again. Show them other ways, aside from purchasing, they can earn loyalty points. This will engage them further and prime them for future purchases.
Some ways could be: Leaving a review on a previous purchase, referring to a friend or family member, Engaging on social media with a particular post—commenting, liking, sharing with friends, etc.
Participating in a contest or giveaway
Taking their own photos of previous purchases and posting them on social media under a certain hashtag (or tagging your store)
VIP customer incentives and rewards ideas
There are many other ways that you can make your VIP customers feel special. Some of the most popular to offer include free shipping, discounts on purchases, cash-back programs, retention gifts, points systems for special rewards, and preview sales just for them. You don't have to stop there though.
Personalize your incentives and rewards as much as possible to make sure that they're relevant to and valued by the specific customers you're offering them to.
For online brands, special incentives could include free gift wrapping for holidays, birthdays, and anniversaries, free overnight or 2-day shipping, free gifts with a purchase, free access to an exclusive e-book, or $10 off their next purchase. Incentives could also include free access to an upcoming webinar, a subscription to a magazine or subscription-based website, or a free software upgrade to a product the brand sells.
To leverage the number of VIP customers, make sure that your VIP benefits are easy to find and clearly set out. This lets customers know what they're missing out on and how to achieve it!
Final thoughts
Your VIP customers are worth being treated with extra care and attention. By satisfying VIP customers with more exclusive offers and personalized service, they are likely to stay loyal to you, make more repeat purchases, and spread the word about your brand.
Keeping VIP customers stick around your brand is vital for business growth. So if you are looking for a tool to retain your VIP customers with the best support across multiple channels, try NestDesk for free now.