As Father's Day is rapidly approaching, your business has an exceptional chance to commence an exhilarating campaign. Now's the ideal moment for retailers to begin sending out Father's Day email campaigns, allowing you to exhibit your most remarkable gift concepts for dads. 
Don't know how to start Father's Day email marketing campaign to celebrate this day and boost sales? Just spend 5 minutes reading this blog and you will know how to send a complete Father's Day email, from writing a catchy subject line to creating an appealing email body. All you need is here, don't miss out on reading this blog to maximize the impact of your Father's Day promotions!
Why should brands leverage Father's Day emails?
Based on data from the National Retail Federation, a significant 76% of individuals in the United States intended to celebrate Father's Day in 2022, contributing to a total expenditure of $20 billion on gifts. Although there was a slight decrease in overall spending compared to the previous year, the figures remain robust. This implies that marketers can seize the opportunity of this day to boost sales. Father's Day proves to be a lucrative occasion as people actively purchase gifts during this holiday season, especially for e-commerce businesses. The NRF also reports that 58% of Americans planned to purchase greeting cards for Father's Day in 2022. The data also shows that these products generate higher revenue:
Clothing — 50% compared to last year
Gift cards — 46% compared to last year
Personal care products — 28% compared to last year
Electronics — 24% compared to last year
Father's Day is a heartwarming occasion, offering an opportunity for brands to present a more human and relatable side. Like Mother's Day emails, companies can demonstrate empathy by sharing touching stories, such as highlighting exceptional fathers in their marketing department. This approach can foster brand loyalty, improve the company's image, and maintain strong connections with customers. Effective communication that delivers empathy remains relevant not just during holidays but in all email marketing strategies.
Catchy Father's Day email subject lines
The subject line of a Father's Day email is crucial because it serves as the first point of contact with the recipient and influences whether they will open the email or not. Therefore, in this section, we will provide you with great Father's Day email subject lines that help you create an impactful email campaign for this occasion.
Adding emotion
Incorporating sentiment into the subject lines of your Father's Day emails can significantly increase their open rates. Messages and subject lines that express affection and reverence towards fathers are more likely to capture the recipients' attention. Utilizing subtle and heartfelt messages like these can effectively attract your customers' interest:
Never a dull moment with Dad
Like Father, Like Son
Thank you, Dad!
Offering help
Our goal is not only to notify our users about the upcoming holiday but also to assist them in swiftly finding the ideal gift. However, instead of simply urging them to "Shop with us" or offering a generic "20% discount," we should provide subscribers with specific gift suggestions for fathers.
The Father of All Father's Day Feast
Shop Great Gifts for Dad
Awesome Father's Day gift for the Rad Dad in your life
Embracing the holiday season
These examples incorporate the joyful essence and diverse themes of the holiday season. Receiving Father's Day emails with subject lines like these adds an element of excitement and enhances the celebration of this special occasion.
The best dad jokes EVER
What's better than a dad joke? A dad book!
Fun & Inspiring Quotes About Dads?
Simple Ways to Celebrate Father's Day
Direct and to the point
If you are offering holiday discounts or gift cards, you should put this information directly in your subject line. For instance:
Father's Day sale is coming
Get up to 30% off on Father's Day gifts
Being humorous
You don't have to mainly think of a dad joke for your subject line, even though it's fitting for Father's Day. Add a touch of irony:
Uh oh, forgot about Father's Day?
You know it's almost Father's Day, right?
Father's Day emails body ideas for inspiration
Once you have finalized your subject lines, it's time to focus on the core of your email – the body. However, rather than directly promoting your products or services, consider how you can provide assistance to your customers. How can you simplify their lives or address their challenges? This becomes crucial, particularly because Father's Day falls amidst three significant promotional periods: Mother's Day, Memorial Day, and the Fourth of July. To prevent promotional fatigue, prioritize connecting with your customers and offering them valuable content. Here are a few suggestions to inspire your brand:
Creativity
Differentiating yourself from others requires thinking outside the box. Take a fresh approach by crafting an email that embodies your brand's uniqueness. Consider filling your email with practical suggestions for celebrating Father's Day or sending an engaging campaign featuring a playful infographic or animation. If you maintain a company blog, include links to articles that are relevant to the holiday or the overall theme of your email.
Providing gift guide
A common challenge that arises during holiday campaigns is choosing the perfect gift. Assisting your customers in making informed decisions can greatly alleviate this pain point. Offering gift bundles or providing a helpful gift guide can prove highly effective in guiding your clients toward suitable options. When it comes to Father's Day, a brilliant strategy is to create a "typology" of dads, accompanied by corresponding gift recommendations. This approach acknowledges that fathers possess diverse personalities that extend beyond their role as a parent. By presenting gift guides structured in this manner, you offer a more personalized and nuanced experience to your customers, ultimately aiding them in their decision-making process. The following example from Italic demonstrates an exceptional execution of this concept.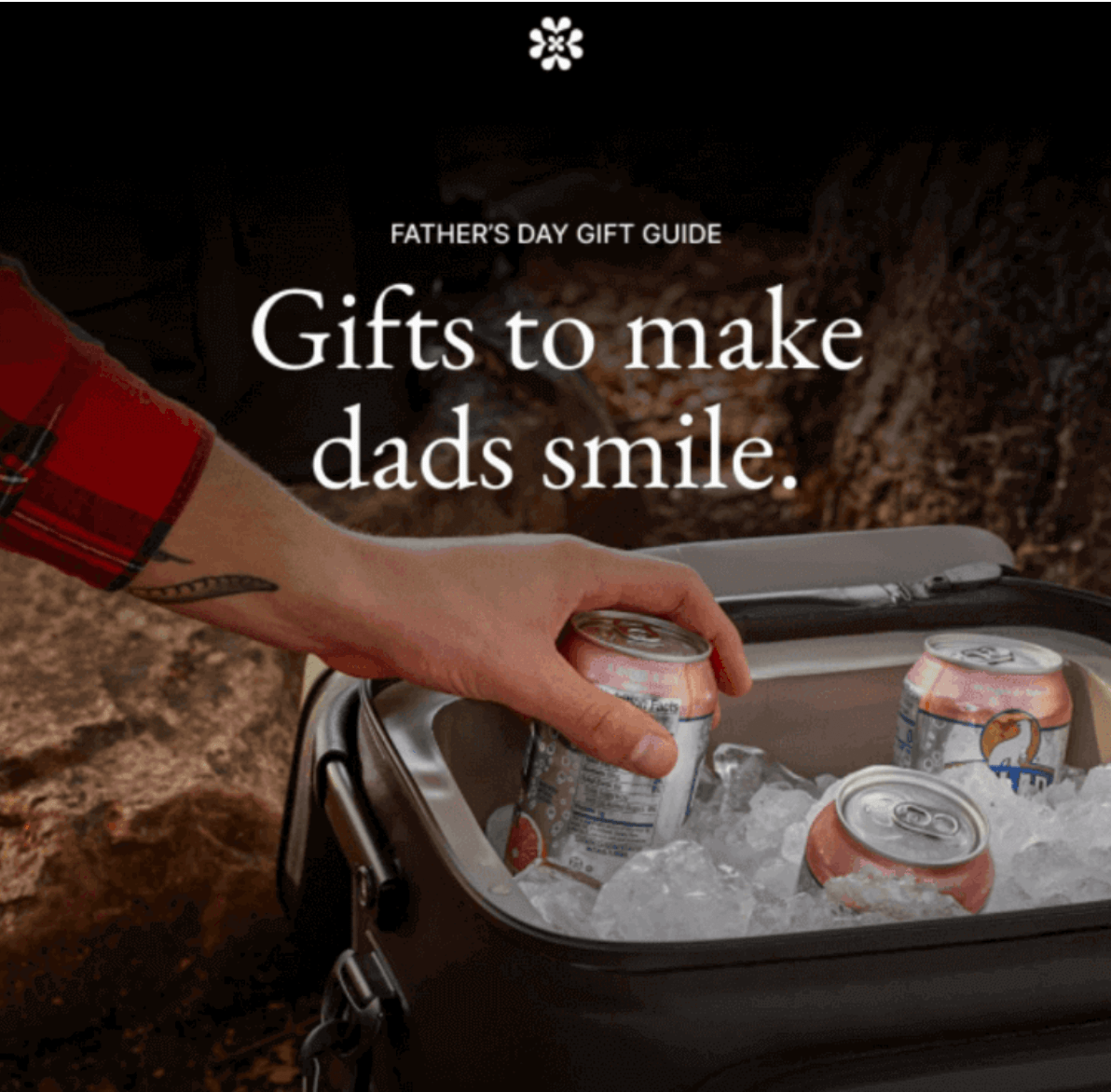 Tell a story
Father's Day is a sentimental holiday for many individuals, so you can utilize storytelling to connect with them on a more personal level. To improve client relationships, you can share tales of paternity and fathering without it even being a sales email. Here's a fantastic illustration by LovelySkin.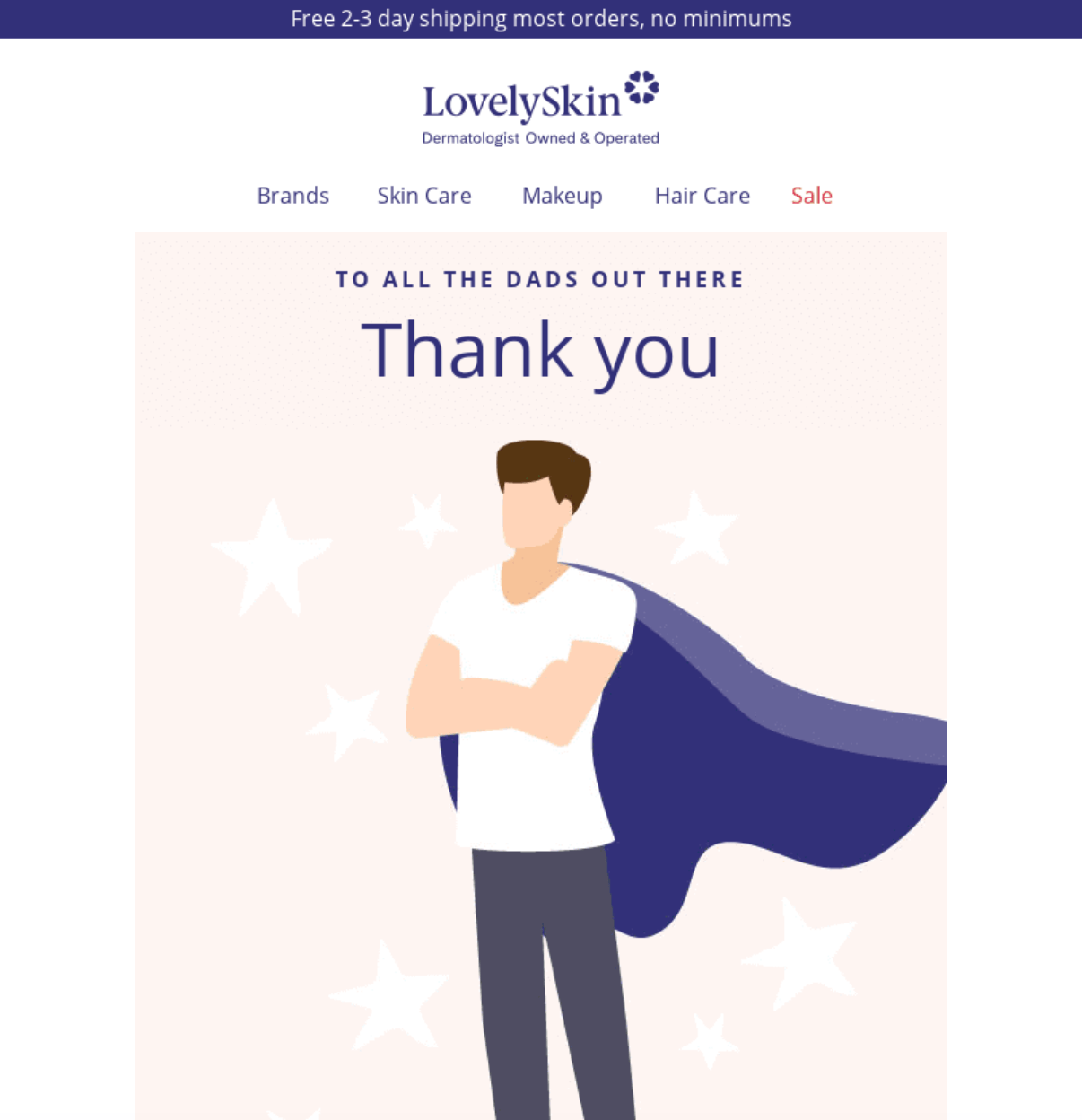 The company published the experiences of its staff members who are fathers. Customers really liked non-salesy Christmas promotions in their inboxes packed with deals and discounts. LovelySkin designed the ideal digital greeting card using photos from family archives.
Celebrate Dad as a hero
Many brands are now shifting away from humor and embracing a more heartfelt approach for Father's Day. Engaging your customers can be effectively achieved through this route. Invoke fond memories or highlight the image of Dad as a hero, using messages of love, support, and strength. Remind your subscribers that this is an opportunity to express gratitude and celebrate their fathers. Consider creating content centered around cherished family recipes, photos, or stories – authenticity and sincerity are key. By adding a personal touch, your brand will radiate warmth and personality, while ensuring your copy aligns with your brand voice.
Father's Day email design best practices
In addition to crafting an attention-grabbing subject line, the effectiveness of your Father's Day email significantly relies on its design. To ensure you get it right, here's a design checklist to follow:
Do:
Utilize blank space to maintain a clean and uncluttered appearance for your Father's Day gift guide.
Attach high-quality images
Ensure your branding and logo are easily recognizable amidst other design elements.
Make CTA (Call to Action) buttons stand out by using contrasting colors.
Don't:
Include images that are excessively large or small, as these can lead to email deliverability issues.
Forget to test the rendering of your email content on various devices and email clients (sending a test email campaign to yourself beforehand is recommended).
Overwhelm your email with an excessive number of CTAs that confuse your customers.
By adhering to this design checklist, you can create visually appealing Father's Day emails that effectively engage your audience and drive desired actions.
Heartfelt & high-converting Father's Day emails examples
Fitvine
Campaigns for email marketing don't have to be serious. Father's Day is a great time to have some fun and tell some dad jokes. Take a look at this email from Fitvine, for instance:

Fitbit
Dad jokes might be incorporated into a Father's Day emails marketing to help humanize your company. However, if you want to make a funny email campaign for this occasion, dad jokes are not the only option. For example: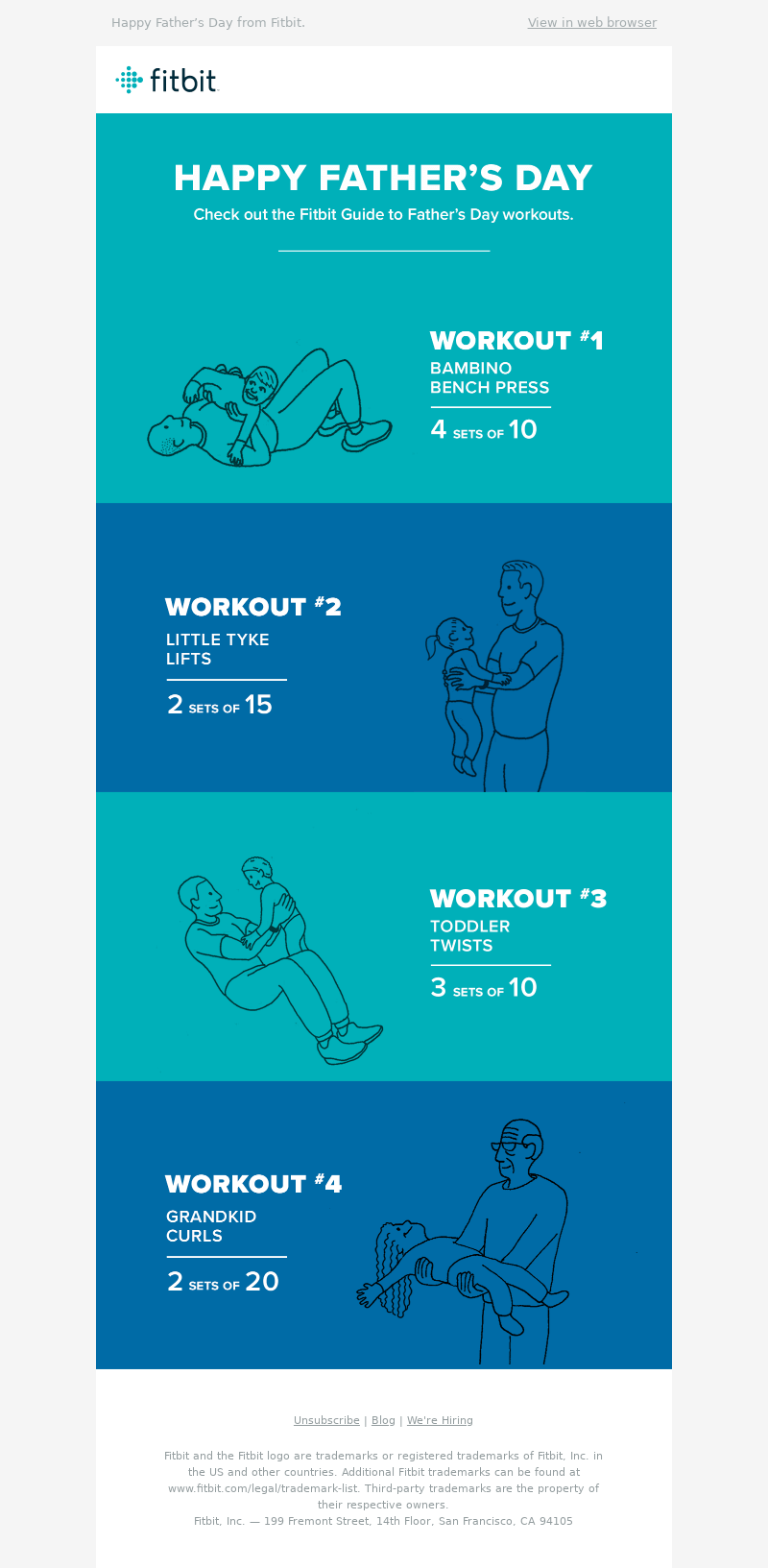 This email has no sales CTAs; it is merely a greeting card. However, the idea of dad training routines with comic book-style pictures is both endearing and hilarious; an email like this can help you strengthen relationships with your consumers even while it doesn't try to sell anything.
Men's Wearhouse
This aspect focuses on the purpose of your email and the value it provides to your recipients. Why should you send an email for Father's Day, and what benefits does it offer to your clients?
Take a look at this exemplary email from Men's Wearhouse, which showcases their thoughtfully curated gift ideas: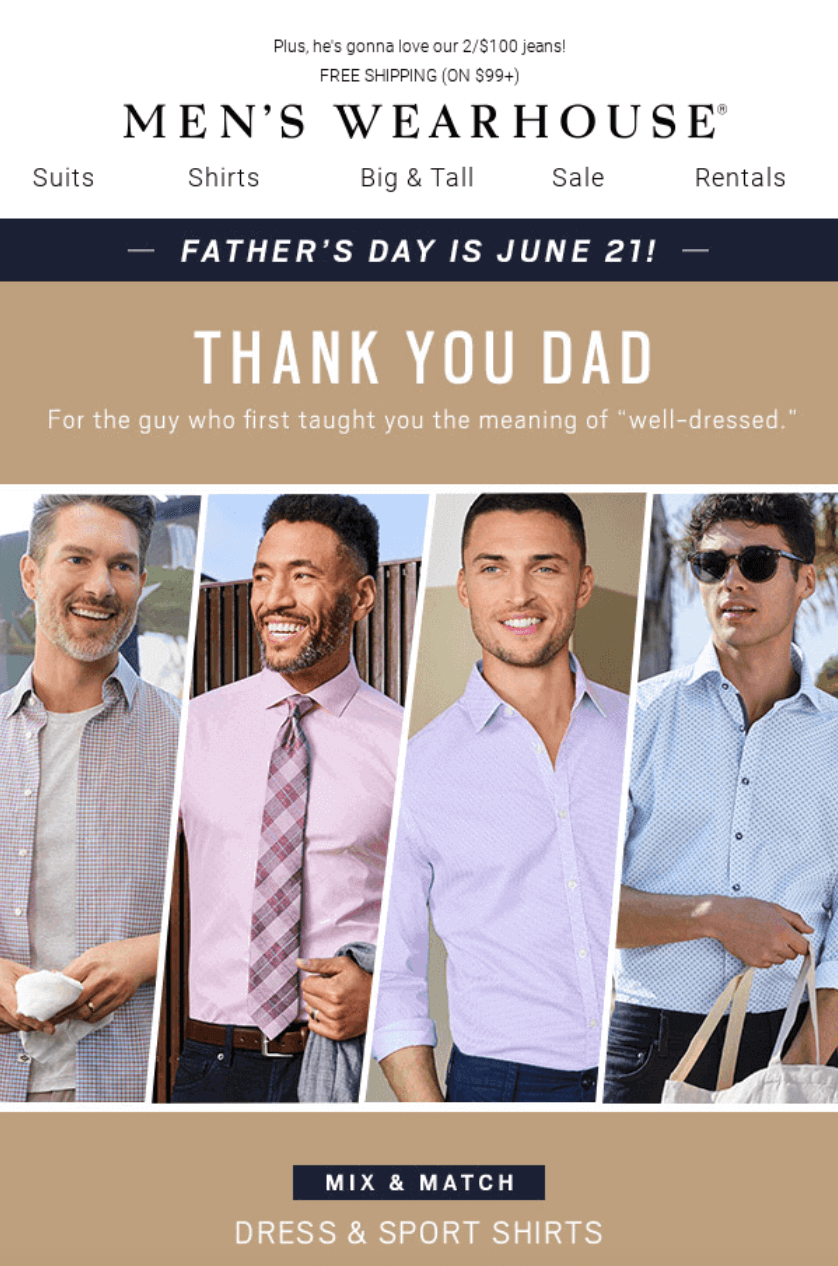 Baboon To The Moon
The objective of content marketing, including email campaigns, is to influence people to make purchases. While persuasion can be straightforward, taking your email marketing game to the next level requires more creativity in your CTAs.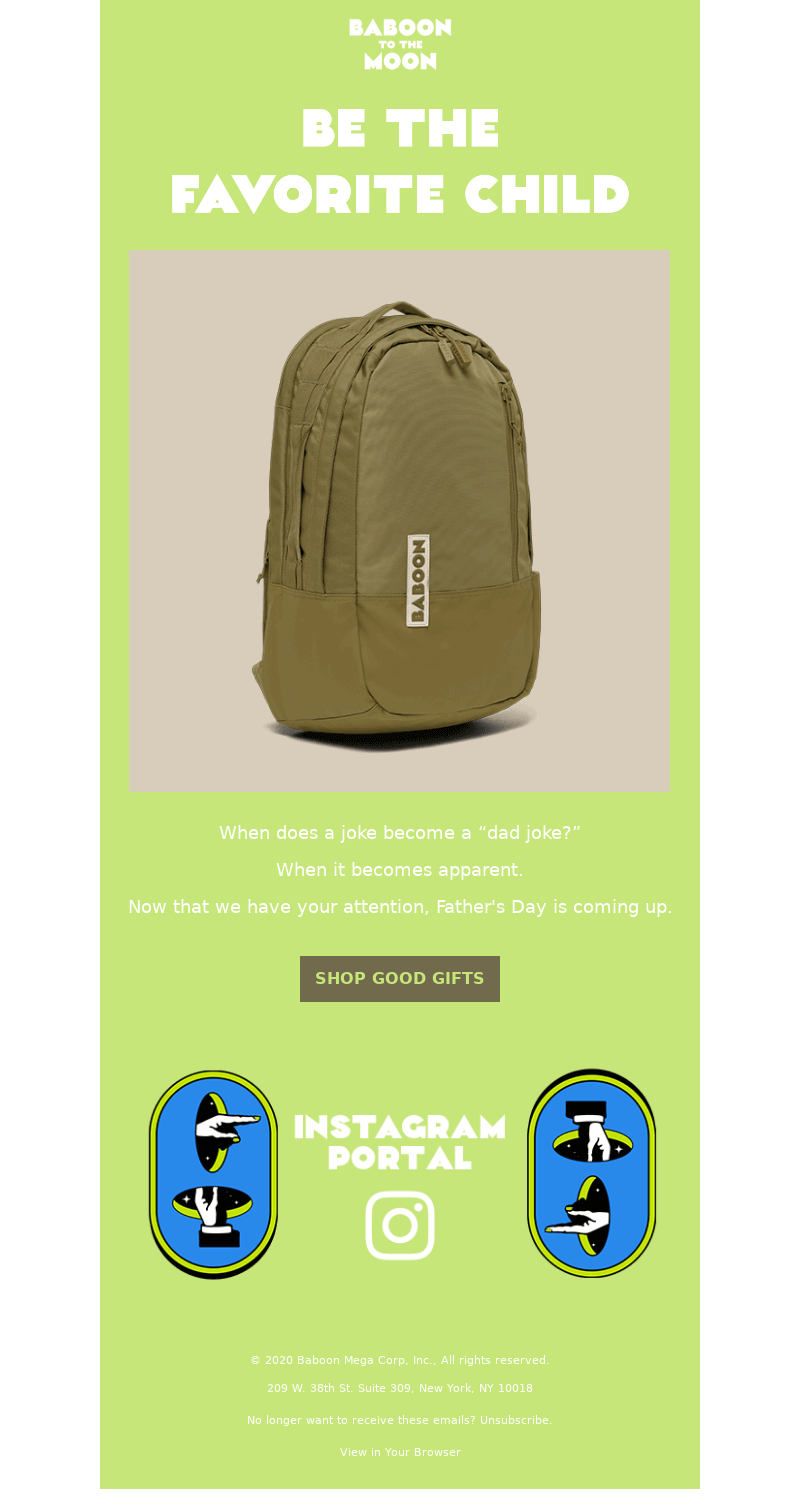 While the majority of Father's Day emails commonly have a simple "Shop Now" button, this particular email stands out with its more intriguing CTA: "Shop good gifts." It retains a straightforward approach, yet adds a touch of interest and uniqueness to the CTA.
How to send Father's Day emails for amazing results?
Now you have known how to start an email marketing that works for Father's Day and our top ideas to wow your customers, you should be ready to send your own Father's day emails. However, creating an email campaign is not easy as you have to dedicate a lot of time to writing email content, and designing and customizing your emails. If this might be too tough and time-consuming to handle, check out NestSend!
From grouping your customers into specific segments to creating beautiful email templates, NestSend helps you craft an email marketing campaign that sells in a minute with ease. Why not utilize NestSend and save your resource for your business growth?