It's no surprise, that organizations don't resolve customer issues as quickly as possible. Or don't try to understand what they need and want risk losing trust and failing to succeed in the long term.
Fortunately, numerous outstanding e-commerce customer service software is available to improve customer experience, streamline operational processes, and reduce costs.
With this in mind, please continue reading to compare and contrast the several excellent service solutions featured in our list of the best customer service software.
What is E-commerce customer service software?
E-commerce customer service software is a tech-based solution that assists your company in offering exceptional, efficient customer service. It helps you manage queries from multiple channels, across different platforms and message formats in a shared inbox.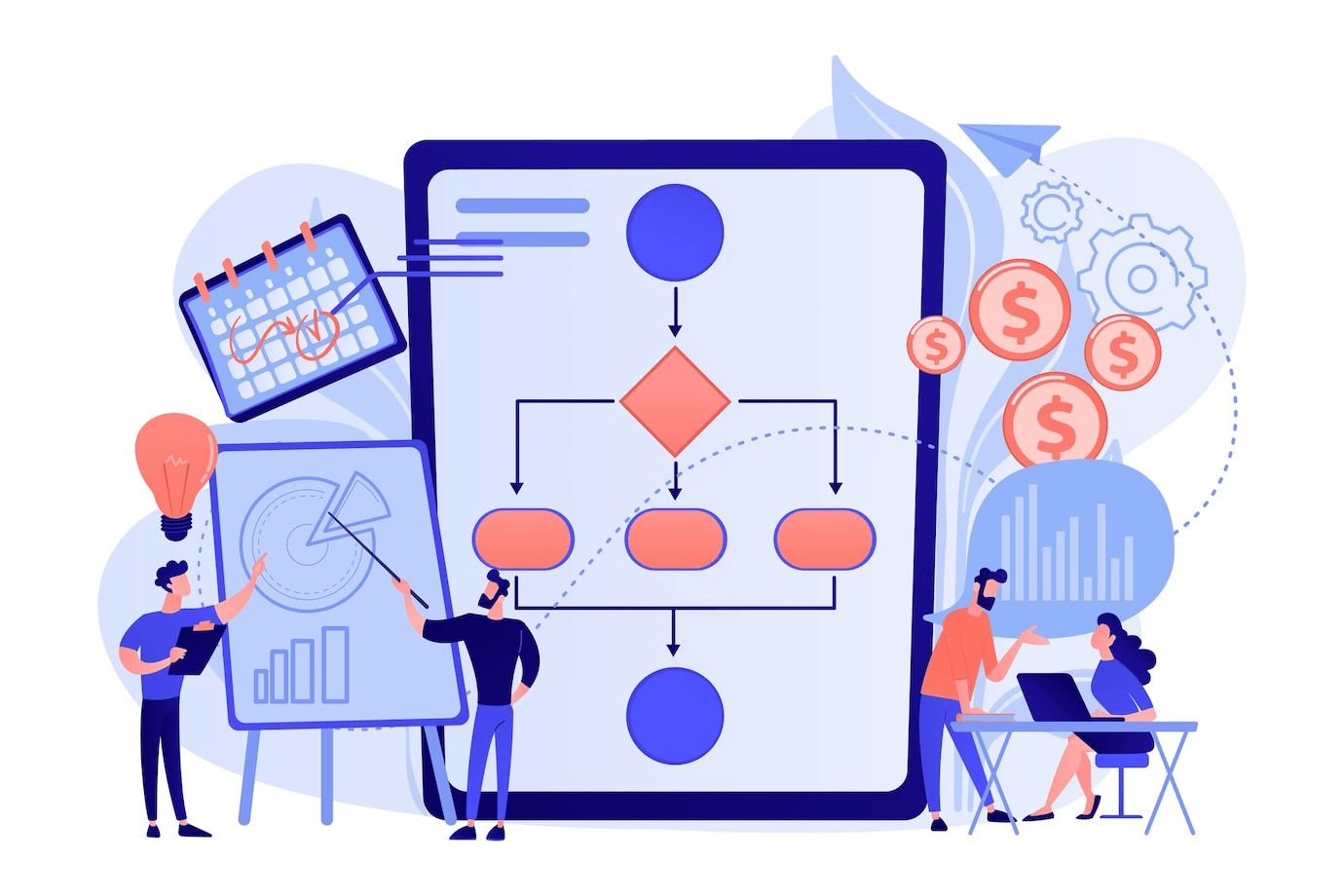 That includes using live chat, email, social media, phones, and knowledge base pages effectively so that your customer service team can effectively. ECommerce customer service tools can assist with a single communication channel or numerous lines of contact in a single solution. Can use them to respond to questions and problems from customers in the most efficient way possible.

Why is customer service software so important for e-commerce?
Maintaining excellent customer service and responding to inquiries accurately and swiftly are critical for e-commerce success. It can be challenging to keep up with the amount and tempo of inquiries as your company grows, especially when clients want a quick answer.
Missed queries, delayed responses, angry customers having to repeat their problems to different support workers. These are just a few of the most common methods to lose existing sales, customers, and prospective sales! Immediate, precise, and friendly assistance closes purchases and keeps clients satisfied! Excellent customer service is the foundation for client loyalty and retention.
What Makes a Good Customer Service Tool?
1. Easy to use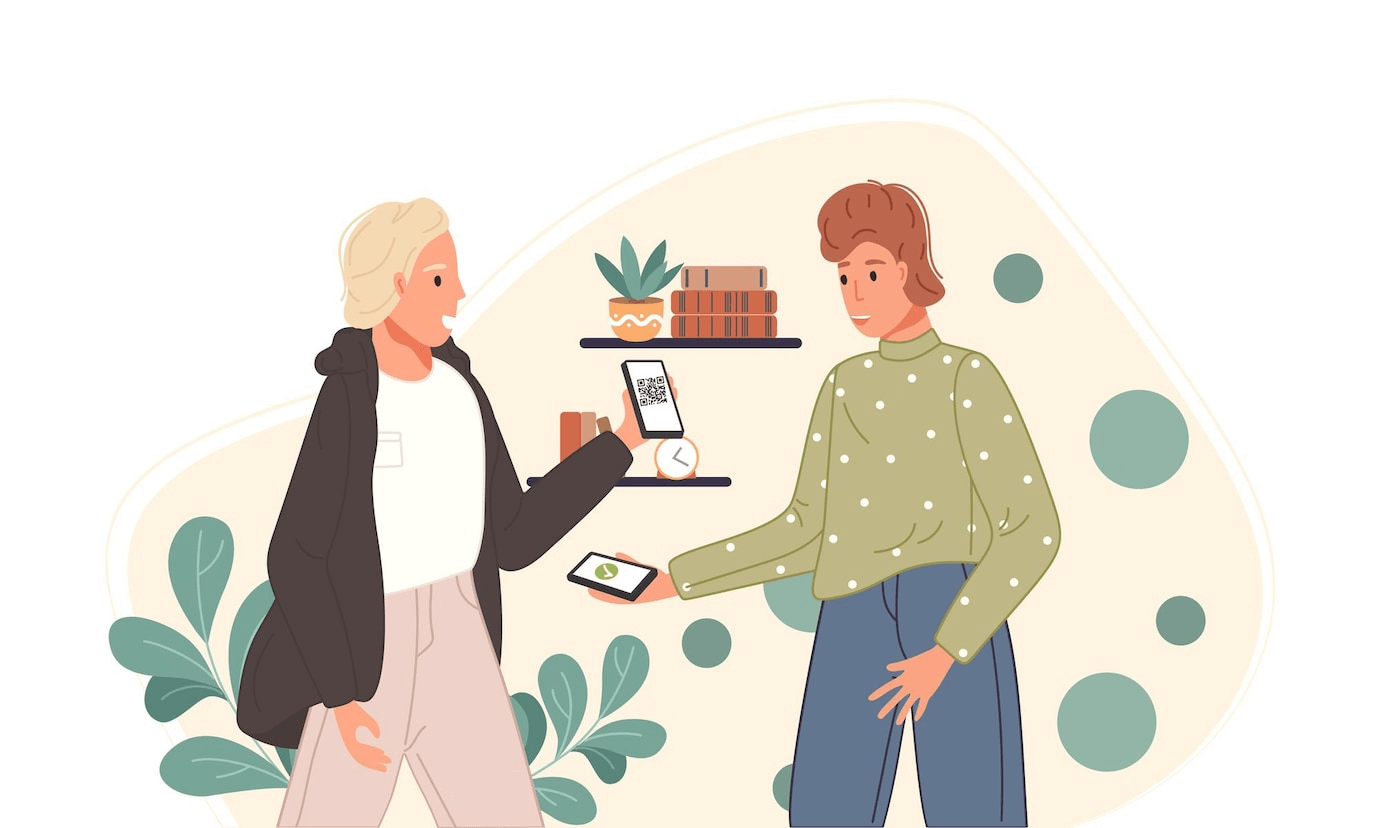 Nowadays, time is like gold for business owners who don't want to waste their gold. They won't have time to deal with bulky and overly complex products. So customer service software is now much easier to install and simpler to use by customer service agents as part of their workflow.
2. Value
Importantly, what value does this customer service software bring to the business? You won't invest in anything if you don't see it adding value to your business. Using customer service software, you can easily track and measure the performance of your support team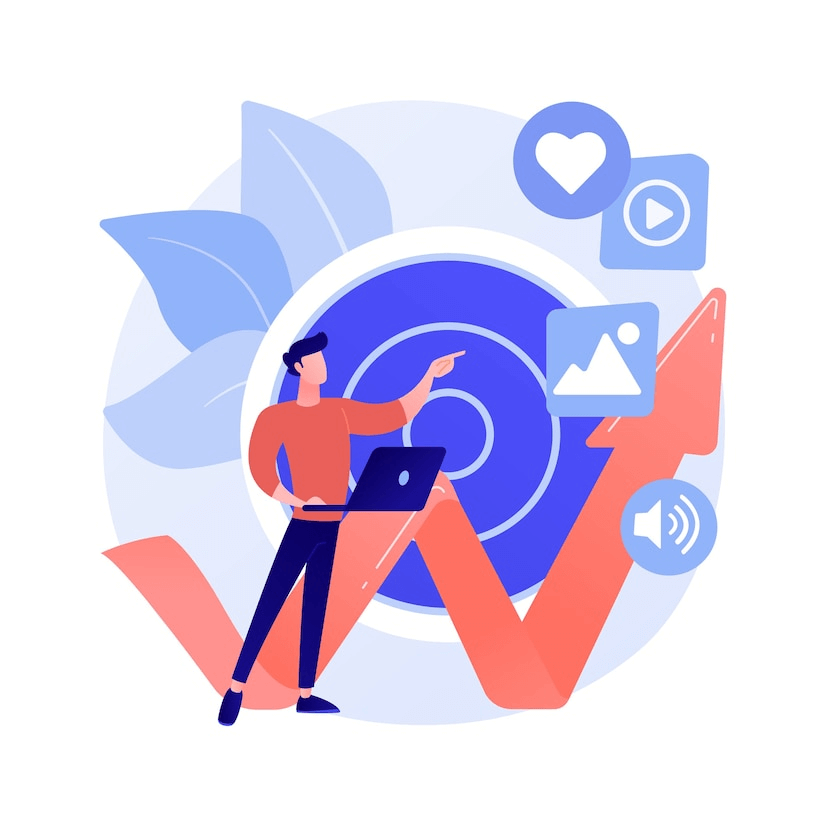 On top of that, customer satisfaction issues are also becoming easier to solve to bring efficiency to the entire business process.
3. Effective
Each company has distinct objectives for the issues they're attempting to resolve, and the ideal customer service tool will be able to address your specific problems with the least effort.
So the question is, "can this customer service software meet its full capacity?" and "Does it have enough services in this software?"
5 best eCommerce customer service software
1. NestDesk
NestDesk is an omnichannel customer service app built exclusively for eCommerce businesses. It helps to deliver excellent service and close more sales from supporting customers.

With NestDesk, you can manage & respond to messages across multiple channels like live chat, and Facebook messenger in one place. No worry about missing any conversation; you will get notified when a new message arrives
In addition, the app turns your customer service into a powerful sales channel, guiding customers from conversation to conversion at ease. Right inside the chatbox, you can help customers create orders at a glance and send them out the checkout link.
Price: Free
2. HelpScout
Help Scout takes automation to a whole new level by assisting you in identifying client needs and the solutions required to address them. It maintains conversation histories accessible from within the message window when responding to customers. It allows you to share internally so you may cooperate with your team to find the best solution to their issue.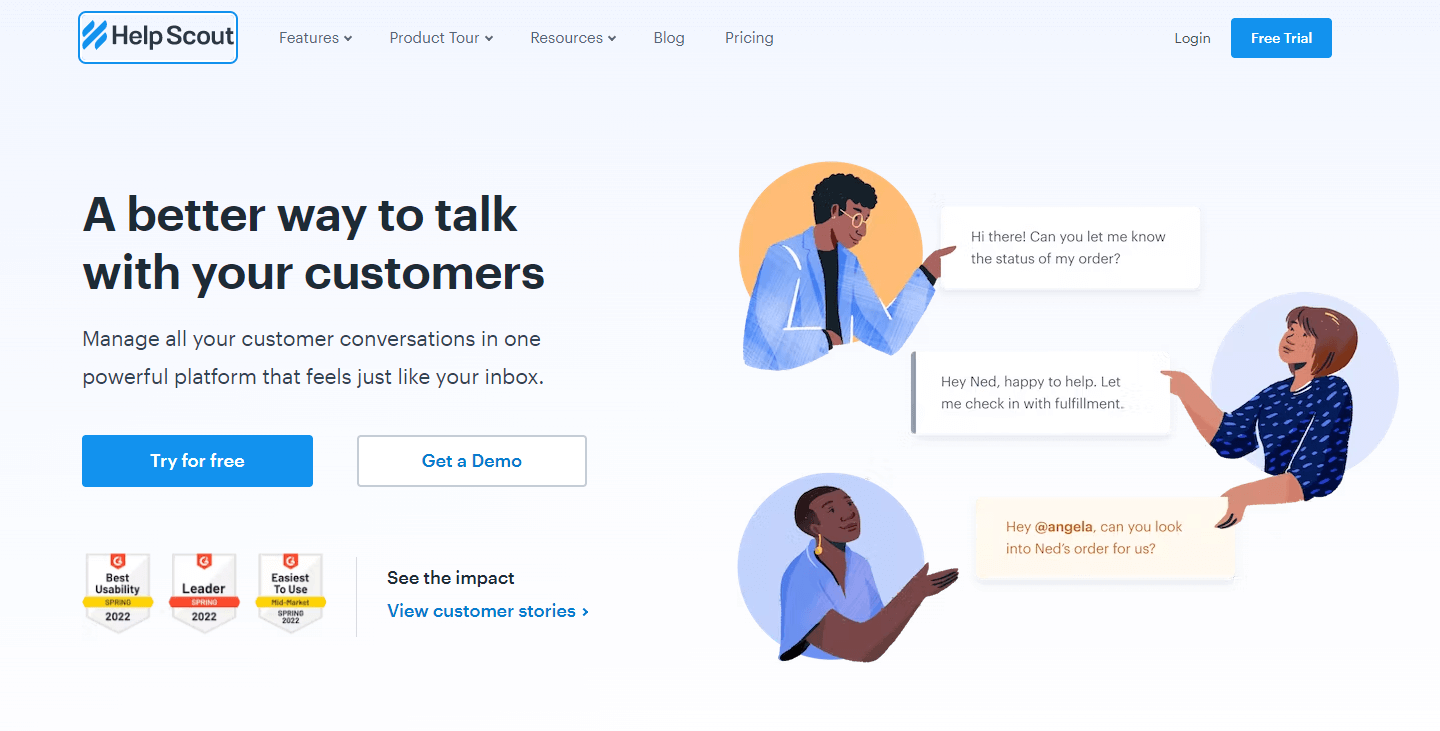 Improved response speeds, accuracy, and personalization enhance the customer support experience and assist you in maintaining that relationship with your consumers.
Price: Starts at $20/user per month
3. Zendesk
Zendesk is the leading software-as-a-service company that provides end-to-end customer service solutions. It serves a variety of sectors and provides products connected to customer service, sales, and other forms of client communication.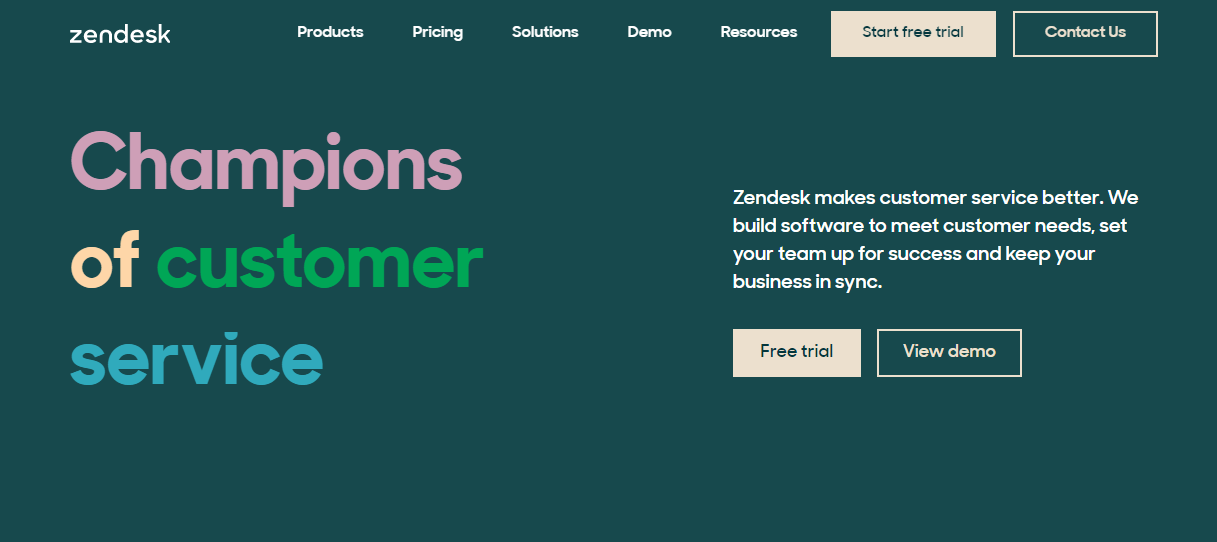 Large organizations such as Shopify, Tesco, Uber, and Netflix use it to provide comprehensive solutions that address all client needs at every stage of the customer experience.
Price: Starts at $19/agent per month
4. HubSpot
HubSpot is a software company that creates solutions for inbound marketing, sales, and customer service. HubSpot offers Business Hub – customer support software, one of the top solutions on the market, for e-commerce companies looking for an after solution to connect customer service, marketing, and sales activities.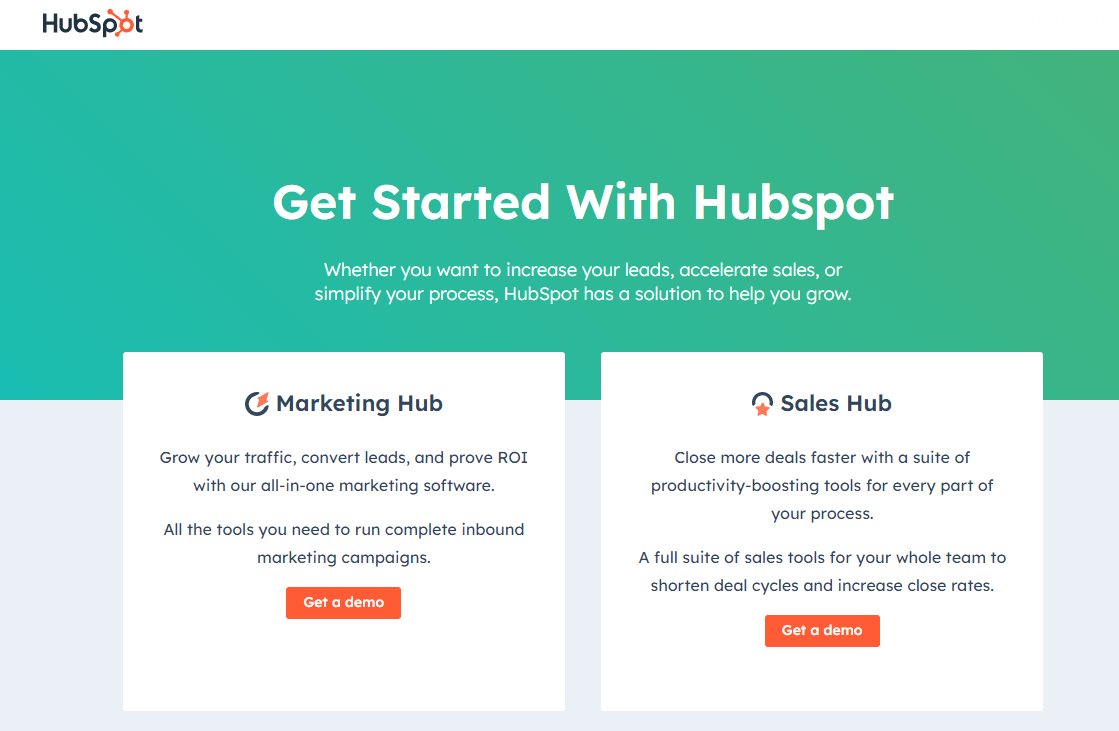 Service Hub consolidates all your customer service data and channels onto a single CRM platform, allowing you to efficiently engage, support, retain, and grow your client base. As a result, your customer service management improves, and you deal with satisfied consumers at every point of their journey.
Price: Starts at $15/agent per month.
5. LiveAgent
What distinguishes LiveAgent from the other solutions we've discussed is its gamification approach to client service. LiveAgent integrates communication from email, phone conversations, and social media into a unified dashboard, with quick setup and connection with the rest of their platform and tools to boost team efficiency.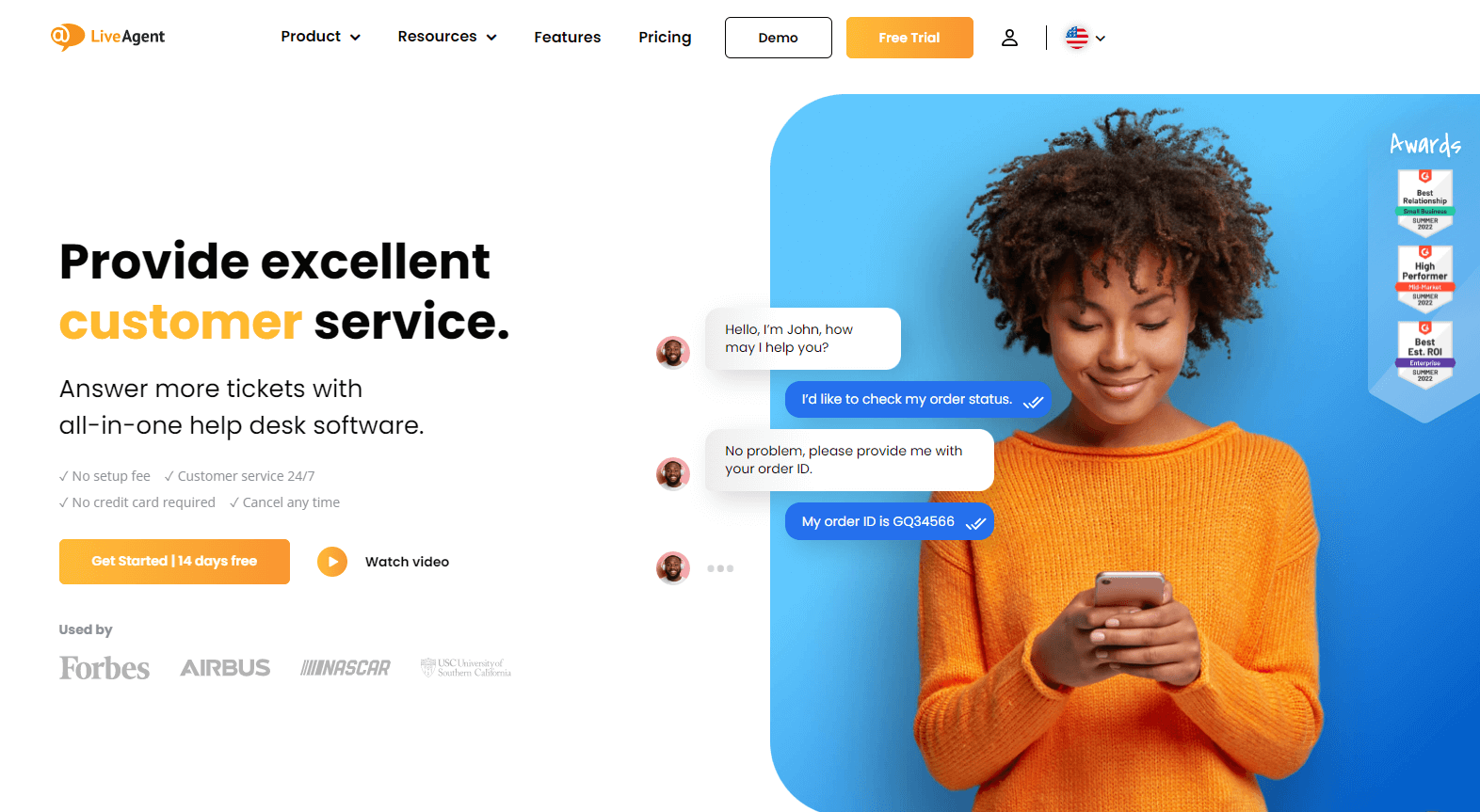 In a nutshell, this functionality allows agents to keep track of all customer messages in one place, reducing distribution and response times while maintaining high consumer standards.
Price: Starts at $15/agent per month.
Final thoughts
Businesses are spoiled for options with so many tools on the market. Finally, it would be best if you did what best meets your customers' demands since, after all, the customer comes first.
Hope that you find at least one suitable option among the 5 best eCommerce customer service software above. If you have any questions, feel free to contact us via live chat or email at [email protected]