If you have a service-based business on Shopify, you should consider using a Shopify booking app. It helps customers book more easily and saves you time and effort managing customers that come into your store.
There are many booking apps available on the Shopify app store. Additionally, deciding which app is best for your company might be challenging. Check out this post's list of the top 5 Shopify booking apps for 2023 to see if any of them satisfy your requirements.
Sesami: Appointment Booking

With the help of the booking tool Sesami, you can increase revenue for your business while also improving team productivity by selling appointments. A more individualized experience for your customers can increase positive comments and encourage repeat business. Additionally, consumers may use this app to checkout via your website or the Shopify POS, as well as schedule their own appointments on your website.
Your staff can use this app to help customers in person or at the office by using it online. Because of this, the software provides a lot of versatility. Sesami also supports multiple languages and time zones from across the world.
Highlight features
Provide an omnichannel booking solution that enables both online and in-store bookings (POS).
Send confirmation emails with complete URLs to physical venues or virtual meeting platforms like Zoom, Google Meet, etc.
Enabling easy addition of team members and calendar management
Simple calendar view for managing all of your reservations
Dedicated help for personalized setup and onboarding
Integrate with Google Calendar, Calendar.íc file
Tipo Appointment Booking

With the help of this effective tool, you can develop an attractive, user-friendly booking experience in your shop that will make visitors feel impressed. The program is incredibly helpful in a variety of contexts, including academic settings, doctor's offices, business settings, and more.
Customers won't ever miss an appointment they've set thanks to the Tipo Appointment Booking app's ability to synchronize with Google Calendar or Apple Calendar. Additionally, you may keep track of all appointments, including their status, date, time, customer, worker, and place. There are many different filtering possibilities.
No matter what color scheme is utilized, your booking system may be integrated into the layout of your website without any issues. The typeface and background picture can both be changed at the same time.
Highlight features
Keep track of appointments with thorough booking details like status, time and date, customer, employee, and location, along with a variety of filter options.
synchronize your Apple and Google calendars
Make the booking section's appearance unique to your shop.
Automatically notify customers and employees via email
BookThatApp

This is a useful and versatile tool that makes bookings for your customers easier. From their PC or mobile device, they can make reservations for your goods, furnishings, spaces, and other services. You don't miss out on prospective sales as a result.
You can also give your customers real-time access to the items, accommodations, and staff that are available. As a result, the option will be quickly deleted for other customers, especially those who are already browsing your site, if someone is surfing your site and another customer takes the time. This keeps clients from getting upset midway through the checkout process when they learn their selected time is no longer available.
You may manage your reservations and maintain tabs on those that have been made for the day, week, and month of the administration section. You can plan your personnel and supply needs more precisely with the help of this smart information.
Highlight features
Features instant booking by displaying the dates and hours in real-time availability
Mobile flexible and user-friendly UI that adjusts to various screen sizes and resolutions
Simple to modify booking regulations
Send emails and SMS notifications for each event's schedule automatically
properly manage booking information
Appointment Scheduling App

If you provide local delivery services to your customers, it could be challenging for them to schedule your services online without a timetable. If they couldn't reach you, they could do this manually, but that would be inconvenient for them. Appointment Scheduling App will lessen that discomfort by making it simple for users to book a nearby delivery.
Customers can choose to have their purchases delivered to them or picked up from your store using this chatbot. It can also give you the means to incorporate a chat system into your website. Following the checkout page, all of this is possible. Customers can choose the day and time they want to pick up their order, subject to your and your staff's availability.
Highlight features
Display scheduler throughout your website
Integrate your availability with other calendars if you provide more than one appointment type, service, product, or location.
impose time limits on appointments
Create a unique look and feel for the booking section.
Add scheduling pop-ups or forms
Appointment Booking ‑ Appointo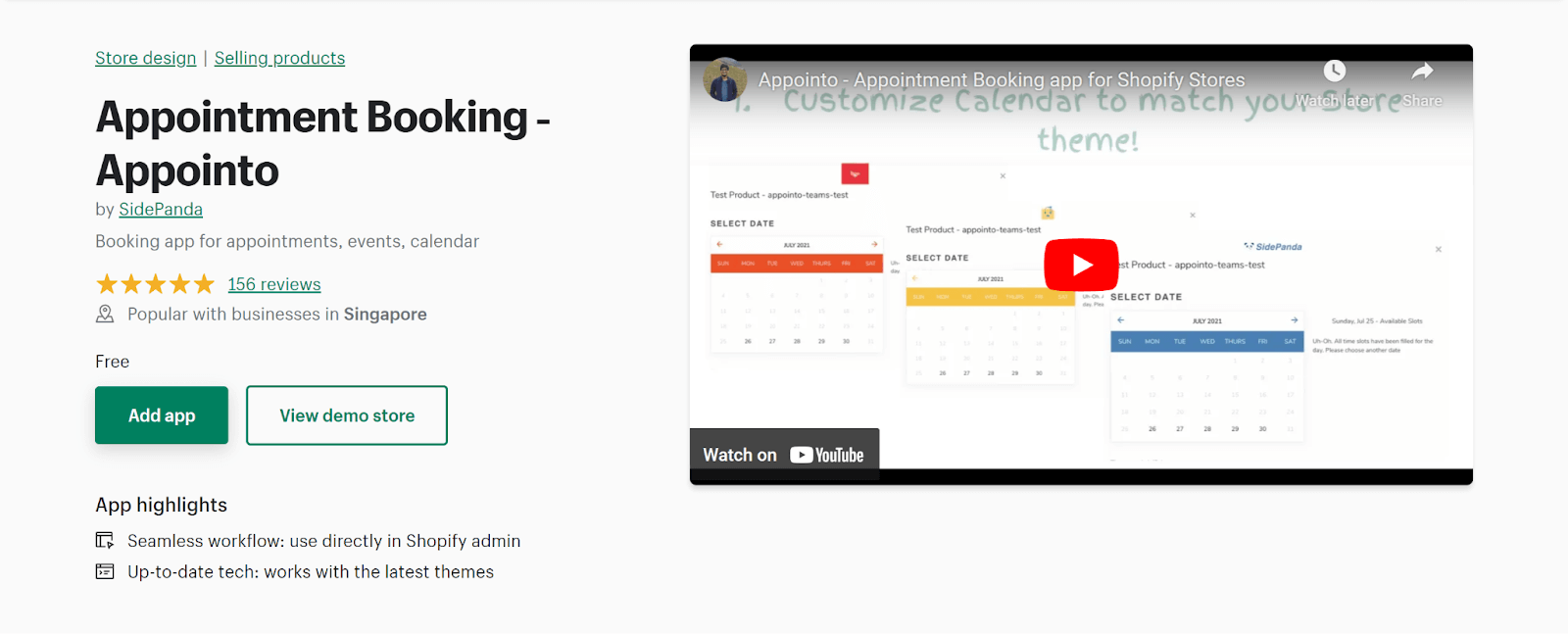 Appointment Scheduling – Appointo is a helpful tool that can help you save time, increase appointment sales, and provide better customer service. You can manage customer information and booking data more efficiently with the help of this app. Additionally, it is simple to modify booking guidelines, and group appointments, and have the calendar automatically sync.
This program also provides the option to export all of your bookings as a CSV file. With 18 languages available, the language is immediately translated into the shop language.
Highlight features
Sync with Calendly, Google Calendar, Outlook, and Zoom
Send your customers automated emails as a reminder and a notification.
Create booking policies with a variety of facets.
Easily link to Google Calendar and Outlook
The free program is offered
24/7 customer support
Conclusion
You can test out the majority of the booking apps mentioned above on a free plan in order to decide which is best for your business. We hope you find this article about the top 5 Shopify booking applications for 2023 useful. Use the NestScale live chat feature to get in touch with us if you have any questions. We'll get back to you as soon as possible!