If you're running an online business, you know that getting product reviews is essential to building a strong reputation and attracting more customers. Positive reviews can do wonders for your sales, while negative reviews can hurt your business. That's why sending a product review request email is a great way to gather feedback from your customers and improve your products.
But how do you create an effective product review email? In this blog, we'll share with you the best product review email templates & practices of the most engaging product review emails to help you get more reviews and build up your brand reputation. Let's dive in!
What are product review emails?
Product review emails are messages that are sent to your customers after they have made a purchase from your online store. The purpose of these emails is to ask your customers to provide feedback on the product they bought.
When a customer receives a product review email, they will typically see a message that asks them to rate the product and leave a review. This is a great way for you to gather feedback from your customers and find out what they like and dislike about the products you're selling.
Product reviews can be incredibly valuable to a business. They can help you identify which products are popular and which ones might need some improvement. Plus, positive reviews can encourage other people to buy your products, while negative reviews can help you identify areas where you need to make improvements.
Remember, the key to get great product reviews is to provide your customers with high-quality products and excellent customer service. By doing so, you'll create happy customers who are more likely to leave positive reviews and recommend your products to their friends and family.
5 Best practices for your product review request email
Keep it brief and straightforward
The connection between the number of paragraphs and the conversion rate is evident. If your customers have to read a lot of text, they are less likely to give feedback. In other words, the more extended the email, the lower the conversion rate.
Therefore, it's essential to consider that every word costs you money. To keep things effective, keep your emails short, concise, and straightforward.
The best practice is to include a clear call-to-action, such as the example shown below from e.l.f Cosmetics. It is crucial to keep in mind that most people will view your email on their mobile phone. Therefore, it's advisable to keep the text to a minimum to ensure it's easy to read.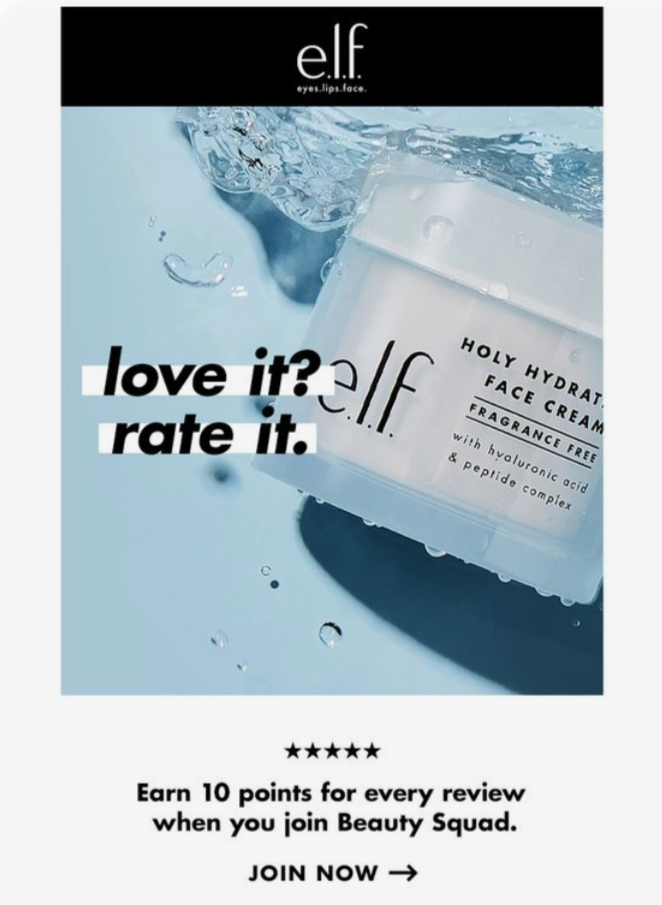 Boost your brand identity
Your email requesting reviews should be easily recognizable by your clients. Biscuiteers' review request email is a prime example of consistent branding through the use of visuals and tone of voice that match their website. This approach attracts customers and reinforces the brand.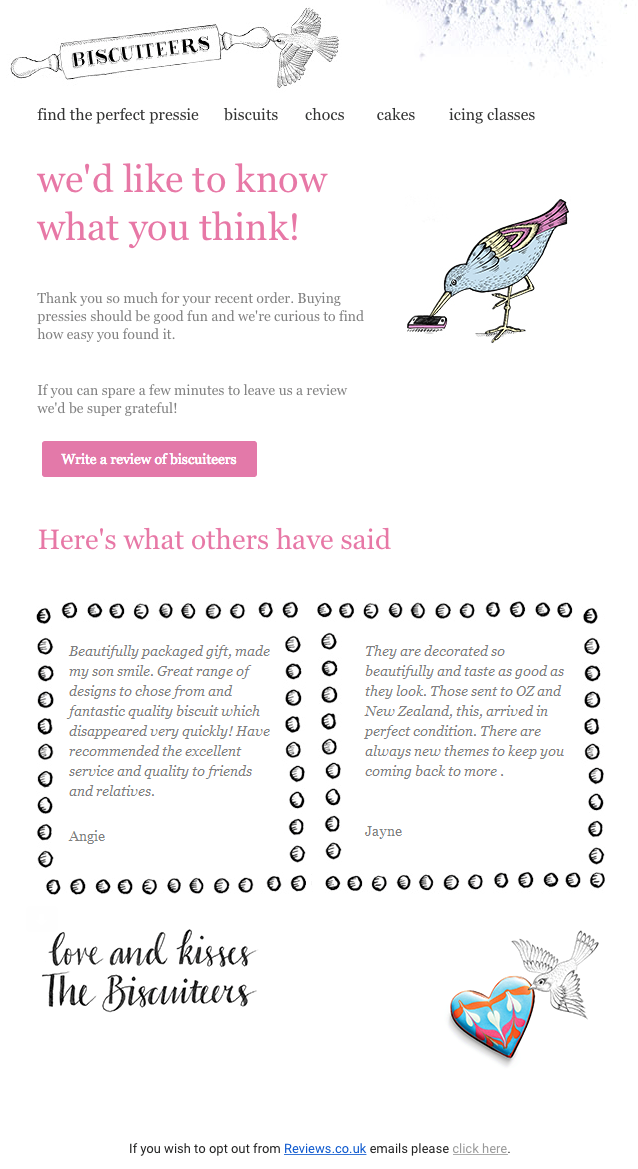 As a result of this branding strategy, Biscuiteers' review request email achieves a conversion rate of over 18%, which is significantly higher than the industry standard of 3%.
Be conversational
To boost the effectiveness of your review request emails, it's important to personalize them and maintain a conversational tone. Instead of using formal language like "Rate your purchase," try using phrases such as "Let us know what you think" or "Give it a score." This approach helps create a friendly atmosphere that encourages customers to provide feedback.
Additionally, it's essential to put the customer at the center of the email and use plenty of "you" language when requesting a review. This approach demonstrates that you value their opinion and care about their satisfaction with the product or service.
Time it right
Getting the timing right for your product review emails is crucial to receiving valuable feedback from your customers. Sending too soon could mean that customers haven't used the product yet and are less likely to provide feedback.
The optimal timing for sending product review emails depends on the type of product being sold and how quickly customers tend to start using it. Testing different timings and adjusting accordingly is a good way to determine the best time to send these emails.
Send follow-up emails
Sending follow-up emails can be a great way to get customers to write a review about a product they bought from your store. It's like reminding them gently, "Hey, how's it going? We're eager to hear your thoughts on your recent purchase. Would you be willing to take a minute to share your feedback with us?" It's a good way to jog their memory, and they might be more willing to write a review when they see your email.
Plus, it shows that you care about their opinion and want to hear what they have to say. So, don't be shy to send those follow-up emails and ask for their review!
5 Best product review email templates
Tarte – Emphasize CTA
Are you interested in highlighting the quality of your products or emphasizing their ease of use? Do you want your customers to focus on the appearance of your products? When crafting your product review email, strive to be as specific as possible and include multiple calls to action (CTAs) if necessary.
For instance, the cosmetics brand tarte requested that customers write a review and also included a secondary CTA asking them to "SHARE A PHOTO"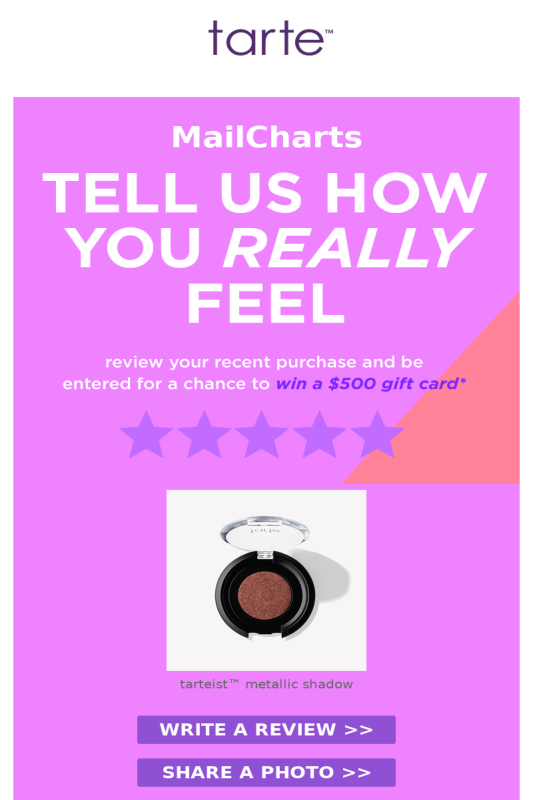 Charlie Hustle – Make it convenient by embedding surveys
Making an email interactive by embedding surveys is a cool way to request product reviews from customers. It's super convenient since the survey is right there in the email – no need to click on a separate link or navigate to another page.
So, if you're a seller looking to improve your product, try embedding a survey in your review request email. That will make your customer review journey become a whole lot easier!
Charlie Hustle, a popular clothing store, has incorporated a feedback mechanism into their post-purchase email. The email includes a form along with a star rating system to gather feedback about their recent shopping experience.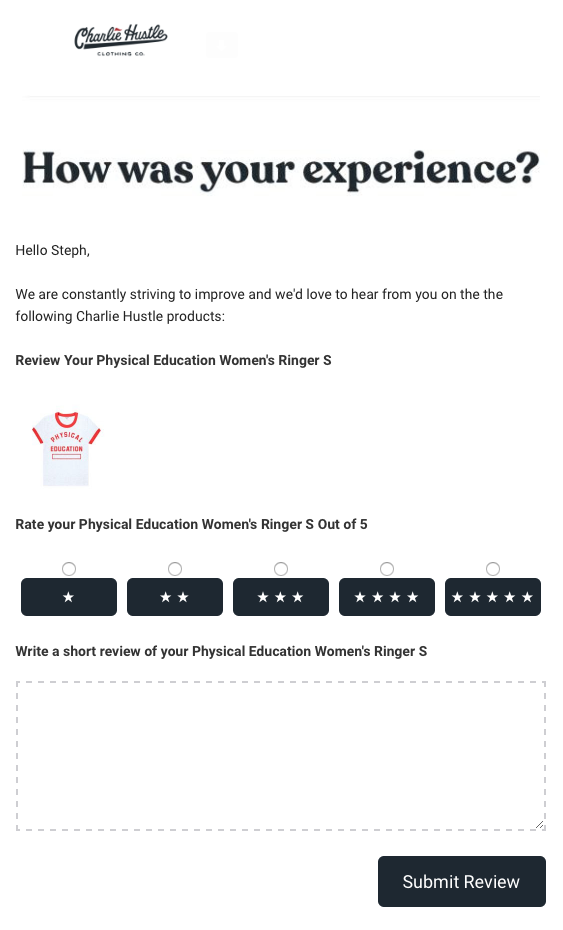 Huron – Offer a 50% gift card in exchange for a review
So, when you ask someone to write a review for your product, they might not feel inclined to do so because they're busy or they just don't want to. But if you offer them an incentive, like a discount or a chance to win something, it gives them a reason to take the time to write the review. It's kind of like a little thank-you for their time and effort.
Plus, when other people see that there are incentives for writing reviews, they might be more likely to write one too. So, it's a win-win situation!
Huron, a skincare brand, has applied the strategy of offering incentives for product reviews and has seen great success with it. By providing their customers with incentives, they have been able to gather valuable feedback and improve their products based on the reviews.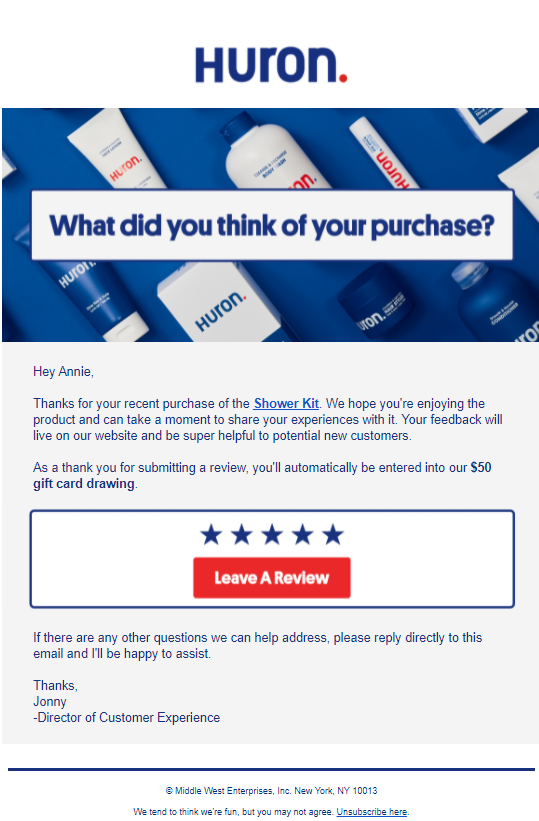 ELAVI – Capitalize on customer emotion
Personalizing your review emails and adding a personable touch can greatly influence customer response rates. Signing off with a personal name or a relevant individual's name can further increase the likelihood of receiving feedback from real human beings.
Incorporating a signature or personalized message from a company representative can be a nice touch to enhance conversion rates. However, the message's sentiment holds greater importance than excessive branding.
ELAVI's approach effectively communicates the significance of a review to the customers, thereby making them more inclined to provide feedback. Additionally, the inclusion of a time frame provides reassurance that the task will not consume too much of their time.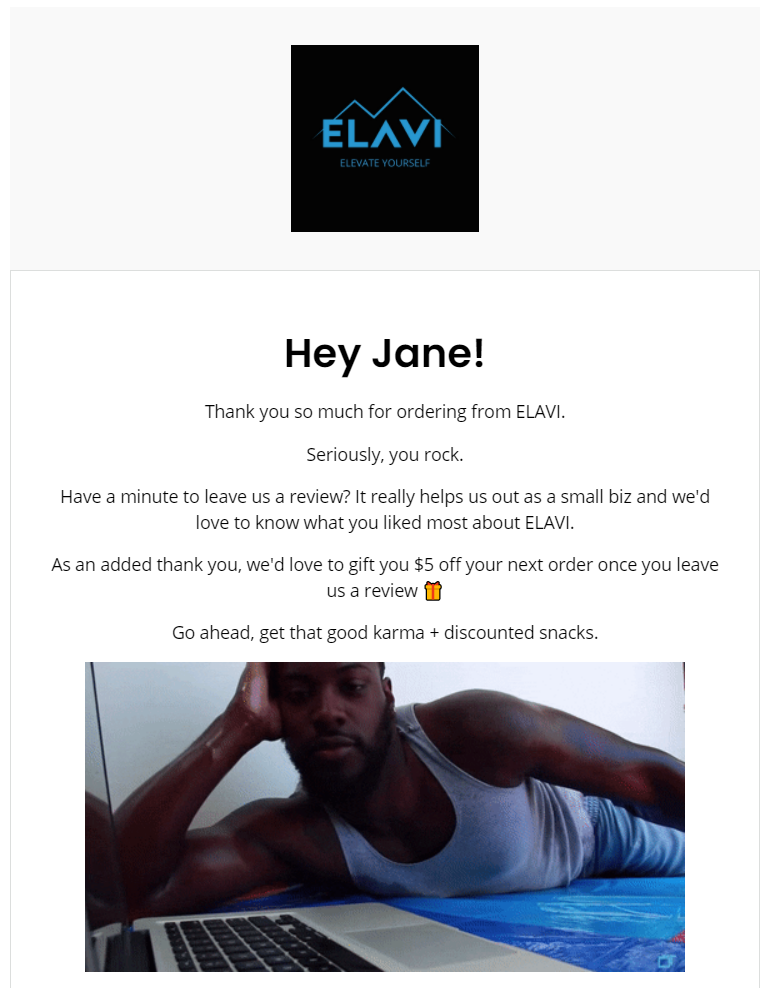 Boden – Emphasize honesty
Encouraging honesty in customer reviews is crucial for any business, and Boden's approach is a great example to follow. Their product review email includes beautiful images and a request for honest feedback, demonstrating that they value their customer's opinions and are committed to improving product quality and the overall customer experience. 
As a business owner, asking for constructive criticism can lead to valuable insights and help boost customer satisfaction and loyalty.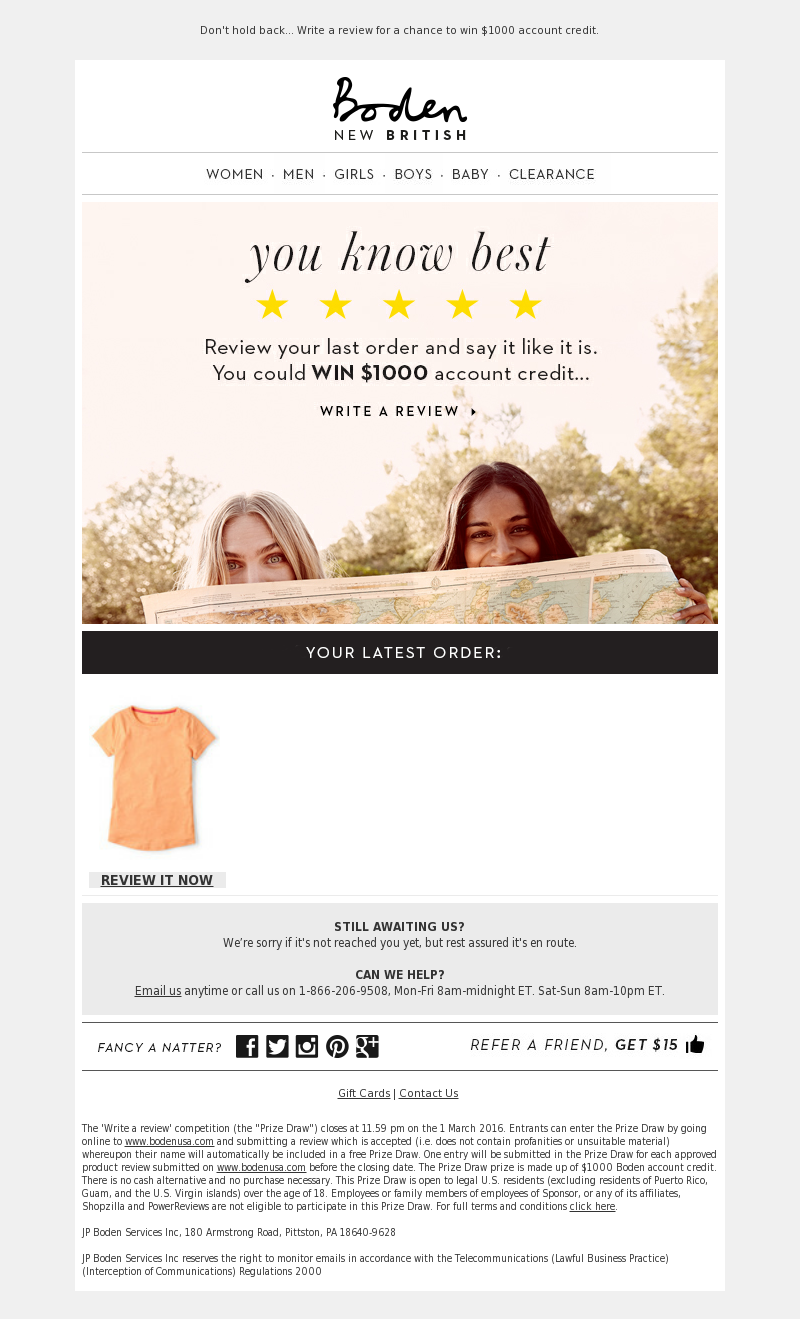 Let's build up your brand reputation with NestSend!
Now that you have learned the best product review email templates & practices, it's time to put it into action. One of the best ways to make this process even more effective is to use a tool like NestSend.
With NestSend, you can create customized email templates easily, track your email performance, and follow up with your customers to get those much-needed reviews.
By implementing these product review email templates & practices and using a tool like NestSend, you can significantly increase your chances of receiving valuable feedback from your customers, improve your product offerings, and build a strong brand reputation. So why not give it a try and see the difference it can make for your business?