Do you know that, according to recent Baymard Institute research, the average cart abandonment rate is slightly around 70%? Given that this data was obtained from 41 different surveys, the percentage is highly shocking for eCommerce company owners.
If you don't know how to write a complete abandoned cart email to convince customers to click buy and increase conversions for businesses. Follow this article, it will show you how to create an abandoned cart email, and this article will answer why it is so important.
What is an abandoned cart email?
An abandoned cart email is a follow-up email sent to people who leaves your website without purchasing the items in their shopping cart.
The studies show that businesses using abandoned cart emails have earned an average of $5.81 in revenue. This number may not be outstanding, but multiply it by the thousands of abandoned cart orders, and the income earned from these abandoned carts can help you make more sales.
Apart from winning back sales, businesses also use abandoned cart emails as an effective way to retent customers and nurture customer relationships.
Best time to send abandoned cart email
Have you ever wondered, "Why to send abandoned cart emails so many times?". Because there's so much competition in your customers' email inboxes, you also need some time to get your customers' attention.
Using a multi-cycle email strategy, you can increase your conversion rate because your message will reach customers in the shortest time when they still have high intent. Your emails have a better chance of being opened at different times.
Keeping the customer's attention between the abandonment and the first email can be a positive reminder of their potential purchase… If you delay more than an hour, you risk losing a critical chance to a competitor.
5 Best abandoned cart email examples you should know
1. Casper
We all know how word of mouth and reviews help increase sales. Casper sent a cart abandonment email after you left anything on their website.
The subject line, "Did you forget something?" capture your interest and gets you to click. Once opened, the email uses the playful, catchy subject line "BACK TO BED" to draw you in.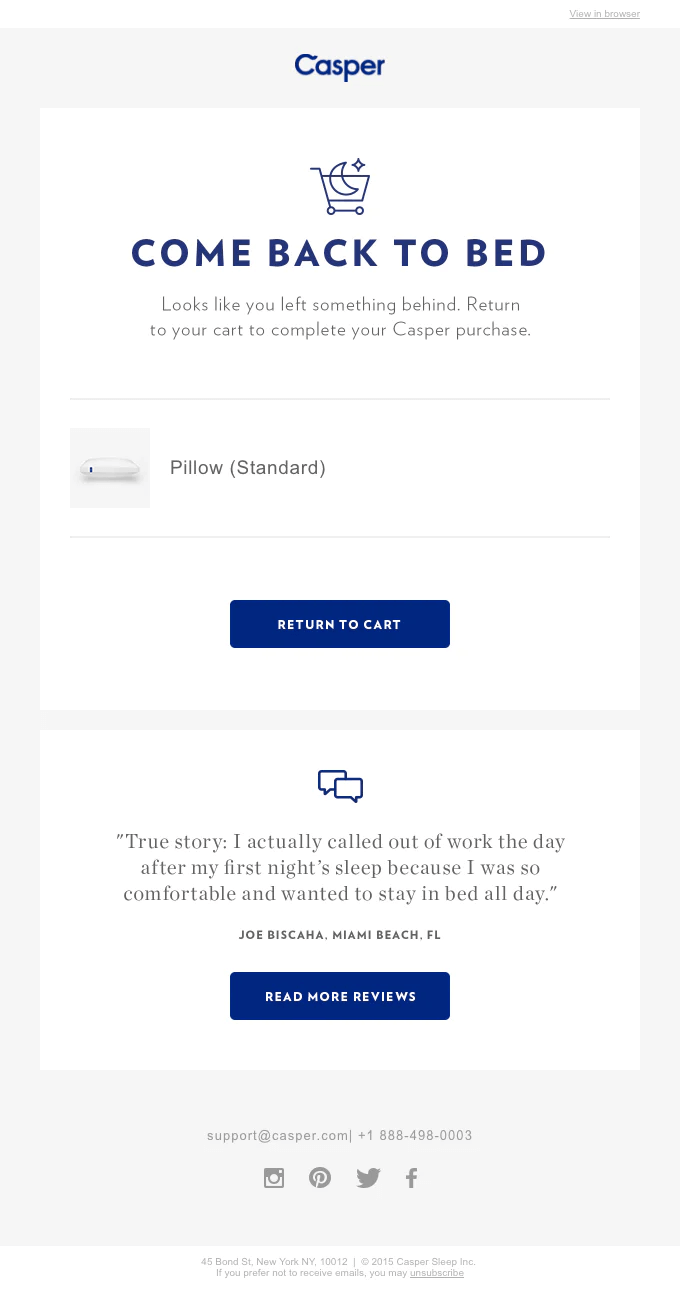 Casper precisely uses eye-catching, snappy text, clear CTA buttons, and reviews. So, suppose a visitor doesn't complete a purchase because they haven't completed their research. In that case, an inspection can help them find the answers to their doubts, objections, and questions about a particular product.
2. Rudy's
Rudy's cleverly sent an abandoned cart email with the slogan "Don't let free shipping go to waste." They give customers back the products left behind, above all, free shipping to customers to motivate them to complete their purchase.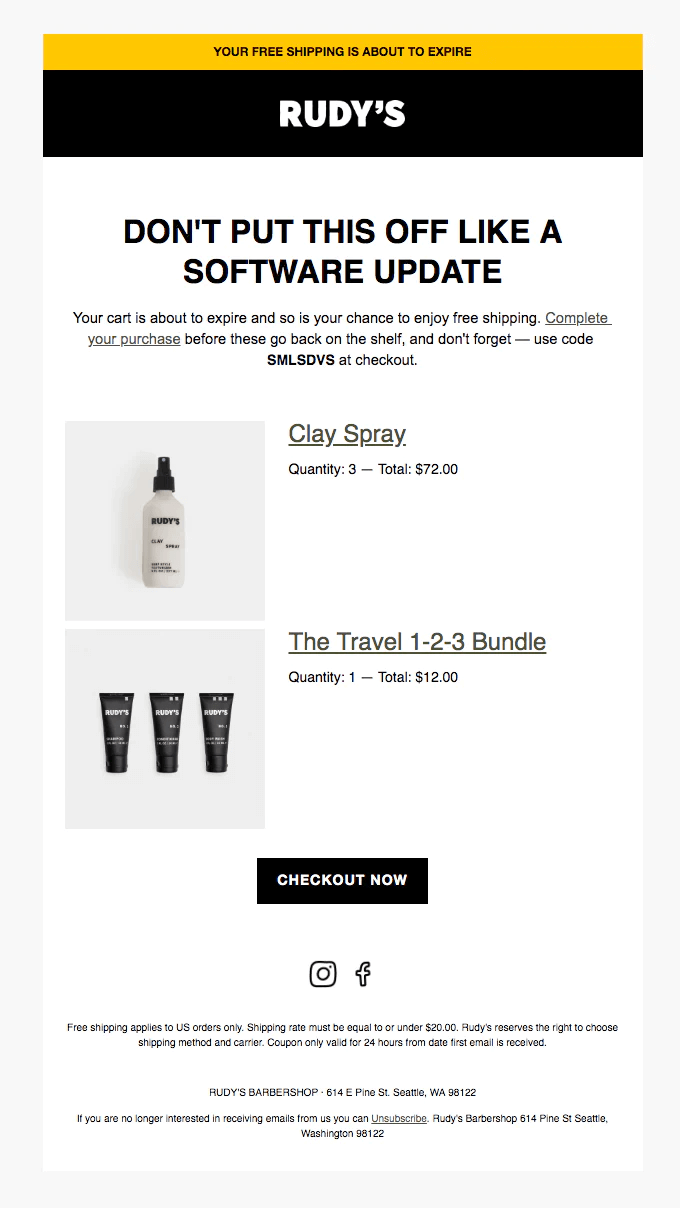 In addition, the headline "Don't put this off like a software update" can show that Rudy's understands its customers. Most of its customers will know it can fail if you don't update your software.
3. Whisky Loot
When Whiskey Loot sends out an abandoned cart email, the email opens with a question, lists everything you can do with the whiskey inside the box, and uses a clean design to grab attention. All of this makes customers laugh at the thought of themselves using these items in this humorous way.

Whiskey Loot wraps up with an FAQ section and a CTA button saying '"TREAT YOURSELF." This abandoned cart email gives the customer all the information they might need to complete a purchase.
4. Nomad
With Nomad's abandoned cart email, it's different. The headline makes the reader fear missing out to make them click through.

The email also mentioned a common pain point. In the section "Afraid to leap?" The copy's explanation reassures readers of Nomad's return policy and two-year warranty. This offer strengthens the email's trustworthiness by demonstrating that the brand stands behind its items.
5. Dollar Shave Club
Dollar Shave Club is another beautiful example of an abandoned cart email. The wooden backdrop, grayscale images, and bear are all elements geared toward their target audience: men.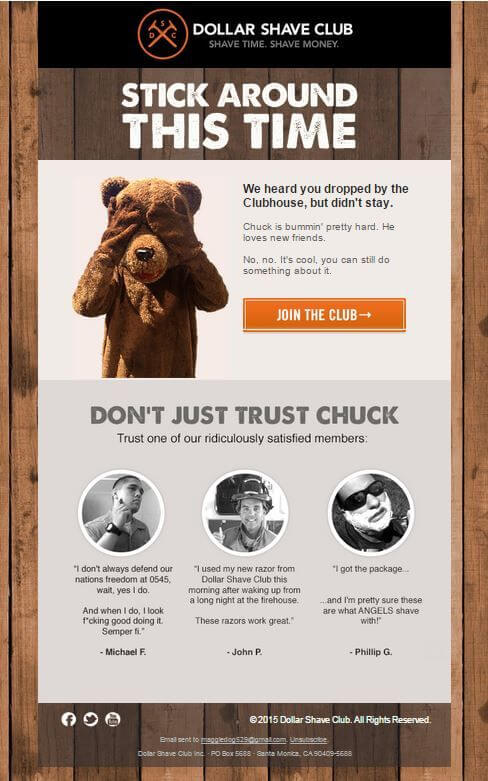 When the email is opening, the bullet-point content makes it easy to read and lists the benefits of Dollar Shave Club razors. The graphic depicts what will be included in the brand's monthly box. Dollar Shave Club also provides a money-back guarantee to dispel reservations and encourage readers to participate.
Abandoned cart email best practices
1. A reminder of abandoned carts
It's possible that after some time has passed, your buyers will decide they want to buy after all. It may take several hours after abandonment for them to remember what they saw in the objects in the first place. This is a warm lead, as opposed to the frigid reach of a standard business email structure.
2. Offer free shipping
Free shipping is an easy and effective way to win back sales from abandoned carts.
According to Invest, online consumers find free shipping twice as attractive as discount offers. Furthermore, 93% of consumers buy more products when free shipping is offered. It's no wonder that free shipping is a proven motivator for reducing cart abandonment and, in some cases, increasing average purchaser order value.
3. Craft a great abandoned cart email template
An abandoned cart email template is not just handy to base your next campaign on; it also makes testing a lot easier. Create an abandoned cart email template you can use as the default for your tests and adapt it each time you find something that works better.
Send abandoned cart email to recover sales from your store
Through this article, you must have understood what an abandoned cart email is, why it is so important, and how to create an abandoned cart email to recover lost sales.
Start creating & sending your own abandoned cart email or letting the right software make it automatic for you! Let's see what a free email marketing automation platform like NestSend can help you
– Custom or select from numerous abandoned cart email templates
– Trigger an automation email workflow when someone abandons the cart
– Track the open rate, click rate, etc