TikTok advertisements present thrilling chances for you to enhance user involvement and showcase your brand's unique character. However, for small e-commerce businesses operating on a tight budget, determining the right advertising approach to effectively reach numerous potential customers can be challenging. Fortunately, TikTok's In-Feed ads provide a solution for your budgetary concerns. These specific types of TikTok ads enable you to craft captivating and interactive content that instantly captures users' interest, boosts engagement levels, and ultimately drives conversions
In order to inspire you to create compelling TikTok In-Feed ads in 2023, this article introduces you to the top 10 TikTok In-feed ads examples from online businesses. Let's check our list of best TikTok In-Feed ads examples with detailed explanations, explore how they work & how to learn from them.
#1: Bee Inspired Clothing
Objective: To enhance their customer base, amplify conversions, and accelerate sales by leveraging Shopify.
Solution: To create compelling campaign content, the team utilized creators and produced original material. Subsequently, they incorporated user-generated content (UGC) and "Get Ready With Me" (GRWM) style content. Specific days each week are dedicated to focusing on TikTok content creation. During these days, the team collaborated with models and devised three to five unique concepts and perspectives for the shoot.
After that, they experimented with different creative styles, testing them on the target audience to determine which resonated the most. Feedback and insights from the in-platform data influenced further iterations, which were incorporated into the following week's shoot. This iterative process allowed them to create and produce content based on learnings from data and feedback within the platform.,
To generate a diverse range of content, the team partnered with creators through direct outreach and mutual connections. These creators were already passionate about the brand, produced engaging content, and perfectly embodied the brand's essence.
Result: Bee Inspired's campaign achieved remarkable success. By incorporating the weekly advice suggestions, updates, and strategic guidance from their TikTok Account Manager, they successfully connected with a fresh, younger audience through TikTok. As a result, they significantly increased their follower count, more than tripling the number of their followers. What's even more impressive is that they managed to reduce their expenses for acquiring new customers by over 25%.
#2: San Saru
Objective: San Saru is a jewelry e-commerce website that provides heartfelt jewelry pieces. Their aims were to enhance sales and boost brand profile
Solution: San Saru utilized the newly integrated TikTok Ads Manager sales channel in Shopify to run two campaigns featuring In-Feed Ads. These ads not only showcased the beauty of San Saru's products but also introduced the brand to the audience. By directing users to the website, the ads enabled them to explore additional content and discover more jewelry options.
Appearing in full-screen format with sound-on, the In-Feed Ads blended with other TikTok community content. They effectively captured the attention of users, providing a 100% share-of-voice for the brand name, with a concise brief description. Moreover, with an authentic and stylish approach, the ads offered an enticing glimpse into the brand's product range, inspiring users to learn more.
Result: The San Saru campaign then gained outstanding results throughout its duration. With an impressive 346% increase in sales, San Saru successfully reached a fresh audience directly through its Shopify dashboard, integrating the campaign with its everyday activities. Moreover, the campaign proved to be highly cost-effective, generating a return on ad spend (ROAS) of 175%.
#3: Coconut Lane
Objective: Coconut Lane is an online store based in London, UK that offers a variety of fashion and lifestyle accessories. They would like to increase their number of customers and reach out to new audiences
Solution: The brand implemented two distinct campaigns through its Shopify account. The first campaign focused on promoting their watch strap product using In-Feed Auction Ads. These ads encouraged users to click and purchase the product directly from the brand's Shopify website.
Afterward, n the second campaign, Coconut Lane aimed to boost sales for their newly launched gym brand, Cocogym. In order to utilize behavior targeting, In-Feed Auction Ads were employed to showcase the exciting new range to users within For You feeds. These ads also included a call-to-action that directed users to explore the new gym collection on the brand's Shopify website.
The In-Feed Ads, presented in full-screen format with sound-on, seamlessly appeared alongside other content from the TikTok community. These captivating Coconut Lane videos were fully immersive and exuded a sense of style, blending seamlessly with the native content on the TikTok platform.
Result: The campaigns achieved an impressive cost per click of £0.07 and £0.09 respectively. Undoubtedly, the In-Feed Auction Ads have proven to be an excellent use of ad spend. These ads efficiently reached a fresh audience directly from the merchants' Shopify dashboard, seamlessly integrating the campaign with their regular eCommerce activities. In terms of engagement, the two ads garnered nearly 6,000 clicks, 3,000 likes, and an impressive 600,000 impressions.
#4: VIRAGE London
Objective: VIRAGE has emerged as a remarkable eCommerce success, establishing itself as a prominent supplier of premium jewelry catering to the 21st-century individual. Their aims were to drive brand awareness and boost sales through TikTok.
Solution: VIRAGE London sought expert assistance from the Client Services Team for Ad Delivery advice after experiencing inefficient spending in previous campaigns. Upon investigation, it quickly became apparent why the previous ad creatives failed to perform. The ad group was only partially delivering, as it was limited to TikTok and not extended to Pangle, the ad network of TikTok For Business. This issue arose from an oversight in the selection of a particular setting.
Subsequently, the team utilized TikTok In-Feed Ads and SparkAds to captivate and amuse their target audience, specifically focusing on men of all ages in the UK.
Result: Through their campaign, VIRAGE London achieved a total of 1.6 million impressions across all their campaigns. Compared to their previous reach of 12,800, this marks an astounding increase of 3,650%, reaching a remarkable total of 480,000.
#5: Omolola Jewellery
Objective: Omolola Jewellery, a boutique based in the UK, specializes in afro-centric jewellery. In preparation for the Black Friday and Cyber Monday sales, they turned to TikTok to seek assistance in promoting their brand and products to a youthful audience in the UK.
Solution: Omolola Jewellery utilized TikTok Ads Manager to manage their campaign, specifically targeting a specific group of UK females. They created three compelling In-Feed Auction Ads to promote their seasonal sale. With TikTok Ads Manager, you have control over the campaign costs, allowing you to reach the right audience efficiently. By setting targets and leveraging the platform's advanced algorithm, it finds the most effective way to achieve the campaign's objectives.
Because TikTok Ads Manager, Omolola Jewellery successfully launched and managed its own biddable ad campaigns for the sale videos. Their primary focus was to convert views into website visits. Through captivating visuals showcasing models wearing their jewelry, the ads provided users with an enticing preview of the products directly in their For You feeds, accompanied by persuasive sales messages.
Result: The trio of In-Feed Auction Ads achieved a total of 1.8 million impressions over the weekend, garnering nearly 20,000 clicks. This outstanding performance resulted in an impressive click-through rate (CTR) of 0.95%.
#6: Cupio
Objective: Cupio is a renowned Romanian brand in the beauty and cosmetics industry, specializing in manicure, make-up, and skincare products. With a goal to engage younger demographics, Cupio wanted to find a new way to connect with them. Therefore, TikTok emerged as the perfect solution for this endeavor.
Solution: The six-month campaign by Cupio used a mix of In-Feed Ads and Spark Ads to target women aged 18-30 who were passionate about beauty, self-makeup, nail art, and skincare. Using the message of "Fearless Beauty," Cupio aimed to inspire and become the go-to brand for beauty tips and quality products.
For the campaign creative, they created diverse and trend-focused content to attract a new audience, collaborating with popular beauty creators to showcase their products in an authentic and engaging manner.
Result: By focusing on community growth, Cupio achieved higher engagement, expanded organic reach as well as fostered creativity. Furthermore, using Spark Ads, In-Feed Ads, and community interaction, the brand thus grows its TikTok audience to over 100k followers. This strengthened their brand image and fostered user-generated content, boosting brand awareness and trust.
#7: Tzuki Indonesia
Objective: Tzuki is an Indonesian soap brand, and its target was to promote its brand to consumers within a competitive health and beauty market.
Solution: Tzuki found TikTok's In-Feed ads to be a perfect fit for their brand. In the competitive online beauty industry, showcasing product videos, customer reviews, and recommendations play a vital role in building trust among potential customers. In order to execute their TikTok campaign, Tzuki focused on creating genuine and personal videos featuring individuals using their products.
Additionally, they collaborated with popular creators to review their soaps, further reinforcing the brand's credibility. Leveraging TikTok's strengths of captivating videos and immersive sound-on experience, Tzuki successfully engaged customers and effectively communicated their brand's value.
Result: Tzuki experienced a significant boost in sales, ranging from 300% to 400%, accompanied by an impressive reach of up to 27 million ad impressions. Moreover, the ads garnered an impressive 189,000 clicks to their website.
#8: Ditur x Nordic Social
Objective: Increase brand awareness and direct visitors to their Danish website.
Solution: In collaboration with their social media agency, Nordic Social, Ditur partnered with popular TikTok Creators to create a series of In-Feed Ads. These ads showcased Ditur's wide range of products and included an exclusive discount code specifically for the TikTok community. Designed with a native look and feel, the ads were displayed directly in users' For You feeds, prompting them to click on a link and visit the Ditur website for shopping the collections.
Furthermore, the brand leveraged the Automated Creative Optimization (ACO) tool provided by TikTok Ads Manager. ACO empowered brands to intelligently optimize their advertising by automatically serving different combinations of creative assets to their target audience. The algorithm continuously analyzed and delivered the most effective combinations, aiming to achieve the best advertising performance.
Result: Because of the efficient management provided by TikTok Ads Manage, the In-Feed Ads achieved great results, with a cost per click of only 0.47DKK. The campaign delivered an impressive return on ad spend, reaching an enviable 300%. Additionally, the brand received a great deal of exposure to a key audience.
#9: Fossil
Objective: Increase awareness in Germany for the limited edition "Fossil x Harry Potter" product collection.
Solution: Fossil established a series of In-Feed Ads on TikTok Ads Manager, aiming to generate video views and targeting users who were more inclined to watch the videos for a minimum of six seconds. To prevent creative fatigue, Fossil created five distinct videos, each featuring various products from the collection. The brand embraced a TikTok-centric strategy by collaborating with creators and incorporating popular platform transitions and trends such as voiceovers and unboxing.
Result: Fossil's campaign achieved exceptional results, with a 6-second view-through rate of 22.96%, which was nearly double the upper range of regional benchmarks for this objective. Impressively, the campaign achieved this high engagement at an efficient cost-per-view of just €0.01. The average watch time per person stood at 4.46 seconds, surpassing regional benchmarks and demonstrating the captivating nature of the ad content. Additionally, the campaign recorded higher click metrics, indicating a highly engaged audience with increased attention and intent compared to Fossil's previous activities.
#10: SNOCKS
Objective: SNOCKS, a well-known German underwear brand, aims to expand its customer base and reach out to a new audience
Solution: The brand utilized the newly integrated TikTok Ads Manager sales channel in Shopify to deploy five captivating In-Feed Ads. In order to do, each ad was designed to be entertaining and engaging, serving as both a light-hearted introduction to the brand and a promotion for its products. These ads directed users to the SNOCKS website hosted on Shopify, where they could redeem a special 'TikTok20' code offering a 20% discount on purchases.
Presented in full-screen format with sound-on, the In-Feed Ads seamlessly appeared alongside other content from the TikTok community. They provided a 100% share of voice for the brand name, accompanied by a concise description or call to action. Immersive and brimming with humor, the SNOCKS videos offered an engaging glimpse into their product range, coupled with an irresistible offer that captivated users throughout Germany.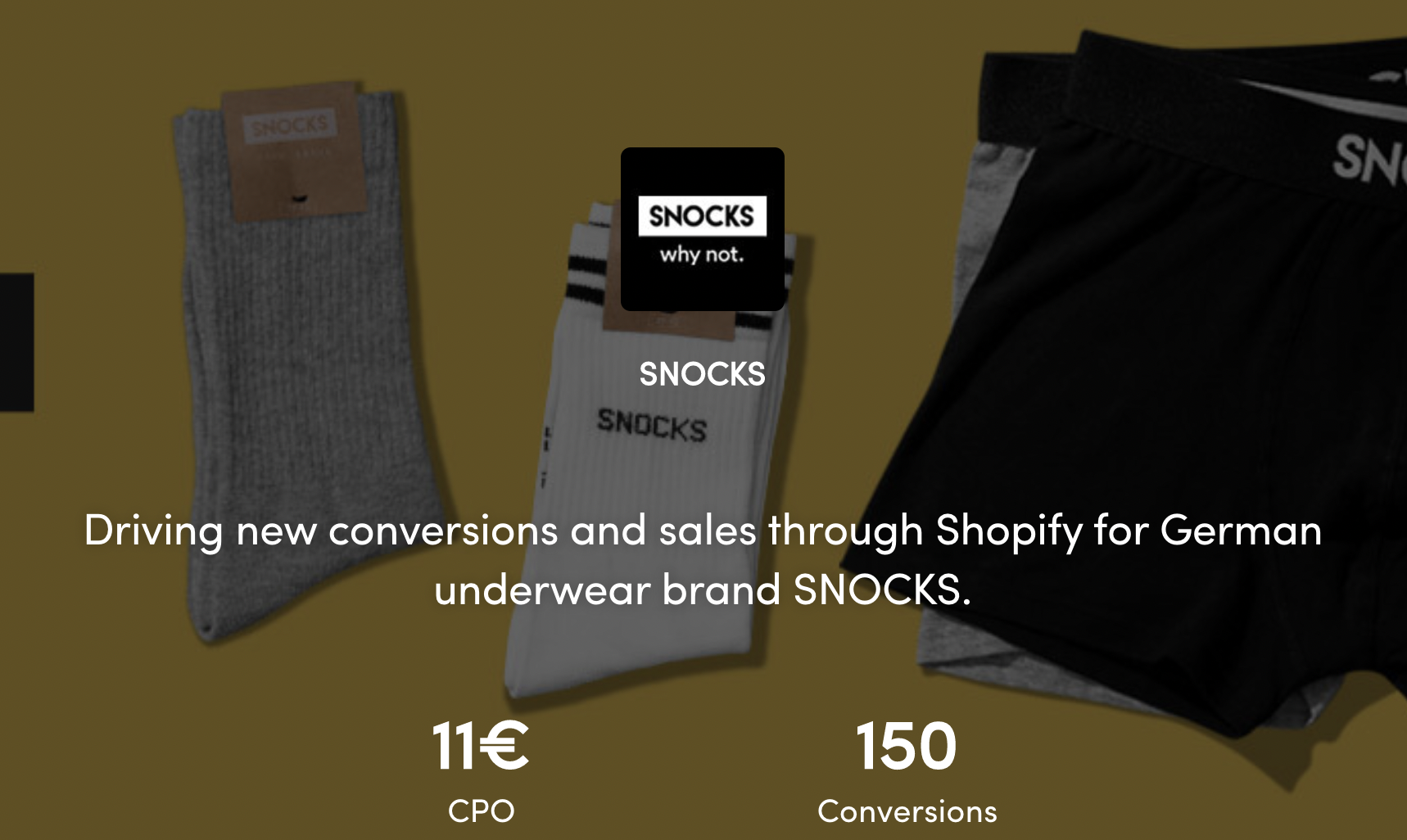 Result: The campaign generated 100 sales per week and achieved an impressive cost per order (CPO) of 11€, making SNOCKS successfully reach a new audience directly through their Shopify dashboard.
Winning In-Feed ads made easy
If you're having difficulty promoting your products on TikTok and want to avoid wasting resources, NestAds provides a simple & effective solution. You can easily create, optimize, and scale successful TikTok ad campaigns without needing specialized knowledge or skills. NestAds offers the following features:
An easy-to-use interface for designing advertisements
A library of audience data and recommendations at every stage of the advertising process
Campaign targeting
Campaigns aimed at retargeting previous audiences
Campaigns focused on customer retention
Try NestAds today to streamline your TikTok ads creation and management process, and stay focused on what matters most for your online store!