As an e-commerce business owner, you're always looking for new ways to stand out in the online market, which is very competitive. Meanwhile, effective discount tactics can give you the edge you need to grab the attention of your target audience and encourage them to buy.
However, managing and adding Shopify discounts by hand can take time and lead to mistakes. That's when cutting-edge technology comes in to save the day. In this blog, let's discover how to use the right Shopify discount apps to build and manage discounts & personalize offers in ways that increase conversion and repeated purchases.
Statistics: The impact of discounts
Let's start by looking at a number of data that show how discounts can affect e-commerce businesses:
Conversion Rates:
Industry study shows that giving discounts can boost conversion rates by up to 64%.
When businesses use discount methods, their conversion rate is 48% higher than when they don't.
Customer Acquisition and Retention:
Studies show that a discount makes 2/3 of online buyers more likely to buy from a store they haven't bought from before.
80% of customers say they are more likely to buy from a business again if it gives them personalized deals.
Abandoned Cart Recovery:
About 54% of shoppers say they would finish a purchase if they were offered a deal at the checkout. This is a big reason why cart abandonment rates are so high.
Increased Average Order Value:
When a business uses strategic discount prices, the average order value goes up. When you bundle items and give deals, the average order value can go up by 60%.
These numbers show only a small part of how much discounts can help or hurt e-commerce businesses. So by putting discount pricing tactics into place in a smart way, merchants can use these numbers to bring in new customers, drive conversions, increase customer loyalty, and increase sales.
Ways to generate discount codes on Shopify
Generally, there are a few distinct ways to generate discount codes on Shopify.
As the name suggests, one can create discount codes on Shopify manually. Furthermore, vendors can easily create a discount in Shopify by following simple steps. You must make a Discount Code in your Shopify admin to accomplish this. This code will have all the details about your discount, like the code itself, the discount amount, and when it expires. However, this way of making discounts works well.
The next but more technical way to generate discount codes is Shopify scripts. Shopify scripts are snippets of code or complete codes that can be added to your Shopify theme to customize your online store. You can utilize the various types of scripts available- such as line item scripts, shipping scripts & payment scripts- to generate discount codes like automatic discounts and multiple discount codes.
Finally, you can use Shopify third-party apps. You can create discounts & upsell offers beyond Shopify's limitations. These apps are so powerful you can schedule discounts and track the discounts campaign's success.
There are a lot of discount apps available on the Shopify app store to choose from, so be sure to research and select the one that best suits your needs. Our recommendation is the AIOD – All Automatic Discount by Cirkle Studio.
It allows you to create automatic discounts, bundles, stackable discounts, upsell offers, free gifts, cart conditions, volume discounts, post-purchase offers & more. You can use this method when you are managing a large amount of discounts. This app allows you to manage multiple discount campaigns at a time.
Best discounts that drive results for Shopify store
We've put together a list of the most effective discount types that have worked for online merchants to help you find your way through the wide range of discount choices. Thanks to these deals, you can get more customers, sell more, and keep your customers coming back. Let's look more closely at each of these types of Shopify discounts.
Volume Discounts
Volume deals are a very effective way to get people to buy more. Customers are more likely to buy more when they get Shopify discounts based on how many things they buy. "Buy 2 and get 10% off" or "Get 20% off orders of 3 or more" are some examples.
Volume deals raise the average order value and make customers feel like they're getting a good deal. This makes customers happier and more loyal in the long run.
Percentage Discounts
Percentage discounts have been around for a long time and are well-known. By saying things like "20% Off Storewide" or "Get 15% Off on Select Items," you can encourage customers to buy and make them feel like they need to act quickly. Percentage discounts are flexible. So depending on your marketing goals, you can use them on certain goods, categories, or the whole store.
BOGO (Buy One, Get One)
BOGO, which stands for "Buy One, Get One," is a discount that encourages customers to buy by giving them a second item for free or at a reduced price when they buy a qualified product. For example, "Buy one T-shirt, get the second one at 50% off." BOGO deals can help boost sales by upselling customers and getting them to buy more.
Free Gifts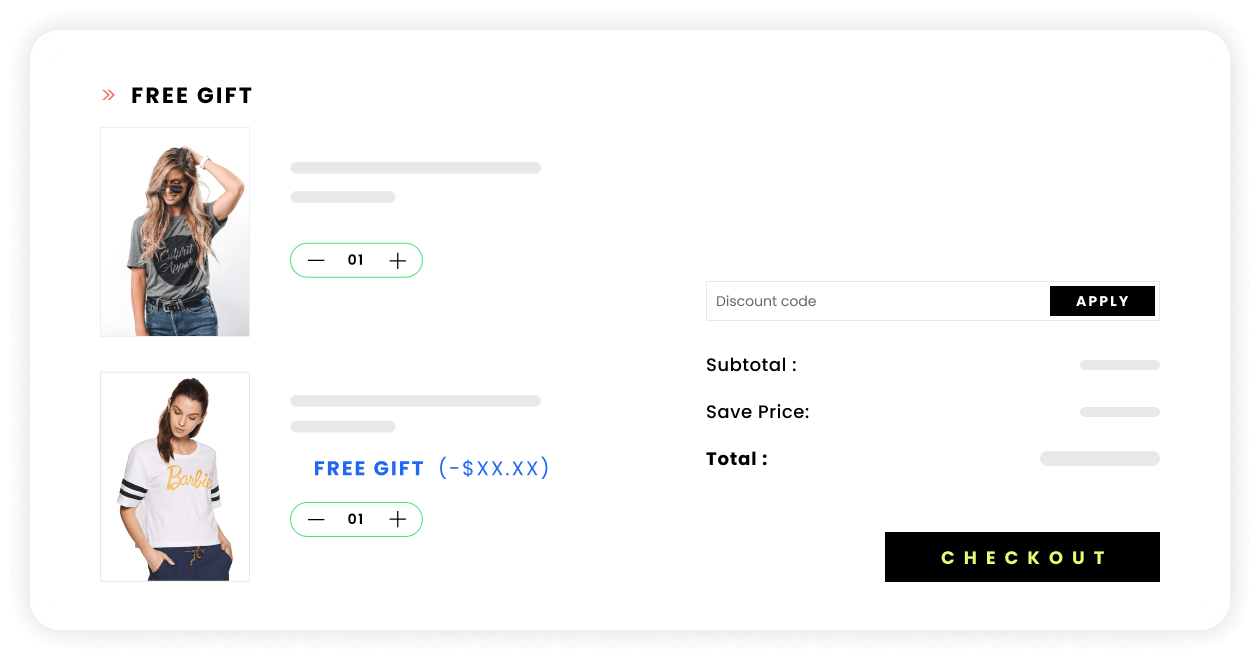 Offering free gifts with a buy is a good way to surprise and please customers. Adding value to their buying experience can make them more likely to buy and make them happier with their purchases.
For example, "Get a free tote bag when you spend $50 or more" or "Get a free travel-sized product with any purchase." Free gifts can also help promote new goods, get people to buy from you again, and spread the word about your business.
Bundle Discounts
With bundle discounts, customers get a discount when they buy multiple things together. By putting together related or complementary goods, you can get customers to look at more of your products and spend more overall.
For instance, "Save 15% on the Ultimate Kitchen Bundle" or "Get 3 Products for the Price of 2." Bundle discounts give customers a good deal while boosting sales and the average value of an order.
Tiered Discounts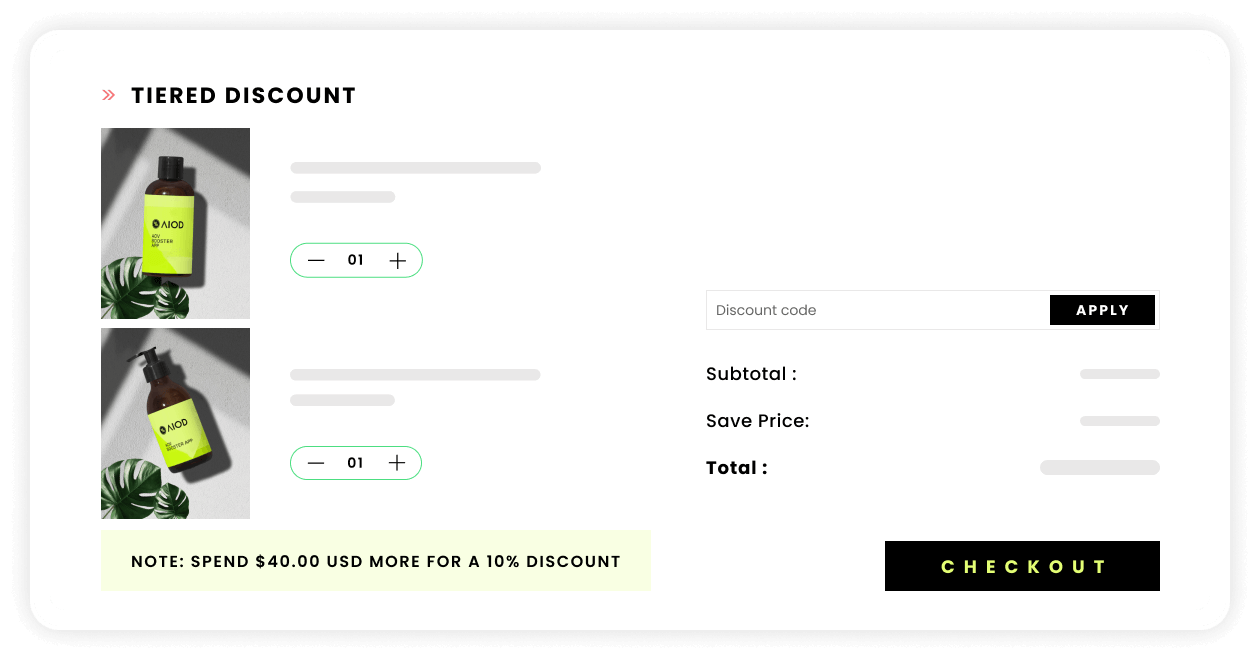 Tiered deals are meant to give customers rewards based on how much money they spend. By giving different levels of discounts, like "10% Off on Orders Over $50" or "20% Off on Orders Over $100," you can get customers to spend more so they can save more. Tiered discounts give customers a sense of progress and push them to spend more, which increases sales and customer loyalty.
If you use a mix of these types of Shopify discounts in your e-commerce store, you can tailor your deals to different types of customers, meet your marketing goals, and get great results. Moreover, remember to study your target group, keep track of how well each type of discount works, and adjust your strategies based on how customers act and what they tell you.
6 Effective Shopify discount strategies
A well-made Shopify discount strategy brings in customers, boosts sales, and helps build long-term relationships. So here are six discount strategies that work, along with examples and data that show how they affect the success of e-commerce:
Limited-Time Offers
By making buyers feel like they need to act quickly, limited-time offers can create a sense of urgency. For instance, "Get 20% off today only!" or "Flash Sale: 24-Hour Discount." The fear of missing out (FOMO) can be used to boost conversion rates with limited-time deals. Research shows that the conversion rate for limited-time deals is 332% higher than for other types of promotions.
Bundling and Upselling
When you bundle goods that go well together or offer upsells, you can get customers to spend more and raise the average order value. For example, "Buy a laptop and get 50% off on accessories" or "Upgrade to the Premium Package and save 20%." Studies show that Bundling and upselling can help e-commerce businesses improve their sales by 10–30% on average.
Customer Loyalty Rewards
Giving loyal customers special deals and perks is a great way to get them to buy from you again and stay loyal to your brand. Therefore, try setting up loyalty programs that give Shopify discounts, early entry to sales, or special rewards based on how loyal a customer is.
Research shows that businesses with loyalty programs can improve sales by 5% to 20% and keep customers for an extra 12% to 25%.
Recovering Carts
Offering Shopify automatic discounts or other rewards can help you recover sales lost when customers leave their carts. Sending customers personalized emails with a coupon code or offer of free shipping can get them to finish their orders.
Studies show that the average conversion rate for abandoned cart recovery emails with deals is 18.64%, which is much higher than the conversion rate for regular promotional emails.
Customized Discounts
Customers are more likely to be interested and buy if coupons are based on how they act and what they like. For example, "10% off your favorite category" or "Exclusive discount for your birthday month." Personalized Shopify discounts can lead to a 6–10% rise in sales and make customers happier and more loyal.
FOMO (Fear of Missing Out)
Creating a sense of urgency and exclusivity with limited availability Shopify discounts or "while supplies last" promotions taps into customers' fear of missing out.
Examples include "Limited Stock Sale: 50% Off for the First 50 Customers" or "Exclusive Discount for the Fastest 100 Shoppers." FOMO-driven Shopify discounts have been shown to increase conversion rates by up to 25%.
Choose the right Shopify discount strategy for different scenarios
To get the most out of Shopify discounts, it's important to choose the right approach for each situation. Here, we'll look at ten discount strategies that have worked in the past, give examples, and talk about when and how to use them in your e-commerce business.
Use discounts as incentives
You can use Shopify discounts as incentives to get customers to do something you want them to do, like sign up for an email, follow your social media accounts, or tell a friend about your business. For example, you can get potential buyers to share their email addresses by giving them a 10% discount on their next purchase if they sign up for the newsletter.
Use flash sales
Flash sales make customers feel like they need to act quickly and get excited. By giving big Shopify discounts on a small number of goods for a short time, you can get people to buy on impulse and increase conversions. For example, a 24-hour flash sale with 40% off on some things can make customers want to buy everything in sight.
Give seasonal prices
Seasonal prices take advantage of holidays, special events, or certain times of the year. During holidays like Christmas and New Year's, offering Shopify discounts can bring in customers who are looking for good deals. You could offer savings based on a percentage or bundle deals that fit the theme of the season.
Offer volume discounts
Offering volume discounts is a great way to get customers to buy more of your goods. This method works well for businesses that sell in bulk or want to sell to large customers. For example, giving a 20% discount on orders of 10 or more units can encourage customers to buy more.
Use promo codes to save abandoned cart
Use coupon codes to keep people from leaving their carts behind since this is a regular problem for e-commerce businesses. Customers who have abandoned their shopping carts can be encouraged to finish their purchases by giving them unique discount codes.
That is why sending customers an email with a unique coupon code for 15% off things they left in their carts can get them to go back and finish their purchases.
Reward loyal customers
Loyal customers are what make a business great. Set up a loyalty program that gives customers special Shopify discounts and prizes based on how much they buy and how much they interact with your business. For example, if a customer buys five times, they get a 10% discount on their next purchase, which pushes them to buy again.
Make special offers for special events
Events like Black Friday and Cyber Monday (BFCM) are great ways to boost sales and bring in new customers. Making deals and sales just for these events can help you stand out from the rest of the competition. For example, giving a 30% discount on all products for a limited time during BFCM can lead to a big jump in sales.
Create a discount for new visitors
For a business to grow, it's important to attract new visitors and turn them into paid customers. By giving first-time customers a special discount, like 15% off their first purchase, you can get them to buy something from your shop for the first time.
Offer discounts on pre-orders
Offering Shopify discounts on pre-orders is a good way to get people excited about upcoming items and get early sales. By giving Shopify discounts to people who pre-order, you can build excitement and reward early users. For example, if buyers pre-order a new book or gadget and get a 10% discount, they may be more likely to buy it.
Offer free shipping
Customers may not finish their orders if they have to pay for shipping. By giving free shipping, you can get rid of this obstacle and get more people to buy. Consider setting a minimum order value for free shipping to make sure that your business can still afford it.
Why use discounts and offers?
By using deals and offers in a smart way, businesses can reach many goals, like increasing sales, bringing in new customers, getting rid of old stock, making customers more loyal, and staying competitive in the market.
Increase sales: Discounts and special offers entice customers to buy by giving them money off. Businesses can not only boost sales but also get customers to buy more by dropping the price of their goods or services.
Getting new customers: Discounts and special deals work well to bring in new customers who might not be willing to try a new product or service at full price. Businesses can both get the attention of potential customers and get them to try their goods by giving them a discount.
Clear Inventory: Discounts and special deals can help businesses get rid of old or extra stock. As a result, giving discounts on these items can encourage customers to buy them, making room for new stock and avoiding losses from old stock.
Customer Loyalty: Customer loyalty can be built and strengthened with discounts and special deals. Though giving exclusive discounts or deals to loyal customers, companies can show their appreciation, encourage repeat purchases, and build long-term relationships with their customers.
Compete in the Market: In a market with a lot of competition, discounts, and special deals can help businesses stand out. Businesses can stand out and grab the attention of customers who are comparing prices and choices before making a purchase decision by offering deals and promotions that are appealing.
Case study: Boosting sales with discount strategy
#1 Amazon: Seasonal Discounts
As one of the largest e-commerce platforms globally, Amazon utilizes seasonal discount strategies to drive customer engagement and boost sales. During events like Prime Day and the holiday season, Amazon offers massive discounts on various products. In 2020, Amazon reported record-breaking sales, with customers saving over $1.4 billion during Prime Day alone.
#2 Nike: Tiered Discounts
Nike often implements a tiered discount strategy by offering different discounts based on customer loyalty and membership. For example, their Nike Membership program provides access to exclusive sales, early product releases, and personalized recommendations. According to Nike's annual report, their digital sales grew in 2020, reaching $5.5 billion compared to $3.8 billion in fiscal 2019, showcasing the success of their tiered discount strategy in boosting online sales and customer engagement.
#3 Soi Paris: Upsell Popups
Soi Paris implemented an upsell popup discount strategy during their Egg Hunt Campaign, which ran over the Easter weekend. The campaign featured unique and eye-catching popups designed by their artistic assistant, Eden, and included a countdown to create a sense of urgency.
Popups were strategically placed on product pages, requiring visitors to click on tabs to access the discounts. Besides, the campaign was extensively promoted on social media, emails, and onsite notifications.
The results were impressive, with 233 discount codes redeemed, showcasing strong customer engagement. Further, the campaign contributed 42% of Soi Paris' revenue for the month, demonstrating the effectiveness of upsell popups in driving conversions and revenue.
Eventually, this success highlights the importance of attractive designs, exclusivity, and multi-channel promotion in boosting sales performance for brands like Soi Paris.
#4 Hershey Kiss vs. Lindt Truffle: BOGO
According to a study by AMG Strategic Advisors, 66.1% of consumers prefer the BOGOF (buy one, get one free) deal among different BOGO promotional offers. This preference aligns with the "zero price effect" described by Dan Ariely.
In Ariely's study, participants were given a choice between a Hershey Kiss for 1 cent or a more expensive Lindt Truffle for 15 cents, and the majority chose the Lindt Truffle. However, when the price of both items was reduced by 1 cent, making the Hershey Kiss free, 90% of participants opted for the free option.
All in all, this experiment demonstrates the strong appeal of free products and highlights the effectiveness of BOGOF promotions in encouraging customer purchases by leveraging the allure of getting something for free.
#5 Bath & Body Works: Stackable Discounts
Bath & Body Works uses discount codes that can be stacked, so customers can use multiple offers and sales to get the best deal. Usually, you can only use one coupon per purchase, but on Black Friday, buyers can use more than one coupon in a certain order: dollars off, free item with purchase, and percent off.
This plan is meant to save a lot of money and get people to spend more. Bath & Body Works brings in customers during sales events by giving out discount codes that can be used together. This leads to more sales.
How to implement Shopify discounts?
Using Shopify's Built-in Features
Using Shopify's built-in features, you can make deals work well for your online business. Shopify allows merchants to create the following types of discounts:
Amount off products
Amount off orders
Buy X and get Y
Free shipping
Here are the steps to use Shopify to offer discounts:
1. Amount off products
Step 1: Click on "Discounts" on Shopify dashboard.
Step 2: Click on the "Create Discount" Button
Step 3: Select the discount type – "Amount off products"
Step 4: Choose Discount code and add the Discount code as shown in the below image
Note: If you select Automatic discount, the discount will be applied automatically.
After then choose value Percentage discount or Fixed amount off.
Choose purchase type
Choose where the discount will apply to specific collections or specific products.
Also tick only apply discount once per order.
Step 5: Customise the basic rules for discount offer.
Minimum purchase requirements
Custom eligibility
Maximum discount uses
You can combine multiple discounts using Combination
Select active dates
Click on Save discount
Finish: The discount offer is successfully created, you can share link of discount offers.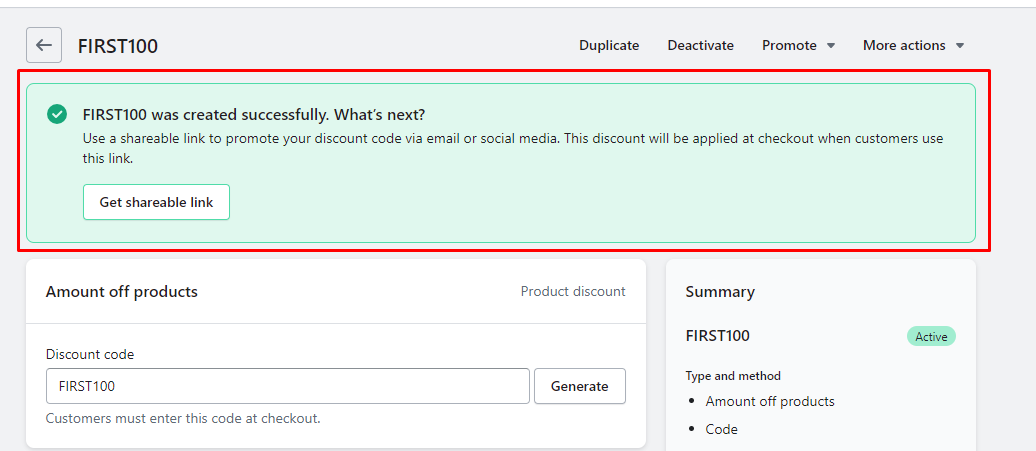 2. Amount off order
After clicking on Create discount on the Shopify dashboard.
Step 1: Click on Amount off order
Step 2: All other customizations are the same as shown in the first tutorial Amount off products discounts.
3. Buy x Get Y
Step 1: Choose Buy X get Y
Step 2: Select Discount code and add the Discount code as shown in below image
Note: If you select Automatic discount, the eligible BOGO product will be added to cart automatically.
Step 3: Choose rules for BOGO offer. For eligibility, you can offer a minimum quantity of items or minimum purchase amount.
Choose main product
Choose offer product
You can offer Y product for free or at discounted pricing.
In the below example: Minimum quantity of main product needs to be 1 and customer will get another product for free.
Note: Buy X gets Y discounts are only supported with one-time purchases.
Step 4: Setting up the basic customization
Maximum number of users per order
Customer eligibility
Maximum discounted users
Combine BOGO offer with other product discounts using Combination
Choose active dates
Click Save discount
4. Free Shipping
Step 1: Select Free Shipping
Step 2: Enter the discount code for free shipping.
Select countries
Choose purchase type
You can exclude shipping rates over a certain shipping rates
Choose Minimum purchase requirement
Step 3: Setting up discount rules
Choose customer eligibility
Maximum discount uses
You can combine discounts with other discounts using Combination
Choose active dates
Click Save discount
Leveraging third-party Shopify discount apps
If you want to set up discounts beyond Shopify's limitations third-party apps are the best option. Using third-party Shopify discount apps can give your e-commerce business more flexibility and usefulness when it comes to Shopify discounts.
One of the best Shopify discount apps for Shopify is AIOD – All Automatic Discounts.
AIOD offers comprehensive features that make implementing and managing discounts effortless. With AIOD, you can create percentage-based, fixed amounts, bulk discounts, and more discounts. The app also provides advanced functionalities like scheduled discounts, tired discounts, stackable discounts, automatic cart-level discounts, and conditional promotions.

With its intuitive interface and seamless integration with Shopify, AIOD simplifies the discount implementation process, allowing you to boost sales and engage customers effectively. If you're looking for a powerful and user-friendly Shopify discount app for your store, AIOD is worth considering.
Conclusion
It's important to use effective discount tactics to boost sales on your Shopify store, bring in new customers, and build customer loyalty. Find the right way for your business. Take advantage of third-party Shopify discount apps for creating advanced discount offers.