In today's fast-paced digital world, providing exceptional customer support is paramount to the success of any business. We understand the challenges that companies face when it comes to managing customer inquiries efficiently and effectively.
That's why we are thrilled to introduce NestDesk 1.3, the latest version of our app that revolutionizes the way you engage with your customers. Packed with exciting enhancements, NestDesk 1.3 is ready to take your customer support experience to new heights.
Intelligent ChatBot
Say goodbye to long response times and automate your customer interactions with NestDesk's new intelligent chatbot. With the chatbot, you can give customers instant responses to their common queries or frequently asked questions. This also means less manual work and immediate assistance around the clock.
Smart scenario-based responses
The chatbot in NestDesk 1.3 is developed with smart scenario-based responses. This means that the chatbot can handle a wide range of customer queries effectively. Also, it can be set up with up to five distinct scenarios, each addressing a specific set of common customer concerns. These customizable scenarios act as the primary layer of interaction, allowing the chatbot to respond appropriately to different types of queries.
Two-layered conversational approach
To provide more in-depth assistance, each scenario can be further tailored with two layers of responses. The first layer serves as a general response to address the initial query while the second layer offers more specific information or options based on the customer's interaction.
Multiple answers for each question
NestDesk 1.3 also allows up to five possible answers for each question or query within a scenario. Thus, these answers can be customized to provide different variations of responses, ensuring that customers receive diverse and accurate information. This flexibility enables a more personalized experience, as well as keeps the interaction dynamic and engaging.
With all the enhancements above, this advanced chatbot will create instant, intelligent, and interactive customer support for your business.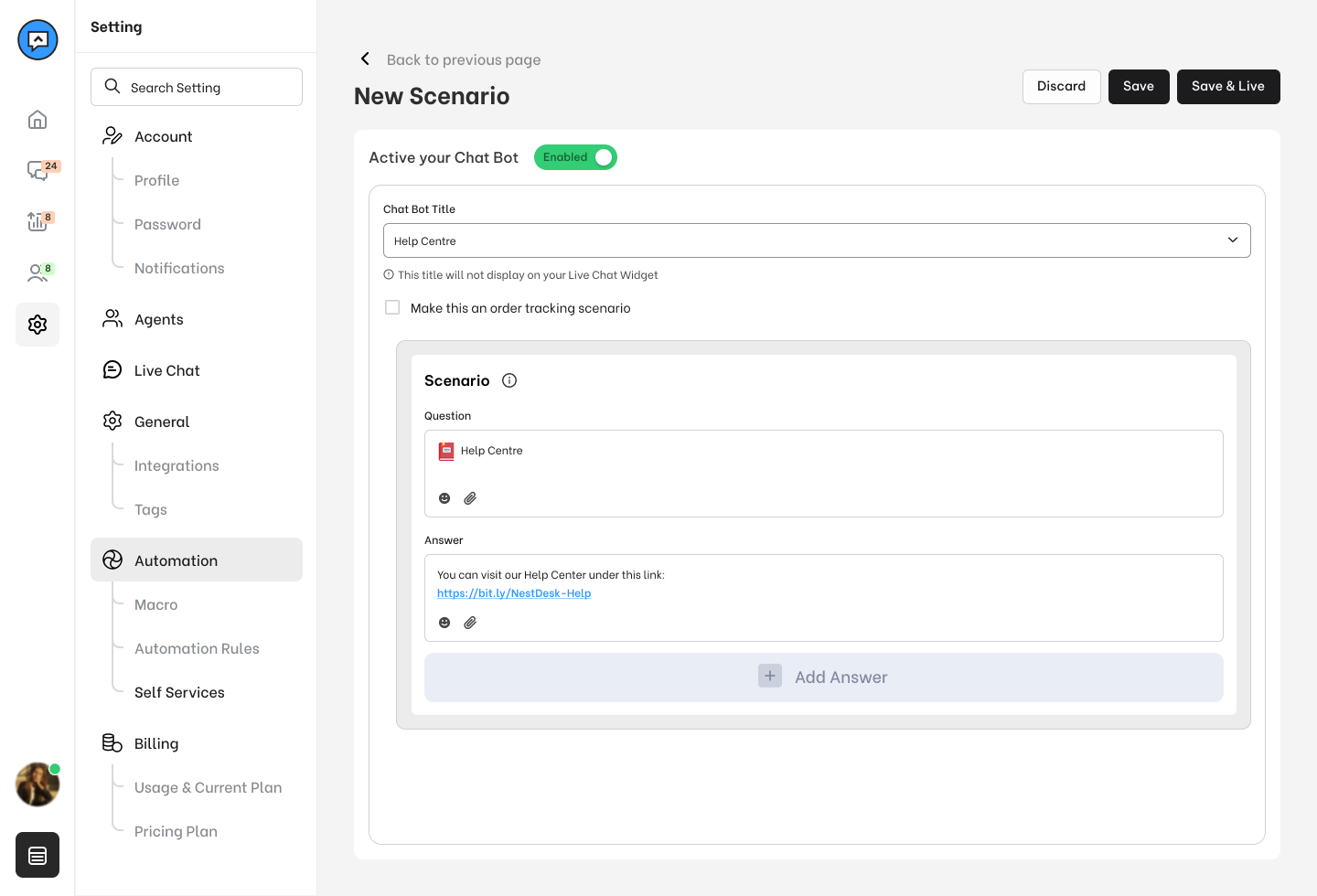 Intuitive Help Desk
To achieve excellent customer support, businesses are continually striving to provide self-service options for customers to find solutions independently. Therefore, with the latest updates, NestDesk aimed at becoming a comprehensive knowledge base at your customers' fingertips.
Our help desk allows you to create up to five different topics or FAQs that address common customer queries. Moreover, by categorizing content into clear and intuitive sections, customers can easily navigate the help desk and locate the information they need.
Within each topic, NestDesk enables you to add at most five articles or answers. These articles provide more detailed explanations, instructions, or solutions to common customer issues. Thanks to a diverse range of articles, customers are provided with the information necessary to make the most of your product or service.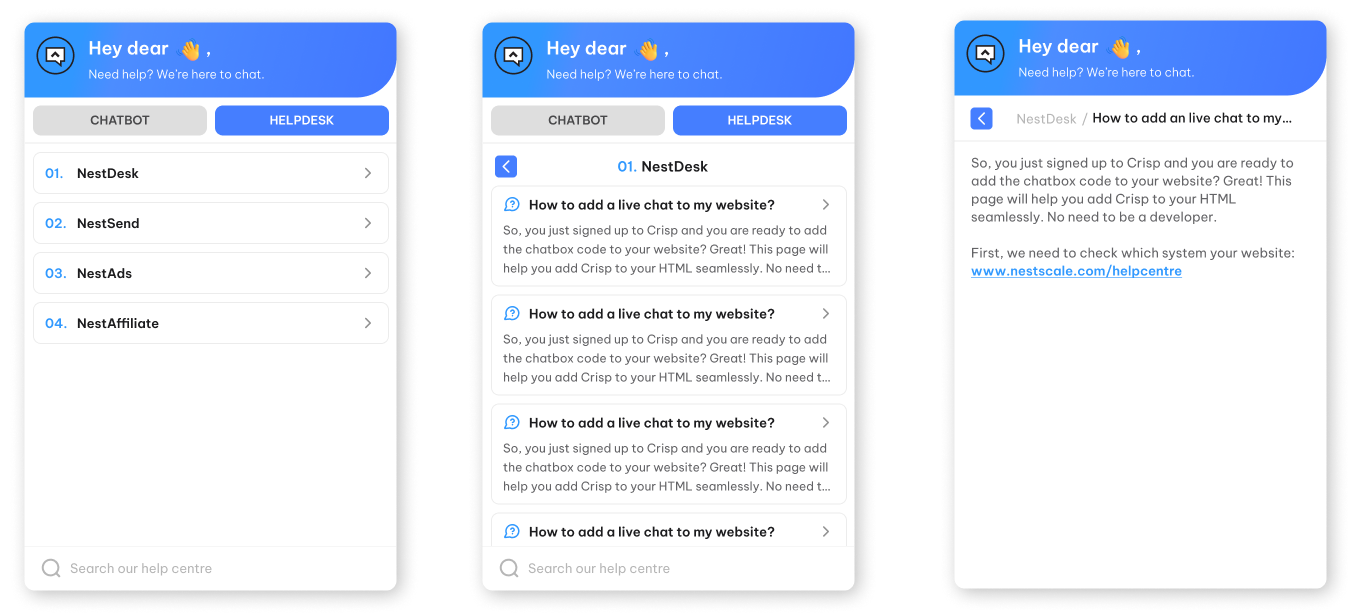 Enhanced Live Chat
To make the live chat more powerful, NestDesk 1.3 brings you two updates that streamline communication, and provide transparency and the information that customers need.
Order tracking
Keeping customers informed about the status of their orders is crucial for ensuring a positive shopping experience. That is why we introduced an order tracking feature embedded within the chatbox, enabling customers to access their order information effortlessly.
To retrieve order information, customers only need to provide their email and order ID number. This eliminates the need for customers to navigate to external tracking pages or switch between different interfaces. As a result, the order tracking feature ensures a smooth and efficient experience by keeping everything within a single window.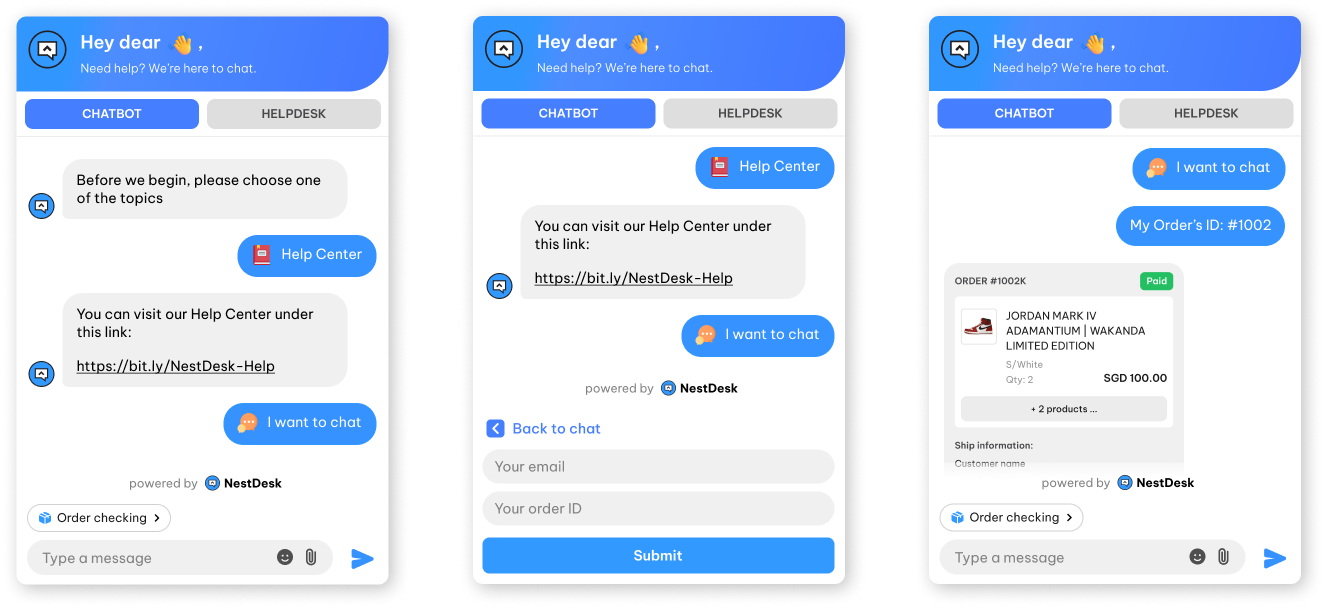 Auto message
Engage website visitors and enhance their experience with the live chat auto message – a new feature of NestDesk.
The auto message acts as an instant greeting and expresses your eagerness to support customers. Therefore, it is important to show a welcome text in front of your customer sight. Using NestDesk, you will have full control of customizing your auto message, from content and title color to background color, ensuring to leave a positive first impression for your customers.
By engaging customers from the moment they arrive, you can create an inviting atmosphere and set the stage for exceptional service. NestDesk's auto message is indeed your simplest gateway to seamless customer interactions and satisfaction.

Offer the best customer service ever
NestDesk 1.3 is a game-changer for businesses seeking to enhance their customer support experience with its powerful updated features. For that, upgrading to NestDesk 1.3 can change the way you engage with your customers, streamline your support operations, and improve customer satisfaction.
So don't miss out on the opportunity to unify all your messaging platforms, reduce response time, and gain valuable insights into customer interactions. Experience the convenience, efficiency, and customer-centricity it brings to your support processes. Take the next step and update to NestDesk 1.3 today!