Wholesale orders definitely generate significant profits for businesses. However, it is really difficult and complicated to serve both retail and wholesale clients in a business. To help you overcome the challenges, many Shopify wholesale apps were developed. You can choose from various wholesale apps in the Shopify app store. Additionally, we'll introduce to you the Top 5 Shopify wholesale apps in this post.
Wholesale – All in one

You may build Wholesale Pricing, Tiered/Volume Pricing with the Wholesale – All In One software for particular products and customer groups. Discounts for VIP or wholesale customers are simple to customize. Additionally, applying the discount to every item in your store or only to a particular line of goods is easy.
Key features
By including a Wholesale Sign-in page on your website, you can manage your wholesale customers.
Make different discounts for different customer levels and catalog level discounts.
Offer two payment options: the Draft Order API and the Coupon Code API.
Establish discounted delivery costs and minimum order requirements for all levels of clients.
Create a sense of urgency by including a live, fully configurable countdown timer on each product.
Pricing plans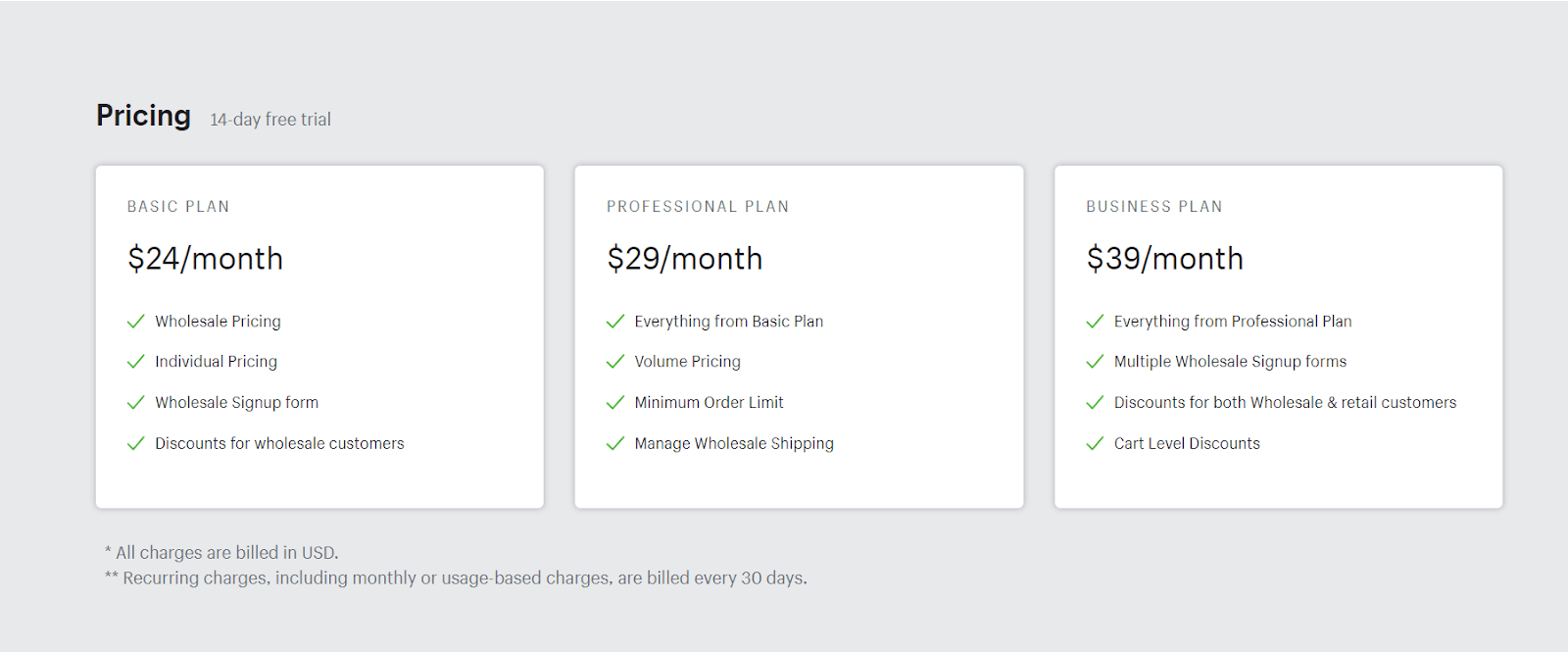 Wholesale Club

With Wholesale Club, you can recognize and encourage your most profitable clients by giving them wholesale discounts right on your Shopify website. Furthermore, Wholesale Club creates a range of discount rates that are as specific as they can be, even down to the product version.
Key features
Create different customer tiers and change various price tiers on a single panel.
Showing how much more VIP clients need to spend in order to receive a bigger discount may encourage them to make bigger purchases.
Allow some consumers to create unpaid orders directly from their shopping cart using net payment options.
Support for the installation app
Connect to Shopify POS
Pricing plans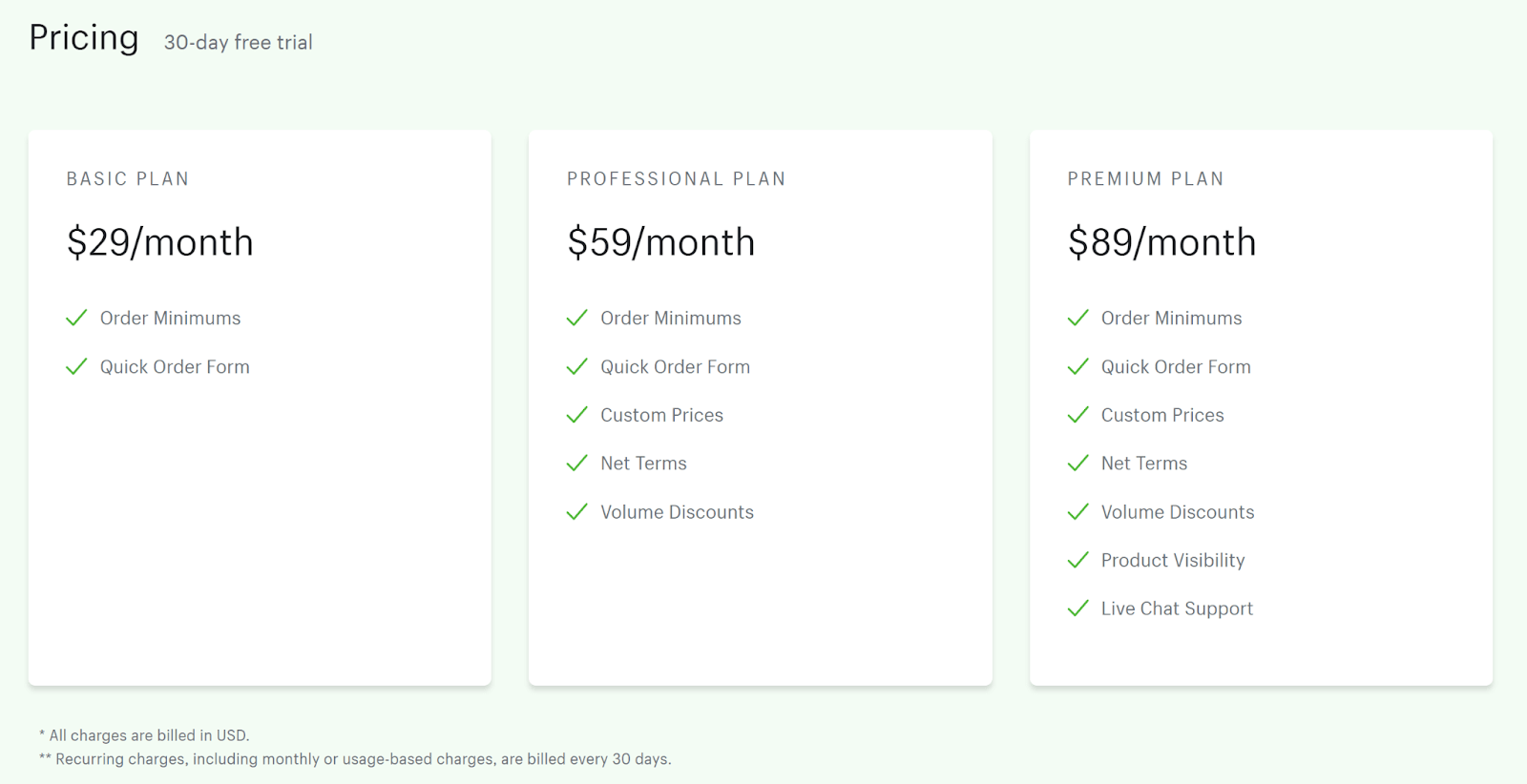 Wholesale Gorilla

Discounts are given to consumers who have logged into your store using the Wholesale Gorilla app's customer tags. When a new user registers for the app, tags can be generated manually or automatically. To make your life easier, combine wholesale and retail into your present Shopify store.
Key features
Make your own, unique wholesale shipping regulations.
To simply tag, activate, and create consumers, provide a wholesale registration form.
Provide net checkout so that clients can leave without paying
Messages and pages can be shown in a variety of languages.
Simple to exclude and conceal particular products/collection
Pricing plans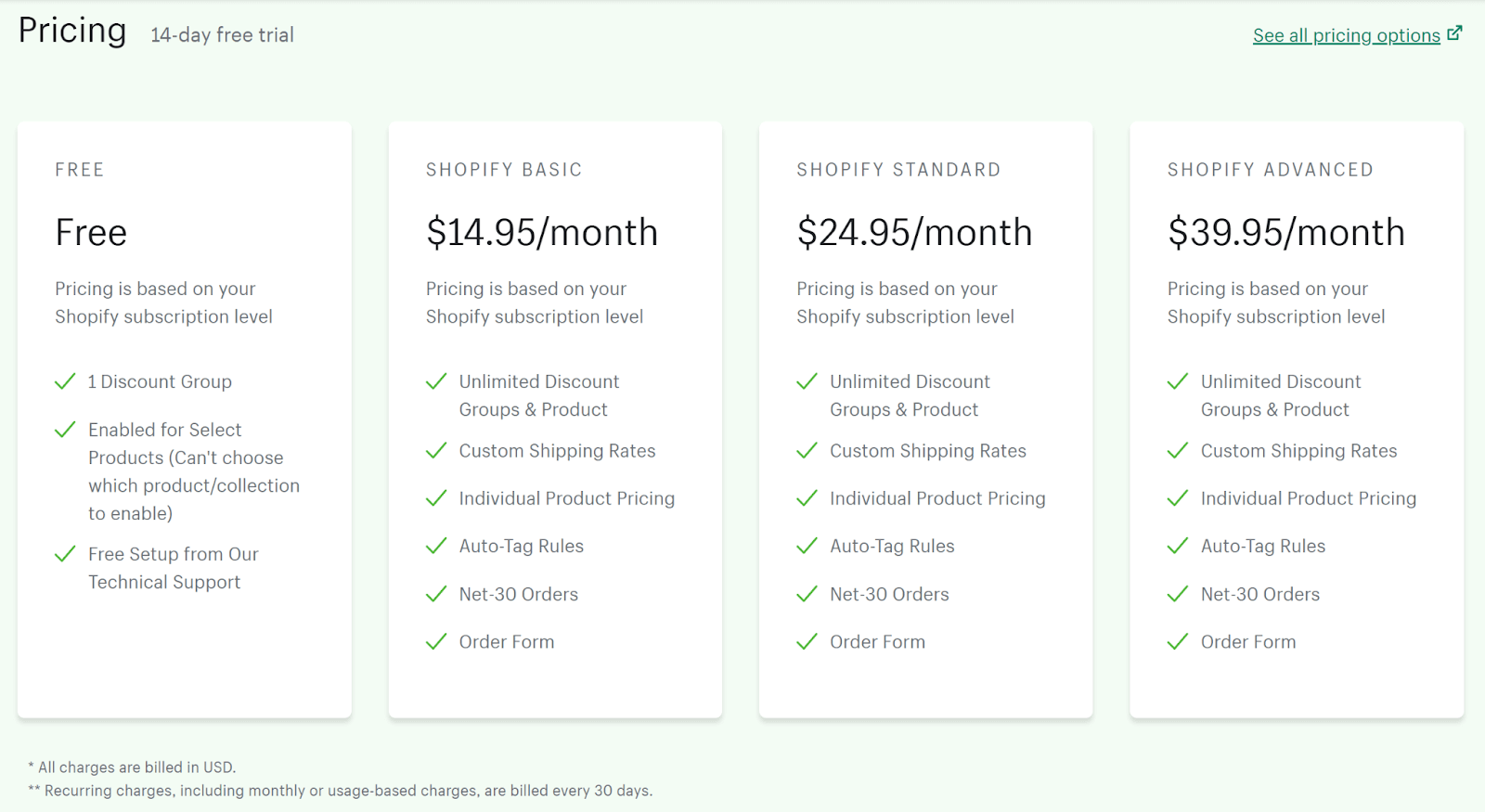 Wholesale Genius

You may choose with ease which clients should have access to wholesale prices using Wholesale Genius. The only people who can view wholesale product prices are approved wholesale clients who log in.
To authorize wholesale clients, merely add a tag associated with the wholesale group to the customer in the app's admin interface. Additionally, you can assign the discount in bulk by using the standard importing method.
Additionally, because there won't be any variant duplication, you don't have to worry about integrating with inventory management systems or other sales channels. You only need to specify a preset price or a percentage of the suggested retail price to get started.
Key features
Offer net/term payment.
Simple inventory management
Provide wholesalers with tax overrides
Revise the price of bulk products
Sync with MONEI Payments and MoonMail
Receive focused assistance
Pricing plans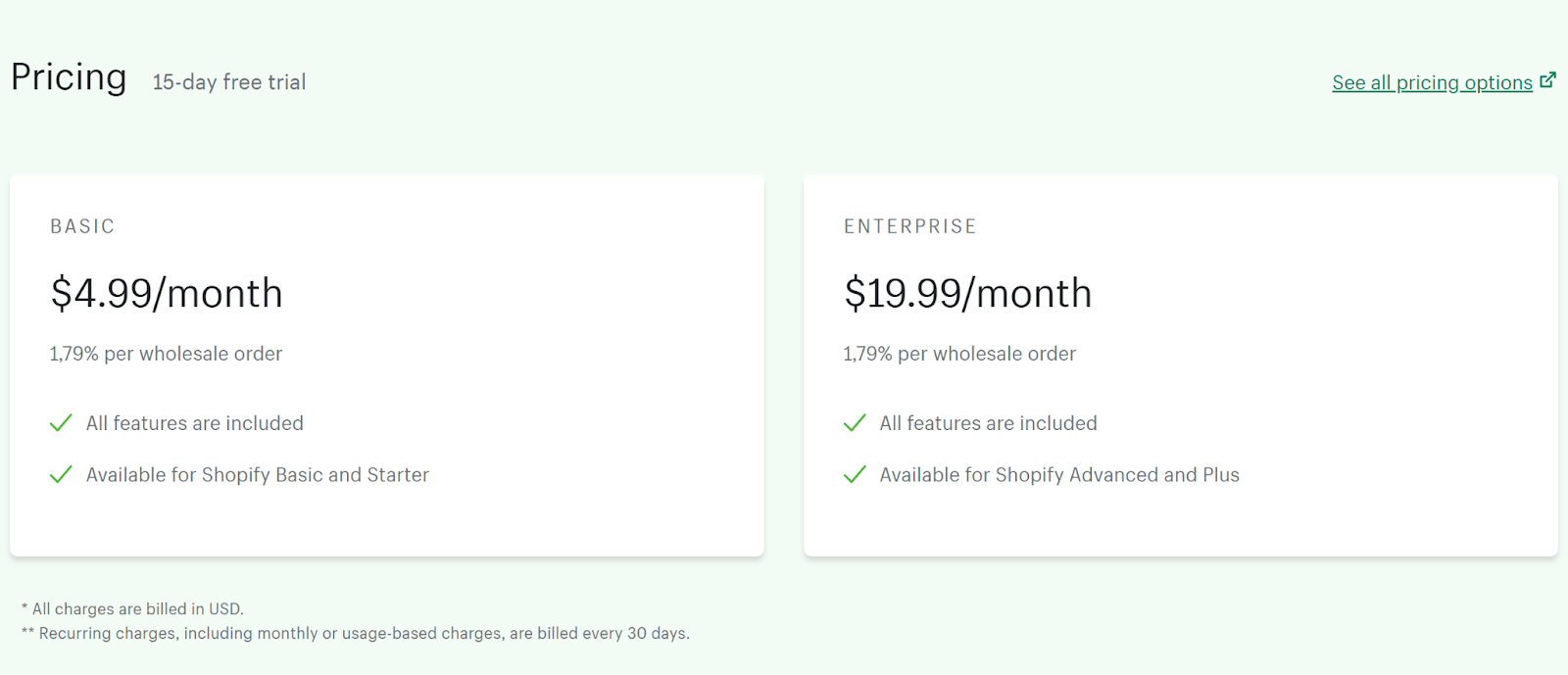 Wholesale Pricing Now

The Wholesale Pricing Now app has every feature a Shopify wholesale app should have. You can put up wholesale prices, VIP prices, volume discounts, and other discounts for your wholesale clients. Additionally, you can take use of sophisticated features like net orders and unique product pricing.
Highlight features
Set up discounts and wholesale prices.
Create a wholesale order form using a variety of tools.
Use Tax and Shipping Fees for Wholesale Orders
Display upsells to encourage wholesale customers to make bigger purchases.
Sync with Bulk Discounts Now, In Cart Upsell, Preorder Now, Customizer for products Trackify X
Pricing plans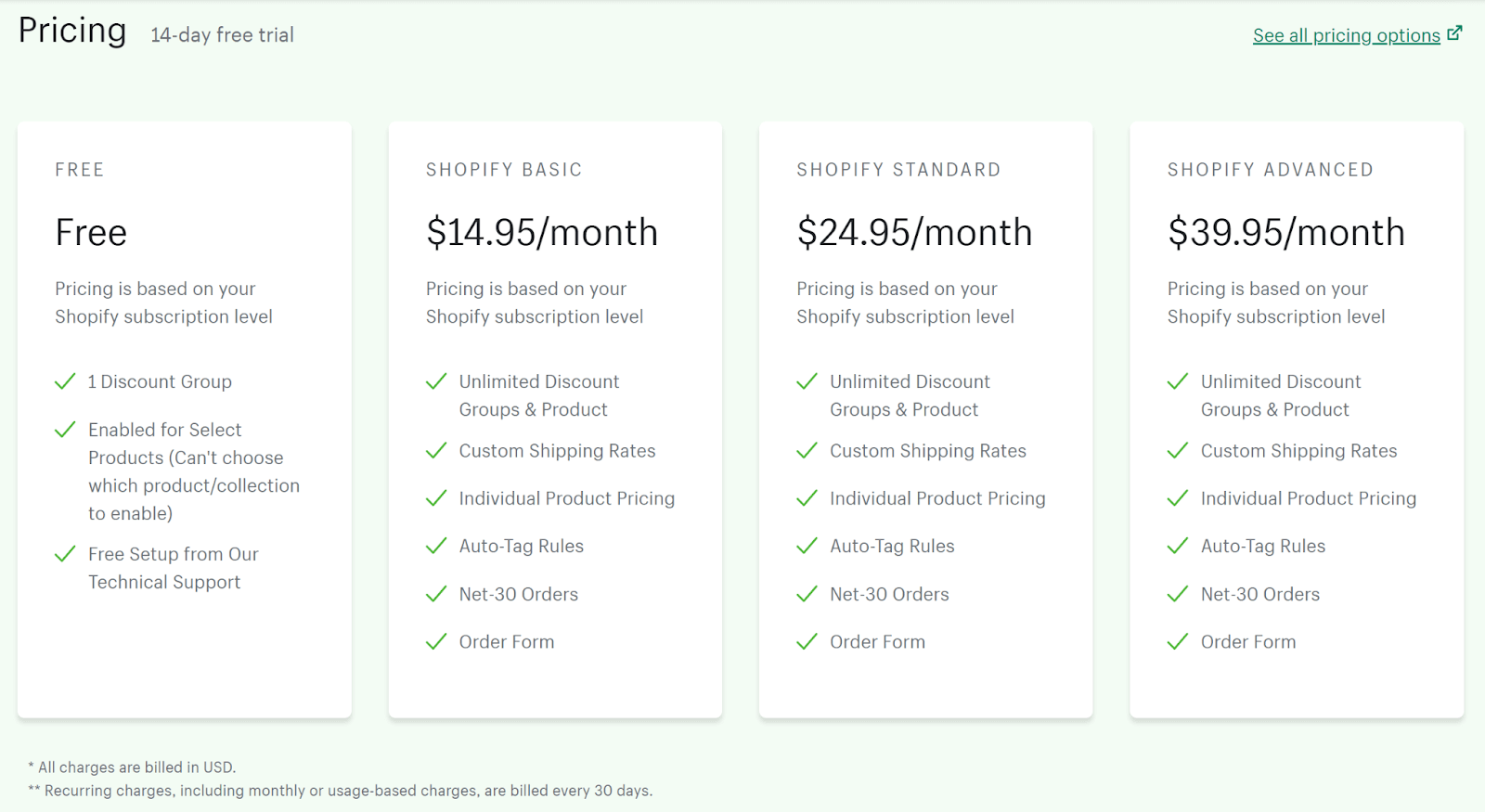 Conclusion
You may manage wholesale customers in your store more efficiently by using a Shopify wholesale app. We sincerely hope that this article on the Top 5 Shopify wholesale apps you should be aware of was beneficial to you.
If you have any questions about developing your Shopify wholesale store, please feel free to contact us via NestScale live chat. Our customer support team is ready to assist you as much as possible!