In this digital age, live chat has changed the game in the customer support and service world.
It allows customers to quickly reach out to customer service whenever they want, and get immediate response from agents.
However, the benefits of live chat are far beyond just providing your customers with a faster and more convenient way to connect with the customer service team. In addition, live chat can also improve the support experience, help you understand your customer better, and even drive more sales to your business.
In this article, we will provide you with in-depth insight into the best 5 Shopify live chat apps in 2023 for your store. Let's dive in immediately! 
NestDesk
If you are finding a solution to your customer support and aligning customer service to sales, NestDesk should be on the top list of all. With NestDesk live chat, you centralize all conversations, deliver personal responses, and generate sales within one inbox.
Features
Integrate with many sales channels such as Live chat, Facebook and gather all messages in one place.
Automatically fill in customer information and show them at the top right of the chat widget.
See your past interactions with customers & respond to queries with better context from conversation history.
Create a draft order and send the checkout link to customers right from the inbox.
Add tags to customers' conversations, and assign tickets to the right person.
Use a macro for automatic response to reduce the workload for your agents.
Private notes allow agents to leave internal tickets to inform other agents.
Provide in-depth insight about conversations, revenue, and the performance of each store.
Pricing
NestDesk is totally free. Let's see what you can get with NestDesk's free pricing plan
Unlimited conversations: Centralize all customer messages from different stores, across any channel into only one dashboard.
Unlimited agents: Scale your business team and build greater efficiency with the agents you already have in place.
Unlimited sales: Turn every customer interaction into a sales opportunity – support and sell in real-time.
Pros
Allow your agents to support and sell in real-time conversations to boost customer experience.
Centralize conversations from Facebook Messenger & Live chat into one inbox so that you will not miss any messages.
Improve your customer service work's efficiency.
Keep track of your support metrics so that you can know what you should improve.
Cons
Only integrate with Shopify. The integration with other eCommerce platforms is coming soon.
Suitable with
As a feature-rich and absolutely free customer service software, NestDesk is the best suitable for small and medium businesses that need a live chat to improve customer support and generate more sales.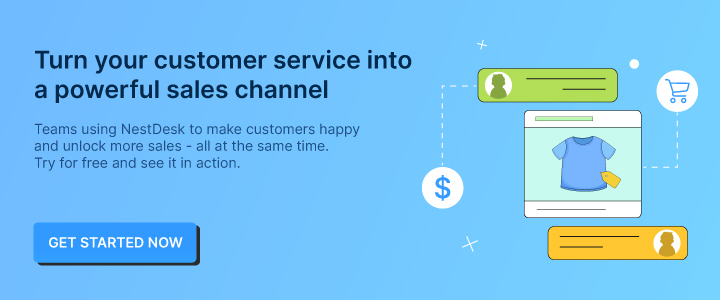 LiveChat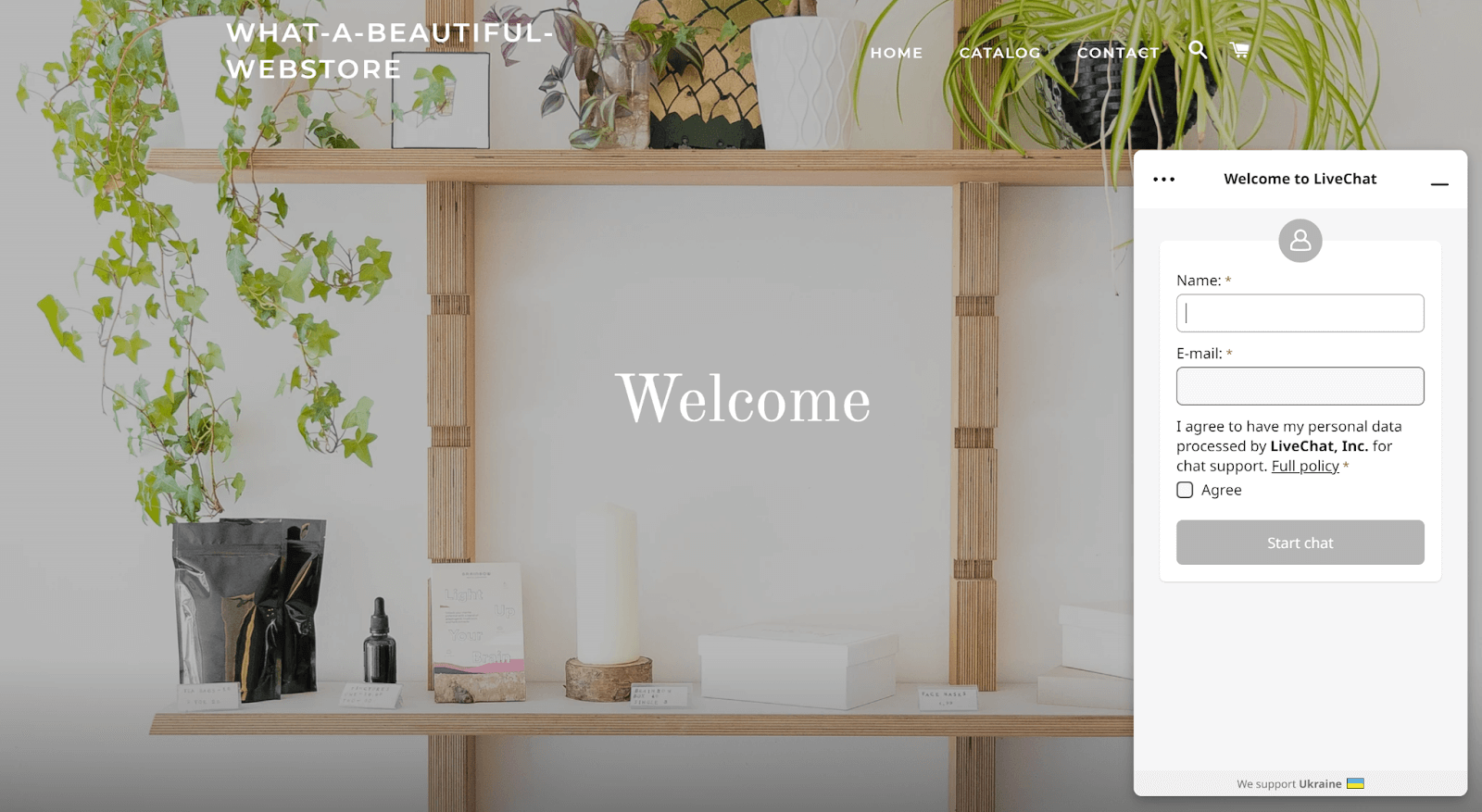 LiveChat is a help desk software that provides merchants with many unique features for their live chat services. It can integrate with Shopify, customer relationship management systems, social media channels such as Facebook, Whatsapp, Messenger, and the email marketing platform Mailchimp.
Features
Access customer cart's when they come to chat
Send Product cards (product recommendations right in the live chat widget).
View your customers' order history next to each conversation
Provide you with detailed customer information with Customer Insight features
Provide in-depth analytics, omnichannel integration, and data security
Pricing
A free trial is available for 14 days and no credit card is required. The cheapest plan "starter" package starts at 16$, the "Team" package is 39$ and the "Business" package is 59$.
Pros
Huge range of omnichannel conversation options.
AI auto-reply makes your work faster and reduces the agent's workload
Improve customer experience with the fast loading speed and ease to use. Along with a clean and well-designed user interface.
Cons
Not optimized for Shopify since LiveChat is also a CRM.
Expensive for beginners.
Suitable with
As LiveChat is also a CRM, it is the most suitable for businesses that are looking for CRM solutions in addition to live chat capabilities.
Tidio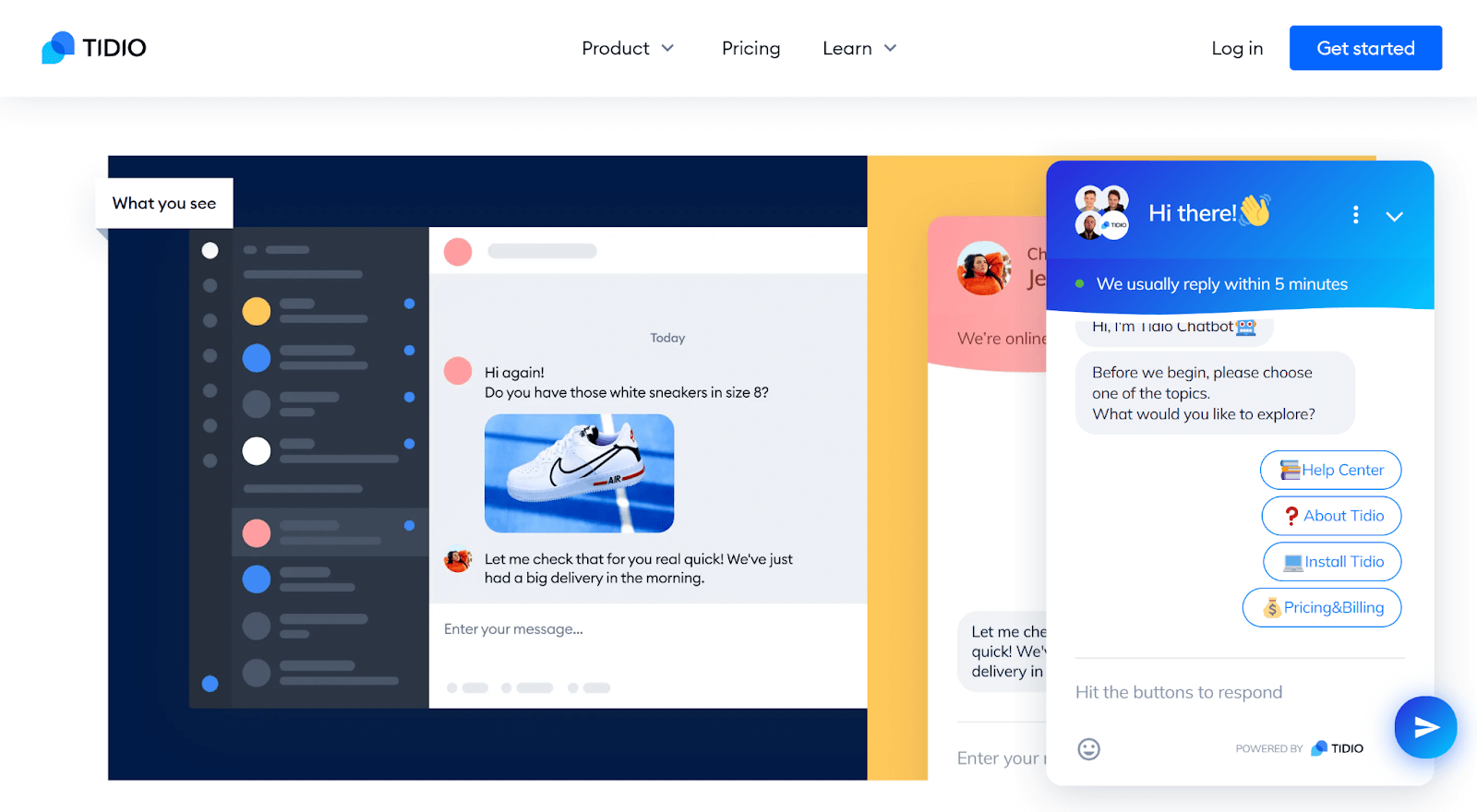 Tidio is a Customer Service Platform that combines Shopify, live chat, chatbots, email, Messenger, and Instagram to communicate with your customers. With approximately 1,470 reviews, Tidio Live Chat is currently the highest-rated live chat app on the Shopify App Store.
Features
Live chat, e-mail, and Messenger are gathered in one place.
Send pre-set messages with chatbot support.
Abandoned Cart Bot works help reduce the abandoned cart rate
Free to customize the live chat to match your brand image.
Multiple integrations with third-party softwares
Pricing
The pricing plan of the software ranges from Free, "Communicator" plan $19 to "Chatbots" plan $49/month (Additional charge may be required).
Pros
Provide users with lots of tracking and insight options.

Have many automation and bot templates.
Smart user interface
Cons
Prices are a bit higher for Shopify merchants.
Doesn't provide a firm connection with Shopify and other eCommerce platforms.
Suitable with
Tidio is an ideal choice for beginners on Shopify with a free plan. If are looking for live chat solutions that provide plenty of features and automation for customer support and marketing, Tidio may be a suitable one.
Chatra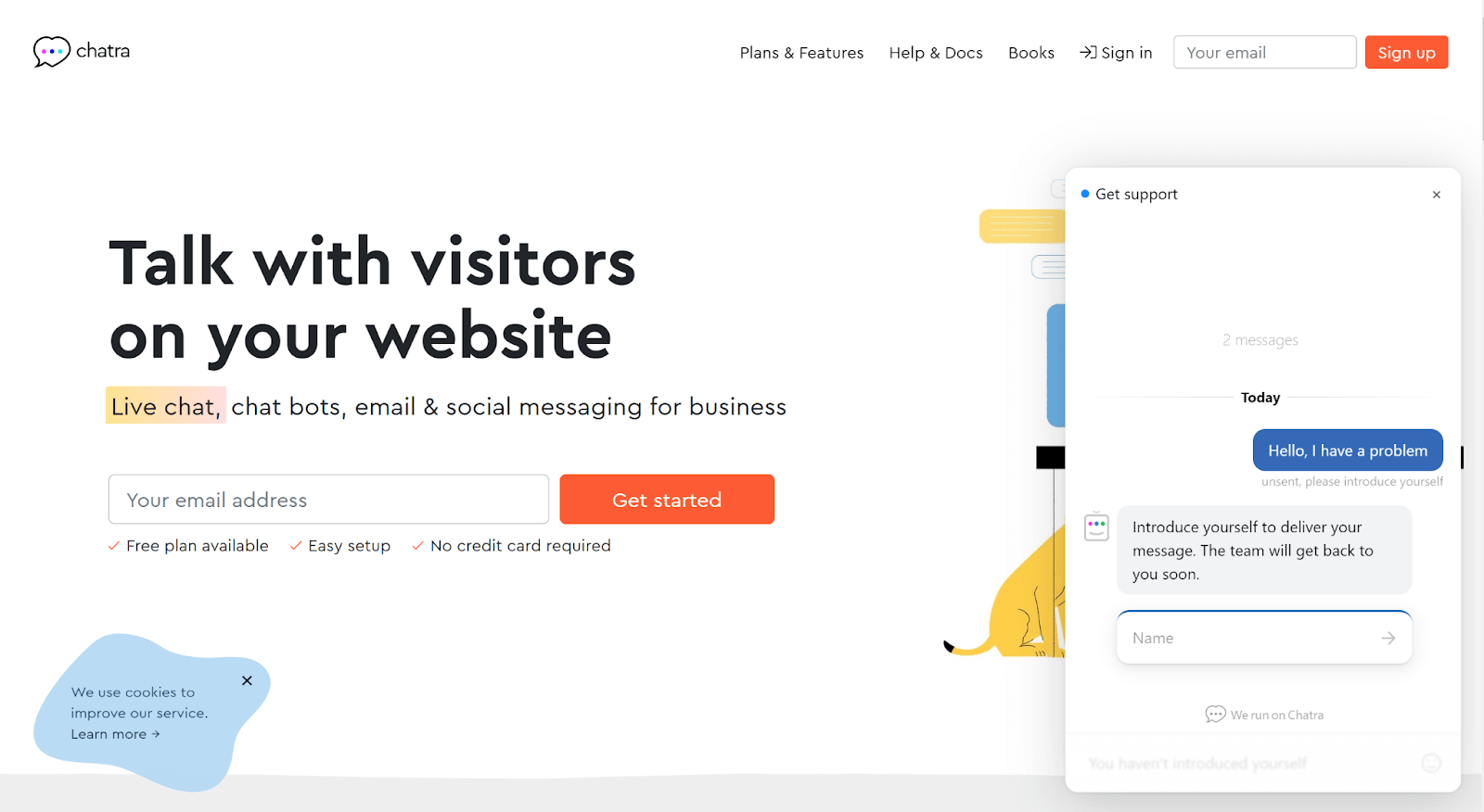 Chatra live chat, or what we can call "Live Chat, ChatBot, Cart Saver" was developed by Roger Wilco LLC and has been launched on October 29, 2015. Shopify merchants can enable communicate more with their customers by implementing Chatra's Live chat & Facebook messenger. Moreover, it has many more cool features that also help merchants increase conversion rates.
Features
Targeted chat: Contact customers who have problems during their journey.
Visitor information: See who's on your website, where they're from, and what they have in their cart.
Facebook and Instagram integration: Answer chat messages sent by Facebook users to your store's page directly from the app.
Group chat: Create group chats with other agents.
Conversation history: Save previous conversation history.
Agent photos visible pre-discussion: Customers can see the online agents' pictures and names, even before they start chatting.
Pricing
Chatra has a forever-free pricing plan. If you want to upgrade to higher features to open more cool features, the "Essential" plan costs $21 and the "Pro" plan costs $29/month. If you want to pay annually, the cost for the "Essential" plan costs $204 and the "Pro" plan costs $276.
Pros
Allow you to target directly the most valuable customers and provide
See and monitor visitors currently browsing your website and where they come from
Provide 24/7 support by setting up bots to initiate conversations when certain criteria are met or collect information outside business hours.
See what customers are typing before they send messages to save time and prepare for answers.
Cons
The free plan has only some basic features. Most of the advanced features aren't available in the free plan.
The per-agent pricing model could be quite expensive if you have multiple agents in your customer service team.
Some reviews suggest that notifications don't show up in time, which causes problems for the service system.
Suitable with
Shopify merchants who want to implement live chat to contact customers in the pre-purchase phase in order to boost conversation.
Omega live chat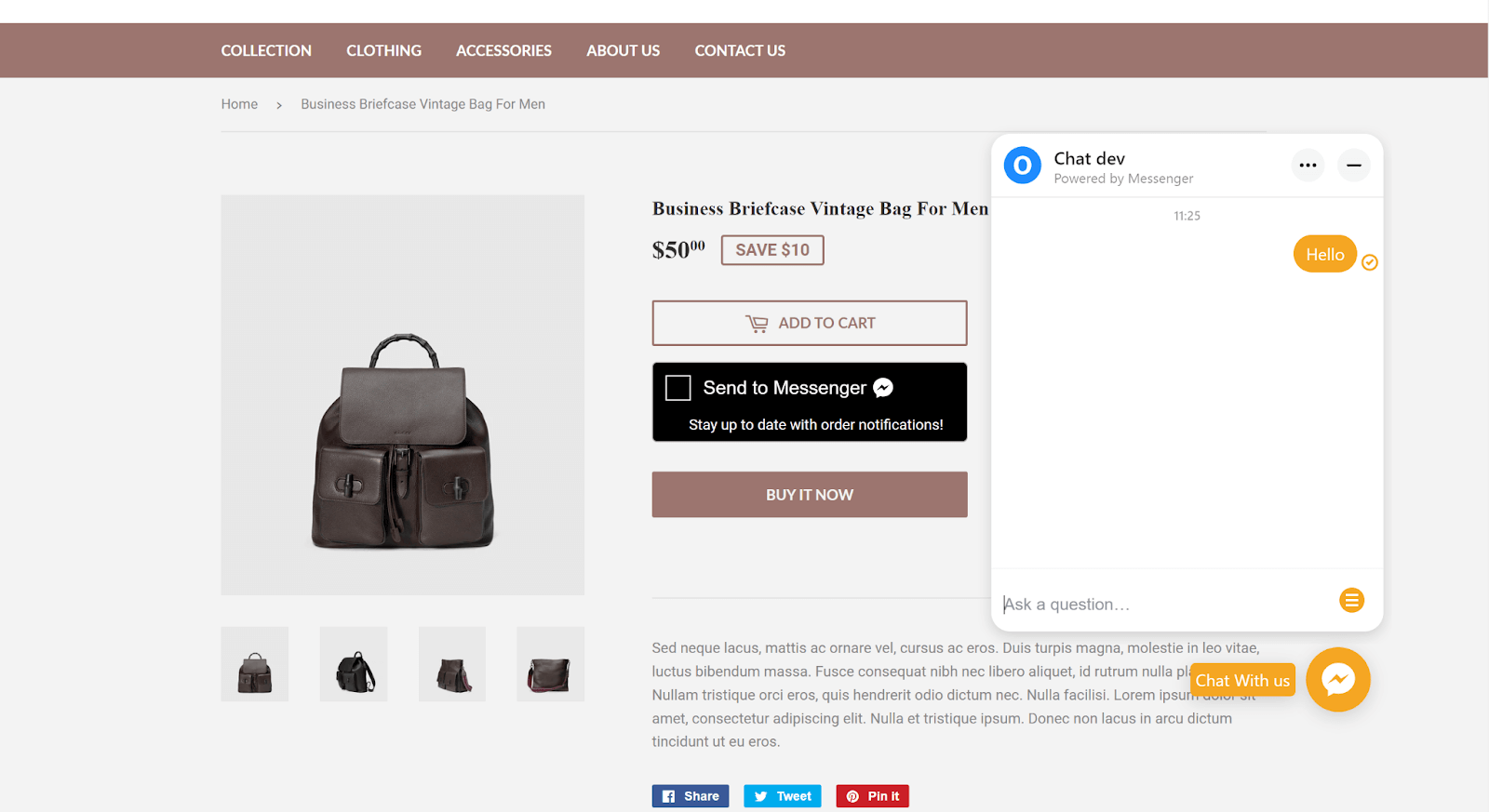 If your business supports customers coming from Facebook, Instagram, and live chat, you should consider installing this app in your store. This app has been launched on January 20, 2016, and received more than 400 reviews on the Shopify app store.
Features
Integrate with Facebook and Instagram to chat directly with customers
Schedule the working time
Save customer history
Gather all messages in only one place to see all the customer interactions.
In-depth analytics
Pricing
Has only 2 pricing plans including one forever free pricing plan and a "Premium" pricing plan that costs $4.99/month
Pros
Easy to use, especially for merchants who just start a business on Shopify
The pricing plan is quite reasonable to merchants who just start a small business on Shopify
Cons
Not a professional app for the larger Shopify business.
Many reviews suggest that the chat function sometimes doesn't work.
Slow technical support from the developer
Suitable with
Small or medium-sized is the best suitable with Live chat by Omega because of the reasonable pricing plan. Moreover, installation is fast and easy and doesn't require any coding skills.
Choose the most suitable live chat app for your online store
No matter if you're looking for a live chat solution or a fully-featured ticketing system, there are many options out there with various customizations to help you strengthen your customer relationship.
In case you want an advanced customer support tool to improve customer experience, and even turn your exceptional customer service team into a powerful sales channel, NestDesk might be your suitable choice.
Don't let your budget stop you from delivering great customer service. Get started now with our feature-rich and absolutely free customer service software.